I'm so excited to bring you these tote bag patterns because I'll be the first to admit that I'm a bag lady. Big bags, little bags, bags inside other bags, you name it, there's just something so exhilarating about having the perfect bag for every outfit and occasion. While there are many out on the market, consider a DIY version. Creating your own elegant, personalized design can turn this everyday accessory into a true style statement that is useful to boot.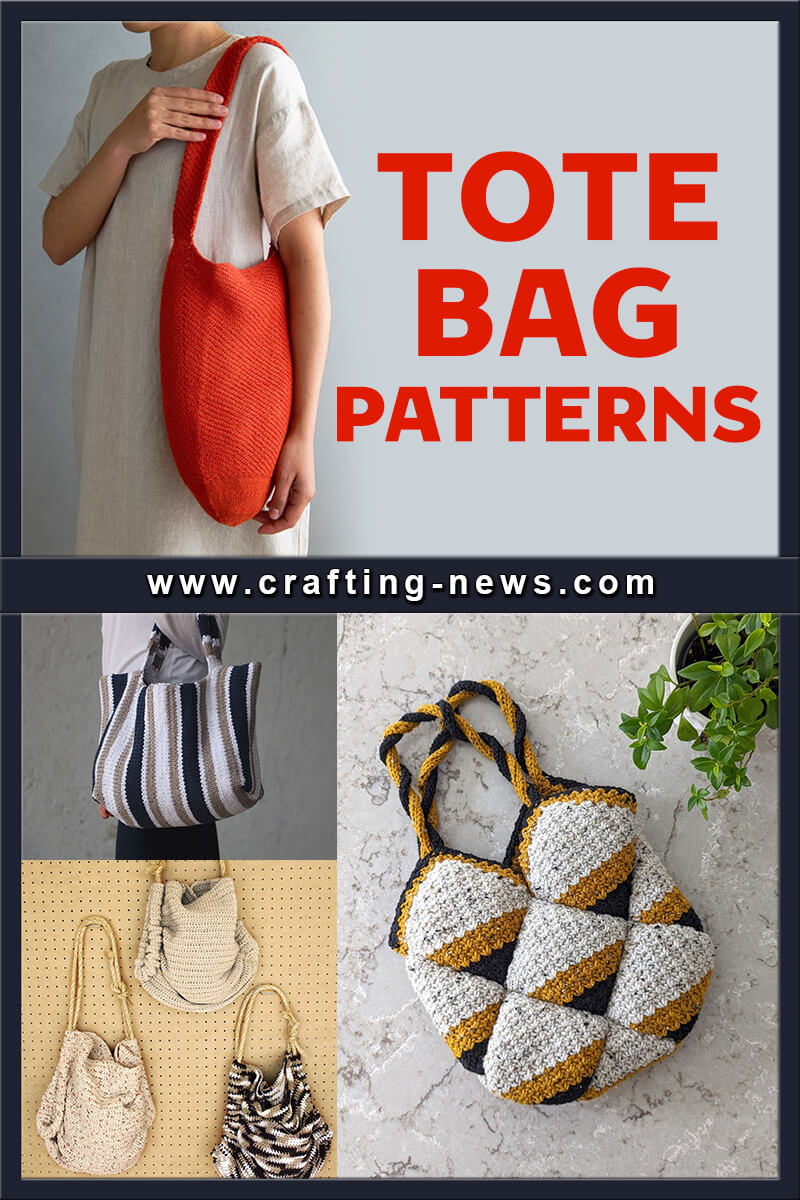 Whether you use a sewing machine or a crochet hook, tote bags are easy to make. They serve as excellent gifts for the students in your life or as an eco-friendly solution for shopping at your local farmer's market. Here you'll find a wide range of different tote bag patterns but don't just stop at the first bag you come across!
45 Tote Bag Patterns
1. Tote Bag Sewing Pattern by Sweet Red Poppy
This tote bag sewing pattern includes an interior pocket for small items and it's fully lined for a professional finish. This sewing pattern download includes the tote bag pattern in 5 different sizes, from XS to XL. That way, you can choose the right size for what you'll be packing in your tote bag!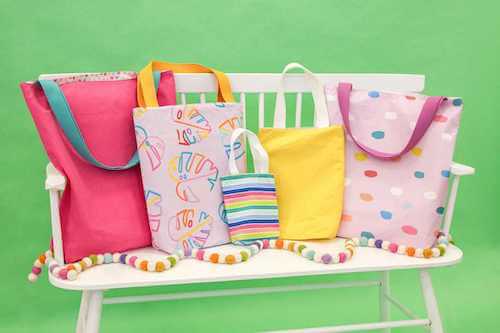 Get the Pattern here
2. Six-Pocket Tote Bag Pattern by Better Homes & Gardens
Roomy and stylish, this slouchy tote is just waiting to be filled with your everyday essentials. With a deep main compartment and six exterior pockets, you won't be short on storage.
The pockets of this simple sewn bag are cleverly formed when the straps are stitched on—no additional sewing necessary. Choose your favorite patterned fabric and this easy sewing project becomes as statement-making as it is practical.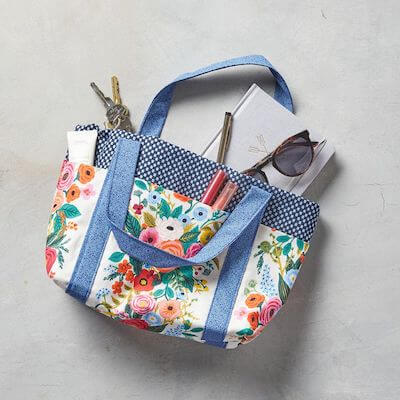 Get the Pattern here
3. Pocket Tote Bag Pattern by Easy Peasy Creative
This simple but stunning pocket tote bag pattern featuring a deep front pocket is the perfect roomy pocket tote bag to sew to carry just about anything you need! Create a one-of-a-kind large tote bag pattern by choosing colorful and coordinating fabrics for the bag, the pocket and the straps, for a chic yet low key custom look.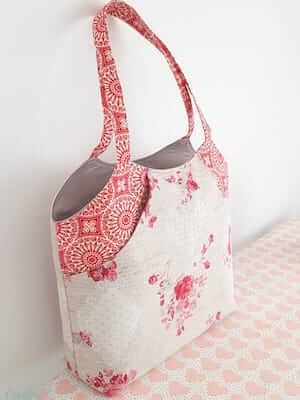 Get the Pattern here
4. No Frills Extra Large Tote Bag Pattern by Threading My Way
Sometimes I need an extra large tote to carry things from one place to another. Nothing fancy, no need for pockets, just a bag that will let me carry large items easily. This sewing pattern will show us how to make one. It's a super quick and easy make.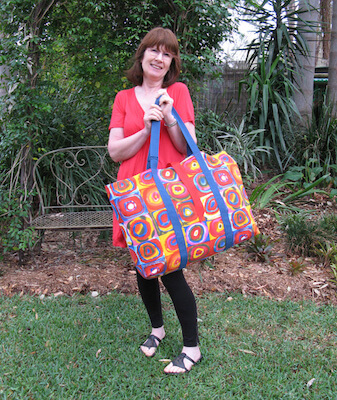 Get the Pattern here
5. Kate Spade Inspired Heart Tote Bag Pattern by Riva La Diva
This Valentine's Day, treat yourself to a DY designer bag for a fraction of the real price with this Kate Spade inspired Heart Tote Bag. Made using red vinyl, this pattern is perfect chic bag to show off your love of all things Valentine's.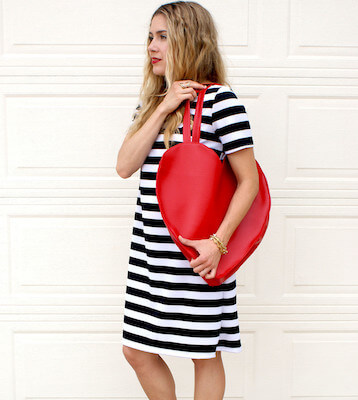 Get the Pattern here
6. Circle Tote Bag Pattern by A Beautiful Mess
If you're digging the circle purse trend, here's a tote bag pattern for you. This unique tote bag is made out of something way more unique than fabric – placemats! A strip of leather is used to connect the two placemats and they also act as handles. Attach a button to keep it closed and you have a stylish circular tote that everyone will envy.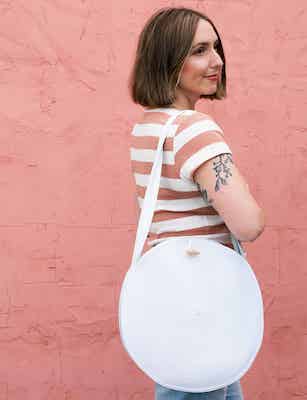 Get the Pattern here
7. Triangle Tote Bags Pattern by Shiny Happy World
These triangle totes are handy-dandy little things. Use them to hold make-up, coins, little toys, a handful of crayons and a small notebook – anything you can think of.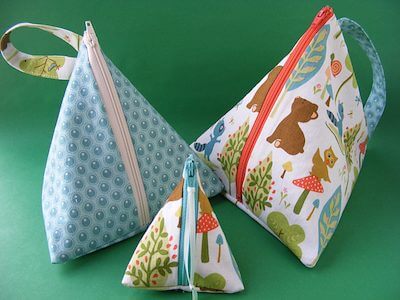 Get the Pattern here
8. Elegant Bow Tote Bag Sewing Pattern by Fine Craft Guild
As far as tote bags go, this beautiful bag has to be one of the classiest ones I have seen. The details of the neat bow over the bag's top band, and that those crisp folds on the bag's side panels make this a tote bag to take to town. Besides being elegant, this classy bow tote bag is utterly practical too. It comes lined, and has several inside pockets.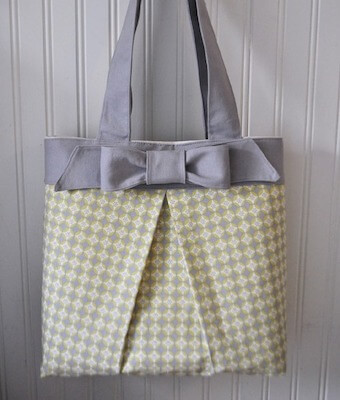 Get the Pattern here
9. Petal Pockets Tote Bag Sewing Pattern by Cozy Nest Design
Do you love a bag with lots of storage? This bag has it! With four slip pockets, two zippered "petal" pockets on the exterior and a nice roomy interior, you can carry everything, including the kitchen sink! And, if that wasn't enough, it's reversible – like getting 2 bags in one!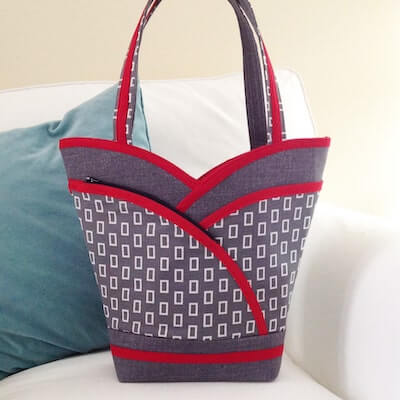 Get the Pattern here
10. Jelly Roll Tote Bag Sewing Pattern by Sunday Girl Designs
If you wanted something to make using your jelly roll strips or scraps from your scrap bag, this is it! This project will use 12 strips of fabric, some prequilted fabric for the lining, some interfacing, magnetic snap, and basic sewing supplies.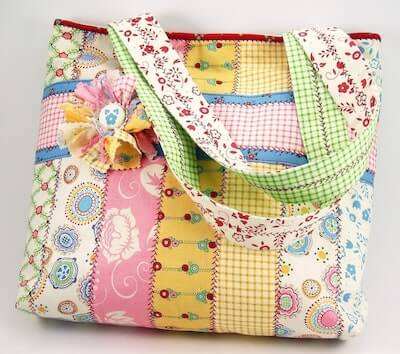 Get the Pattern by Sunday Girl Designs here
11. Denim Tote Bag Pattern by Vicky Myers Creations
Learn how to make your own large denim tote bag with this free tote bag pattern. This bag is made with a variety of upcycled materials, with hand stitching for embellishment, your own padded fabric handles plus a magnetic closure.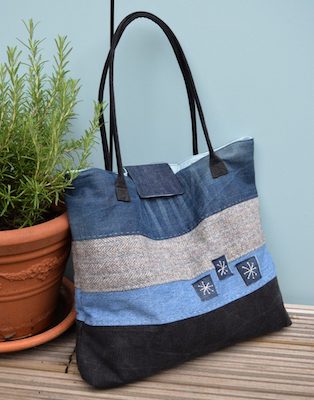 Get the Pattern here
12. Straw Tote Bag Sewing Pattern by Polkadot Chair
This fun tote is made using stitchable straw. A bit of bling is added to the front with some hand beading. It's a bit more work but the result is totally worth it!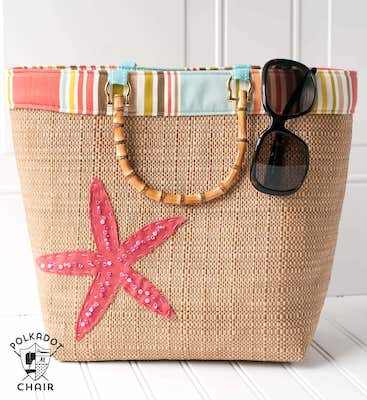 Get the Pattern here
13. See And Sew Tote Bag Pattern by Princess In A Pouch
This See and Sew Tote is perfect for makers on the go! 4 large see through vinyl zipper pockets fold up into a neat little tote bag. Carry all of your supplies and feel confident about finding the right color of thread or tool without digging through a traditional bag. Measures 2"x10"x10" when closed.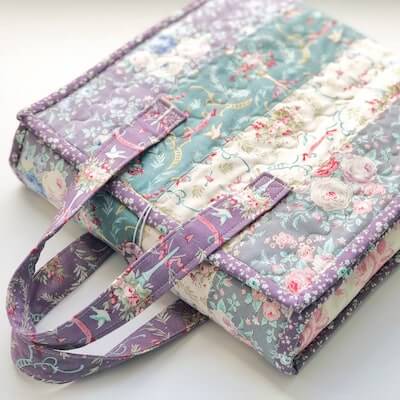 Get the Pattern by Princess In A Pouch here
14. Sky Harbor Tote Bag Sewing Pattern by Sew Sweetness Patterns
This tote bag showcases several interesting features, including hidden straps, decorative zippers along the sides of the bag, and the chance to use several different fabrics on the exterior of the bag. The lining contains a recessed zipper, zipper pocket, and a slip pocket. Lots of bag-making techniques are packed into this pattern!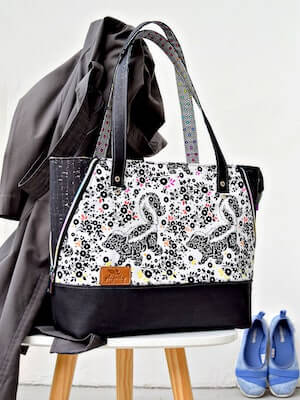 Get the Pattern by Sew Sweetness Patterns here
15. Bookish Tote Bag Sewing Pattern by Craft Owl Handmade
This Bookish Tote is a classic- just like your favorite book. Featuring waxed canvas, leather accents, interior and exterior pockets, and two convenient sizes, The Bookish Tote is a fun project for confident beginners.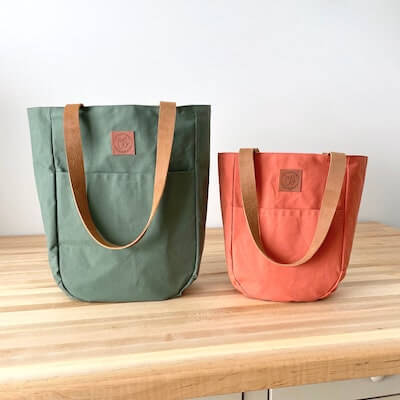 Get the Pattern by Craft Owl Handmade here
16. Magnolia Tote Bag Crochet Pattern by Mama In A Stitch
Cheerful, vintage style granny squares adorn this oversized bag that is sure to fit your spring and summer hauls. This tote adds the prettiest touch of boho style to any outfit! Completely customizable, you can pick your favorite four colors and go.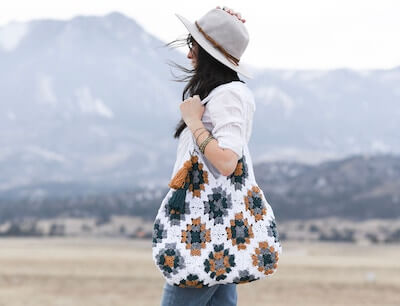 Get the Pattern by Mama In A Stitch here
17. Cove Crochet Tote Bag Pattern by Originally Lovely
This playful summer tote bag is designed to be functional and stylish. The bag is constructed by working off of the unique, rope-like handle. Worked quickly in half double crochet, this bag is fun and beginner friendly!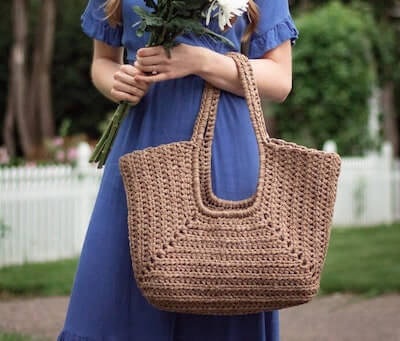 Get the Pattern by Originally Lovely here
18. Camellia Tote Bag Crochet Pattern by All About Ami
Crochet this gorgeous Camellia Tote Bag that has a sturdy and unique construction using a variety of stitches with thick and comfortable straps. This project is fun to work up as it is segmented into various sections using strong mercerized 24/7 Cotton.
Personalize the middle accent panel found in the center of the bag using your favorite stitch! You will love carrying this modern and sleek bag to tote around your important items wherever you go!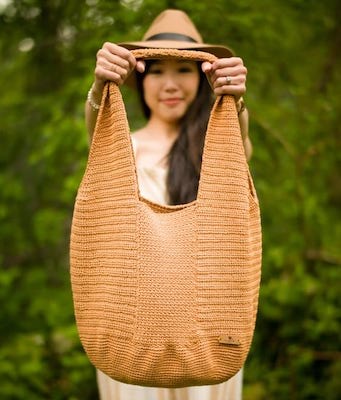 Get the Pattern here
19. Matilda Tote Bag Crochet Pattern by Megmade With Love
This Matilda Tote Bag Crochet Pattern is a lovely structured and cabled bag that is surprisingly simple to make. It consists of three pieces, a front and back panel along with a long piece that wraps around the sides and bottom. This bag would be perfect for hauling around your current WIP!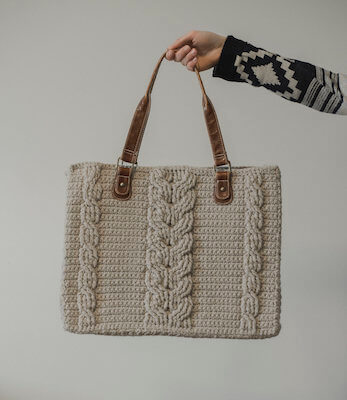 Get the Pattern here
20. Alp Tote Bag Crochet Pattern by Briana K Designs
The peaks and lines in this pattern remind me of mountains and valleys. A common shape in nature integrated into a fun bag. This can be used for the Beach, Pool, Grocery Store, and so much more! This crochet tote bag works up quick and the bulky cotton yarn add strength and stitch definition.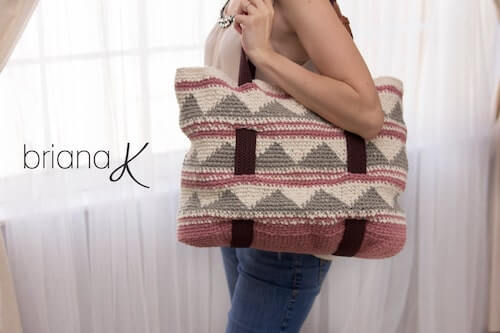 Get the Pattern by Briana K Designs here
21. Summer Tote Bag Crochet Pattern by Yarnspirations
Check-out the super casual look of this sensational bag. Choose your favorite color to crochet this great looking sac to perfection. It's ideally sized, making it your go-to for running errands all summer-long.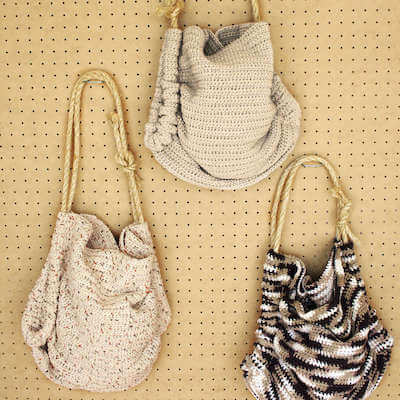 Get the Pattern here
22. Bohemian Tote Bag Crochet Pattern by Easy Elegant Crochet
I love this Granny square bag — stylish, versatile and a little something different. Colorful stripes and classic granny square decorations make this Bohemian Tote Bag really cheerful and eye-catching. Thanks to creative color combinations, this crochet tote bag always looks super cute. it will fit the essentials you need for a walk to the beach or for a day in the shopping center.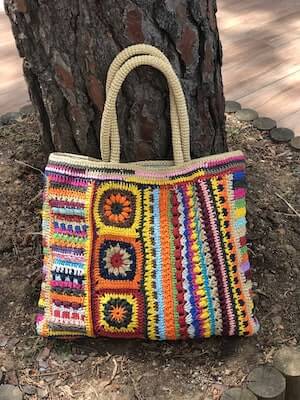 Get the Pattern by Easy Elegant Crochet here
23. Free Crochet Tote Bag Pattern by Gathered
Ditch the plastic and hook up this crochet tote bag (or two) in your favorite colour, then carry it with the satisfaction of making something that helps the environment. Made in a 4ply cotton it'll give you a sturdy bag that won't stretch too much when you load it up with your shopping. This crochet tote bag pattern features a fabulous mesh diamond and a gorgeous texture thanks to the pineapple cluster stitch.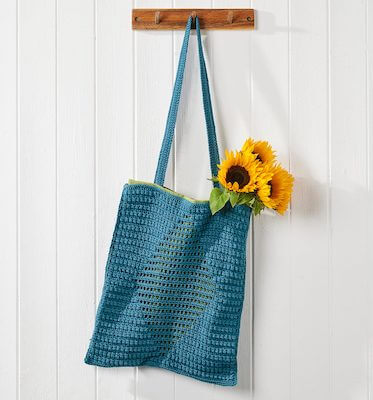 Get the Pattern here
24. Gingham Crochet Tote Bag Pattern by The Loophole Fox
Simple and timeless, this Halcyon Tote is the perfect bag to carry all of your things for all of your spring adventuring. Choose for favorite color and you'll have a crochet gingham tote bag that is uniquely yours.
Crochet gingham tote bags are so lovable. There's something so classic and pure about the gingham plaid pattern and it's amazing how different and unique each bag looks just by changing the colors.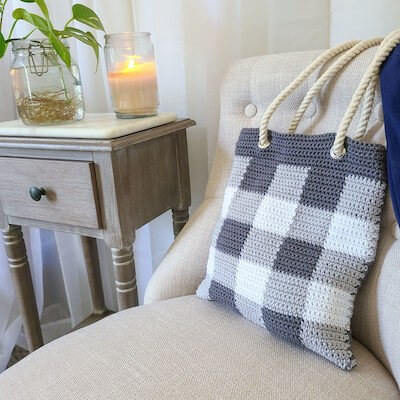 Get the Pattern by The Loophole Fox here
25. Free Mosaic Crochet Tote Bag Pattern by Han Jan Crochet
Here's a fabulous summer crochet tote bag pattern using mosaic crochet in the round. The bag is made in one piece and uses a clever play of colour and a simple seven stitch repeat to achieve the detail. Add the side ties and straps of your choice to personalise and finish.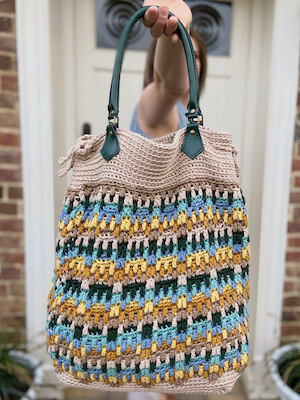 Get the Pattern here
26. Granny Square Crochet Tote Bag Pattern by Knitcro Addict
For such a beginner friendly pattern, this crochet granny square tote bag is a pro at all your bag needs!
A simple two panel granny square project, easily customized to a larger bag, smaller bag, different strap configurations and lengths. This granny square can just about do it all.
Great as a beach bag in summer and back to school bag in the fall, as well as a great market bag year round!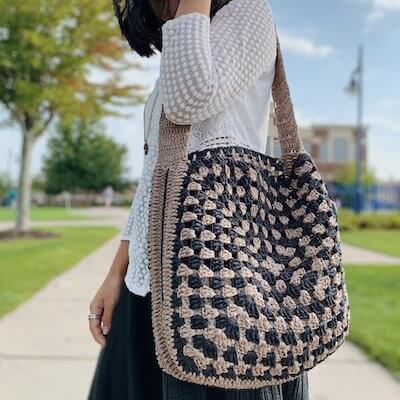 Get the Pattern by Knitcro Addict here
27. Toscana Tote Bag Crochet Pattern by Lulee's Crochet
Not your typical granny square bag! This tote bag is crocheted corner-to-corner in the Spider Stitch, in individual squares. The squares work up quickly and are a great project to work on whenever and wherever—crochet the squares on a road trip, your daily commute or when you need something to fill a little time!
After the squares are complete, they are stitched together to form the bag shape. Add some edging across the top and a colourful strap to match, and your little bag is ready to go!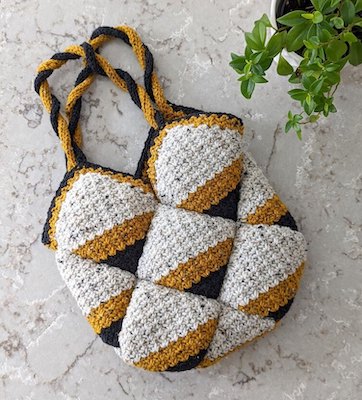 Get the Pattern by Lulee's Crochet here
28. Stockinette Stripe Tote Bag Knitting Pattern by Originally Lovely
Crochet is usually king when it comes to bags and totes, but who says knitting can't have a seat at the table? This Stockinette Stitch Tote is knit in one piece and seamed together along the sides. Knit densely, this tote is able to stand on its own and hold its shape. Made in super bulky yarn, it is strong and durable, perfect for use throughout the summer.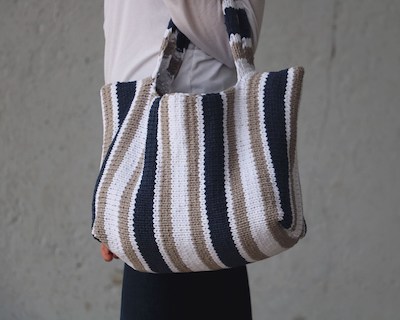 Get the Pattern by Originally Lovely here
29. Folio Tote Bag Knitting Pattern by Two Of Wands Shop
Tote your computer and/or notebooks in style with the Folio Tote. This beginner friendly bag is simple and chic – the ultimate modern combination!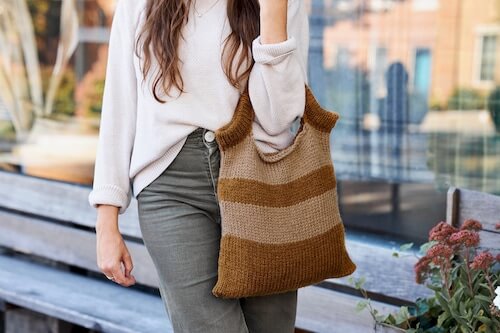 Get the Pattern by Two Of Wands Shop here
30. Aberdeen Cable Braided Tote Bag Knitting Pattern by Rebecca's Stylings
This elegant handbag is perfect for carrying your latest project or daily necessities. It has an intricate aran cable motif on the front and back sides, and uses a basic and durable stitching on the sides and bottom. A stitch diagram and video tutorial of the cable stitches (see below) are included in this pattern.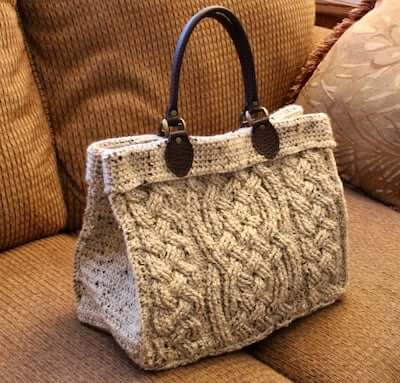 Get the Pattern by Rebecca's Stylings here
31. Mountain Knit Tote Bag Pattern by Mama In A Stitch
Trying out new stitches and techniques with knit and crochet is so much fun. I love finding simple stitch patterns that are pretty, but also don't make my brain hurt too much!
This bag is made with the double seed stitch pattern which looks lovely and is quite simple. There are no strange needle maneuvers (ha ha!) and you will just make a variety of knit and purl stitches.
It's made by simply knitting a large rectangle, folding it in half, seaming the sides and attaching some pretty handles. Voila!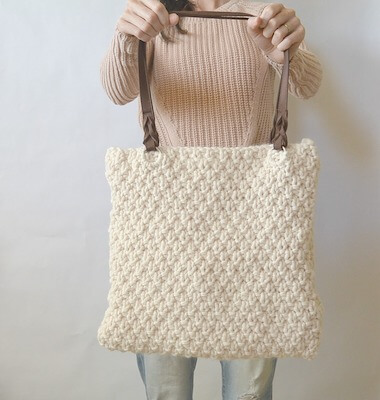 Get the Pattern here
32. Simple Knit Tote Bag Pattern by Purl Soho
A hand-knit handbag, made with love not logos, can really carry the day, and this beautifully shaped, minimally wrought Simple Knit Tote does just that! Construction is in keeping with the easy aesthetic: You knit the bottom flat, pick up around the edges and knit the body of the bag in the round, then knit each side of the strap and join in the middle with a 3-needle bind off.
Knit it for you or your favorite bag-user. This Simple Knit Tote, with its perfect form, detail without fuss, and slouchy-cool structure, is our kind of everyday hero!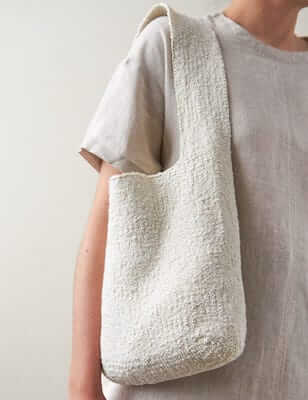 Get the Pattern here
33. Plaid Tote Bag Knitting Pattern by Crafts By Sarah Liz
This tote bag knitting pattern features a plaid design that is perfect for the plaid lover in your life. Make it for gifts, or for your craft fairs.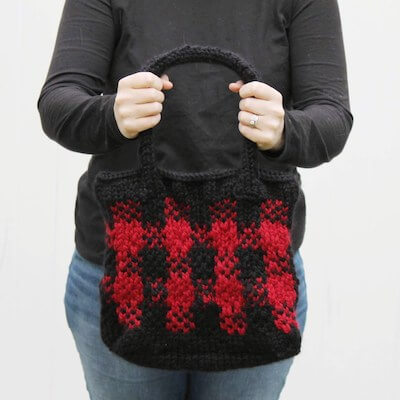 Get the Pattern by Crafts By Sarah Liz here
34. Summer Tote Bag Knitting Pattern by Let's Knit
This bag might look intricate, but it is actually very simple to knit. The main challenge is making sure you follow the colour changes correctly – although you can invent your own combo if you want to. Leave the tote unlined, or if you're feeling adventurous and have access to a sewing machine, it's a fantastic chance to practise adding lining material to knitted fabric.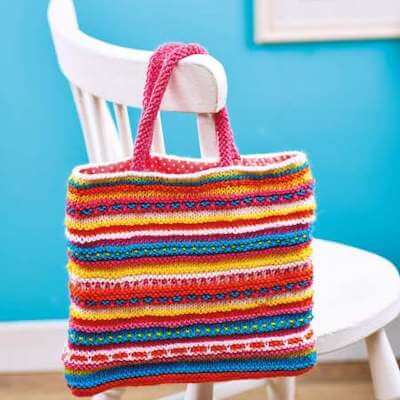 Get the Pattern here
35. This Way Up Tote Bag Knitting Pattern by Sandra Nesbitt
Cast this fun project on and enjoy working up a relaxing lace pattern – yes, there really is such a thing! The springy bag handles are worked in four parts, in garter stitch, before being joined together using a three-needle cast-off. With such a fab choice of jewel colours, before you know it all your friends will be asking you to knit them one, too!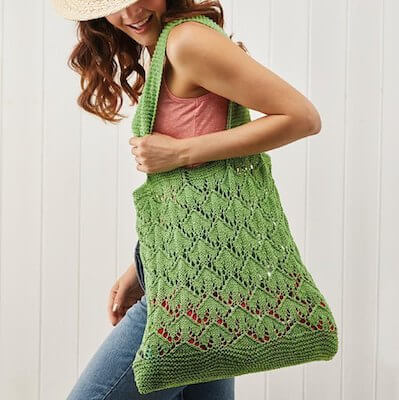 Get the Pattern by Sandra Nesbitt here
36. Linien Tote Bag Knitting Pattern by Annie Baker
Linien bag is all about lines, horizontal, vertical, sloped, curved and even crossed. Knit a small bag to carry a few essentials up to a roomier tote sized bag. Entire bag is worked in stockinette stitch and instructions are included for three sizes.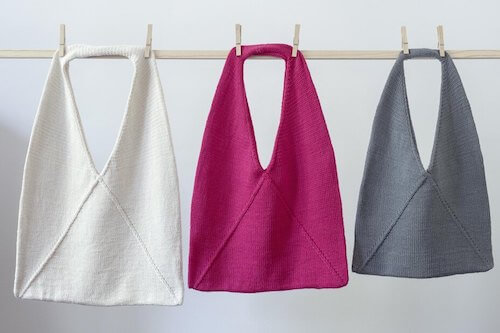 Get the Pattern by Annie Baker here
37. Grand Teton Tote Knitting Pattern by Sophia Minakais
If you love Fair Isle, you'll love this seamless bottom-up bag. Finished off with braided handles, a magnetic snap and an optional fabric lining, it's the perfect bag for any occasion!
Plus, once your bag is finished, you can use up all your remaining colors to knit up a whole set of easy winter accessories.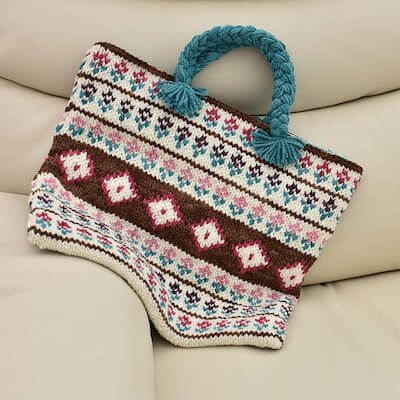 Get the Pattern by Sophia Minakais here
38. Twill Tote Bag Knitting Pattern by Purl Soho
This knit take on woven twill retains the same distinctive diagonal texture and same sturdy work ethic, but instead of a loom, you can whip up this Twill Tote right on your knitting needles!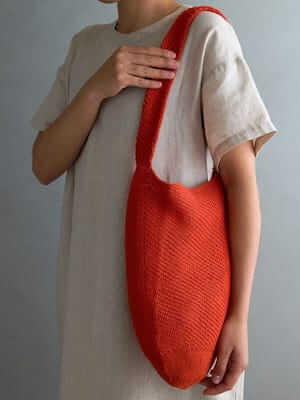 Get the Pattern here
39. Mohave Slouchy Tote Bag Knitting Pattern by Mama In A Stitch
This pattern creates an oversized, slouchy bag with wide straps perfect for beach trips. The design is both comfortable and practical, with playful tassels for extra fun and flair. Knit it in the round using circular needles and two different colors of yarn, or choose one solid color if you prefer.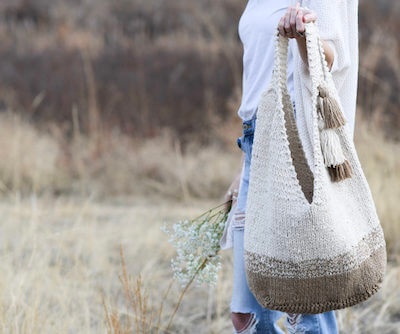 Get the Pattern here
40. Macrame Tote Bag Pattern by The Larks Head
The perfect example of form meets function, this macramé tote is both aesthetically pleasing and a bag that's made to last! And it can fit all of your daily essentials- it even fits a laptop!
Even better, this project only requires knowledge of one knot- the square knot! This makes the macramé tote beginner friendly, though it will require a bit of patience and several hours of meditative, repetitive knotting. But the end result is worth it for a piece that you can not only look at but actually use for years to come!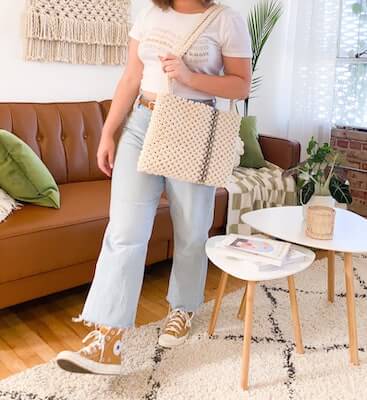 Get the Pattern by The Larks Head here
41. Free Macrame Tote Bag Pattern by Fall For DIY
Want a cute tote shopper? Check out this DIY Macrame Tote Bag using Jute tutorial to whip up your own in no time! This stylish macrame bag is perfect to carry produce from the local farmers' market and comes with an extra sturdy handle.
Get the Pattern here
42. Fleetwood Quilted Tote Bag Pattern by Center Street Quilts
Tote bags are a great project for using your quilting skills! You can make them in many different ways, finish them quicker than a quilt, and give them as gifts.
This Fleetwood Tote is a quilted bag pattern that has all the features you'd want in tote bag pattern: a zippered closure, pockets inside and out (one zippered pocket on the outside and slip pockets on the outside and inside), no bias binding, and completely finished (bound) edges.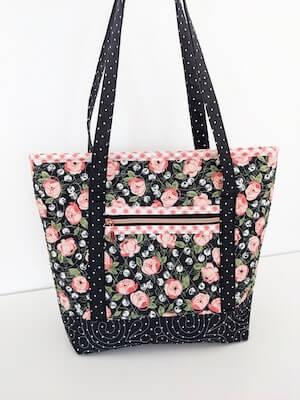 Get the Pattern by Center Street Quilts here
43. Quilt Block Tote Bag Pattern by The Polka Dot Chair
This quilt block tote bag tutorial is a great way to use up a few leftover quilt blocks. It also makes a great project if you're not in the mood to take on making an entire quilt, but would like to make a few blocks! Here's a Halloween version but you can easily adapt it for any occasion or holiday!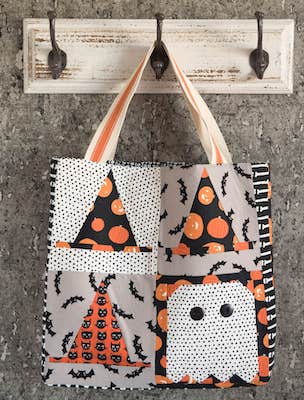 Get the Pattern here
44. No Sew T-Shirt Tote Bag by Craftaholics Anonymous
It's so easy to turn a t-shirt into a tote bag, and the best part is, there's no sewing required! All you need is scissors and an old t-shirt, you can make a super awesome tote bag!
It's a great way to recycle old t-shirts instead of throwing them away, especially if they have sentimental value. And if you have kids, this is a great way to keep their favorite shirts useful even if they outgrow them!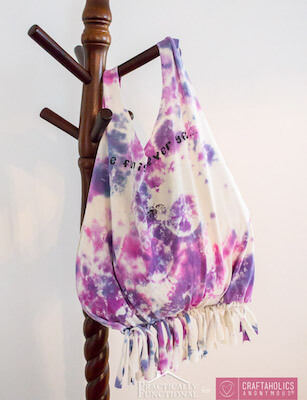 Get the Pattern here
45. No Sew Tote Bag From A Pillow Case by Creme De La Craft
A pillowcase already has all the stitching you need to create this easy and stylish tote bag. The cross-body shoulder strap also makes it super comfortable to carry around all day. Just grab a pillowcase from your dresser, stamp it, give it a couple snips and you've got a custom carry-all tote for your next trip to the market!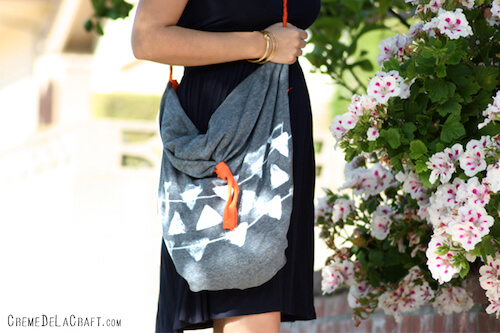 Get the Pattern here
IF YOU HADN'T BEEN OBSESSED WITH TOTE BAGS BEFORE, YOU WILL AFTER SEEING THESE TOTE BAG PATTERNS!
We would love to see how you are bringing your totes to life, so please share your project photos with us on our Facebook Page!
Bags, bags, bags! If you ask us, it's not possible to have too many in your closet — especially if you make them yourself. Check out more fun projects to add to your queue and soon enough, you'll have the perfect handmade option for every occasion.
There's always use for a new tote bag, and these tote bag patterns are easy to whip up for yourself or as gifts for friends! Happy crafting!