Every crafting hobby requires specific tools and equipment, right?
If you knit, you need yarn and knitting needles at a minimum.
If you sew, you need a sewing machine, fabric and thread.
If you make stickers, you need some great ideas, good sticker paper, and a printer.
But, will any printer do? Not likely! So I've taken the time to do some research for you and put together my list of best printer for stickers including my top pick for the best printer for sticker printing!

7 Best Printers for Stickers for 2023
1. HP OfficeJet Pro 8025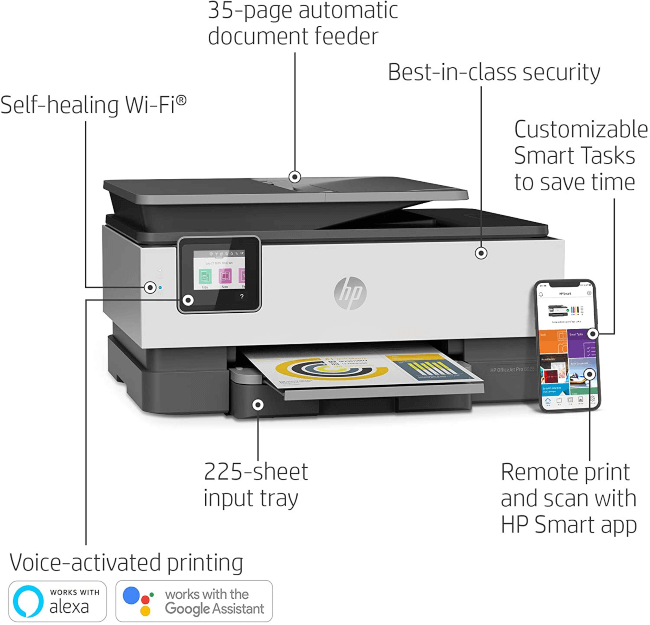 The HP OfficeJet Pro 8025 is an all-in-one that offers fast printing, as well as copy, scan and fax. It is slightly smaller than the previous model saving space in addition to the increased efficiency.
This wireless sticker printer syncs to Google Drive, QuickBooks, and other Smart Tasks that you can control from your Smartphone. Not only can you organize with your phone, you can print directly from your phone as well!
Save on time and ink when you upgrade to the auto replenishment option and receive two months of ink free.
This wireless sticker printer utilizes self-healing WIFI to keep your printer working efficiently. It also includes several built-in security features to keep any sensitive information protected.
The HP Officejet Pro 8025 is simply one of the best printer for stickers for all of these features and more!
What other features, you ask? Well, it works with Alexa so you don't even have to pick up your phone to start printing. It works with a variety of print media types and prints 20 pages per minute.
2. Canon PIXMA TR4520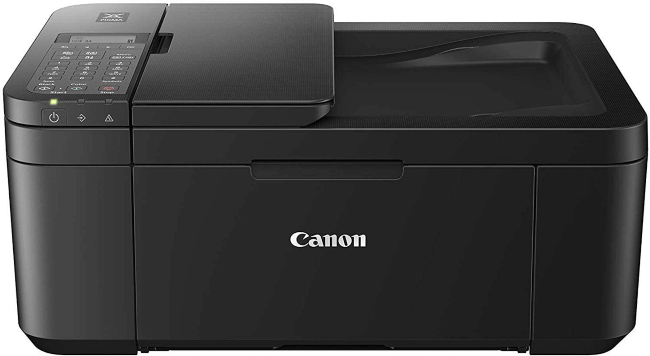 The Canon Pixma TR4520 comes to you with a quick and easy setup to get you printing faster. Using your smartphone or tablet to get it connected quickly and then continue using the app to start printing.
Canon is known for delivering high quality color and this model is no exception.
This wireless printer is an all-in-one that is home office friendly and easy to use. There are several exceptional printing features, including photo editing software and much more.
The Canon Pixma TR4520 definitely deserves consideration as on of the best printers for stickers in 2023.
3. Epson EcoTank ET-2760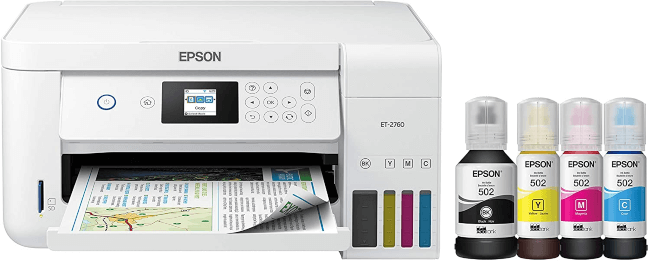 The Epson EcoTank series is well-known for its specialized ink replenishment feature. Rather than replacing full ink cartridges, you order ink refill bottles. Replacing ink with this method is much more cost-effective, saving up to 90 percent on ink cost!
This specific model comes with up to 2 years of ink (depending on how much ink you use). You're much less likely to run out of ink in the middle of a job or project and have to make a mad dash to the store.
This wireless, all-in-one printer that prints stickers comes with auto 2-sided printing in addition to copying and scanning.
The Epson ET-2760 comes with a easy-to-use color display to make setup and navigation quick and efficient. Certainly another contender for best printer for stickers!
4. Canon PIXMA Pro 100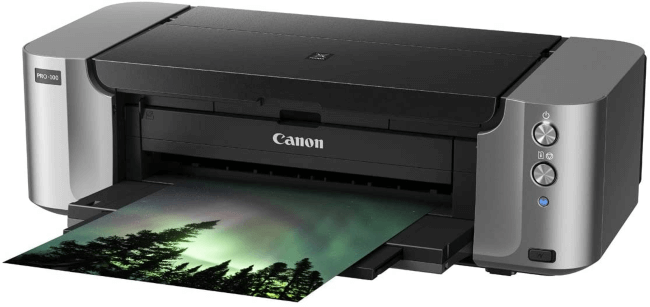 This printer utilizes 8 inks to create amazing color, including the ability to produce incredible black and white prints with 3 grayscale inks.
The Canon PIXMA Pro 100 is designed to optimize ink selection and combination to produce beautiful prints. Print professional quality images at home with this incredible machine.
You can purchase individual inks or value packs, but you only have to replace the empty ink which allows you to save money.
Print full page images up to 13 inches x 19 inches with borderless printing.
Connectivity options include USB, Wifi, ethernet and mobile memory. The Canon PIXMA Pro 100 may find a spot at the top of the list of best printers for stickers.
5. HP OfficeJet 5255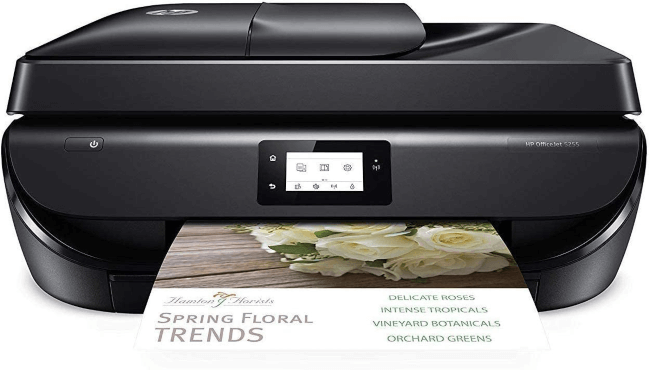 Another budget-friendly HP OfficeJet is the 5255 model. This model is Bluetooth capable and has improved dual-band Wifi connectivity.
Along with excellent printing capability, you can scan, copy and fax with this machine. Sign up for automatic refills with this printer to save you time and money!
The HP Smart app works with your phone to allow easy printing from iCloud, Google Drive and Dropbox!
This printer supports a wide range of paper options, both in size and media type, giving you plenty of choices.
6. Canon TS9520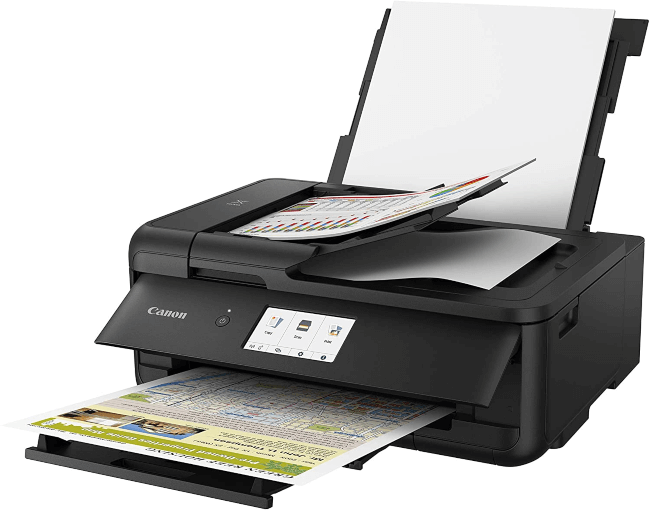 The Canon PIXMA TS9520 is another all-in-one printer that gives you the ability to scan and copy.
This model has a 5 color ink system to produce beautiful prints and supports a variety of paper sizes and types.
You can print on paper as small as 3.5 inches x 3.5 inches up to 11 inches x 17 inches, on media types including glossy photo paper and high-resolution paper.
Flexibility is the name of the game with this printer. You can print from your smartphone, table and computer using Wifi, ethernet, AirPrint and Mopria.
You can even create borderless printing on certain media types! Read on to see where if this Canon makes the final list for best printer for stickers for 2023.
7. Brother MFC-J5330DW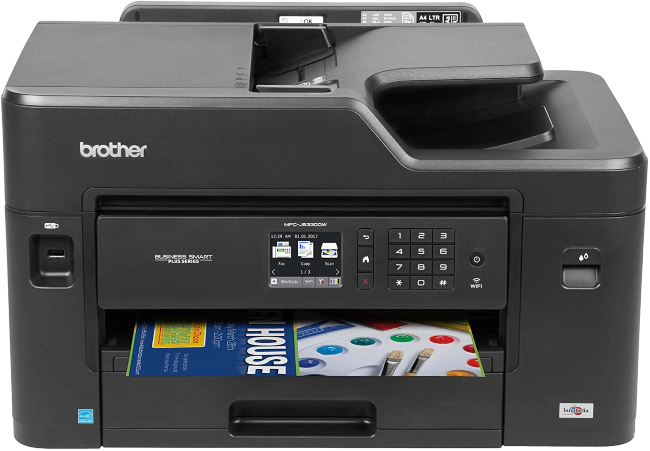 Brother printers are known for being good quality already. This model, the MFC-J5330DW is an all-in-one inkjet designed with efficiency in mind.
If you're working on different types of projects at once, this printer can separate out plain paper from other types of paper into a separate output tray. A very helpful feature indeed!
Print on paper up to 11 inches x 17 inches! The input paper tray holds 250 sheets of plain paper and the scan and copy feeder holds 50 sheets.
The color touchscreen display is easy to use. Access your Dropbox, Facebook, Google Drive and more.
The Brother printer is also enabled for Amazon Dash Replenishment, meaning it will automatically order more toner when it runs low.
My Best Printer for Stickers in 2023 are:
Best Overall Top Pick for

sticker

printer
Epson EcoTank ET-2760
best selling supertank printer
replacement ink bottles save up to 90 percent over the cost of ink cartridges
budget-friendly
wifi, ethernet and USB capable
auto-replenishment for ink
Best Premium Pick
Canon Pixma Pro 100
8 dye based inks, including dedicated grayscale
optimized colorization system
replace only inks that are actually empty
fine technology printing head
wifi, USB and mobile memory capable
media size up to 13 inches x 19 inches
AirPrint, Print Studio Pro and PictBridge
borderless printing
Best Value Pick
HP OfficeJet 5255
Very budget-friendly
multiple media options
Bluetooth capable, improved dual-band Wifi
all-in-one printer, copier, scanner and fax
HP Instant Ink enabled
HP Smart app
use with iCloud, Google Drive, and Dropbox
Wrapping Up the Best Printer for Stickers.
The choices for printer for stickers can be endless and overwhelming! Hopefully this list of the best printer for stickers has helped you to narrow down those choices and understand what some of the differences are. Whether you're looking for an all-in-one option or a professional quality printing only option, there's certainly a printer for you.
Also, do check our review on Best Printer for Vinyl Stickers , Best Sticker Makers and Best Sticker Cutting Machines.
Did you decide to buy one of the printer for stickers discussed? We'd love to hear from you about the best printer for stickers!