If you are looking for a home accessory that is just a little bit different, these adorable macrame mobiles are for you – and they don't have to stay in the nursery! Create a focal point for a party, or just a really cool accent for your decor.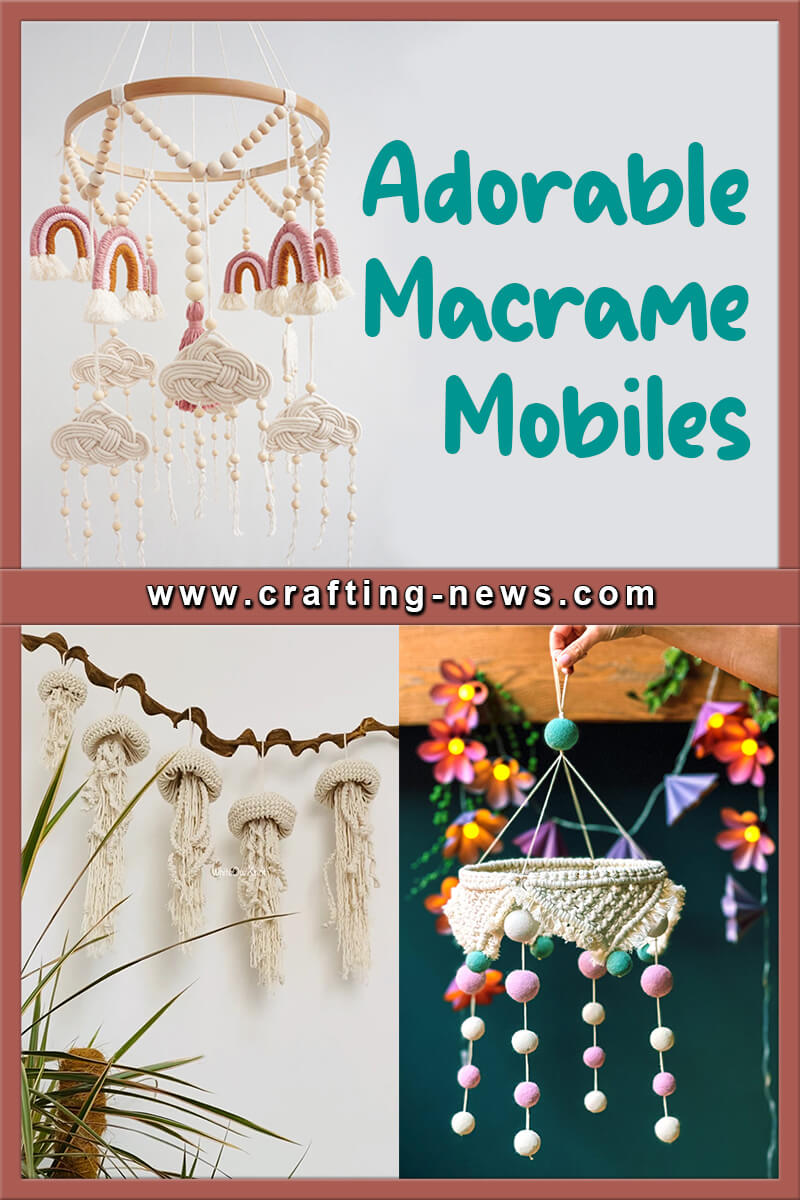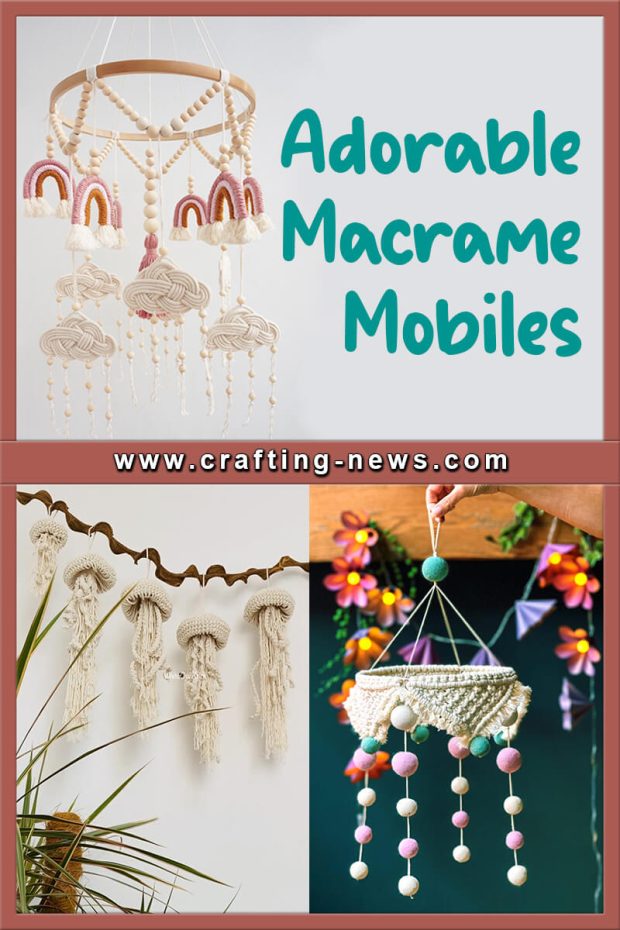 You might already have come across the name macrame while scrolling through beautiful boho-chic styled interiors on Instagram and imagined that it is a new craft invention as it's so incredibly popular right now?
If space permits and you're naturally crafty, why not make your own macrame mobile with only few macrame knots? Or if you're not into the whole #diy thing, you can find plenty of macrame mobile products pre-made by some artists. Check out a few favorites below.

1. Macrame & Wool Mobile by Lia Griffith
This macrame wool ball mobile features wool balls in two different sizes and three macrame knots. You can customize your macrame wool ball mobile by using different colors or other sizes of wool balls.

Go with more of a soft, neutral look for our mobile or you can make your version more bold or colorful depending on your personal preference!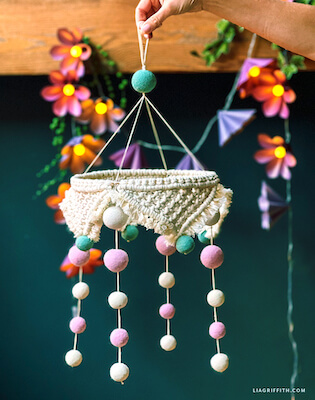 Get the Pattern here

2. Chandelier Mobile Macrame Pattern by House Sparrow Nesting
This sweet-and-simple macramé chandelier mobile is ready to take your favorite space to the next level. Make one to dress that corner in your home that is just begging for something special, or whip up several to hang in the tree branches above your picnic table.
This piece will fascinate at weddings and, helpfully, in your sweet baby's room.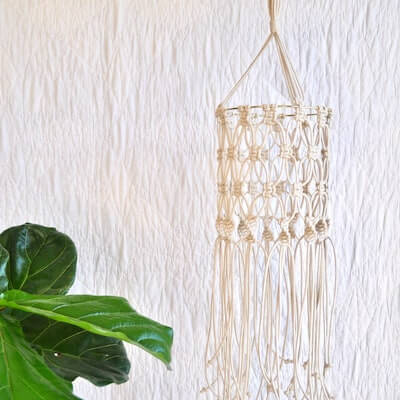 Get the Pattern by House Sparrow Nesting here

3. Bunny Macrame Crib Mobile by Bochiknot Macrame
Incorporate macrame bunny ears into a baby mobile pattern along with pom-poms and tassels for the bunny tail. For the center of the mobile, add a feather/bead/sequin pattern that shines and moves as the baby mobile spins for the little one!
A big part of this project can be made with scrap cords as well – for the pom-poms and tassels in particular.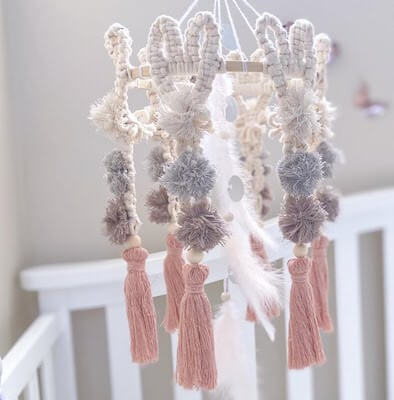 4. How To Make A Macrame Mobile by Hobby Craft
Make your nursery extra-special with this handmade macramé mobile, complete with sun, moon and star embellishments cut using a Cricut machine. With just a few simple knots, you can create this lovely piece. It's the perfect gift for a new arrival.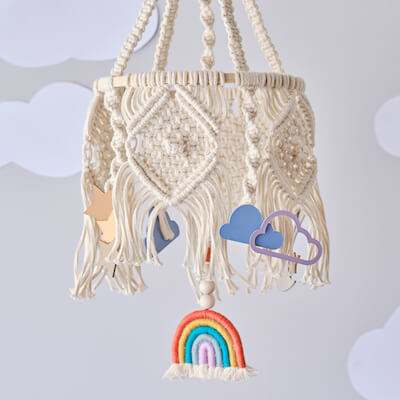 Get the Pattern here

5. Boho Macrame Crib Mobile by Cara & Co
This DIY crib mobile is our boho dream! It's such a stunning piece for any nursery & it's completely gender neutral. The wood beads really shine in this adorable mobile – and add a couple sprigs of spring fresh faux-greenery for a more lovable look!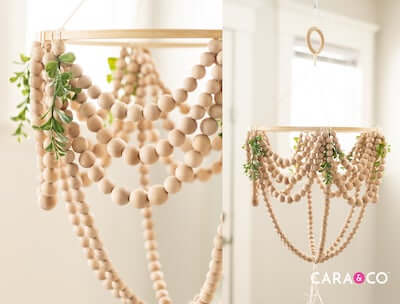 Get the Pattern here

6. Macrame Rainbow Baby Mobile by Tero Designs
This DIY Macrame Rainbow Baby Mobile is an easy to make handmade nursery decor item. This rainbow baby mobile is bright and colorful and would fit any gender neutral baby nursery decor theme.
The best part is there is no sewing required and the skill level required is easy to moderate. This handmade baby mobile features a rainbow sunshine theme.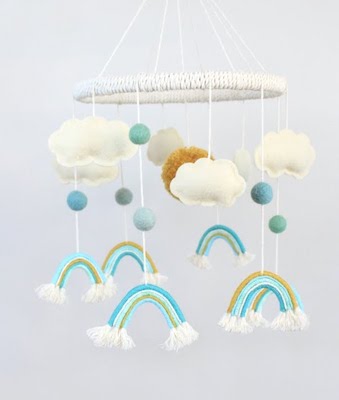 Get the Pattern here

7. Dip-Dyed Macrame Mobile DIY Pattern by Today's Parent
Breathe new life into old-school macramé with this simple bohemian-inspired mobile. This is an easy dip-dyed piece that is made with simple knots anyone can do. Choose a color that compliments your living space.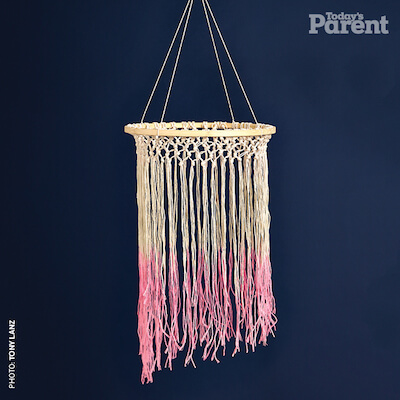 Get the Pattern here

8. Macrame Mobile by Aging Like A Fine Wine
Trade in your traditional baby crib mobile for this easy to make macramé mobile that can be used long after the baby starts to pull his/her self up in the crib! This pattern is extremely easy to make. It only consisted of two knots; the half-knot and the "wrap" knot.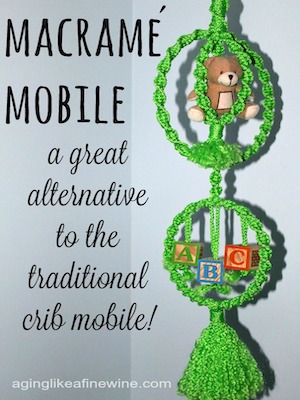 Get the Pattern here

9. DIY Macrame Mobile by Lots Of Knots Canada
Make your home a one-of-a-kind work of art that will distinguish your space with the warmth and natural elegance of macrame with this DIY macrame mobile.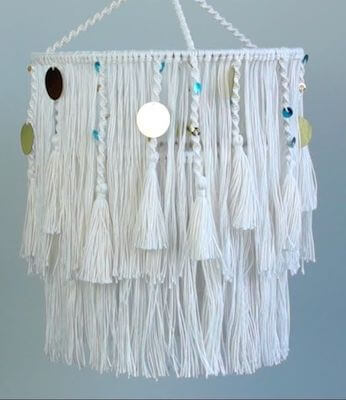 Get the Pattern here

10. Macrame Jellyfish Mobile by Macrame Patterns
Add a little nautical, boho magic to your home with this truly beautiful mobile. This would be adorable used in a nursery as a crib mobile with just the right touch of whimsy!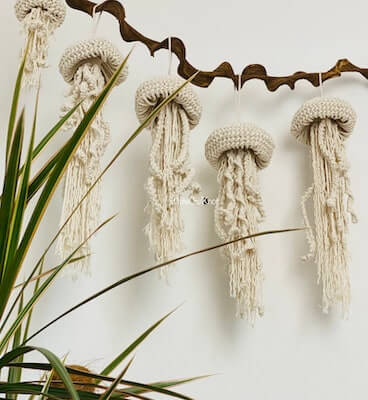 Get the Pattern by Macrame Patterns here

11. Macrame Mobile Pattern by House Sparrow Nesting
Always beautiful to hang in a nursery but just as stunning as part of your wedding day. Even hanging on your porch in the summer, this boho inspired mobile design is perfect for almost every occasion.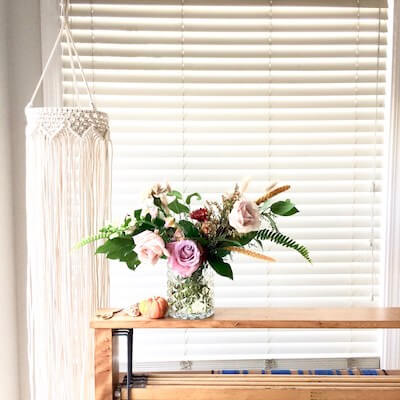 Get the Pattern by House Sparrow Nesting here

12. Macrame Rainbow And Cloud Mobile from Lee Creative Studio
A cot mobile is a great addition for brightening up your little one's nursery and to help soothe them to sleep. It will add a funky touch in all modern, monochrome, scandinavian or nordic decors.

This mobile is made using a bamboo frame with a mixture of macrame rainbows and macrame cloud and wood bead. Best present for your new child or for a baby shower.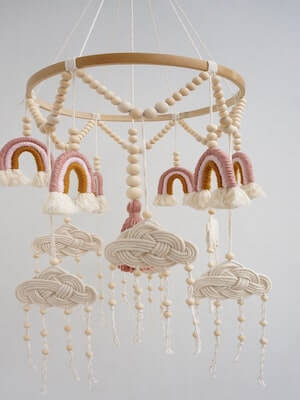 13. Macrame Mother Of Pearl Mobile from Vivent Studio
This macrame wind chime/mobile made with 100% cotton rope and mother of pearl pendants. It's a beautiful piece of wall decor for a nursery, near the window, partio or terrace. This gentle wind chime will be the perfect decor for your home!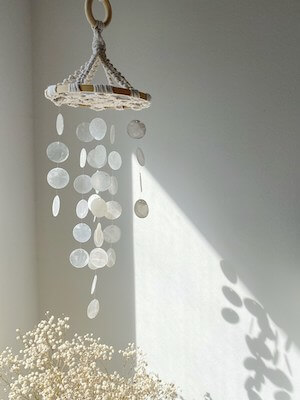 14. Macrame Fiber Baby Mobile from Cot And Cot
Gorgeous bohemian nursery needs a mobile that fits the style. This cute handmade baby mobile is a great fit for plain, simple and neutral baby room. The mobile will interest your baby and be a beautiful decoration of a crib.

This hanger is perfect as gift for a baby shower, or visiting a new baby. The mobile is made of cotton light rope and decorated with small wooden bead.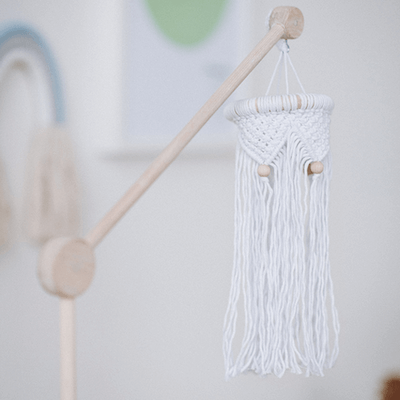 15. Macrame Mobile Wall Hanging from Urbann Nest
This bohemian mobile is thoughtfully created to add dimension and style a nursery or any little corner in your house. It is made by hand using natural unbleached cotton and steel rings.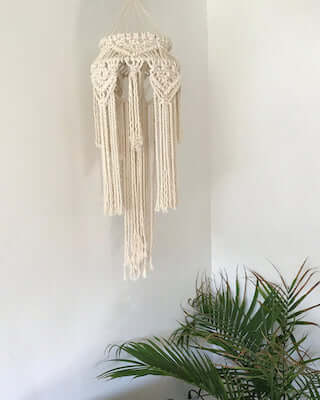 16. Macrame Hanging Mobile from Ditto Biddy
Add a touch of boho whimsy to your baby's nursery. Knotted from super bulky roving and draped in natural wood beads, this macrame mobile adds plenty of texture and interest, while remaining neutral to match most decor. This guy measures 15″ in diameter and 22″ from top ring to bottom fringe.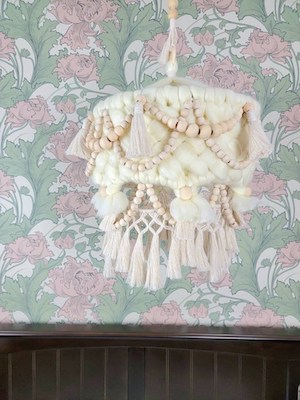 17. Eucalyptus Feather Macrame Mobile from Coco Pop Creations
This stunning eucalyptus baby mobile is created using a wreath made from twigs and small branches. Attached with twisted cotton macrame rope and a metal ring looped in at the top for ease of hanging.
Each row of feathers is hung at a slightly different length to give this mobile an eye catching appeal whilst spinning.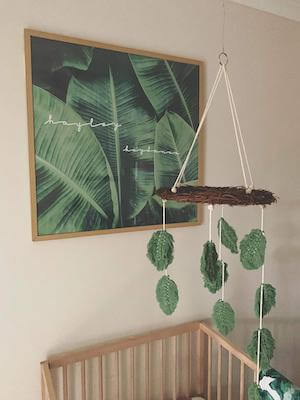 18. Macrame Lantern Mobile from Macrame Wonderland AU
This is a beautiful macrame chandelier/lantern that is handmade with love and can be used like a mobile. You can hang it as is or add a light inside for full effect. This is perfect for a nursery or just any room in the house.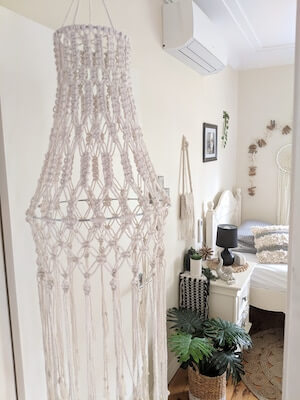 INFUSING YOUR HOME WITH TEXTURE ADDS SO MUCH TO YOUR DESIGN AND IT'S SUPER SIMPLE WITH THE USE OF MACRAME MOBILE IDEAS FOUND HERE.
Whether a baby mobile or something to hang in your room, these are calming, decorative, and lovely bright touch in dark corners. We'd love to see what you do with these projects and where you hang them, so make sure to share it with us over on our community Facebook Page.

Love these ideas? Explore all of our handmade decor collection for your home. Or browse though all macrame projects to see what else you can make.

You can't go wrong with including some new pieces of these macrame mobiles in your own home or gifting them to a friend!