Looking for a new hobby? Book folding is easy to learn, has no startup costs, and is eco-friendly. The process can be quite simple; the result is a beautiful conversational piece. To get you started, all you need is a thick book with lots of pages, a little patience, and these gorgeous book folding patterns below.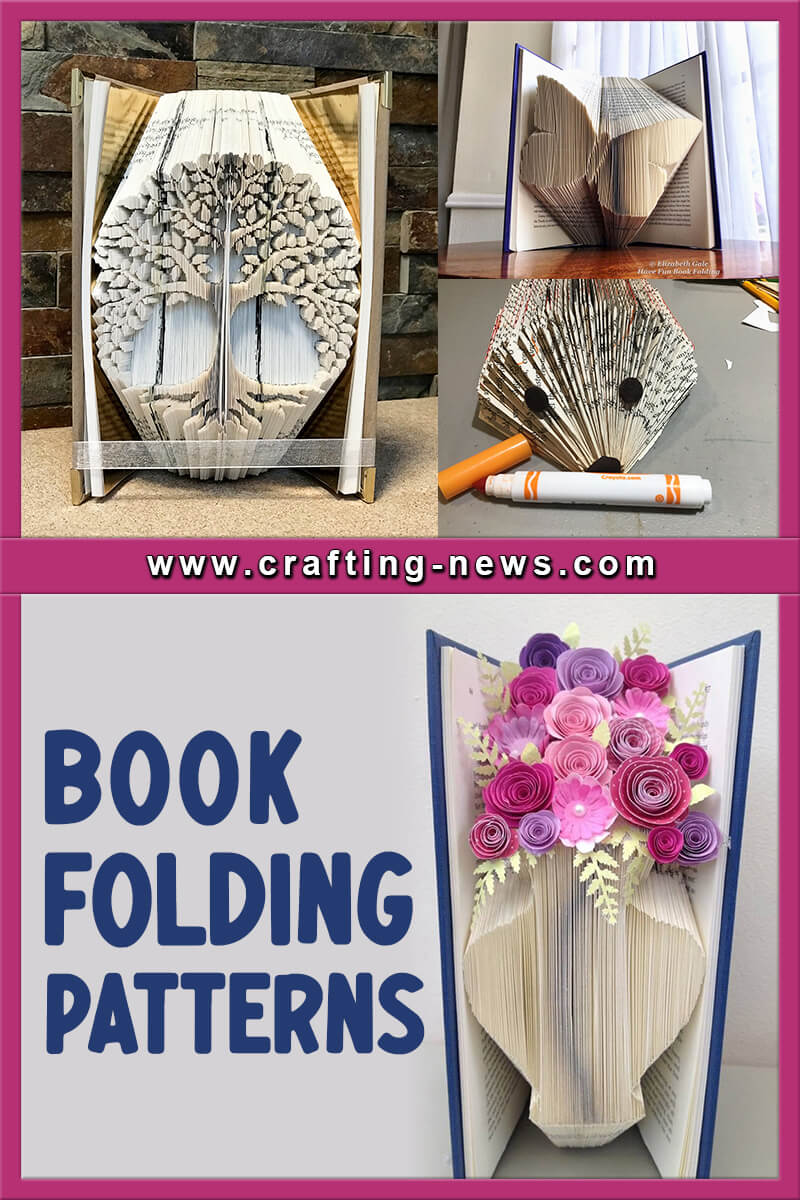 Books have more uses than might be obvious. Sure, you can press flowers in a heavy one and set out the pretty ones as decoration. But have you tried turning a book into three-dimensional sculpture?


15 Folding Book Arts
There are many permutations of book folding, an art form that involves folding pages of a hardcover book – sometimes combined with cutting the paper – within the book's own binding. The finished work pops off the page three-dimensionally, and may be hung on a wall or palaced atop a table. All you need are a few old books and you are ready to start!
1. Read Folding Book Art Pattern by Have Fun Book Folding
Have fun folding this custom design of the word Read. Easy to display in any decor, this classic pattern will enable you to make unique, beautiful gifts for the booklovers in your life.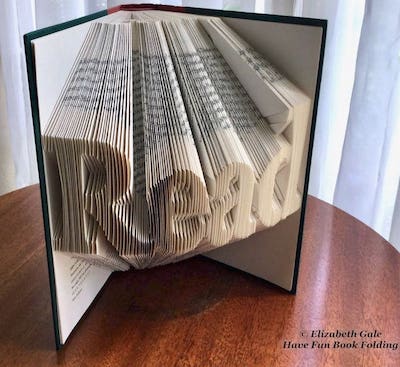 2. Christmas Tree Book Folding Pattern by Simplex Book Folding
This folded book page art allows the folder to create this unique Christmas tree pattern to be in the book. It's very simple to create. The end result is so impressive to look at as well as looks great in any place of your house.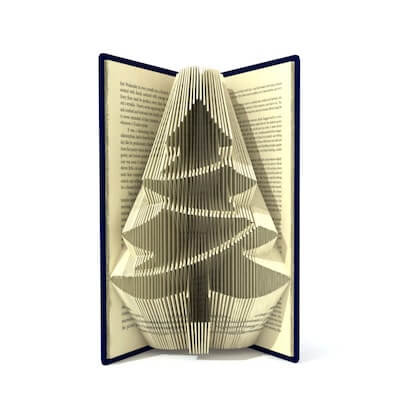 3. Snowflake Free Book Folding Pattern by Instructables
For those of you who like to plan ahead for Christmas, here is a fun pattern for a snowflake book art. The pattern requires 260 folds so you will need a book (preferably hard backed) with at least 520 pages and which is a approx. 21 cms tall (8 inches).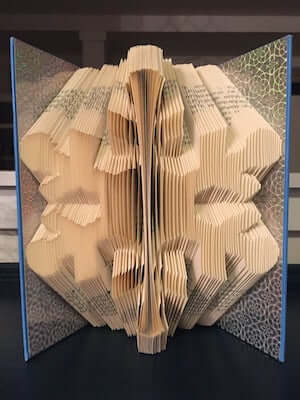 Get the Pattern here

4. Tree Of Life Book Folding Pattern by 1000 Cranes Crafts Art
A combination cut and fold, measure and mark book folding pattern of a classic Tree of Life image. This is for an 823 page book, so it is a big project, but, as you can see from the photo, totally worth the effort.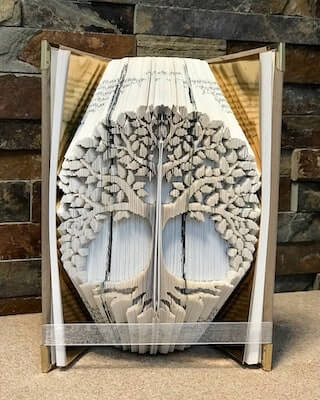 Get the Pattern by 1000 Cranes Crafts Art here

5. Folded Book Page Art Angel by Christine's Crafts
Hand made Christmas decorations are so beautiful. What could be nicer than an angel made from an old book? A folded book angel is virtually free to make and as a result you can make loads of them if you want to. This would look so good sat atop a book-lovers tree or perched on your stack of books.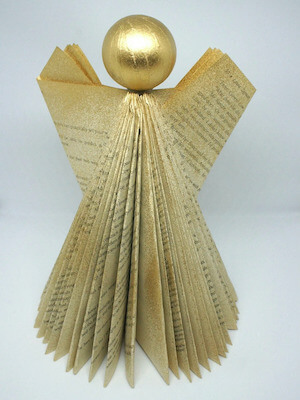 Get the Pattern here

6. Butterfly Folded Book Art Pattern by Have Fun Book Folding
Beloved for its delicate beauty and grace, the butterfly symbolizes new life, new beginnings, and triumph over tribulation. Use this pattern for any occasion to create a beautiful gift for someone special.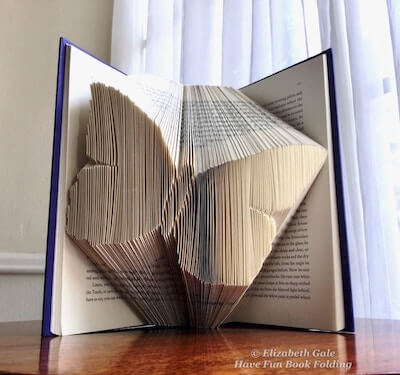 7. Vase Book Folding Pattern by Foldilocks
Once you have folded the book you can add some handmade flowers to make a striking and unique gift for a friend or family, it also makes a lovely thank you gift.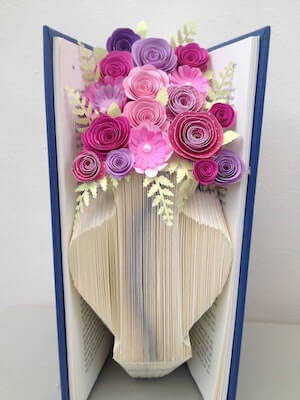 Get the Pattern by Foldilocks here

8. Pray Book Folding Pattern by Looks Inviting
This "Pray" Book Folding Pattern Allows you to create your own folded book art as pictured in the book below. The pattern requires 231 folds so you will need a book (preferably hard backed) with at least 462 pages and which is a minimum of 20 cms tall (8 inches). It uses a medium size, easy to read font and the finished word is approx. 11 cms tall (4.25 inches).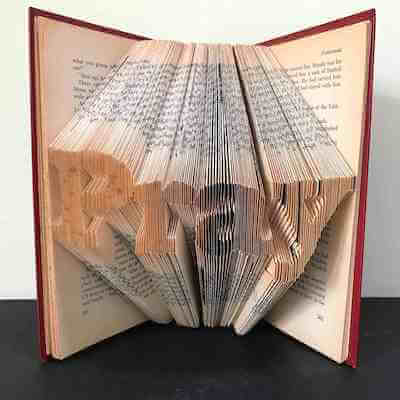 Get the Pattern here
9. Paw Prints Folded Book Art by Instructables
Celebrate your furry friend and the loving bond you share when you fold this Paw Print design. You can also use this pattern to create beautiful gifts for the animal lovers in your life.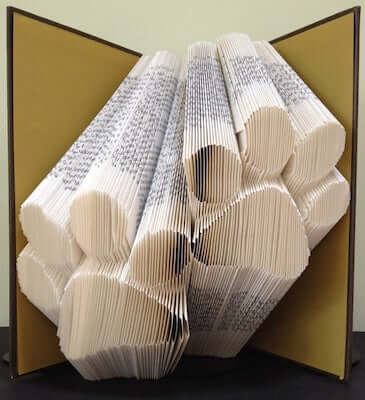 Get the Pattern here

10. Bride And Groom Book Folding Pattern by Simplex Book Folding
Planning a wedding and want a unique centerpiece for your table? Here's a Bride and Groom Book Folding Pattern that's a perfect gift for a bride to be or a wedding decoration. This book fold can be displayed on a mantel, accent a bookshelf, table decoration, or can be a centerpiece for your wedding reception.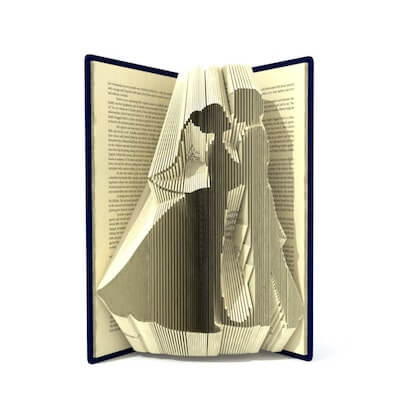 11. Fireplace Book Folding Pattern by Book Folding Treasures
This is a Cut and Fold pattern. The pattern can be done as an outtie, or combi as you prefer. The outtie is pictured and it is done as a 180. If done as a combi you will have the top and bottom sections angled and no shelf.

The shelf and fireplace sections need to be cut deeper to allow for items to be displayed on the shelf and a battery tealight in the fireplace.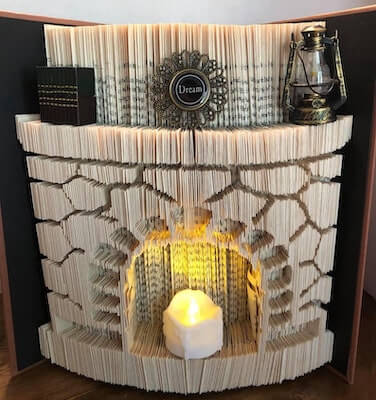 12. Family Book Folding Pattern by Simplex Book Folding
Add a little more love to your home with this custom pattern of the word Family. Few things in life matter more than your family. Help keep them close to your heart by folding and displaying this design. You can also use this pattern to create a meaningful gift.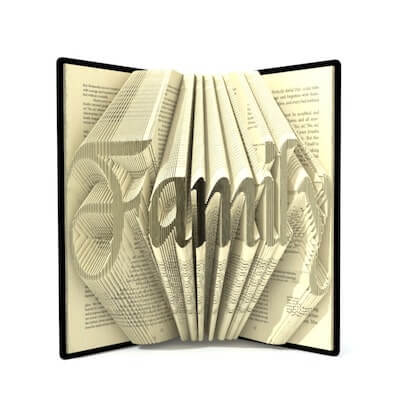 13. Folded Owl Book Page Art by Atta Girl Says
Wondering what to do with old books you don't want to read anymore? Learn how to upcycle them into book page crafts, like this adorable owl. Isn't this owl book page art just the cutest? It's a great handmade touch for fall.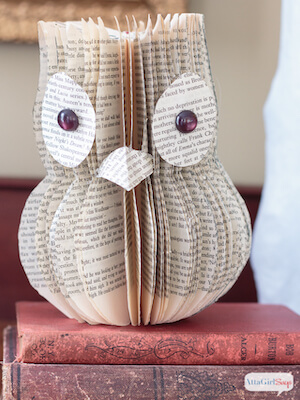 Get the Pattern here

14. Hedgehog Folding Book Art by Wikihow
A book hedgehog is a perfect craft to make if you've got an old book lying around and don't want to throw it away. This craft is easy to make and looks great when it's finished! You can use it for sticking in things like postcards or photos.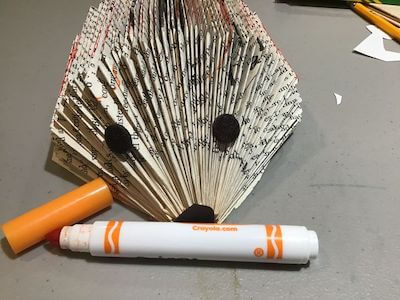 Get the Pattern here

15. Book Folding Patterns Free Download Heart Pattern
Book Folding Patterns Free Download Heart Pattern will look amazing on your bookshelf. Combine your love of reading with your love of paper crafts to create these spectacular 3D sculptures from your books. This paper craft does not involve the use of glue so the book that you use will still be readable.

Alternatively you could use a book with blank paper to create the same effect, or even color the pages of a blank book to create your own unique color design. So why wait any longer, start right now.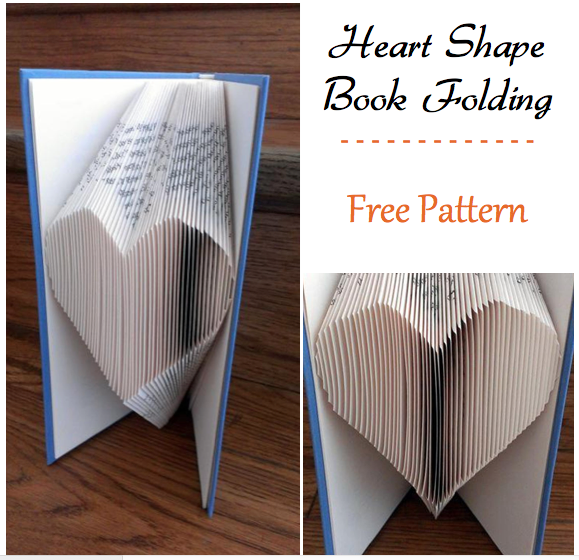 NOW YOU'RE DOWN WITH THESE BOOK FOLDING PATTERNS, IT'S TIME TO GET FOLDING!
If you've got the papercraft bug now, try more lovely crafts you can make here. We have full of fun projects that you'll love. And be sure to share with us on Facebook any crafts that you do – we'd love to see your creativity at play!
We hope you've enjoyed these book folding patterns and have found your next papercraft obsession! Happy book folding!