Chameleon coloring pens
|
Chameleon coloring pens
We love the new craze for adult coloring books and sheets but unless you are particularly arty, they can come out looking, well, sort of flat.  
To be a real expert at coloring and make a real masterpiece with these gorgeous coloring pages, you really need to be able to add some depth and dimension to your colors with shading.
That's hard when you only have so many pens and colors to pick from. Now there is a new product on the market called Chameleon pens, and as you would expect from the name – they change colors! Or at least they change shades within the same color, from the very faintest hint of a tint all the way through to the darkest shades.
No need to blend with these pens, they can do it all for you making you look like a real artist. Take a look at the video below for how they work.
One pen blends multiple tones. The Chameleon Color Tones system allow you to do more with less!
 Double-Ended Pen 

 Japanese SuperSoft Brush Nib and Bullet Nib

 Professional Quality Alcohol-Based Ink

 Refillable Inks 

 Replaceable Nibs

 Permanent on Most Surfaces 

 Compatible with all other Alcohol-Based Inks

 Non-Toxic and Low Odor

 Ideal for All Paper Crafts, Manga, Graphic and Fine Art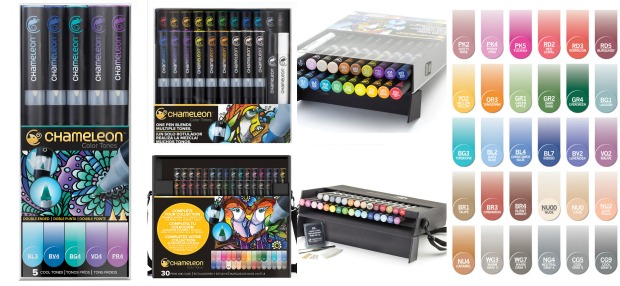 These really are top quality coloring pens - la creme de la creme!  They are even refillable and you can also replace the nibs should you use them SO much that they get a little worn.  They come in sets from large to small so that there is something to suit every budget and every style, from casual mandala coloring to true works of art!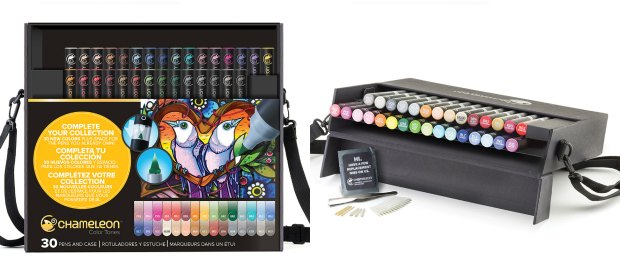 The kids would love them, but we'd suggest they are probably best left to the older ones, because they would be your 'best' pens and the little ones are more likely to 'scrub-color' with them!
Buy the deluxe set and you'll get some lovely free color cards you can practice on - choose from 4 different styles to suit what you like to color.

Chameleon Coloring Pens Available
1. Chameleon Primary Tones Set Of 5 Pens
2. Chameleon Deluxe Set Of 22 Pens
3. Chameleon Pens 52 Pen Super Set With Bonus Case, Nibs and Tweezer
4. Chameleon Color Tones 5 Pen Floral Tones Set
5. Chameleon CHM02205 Coloring Book Lori's Art Garden Coloring BK