Children's Bookends DIY Dinosaur Bookends Free Tutorial
|
Our DIY Children's bookends tutorial with dinosaurs will guide you, step by step, to making these bookends and bringing your child's imagination to life.
The best part?
It only takes around 60 min and it is a great bonding activity that you can share with your kids.
That's not all…
I will highlight some tips and tricks so you can complete this project stress free and with confidence.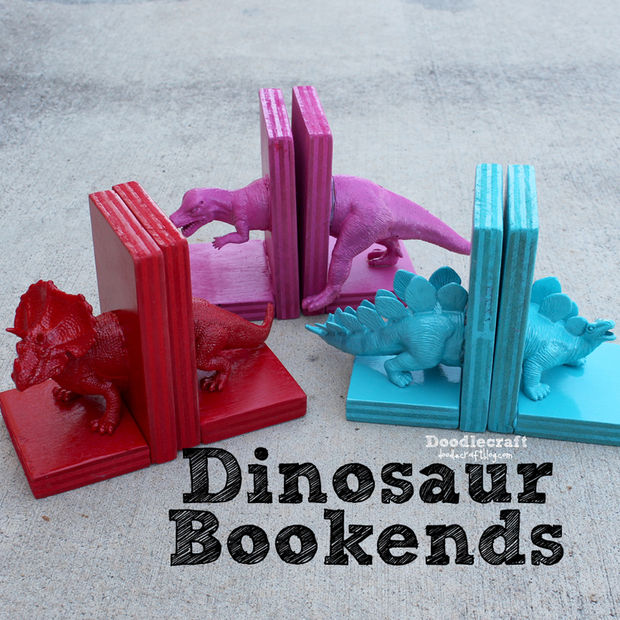 Children's Bookends DIY Dinosaur Bookends
This children's bookends guide will show you how to make sturdy and functional wooden bookends using simple items you probably have lying around.
These amazing children's bookends will help tidy up your kids' bookshelf and add a Jurassic touch, just in time for the new Jurassic Park Movie.
The new Jurassic Park movie inspired us to look for a crafting idea with dinosaurs to do with my niece, when I came across this idea from the team from Doodlecraft.
These are beautifully colored dinosaur bookends that will add flare to their room.
The kids will absolutely love letting their imagination run wild with half a Stegosaurus, triceratops, or T-Rex here and there.
An added bonus is they may even begin to love reading! Pick your child's favorite dinosaur and if dinosaurs aren't exactly their thing, you can customize these bookends using their favorite animal.
You can also use your kid's favorite colors to complete the look. 
Time
Around 60 min to complete.
DIY Children's Bookends Materials
Rectangular Wood.
Your preferred choice of plastic dinosaur toys
Hot Glue Gun and Glue.
A Stanley knife.
Craft Spray Paint 
To begin with, I cut out some scrap wood into rectangular blocks of about 4 inches wide. I had two 6-inch tall pieces and two 3-inch tall pieces.
Then, I sanded them up smooth and they were ready to go. I my little niece helping me but I handled the harder and riskier parts of the process.
Some Quick Tips
* Make sure to use dinosaurs or animals that walk on four feet. This ensures that all four feet can be glued on the Children's bookends. Two feet is possible four is just easier.
*Cutting up your kids' favorite dinosaurs in their full view might upset them. I recommend you chop them up in half beforehand. Find a way to convince them to allow you to cut them up. 
Or, you could alternatively buy new, exact matching pieces to use on this project.
Or, if to cut them in half is not an option check out our other DIY Bookends post.
adsense
*You'll be done with the paint coats after about an hour. It is however advisable to let the Children's bookends rest for about 24 hours to allow the paint to dry completely.
How To Make Children's Bookends
 Step 1
I laid out the blocks for my little niece to stick together. She ran some hot glue across the 3-inch block and stuck it right at the bottom of the 6-inch block.
Step 2
With the first piece done, we repeated the process with the remaining blocks and set them aside for a moment to set. It is worth mentioning we encountered no problem at all with the hot glue staying firmly stuck.
Step 3
For the next part, I cut a plastic dinosaur in half. I couldn't let my niece go anywhere near the Stanley knife so I did this part myself. She absolutely loves the Stegosaurus, a slow moving plant eater with spikes at the back and the tail.
You can use any of the meaner dinosaurs if that's what they prefer. The stegosaurus toy was a hollow plastic toy and was easy to cut.
Step 4
Next, we applied a band of glue around the cut edges of the dinosaur body and on the feet. My niece pressed it tight onto the blocks and it stuck on pretty well.
We repeated the process on the other half of the dinosaur and stuck it on the second bookend.
Step 5
On the last part, I used the craft spray paint to add some color pop. Applying one color makes the DIY kids bookends piece look solid, as if purchased that way.
Step 6
I sprayed the paint in light coats with a waiting period of 10 minutes drying time in between the coats.
To make sure I got under and around all parts of the stegosaurus, I rotated the book end often.
A DIY Kids Bookends Success
My niece absolutely went nuts over her new Children's bookends. She's showing increased interest in reading, well looking at the pictures and making up her own stories. And even reads stories to her little sister now.
The Wooden children's bookends reminds me of a circus act a magician performed. He placed his assistant in a wooden box and sawed him in half. Somehow he survived and his lower half body looked fine flapping around.
So, what are your thoughts on the DIY Dinosaur wooden children's bookends? We would love to hear your experience with this iconic piece.
Feel free to share with us your thoughts, comments or questions on the Wooden children's bookends.
adsense