Whether your personal style is classic, cute, outrageous, or even humorous, let these decorative light switch cover ideas provide you with some inspiration.
Ready to switch out your light switch covers? We've rounded up DIY light switch covers and some sleek switch plates that you can buy.

31 DIY Light Switch Cover Ideas
Upgrading your switch plates might just be one of the easiest ways to elevate your home. No, you're not stuck with boring, standard white light switches forever—these stylish options are proof.
Scroll down to the bottom to see them all, and choose the one (or ones!) that most fit your style!
1. DIY Decorative Light Switch Covers by The SITS Girls
DIY decorative light switch covers are almost as easy as flipping a switch! If you want to save even more on your project, you can use the old switchplates that you have already! Get ready for a fun burst of color that won't break your bank.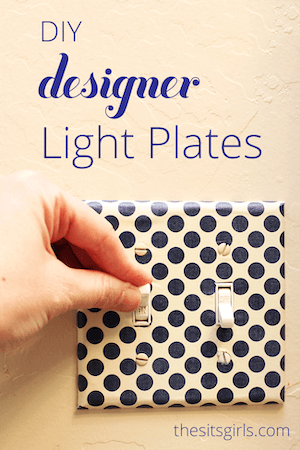 Follow the tutorial here
2. DIY Light Switch Frame by Rachel Hollis
Simple little upgrades can warm up a space and make it feel more like you. This easy light switch frame will add a little pop of texture and personality to an otherwise drab wall necessity. All you need is a extra frame and some paint to make this quick project!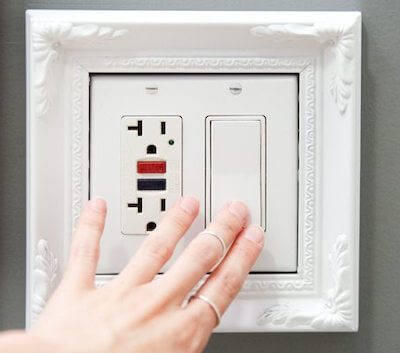 Follow the tutorial here
3. Washi Tape Pretty Light Switch Covers by Skip To My Lou
Washi Tape Light Switch Covers are a quick and easy no mess idea that costs less than a couple of dollars to make. Children will have fun making these decorative light switch covers for all their friend's rooms.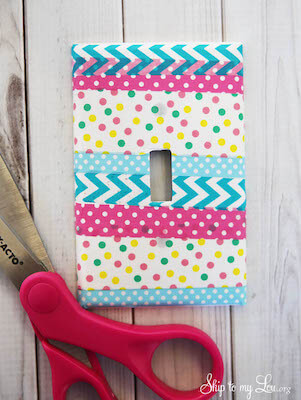 Follow the tutorial here
4. Beachy Decorative Light Switch Cover by Resin Crafts
Using sea shells, sea glass and pebbles add a little coastal vibe to any room with this DIY beachy decorative switch plate cover. If you just can't get enough of the beach – or you're lucky enough to actually live there – this seashell covered light switch plate is perfect.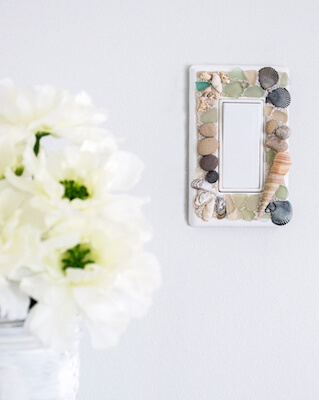 Follow the tutorial here
5. DIY Light Switch Covers by A Piece Of Rainbow
Most wall plates and light switch covers lack personality and flair. Yet it's so easy to turn them into something special with very simple materials – paper and Mod Podge. See how you can make your own designer wall plates and light switch covers in less than 5 minutes!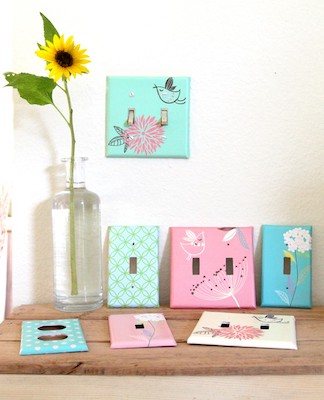 Follow the tutorial here
6. Marbled Light Switch Covers by Doodlecraft
Add some fun to the walls of your home by marbling the light switch covers. This is a fun craft that older tweens and teens will love to. Customize the perfect switch covers for each room, pick the colors you like! This is a fun and quick craft that will leaving you dying to marble all the things!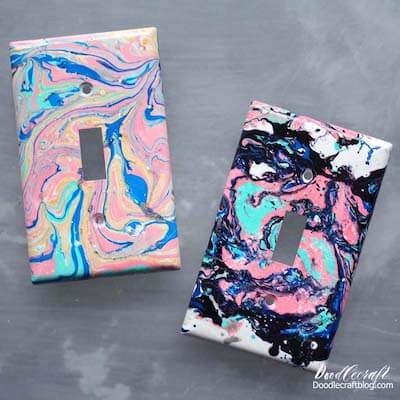 Follow the tutorial here
7. DIY Light Switch Plate by The Steampunk Workshop
If you are into steampunk then this metal gear light switch plate is for you. This one requires a bit of soldering and welding to keep the metal gears in place.
They also use solid brass light switch covers but you could do brass plated if you wanted to make the project a bit less expensive.
Follow the tutorial here
8. Gift Wrapped Light Switch Cover by Curbly
A couple dec'd (as in decoupaged!) wrapped switch plates would be great little somethings for dads and grandfathers this Christmas.
Installed at the front and back doors and in guest rooms, they're a lovely greeting for holiday company. And best of all, they're super fast and easy to make!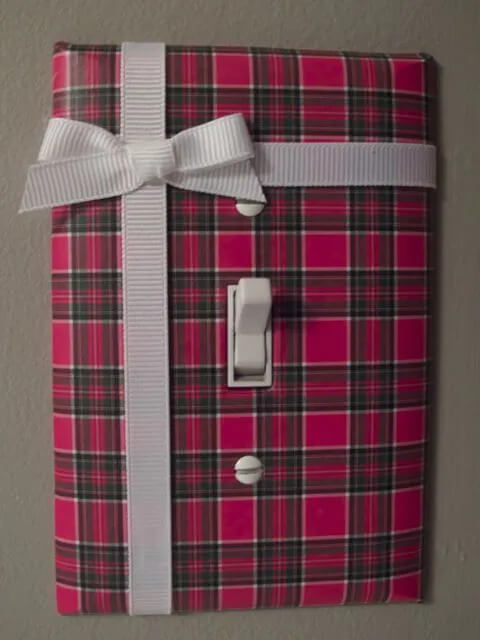 Follow the tutorial here
9. DIY Car Light Switch by Bigger Than The Three Of Us
When decorating your kid's room, make it fun by adding cute little details. How about turning a toy car into a light switch – that's certainly a fun way to decorate.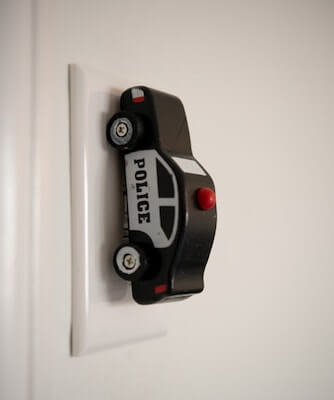 Follow the tutorial here
10. Decorative Light Switch Covers With Mod Podge by Mod Podge Rocks
Use Mod Podge and fabric to make these decorative light switch covers, turning them from boring to fun in just a few minutes. If you are a beginner looking for a home decor idea then this is your project.
It's also a great stash buster for paper or fabric. You could even use napkins or tissue paper.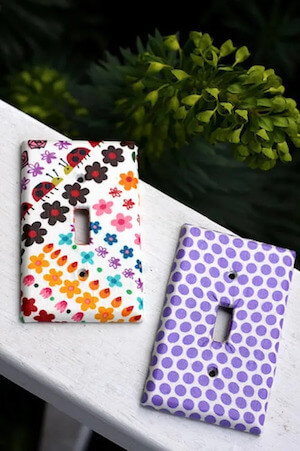 Follow the tutorial here
11. DIY Light Switch Plates by Whimsically Homemade
If you want a classic look, try doing this one using old newspaper or magazine clippings. Simple cover your plate with this and you'll totally change its look.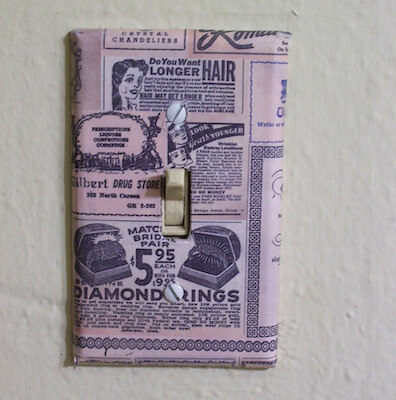 Follow the tutorial here
12. DIY Gold Leaf Light Switch Cover by Sarah Hearts
Create a fantastic metallic finish on your light switches, hitting somewhere between flashy and classy, using gold leaf applied on a neat, clean angle. If you want to experiment with gold leaves, you can try using it for your switch cover like this one. Interesting, right?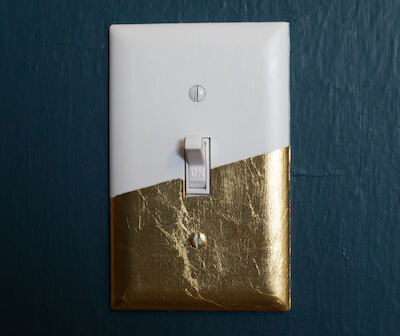 Follow the tutorial here
13. DIY Decorative Light Switch Cover by A Farm Girl In The Making
This decorative light switch cover will add a personal touch and character to each room. It's guaranteed to be a conversation piece, especially ones which were uniquely designed. For example, plate covers using vintage seed packs or artwork from the kids or grandkids.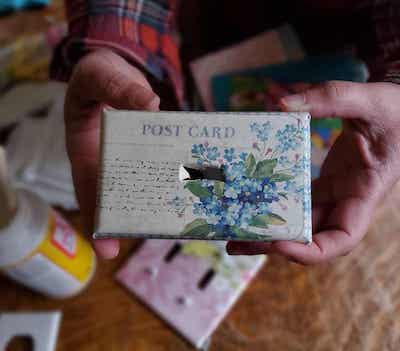 Follow the tutorial here
14. DIY Vintage Light Switch Cover by Sincerely Peachy
Broken pieces of porcelain plates are a smart way to add a vintage flair to switch plate covers. This is done by breaking off pieces of the plate and creating a mosaic look.

You could also just use a smaller plate and cut a hole in the center for the light switch itself and then screw the plate onto the cover. Either way will give you a beautiful look for a kitchen or dining room.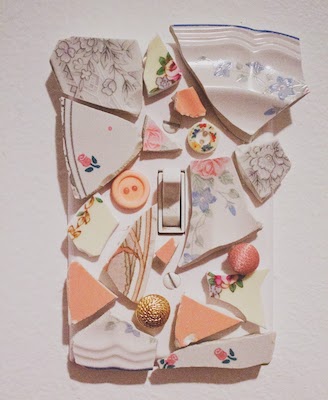 Follow the tutorial here
15. Decorative Light Switch Cover by Education
Have a budding decorator on your hands? One quick and inexpensive way to update your child's room is to decorate the switchplate, the removable plate that goes over the light switch.
There's nothing to buy and when your child wants a new design, you simply make another! It's a great way to personalize a room, or coordinate with the theme of the room.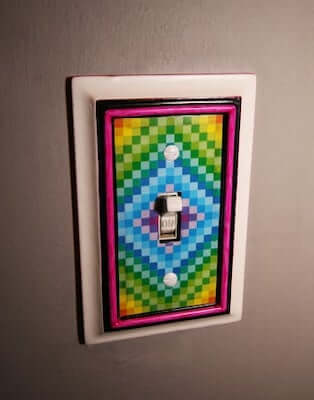 Follow the tutorial here
16. Decorative Light Switch Covers
Decorative Light Switch Covers – As a child, did you ever dream of having a themed bedroom? Just imagine; unicorns, fairies, mermaids and all of the magical touches in between.
Your child would probably love the same wonderful bedroom to dream up all of their creative stories and futures. This sparkly light switch cover is the perfect way to finish off a themed bedroom.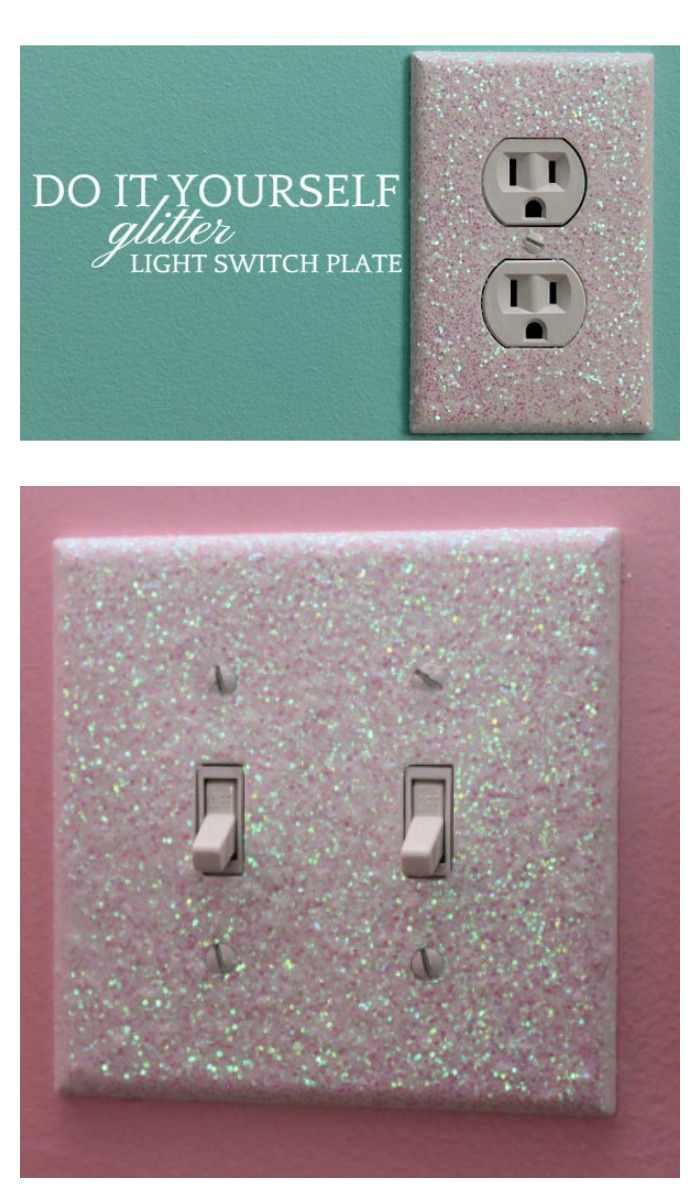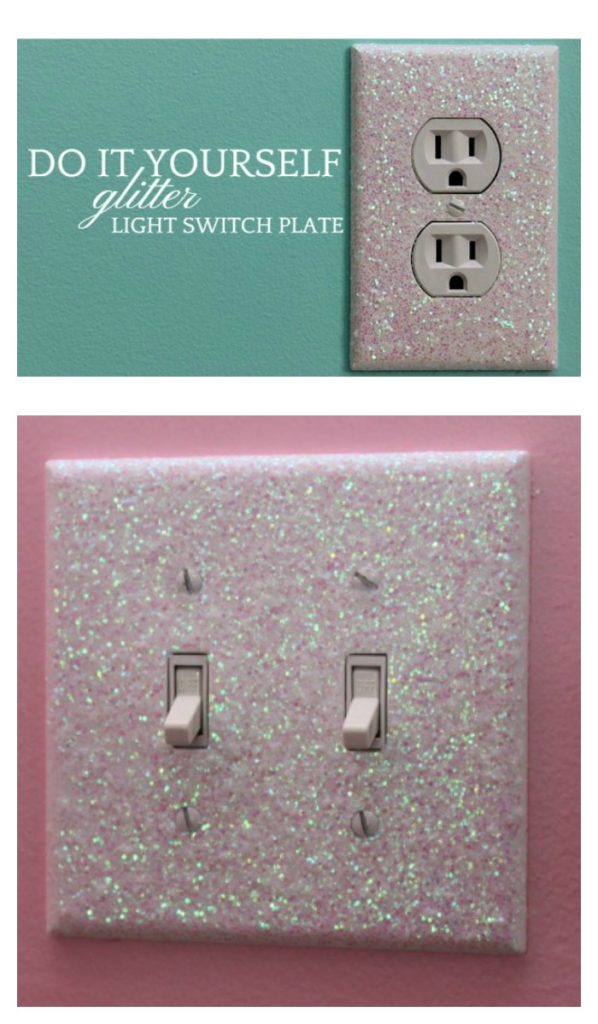 Or if you prefer to have a more simple bedroom, the sparkly light switch covers are a great way to add a touch of magic without going overboard. The best part is that with this design, the glitter won't make a mess.
You Will Need
Light switch and outlet covers (as long as the ones you already have are in good condition, use those)
Mod Podge
Small Paint Brush
Glitter (color of your choice)
Wax Paper
Toothpick or something to clean out holes in the plates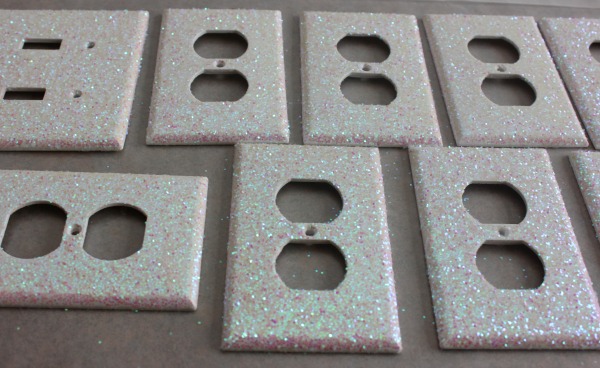 17. Real Wood Switch Plate Cover
Single switch plate cover, perfect for your rustic home and farmhouse style rooms. Bring a warm feeling to any room with this solid hardwood single switch wall plate.
Buy from Jack Creek Home on Etsy here
18. Hot Air Balloon Light Switch Cover
This vintage light switch cover is in great shape and features ribbon-bedecked hot air balloons full of flowers that almost look like cupcakes – very sweet and pretty!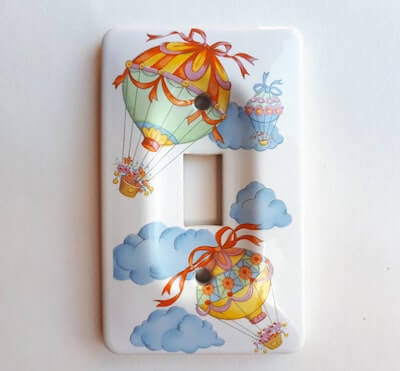 Buy from Style By Decade on Etsy here
19. Silver Shiny Sparkle Bling Crystal Rhinestones Wall Plate Cover
Decorate your room, office or business with this beautiful, sparkling and luxurious looking wall plate cover. See the white diamond looking sparkles come off vividly.
Turn on your room lights and these pretty light switch cover will sparkle and give off eye-catching shiny effects whichever way you look.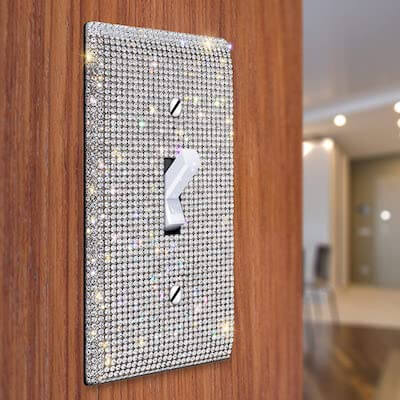 Buy from WIRESTER on Amazon here
20. Black Wood Light Switch Cover
Science fiction fans are sure to appreciate this unique piece – rather than simply flipping a switch, now you can throw a lever like a real mad scientist! Simply replace the cover for your existing decora-style switch and enjoy.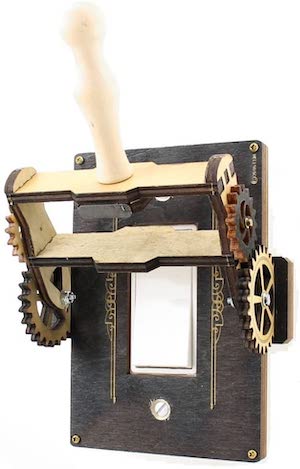 Buy from Green Tree Jewelry on Amazon here
21. Rustic Antler Light Switch Cover
Painted by hand for a realistic and detailed appearance, this rustic antler switch cover would make a dramatic impression in any interior with a lodge, hunting, or outdoorsy theme.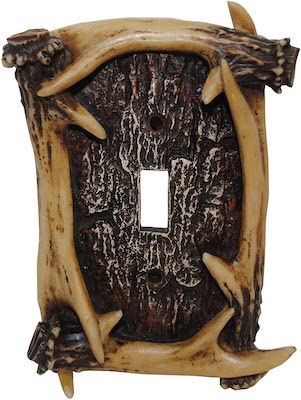 Buy from HiEnd Accents on Amazon here
22. Arcade Light Switch Cover
These classic arcade button wall plates can be used to cover any rocker-style light switches in the house. Add fun to a kids' room, a game room, or even a bathroom.
These push-button light switches will be loved by any fan of video games or antique arcade games. The buttons give you a nostalgic feeling every time you turn on or off the lights.

Get that cool retro arcade look with this colorful switch plate! The smooth and slightly glossy buttons are too irresistible to avoid pressing. It's definitely a fun play on classic light switch covers.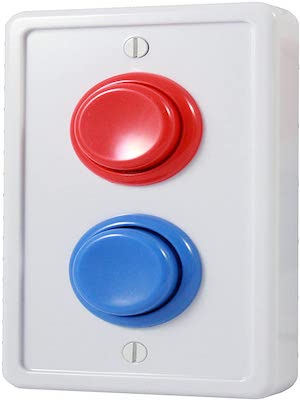 Buy from Light Core on Amazon here
23. Owl Light Switch Cover
This switch plate would make a nice addition to any vintage owl home decor collection. The style is timeless and this switch plate will continue to delight for years to come.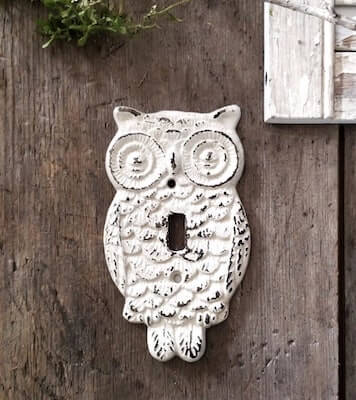 Buy from Farmhouse Iron Co on Etsy here
24. Cast Iron Light Switch Cover
If your decorating style tends to fall along the lines of cottage chic, Scandinavian, or countryside rustic, this vintage switch cover would make a charmingly authentic addition.
These plates are made out of cast iron and the ornate fleur de lis decor really pops with its distressed painted finish.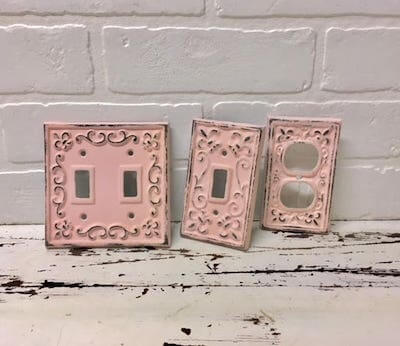 Buy from The Shabby Store on Etsy here
25. Elephant Light Switch Cover
This Elephant Light Switch Cover will add fun to any room. Open and close the eyes and move the trunk to turn lights on and off. This cover is easily placed over your existing switch cover.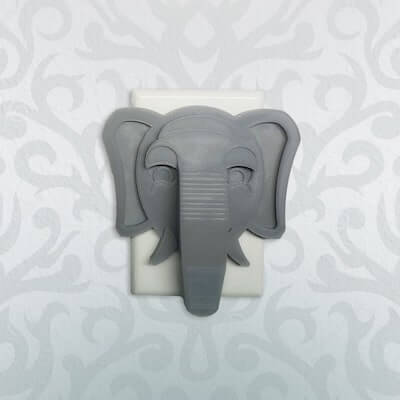 Buy from Switch Shapes on Etsy here
26. Coffin Light Switch Cover
"Kill the lights" can have a whole new meaning when your light switch is buried in a coffin. Now you can give any room in your house or office a dead flair by changing out your boring wall plates and putting your personality on the wall in a functional way!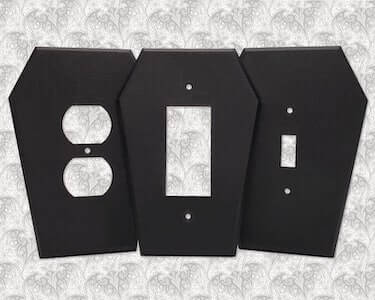 Buy from Cursed By Design on Etsy here
27. Minecraft Light Switch Cover
Bring a touch of Minecraft flair into your personal space using these Minecraft Light Switch Cover. This cover is handmade from wood and available in single lever or double lever design, making this a great addition to any gamer's home.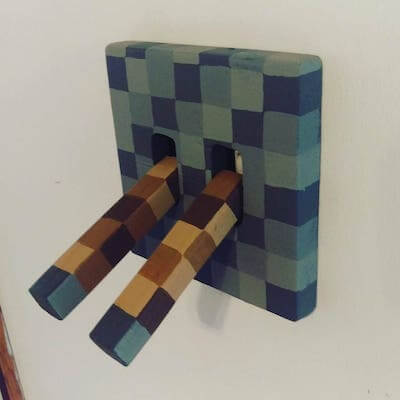 Buy from Inceptualize 3D on Etsy here
28. LEGO Light Switch Plate
Let your imagination run wild as you transform your light switch into a work of art with the LEGO light switch plate. This tiny LEGO canvas gives the room a playful feel and is compatible with all major brick building sets so there's no limit to what you can create.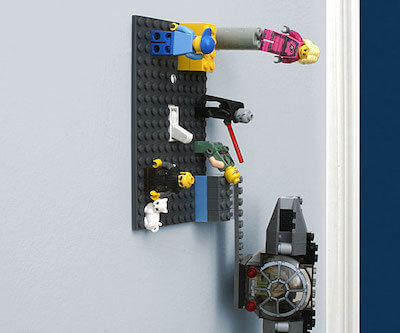 Buy from This Is Why I'm Broke here
29. Geared Wheel Light Switch Plate Cover
These whimsical set of gears translate a rotary action into a vertical motion. Sure to add a little twist to any room. It is created with brass hardware and laser engraved details.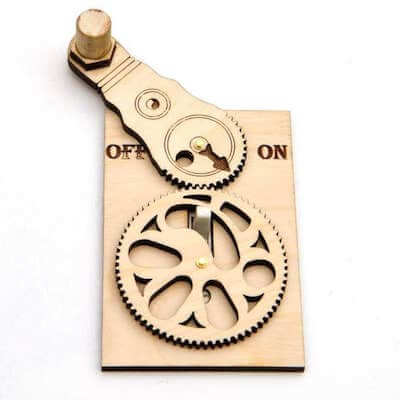 Buy from Linnell Design on Etsy here
30. The Office Light Switch Cover
Bring a little comic relief to your everyday life in the form of this flashing Michael light switch cover. It's handmade from wood, easy to install, measures 6″ x 4″, and makes a wonderful gift idea for the home or workplace of any fan of The Office.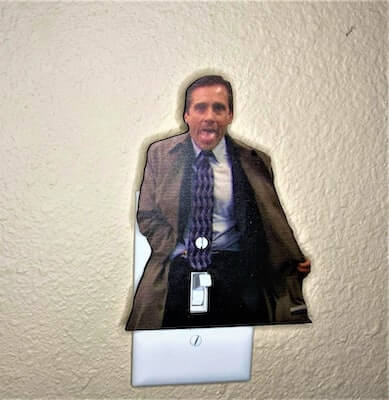 Buy from Phoenix Appeal on Etsy here
31. Light Switch Cover Sticky Notes
This Light Switch Sticky Notes will make sure you never again forget an important task or idea before leaving the room. The simple yet innovative design fits over most light switch covers and provides just enough space to jot down a quick reminder.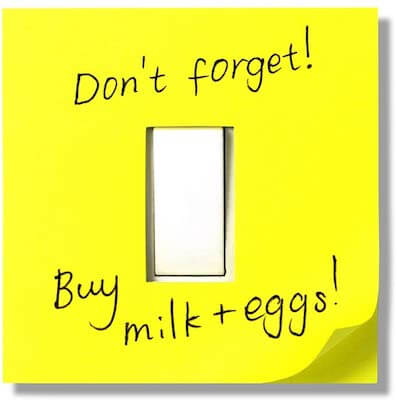 Buy from Suck UK on Amazon here
YOU WILL HAVE YOUR ENTIRE HOUSE LOOKING MORE ELEGANT AND REFINED IN A MATTER OF MINUTES WITH DECORATIVE LIGHT SWITCH COVERS.
If you end up making something from this list, don't hesitate to share photo with us on our Facebook Page.

Do-it-yourself decor lets you customize your home, apartment, condo, or room without completing a full-scale remodel. Choose from our collection of easy, budget-friendly DIY home decor projects for one-of-a-kind artwork, accessories, and more.
These decorative light switch covers are the kinds of touches that can bring a space together, making it feel truly complete. Happy crafting!