DIY Bookends Personalized With Your Favorite Animal
|
This step-by-step guide aims to teach home decor enthusiasts how to create stunning DIY bookends using your favorite animals.
But that's not the best part,
This simple yet proven method will give you the confidence you need to to make DIY bookends for kids and even toy soldier bookends if you prefer.

DIY Bookends Personalized With Your Favorite Animal
DIY Bookends are must-have bookshelf piece. These timeless creations should be part of your home décor and what's better than customizing your own homemade bookends?
Recently, here at Crafting News we have realized that having a beautifully crafted timber bookshelf in your living room or dining room is a quick way of fast-tracking its way back into top home decor trends.
It does, however, require some designing skills to be able to put together a classic bookshelf that flows well with your home's Feng shui.
It would be impractical to fill your home bookshelf with books, you are not running a school or public library after all. Too many books, not enough books, or photo frames?
What exactly do you put on a bookshelf? This is a delicate balance to achieve to get your bookshelf looking great.
The Secret To A Beautiful Bookshelf
It is widely accepted that the secret to achieving a fantastic looking DIY bookshelf lies in the choice of items you decide to place on it.
These easy DIY animal bookends are just the perfect accompaniment to your home bookshelf. They not only look elegant and chic but can also be personalized to feature your favorite animals. Thanks to Brightnest for this tutorial.
Or if you prefer your favourite animals or dinosaurs in half, then check out our previous children's bookends post.
DIY Bookend Materials
To get started on your DIY animal bookends, you need to have gathered the following materials.
Two blocks of wood.
Paint, in your preferred colors.
Gorilla glue.
Two Toy animals of your choice, and
Some sandpaper.
We generally recommend that when you are choosing your blocks of wood alongside your two toy animals, consider their respective weights.
The heavier both items are, the sturdier the finished decorative bookends will be. However, if you can't find heavy-enough animals or toys, you can use heavy hardwood.
Be sure to talk to your local hardware store or timber yard about what choices of wood are available. More often than not, you will find suitable blocks of wood to use in projects such as these.
Be sure to ask if they have some off cuts of the sizes you need, you may be able to get them for free.
How To Make DIY Animal Bookends
After asking your local timber yard or hardware store about some heavy hardwood, ask them to cut the wood pieces to suitable sizes for you.
Before you commence putting together the DIY bookends, note that the size of the wood you use should correctly match the size of the animals you decide to use and also on the size of your bookshelf.
So make sure that you take correct measurements before getting the wooden blocks cut.
For the method, I had my 3-year-old niece helping me and boy does she love her wild animals! It was a real pleasure crafting kids bookends just for her especially since her favorite activity is reading.
Step 1
To begin with, my niece and I sanded the edges of the wooden blocks to ensure that they were not sharp.
Step 2
Afterwards, I painted the wooden blocks and two of my niece's toy animals in her favorite colors. I highly recommend that you use Rust-Oleum Metallic Spray Paint.
You can also paint the wood and animals using regular acrylic paint if you fancy painting with a brush. To be safe, however, handle the spraying yourself and leave the lighter tasks to your little helper.
Step 3
I left the wood pieces and animals to dry and afterwards applied a second coat of paint. I let the second paint coat to dry overnight.
Step 4
Once the paint was fully dry, the next task was to glue the wood pieces and the animals together. We glued together the wood pieces and they stuck together beautifully.
Step 5
For the last part, I helped my niece to place some glue on every toy surface that would be in contact with the blocks of wood. This means the feet of the buffalo toy pieces we used.
She pressed down firmly and once stuck, we left them to dry for 24 hours ensuring the glue cured properly.
Once done, my niece couldn't wait to put the DIY bookends with personalized animals on display in her room. The animal bookends DIY sure looked amazing and I made sure to get her some more books.
I reckon the whole process wasn't too hectic and I should probably make more of these DIY bookends. I'm thinking giraffes in place of the buffaloes this time or elephants perhaps.
Children's Bookends DIY Dinosaur Bookends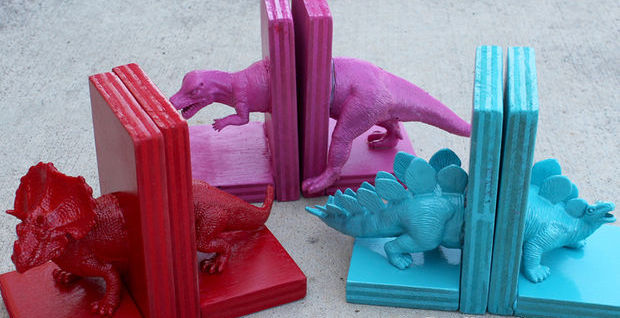 This children's bookends guide will show you how to make sturdy and functional wooden bookends using simple items you probably have lying around.
These amazing children's bookends will help tidy up your kids' bookshelf and add a Jurassic touch, just in time for the new Jurassic Park Movie.
The new Jurassic Park movie inspired us to look for a crafting idea with dinosaurs to do with my niece, when I came across this idea from the team from Doodlecraft.
These are beautifully colored dinosaur bookends that will add flare to their room.
The kids will absolutely love letting their imagination run wild with half a Stegosaurus, triceratops, or T-Rex here and there.
An added bonus is they may even begin to love reading! Pick your child's favorite dinosaur and if dinosaurs aren't exactly their thing, you can customize these bookends using their favorite animal.
You can also use your kid's favorite colors to complete the look. 
Time
Around 60 min to complete.
DIY Children's Bookends Materials
Rectangular Wood.
Your preferred choice of plastic dinosaur toys
Hot Glue Gun and Glue.
A Stanley knife.
Craft Spray Paint 
To begin with, I cut out some scrap wood into rectangular blocks of about 4 inches wide. I had two 6-inch tall pieces and two 3-inch tall pieces.
Then, I sanded them up smooth and they were ready to go. I my little niece helping me but I handled the harder and riskier parts of the process.
Some Quick Tips
* Make sure to use dinosaurs or animals that walk on four feet. This ensures that all four feet can be glued on the Children's bookends. Two feet is possible four is just easier.
*Cutting up your kids' favorite dinosaurs in their full view might upset them. I recommend you chop them up in half beforehand. Find a way to convince them to allow you to cut them up. 
Or, you could alternatively buy new, exact matching pieces to use on this project.
Or, if to cut them in half is not an option check out our other DIY Bookends post.
*You'll be done with the paint coats after about an hour. It is however advisable to let the Children's bookends rest for about 24 hours to allow the paint to dry completely.
How To Make Children's Bookends
 Step 1
I laid out the blocks for my little niece to stick together. She ran some hot glue across the 3-inch block and stuck it right at the bottom of the 6-inch block.
Step 2
With the first piece done, we repeated the process with the remaining blocks and set them aside for a moment to set. It is worth mentioning we encountered no problem at all with the hot glue staying firmly stuck.
Step 3
For the next part, I cut a plastic dinosaur in half. I couldn't let my niece go anywhere near the Stanley knife so I did this part myself. She absolutely loves the Stegosaurus, a slow moving plant eater with spikes at the back and the tail.
You can use any of the meaner dinosaurs if that's what they prefer. The stegosaurus toy was a hollow plastic toy and was easy to cut.
Step 4
Next, we applied a band of glue around the cut edges of the dinosaur body and on the feet. My niece pressed it tight onto the blocks and it stuck on pretty well.
We repeated the process on the other half of the dinosaur and stuck it on the second bookend.
Step 5
On the last part, I used the craft spray paint to add some color pop. Applying one color makes the DIY kids bookends piece look solid, as if purchased that way.
Step 6
I sprayed the paint in light coats with a waiting period of 10 minutes drying time in between the coats.
To make sure I got under and around all parts of the stegosaurus, I rotated the book end often.