Every room needs a few books. If you're an avid reader—and even if you're not—you're likely to have a few favorites. Whether they are novels, cookbooks, travel guides, books of poetry, baby books, or photo albums, giving those favorite volumes a place of pride in your home adds personality and meaning.
There are lots of clever ways to display books; however, one simple way to highlight a special collection is with a pair of bookends. But finding ones that you like – or choose to actually spend that kind of money on – can be rare. The right color, the right texture, the right style – they can all be so elusive.
So instead of spending hours scouring online catalogs, you could just make your own from any of these DIY bookends below!
1. DIY Striped Bookends by Pretty Providence
A block of spare wood, cut diagonally into two triangles, is the perfect base for a modern set of bookends. Use masking tape to help create perfectly painted stripes, and tailor the colors to your interior for a fully coordinated bookshelf.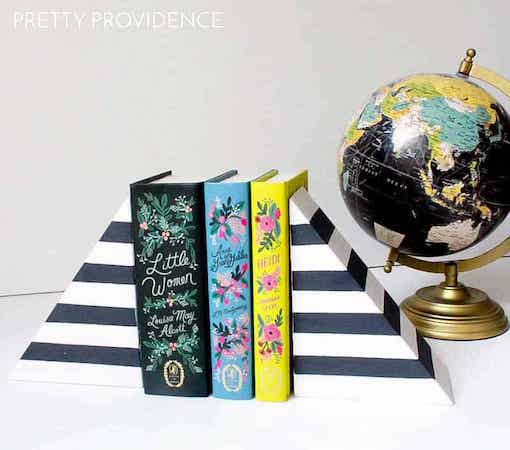 Get the tutorial here
2. Invisible Bookends by A Beautiful Mess
Bookends are a great way to add a bit of style to your bookshelf, but what about when you don't really have room for a big ol' bookend? Or maybe you just want to keep things simple on your bookshelf.
Why not turn a pretty, forgotten book from the thrift store into a bookend, solving all your bookshelf problems? It's the perfect thin shape, looks great, and is a nice way to give new life to a damaged or discarded book.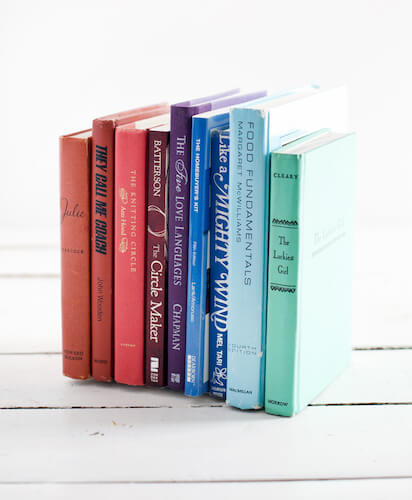 Get the tutorial here
3. Rainbow DIY Bookends by See Lindsay
Have a circuit maker at home? Use it to make these rainbow bookends. You only need basswood and a few other tools, it's a quicker project, and turn out so incredibly colorful.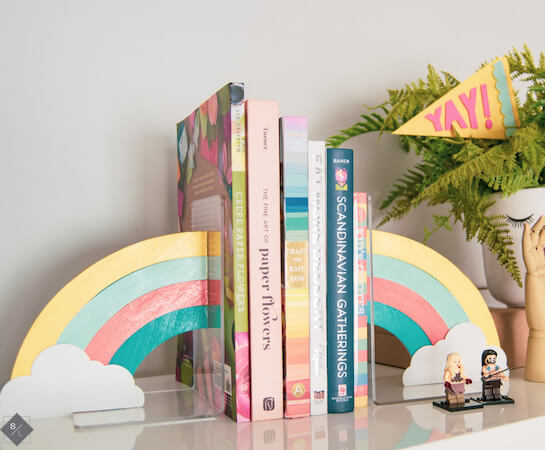 Get the tutorial here
4. DIY Decorative Wooden Bookends by Jen Woodhouse
Are you a woodworking enthusiast looking for a new DIY project? Beautifully decorative wooden bookends like these will be your next project. Not only is the aesthetic on point, but keeping your books straight and from falling down will be so nice too!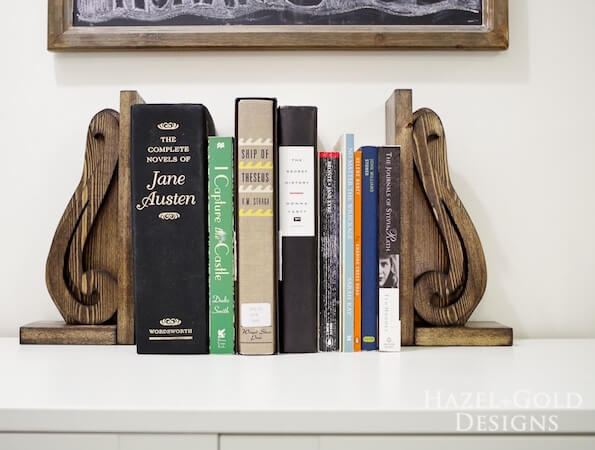 Get the tutorial here
5. DIY Wooden Half Log Bookends by Homedit
Looking to add some extra color and style to a bare bookshelf? Create these DIY wooden bookends on a dime! With a half log and a few fun and bold paints bring a half log to life for this project. A few simple cuts and these sturdy pieces are ready for your creative touch. Personalize their color and size for your decor!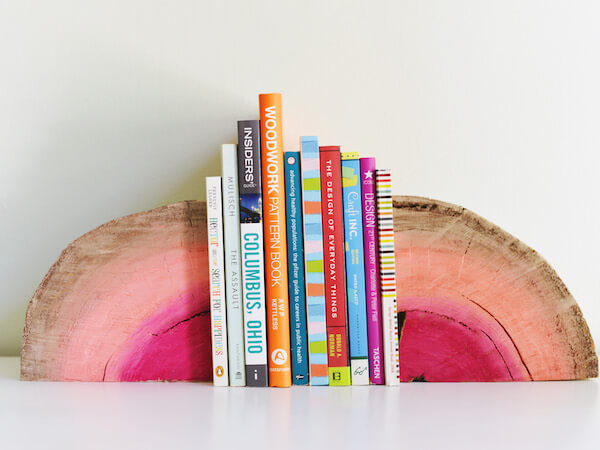 Get the tutorial here
6. DIY Pineapple Bookends by DIY Candy
Learn how to make these simple, DIY pineapple bookends in just a few steps! The supplies are also very budget friendly. All it takes to whip up these pineapples is a coat of metallic spray paint. You'll be left with bookends that resemble the sought-after, high-end vibe most folks are looking for.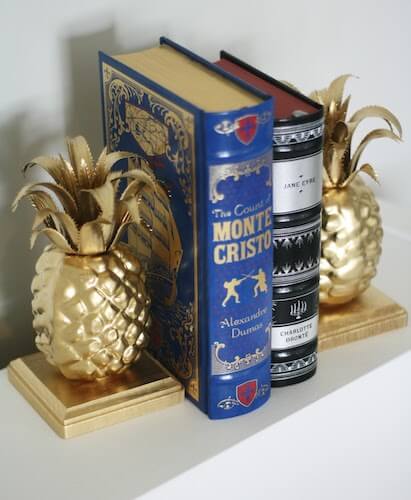 Get the tutorial here
7. DIY Arrow Bookends by Lovely Etc
These fun little bookends are a unique twist on some of the current decorating trends. And they won't cost you a fortune like buying something like this from a retailer might. Instead, they're simple and fun to make and don't cost a load. The tutorial tells you how to do everything, including making the clay arrowhead.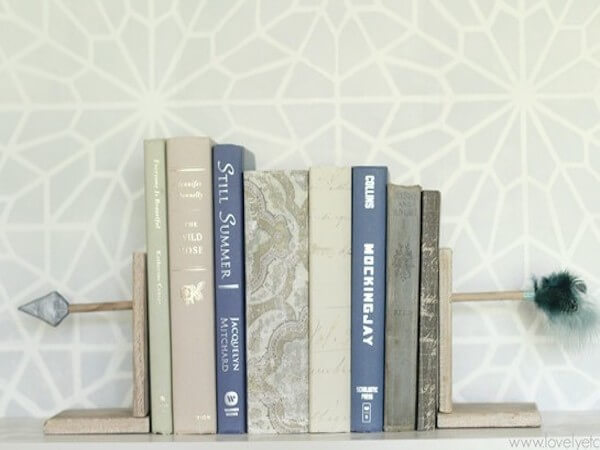 Get the tutorial here
8. DIY Bookends Made From Vintage Rolling Pins by Mod Podge
You can make DIY bookends out of almost anything, but this vintage rolling pin version is particularly charming. Looks great in a farmhouse kitchen, propping up cook books. So creative!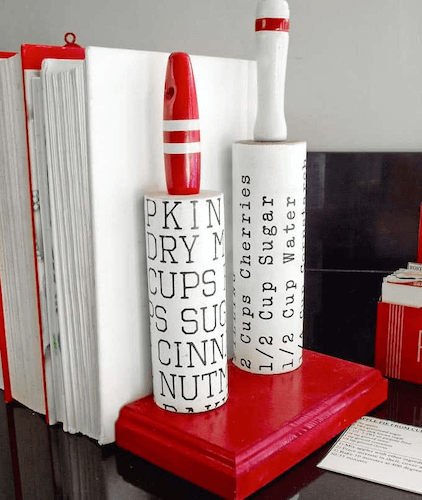 Get the tutorial here
9. DIY Bunny Bookends by Just Measuring Up
Learn how to build DIY wood bookends with this easy tutorial. These DIY bunny bookends are perfect for keeping kids' books organized – and it was a zero cost project!
Get the tutorial here
10. Quick DIY Bookends Made From CDs by Craft Your Happiness
Need some quick DIY bookends? Grab a couple of CDs or DVDs and a candle and you'll have them in less than 5 minutes! Though these are short they hold fairly decent sized books as you can see in the photo. These would be fun for kids books too as you can decorate them up all kinds of fun ways with paint and/or labels.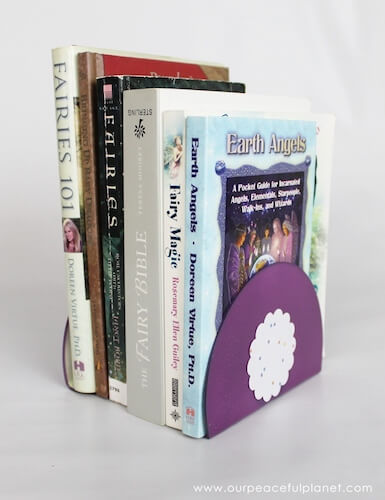 Get the tutorial here
11. DIY Superhero Bookends by Little Red Window
Do you have any books or graphic novels that keep falling off your shelf? Let these tough superhero bookends use their super strength to save the day! Put them on the shelf and keep your books nice and tidy!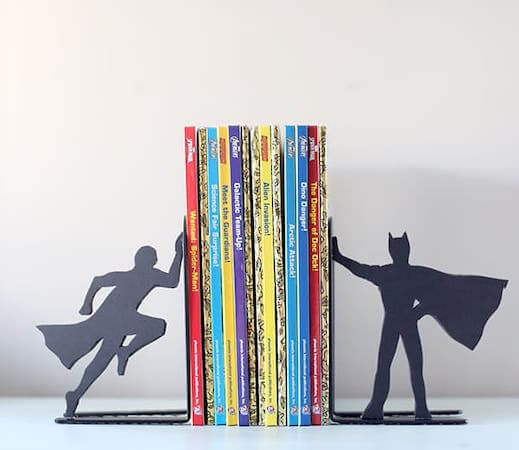 Get the tutorial here
12. DIY Triangle Bookends by Almost Makes Perfect
Reuse your empty cardboard shipping packages to make pyramid-shaped bookends.A quick coat of metallic spray paint gives your cardboard figures a high-end look. Don't hesitate to embellish with ribbon trim or stick-on crystals–this craft is perfect for adding your own personalization.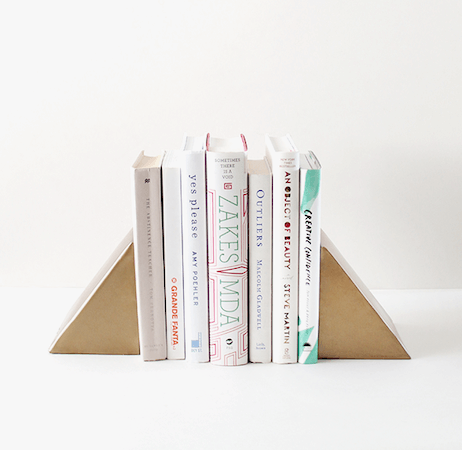 Get the tutorial here
13. DIY Faux Ceramic Animal Bookends by Lovely Indeed
Repurpose old toys to capture that luxury ceramic look popular at your favorite high-end home stores. Coat animal figurines in white paint, and adhere to scrap wood for a sweet of quick and simple homemade bookends. Create a whole set with different animals for a cohesive, whimsically-styled library.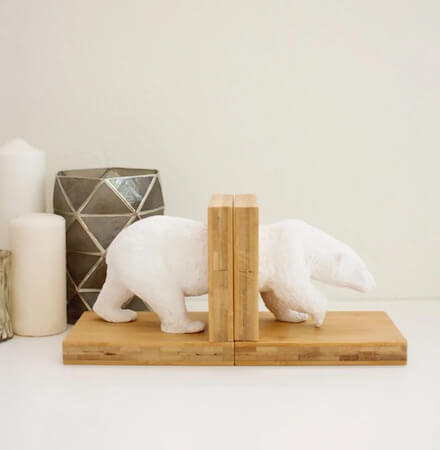 Get the tutorial here
14. DIY Concrete Sphere Bookends by A Beautiful Mess
These DIY splatter painted concrete sphere bookends are the perfect easy DIY project to help keep your books upright. And you will love the unique spherical look! They're perfect as a set of coordinated bookends, but also work wonderfully as paperweights and desk accessories.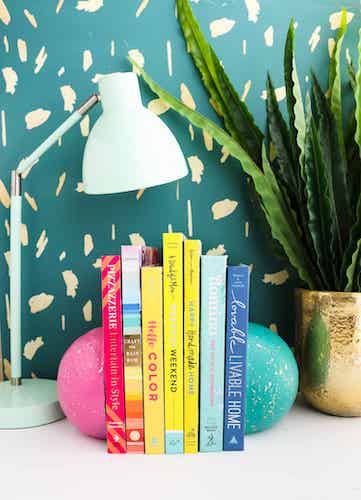 Get the tutorial here
15. DIY Succulent & Supply Holder Bookends by I Spy DIY
If you are looking for bookends that have multiple functions, you've come to the right place! These box-styled bookends hold your books vertically, serve as succulent planters, and hold smaller supplies. You can also use them as tiny pinboards.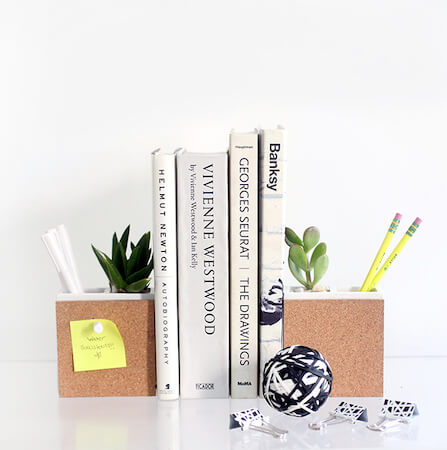 Get the tutorial here
16. DIY Unicorn Bookend by Made To Be A Momma
This DIY unicorn bookend is a simple and sparkly diy idea that is perfect for any little one that loves magical unicorns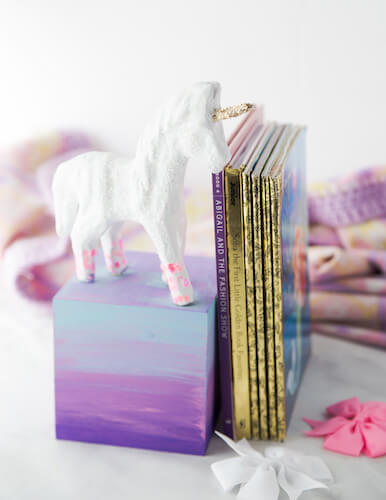 Get the tutorial here
17. DIY Cement Bookends by Pretty Providence
Have you ever crafted with cement before? If you haven't, you should! It's such an easy medium to work with and there are so, so many different projects to make with it.
This tutorial will going to show you how to make these modern cement bookends, the perfect project to get your toes wet on working with cement.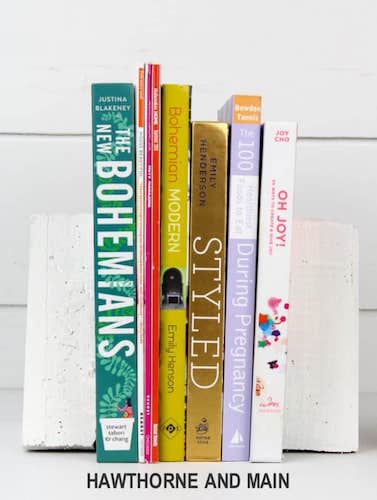 Get the tutorial here
18. DIY A To Z Bookends by At Home In Love
Who can resist a DIY project that's both useful and beautiful? These fabulously functional DIY Letter Bookends will be you favorite home decor item. This is a classic type of bookends, especially for a child's room or a family room. Swap the A and Z for your own initials for a more customized piece.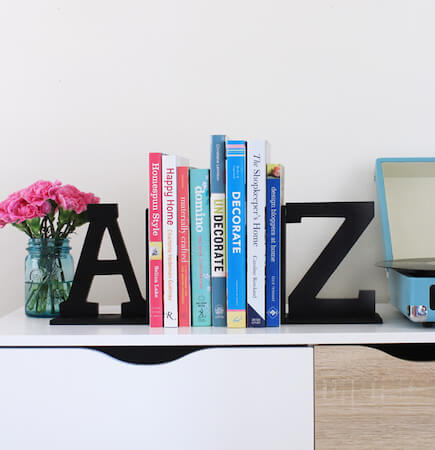 Get the tutorial here
19. DIY Brick Bookends by Human Behavior
For a classic book lovers who vibe with the invisible bookend idea, but don't want to use actual books to make your bookends, you'll love these ones. They're basically painted bricks with book titles etched on with a fine point brush.
They're super easy, very effective for keeping your books in place and add a unique charm that few other bookends could. Plus, they're inexpensive to make.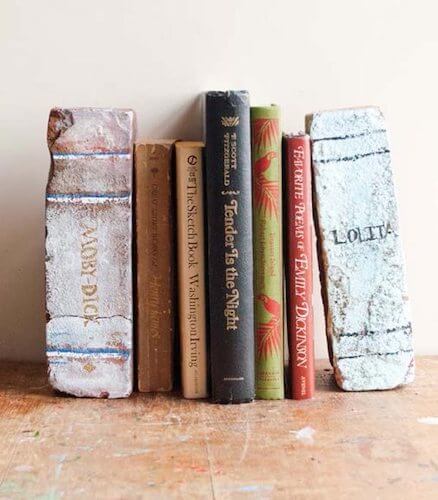 Get the tutorial here
20. DIY Quote Bookends by Never Skip Brunch
Make these chic DIY bookends with typeface vibes and sides that mirror book pages. Stacking up plywood is an easy way to build a blocked shape, plus adds a striped texture for interest. On these bookends, the striped plywood looks like pages on the edge of a book, which is a little extra design detail that makes these extra special.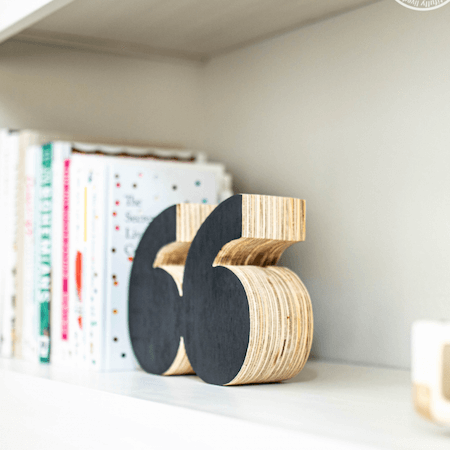 Get the tutorial here
21. DIY Owl Bookends by Pretty Handy Girl
While you're cleaning out the scrap wood bin, save a few scraps to make these cute owl bookends. They are adorable and will help straighten up your bookshelf, too. This is a great gift idea for adults and kids alike!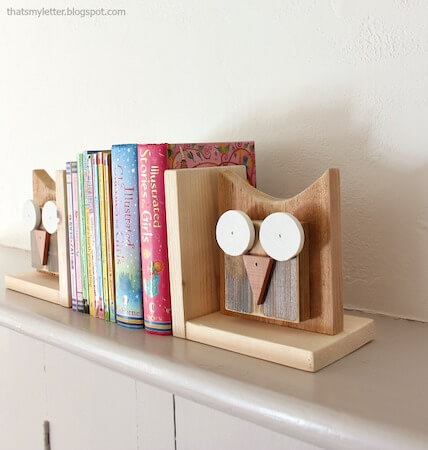 Get the tutorial here
22. DIY Penguin Bookend by Project Kid
Using a mix of household, recycled, and traditional craft supplies, your kids will feel so proud of the work they've done when they see this colorful penguin holding up their books!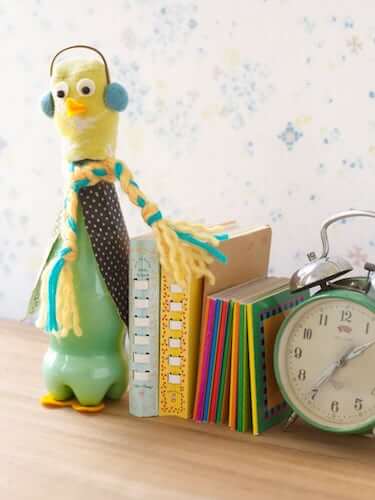 Get the tutorial here
23. DIY Bookends by Gathered
Up your shelfie game with these mini beanbag DIY bookends in mismatched shapes. They're ideal for busting that fabric stash! These DIY bookends are a great rainy afternoon project, ideal for using up a fat quarter pack or some of your beloved leftover scraps.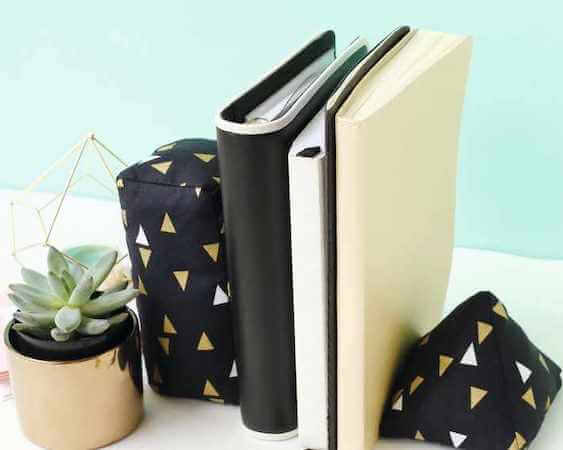 Get the tutorial here
24. DIY Amethyst Bookends by Curbly
Thanks to their weight, these shining amethyst crystals are a natural fit for great bookends. Purchased from a high-end boutique, you're in for $300+ for a pair. But crafted at home, you can make a beautiful set for around $50, and a couple hours of your time.
Add them to your shelf, or wrap them up as a holiday gift. Either way, they'll bring some serious style to any bookshelf.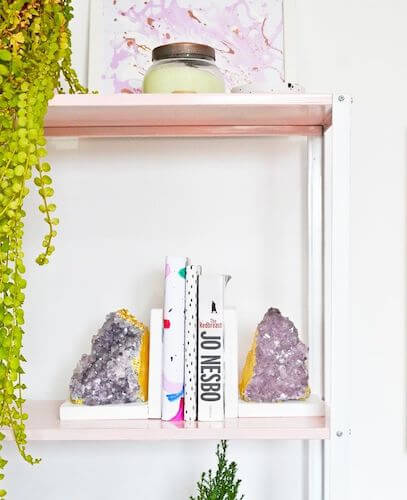 Get the tutorial here
25. DIY Gnome Bookends by DIY Candy
Learn to make these cute bookends using supplies found at the craft store! Isn't the woodland and mushroom theme so fun? Perfect for kids' rooms.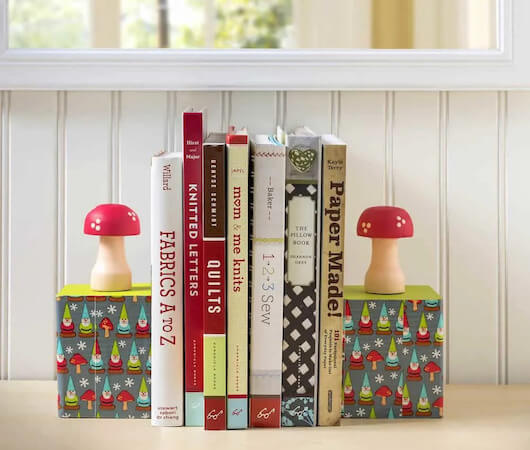 Get the tutorial here
26. DIY Telephone Bookends by A Beautiful Mess
Scour your local thrift or vintage shop for landline telephones, then snip the cords off and attach to bits of scrap metal to secure as bookends. No need to find a matching set, this pair looks beat a little less planned and perfect.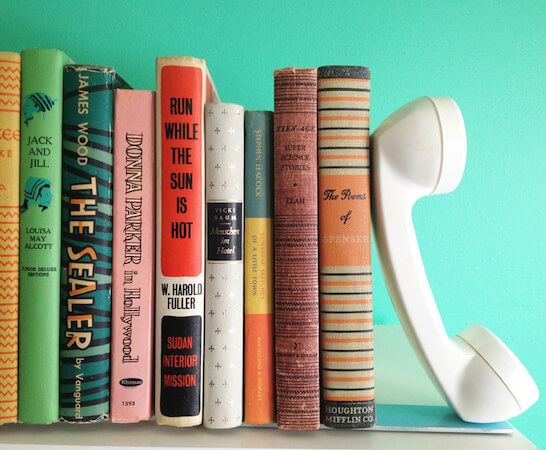 Get the tutorial here
27. Children's Bookends DIY Dinosaur Bookends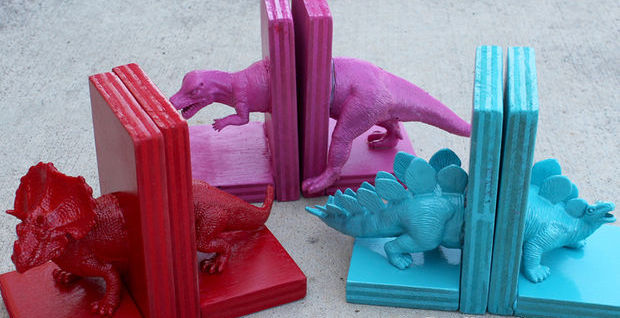 This children's bookends guide will show you how to make sturdy and functional wooden bookends using simple items you probably have lying around.
These amazing children's bookends will help tidy up your kids' bookshelf and add a Jurassic touch, just in time for the new Jurassic Park Movie.
The new Jurassic Park movie inspired us to look for a crafting idea with dinosaurs to do with my niece, when I came across this idea from the team from Doodlecraft.
These are beautifully colored dinosaur bookends that will add flare to their room.
The kids will absolutely love letting their imagination run wild with half a Stegosaurus, triceratops, or T-Rex here and there.
An added bonus is they may even begin to love reading! Pick your child's favorite dinosaur and if dinosaurs aren't exactly their thing, you can customize these bookends using their favorite animal.
You can also use your kid's favorite colors to complete the look.
Time: Around 60 min to complete.
DIY Children's Bookends Materials
Rectangular Wood.
Your preferred choice of plastic dinosaur toys
Hot Glue Gun and Glue.
A Stanley knife.
Craft Spray Paint
To begin with, I cut out some scrap wood into rectangular blocks of about 4 inches wide. I had two 6-inch tall pieces and two 3-inch tall pieces.
Then, I sanded them up smooth and they were ready to go. I my little niece helping me but I handled the harder and riskier parts of the process.
Some Quick Tips
* Make sure to use dinosaurs or animals that walk on four feet. This ensures that all four feet can be glued on the Children's bookends. Two feet is possible four is just easier.
*Cutting up your kids' favorite dinosaurs in their full view might upset them. I recommend you chop them up in half beforehand. Find a way to convince them to allow you to cut them up. Or, you could alternatively buy new, exact matching pieces to use on this project.
*You'll be done with the paint coats after about an hour. It is however advisable to let the Children's bookends rest for about 24 hours to allow the paint to dry completely.
How To Make Children's Bookends
Step 1
I laid out the blocks for my little niece to stick together. She ran some hot glue across the 3-inch block and stuck it right at the bottom of the 6-inch block.
Step 2
With the first piece done, we repeated the process with the remaining blocks and set them aside for a moment to set. It is worth mentioning we encountered no problem at all with the hot glue staying firmly stuck.
Step 3
For the next part, I cut a plastic dinosaur in half. I couldn't let my niece go anywhere near the Stanley knife so I did this part myself. She absolutely loves the Stegosaurus, a slow moving plant eater with spikes at the back and the tail.
You can use any of the meaner dinosaurs if that's what they prefer. The stegosaurus toy was a hollow plastic toy and was easy to cut.
Step 4
Next, we applied a band of glue around the cut edges of the dinosaur body and on the feet. My niece pressed it tight onto the blocks and it stuck on pretty well. We repeated the process on the other half of the dinosaur and stuck it on the second bookend.
Step 5
On the last part, I used the craft spray paint to add some color pop. Applying one color makes the DIY kids bookends piece look solid, as if purchased that way.
Step 6
I sprayed the paint in light coats with a waiting period of 10 minutes drying time in between the coats. To make sure I got under and around all parts of the stegosaurus, I rotated the book end often.
TURN YOUR HOME LIBRARY INTO A FOCAL POINT WITH A SET OR TWO OF THESE DIY BOOKENDS.
Let us know if you decide to make one of these DIY and share a photo on our Facebook Page. We'd love to see how it turned out!
Are books your life? Do you dive into a new adventure every time you turn the page? Why not cross-stitch a bookmark to save your place for when you just have to put that book down. Here are 26 Cross Stitch Bookmark Patterns that will delight, captivate, and preserve your reading progress!
Whether you're looking for housewarming gifts or just want to tidy up your reading nook, we hope this DIY bookends collection will offer a variety of bookends to suit your needs.