Making a DIY kids bird feeder is a great way to teach children about caring for nature, how to properly feed wild animals and how to identify local native birds.
You can make a simple DIY kids bird feeder out of all kinds of items. From pine cones to plastic bottles and from toilet paper rolls to orange rinds.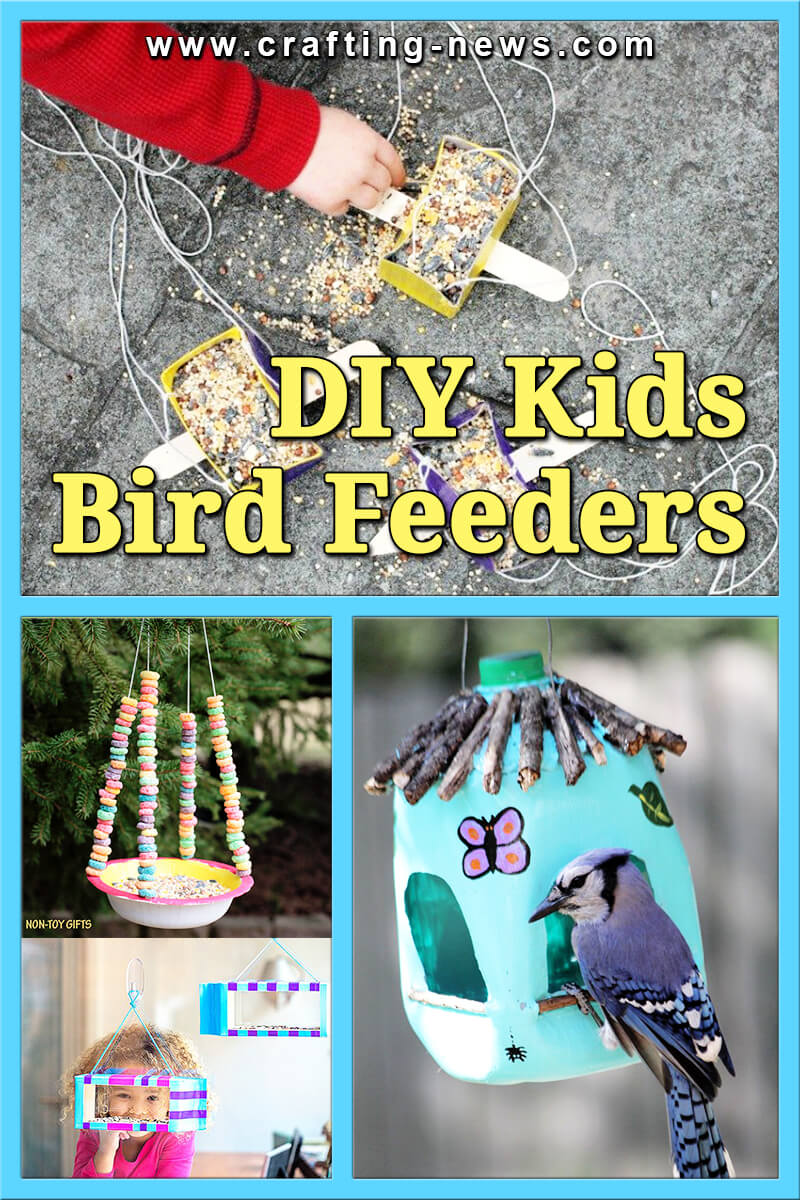 Homemade bird feeders not only spruce up the backyard—they also invite your feathered friends to come and play. It's a great weekend activity for the kids and the best part is that the mess stays where it should—outside!
36 Kids Bird Feeder Ideas

Once your bird feeders are complete, make a day of finding fun places to hang them in the yard and see how quickly the birds come to get some snacks. If bird-watching is your thing, grab some binoculars too!
1. Cookie Cutter Bird Seed Feeders by Mama Papa Bubba
A bird feeder that's toddler-friendly, this craft can be adapted for any size or shape of cookie cutter, and hardens overnight.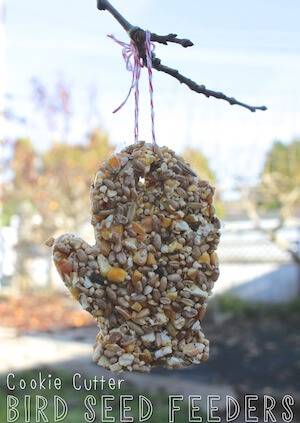 Follow the tutorial here
2. DIY Tea Cup Bird Feeders for Kids by Mommy Moment
A DIY bird feeder doesn't get more charming than this repurposed tea cup and saucer. The steps boil down to glueing and hanging, so it's super easy. Use a tea cup and saucer you're willing to part with or buy a special one to use for this project.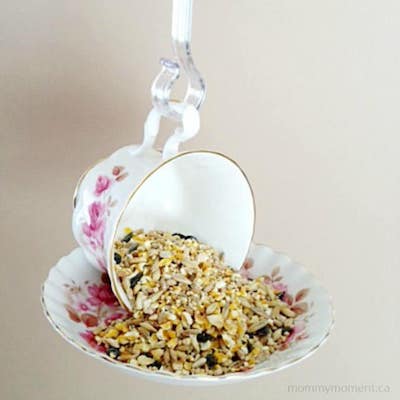 Follow the tutorial here
3. Fruit And Cheerios Bird Feeder by Happy Hooligans
Got some stale cereal and fruit that's past its best? Have your kids make these Cheerio and Fruit Bird Feeders. It's a great craft for strengthening fine-motor skills, and a lovely way to help out your backyard birds when food sources are scarce.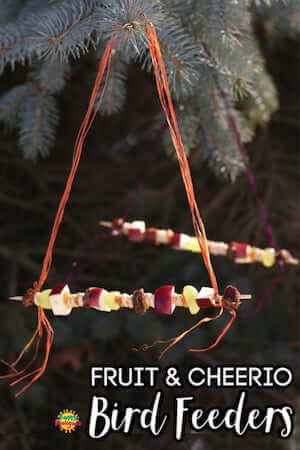 Follow the tutorial here
4. DIY Bird Feeder by The Spruce Crafts
Welcome songbirds to your yard every spring with a rustic-chic homemade bird feeder. Transform a cardboard shipping box, a pint-sized milk carton, into the structure of the bird feeder before adding scrap wood and surplus craft supplies to decorate.

Aside from a bit of cutting using a sharp craft knife, this project is fully kid-friendly, so don't hesitate to spend a family afternoon around the craft table before displaying your projects in the back yard for some prime bird watching.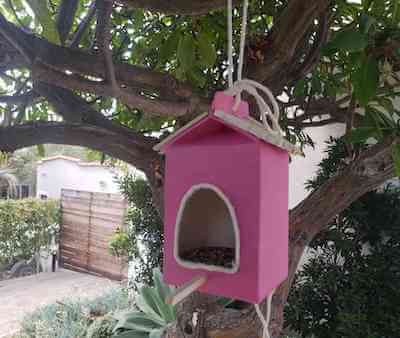 Follow the tutorial here
5. Milk Carton Bird Feeder by One Crazy Mom
The kids will love helping to make this fun Homemade Bird Feeder! Save your old milk cartons and get ready to have a blast crafting! Embellish the DIY Bird feeder with stickers and more.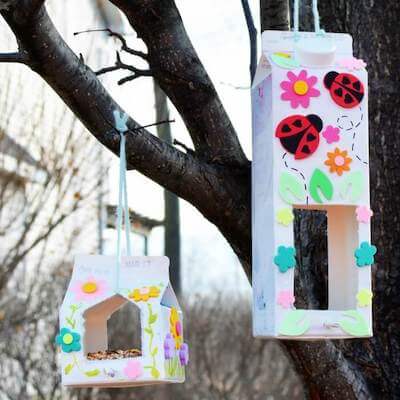 Follow the tutorial here
6. Toilet Paper Roll Bird Feeder by The Joys Of Boys
Looking for a simple summer craft for kids? This toilet paper roll bird feeder is the perfect craft to make while out enjoying the great outdoors.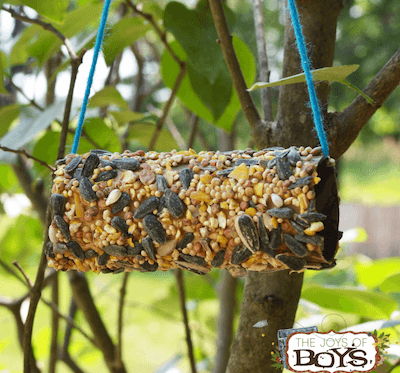 Follow the tutorial here
7. DIY Birdseed Ice Ornaments by Hello Glow
These bird feeders are perfect for the winter months. They catch the light beautifully and have an earthy vibe to them. All that's left of these after a few feedings are the strings! It doesn't get simpler than that. These are nearly impossible to mess up so it's a perfect craft to do with kids.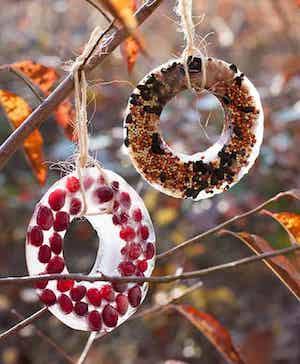 Follow the tutorial here
8. Soda Bottle Bird Feeder by Kelly Leigh Creates
Empty soda bottles can pile up quickly. Instead of sending them to a landfill, recycle them while simultaneously perking up your garden.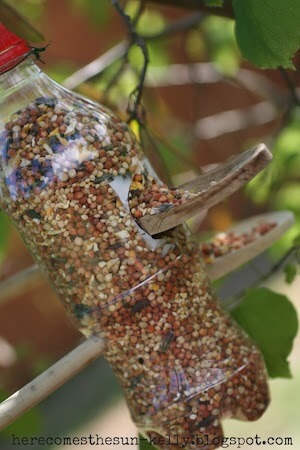 Follow the tutorial here
9. Tin Can Bird Feeder by Momtastic
Spring is in the air and the birds are returning after a long winter. What better way to welcome them back than with a treat? This fabulous spring craft is perfect to make with the kids. Not only will your children enjoy this DIY, they'll love watching all the birds fly into your yard for a snack.
Follow the tutorial here
10. Pinecone Bird Feeders by One Little Project
These pinecone bird feeders are so easy to make! This is such a fun craft for kids of all ages. Kids, teens, tweens, adults, seniors – Who doesn't love watching a little bit of wild life in their backyard!?

Each pinecone bird feeder takes about 10 minutes to make – maybe even less? The best part is that you can add as much or as little peanut butter and birdseed as you like.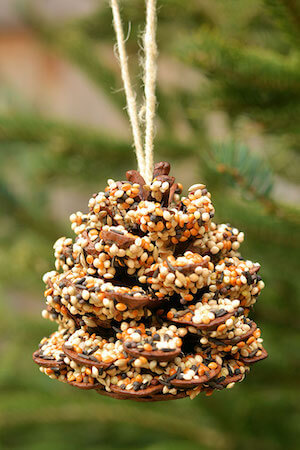 Follow the tutorial here
11. Easy Bird Feeder Wreath by Sugar, Spice And Glitter
This is an easy kids' craft idea that needs just a little bit of adult instruction, allowing children independence and pride in their beautiful bird feeder wreath.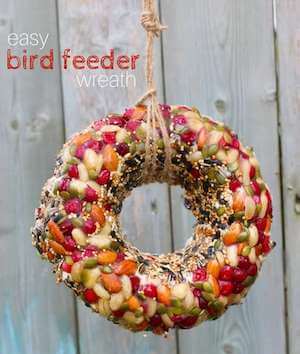 Follow the tutorial here
12. Butterfly Bird Feeder by See Vanessa Craft
Kids will enjoy watching birds eat from these handmade Butterfly Bird Feeders, crafted out of toilet paper rolls. This kid-friendly craft is perfect for most age and skill levels.

Make it a family project and the younger children can help with the coloring and the older children can assist with the cutting steps. You may want to make this bird feeder outside, as it can get a little sticky with tiny fingers in the peanut butter.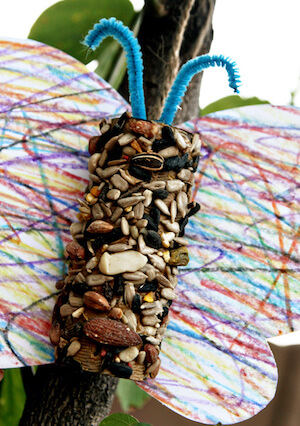 Follow the tutorial here
13. Milk Jug Bird Feeders by Great Stems
Here's a fun bird feeder project that you can do with kids of all ages. Depending on the age of the children, adults might have to help with cutting or working with wires, but decorating can be all kid!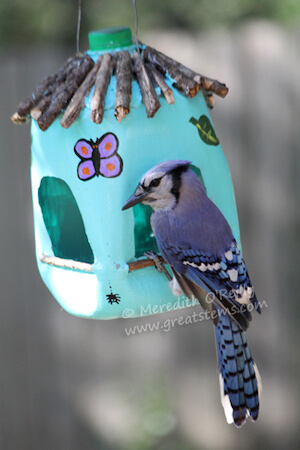 Follow the tutorial here
14. Egg Carton Bird Feeder by The Creative Cubby
Egg Carton Bird Feeders are a great way to recycle egg cartons while feeding the beautiful birds of the world. With minimal supplies, you can create an eco-friendly way to invite little guests into the yard.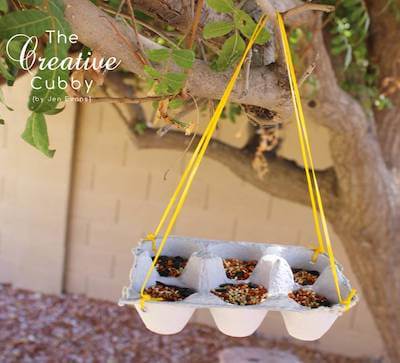 Follow the tutorial here
15. Owl Bird Feeder by Red Ted Art
This eco-friendly DIY bird feeder is perfect for keeping the kids busy and serving the flock of feathered friends visiting your backyard!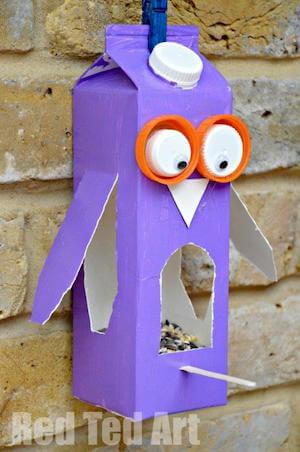 Follow the tutorial here

16. Orange Cup Bird Feeder Craft For Kids by Happy Hooligans
Easy Orange Cup Bird Feeders to make with toddlers and preschoolers! Fill empty orange rinds with a few simple ingredients to make bird feeders for your garden.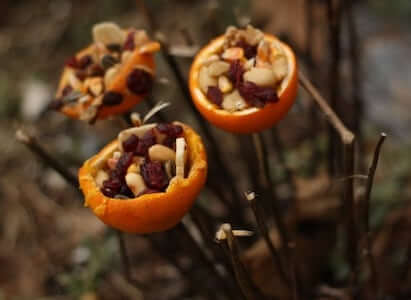 Follow the tutorial here
17. DIY Bird Feeder For Kids by Simple Joy
This DIY Bird Feeder is the perfect easy craft to do with your kids. Made with safe and easy to find ingredients, this homemade bird feeder is a project that you will love to do with your kids!

They are great to hang up for the birds in the winter, and they are also super cute and make perfect holiday gifts for neighbors, teachers, and friends.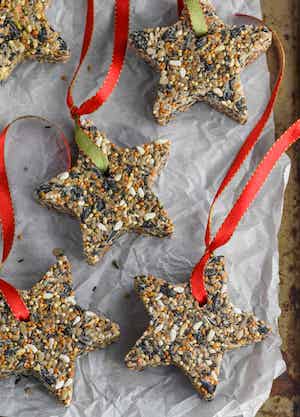 Follow the tutorial here
18. DIY Kids Bird Feeder by Honestly Modern
Here's a simple spring or summer project to try with kids. Make an easy bird feeder with an upcycled container, some duct tape, and a few other supplies. Then enjoy watching with your kids as a host of wild birds visit to snack.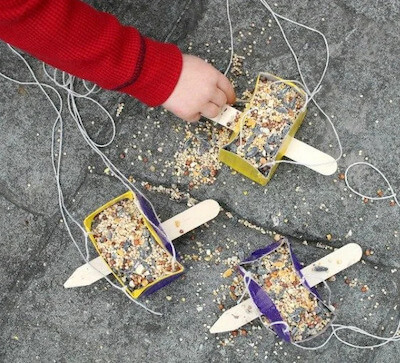 Follow the tutorial here
19. DIY Color Block Bird Feeders by Handmade Charlotte
Invite some colorful visitors to your backyard this spring with these DIY bird feeders! These feeders made with clear mailing tubes and paint are simple yet far from boring.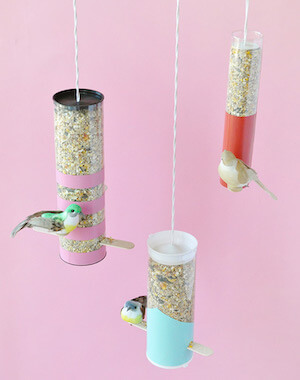 Follow the tutorial here
20. Bird Seed Monogram by The Country Chic Cottage
This bird seed monogram is a wonderful addition to the outdoors. It is easy for kids to make plus the birds will love this little gift once you hang it in a tree. Be sure to make one or a dozen of these fun letters with your kids then let the bird watching begin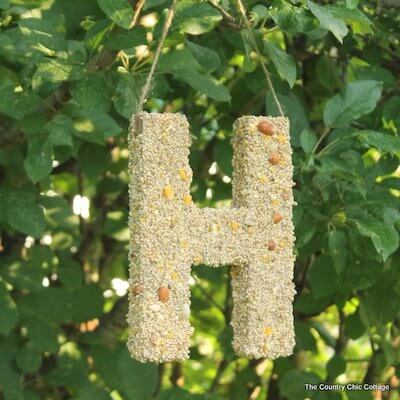 Follow the tutorial here
21. Paper Plate Bird Feeder For Kids To Make by Happy Hooligans
Kids can make this easy homemade bird feeder out of a paper plate and a wicker paper plate holder. For fun, you can add a fine motor element to the project that the birds are sure to approve of.

Kids can make this paper plate bird feeder bird feeder using a disposable paper plate and a few simple supplies that you probably already have on home. This is an inexpensive and easy project, and kids of all ages will enjoy the process.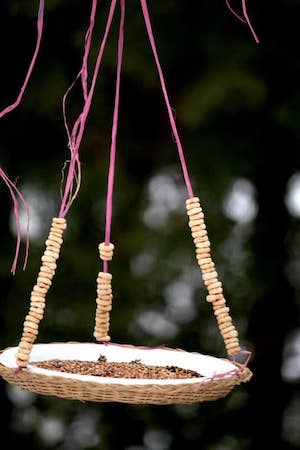 Follow the tutorial here
22. Ice Cream Cone Bird Feeder by One Little Project
These little bird feeders are so simple to make and they look just so sweet hanging in a tree. This would make a great activity for a class to do as an easy springtime craft. You could also wrap your feeder in a clear bag and give it as a little gift for Mother's Day!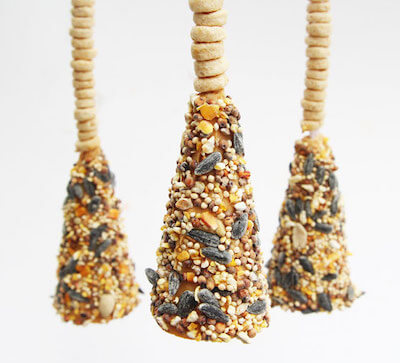 Follow the tutorial here
23. Ghost Bird Feeder by Coffee Cups And Crayons
Feeding the birds is one of our favorite acts of kindness! Make this creative Ghost Bird Feeder to hang outside with our other Halloween decorations. This Halloween craft is made from things you probably have in your kitchen right now!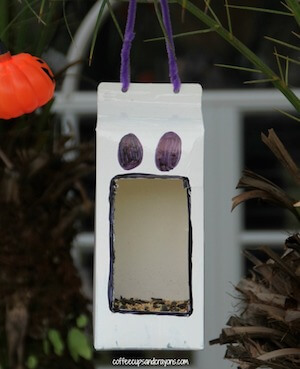 Follow the tutorial here
24. Snowman Bird Feeder Crafts For Kids by How Wee Learn
Add a whimsical touch of winter charm to any outdoor space with this Snowman Bird Feeder. Resembling a classic snowman, this bird feeder consists of three white spheres, a friendly smiling face and eyes, and a black top hat. Those egg cartons could be used to make adorable little snowman bird feeders.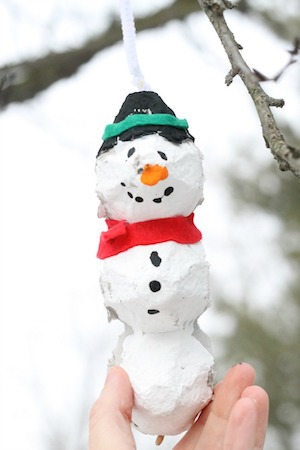 Follow the tutorial here
25. Homemade Bird Feeders Using Frames by Buggy And Buddy
Here's how to make homemade bird feeders with kids using a wooden frame. It's a simple process and allows the kids to really take pride in their creations. Hang them up in your backyard and observe all your backyard birds!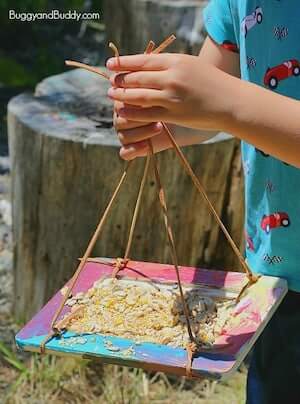 Follow the tutorial here
26. Rocket Bird Feeder by Lolly Jane
Supplies needed for these adorable bird feeders are a few toilet paper rolls, scrapbook paper, ribbon/bakers twine, hot glue, birdseed and peanut butter. Making these fun bird friendly rockets are so quick and the kids will love to help!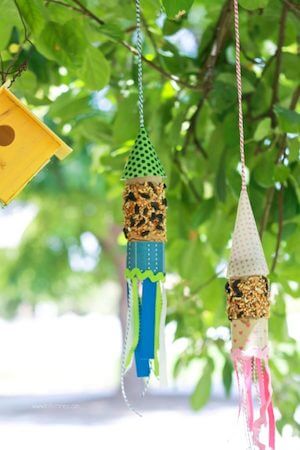 Follow the tutorial here
27. Easy Bird Feeder For Kids by Little Pine Learners
This recycled shoebox lid bird feeder is adorable and so easy to make! It's a great nature craft for kids of all ages and looks so cute when finished. This simple bird feeder may only take about 10 minutes to make, but it will inspire hours of indoor and outdoor bird watching for your little ones!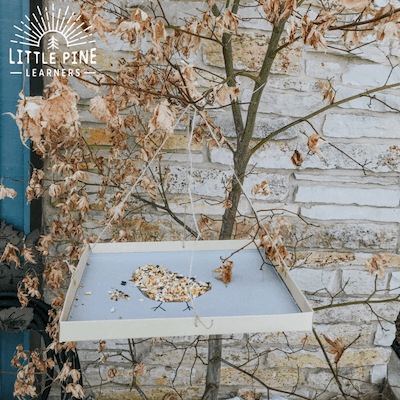 Follow the tutorial here
28. Cardboard Tube Bird Feeder by Little Bins Little Hands
Make these simple cardboard tube bird feeders, and hang them off the porch or a tree branch for the birds to enjoy! This would also make a great Earth Day activity for kids.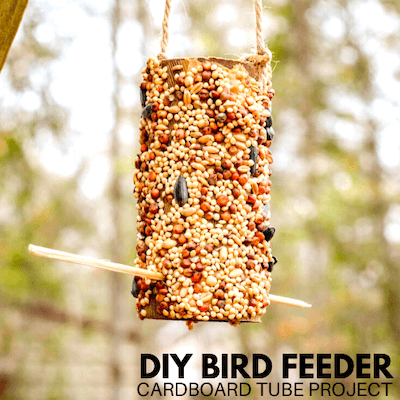 Follow the tutorial here
29. Apple Birdseed Homemade Bird Feeders by Natural Beach Living
Making a bird feeder from an apple couldn't be easier and is perfect project for little kids. Instead of throwing out apples that have bad spots in them or are past their ripeness live, use them to make bird feeder.

All you need to do is to cut your apple in half, use a spoon to scoop put the core and seeds and then stuff the hole with a mixture of bird seed and gelatin. This is a neat idea because nearly the entire bird feeder is edible!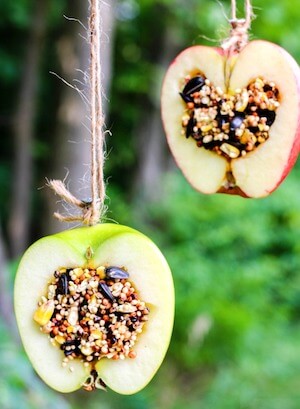 Follow the tutorial here
30. DIY Tin Can Flower Bird Feeder by Birds & Blooms
Most of the work for this one involves decorating. You can turn the opening of a tin can bird feeder into a flower, give it a fun pattern, or paint a scene (maybe one that involves birds) on it. Add beads to the string you use to hang it for more color and flair.
Follow the tutorial here
31. Mason Jar Bird Feeder by Crafts By Amanda
Make this Mason Jar Bird Feeder In minutes for a fun summer garden craft. Mix up a suet cake and stuff it in a jar with a dowel rod for a treat the birds will love. You might want to pick up enough supplies to make a few, as these make great gifts as well.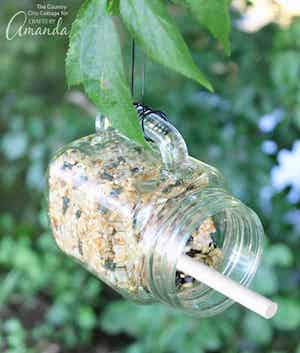 Follow the tutorial here
32. DIY Bird Feeder Craft For Kids by Kids Craft Room
This bird feeder craft is a lovely simple activity to do with children of all ages this Valentine's Day. It's lots of fun and a great way to encourage children to care about nature and learn about the birds local to you.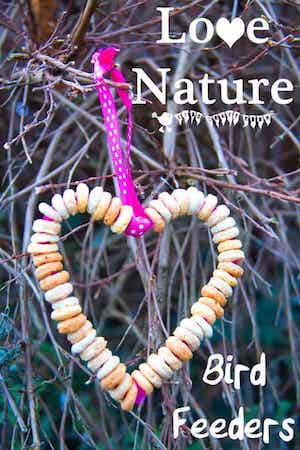 Follow the tutorial here
33. Plastic Egg Bird Feeders by A Subtle Revelry
Instead of trashing plastic eggs after the holiday (or just for fun before), repurpose plastic Easter eggs into pretty fabric bird feeders. A couple simple cuts and a coat of glue will create a nice place for birds to perch for their afternoon snack, and give a pretty view from the front window.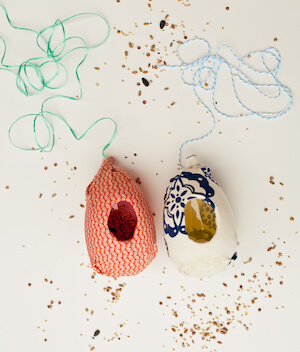 Follow the tutorial here
34. Bug-Shaped Bird Feeder by Lowe's
Want to get the kids involved in an Earth Day project? Try these super-fun (and super-easy) bumblebee and ladybug bird feeders. These one-day projects come without a big cost to your wallet or the planet – especially if you use recycled paint cans rather than new ones.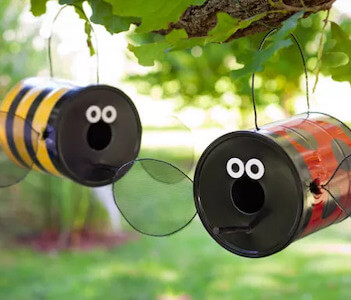 Follow the tutorial here
35. Paper Bowl Bird Feeder For Kids To Make by Non-Toy Gifts
Make a simple Paper Bowl Bird Feeder this spring. This easy project is fun to do and helps little ones develop their fine motor control.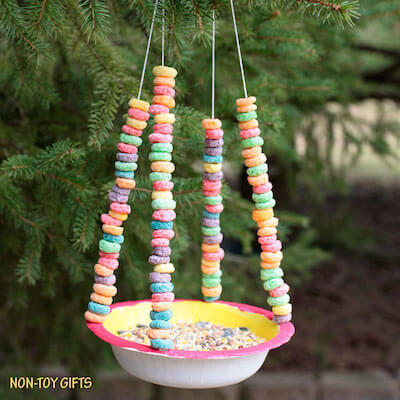 Follow the tutorial here
36. DIY Kids Bird Feeder by Tonya Staab
So my son Roman is six years old, and all he loves to do all summer is eat popsicles and play in the sun chasing birds and getting into all manner of mischief. Sometimes I find him in the yard with a bag of bread crumbs which he is tossing on my lawn, and a flock of birds is there eating.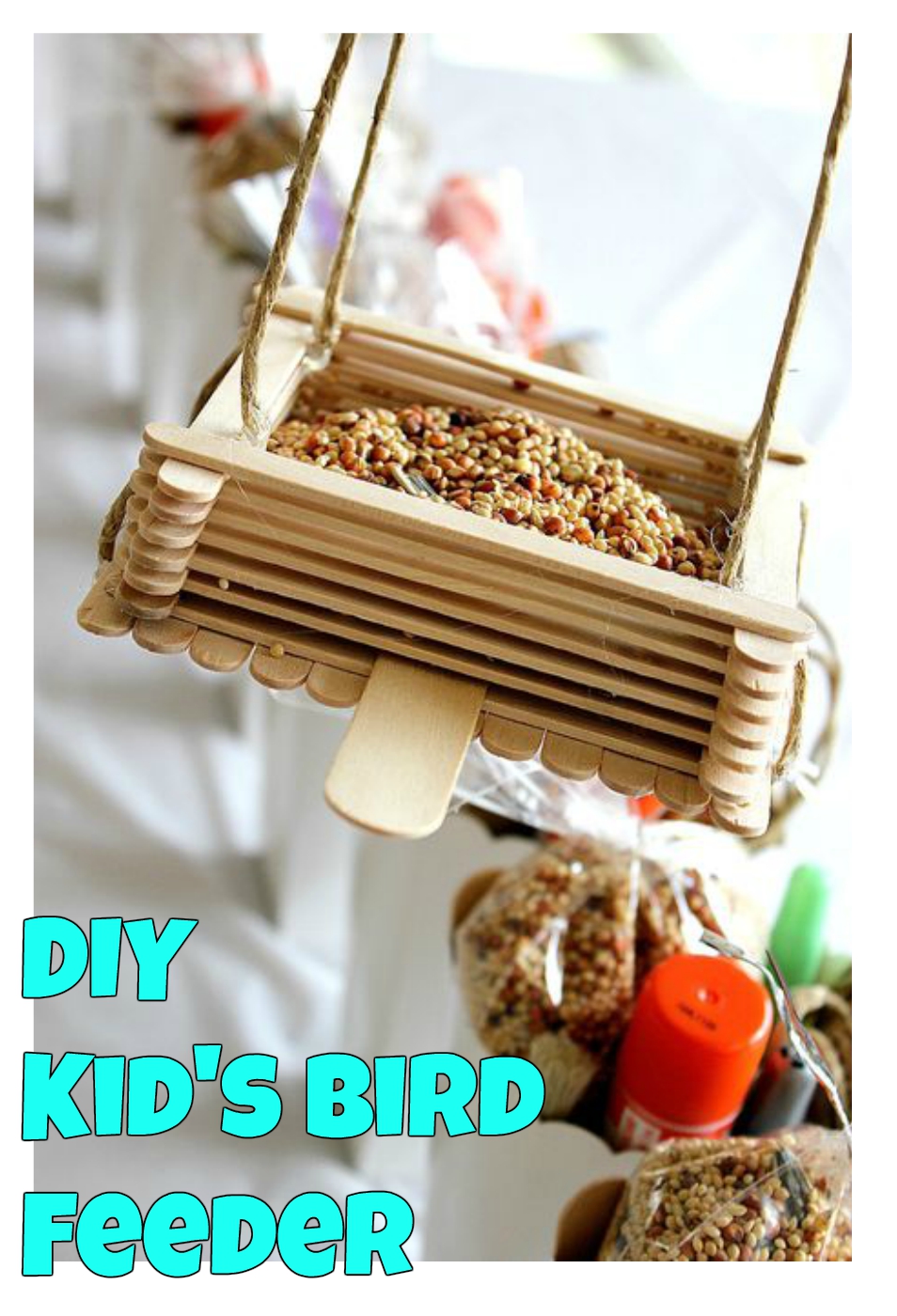 The birds make such a ruckus, but I can never bring myself to tell him to stop because then he smiles so sheepishly at me "but mom? They are just birds" my heart absolutely melts.
So I thought I could solve the problem by making a bird feeder. That way they won't flock together so much and he can still enjoy having the birds around.
I was absolutely delighted to find a very simple DIY kids bird feeder on online and decided to have Roman make it for his birds. Well, Roman and I got to work, and we had so much fun that afternoon. Now he watches the birds as they come and go from his bird feeder and the best part is there is no more ruckus on my lawn.
The DIY kids' bird feeder doesn't take much to make. You can find most of the materials around the house. For me it was heaven sent that I stumbled on the DIY kid's bird feeder because we got to use Roman's discarded Popsicle sticks that I had been washing and saving for a craft. Although I need to add to the pile as well with some that I had bought a while back from a craft store.
So what materials do you need for the DIY kid's bird feeder?
Materials For The DIY Kids Bird Feeder
50 popsicle sticks
1 large popsicle stick (tongue depressor)
A bag of bird seed
1 tub of outdoor paint (optional)
2 long pieces of hemp cord to hang their bird feeder
1 super/gorilla glue
Two glitter glue sticks (optional)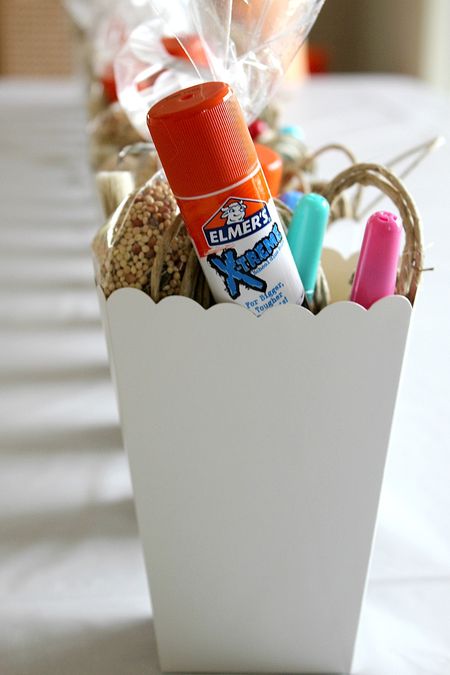 The whole procedure can be found on the blog site tonyastaab.com, and it is pretty straightforward. The basic procedure is first laying the Popsicle sticks side by side forming a base then gluing them together. Then layering the Popsicle sticks in an alternating fashion in a square pattern and gluing them together.
After that, you can glue on the hemp cords and viola! You have your bird feeder. You can paint it if you want or add glitter and other decorations but nothing too fancy or it will scare the birds away. Of course, I have summarized it, and you will need to visit the blog for the whole procedure.
Get Started On The DIY Kids Bird Feeder
If you were looking for a fun activity to do with your children, then the DIY kids' bird feeder is just the thing. Spending quality time with your child working on something the both of you will love is priceless. Especially when it gets the children outdoors.
You could even make an event of it and invite other kids from the neighborhood to join you. They will absolutely love it. The sense of accomplishment they will get after making one cannot be measured. And it also teaches them about caring for the environment and nature.
To conclude, I really think you should try the DIY kids bird feeder with your child, for the memories that both of you will carry from the experience. And yes, to feed the birds too.
Once done with this DIY bird feeder project, you can move on to our 31 DIY Birdhouses your kids will surely enjoy.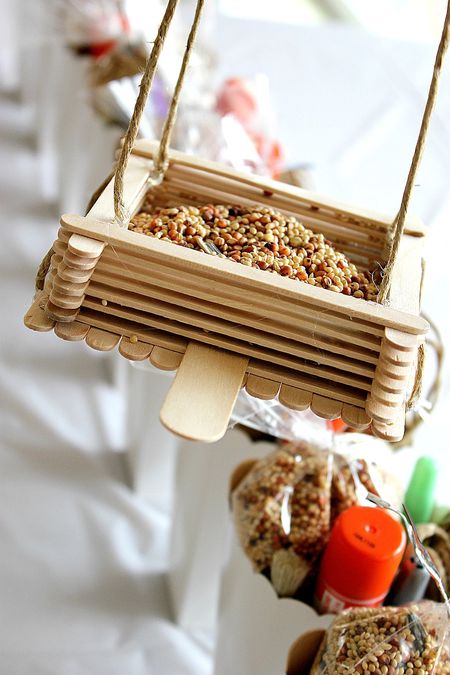 DIY Kids Bird Feeder Instructions
TAKE YOUR PICK OF WHICH BIRD FEEDER LOOKS BEST TO YOU. DESIGN YOURS HOWEVER YOU AND YOUR KIDS LIKE AND WATCH THE BIRDS ENJOY THEIR TREATS.
We absolutely love the idea of making DIY bird feeders. Not only do they let you do some hands-on crafting, but after that, you get to reap the reward of being able to watch birds eat from them!

If you specifically love Humming Birds, try making these Homemade Hummingbird Feeders. And show us your feathered feeding project by sharing them on our Facebook Page!
Looking for more creative crafts to make with the kids? Check out this more Kids Crafts here. We have lots of fun crafts for you and your kids to try. Have a perfect family time!

Get the whole family involved by making your very own DIY kids bird feeders together!