Macrame definitely shouldn't be reserved for wall hangings and plant hangers. These crafty macrame keychains are so easy to make, you'll be able to finish a bunch in a single afternoon. Gifting problems, solved.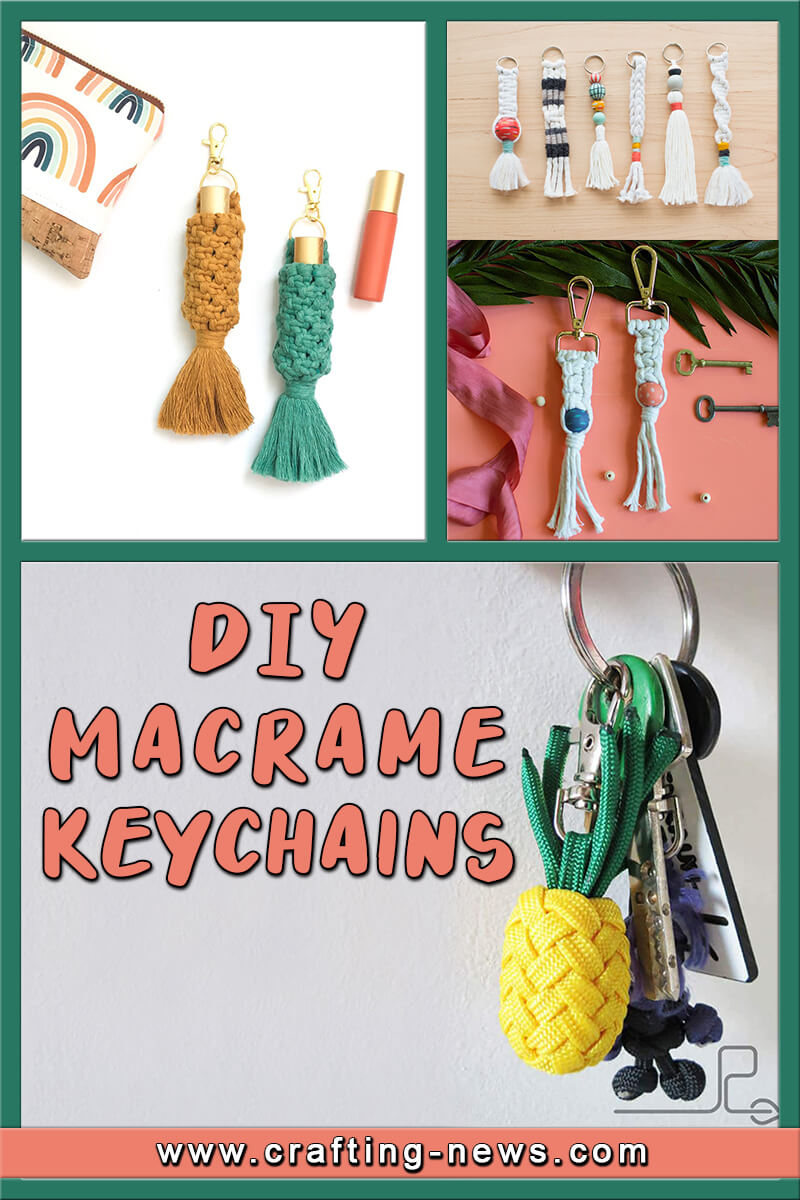 Sporting a macrame keychain is one of the many ways that you can spruce up your bags or keys. Surely, you can buy them online but the best part is you can do it yourself! Would you be able to say no to these charming little keychains? We wouldn't be able to either!
1. Macrame Leaf Keychain Pattern by Macrame Is Love
Show off your love of macrame by carrying around this adorable little keychain everywhere you go. For this project, you will need 4mm cotton twine, carabiner, measuring tape, and scissors, The finished keychain will measure approximately 12 cm wide and 20 cm high.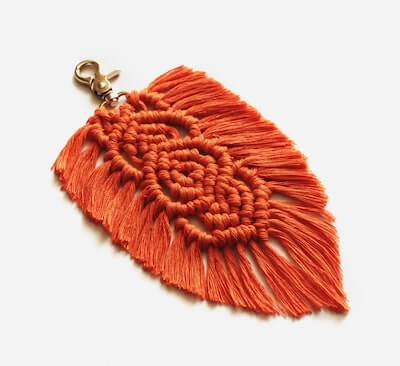 Get the Pattern by Macrame Is Love here
2. Macrame Mermaid Tail Keychain by Matching North
If you or someone you know is a big fan of mermaid stuff, this is the perfect macrame project to try! Especially if you're looking for a last minute DIY gift idea.

The knots used in this keychain are the larks head knot, diagonal double half hitch, and the wrapping knot. They're all pretty easy, although the diagonal double half hitch can take a little practice to get just right. This is a great way to practice it!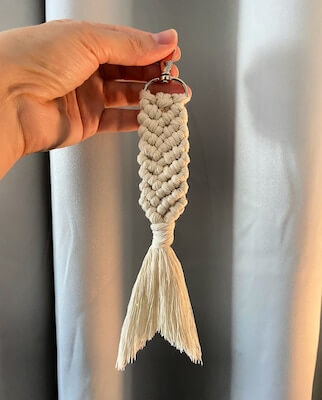 Get the Pattern here
3. DIY Macrame Keychain by Lia Griffith
This DIY Macrame Keychain is a great craft project for both kids and adults. So if you're planning a crafty afternoon with family or friends, try this idea out! If you're new to macrame, our macrame key chain should take you about 20–30 minutes to make.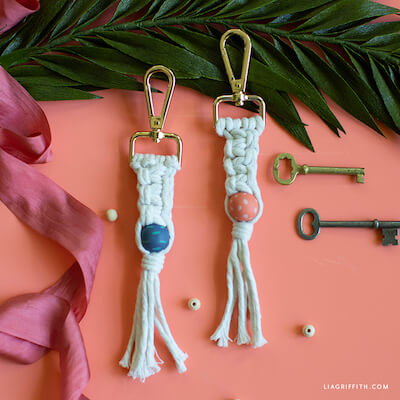 Get the Pattern here
4. Macrame Rainbow Keychain by White Rose Craft Gifts
Make some cool Rainbow Keychains to attach to everything you own. It is boho, modern and fun addition to any keys or bag. Whip them up in one solid color or use some colorful ones to brighten up anyone's day!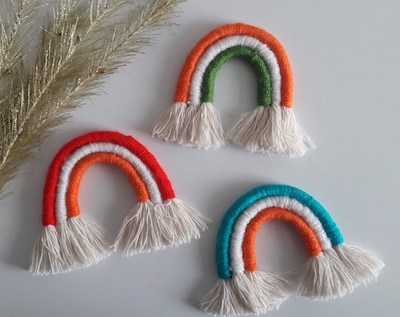 Get the Pattern by White Rose Craft Gifts here
5. Twisted Macrame Keychains by Curbly
It's surprisingly easy to make these twisted macrame keychains with colored beads and a fringe bottom, and you can whip one up in as little as 15 minutes. Customize them with colorful wooden beads and make this beautiful twisted look simply by repeating the same knot!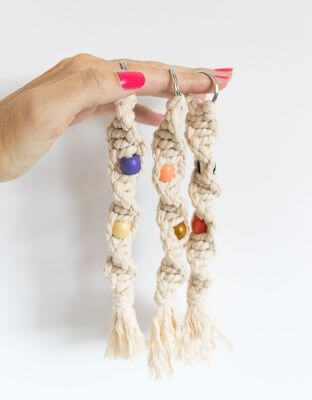 Get the Pattern here

6. Boho Diamond Keychain Macrame Tutorial by Bochiknot Macrame
This pattern will use 2 popular macrame knots – lark's head knot, and double half hitch knot. This is great for new macrame beginners looking to get started with macrame.
The macrame keychain is a perfect gift or party favor to family and friends. It will add a personalized feel to your accessories that you carry around.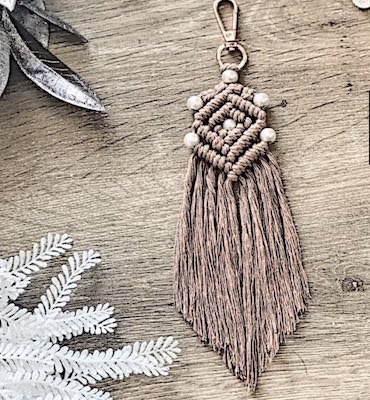 Get the Tutorial here
7. Macrame Keychain Pattern by Vila Vera
Make your macrame keychain quickly and easily with these instructions. The pattern will be helpful for every beginners even if you never have a macrame craft experience.

This macrame keychain is going to be a cute addition to your keys, bag or backpack. Make the first one for yourself and then have fun to make the same keychains for your friends as a gifts for any occasions.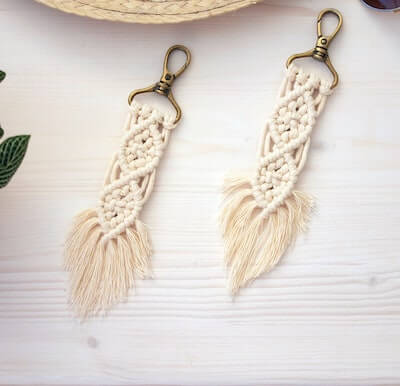 Get the Pattern by Vila Vera here
8. Macrame Owl Keychain Pattern by Easy Macrame For All
This owl key chain would be ideal for gifts or craft show items. You could attach your owl to a key chain or a backpack clip. Very simple, cute and quick to make, this adorable macrame owl keychain pattern is sure to put a smile on your face!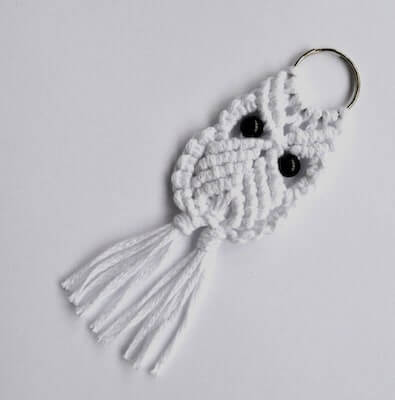 Get the Pattern by Easy Macrame For All here
9. DIY Minimalist Keychain by Brit + Co
You have to carry your keys everywhere you go, so they ought to look good. And a minimalistic, nautical keychain is just the thing to keep you from misplacing them. This stunner demands attention wherever it's tossed.

Add soft pink details to create subtle spring vibes and gold accents for a super chic look. Your keys have never looked this stylish before.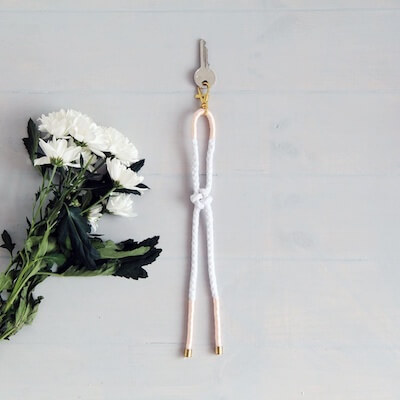 Get the Pattern here
10. DIY Macrame Keychain Tutorial by Crafting On The Fly
This easy macrame tutorial shows you how to make a stylish keychain that you can add to about anything! You can change the color you dye the ends of your macrame keychain to any color you like.

atch it with your favorite boho bag or make a few different macrame keychains for your friends and in all their favorite colors. This is a great quick macrame project to really have some fun with!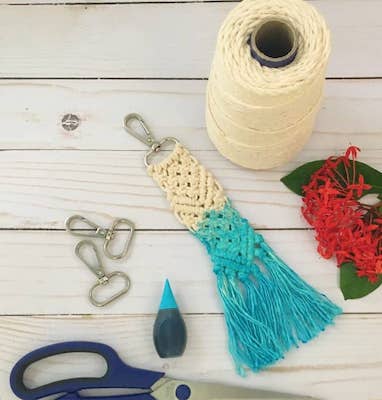 Get the Pattern here
11. Macrame Roller Bottle Holder Keychain by Mod Momma Pattern Co
Now you can create your own macrame roller bottle holder keychain! The tutorial includes knotting guide for beginners!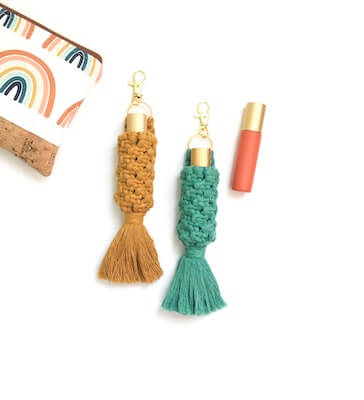 Get the Pattern by Mod Momma Pattern Co here
12. Macrame Wristlet Keychain by Matching North
Needing a more practical way to carry your keys?! These boho spiral wristlets are super handy! Besides just being generally convenient, this keychain would make a great macrame gift for the holidays or any time you need a last minute present. Or you could make a bunch and sell them!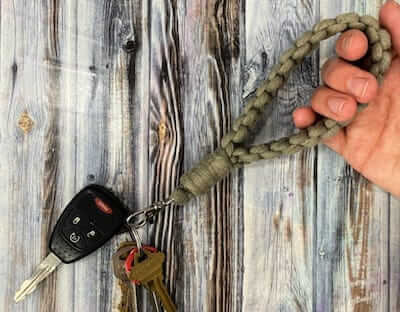 Get the Pattern here
13. DIY Tassel And Macrame Keychains by Think Make Share
Now you can macrame easy, adorable DIY keyrings that use stuff you have on hand—make them as simple or as fancy as you'd like. These DIY macrame keychains use simple knots, basic tassels and wooden beads.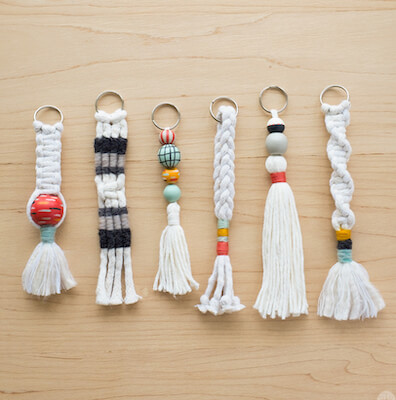 Get the Pattern here
14. DIY Macrame Keychain by Ideas 2 Live 4
These macrame keychains are adorable and functional gifts your recipients will love. You can customize these according to your preferred color choice. If you're looking for adorable and useful gifts, this is something that you should definitely consider. You'll have fun making this with your kids, too.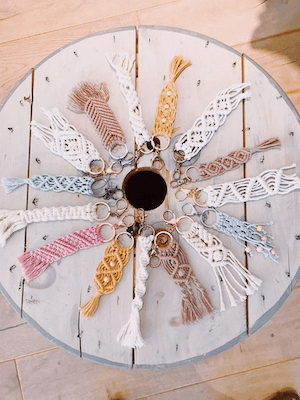 Get the Pattern here
15. Macrame Wristlet Tutorial by Studio Ot
By doing a continuous square knot, you can create a wristlet that you can attach with your keys and other valuables. This style encapsulates beauty and function, as you can be wearing a pretty bracelet while keeping your keys safe at the same time!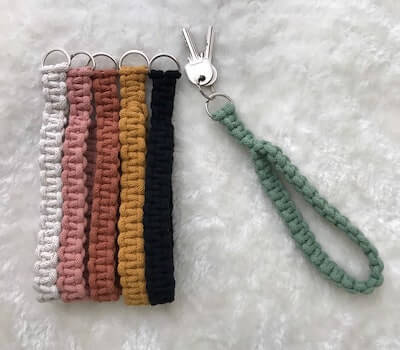 Get the Pattern by Studio Otis here
16. Macrame Pocket Keychain by Craft And Cunning
This adorable pocket keychain is perfect for keeping your hand sanitizer on hand all the time. You could also make it a bit smaller to hold an essential oil roller bottle. This would be fun to make by yourself or together with friends!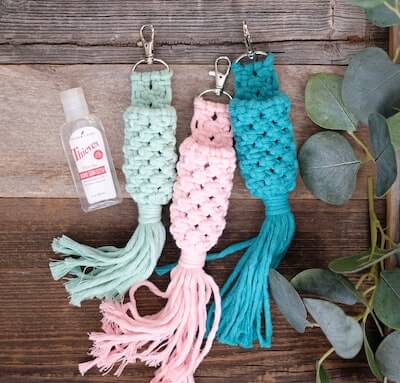 Get the Pattern by Craft And Cunning here
17. Easy Macrame Keychain by Pretty Handy Girl
Make this cute little macrame keychain with fringe that is actually more practical than just pretty to look at. This project is designed using simple knots. So grab a cup of coffee and settle in for a quick and fun craft project!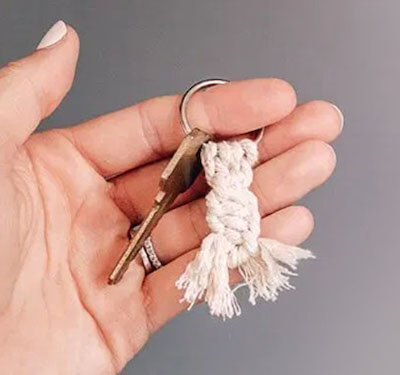 Get the Pattern here
18. Flower Macrame Keychain by Pandahall
Using multi-colored beads, bright nylon threads and the easiest knotted design ever, this beautiful keychain is the ideal beginner's entry to the twisted world of macrame.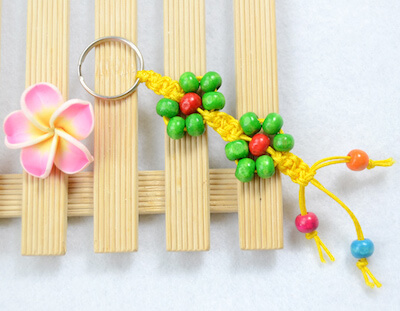 Get the Pattern here
19. Macrame Woven Keychain With Ribbon by Darn Good Yarn
A weatherproof version of woven macrame, this one uses tapestry ribbons to create a durable yet aesthetically pleasing design that is likely to be handed down the generations.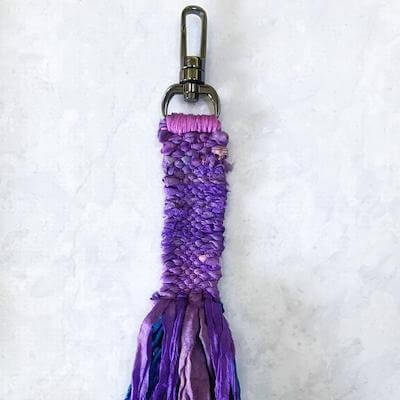 Get the Pattern here
20. Pineapple Macrame Keychain by Swiss Paracord
Updating your wardrobe is the routine way to get summer-ready. Go one step further and make this fruity-themed macrame keychain as a refreshing symbol of warm weather.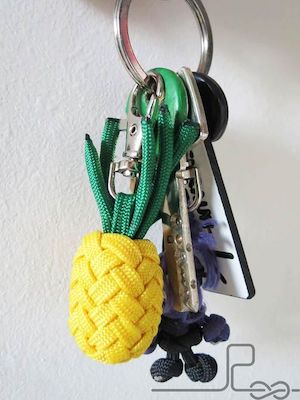 Get the Pattern here
21. DIY Macrame Flower Keychain by Steady Decor
Add a little charm to your keys, clutch, purse, backpack and more by making these pretty Macrame Flower Keychains. Make these beauties for yourself, your family, your besties and bring joy to your love ones. The perfect gift for any occasions.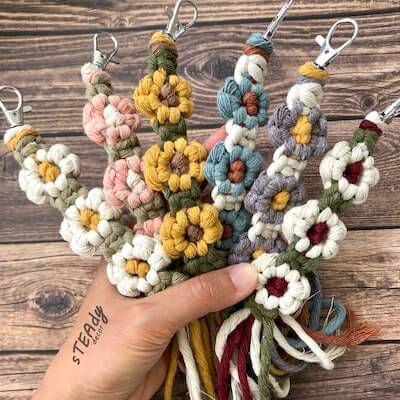 Get the Pattern by Steady Decor here
22. Macrame Keychain Tutorial by The Pretty Life Girls
These spiral-shaped keychains are truly unique and so gorgeous! Make several of them, for you and each of your best friends. You can customize the colors and tags based on your taste and add your monogram letter.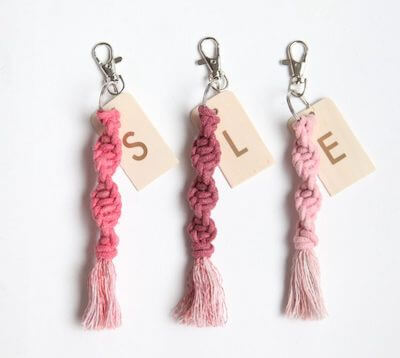 Get the Pattern here
23. Macrame Keychain DIY Kit by Moss Points North
This macrame keychain DIY kit includes full materials and instructions to complete this simple project. Choose from a spiral style (easy) or a fishtail style (easy/medium).

The project makes a great gift to give as a kit or complete this fun accessory for your own keys or snap it on as flair for your bag or clutch.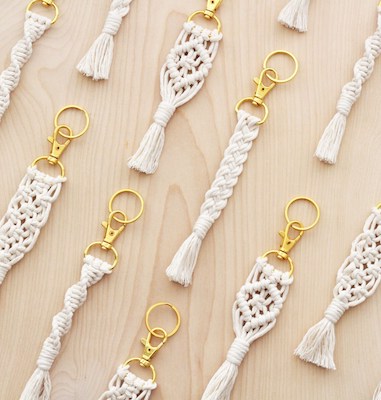 WHETHER YOU'VE BEEN WANTING TO KEEP YOURSELF ORGANIZED OR LOOKING FOR AN EASY WAY TO PERSONALIZE YOUR HANDBAG, THESE MACRAME KEYCHAINS ARE CUTE AND CRAFTY GO-TO.
Once you're done making these awesome patterns, be sure to share some finished pictures on our Facebook Page. Tell us about what you created and how you did it!

Keychains are the perfect DIY because they're small and don't take very long to make – plus, the style possibilities are limitless! Here are 27 Crochet Keychain Patterns and Paracord Keychain Patterns to get you inspired to design your own!

In love with Macrame? Here's more: 21 DIY Macrame Basket Patterns, 25 Macrame Bracelet Tutorials, 35 Macrame Bag Patterns, and 21 Macrame Coaster Patterns to try!

Test a handful of these macrame keychain tutorials today and have a beautiful handmade-by-me pieces you can show off every day!