Every crocheter or knitter knows the struggle of keeping your yarn in place or knot-free. Check out these 20 DIY yarn bowl ideas you can use while you knit or crochet.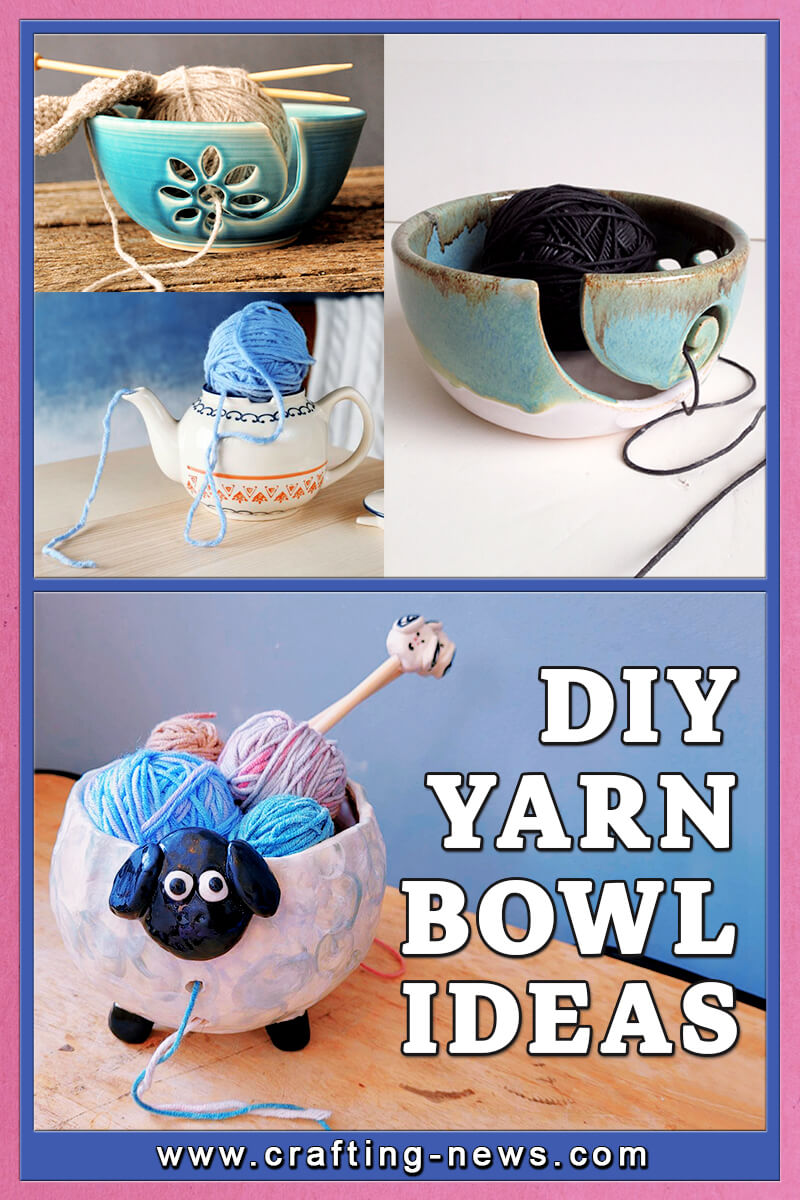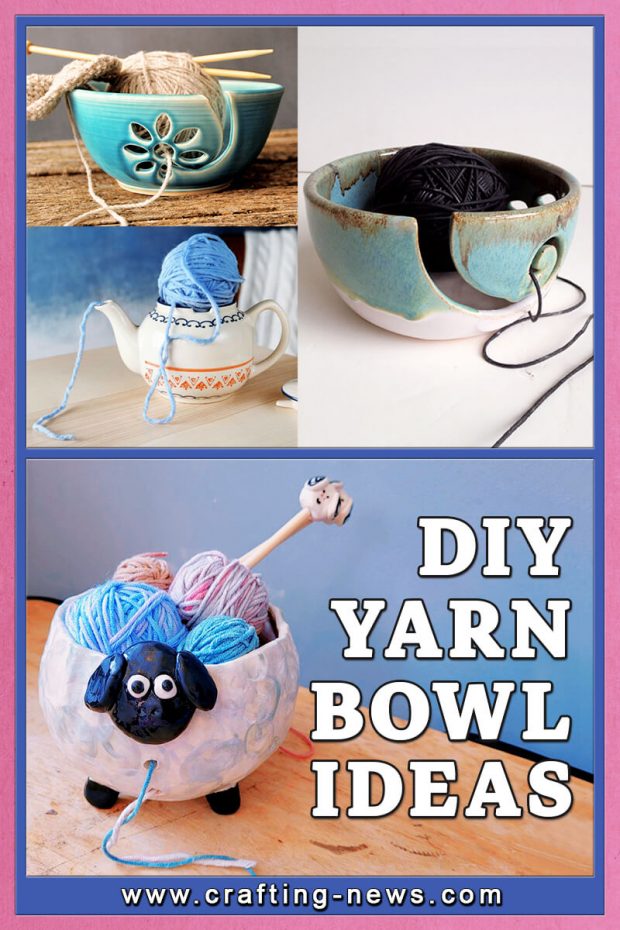 If you love to knit or crochet you've more than likely seen all of the fancy-chancy yarn bowls you can buy. The idea is, they hold the ball of yarn in place to stop it rolling around, which means it doesn't drop on the floor and get dirty or hairy, and the yarn unwinds neatly without getting tangled.
Especially useful if you are working with more than one yarn at once for any reason.
What is a Yarn Bowl?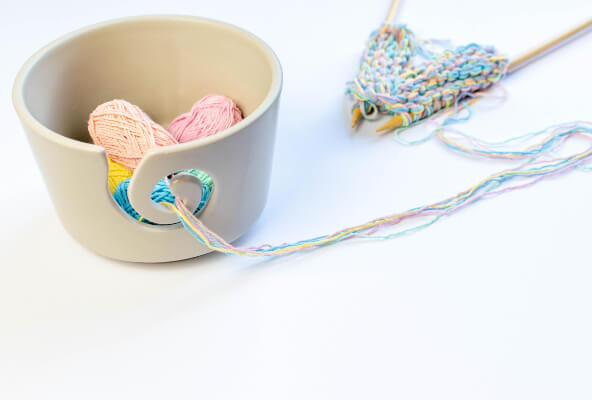 A yarn bowl is a smart way to keep your yarn clean and knot-free while you knit or crochet. When you use a yarn bowl, you will not have to worry about dropping your yarn and having it roll away.
There are a wide variety of bowls. Most traditional bowls are made from clay or wood.
20 DIY Yarn Bowl Ideas
If you do not have a yarn bowl, there are some alternative options.
Teapot


A teapot works great as a yarn bowl. And you can find them cheap at secondhand stores. You will want a teapot that is heavy and will remain stable while you are pulling the yarn through the spout.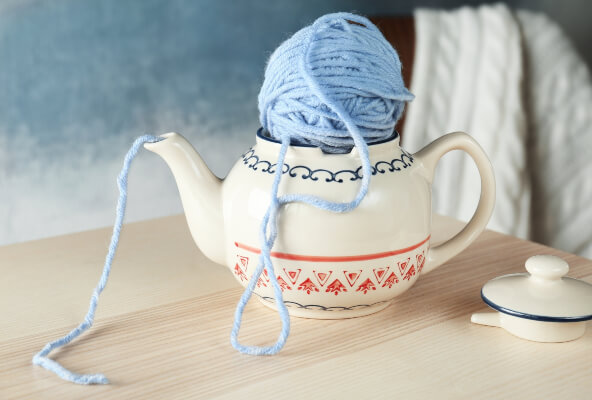 Soup Tureen


Soup tureens are another stylish item you can use as a DIY yarn bowl. They are often heavy and have a ladle hole that works perfectly for pulling the yarn.
Colander


Colanders have a ton of holes that allow you to use several balls of yarn at once. Sometimes the holes are too small for thicker yarns. So. You may need to enlarge the holes you want to use.
Coffee Can


A coffee can is another great solution when you need a DIY yarn bowl. Simply clean out the can and poke a hole in the lid.
Tumbler


24 ounce tumblers can be used as yarn bowls. And most people have these sitting in their cabinets already. Now you can finally put the drink holder to good use.
Plastic Container


If you are in a pinch and need a yarn bowl right away, you can use a plastic food container. You usually have these stashed away in a cabinet.





Simply store the yarn in the container and take the lid off when you are ready to use it. You can also put a hole in the lid and pull the yarn through.
Empty Lysol Wipes Container


Empty Lysol containers are perfect for feeding yarn. The lid already has the perfect hole in it. Simply place your yarn in the container and pull the working end through the hole. When you are done, close the lid to keep your yarn dust-free.
Paper Towel Holder


Paper towel holders usually have a heavy base that will keep them steady. Secure the yarn on the rod. Pull the end of the yarn to make sure it will freely rotate with ease.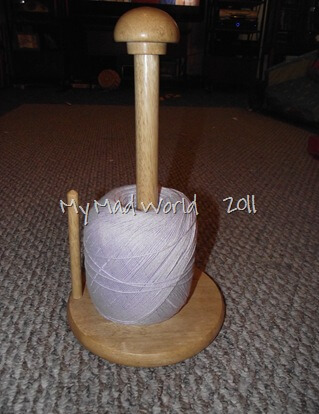 Water Pitcher


A water pitcher with a lid is another DIY yarn bowl idea. The tall, skinny ones seem to work best. Look for a pitcher that is heavy and has a spout opening in the lid.
Soup Mug


Soup mugs are similar to yarn bowls. They are heavy, and the ball of yarn can spin smoothly. To help keep the ball from popping out of the mug, thread the yarn through the handle.
Tote Bag


If you can hang the bag on the side of your chair, you can use a tote bag as a DIY yarn bowl. The ball of yarn will be able to move around freely in the bag without falling out and rolling across the floor.
Plant Pot


Ceramic pots have holes in the bottom. Place your yarn ball on the table and feed the working end through the hole. Place the pot upside down over the ball to keep the ball from rolling away.
Storage Basket


Small storage baskets with holes can make useful DIY yarn bowls. If the basket is big enough, you can use several balls of yarn at once for colourwork projects.
Oatmeal Container


Clean out the oatmeal container and poke a hole in the lid. To make it look better, decorate the outside with some designer paper.
Laundry Basket


A laundry basket may be a little large, but it will keep the yarn ball secure.
Plastic Ice Cream Bucket


Clean out the container and poke a hole in the lid. The plastic can be a little rough and snag your yarn. If so, use some fine sandpaper to make it smooth.
Laundry Detergent Pod Container


These containers usually have a large enough opening to drop in your ball of yarn. It will keep the yarn secure, and you can close the lid when you are not using it.
2.5 Gallon Zipper Storage Bags


The bags can keep your yarn clean and dry. When you are ready to get to work, pull out the working end. Zip the bag shut, leaving a small opening, so the yarn will come out easily.
Plastic Canister


These are often used to store opened food or liquids. But they can also be used as DIY yarn bowls. They have screw-on lids that will not pop off while you are pulling out the yarn. It can be a little difficult to put a hole in the lid.
Bowl


You can use a normal bowl. However, the yarn may tend to pop out since there is no way to secure it.
Make Your Own Travel Yarn Bowl
Learn how To Make Your Own Travel Yarn Bowl here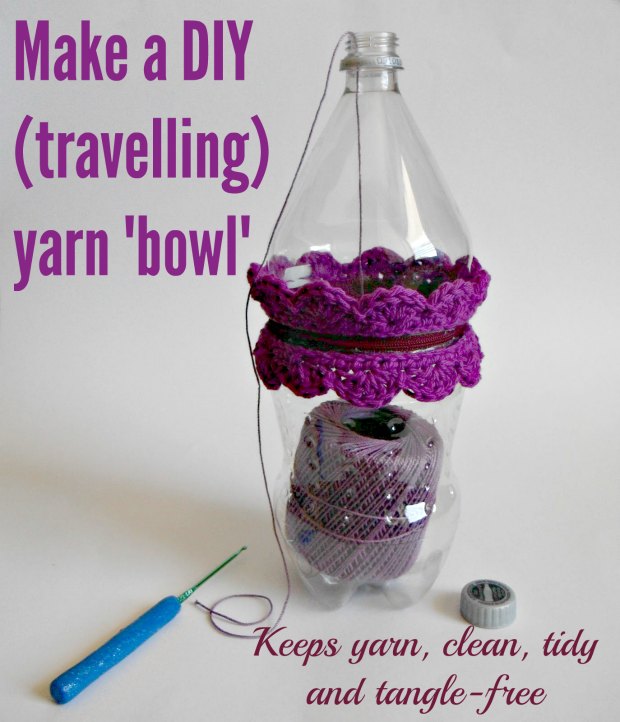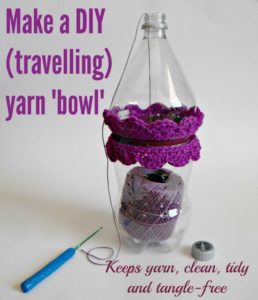 10 Best Yarn Bowl to Buy
1. Handcrafted Yarn Bowl from ArtisanscraftIN
Here is a gorgeous yarn bowl that is made from mango wood. It measures 6" x 3" and is lightweight. The bowl is smooth inside and outside, so it will not snag your yarn.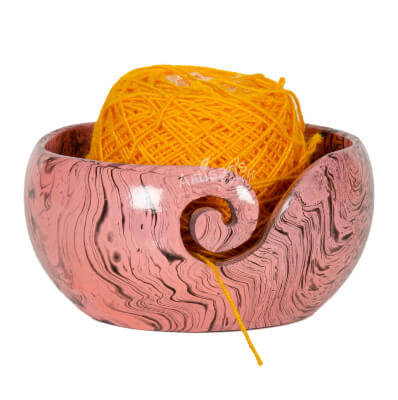 Find the Bowl from ArtisanscraftIN HERE
2. Turquoise Ceramic Yarn Bowl with flower from RobinBadgerPottery
The handmade yarn bowl is made of smooth porcelain clay on a potter's wheel. On the side of the bowl is a fun yet practical flower cutout.
The bowl is 7" wide x 3 ½" high and works well with larger yarns. You can get this bowl in turquoise green (matte glaze), warm white (glossy glaze), cobalt blue (glossy glaze), and grey (matte glaze).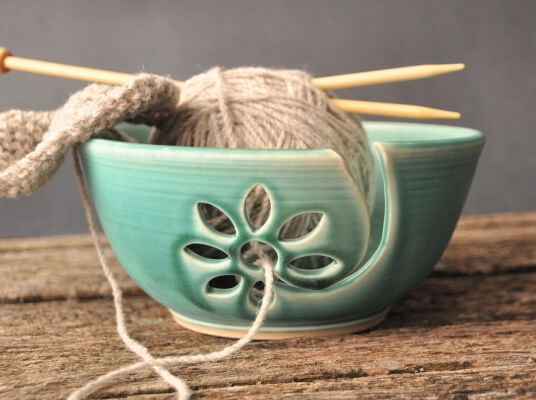 Get the Bowl from RobinBadgerPottery HERE
3. Bamboo Wooden Yarn Bowl with Lid Option from from YwYCraftsandSupplies
You can order this bamboo yarn bowl with or without a lid. It is perfect for small projects. The bowl measures approximately 2.5" deep and 4.5" in diameter.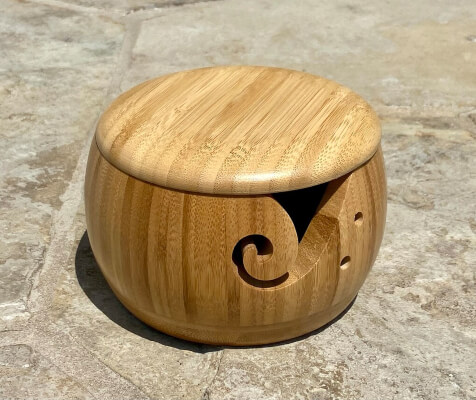 Get the Bowl from YwYCraftsandSupplies HERE
4. 5″ Wooden Yarn Bowl from CaptainYarn
The use of different colours of wood made this yarn bowl unique. Each bowl is carefully handcrafted from natural Indian rosewood. They measure 5" in (outer) diameter and 3" tall.
Thread your yarn through the swirl and when you are done, place your hooks in the holes, so they do not get lost.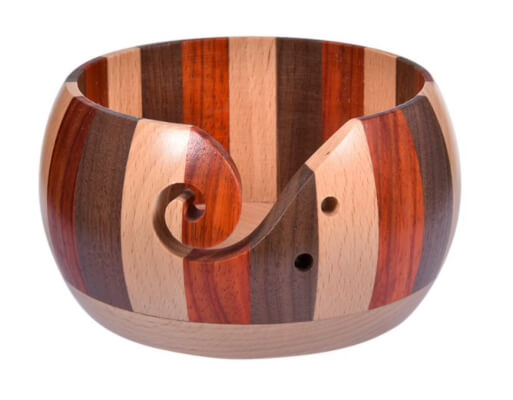 Find the Bowl from CaptainYarn HERE
5. Hagestad Wooden Yarn Bowlby HagestadTrading
This gorgeous yarn bowl is handmade from sustainable Sheesham wood by artisans in India. The bowl is sturdy yet light enough to carry around.
The bowl measures approximately 7″ in diameter x 4″ high. It can fit a 6.5 oz ball of yarn and 2-6 mm crochet hooks.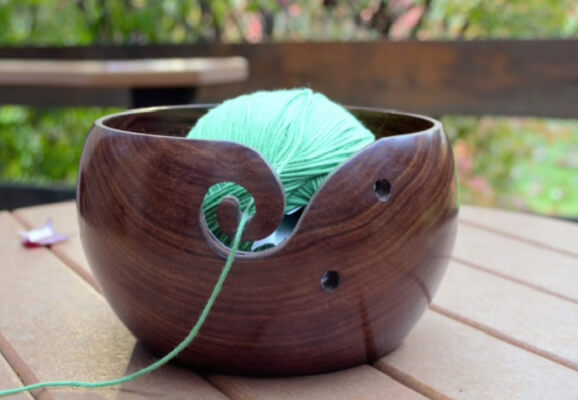 Find the Bowl by HagestadTrading HERE
6. White Green Rustic Wheel Thrown Yarn Bowl from NewMoonStudio
This sturdy yarn bowl is handmade with high fire stoneware clay. It is glazed in lovely green and white. It measures approximately 7″ wide x 3" high.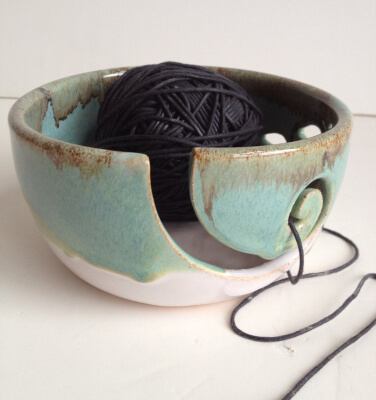 Find the Bowl from NewMoonStudio HERE
7. Yarn Bowl 3D Printed from Fabberforge
Here is a distinctively shaped bowl that was created with a 3D printer. It is made from marbled biodegradable plastic.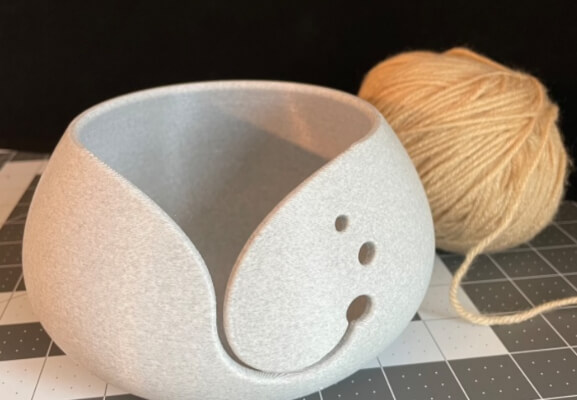 Find the Bowl from Fabberforge HERE
8. The Silly Sheep Yarn Bowl from HiTheretheShop
This whimsical sheep yarn bowl comes with matching knitting needles. There are 3 holes for threading the yarn. Two on the chest and one under the tail. So, you can have 3 balls of yarn ready to use for a colourwork project.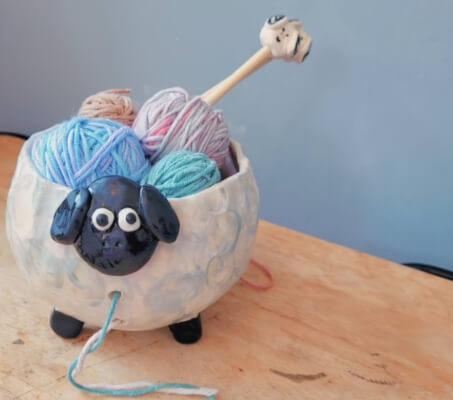 Find the Bowl from HiTheretheShop HERE
9. Sleeping Cat Plastic Yarn Bowl from GeekTastic55
This lightweight 3D printed cat yarn bowl looks cute sitting out even when it is not in use. It is very strong and hard to break since it is made for PLA biodegradable plastic. It is available in many different colours.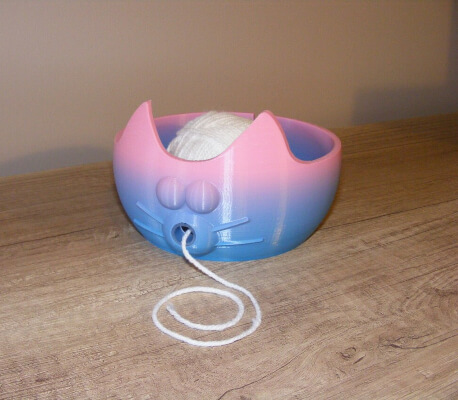 Find the Bowl from GeekTastic55 HERE
10. Handmade Jujube Wooden Yarn Bowl from RuralCarpenter
The handmade jujube wooden yarn bowl comes in 3 sizes. If you have a hard time finding a bowl that will fit your large balls of yarn, the XXL bowl may be the one you are looking for.
The bowls are made from Indian Sheesham rosewood. It is sanded smooth so you will not have any snagging.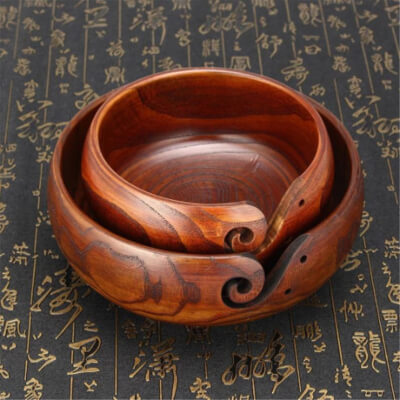 Find the Bowl from RuralCarpenter HERE
IF YOU ENJOY KNITTING OR CROCHETING, A DIY YARN BOWL CAN MAKE IT EASIER TO COMPLETE YOUR PROJECTS.
Yarn bowls do not only hold your yarn, but they also help keep it clean. The bowl contains the yarn, so it does not roll away and pick up dust, dirt and animal fur. For more crafting projects, here's a round-up of Potholder Patterns, DIY Horse Hair Pottery, and DIY Wooden Toys.
A yarn bowl will also keep the yarn tangle-free since it is designed to allow the yarn to unwind smoothly. Yarn winder and Yarn Swift are also important tools for crocheters and knitters.
We hope our list of DIY yarn bowl ideas keeps your yarn clean, tidy, and tangle-free.