We sure do adore our dogs, don't we? They add so much to our homes and lives, and they really can feel like part of the family. Let's pair our fondness for dogs with our love for quilting to make a beautiful patchwork creation or two for the home. Here are 15 dog quilt patterns to celebrate the love of your 4-legged friend!

15 Fun Quilt Dog Patterns
We're always drawn to bright colors and more modern prints but all of these could, of course, be made in more traditional fabrics as well.
1. Puppy Dog Quilt Pattern by Sandra Healy Designs
This cute block is quick and easy to sew. Add a simple border to make a gorgeous pillow as a gift or to decorate your home. This dog quilt pattern includes advice on fabrics, cutting chart, detailed step-by-step instructions and templates to visually illustrate how the block is constructed.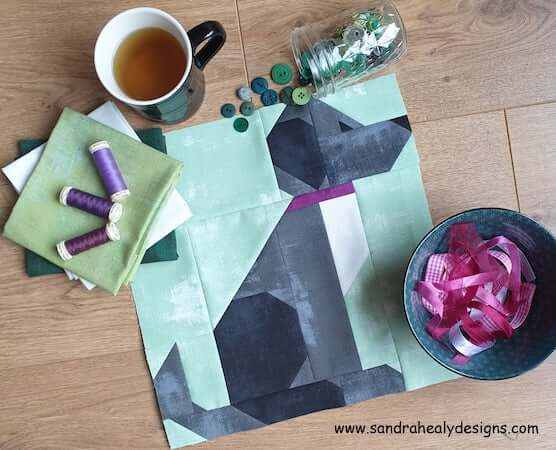 Get the Pattern by Sandra Healy Designs here
2. Dogs Only Paper Pierced Quilt Pattern by Made By Marney
The measurements of the quilt are 42″x 51″. These dogs are adorable: Great Dane, Terrier, Dachshund, Yorkie, Shih Tzu, Westie, Beagle, Bull Dog, Labradoodle, Airedale, and Saint Bernard.
Wouldn't this quilt look charming on your child's bedroom wall? The blocks are 8″ X 8″ unfinished and could also be used for potholders or pillows.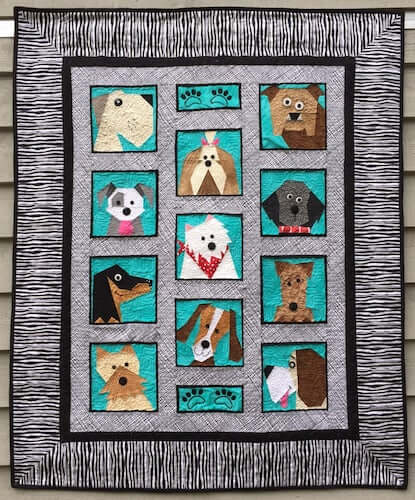 Get the Pattern by Made By Marney here
3. Dog Quilt Pattern by Quilted Fabric Art
This little landscape art dog quilt has two buddies sitting atop a mountain enjoying a moment of solitude. This is an easy fusible applique method that is perfect for anyone with some basic quilting knowledge. You will need to free motion quilt but it's basically quilting around the motifs, so a good place to practice and improve your skills.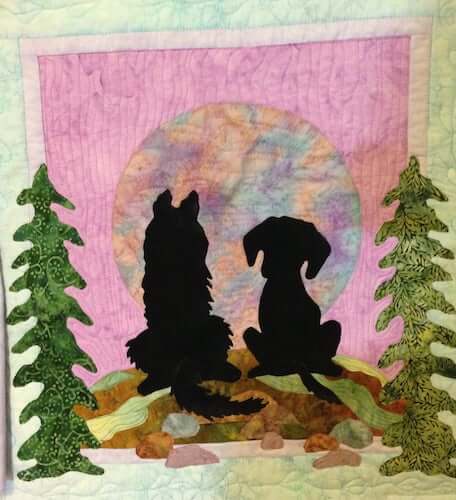 Get the Pattern by Quilted Fabric Art here
4. 12-Inch Scottie Free Dog Quilt Pattern by The Spruce Crafts
The traditional Scottie Dog quilt block pattern is assembled using a combination of squares, bars, half-square triangle units, and a quarter square triangle unit. The fabric for this patchwork Scottie Dog is rotary cut and quick pieced.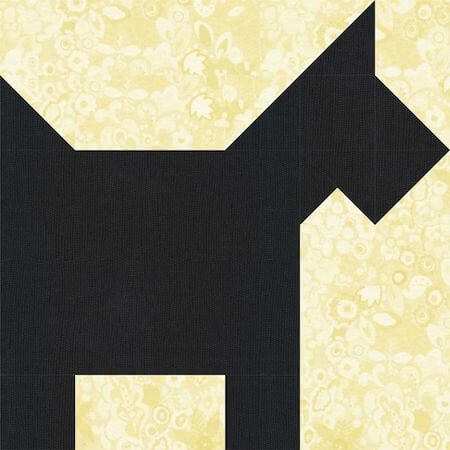 Get the Pattern here
5. Dogs In Sweaters Quilt Pattern by M
How stinkin' cute are these doggies! 'Dogs in Sweaters' includes instructions for making two quilt sizes and a 16" x 26" quilted pillow cover. These adorable dogs and their stylish sweaters are made using conventional patchwork techniques.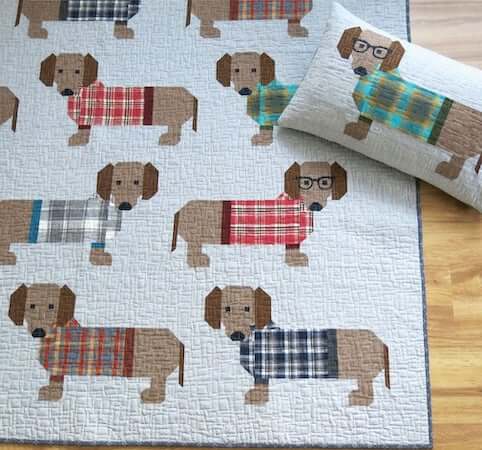 Get the Pattern by Memoreasy Keepsakes here
6. Mini Quilt Dog Pattern by Juliet Van Der Heijden
Make a mini quilt complete with patchwork pups! Use these free foundation paper piecing templates to piece a Basset Hound, Boxer or Scottie Dog mini quilt.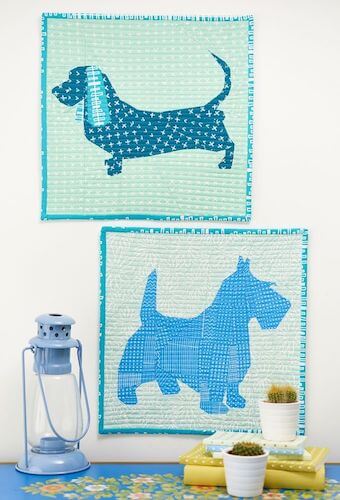 Get the Pattern here
7. Puppy Dog Quilt Block Pattern by Piece By Number Quilts
This friendly and cuddly Puppy Dog Block Paper Piecing Quilt Pattern includes detailed paper piecing patterns and assembly instructions to sew a 6 inch (15.24 cm) block. If you need another size, use the percentages chart enclosed to enlarge or reduce the quilt block pattern accordingly.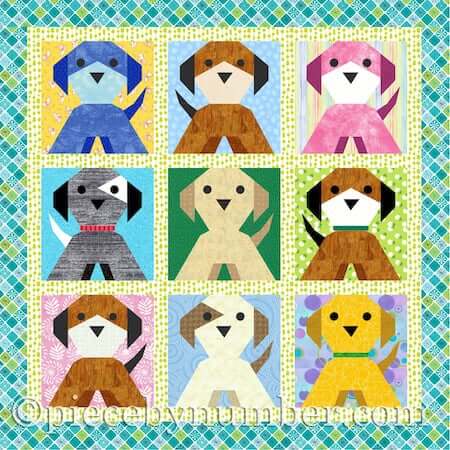 Get the Pattern by Piece By Number Quilts here
8. Give a Dog A Bone Puppy Baby Quilt Pattern by Cute Quilt Patterns
With the darling floppy ear and cute pieced dog bones, your little one just may have a new best friend! The finished size is approximately 39 1/2″ x 52 1/4″.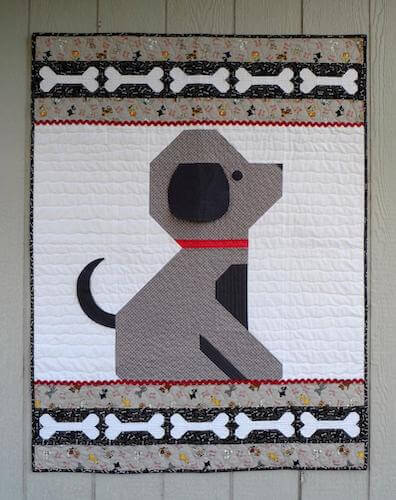 Get the Pattern by Cute Quilt Patterns here
9. Patchwork Pups Quilt Dog Pattern by Quilting Cubby
These Patchwork pups scottie dogs are all different since they're made with 2 1/2″ squares in colorful prints. Each dog has a different set of prints. It's amazing how the fabric placement creates individual personalities for each pup.
There's nothing more cute than a patchwork pup throw pillow… or two. Make a table topper with one block. Make three pups in a row for a fun kitchen table runner. Frame the blocks and make the binding to tie it altogether to make the cutest quilts.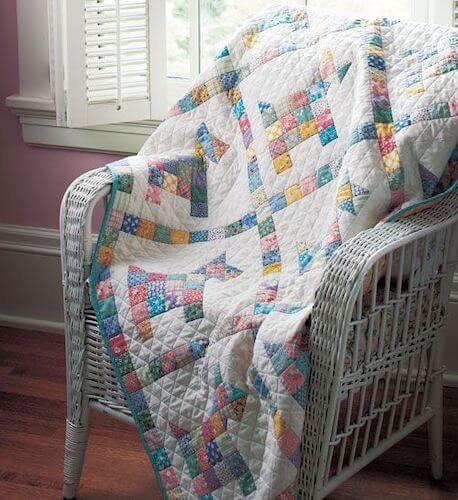 Get the Pattern here
10. Dog Gone Cute Quilt Pattern by Sew Fresh Quilts
This Dog Gone Cute blocks can be made in two sizes: small finishes at 9″ x 6″ and large finishes at 18″ x 12″. You can make as many or as few blocks as you like. Make a quilt or make a mini. Make a cushion. Make a set of placemats or a little puppy mug rug. A table runner. A bed runner! Make whatever your imagination leads you to make!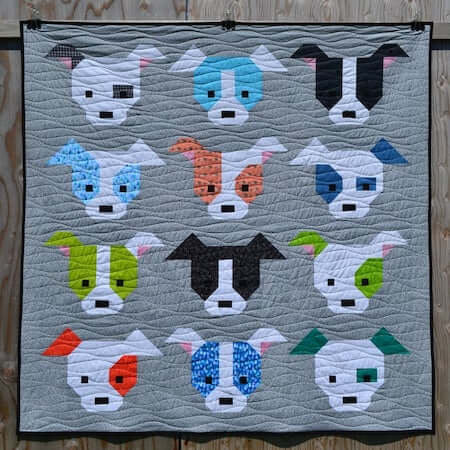 Get the Pattern by Sew Fresh Quilts here
11. Dog Days Quilt Pattern by Sarah Rose Quilts
Any dog breed is a possibility with a number of mix-and-match applique pieces that will let any dog lover build their favorite little pooch! Use machine applique to give each doggy a different nose, snout, pair of ears, tail, or fuzzy hair! This quilt finishes to 47 1/2″ x 51 1/2″.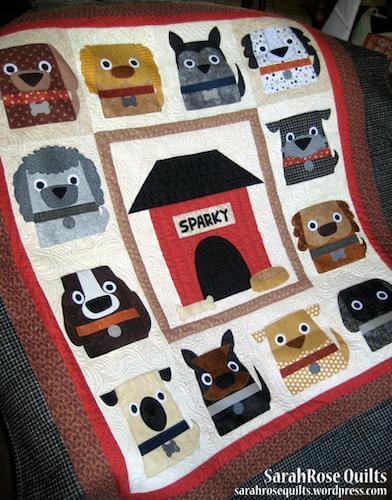 Get the Pattern by Sarah Rose Quilts here
12. Mini Mod Dog Quilt Pattern by Colourwerx
The playful pup with a modern attitude returns in this mini version. Slash 'n sew technique makes this a fun, fast and liberating project for quilters of all skill levels. Just add (10) 2-1/2″ x 14″ strips and a fat quarter for the background! Finish your Mini Mod Dog into a cute 12″ x 16″ wall hanging or pillow.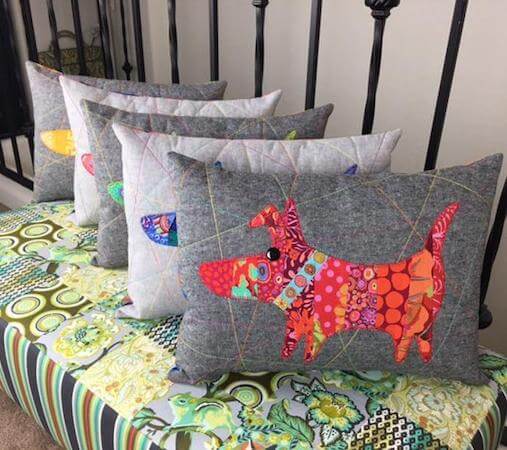 Get the Pattern by Colourwerx here
13. Playful Puppies Quilt Pattern by Shiny Happy World
Puppies! So many cute puppies! There are twelve puppy appliqué patterns which you can make into a crib, nap, or twin-sized quilt. You can also use the appliqué patterns on their own to embellish T-shirts, make tote bags, pillows and more. You can even shrink them down to use as embroidery patterns.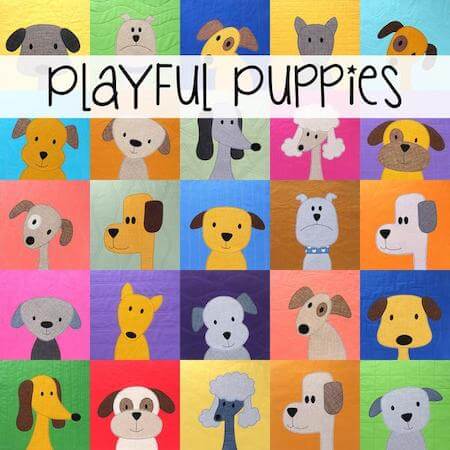 Get the Pattern here
14. Mini Dog Quilt Pattern by Shers Pattern Shop
A morning cup of coffee can be a whole lot cuter with this Dog Mini Quilt Pattern. These are the funnest of things to make! If you choose the machine applique, you can whip these up in no time. They make great gifts when given with a cute mug. They are so easy whether you hand applique or machine applique.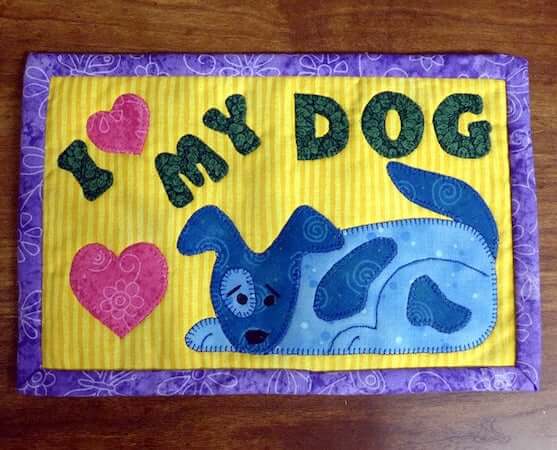 Get the Pattern by Shers Pattern Shop here
15. Sit Dog, Sit! Quilt Block Pattern by Kohatu Patterns
This Sit Dog, Sit! is a 12″ Foundation Paper Pieced Quilt Block Pattern. Make your own cute puppy dog quilt block to include in your next quilt, pillow cover or wall hanging.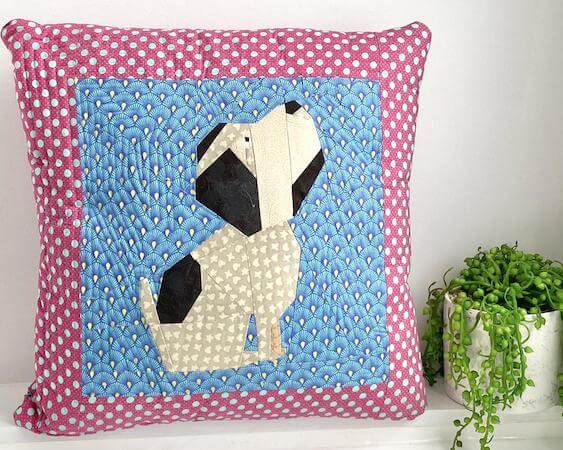 Get the Pattern by Kohatu Patterns here
DOGS ARE JUST TOO CUTE, ESPECIALLY WHEN THEY'RE IN QUILT FORM! WHO COULD POSSIBLY RESIST THESE DOG QUILT PATTERNS?
We hope you enjoy browsing through this collection. Check out our 13 Best Quilting Sewing Machine reviews to help you in your quilting journey. Be sure to post the patterns you make to our Facebook Page. We love seeing your creations!
If you are a feline-loving quilter instead, you'll enjoy these cat quilt patterns. Need new quilting inspiration? Check out other quilting patterns here. We got you!
These dog quilt patterns are the perfect way to honor your four-legged sidekicks. What are you waiting for?