The way we see it, there's really no such thing as waste when you inject a little creativity into life! These 38 egg carton crafts are perfect examples of what can be done with the kinds of things most people throw out every day – beautiful works of art made from the simplest of items.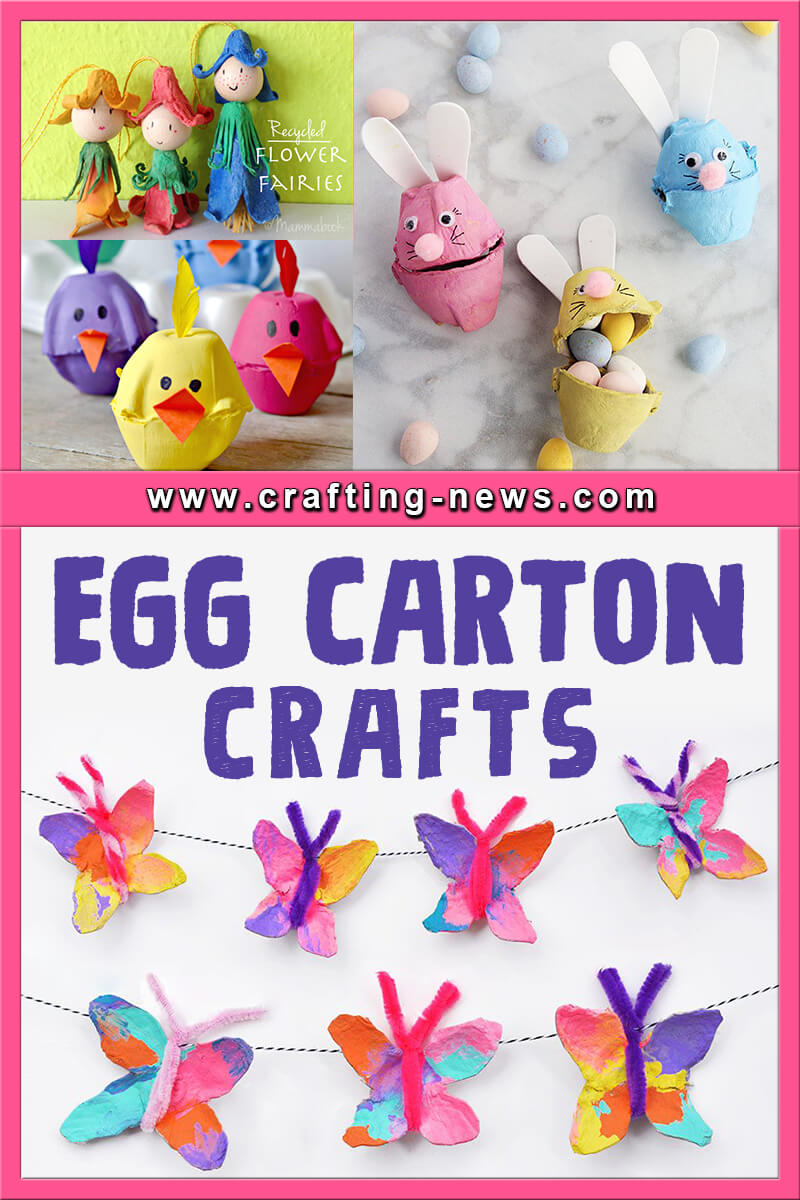 38
Crafts with Egg Cartons
Not only will you have a blast with these egg carton craft ideas, but you also will be saving the world through recycling and some of these ideas you can make educational too! Join in for some "egg-citing" fun with these egg carton crafts listed below!
1. Simple Flowers Egg Carton Art by Mod Podge Rocks
If you need an easy kids' craft idea with great results, this egg carton art is fun and sure to please. This recycled canvas art can be customized for any holiday or decor!
If you've got a couple of egg cartons lying around use them to make these gorgeous simple egg carton flowers.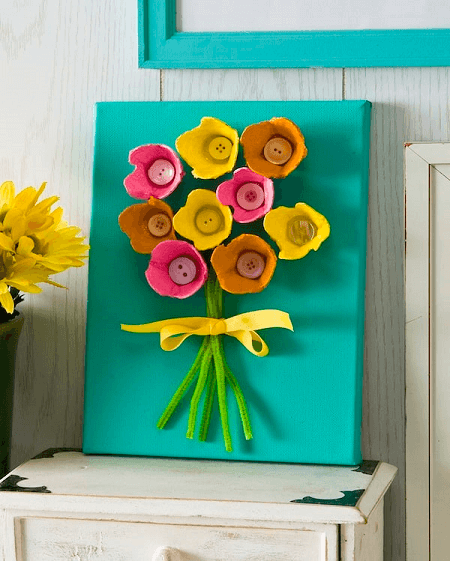 Find the Simple Flowers Egg Carton Art Tutorial Here
2. Egg Carton Pots by Journey Into Creativity
Empty egg cartons make lovely little plant pots. This is a wonderful egg carton crafts for Earth Day or any time. This is an awesome egg carton craft idea for plant lovers, you can easily translate it in English. You can use either faux or real succulents!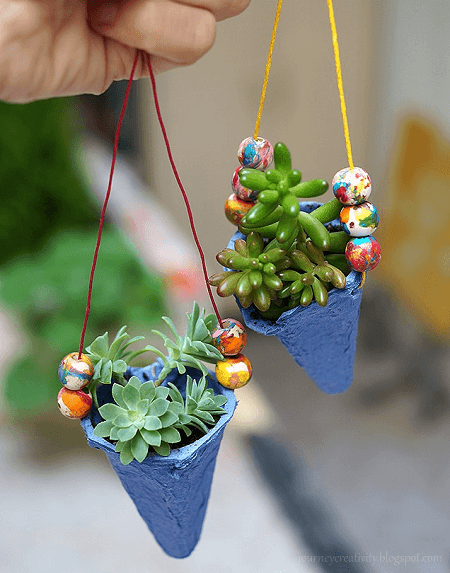 Find the Egg Carton Pots Tutorial Here
3. Egg Carton Butterfly Garland by I Heart Arts n Crafts
This lovely butterfly garland made from egg cartons would be a perfect decoration for a flower-themed party! Make dozens of such egg carton butterfly and then just add them to a piece of rope.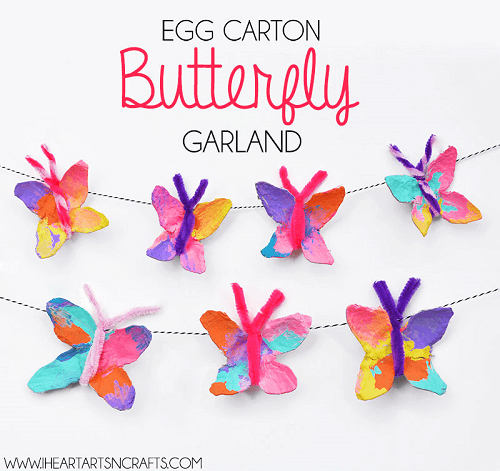 Find the Egg Carton Butterfly Garland Tutorial Here
4. Egg Carton Rose Mirror Frame by Wonderful DIY
When your friends and family first set eyes on this pretty mirror frame, there's no way they'll believe you made it yourself. And even more amazingly, they'll never believe you made it using simply household egg boxes!
There's always the option of adding a touch of paint or maybe some sparkles to the egg box flowers before gluing them to the frame itself – let your imagination be your guide!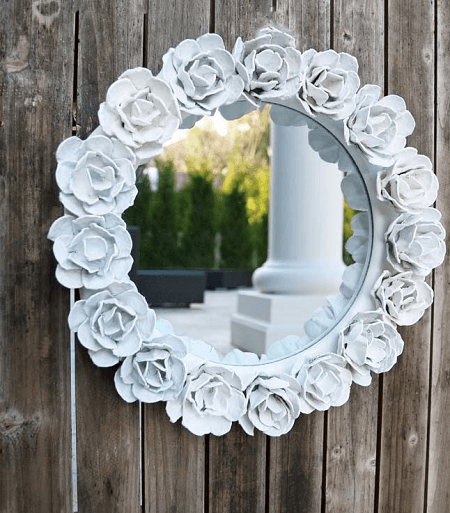 Find the Egg Carton Rose Mirror Frame Tutorial Here
5. Egg Carton Chimes by Art Bar
These charming chimes are made from egg cartons and make a lovely soft sound when the wind blows! These Egg Carton Chimes are so easy to make and they can be for inside or out!
I love the mixture of beads and bells as well the vibrant colors. Remember to make them your own, so if you don't have beads or bells, you can use cotton balls and transform them into a garland!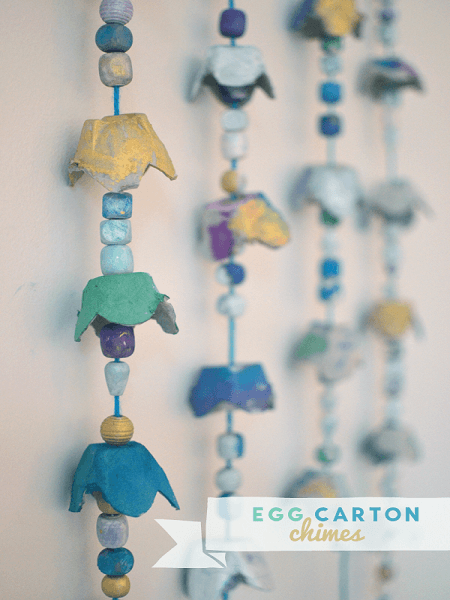 Find the Egg Carton Chimes Tutorial Here
6. Chicks Egg Carton Crafts by Typically Simple
These super cute egg carton chicks are the perfect kids' craft for spring. Grab some egg cartons, paint, and a few other craft supplies to make these spring chicks! A fun kids' egg carton crafts project to make for Easter or as a rainy day activity!
Find the Chicks Egg Carton Crafts Tutorial Here
7. Egg Carton Mermaid Dolls by Art Camp
You might think that making bugs and flowers out of egg cartons is one thing – but mermaids? Well, this project from Art Camp just goes on to show how incredibly versatile egg cartons are! Gather a bunch of egg cartons to create these gorgeous, ethereal underwater beauties.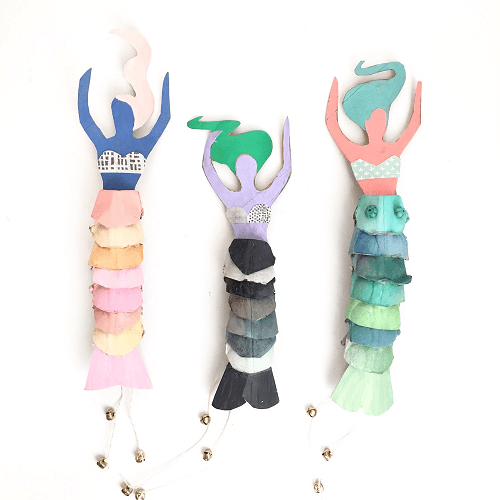 Find the Egg Carton Mermaid Dolls Tutorial Here
8. Egg Carton Piggy Bank by The Little Red House
Here's a cute and functional use for egg cartons which comprise the legs of this tubby and cuddly piggy bank. Your kids will love saving money by dropping coins into the slot.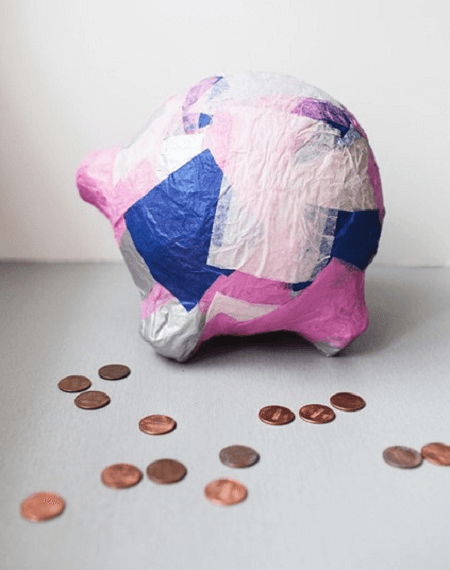 Find the Egg Carton Piggy Bank Tutorial Here
9. Egg Carton Succulent by Bliss Bloom Blog
A really cute succulent gift idea and temporary planter using an egg carton. So easy to make – perfect for a house warming or hostess gift. They are pretty, unique and if you forget to water them – no big deal!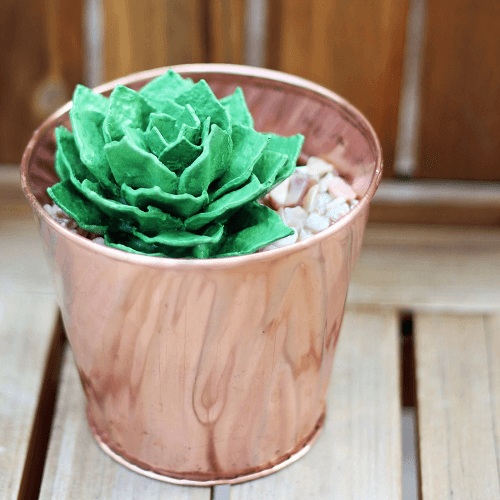 Find the Egg Carton Succulent Tutorial Here
10. Egg Carton Fairy Lights by All Parenting
Turn ordinary twinkle lights into something a little extra-special. Egg cartons are transformed into beautiful blossom fairy lights that will add some extra beauty and elegance to your home.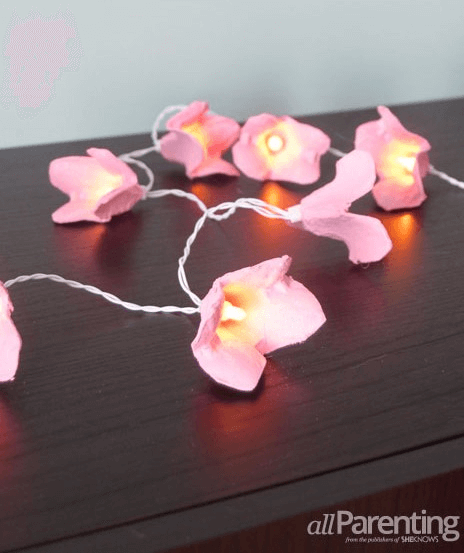 Find the Egg Carton Fairy Lights Tutorial Here
11. Egg Carton Jewelry Box by The Craft Train
This easy and fun egg carton crafts tutorial shows you how to turn an old egg carton into a groovy jewelry box. All you need is an egg carton of any size, paint of whatever color you like best, a paintbrush and some super funky jewels.
You could use this box to store any small knick-knacks and collections (think crystals, shells, loom bands etc.).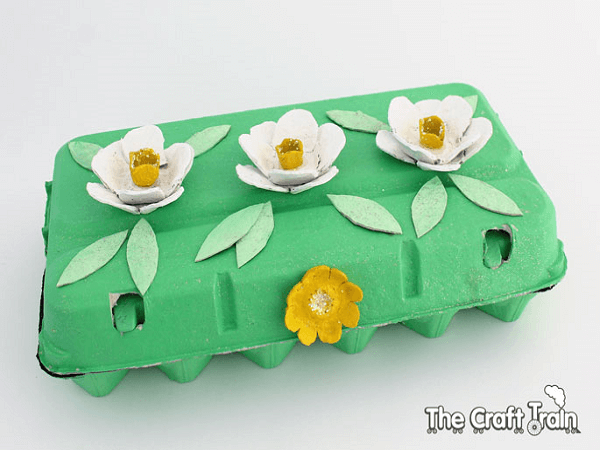 Find the Egg Carton Jewelry Box Tutorial Here
12. Egg Carton Bunny by The Best Ideas For Kids
Your kids will love painting egg cartons fun shades of spring colors and putting together these silly little bunnies. Find some small candies to put inside and place them on your spring table or as part of an Easter basket.
For this egg carton crafts, all you need is an old egg carton and a few other supplies to whip up these little bunnies in no time!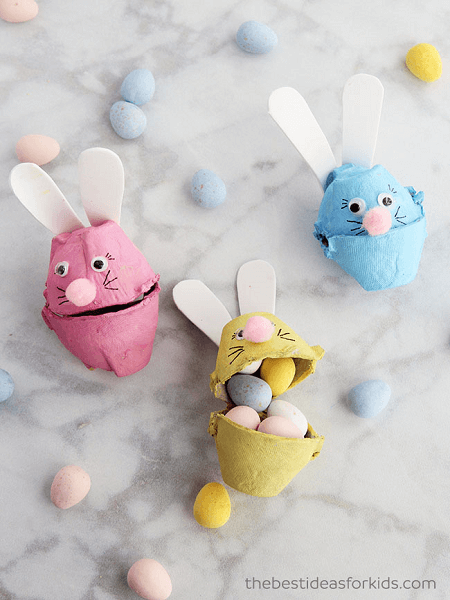 Find the Egg Carton Bunny Tutorial Here
13. Egg Carton Earrings from Skill Flair
This DIY egg carton craft idea may be funny but its simple and easy to make and the result must be stunning. Your ideas for homemade earrings probably don't include egg cartons, right?
Well change the way you think about DIY jewelry designs and create your own Recycled Egg Carton Earrings. These earrings are sophisticated, pretty and oh so versatile.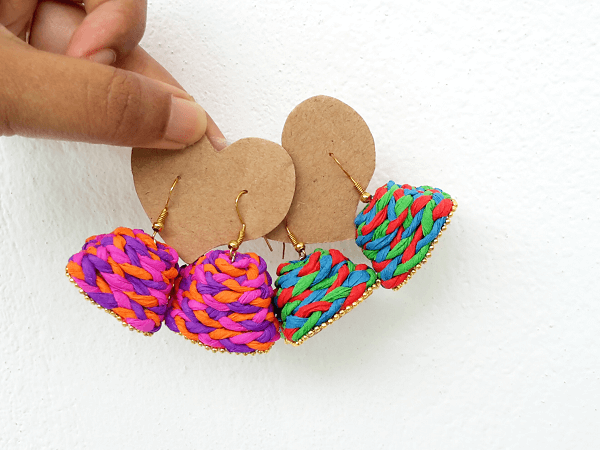 Watch the Egg Carton Earrings Tutorial Here
14. Egg Box Toy Camera by Let's Do Something Crafty
What kid doesn't enjoy using their imagination and playing with a toy camera? This fairly clever egg carton craft idea uses ordinary items like an old egg carton, felt, yarn, and cotton balls to create an amazingly adorable toy camera.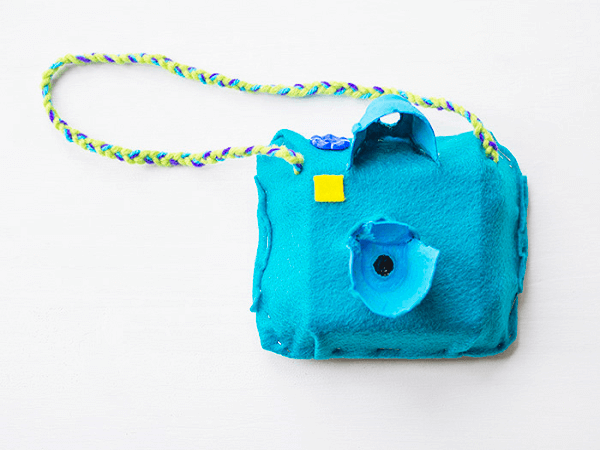 Find the Egg Box Toy Camera Tutorial Here
15. Egg Carton Penguins
These egg carton penguins are such a fun winter craft to make with the kids! And don't they look adorable?! A great egg carton craft for sure and perfect for all Penguin lovers. A perfect addition to any Arctic play scene this Winter.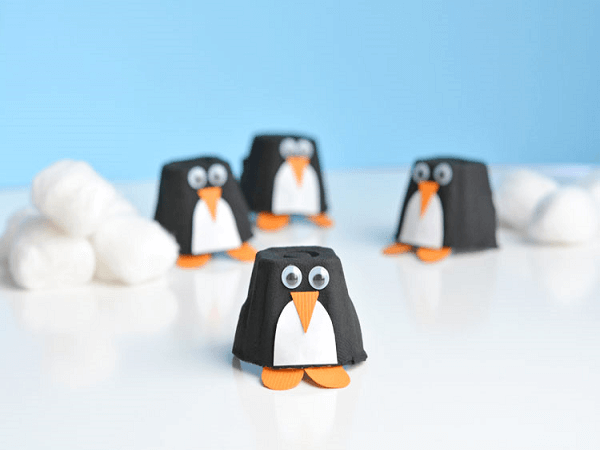 Find the Egg Carton Penguins Tutorial Here
16. Simple Egg Carton Flower Boho Wall Hanging by Craftaholics Anonymous
If you're looking for some cheap and easy DIY home decor, this craft is for you! This DIY Boho Flower Wall Hanging made using egg cartons is one to take the cake! The finished project turns out perfectly. Its on-trend, looks fantastic and is fun to make.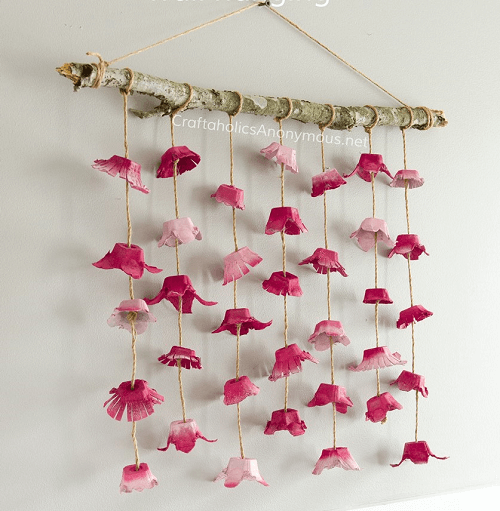 Find the Simple Egg Carton Flower Boho Wall Hanging Tutorial Here
17. Egg Carton Masks by Everyday Dishes
Is inclement weather keeping the kids inside? Or, do your kiddos just have a creative itch? Spend a fun and creative crafternoon making DIY egg carton masks. All you need are a couple of empty egg cartons, acrylic paint, and a few basic supplies you probably already have stuffed in a drawer at home!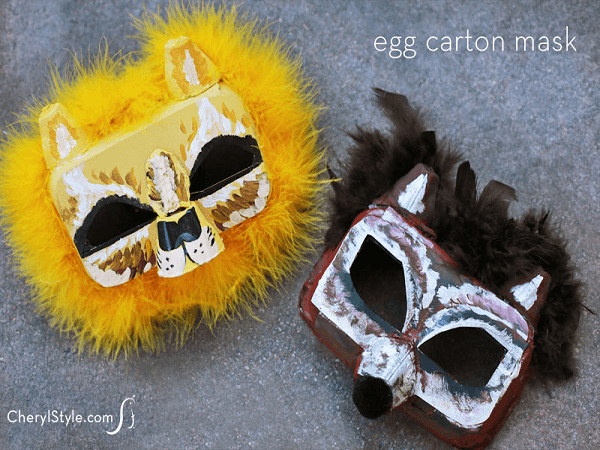 Find the Egg Carton Masks Tutorial Here
18. Egg Carton Centerpieces by Intimate Weddings
Save paper egg cartons and give them a new life as a chic centerpiece. Transform trash into treasure for so many egg carton crafts you'll love to craft, these egg carton home decorations will brighten up your Spring for sure. What a great idea and so budget-friendly.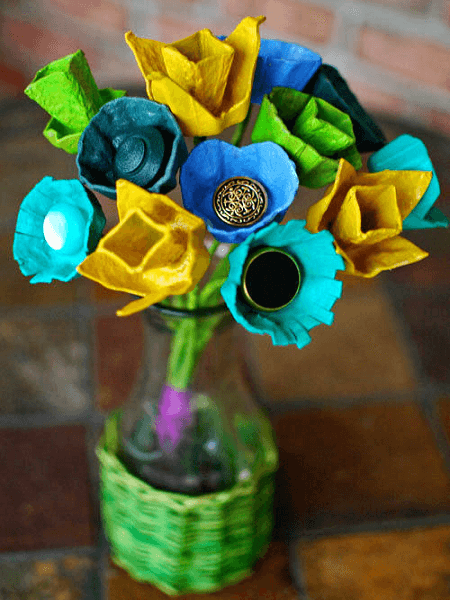 Find the Egg Carton Centerpieces Tutorial Here
19. Egg Carton Spy Glasses by Crafts By Amanda
Encourage imaginative play with this fun egg carton crafts. Made with recycled egg carton cups and pipe cleaners, this project is fun to make and great to play with! The kids will love threading the beads and bending the stems into place. Bring out their inner James Bond!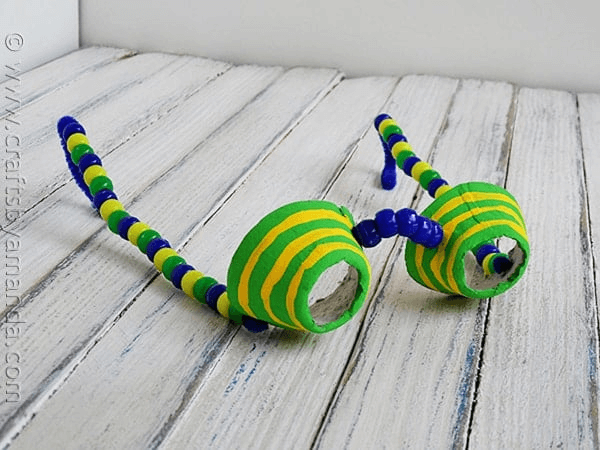 Find the Egg Carton Spy Glasses Tutorial Here
20. Egg Carton Easter Wreath by Our Putlock Family
Nothing can make a door or entryway quite so homely as a beautiful wreath. This nifty project gives you the basic concepts behind a flower-themed wreath using very basic supplies. You can easily take the versatile design and apply different colors for each season.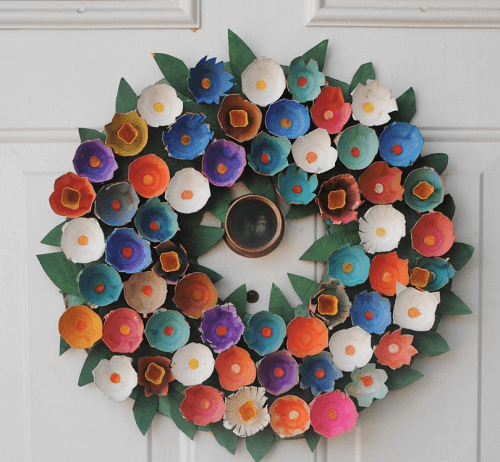 Find the Egg Carton Easter Wreath Tutorial Here
21. Egg Carton Train by The Craft Train
This egg carton train will provide hours of fun for your little ones. They can put toys in the egg carton train "seats" and drive them around the house. They can easily become your child's next favorite toys, as well as be put to use in party centerpieces.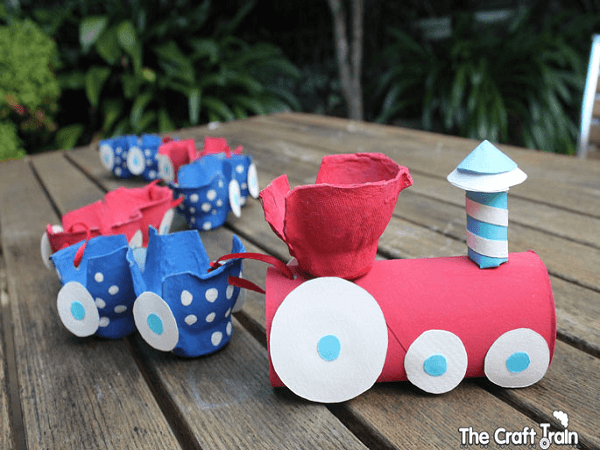 Find the Egg Carton Train Tutorial Here
22. Simple Egg Carton Flower Fairies by Cucicucicoo
You only need an egg carton, a wooden bead, twine, and watercolors and you'll have a perfect decoration for the home or a springtime party. You can also use the tutorial to create a bouquet of recycled flowers!
One relaxing afternoon is enough to fill your house with lovely flower fairies!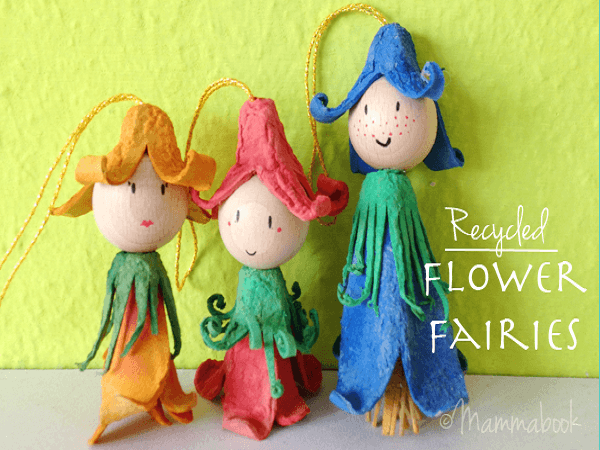 Find the Simple Egg Carton Flower Fairies Tutorial Here
23. Egg Carton Lamp by A Pretty Life In The Suburbs
Have you ever wanted a new lamp but didn't feel like spending a fortune for one? This unique egg carton lamp uses a lot of ingenuity and creativity to make a lovely lamp that you can easily customize to fit any color scheme.
Spend less than five dollars and you'll have a lovely lamp to turn on when the crickets start chirping.

Find the Egg Carton Lamp Tutorial Here
24. Egg Carton Leaf Clovers by Our Kid Things
These egg carton leaf clovers are really simple to make using a total of 3 supplies: a paper egg carton, paint, and scissors. You may also need glue to attach the stem of the clover and if you want to make it into a decorative garland, you'll need a hole punch along with twine or ribbon.
Because everyone could use just a wee bit more luck hanging around!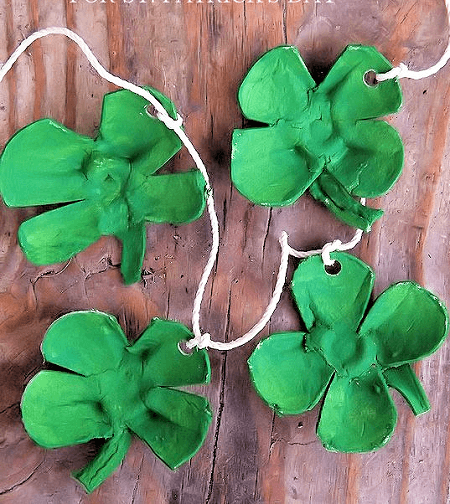 Find the Egg Carton Leaf Clovers Tutorial Here
25. Egg Carton Bowls by Elsie Deliz-Fonsec
If you love to make recycled crafts or simply want to save some money, consider creating these egg carton bowls. These bowls are tiny, so you can use them to store small items like jewelry and buttons.
These egg carton crafts can also help you organize different kinds of beads. Egg carton crafts may not seem classy or sophisticated, but this project really breaks the mold!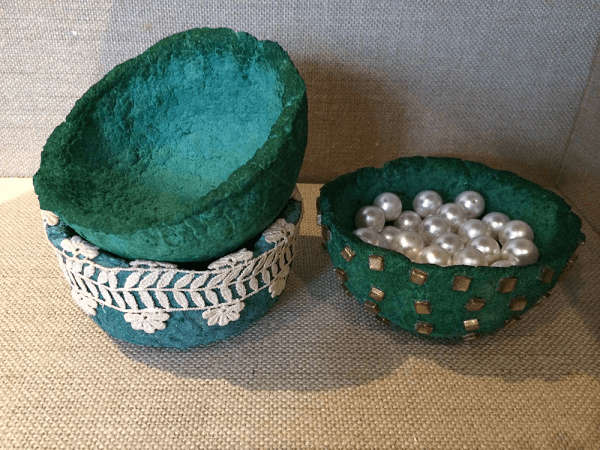 Find the Egg Carton Bowls Tutorial Here
26. Egg Carton Buttons by Pretty Little Things
The design options are endless with this really fun craft for kids. Use the buttons to create adorable headbands, fun wall decor, or jewelry. Make these adornments as funky or as darling as you want.
You could also decorate them with sequins, glitter, and rhinestones or maybe paint your initials on them.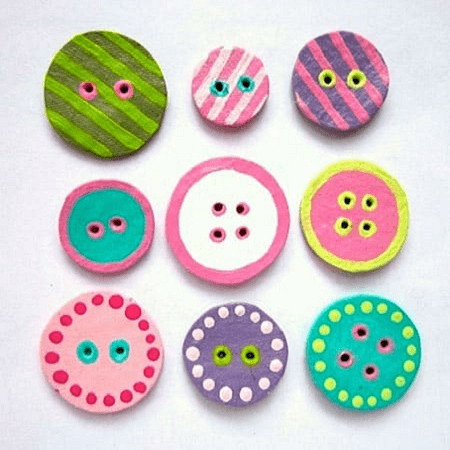 Find the Egg Carton Buttons Tutorial Here
27. Egg Carton Poinsettia by Cucicucicoo
This kid-approved craft is made from egg cartons and fruit nets. Add a bit of paint, a sprinkle of glitter and a loop of string or ribbon, and you have a perfect child-made ornament!
This egg carton craft is free to make and takes less than an hour to make a bunch of. Perfect to make and give to loved ones for the holidays!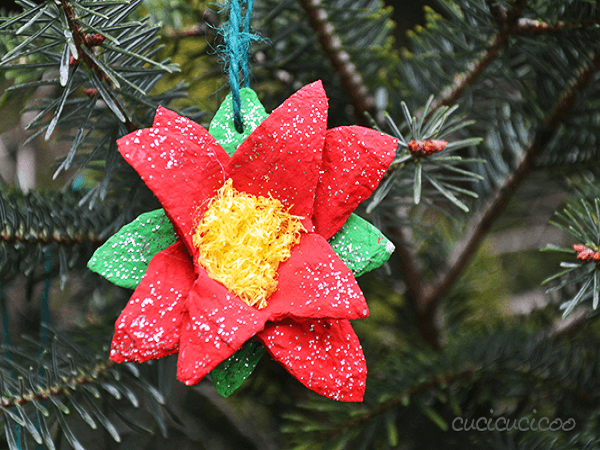 Find the Egg Carton Poinsettia Tutorial Here
28. Egg Carton Ring Holder by Merriment Design
Egg carton pieces are naturally perfect for holding your rings, you just need to cut it and twist the way you need, and then paint it. These recycled egg carton ring holders by Merriment Design is ingenious! And they cost just about nothing to create!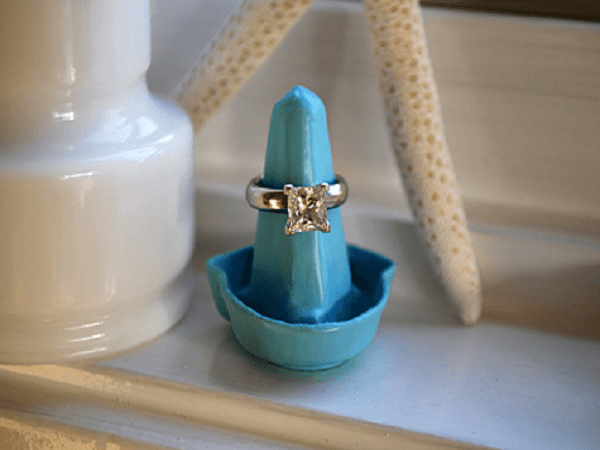 Find the Egg Carton Ring Holder Tutorial Here
29. Egg Carton Bird Feeder by The Creative Cubby
Egg Carton Bird Feeders are a great way to recycle egg cartons while feeding the beautiful birds of the world. With minimal supplies, you can create an eco-friendly way to invite little guests into the yard.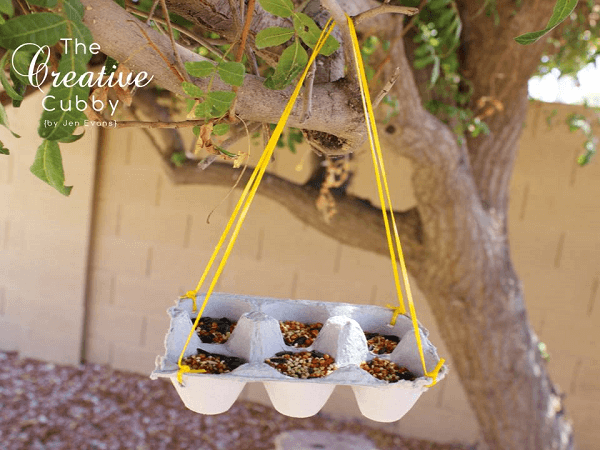 Find the Egg Carton Bird Feeder Tutorial Here
30. Sunflower Egg Carton Craft by Buggy And Buddy
Kids will love being able to transform an egg carton into a bright and cheerful sunflower! This egg carton crafts is super simple and uses supplies you most likely already have right at home or in the classroom. You can set up your sunflowers on a variety of backgrounds, or easily work them into a collage.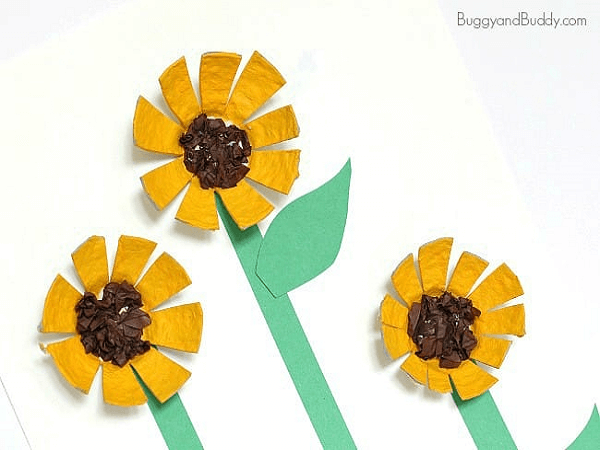 Find the Sunflower Egg Carton Craft Tutorial Here
31. Egg Carton Crown by The Pinterested Parent
Here is a great egg carton craft idea that parents can do for their little kings & queens. This fancy crown is perfect for your kids when flights of fancy are on the menu. It is a great project for Easter time when you are likely to have some spare egg cartons and plenty of kids to entertain.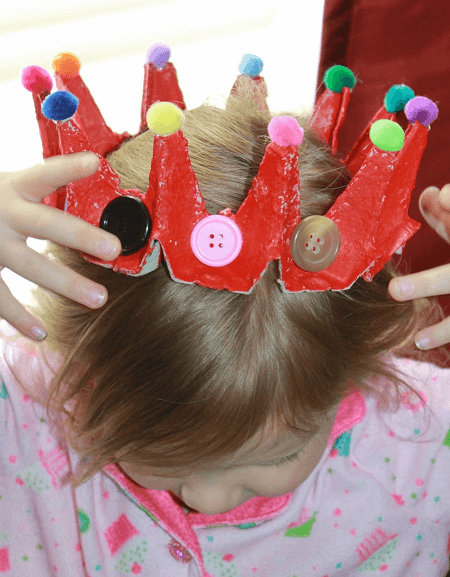 Find the Egg Carton Crown Tutorial Here
32. Egg Carton Whale Kids Craft by I Heart Crafty Things
This Egg Carton Whale is not only fun for the kids to make, but it makes an adorable recycled ocean craft as well! Designed to be quick and easy, they are the perfect addition to any sort of nautical themed activity, be it a party or lesson about marine life.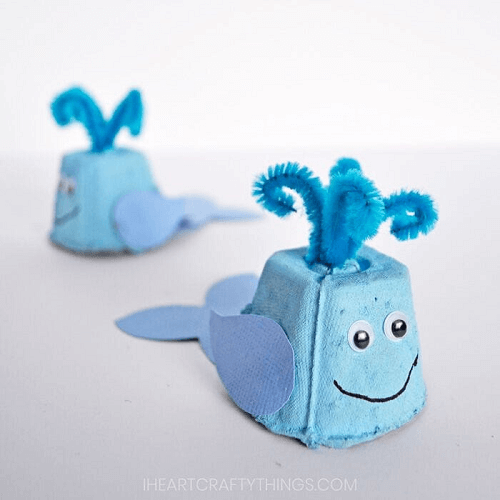 Find the Egg Carton Whale Kids Craft Tutorial Here
33. Egg Carton Roses by Bliss Bloom Blog
These egg carton roses can be painted, dyed, or covered in glitter and displayed in a variety of ways. Bundled together, covering frames, or strung on garlands/mobiles, these roses are sure to become a staple for many other projects. Kids and adults of all ages are sure to love putting these together.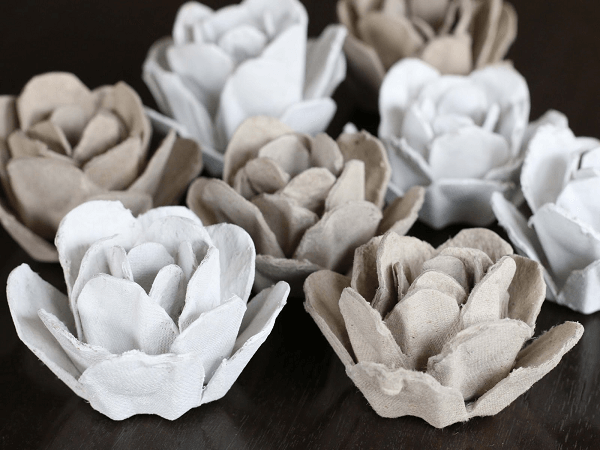 Find the Egg Carton Roses Tutorial Here
34. Egg Carton Pom Pom Ice Cream Garland by Pysselbolaget
It doesn't get much sweeter than these egg carton ice cream cones. Bright colors and "sprinkles" add a little whimsy. With pieces of an egg carton, we'll turn pom poms into ice cream, and the ice creams into a garland. Festive, don't you think?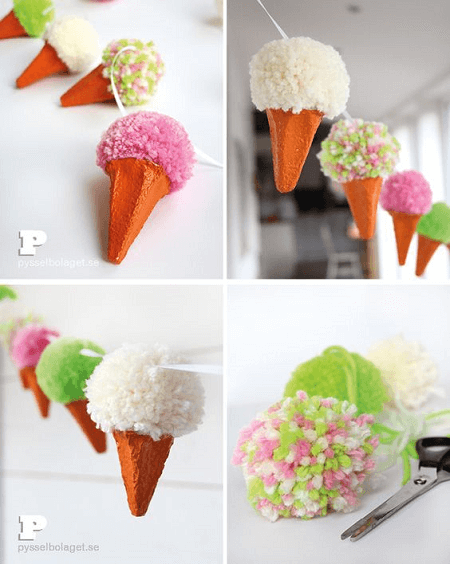 Find the Egg Carton Pom Pom Ice Cream Garland Tutorial Here
35. Egg Carton Turkeys by Living Well Mom
These adorable egg carton turkeys will be the delight of any kid creator. This is a fun egg carton craft that also makes an adorable decoration. Make this in the classroom to decorate for Thanksgiving, or let the kids take them home and decorate their bedrooms!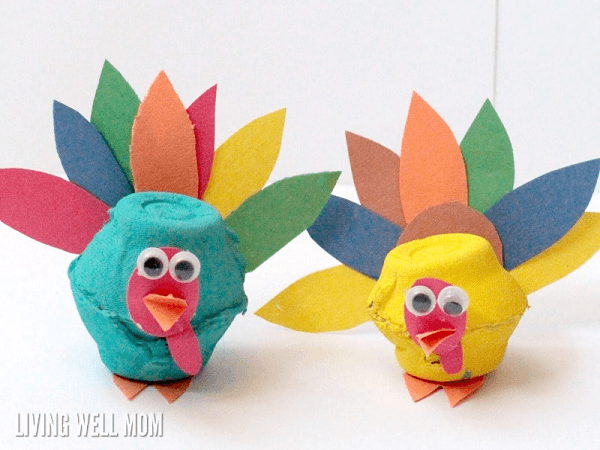 Find the Egg Carton Turkeys Tutorial Here
36. Egg Carton Helicopter Craft by The Craft Train
Create an egg carton helicopter craft – this cute and easy DIY toy is a fabulous way to upcycle your old egg cartons. These adorable mini egg carton helicopters make a great DIY toy for play once they're finished.
You could personify them by drawing different faces on the front with sharpie markers or choose to keep them simple and plain.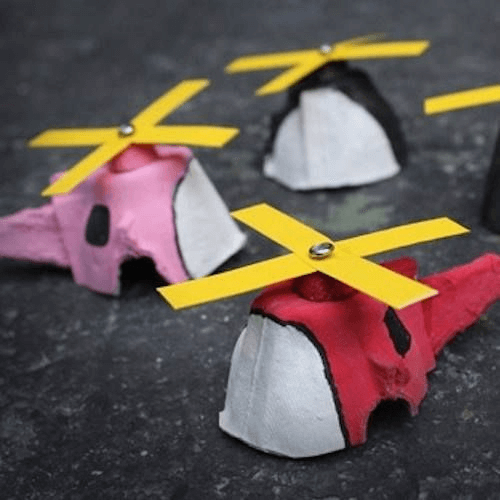 Find the Egg Carton Helicopter Craft Tutorial Here
37. Egg Carton Christmas Tree by Seconds Guru
It's never too early to prepare for the holidays. Make this cute Christmas tree out of egg cartons! If you are looking for a completely non-typical Christmas tree of some recycled materials, you'll love this egg carton craft idea.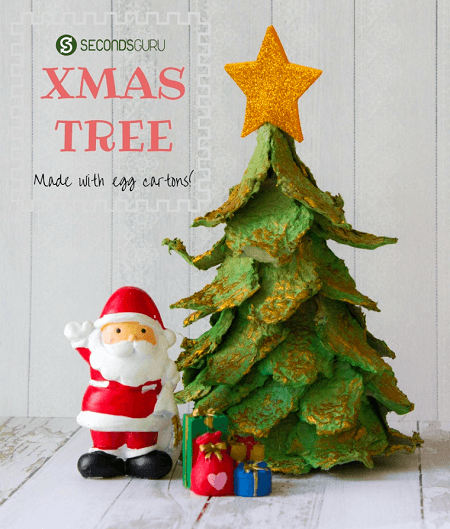 Find the Egg Carton Christmas Tree Tutorial Here
38. Egg Carton Organizer by A Little Craft In Your Day
This is a perfect craft for little kids and adults alike who need a little help organizing! This DIY Egg Carton Organizer is a wonderful way to recycle and also add some unique style to your room or desk area with little effort! Your friends and family will love this cool egg carton craft idea and they'll want one too!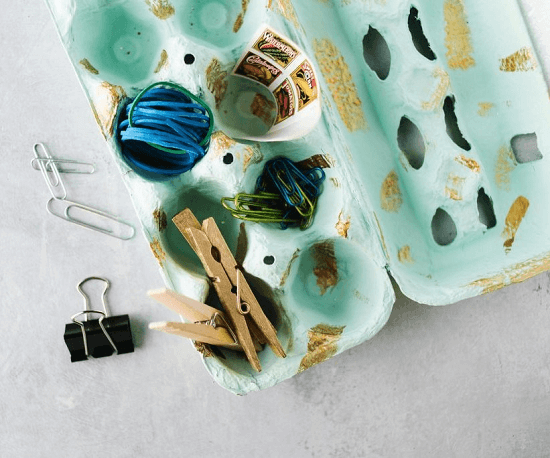 Find the Egg Carton Organizer Tutorial Here
We hope you enjoy these egg carton crafts! We are "Egg" static to share them with you!
Now that you've used egg cartons for your craft, why not go with the egg next? Check out our review on Egg Painting Kits available online. You can also go here to see a roundup of all sorts of fun crafts you can make with your kids.
There are many ways to have fun with them using nothing more than a few craft items and lots of imagination! Which egg carton crafts on this list was your favorite? Share your makes with us on our Facebook Page. We are "egg-cited" to see your creations!
Instead of throwing those humble egg cartons away, recycle them to use for one or more of these egg carton crafts!