Whether you're craving pizza or burger, you'll find just the thing to hit the spot. With over 21 felt food patterns on the menu, there's something here to please every palette.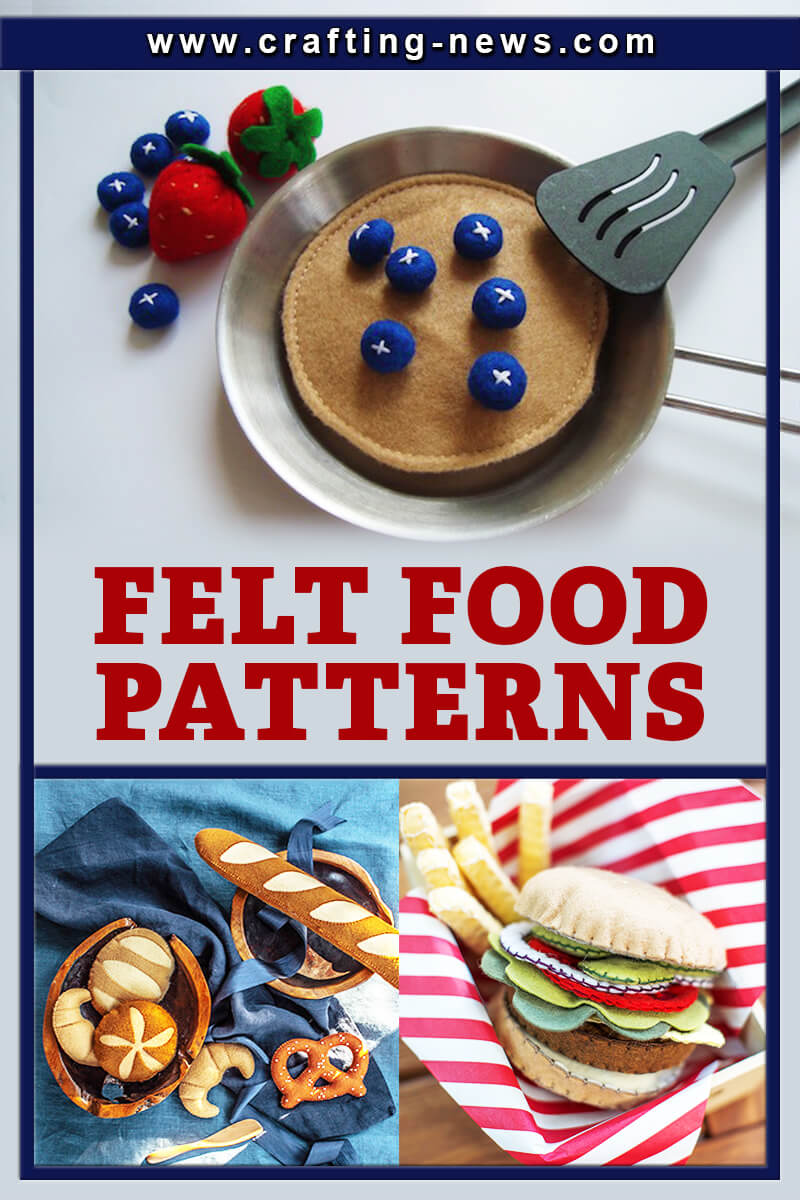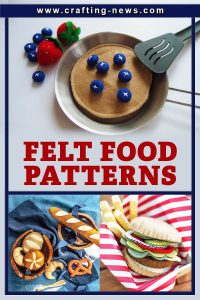 In addition to snack items that can be whipped up in a flash, you'll find: patterns to plan a meal fore breakfast, lunch, dinner and even dessert; minimal sewing and effort to get you started right away; and short "ingredients" lists to make finishing an item quick and easy.
1. Felt Blueberries And Pancakes by Burnt Muffin
Breakfast is the most important meal of the day, so why not start with a fun treat like blueberry pancakes? This simple free felt food pattern requires very little sewing and uses some embroidery thread for detail work.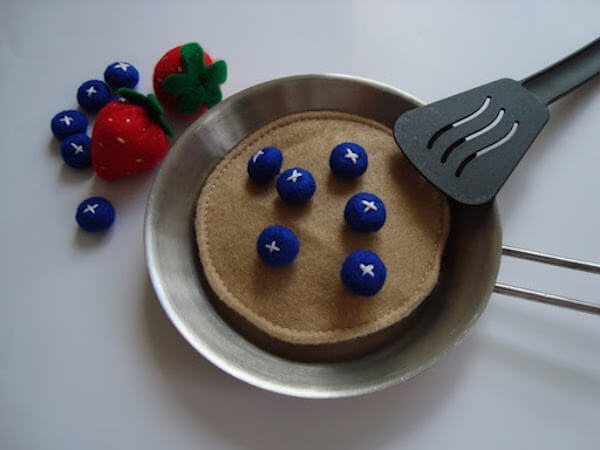 Follow the Tutorial here
2. Bacon And Eggs Free Felt Food Pattern by The Gunny Sack
For a healthier pretend breakfast for the play kitchen, try out this pattern for bacon and eggs. Fortunately, this project is simple enough to make as many eggs or bacon strips as you want.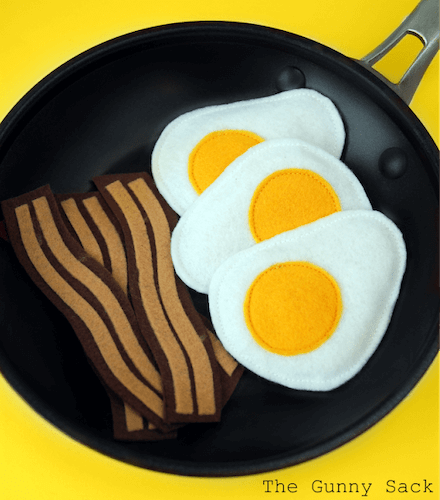 Follow the Tutorial here
3. Felt Burger And Fries by Lia Griffith
With just a little batting, you can create a hearty pretend burger and fries for you child, free of fat and grease. This project has a few more elements than others, but the smaller details like pickles, cheese, and French fries can be used for other play food as well.
Follow the Tutorial here
4. Felt Vegetables Pattern by July Hobby
What a fun way for kids to learn about the importance of eating fresh, healthy food with these beautiful felted vegetables.
Check out more crochet vegetable patterns here.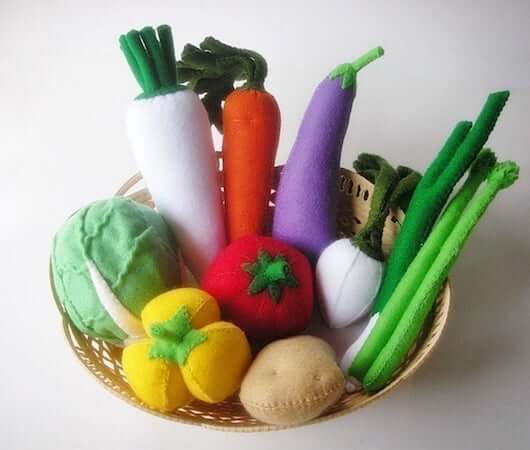 Get the Pattern by July Hobby here
5. Felt Chicken Legs by Art Threads
The key to imaginative play food is giving your child variety and a lot of mix-and-match options, which is why these chicken legs are such a great idea. They're quick and easy to make, but they can easily be paired with a variety of other side dishes and vegetables to make a meal.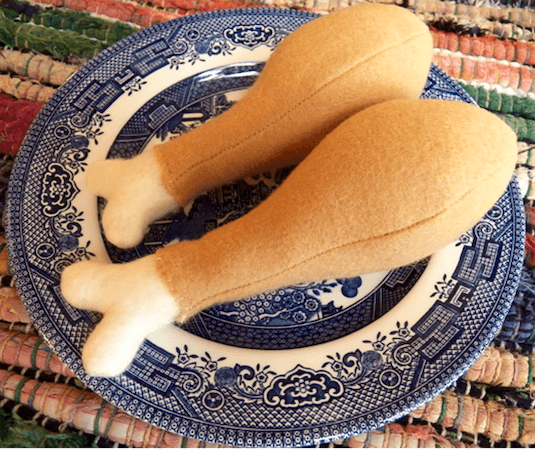 Follow the Tutorial here
6. Felt Cupcakes by Felt Kreations
Cupcakes are a children party staple, which is why making a felted pretend cupcake will give your child endless entertainment. These cupcakes are simple to make, so use your imagination to create some exciting toppings, like sprinkles and flower.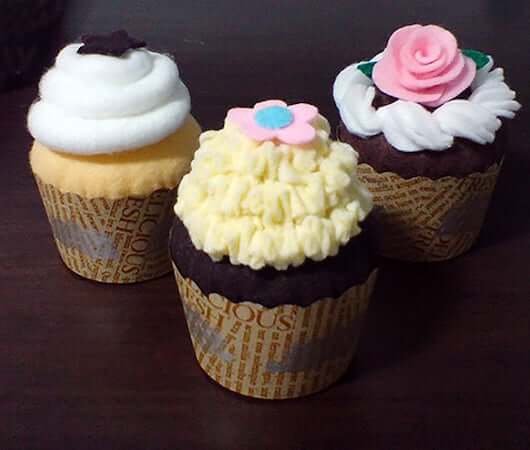 Get the Pattern by Felt Creations here
7. Felt Turkey Dinner by Assemble Shop
There's some time before the holiday season comes back around, so get ready with this whole turkey dinner play food. This pattern is a little more work than the others, but what a great pretend food for your child to have while you're making the real thing.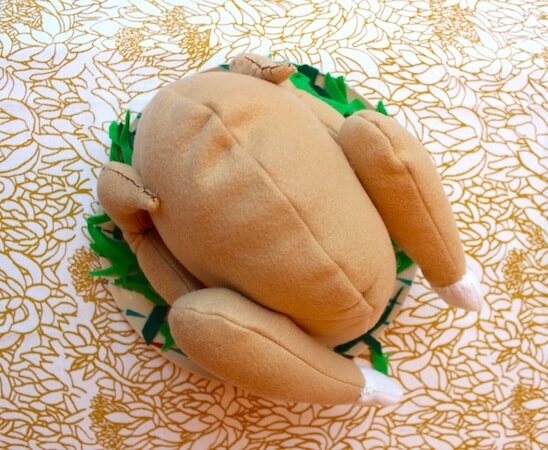 Follow the Tutorial here
8. Easter Basket Felt Food Pattern by
Here comes the Easter Bunny! Look what he has in his fun felt Easter basket. A tall sweet dark chocolate bunny, a cute little milk chocolate bunny, jelly bean sugar cookies, decorated egg shaped sugar cookies – and you can't forget the colorful marshmallow bunnies! Tuck it all inside the woven Easter basket- and play away!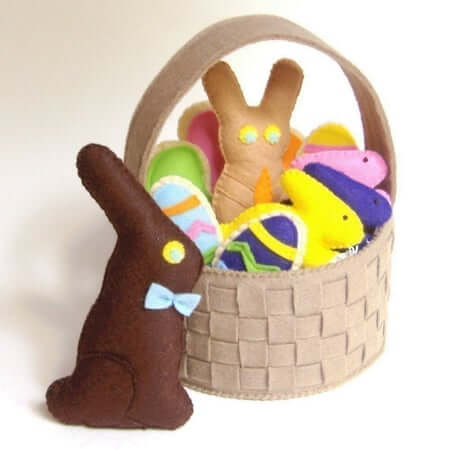 Get the Pattern by Gulf Coast Cottage PDF
9. Felt Chocolate Chip Cookies by Life Is A Party
These chocolate chip cookies feature adorable little smiles and frowns for some extra whimsy. Once you make the cookies, you can change their facial expressions for your own unique touch.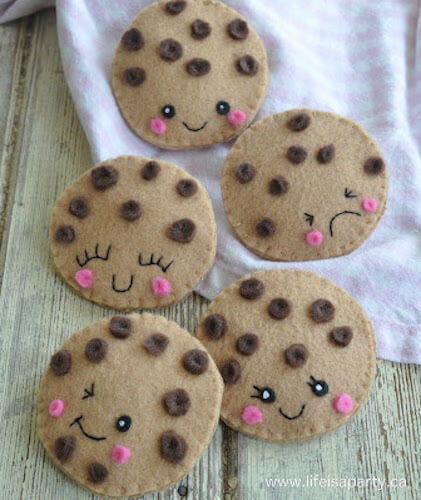 Follow the Tutorial here
10. Felt Pizza by Sweet Emma Jean
Who doesn't love pizza? This pizza parlor play set turns your little one serve one-of-kind pies to all her friends.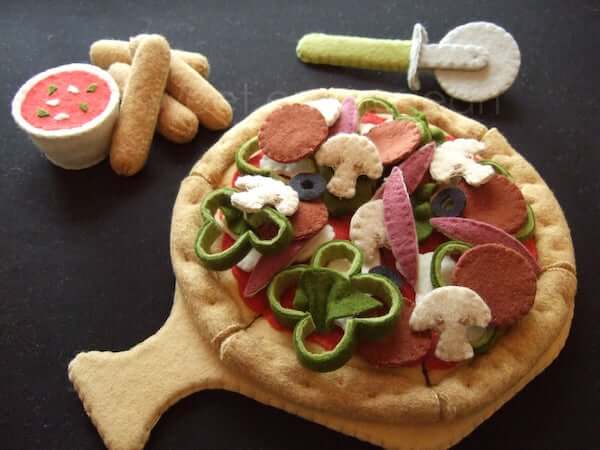 Get the Pattern by Sweet Emma Jean here
11. Felt Artisan Breads by Lia Griffith
These amazing Felt Artisan Breads are perfect for a play bakery! This project tutorial shows how to make a baguette, soft pretzel, croissants, and a couple of loaves. You can craft these felt artisan breads anytime, but we think they would make a fun Christmas gift for kids.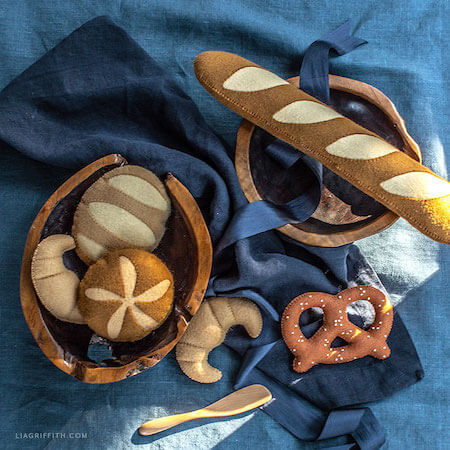 Follow the Tutorial here
12. Felt Fruit Patterns by
Teach your little one healthy eating habits, and their colors with this fabulous fruit pattern! Or make a bunch and play fruit market!
Here's more crochet fruit patterns you can add to your collection.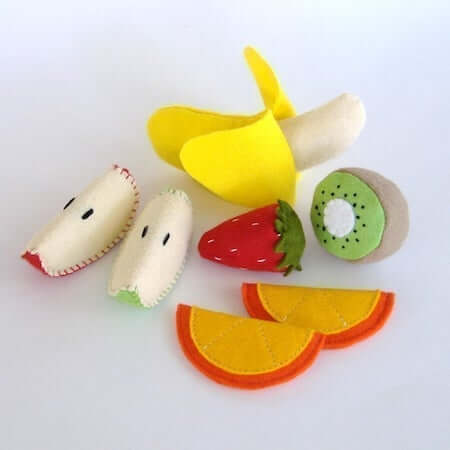 Get the Pattern by Gulf Coast Cottage PDF here
13. Macaroni And Cheese Felt Food Pattern by Treehouse Patterns
Macaroni and cheese is a favorite for most little people so what could be better than recreating their favorite lunch in felt! Crafting with felt is economical and fun and this easy project takes only a few hours to complete so the rewards are almost instant.
If you're unfamiliar with sewing or have never made felt food before, this easy project is perfect for beginners!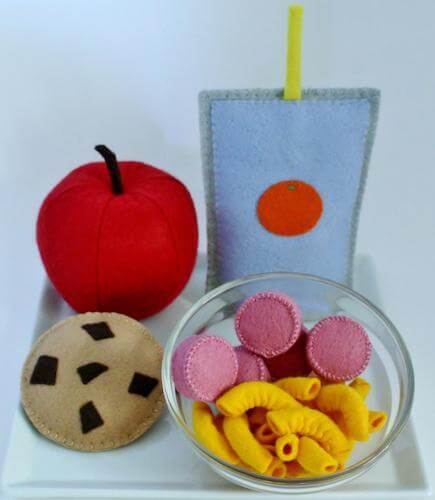 Get the Pattern by Treehouse Patterns here
14. Felt Brown Bag Lunch by Skip To My Lou
Complete with a brown felt storage bag, this set perfectly replicates a classic school lunch. It includes a sandwich, chips, and sweet treat for dessert, making it the perfect DIY treat for a child who loves to play school at home.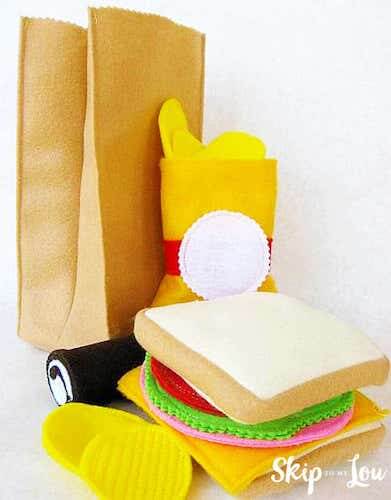 Follow the Tutorial here
15. Felt Breakfast Food by Bugga Bugs
Who doesn't love waking up to a good ol' fashioned homecooked breakfast Saturday morning? This Felt Breakfast Food will serve you up some of the best pancakes, bacon and eggs in town!
The bacon's sizzling in the pan (it really bends and holds its shape!), the fried egg is sunny side up, and the pancakes are warm and fluffy. A great way for every child's tummy to start the day!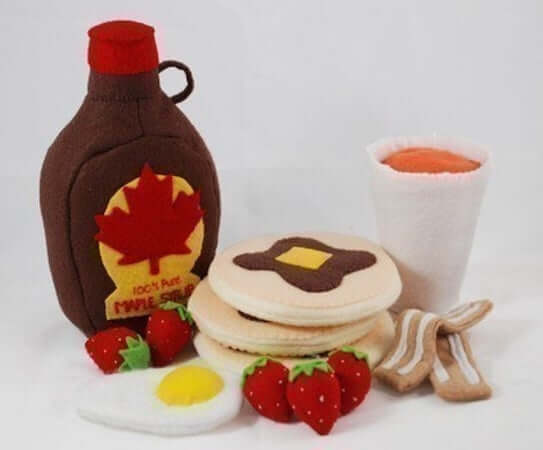 Get the Pattern by Bugga Bugs here
16. Felt Popcorn by All In One Day's Time
Are you ready to make your very own felt food? The popcorn is really simple to make although it is a little time consuming if you want to make a whole bowl full.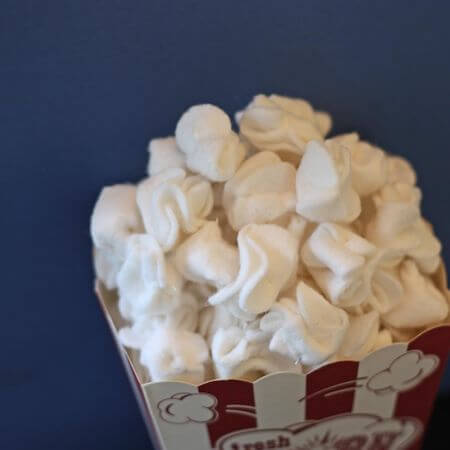 Follow the Tutorial here
17. Felt Ice Cream Tutorial by One Creative Mommy
What kid wouldn't love a double scoop of ice cream? The sky (or the amount of felt colors you can find) is the limit!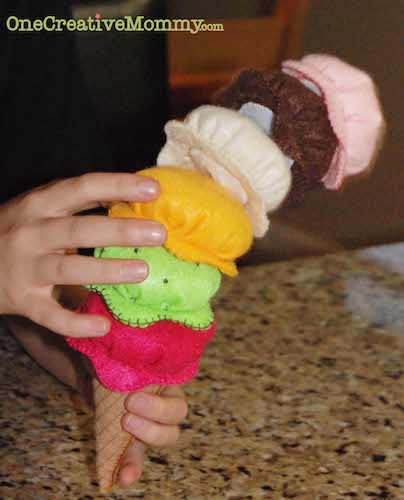 Follow the Tutorial here
18. Felt Food Groceries by Bugga Bugs
A jug of ice-cold milk, a box of unsalted butter (great for cooking), a fresh fish (healthy alternative to the usual) and some canned vegetables, soup and Tuna to stock up the pantry. What else could you ask for?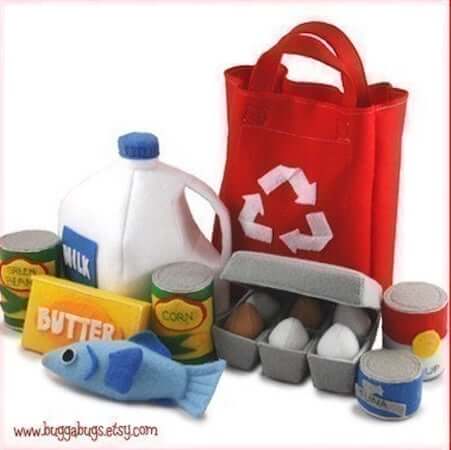 Get the Pattern by Bugga Bugs here
19. Exquisite Felt Food Pattern by Treehouse Patterns
Precious kiddos deserve the very best and that's what they'll get when you make this decadent looking felt food! This exquisite Felt Ice Cream set, complete with Felt Ice Cream Cone, Sundae, Banana Split and much more, is easy to make and will be a much loved favorite in your child's play kitchen!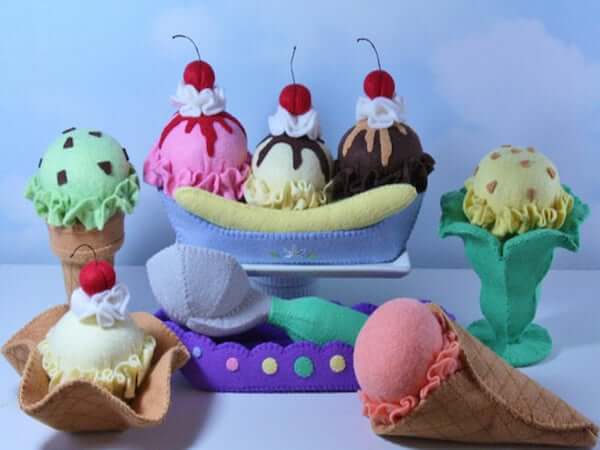 Get the Pattern by Treehouse Patterns here
20. Italian Dinner Felt Food Pattern by Bugga Bugs
A little taste of Italy! Nothing beats homemade lasagna and garlic bread! Mmmm…but one look at the strawberry tiramisu and you just might change your mind! A hand tossed salad starts out the night, and there's even a separate dish on the menu for a little friend – homemade spaghetti made with fresh Italian noodles. Bonappetit!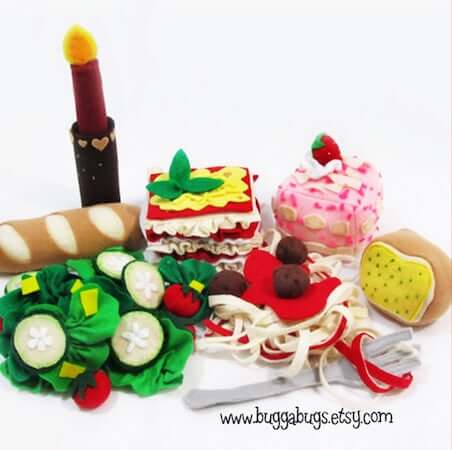 Get the Pattern by Bugga Bugs here
21. Felt Food Pattern- Bread, Cheese, Tomatoes And Eggs by Apple Green Cottage
This felt food looks so real, make sure you don't eat it by mistake. Have you ever tried making felt play food? So much fun! Have a look at this beginner how to sew cute felt slices of French loaf bread. Easy to make, really fast – and totally adorable!


You'll need:
– 2 pieces of light brown or beige felt
– 1 strip of dark brown felt (I used an inch wide strip)
– matching Thread
– sewing machine or a needle
– Pins
– this FREE PDF template (on Craftsy, for free)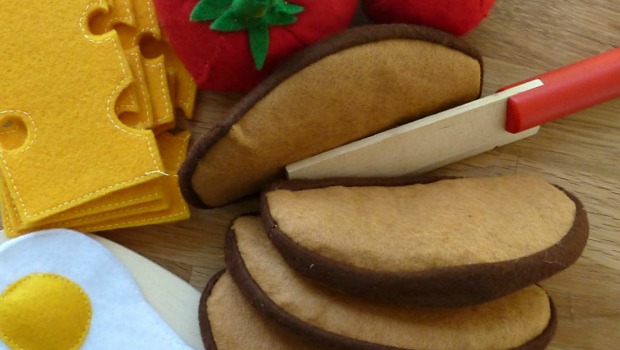 Make a play set, and make a felt feast- so much fun! Add tomatoes (easy peasy!), cheese slices (make-in-your-sleep easy), or other types of felt food. Click through to get more easy DIY inspiration.
Combined with other felt food, they make a wonderful DIY present for a child! There's a free PDF felt bread template to make your sewing even quicker! Get it here:
WHETHER THEY'RE PLAY FOOD FOR THE KIDS OR FUN PROJECTS FOR YOU, YOU'LL LOVE INCREASING YOUR DAILY FIBER INTAKE WITH THESE FELT FOOD PATTERNS.
Mix and match and you'll have a yummy basket of goodies to please any kid, or kid at heart! Once finished, please have a moment to share your works on our Facebook Page. Can't get enough? Check out our 15 crochet donut patterns and kids crafts.
With these simple felt food patterns, you can create realistic looking play food that will last for years and promote open-ended, imaginative play. What are you waiting for?