Felt Food – Bread, Cheese, Tomatoes And Eggs
|

Felt Food – Bread, Cheese, Tomatoes And Eggs
This felt food looks so real, make sure you don't eat it by mistake. Have you ever tried making felt play food? So much fun! Have a look at this beginner how to sew cute felt slices of French loaf bread. Easy to make, really fast – and totally adorable!
You'll need:
– 2 pieces of light brown or beige felt
– 1 strip of dark brown felt (I used an inch wide strip)
– matching Thread

– sewing machine or a needle
– Pins

– this FREE PDF template (on Craftsy, for free)
adsense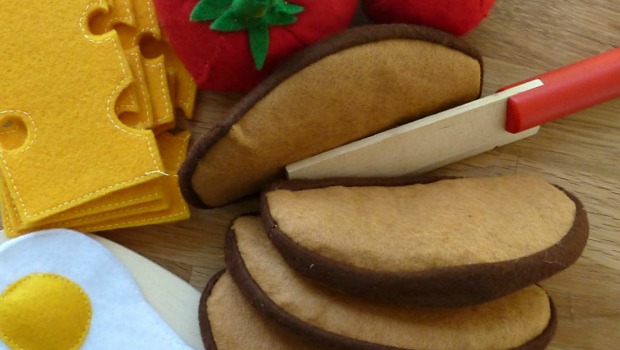 Make a play set, and make a felt feast- so much fun! Add tomatoes (easy peasy!), cheese slices (make-in-your-sleep easy), or other types of felt food. Click through to get more easy DIY inspiration.
Combined with other felt food, they make a wonderful DIY present for a child! There's a free PDF felt bread template to make your sewing even quicker! Get it here:
adsense