Johannes Vermeer's Girl with a Pearl Earring Lanarte Cross Stitch Kit
|
This Lanarte Cross Stitch Kit of Johannes Vermeer's famous painting known as Girl With A Pearl Earring allows you to have such a piece of the historic portrait without actually spending so much money.
The most important thing, it can also arouse the artistic spirit in you because instead of the painting, you are going to use your cross stitch skills. In that way, you might also experience the feeling of Vermeer right after he finished his masterpiece – that would be your masterpiece also after following the instructions included in this Lanarte cross stitch kit.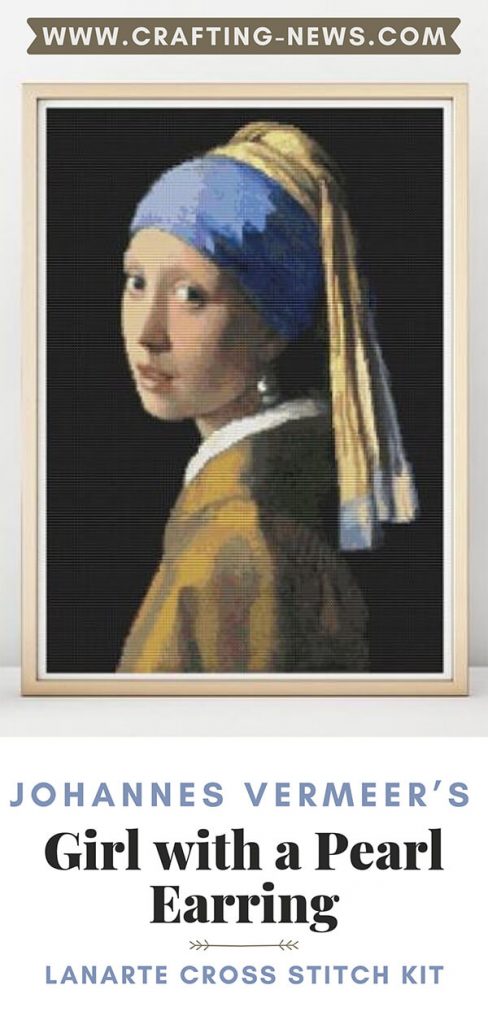 People know Lanarte cross stitch kit widely for its high-quality products and one of a kind classic designs that would suit your tastes. Therefore, rest assured that Sofia of FilsetMercerieShop guarantees that this kit is worth buying for – from the cloth up to the pattern instruction. It will never disappoint your expectations.
LANARTE KIT INCLUSION
Aida Cloth – in 14 counts
Threads – 10.5 p. 27 centimeters
100% Cotton Fabric
100% Cotton Yarn
Needle
Instructions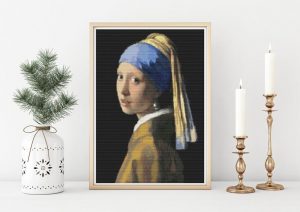 FINISHED SIZE OF THE CROSS STITCH
The finished product has a size of 29 centimeters wide by 39 centimeters long.
LEVEL UP YOUR CROSS STITCH SKILLS

This project is a chance to enhance your skills to the next level for further cross stitch project!
As you can see, this is not just a simple design that only needed at least two colors. Instead, to make it look like the original, you must use more than ten different colors, but don't worry because everything you will be needing to finish this project is already included in the kit.
Though it seems like it is way too complicated, keep calm, because the pattern instructions will keep you on track. Just trust your skills, and for sure, the product would be terrific!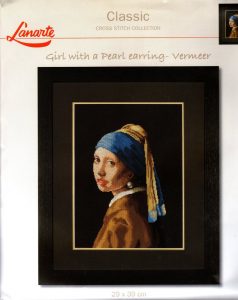 CLASSIC PORTRAIT AS A SYMBOL
Girl With A Pearl Earring is believed to reflect the value of women through generations. This is because Vermeer had a sensitive engagement with women's socio-cultural roles.
As a matter of fact, people assumed that the girl in the painting is Vermeer's daughter named Maria. Maria was twelve or thirteen-years-old when Vermeer created this painting way back in the 17th century.
Therefore, you can view Girl With A Pearl Earring as a symbol of women's empowerment. In that way, it would not only reserve for your classic collection but can also be a present for your mother, aunties, or even your girlfriends as you conceive that it is their representation – a stunning and wonderful woman!
So, hurry up and get your hands on this Johannes Vermeer's Girl with a Pearl Earring Lanarte Cross Stitch Kit and start to cross-stitch your very own classic and tasteful art piece!