1. Brass Ring Free Macrame Dream Catcher Pattern by Brooklyn Craft Company
Learn how to make a DIY macrame wall hanging in a brass ring, in this free macrame wall hanging pattern tutorial from Brooklyn Craft Company. You will be smitten with this macrame wall hanging made in brass rings because they add a bit of bling to your decor with a dash of geometrics and a nod of a dreamcatcher.
This is a minimalist piece with a bohemian twist. Add some texture and dimension to any space with this beautiful wall hanging!
Get the Pattern here
2. Macrame Dream Catcher DIY by Crafting On The Fly
It is amazing how much you can do with simple macrame knots! This beginner Macrame wall hanging looks sophisticated and intricate yet only uses 3 easy macrame knots. This Macrame dream catcher is perfect for any boho home decor.
Get the Pattern here
3. Macrame Dream Catcher Tutorial by Collective Gen
To call this simply a dream catcher doesn't do it justice. This stunning wall hanging would look great in a nursery, bedroom, or anywhere in your home.
Get the Pattern here
4.
Macrame Dream Catcher Wall Hanging

With Feathers by Oh So Hygge

Featuring a host of eye-catching textures and contrasting colors in a warm palette, this wispy macrame hanger gives a farmhouse-like feel thanks to the feathery embellishments.

Get the Pattern here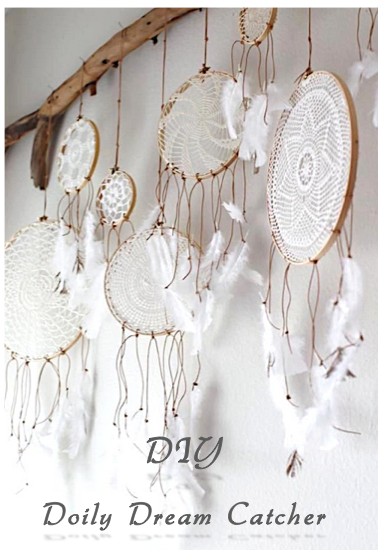 Make A Macrame Dream Catcher Beautiful Doilies Pattern
Make A Dream Catcher Beautiful Doilies Pattern and dream your night away. They are great fun and so simple to make and are right on trend, so you can hang them above your bed as well as around your house and even in the garden if you like.
They will really make your space feel a lot calmer. Make these to suit your own taste with different colored feathers, leather, and all kinds of beading…whatever your personality and mood calls for.
Materials
* Wooden embroidery hoop
* doilies {you can use new ones or vintage ones from op shops and garage sales}
* twine and/or leather cord
* feathers
* beads + whatever you want to embellish your dream catcher with
* scissors