Legend has it that dream catchers can trap bad dreams. While we can't guarantee you'll only have pleasant dreams from here on out, creating your own macrame dream catcher is a great project. It's a beautiful piece of art you can hang in your home, and it's fun to make, too!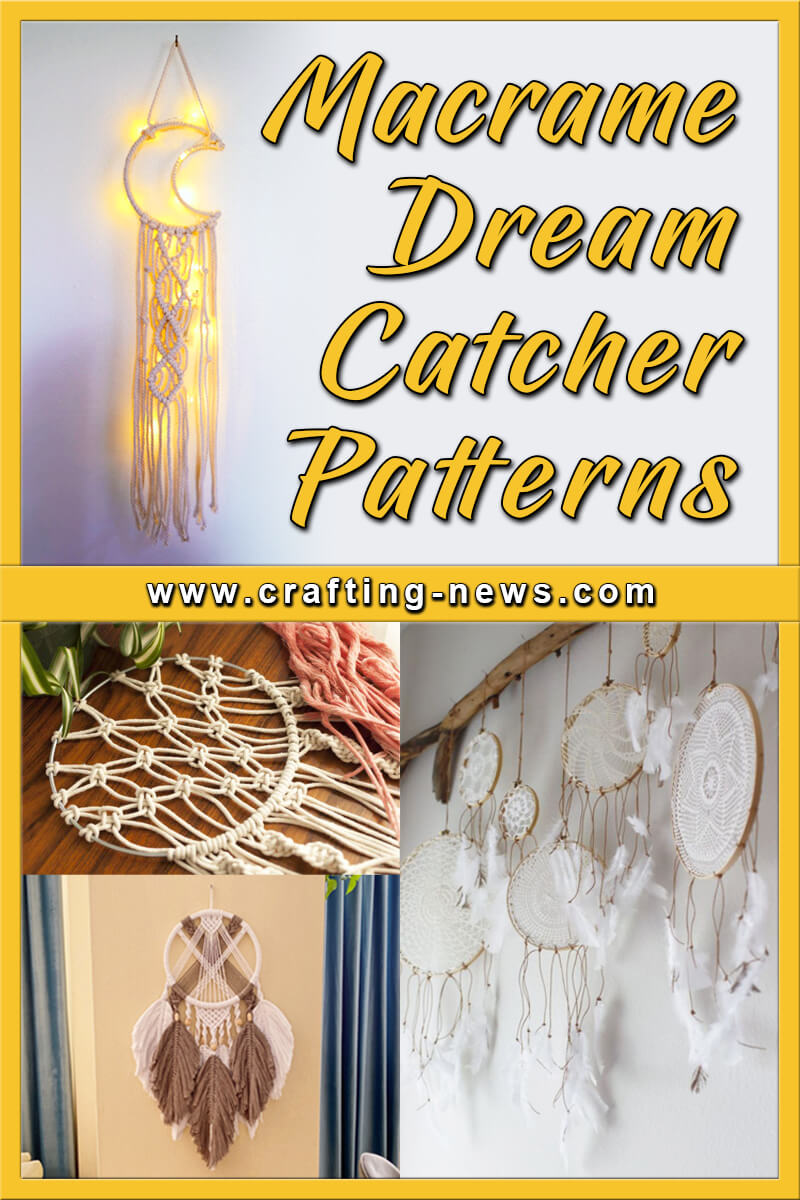 20 Macrame Dream Catcher Patterns
Macrame dream catchers aren't just aesthetic decorations for your bedroom, but are also believed to protect you from bad dreams by catching them in their intricately woven webs. And you can actually make of these beautifully crafted objects yourself, adding your own personal touches along the way to make it all the more special.
1. Brass Ring Free Macrame Dream Catcher Pattern by Brooklyn Craft Company
Learn how to make a DIY macrame wall hanging in a brass ring, in this free macrame wall hanging pattern tutorial from Brooklyn Craft Company. You will be smitten with this macrame wall hanging made in brass rings because they add a bit of bling to your decor with a dash of geometrics and a nod of a dreamcatcher.
This is a minimalist piece with a bohemian twist. Add some texture and dimension to any space with this beautiful wall hanging!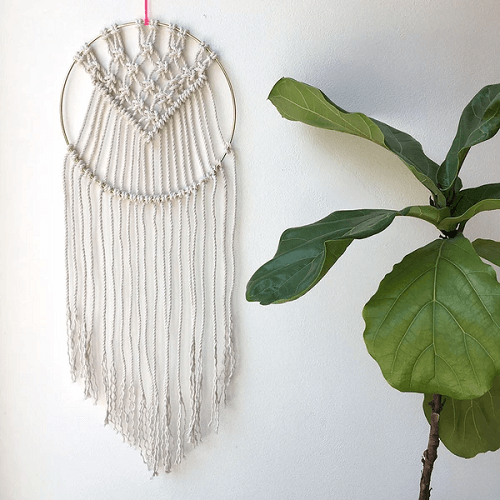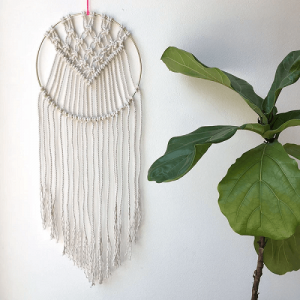 Get the Pattern here
2. Macrame Dream Catcher DIY by Crafting On The Fly
It is amazing how much you can do with simple macrame knots! This beginner Macrame wall hanging looks sophisticated and intricate yet only uses 3 easy macrame knots. This Macrame dream catcher is perfect for any boho home decor.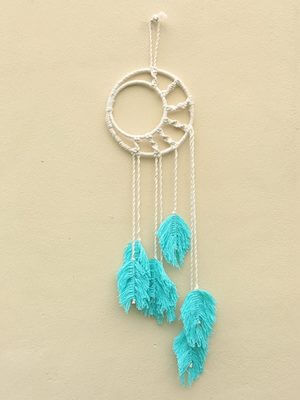 Get the Pattern here
3. Macrame Dream Catcher Tutorial by Collective Gen
Want a more "show stopping" piece to decorate with? This amazing macrame dreamer pattern gives instructions to the base design of the piece. Once you have the base, you are free to add other macrame elements to make this piece your own.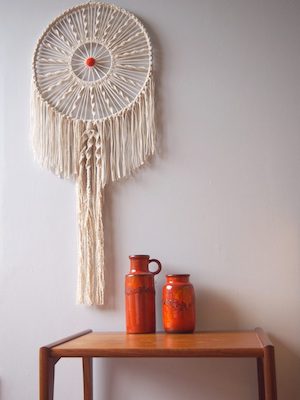 Get the Pattern here
4.
Macrame Dream Catcher Wall Hanging

With Feathers by Oh So Hygge

Featuring a host of eye-catching textures and contrasting colors in a warm palette, this wispy macrame hanger gives a farmhouse-like feel thanks to the feathery embellishments.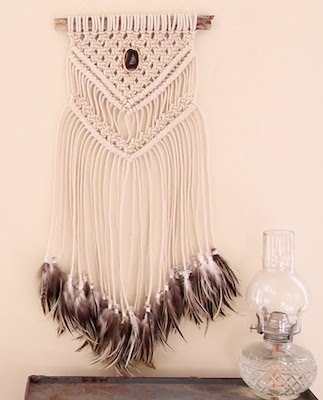 Get the Pattern here
5. Modern Macrame Dream Catcher DIY Pattern by Wine Country Gift Baskets
The macramé dreamcatcher has soared very high in the late '70s but in recent times, the simple pieces of craft have gained people's attention once again and this time it's soaring higher than before. Four basic knots are required for this macrame dreamcatcher; a lark's head knot, a square knot, a half hitch twist, and a double half hitch knit.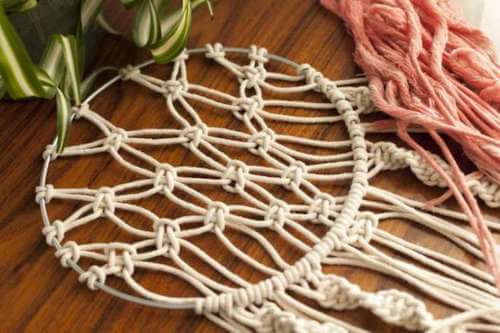 Get the Pattern here
6. DIY Moon Shaped Macrame Dream Catcher Wall Hanging with Lights by Pop Shop America
This Moon Macrame Wall Hanging is such a stylish way to learn how to make a macrame! It has a moon-shaped center and a string of lights so you can light up your room with this gorgeous wall hanging! It's perfect for anyone that loves to make stylish home decor.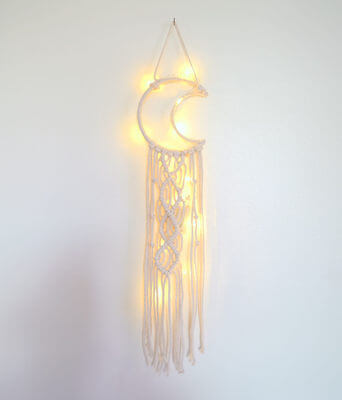 Get the Pattern here
7. DIY Macrame Dream Catcher by One Little Project
This DIY dreamcatcher has a lovely flower pattern and requires only simple knots and basic macrame supplies. And because it's so quick and easy, you'll probably find yourself wanting to whip up more dreamcatchers – luckily, your local craft store should have all the supplies.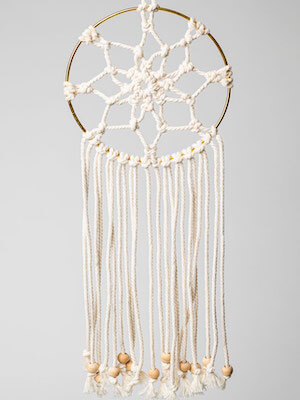 Get the Pattern here
8. DIY Macrame Dreamcatcher by Oohsy Booshy
Whether you hope for good dreams or want to decorate the home with something unique, this macrame dreamcatcher has the ability to bring charm to any space. Complete your dreamcatcher in any color you envision, then embellished it with pom poms to finish your project. It's a great conversation starter and a thoughtful gift with legendary appeal!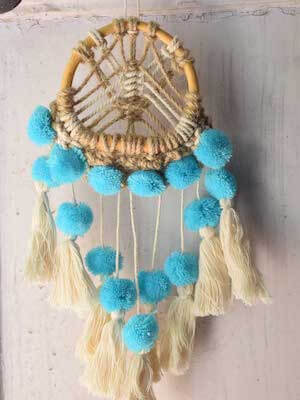 Get the Pattern here
9. Feather Dream Catcher Macrame Pattern by Boholina Macrame
This gorgeous Macrame Feather Dreamcatcher is the perfect decoration to catch your most beautiful dreams! it will catch your most precious stories and dreams and keep them safe. Don't want to use it as a dreamcatcher? This piece will look wonderful in your living room, entrance or veranda.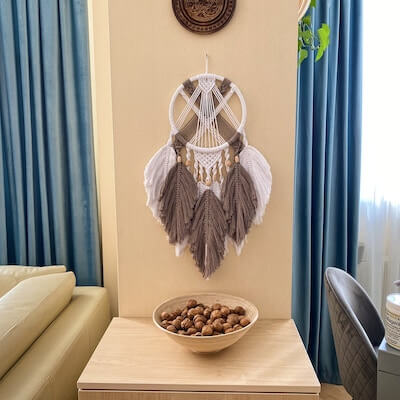 Get the Pattern by Boholina Macrame here
10. DIY Modern Dreamcatcher by Almost Makes Perfect
Minimalist and simple, this modern dreamcatcher looks dreamy and understated on your wall. The white yarn is lovely but you could try this style with something more colorful, too.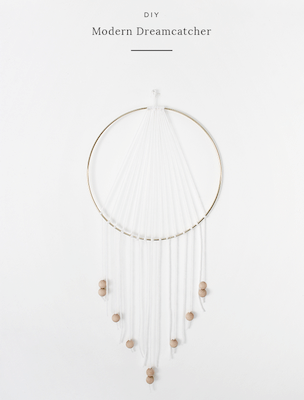 Get the Pattern here
11. Crescent Moon DIY Macrame Dream Catcher by Matching North
For folks with a gothic outlook, this incredible DIY tutorial guide would be great for you, as you would learn how to make a DIY Crescent Moon Macrame Dream Catcher in a moody, dark, and unique way. It is pretty simple and inexpensive to make and does not take much time to come up with. It's a lovable addition to the home, and a good symbol to catch bad dreams from haunting you.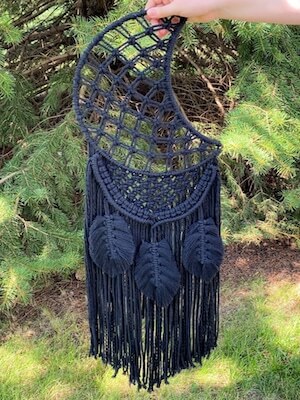 Get the Pattern here
12. Tree Of Life Macrame Dream Catcher Pattern by Thread Sagely Home
Macrame tree of life designs have been popular for decades, and this pattern teaches you everything you need to know to make your own. It isn't a traditional dream catcher, but it's great way to add a little boho flair to your home – the branch design is stunning!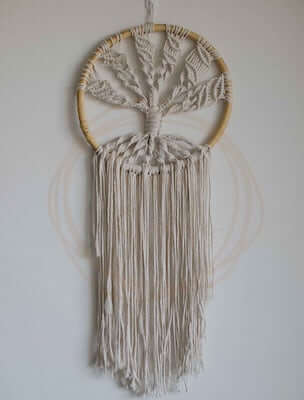 Get the Pattern by Thread Sagely Home here
13. Macrame Feather Dream Catcher Pattern by Boholina Macrame
What could be more seductive than the perfect marriage between the dream catcher and the essential macrame feather? Adored for its finesse and lightness, this Macrame Feather Dream Catcher will greatly contribute to creating a warm, cocooning, and enchanting atmosphere in your bedroom or living room.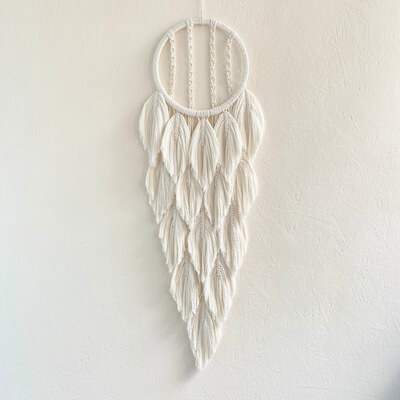 Get the Pattern by Boholina Macrame here
14. Macrame Dream Catcher Tutorial by Al Viko Design
With the right materials, you can make yourself a macrame dreamcatcher quite easily. It's also going to be super fun to look at. Of course, it's not going to be your usual dreamcatcher, but it's going to be something you want to put above your bed nonetheless.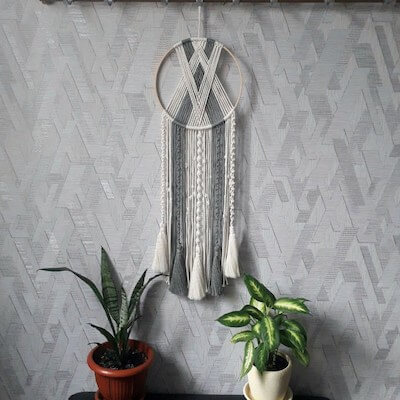 Get the Pattern by Al Viko Design here
15. Macrame Dream Catcher Wall Hanging Pattern by Bochiknot
This amazing piece of bohemian macrame wall hanging can give any space a dash of boho-chic charm; boasting a sophisticated design, this elegant piece of decor welcomes uniqueness as it greets comfort and style into your home.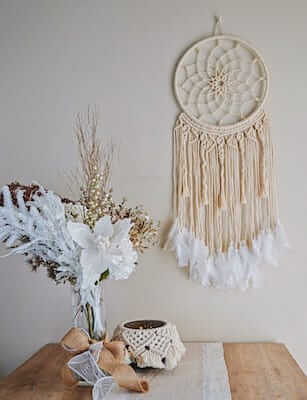 Get the Pattern by Bochiknot here
16. Macrame Dreamcatcher Pattern by Thread Tutorial
Elevate your space with this trendy and unique Macrame Boho Dreamcatcher. This large macrame piece is perfect for a boho room decor or as a bedroom decoration, and even as a modern farmhouse wall art. It's a thoughtful gift for a new home or a nursery dreamcatcher. Surprise your loved ones with this perfect Mothers Day gift, or use it as a stunning macrame headboard.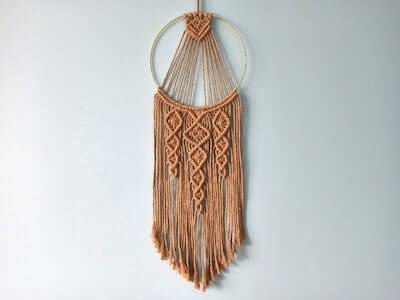 Get the Pattern by Thread Tutorial here
17. Macrame Dream Catcher Wall Hanging Pattern by Knot Meditation
Unleash the dreams filling your bedroom and only invite the good ones to stay. This macrame dreamcatcher is a stylish wall hanging suitable to all level crafters and can be personalized with colors of your choice.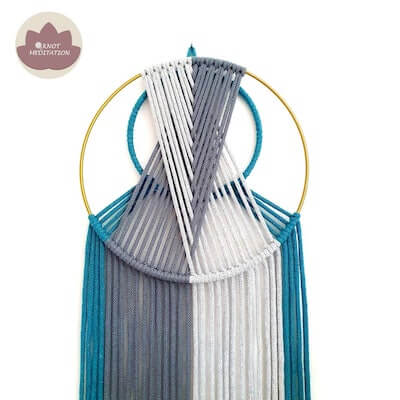 Get the Pattern by Knot Meditation here
18. Floral Macrame Dreamcatcher Pattern by Top Macrame Designs
To call this simply a dream catcher doesn't do it justice. This stunning wall hanging would look great in a nursery, bedroom, or anywhere in your home.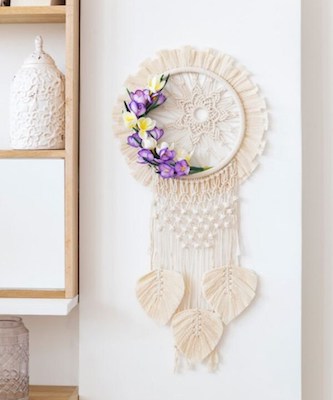 Get the Pattern by Top Macrame Designs here
19. DIY Easy And Simple Macrame Dreamcatcher For Beginner by Trini ID
This tutorial utilizes a small wooden ring to create a second circle inside the hoop. Then, you use macrame knots to connect the two circles with a star-like pattern. This piece would certainly be an amazing addition to your home.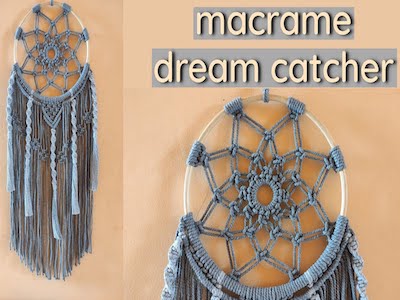 Follow the tutorial here
20. Small Macrame Dream Catcher Tutorial by Sasha Macramessage
Here's a Small Dream Catcher that will instantly add personality and charm to any small space, including a dorm room, nursery, or bathroom. This is a pretty simple pattern with basic knots, so this Macramé Dreamcatcher is easy to make even by beginners.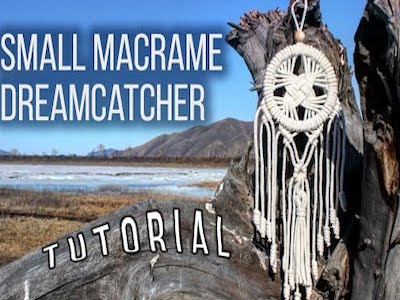 Follow the tutorial here
MAKE BAD DREAMS A THING OF THE PAST AND PRETTY UP YOUR SPACE WITH THESE MACRAME DREAM CATCHER PATTERNS.
I would love to see your own macrame projects, so always feel free to share your photos with me and the team. Post a photo of your creations on our Facebook Page.
If you are as smitten with the look of DIY macrame as we are, Check out all of our macrame crafts. Or browse through our home decor section for more projects.
No matter your skill level, macrame dream catchers are fun and beautiful projects to do. So, pick up your materials and get crafting!