If you're an avid Pinterest user and a lover of all things interior design, then you'll certainly appreciate and enjoy what's to be covered. To help keep you creatively inspired for the season, here are affordable Pinterest-approved macrame mirror pieces that can add just the right amount of texture, beauty, and simplicity into your home.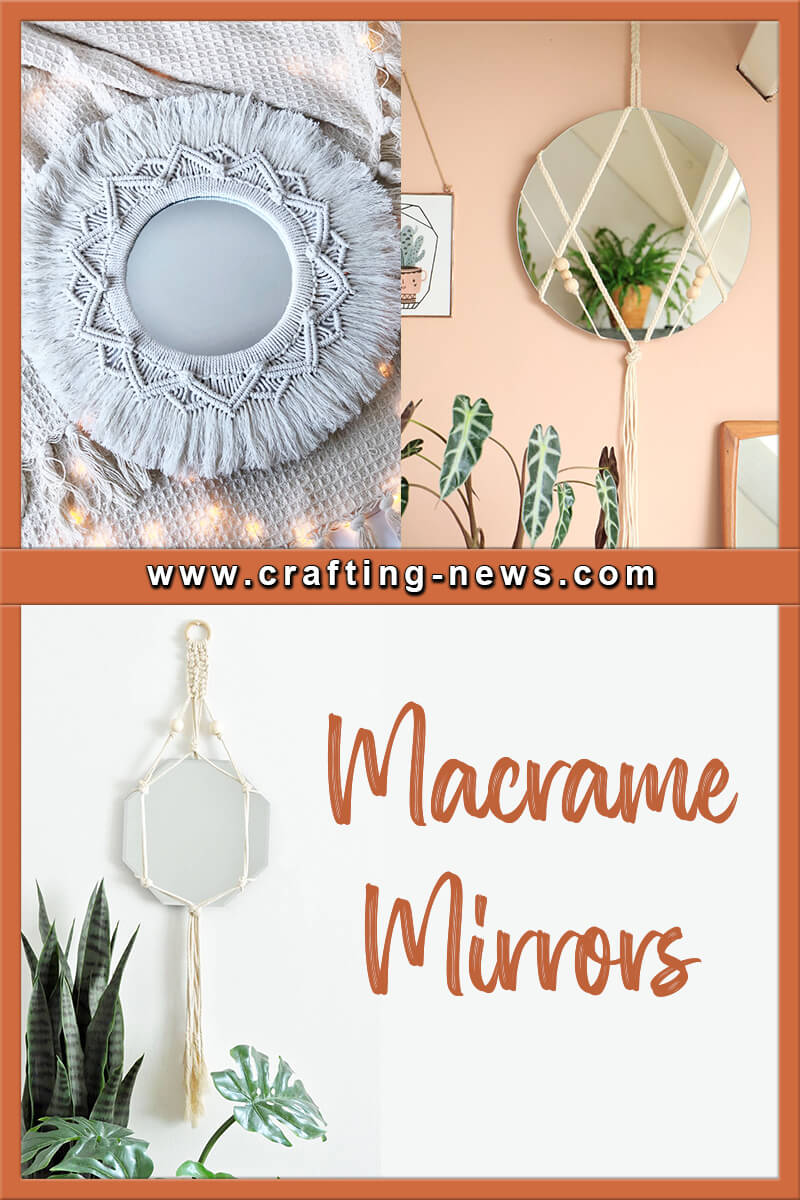 Fall in love with the fine art of macrame with these stylish mirrors. Hang them by the back door for a little spot to check in before dashing out the door or in tandem with a gallery wall in the living room. Either way, they'll do double duty in form and function!

Don't have time for a DIY? We have also included ready for purchase macrame mirrors below!

1. Macrame Mirror by Hobby Craft
Brighten up your home with this sun-inspired macrame mirror, certain to make a statement on any wall. It's a great way to transform a room, adding a stunning centrepiece to your wall. This pattern focuses on the square knot and double half hitch knot, which is great for beginners.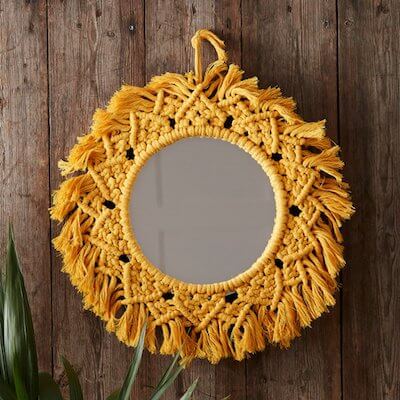 Get the Pattern here

2. Ganda Mirror Macrame Pattern by Yarn Plaza
This mirror is the fairest in all the land! With this macrame pattern, you can create a trendy frame for a dull mirror. Hang the embellished mirror in your hallway so you can enjoy it when you come home after a long day at work or hang it in your bedroom to add a soft touch to your space.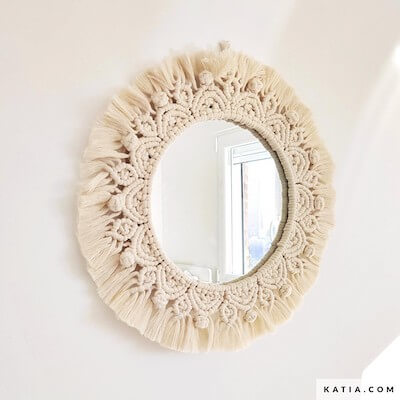 Get the Pattern here

3. Macrame Mirror Wall Hanging by Made In A Day
Looking for an easy starter macrame project? Then this stylish DIY Bohemian Macrame Mirror Wall Hanging is a great place to start. Just a couple of knots to learn for one great project.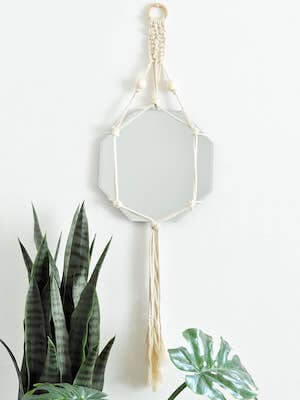 Get the Pattern here

4. DIY Macrame Mirror by Crafting On The Fly
This home decor project is quickly finished and can add such style to any room. Just change out the color of your macrame yarn to beige or blue and you got some great beach house vibes. Or use pink to spice up a girl's room. Pair it with a few other mirrors for a nice vignette.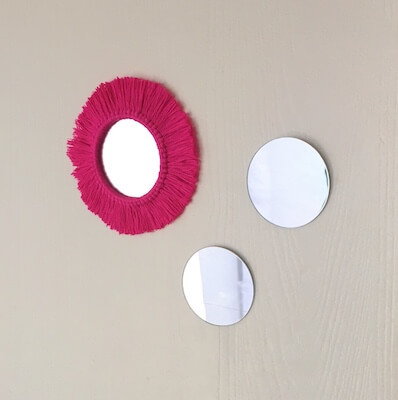 Get the Pattern here

5. Macrame Mandala Mirror With Beads by Bochiknot Macrame
Here's a step-by-step tutorial going over the mandala pattern first, and then you will attach a mirror to the back of the pattern. The mandala pattern itself is simple.
All you would need to know is how to tie 1 easy knot. Once you have mastered one mandala petal, all you have to do is repeat the petal 10 more times around the ring.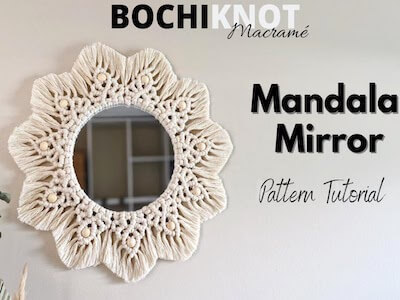 Get the Pattern here

6. DIY Simple Macrame Mirror by Enter My Attic
Here's another easy, boho-chic macrame crafting trend we're here for! If you're smart about where you source the supplies, you could easily make this mirror for under $10.

As you can see, you don't really need the official macrame technique experience. But if you know how it's done, your very own version of this DIY will turn out even better!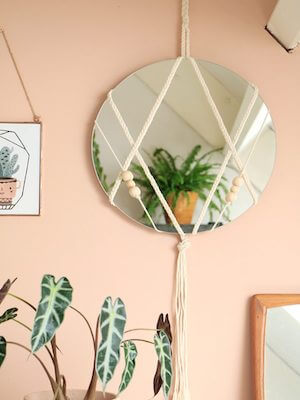 Get the Pattern here

7. Boho Macrame Mirror by Matching North
Looking for an easy DIY boho round mirror idea? Check out this macrame and raffia mirror frame! The only macrame knots needed for this project are lark's head knots. Besides that you'll just need some glue gun skills and a little bit of time. You don't get much easier than that!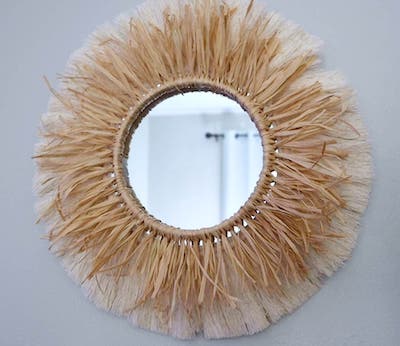 Get the Pattern here

8. Macrame Mirror Pattern by At Charlotte's House
Turn a plain thrift store mirror into an ornate wall hanging with ropes and an arsenal of sailor's knots. The eclectic texture combined with a neutral color palette means this do-it-yourself roped frame can hang in any room whether casual or more formal.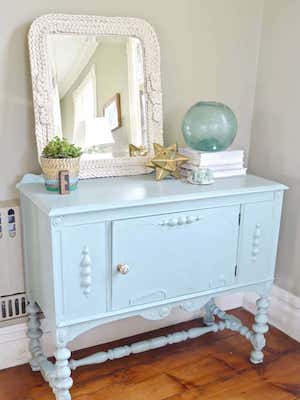 Get the Pattern here

9. Macrame Bohemian Mirror by Sasha Macramessage
This Mirror Mirror Wall Hanging can be hung using the cord provided or has a sticky tape backing if you want that cleaner look. This elegant decor has both ethnic and bohemian style, it is a great wall decoration for any room. Its neutral color allows it to work in any space, fitting in seamlessly.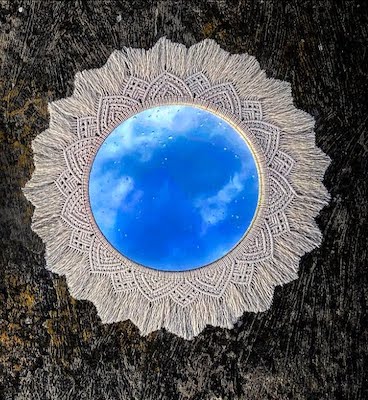 Follow the tutorial here

10. Fringed Macrame Mirror by Ruff & Renew
This tutorial wil show you how to make your own fringed mirrors with just a few supplies. You can use any type, color or thickness of rope or string you would like! Have fun and customize it to your liking!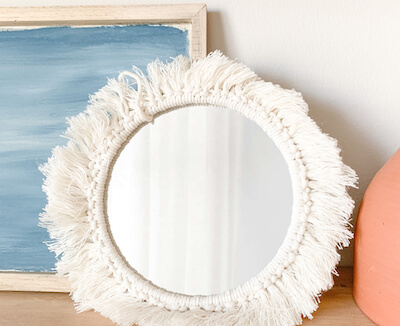 Follow the tutorial here

11. Macrame Mirror Wall Hanging by Bochiknot Macrame
Learn how to make a macrame mirror wall hanging using 4 basic macrame knots: Lark's Head knot, Half Hitch knot, Double Half Hitch knot, and a Square knot. There is a double half hitch wave pattern to give it a more bohemian feel to the design.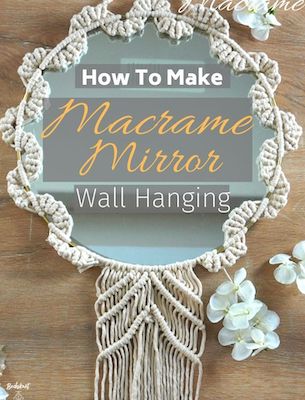 Follow the tutorial here

12. Boho Macrame Square Mirror by Sasha Macramessage
Here's another affordable way to make your plain, boring mirror look like a pricey splurge. Add some driftwood for a coastal look.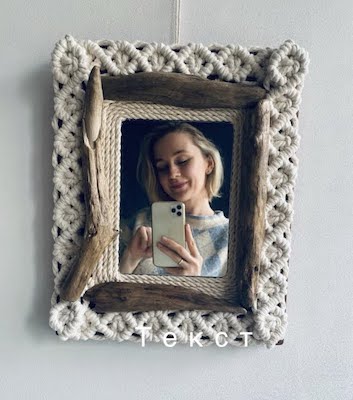 Follow the tutorial here

13. DIY Macrame Mirror Pattern by Target Made Me Do It
Add a touch of macrame to a circle mirror using just two types of knots! A simple DIY with a big impact!
Follow the tutorial here

14. Macrame Mirror by Kushi Perera
Feature this timeless and on-trend piece in any space and let its tonal effect inject a modern feel into your decor. Layer in accessories with a hippie chic vibe to create a stylish boho look in any room of the house.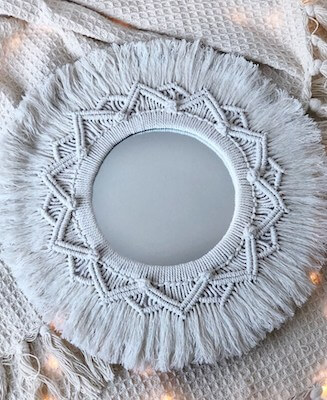 Follow the tutorial here

15. DIY Macrame Mirror by Charlotte Smith
Here you can add depth and texture by using Cotton Clothes Line to frame a round mirror. It will be a beautiful addition to any living space or bathroom. You are sure to fall in love with this stunning piece, bringing warmth, texture and interest into any space.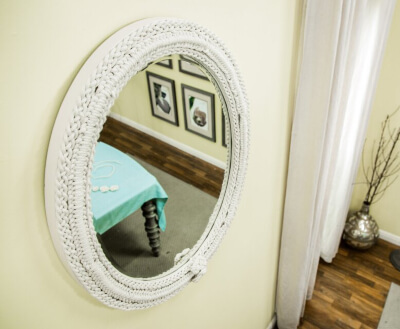 Follow the tutorial here

16. DIY Macrame Mirror Wall Hanging by Best Creativity
If you like something colorful instead, this macrame mirror wall hanging is a must-try. The tutorial takes you through every step of the process for a gorgeous result that looks like it must be store-bought.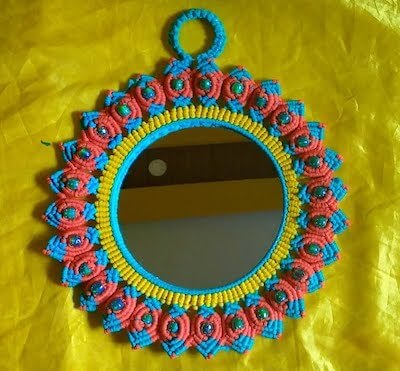 Follow the tutorial here

17. DIY Bohemian Macrame Mirror by Sasha Macramessage
This Macramé mandala mirror is the perfect bohemian inspired decoration to add to your home! This is another large-frame mirror that has more beauty than practicality, and it will certainly lighten up your home.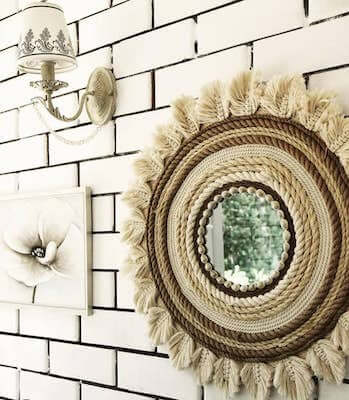 Follow the tutorial here

18. Macrame Mirror from Tilian
This stunning macrame mirror is the perfect centrepiece for any room. Add a touch of boho style to your home with this natural creamy tan macrame framed mirror. It measures 60cm in diameter and makes a stunning feature for any wall.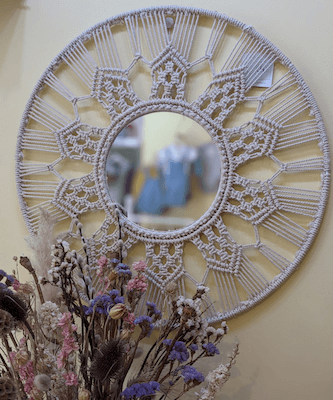 19. Shalded Macrame Mirror from Forty Two
Meticulously handcrafted, a macrame mirror will add a bohemian, folksy vibe to your space fusing fashion and home décor into one.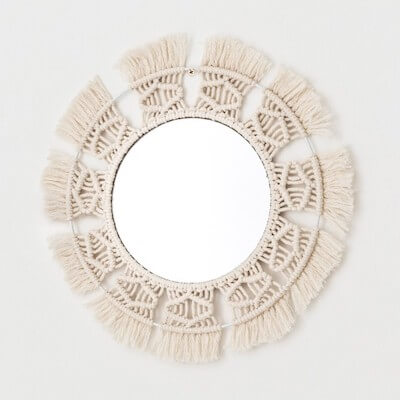 20. Aquila Macrame Mirror from Fermoscapes
Add a boho touch to your home with this macrame mirror. Adorn a wall in your bedroom, entryway, or even the children's room with its whimsical and playful design.

It's functional and works well for a wall décor setup. Handwoven with 100% cotton thread, this mirror will surely elevate your home and living space.

21. Round Macrame Mirror from Oskar And Stone Co
Made from 100% cotton, this lightweight mirror brings an almost mystical beauty into your home along with its amazing energy lifting up any space. Each knot is hand cut and tied, resulting in each piece as unique as its owner!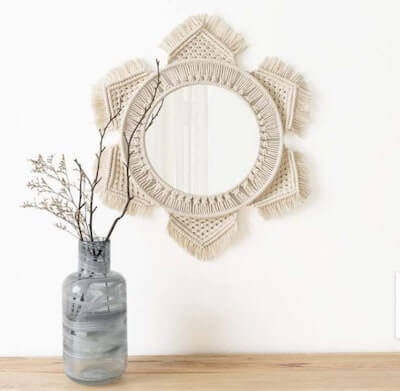 WHICH OF THESE MACRAME MIRROR IDEAS ARE YOUR FAVORITES?
Let me know how you would style these macrame mirrors in your home! Take a pic and share them on our Facebook Page. We look forward to seeing your creations there!
Macrame trend doesn't stop at the few DIY pieces we just covered here as there are countless ways to get creative with the bohemian textile art. Here are more macrame patterns to get you inspired!

Whether you buy or DIY one, these macrame mirrors are gorgeous statement pieces that will elevate your space. Hang and enjoy!