Mandalas are intricate, circular designs that have been used for centuries in various cultures around the world. Quilling, on the other hand, is a delicate art form that involves rolling and shaping strips of paper. When these two techniques are combined, you can create beautiful pieces of artwork.
I truly enjoy the art of quilling and the beauty of mandala designs. Creating mandalas can be therapeutic and relaxing. In this article, I will explore the art of mandala quilling.

What Is Quilling
Quilling is an ancient technique that has been popular for centuries. It is a form of paper crafting that utilizes thin strips of paper. The paper strips are coiled using a slotted quilling tool and molded into various shapes. These intricately designed pieces are then arranged into patterns and joined together using glue.
What Can You Make with Quilling?
Quilling is a versatile artform that can be used to make projects, such as:
Wall art

Greeting cards

Paper flowers

Jewellery

Baubles

Home decorations

…and More
What is a Mandala?
A mandala is a spiritual and ritual symbol in Hinduism and Buddhism. It represents the universe. The word "mandala" comes from the Sanskrit language and means "circle."
A mandala design is typically circular and contains intricate patterns and shapes. There is often a central focal point. Mandalas can be used for meditation, prayer, and healing purposes. They also are believed to represent the unity of everything in the universe. Mandalas can also be found in decorative and artistic motifs in various cultures around the world.
About Mandala Quilling
Mandala paper quilling is a crafting technique that allows you to create beautiful, intricate mandala designs using quilling techniques. To create a mandala design, you will need a variety of colored paper strips, a slotted quilling tool, a quilling board, scissors, tweezers, and glue. If you are creating your own design, you will also need a pencil and ruler.
Quilling Mandala Tutorial:
Cut the paper into strips of equal width. The width of the strip will determine the size of the quilled design.

Use the quilling tool to roll the paper strips into tight coils. The quilling tool is a small, pointed instrument that makes it easier to roll the paper.

Use your fingers to shape the coils into various shapes and sizes. You can make teardrop shapes, tight circles, loose circles, or any other shape that you desire.

Glue the shaped coils onto the pattern or template in the desired arrangement. You can follow a specific pattern or create your own design.

Continue to add more coils and shapes to fill in the design until it is complete.

Once the design is complete, you can add additional embellishments.

Allow the glue to dry completely before moving.
If you are ready to start working on your next quilling project, you will love the following quilling mandala designs. You can choose between printable templates or kits to get started.
1. Rainbow Quilling Mandala Pattern
by AQartStudio
This is a digital PDF quilling mandala pattern. Included are 2 JPEG files of the patterns with both dark and light lines, a JPEG file of the finished artwork as a reference, 2 PDF files of the patterns with dark and light lines, and a PDF file containing brief instructions and a list of necessary tools.
To create this beautiful design, it is recommended that you use paper with a density of at least 120gsm, with 250-300gsm being the preferred choice. While precut paper strips can be used, you should cut your own strips for the outlines.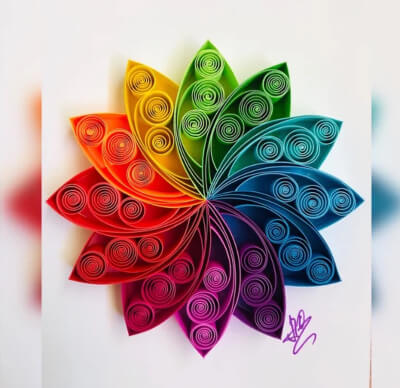 Find the Template by AQartStudio Here
2.

Quilling Mandala DIY Kit

from Herpaperparadise

This DIY quilling mandala kit is a wonderful choice for beginners and advanced quilling artists. The basic kit comes with summarized instructions, a step-by-step video tutorial link, a numbered and color-coded mandala template, a background card with guidelines, pre-cut and numbered quilling strips, as well as two coil templates for sizing.

Please note that a slotted quilling tool is required to complete the project. The tool does not come in the basic kit. However, it is included in the add on kit. Additionally, you will need to provide your own glue for the project.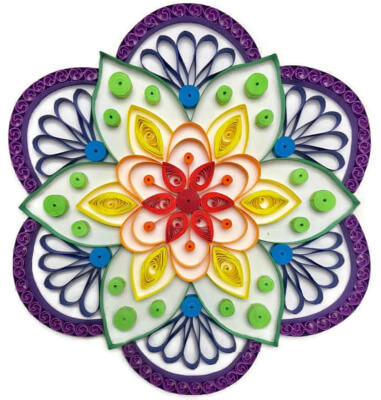 Find the Kit from Herpaperparadise Here
3. Mindful Crafts Mandala Quilling Kit
from TillyViktor
This quilling kit allows you to create two hypnotic mandala wooden plaques. The designs are intended to take longer than a lot of patterns, so take your time and immerse yourself in your work.
The DIY mandala quilling craft kit includes templates, a practice page, detailed instructions, photos, and online video tutorials. To complete the design, you will need a quilling tool, a quilling board, precise craft tweezers, and tacky pva glue. The kit is available in two versions, with or without tools.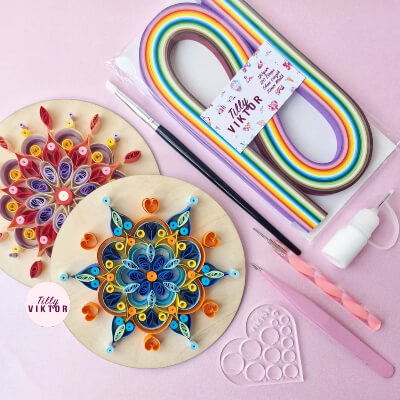 Find the Kit from TillyViktor Here
4. Christmas Star Paper Quilling Mandala Pattern
by TheQuirkyQuillers
This digital guidebook provides instructions on how to create a beautiful Christmas star using the mandala quilling technique. The booklet walks you through the fundamental techniques needed and it provides step-by-step instructions.
While this pattern was designed to be a hanging decoration, you can also use it for Christmas cards, gift tags, gift boxes, and more.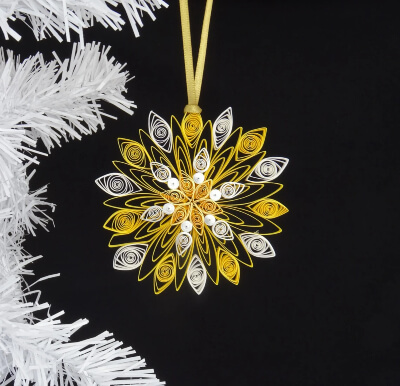 Find the Template by TheQuirkyQuillers Here
5. Quilling Mandala Art Template
by AniolaDigital
Make a striking mandala quilling design with this detailed pattern. The download includes 1 PNG file that measures 2000 px X 2000 px. You can print the file at home and use it for quilling mandalas, drawing, scrapbooking, cutting, paper crafting, weaving & tapestry, crewel, and more.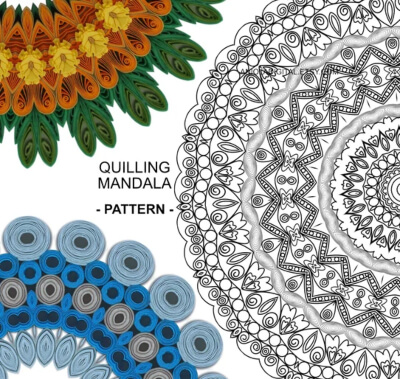 Find the Template by AniolaDigital Here
Frequently Asked Questions About Mandala Quilling
What is mandala quilling?
Mandala quilling is a form of paper crafting. It involves creating intricate designs and patterns using strips of paper. The paper strips are coiled, shaped, and arranged to form a beautiful mandala design.
Completed, the work of art that can be used for a variety of decorative purposes, such as wall hangings, greeting cards, and even jewelry.
How difficult is mandala quilling?
Mandala quilling can be a challenging art form, especially for beginners. However, with practice and patience, anyone can learn to create beautiful mandala designs.
To make the learning process easier, there are many resources available such as templates and YouTube video tutorials.
How can I display my finished mandala quilling artwork?
Finished mandala quilling artwork can be displayed in a variety of ways. You can frame it to create a large eye-catching piece of artwork, turn it into an ornament, decorate a greeting card, or display it as a standalone decoration.
Mandala quilling artwork can also be incorporated into other craft projects, such as scrapbooking and mixed media art.
Can mandala quilling be combined with other art forms?
Mandala quilling can be combined with other art forms such as painting, drawing, and embroidery to create mixed media pieces. It can also be used in scrapbooking, cardmaking, and other paper crafting projects.
Combining mandala quilling with other art forms can result in stunning and one-of-a-kind creations.
What are some tips for creating symmetrical mandala designs?
To create symmetrical mandala designs, it is important to work from the center point. By using a ruler or other measuring tool you can help to ensure that the paper strips are placed evenly around the center point.
Sketching the design out first, can also be helpful for creating symmetrical mandala designs.
Can mandala quilling be done with children?
Mandala quilling can be a fun and engaging activity for children. Especially children who are creative and enjoy working with their hands. Mandala quilling can help children develop their fine motor skills, hand-eye coordination, and creativity.
Encouraging children to create their own designs can also boost their confidence and sense of accomplishment. However, it is important to supervise children closely when working with scissors and use non-toxic glue.
What are some common color schemes used in mandala quilling?
Common color schemes used in mandala quilling are monochromatic, complementary, and analogous. Monochromatic colour schemes use different shades of one color.
Complementary colour schemes use colors opposite each other on the color wheel. Analogous colour schemes using colors next to each other on the color wheel.
With a little bit of practice and patience, anyone can create stunning mandala quilling designs.
Whatever you decided to make, share your creations on our Facebook Page.
Mandala quilling is a beautiful and intricate art form that offers endless possibilities. Whether you are an expert quiller or just starting out, quilling mandala designs can be a meditative and fulfilling experience.