Get ready for Easter with these fun Peter Rabbit Cross Stitch Patterns! Create charming and colorful cross stitch designs inspired by the classic Beatrix Potter's fictional animal character – Peter Rabbit.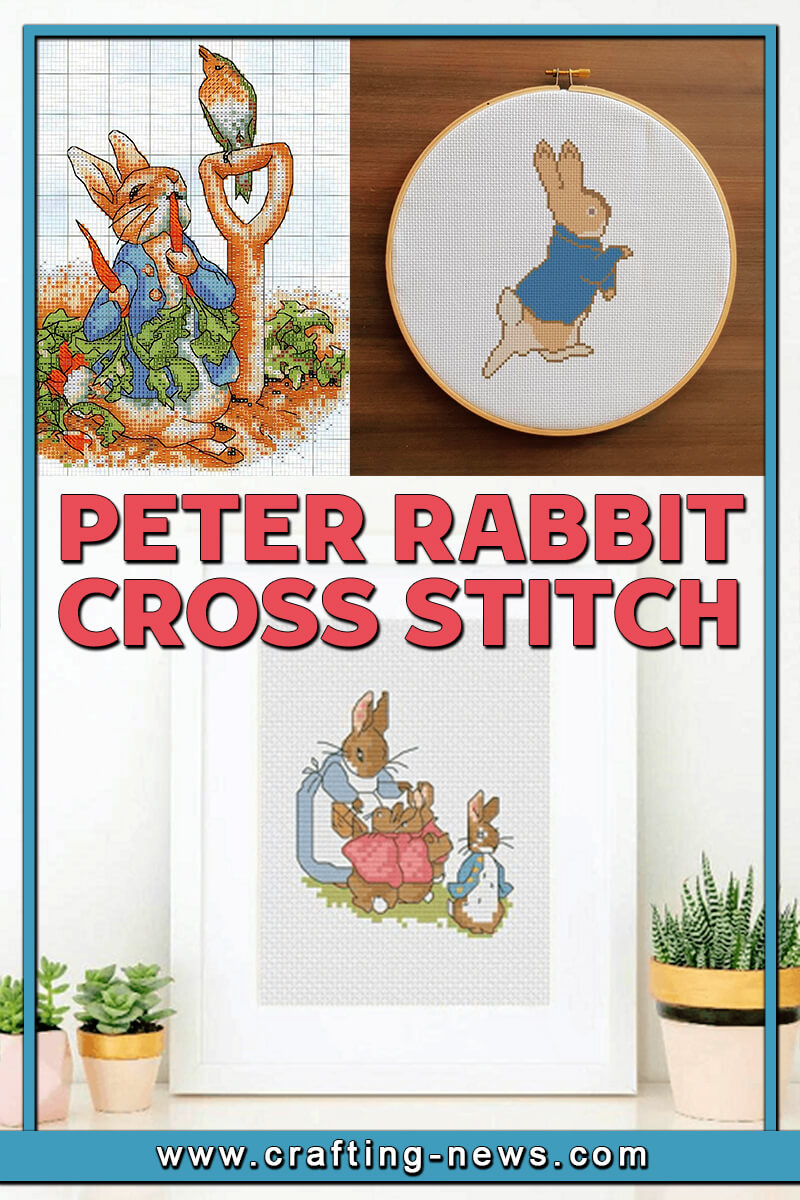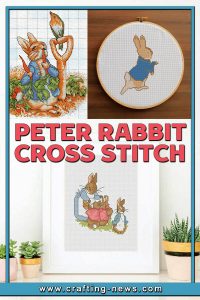 You'll be able to recreate these beautiful designs easily, with just a needle and thread! These Cross Stitch Peter Rabbit are also great as gifts and will create lasting memories.
1. Peter Rabbit Cross Stitch Pattern by Sydney Lee Stitchery
This peter rabbit cross stitch pattern is for Peter Rabbit's widowed mother, Mrs. Josephine Rabbit. The finished design will measure 8.5 x 11 inches (21.59 x 27.94 cm) on 14 count Aida cloth.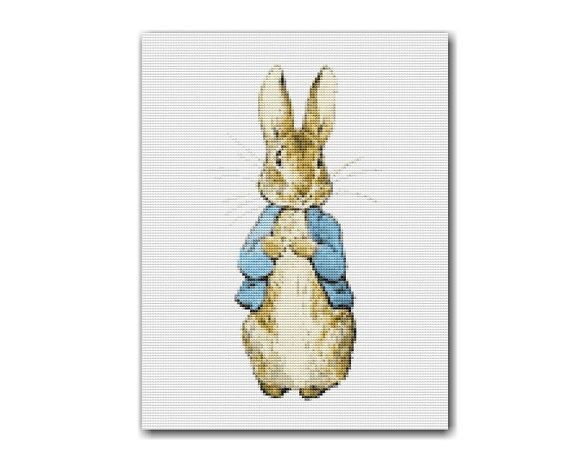 Get the Pattern by Sydney Lee Stitchery here
2. Peter Rabbit With Robin Cross Stitch by Good Woolies
Make the main man himself with a Robin bird to keep him company! In his classic blue jacket, he's instantly recognizable as the bunny loved by millions. When completed on 14 count Aida, it will measure 6X8 in size.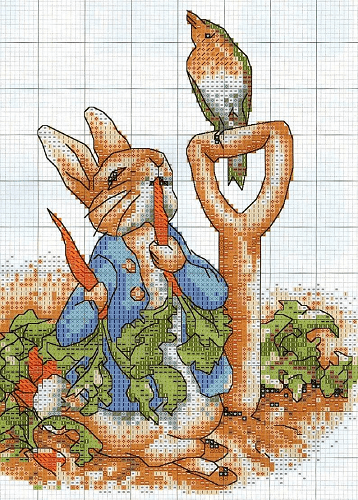 Get the Pattern by Good Woolies here
3. Peter Rabbit And Family Cross Stitch Pattern by Jac Of All Craft
Make your very own Family Peter Rabbit cross stitch! This cross stitch peter rabbit pattern includes Mrs. Rabbit, Peter, Flopsy, Mopsy, and Cottontail. This design contains 13 thread colors, 1,208 total stitches with a stitched area of 43 x 49 stitches – 7.8 x 8.9 cm on 14 count Aida.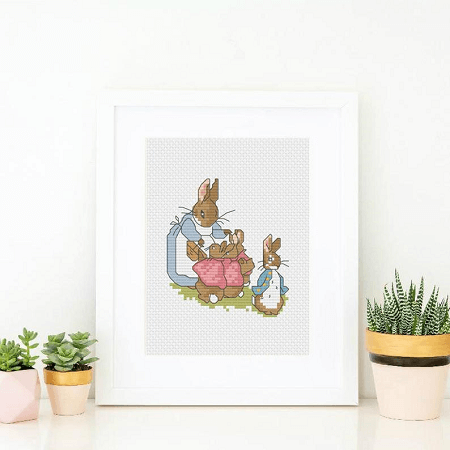 Get the Pattern by Jac Of All Craft here
4. Cross Stitch Peter Rabbit Pattern by Kookaburra X Stitch
The size of your Peter Rabbit Cross Stitch depends on the cross stitch fabric you choose. The higher the fabric's count (the number of cross stitches per square inch) the smaller the stitches and therefore your design.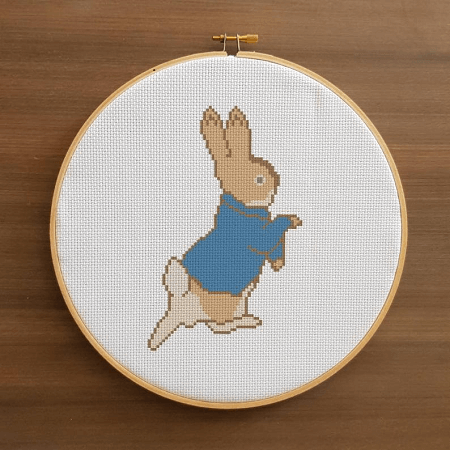 Get the Pattern by Kookaburra X Stitch here
5. Peter Rabbit Prepares For A Family Walk Cross Stitch Pattern by Orenco Originals
This Peter Rabbit Prepares for a Family Walk Cross Stitch Pattern is in Black and White, using symbols to differentiate the different threads you will use. The finished size will be 10 inches (140 stitches) by 10 inches (140 stitches).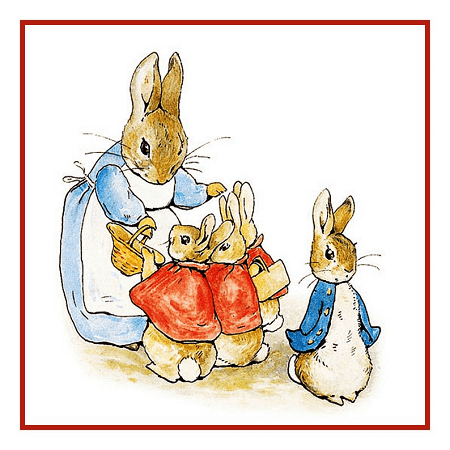 Get the Pattern by Orenco Originals here
6. Peter Rabbit and his Loving Mum by Lucy Burton of Freckle Doll
Beatrix Potter is famous for her children's book, wherein the characters are animals that imply good morals. And one of her notable works is The Tale of Peter Rabbit.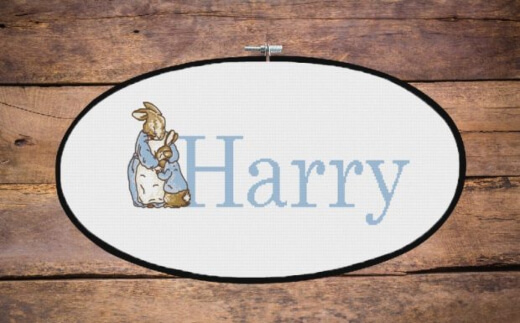 One of the good morals that Peter Rabbit wants to convey is the continuous exploration of the world and the benefits of playing outside as it builds the strength, coordination, and flexibility of the young minds.
In this way, the moment when the baby recipient begins to develop his curiosity and ask who the rabbit is on the side of his name, there will be a good story behind it.
MATERIALS NEEDED TO PERSONALIZE
14 count AIDA Fabric
Thread in 7 different colors
PDF pattern
Scissors
Frame/Hoop
Needle
FINISHED SIZE OF THE PATTERN
Peter Rabbit and his loving mother's dimensions are 8.3 width by 11.6 height centimeters or 3.3 width by 4.6 height inches. It's not so big yet not so small in a 14 count fabric. Do you want a different size? Don't worry you can also make it in any fabric size you want.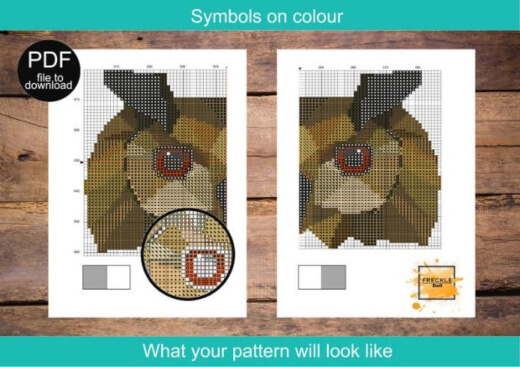 ABOUT THE PATTERN

When it comes to the inclusion of this cross stitch pattern, there is a:
Step by step guidelines of the alphabet both in lower case and capitals – use this to put the text you want to customize
List of recommended DMC thread color chart – composed of thread length, key, colors, and other essential things that you will be needed throughout the procedure. And to make it much much much easier for you to follow, there are legends that will support you to locate your cross-stitch procedure such as color symbols, color blocks, and color blocks with symbols.
Recommended Present – Personalized Beatrix Potter's Peter Rabbit and His Loving Mum Cross Stitch
Having a unique present is highly recommended, such as this craft. Because it shows that you really prepare something for your loved ones without spending so much money.
And due to its great modern print and very understandable instructions, for sure you will really enjoy making some more. You might even make one for your neighborhood's baby!
One more thing, you also have a choice whether you will put the baby's nickname or his full name on this craft. You may set some design on its surrounding and frame it to make it more beautiful.
If you have more free time, an inspirational quote is also a terrific addition. Merely putting 'I love you' or 'You are super cute' certainly means a lot.
Even the smallest one can change the world – Peter Rabbit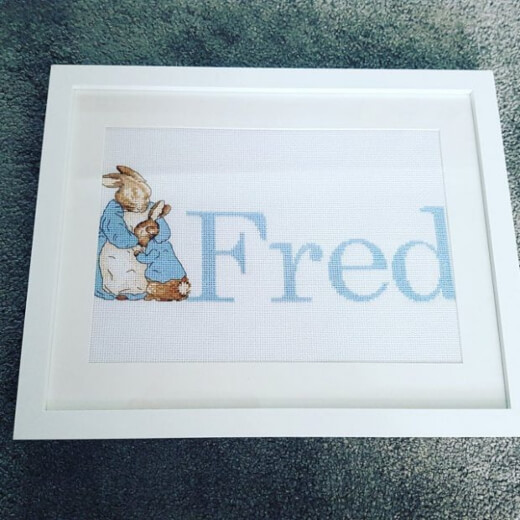 You can advise your recipient's mother or guardian to hang this craft in the baby's room. Or if you already have a baby, you can also make one and do the same.
For sure, if you initiate to have this Personalized Beatrix Potter Cross Stitch Pattern: Peter Rabbit and his Loving Mum, and start to make one, your recipients will surely love it!
Get the Pattern by Lucy Burton Here
Whether you're a fan or just want a unique Springtime decoration, a Peter Rabbit Cross Stitch is a must-make!
Be sure to post your creation to our Facebook page and check out our website for more stitch tutorials at Crafting News. Want something different? Check these 10 Lion King Cross Stitch Patterns if you also happened to be a Disney fan!
For now, happy stitching with these Peter Rabbit Cross Stitch Patterns!