Do you love wearing hippie inspired clothing? Tie dye shirts are bright and colourful. They are a great way to show off your personality. Not only are they fun to wear, but they are fun to make. And did you know, you can tie dye dark clothing using the reverse tie dye method?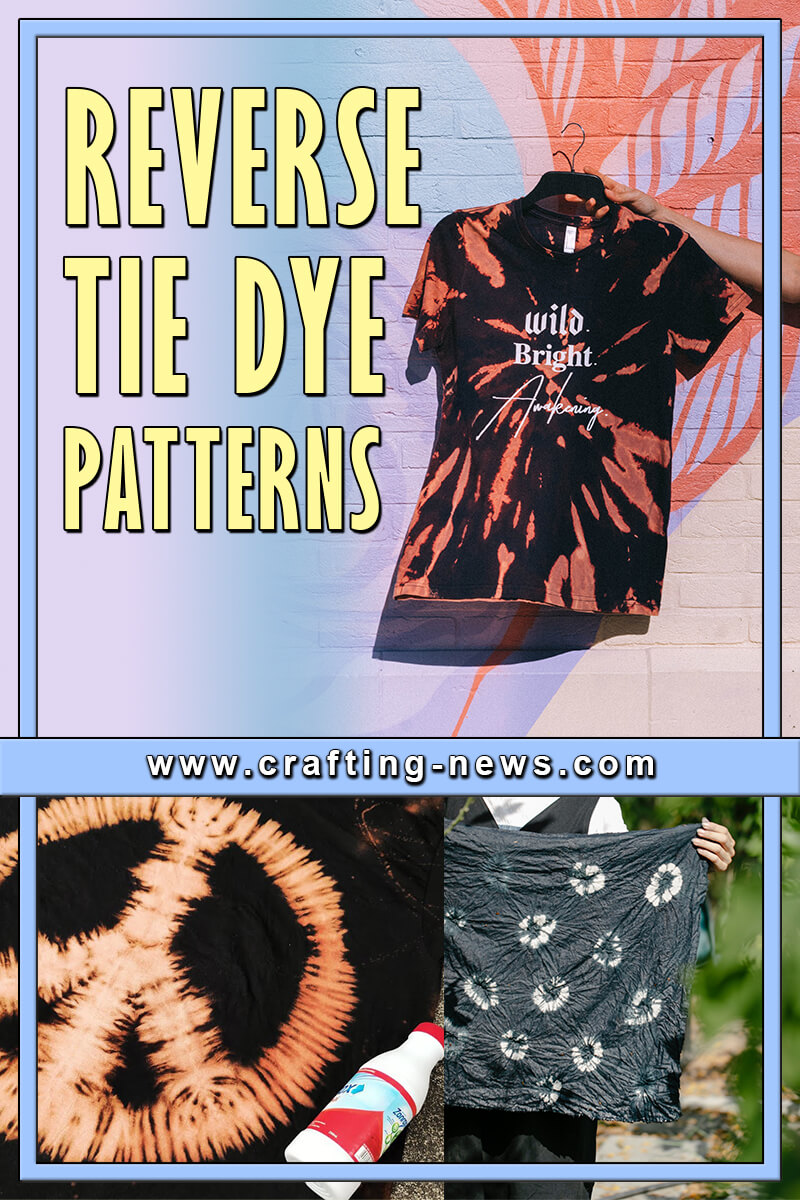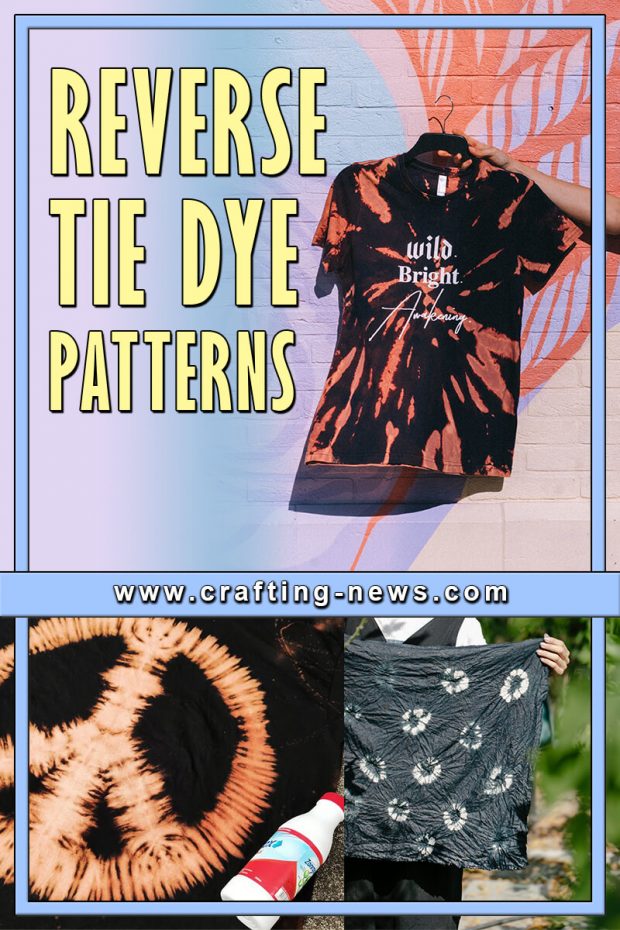 Below are 14 reverse tie dye patterns. You can create these by yourself, make it a family affair, or throw a crafting party. We have included a wide variety of designs for every skill level.
How to Reverse Tie Dye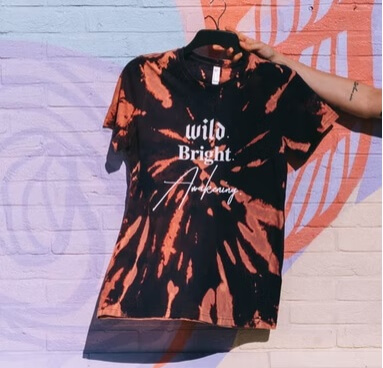 Tie dyeing is a fun, artistic technique that has been around for many years. The technique is usually applied to white shirts. However, you can also use dark shirts too. This technique is called reverse tie dye.
Basic Supplies Needed for Reverse Tie Dye
Dark coloured shirt (100% natural fibre)
Bleach
Rubber Bands
Rubber Gloves
Large Bucket
Forceps
Reverse Tie Dye Tutorial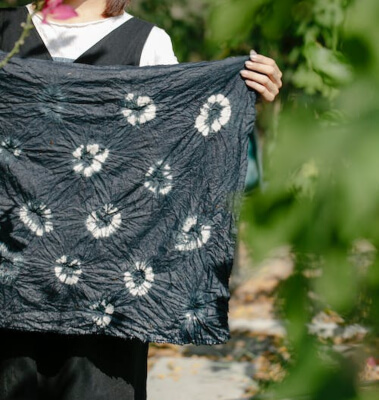 Below are the basic steps for reverse tie dyeing:
1. Prepare your work area. Tie dying is messy!
2. Wash the coloured shirt and let it partially dry. You will want the shirt to be barely damp.
3. Choose your pattern and fold the t shirt.
4. Follow the tutorial and apply the bleach.
5. Let the bleach sit for 5-15 minutes. Different fabrics react differently to bleach, and times will vary. You do not want the bleach to sit too long. Doing so can ruin the fabric and create holes.
6. Thoroughly rinse the bleach out and wash the shirt.
7. If you want to add colour, you can do so now.
14 Reverse Tie Dye Patterns
1. Reverse Tie Dye Technique by Tulip Tie Dye
This free tutorial teaches you just how easy it is to get amazing reverse tie dye results. The tutorial begins with a dark 100% cotton t shirt. The colour is then removed using Tulip's Colour Changer. Then the shirt is washed and the colours are applied.
Find the Tutorial by Tulip Tie Dye HERE
2. Tie Dye Bleach (Easy Step for Beginners) | Reverse Tie Dye
Here is a very simple to follow reverse tie dye tutorial that can be completed by a beginner with folding experience. You will need to know how to create the spiral fold.
Find the Tutorial by My Boo-dye Here
3. Reverse Tie Dye Tutorial : Reverse Gradient Dots Spiral
Here is a reverse tie dye technique that is very time-consuming, but the results are well worth the effort. This stunning reverse gradient dots tie dye shirt will take over 3 days to create.
Find the Tutorial by Rmr Dyes Here
4. How to Reverse Tie Dye Spirograph Design |Reverse Tie Dye Spirograph
Unlike most reverse tie dye techniques, this tutorial does not use a squeeze bottle. Instead, bleach is applied using a spray bottle. After the shirt has been given time to process and the bleach is rinsed out the shirt is.
Once the shirt is bleached and rinsed out, the shirt is rewound in the opposite direction, and bleach is reapplied.
5. Reverse tie dye – Bleaching shirts – How to make a tie dyed shirt – Simple Tie dye techniques
This reverse tie dye tutorial uses a spirit jersey. A spirit jersey is basically a long sleeve shirt with an oversized fit. The artist will show you how to create the spiral pattern. However, you can use any technique you prefer.
Find the Tutorial by Corinne Blackstone Here
6. Reverse Dyed Rainbow Tie Dye Sweatshirt
To create this fun reserve tie dye shirt, you will need to know how to make the fan fold. After you have the shirt folded you will tie it up with a sinew line. The line is a waxed polyester thread that will not allow the dye to penetrate the fabric.
This creates the black lines. Once it is tied up you remove the colour with colour remover and then add your dyes.
Find the Tutorial by Fun Endeavors Here
7. Reverse Tie Dye Black & Red Scrunch | Tali at Kulay
Are you a beginner looking for an easy tie dye project? Anyone can make this reverse tie dye design. Instead of using fancy folds, all you have to do is scrunch the shirt and rubber band it together.
Find the Tutorial by jhonjacob Here
8. How to tie dye – bleach tie dye – reverse vortex tie dye
Do you have a black shirt that needs a fun pop of colour? Check out this reverse vortex tie dye tutorial. This project is a little complex, so we would not recommend it for a beginner.
Find the Tutorial by igotdyeonit Here
9. Tie-Dye Pattern : Reverse Dyed Geode [Ice Dyed]
Using ice to tie dye can create some unique effects. It is a great technique for creating a geode inspired reverse tie dye shirt. When making the shirt you can create a single geode or several.
Find the Tutorial by Fun Endeavors Here
10. How to Reverse Tie Dye: Reverse YinYang
This Ying Yang technique is easier than it looks. The free video tutorial walks you step-by-step through tying and bleaching the shirt. To make this shirt, you do not need coloured dyes. You will only need a mixture of 50% water and 50% bleach.
Find the Tutorial by LSD Tie Dye TV Here
11. Basic Reverse Tie Dye (Bleach & Reactive Dye)
Show off your tie dying skills with this fun tie dye pattern. To make the shirt you will need to know how to create the fan fold. You will begin by sketching your design, folding the shirt, and applying the bleach mixture.
After the bleach has had time to work, the shirt is washed in hydrogen peroxide and soaked in soda ash. Then the shirt is refolded and coloured.
Find the Tutorial by LSD Tie Dye TV Here
12. HOW TO TIE DYE | ONE SIDE REVERSE FAN FOLD | DIY
Create this striking reserve tie dye t shirt by following a few simple steps. It is a fairly easy design to complete if you already know how to create the fan fold. Make one for yourself and a matching shirt for your partner.
Find the Pattern from eyespotee v Here
13. PEACE reverse dye using BLEACH (VERY EASY)
Making a peace sign reverse tie dye pattern may look intimidating, but this artist makes it easy. Just follow closely along, and you can make a shirt you will be proud to show off.
Find the Tutorial by LSD Tie Dye TV Here
14. Black Flame Rainbow ~ Tie-Dye just one Tee with OWB
Do you want to learn how to create a rainbow reverse tie dye shirt? It is a very simple technique that uses the fan fold. Instead of using bleach, the artist shows you how to use Out White Brite for the colour removal.
Find the Tutorial by MrTieDye Here
Instead of working with a white t shirt, grab a dark shirt. Then get creative and have fun using the reverse tie dye technique.
Tie dye has never really gone away. But now it is making a huge comeback! You can find tie dye patterns everywhere. Just like these Tie Dye Patterns and Tie Dying Sweatshirt Patterns. But if you're new to tie dying, learn these easy tie dye techniques here.
Unlike the early days, tie dye clothing is now expensive. Instead of paying designer prices, make your own unique clothing using the reverse tie dye technique.