Have you ever wondered how to make a string quilt? These string quilt patterns will show you how to get started! String piecing is a fantastic way to use up the long, skinny pieces of fabric you might have left over from trimming blocks, backing, or even as excess binding.

These projects are often stash-busters, they allow quilters to express their creativity in a personal way, and they have a unique look to them that is unmatched by any other quilt design.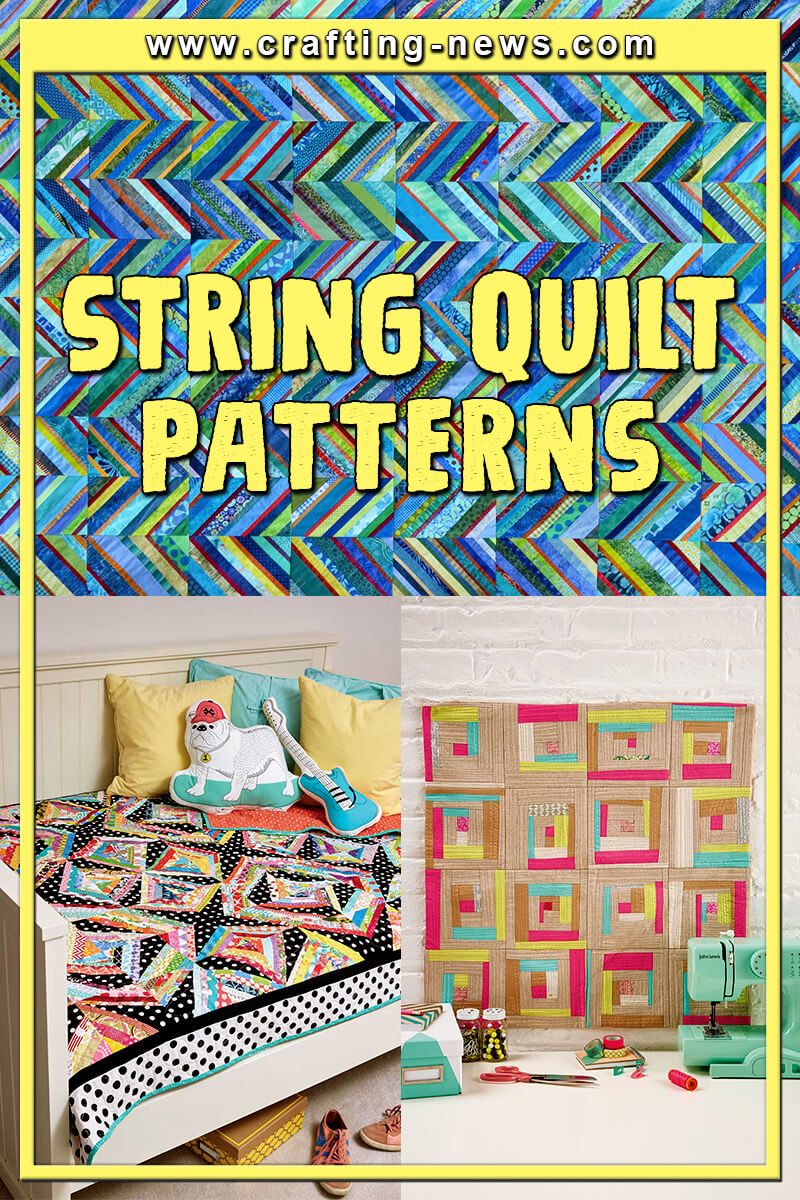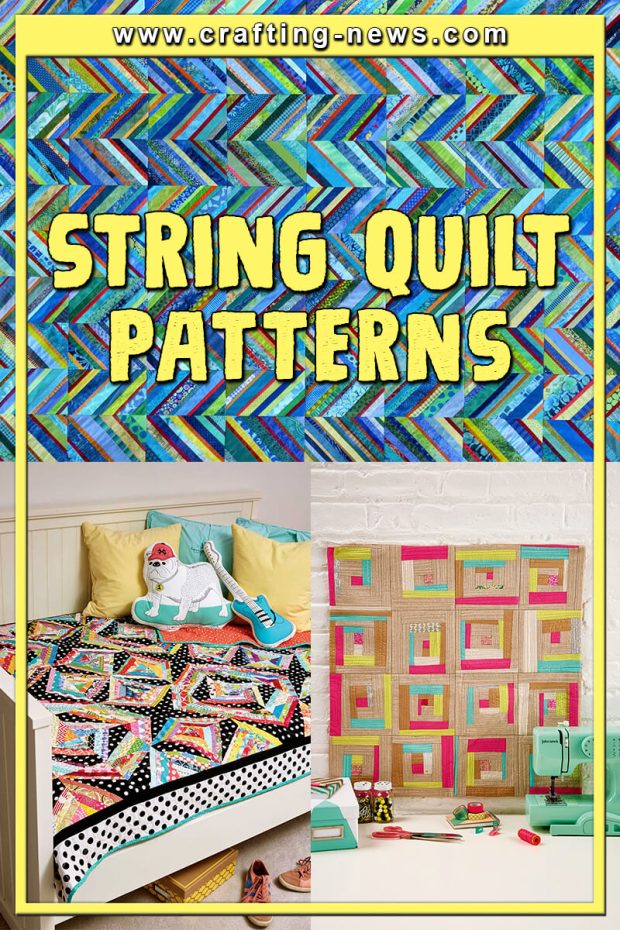 21 Colorful and Fun String Quilt Patterns
My scrap stash is growing, so I've been looking for fun ways to use up my bits of precious prints and sassy solids. I have a lot of fabric strips and squares, so string quilting might be the way to go!

1. The Optimist String Quilt Pattern by Karen Griska Quilts
The Optimist is a classic string quilt. The solid white and light colored prints give a modern vibe to this old time favorite. The large size blocks are another modern touch.

This pattern is perfect for pre-cut Jelly Rolls. Or dig into your fabric stash and create a "best of" quilt using bits of all your favorites. Good for fussy-cutting too.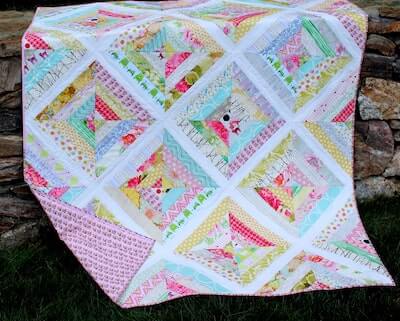 Get the Pattern by Karen Griska Quilts here

2. All Strips Quilt Pattern by KB Landford Fabrics
You can't go wrong with strips to show off a great fabric line! This pattern is simple, fast, and comes together nicely! It makes a quilt top that measures either a throw size 51" x 60" or a twin size 71" x 90".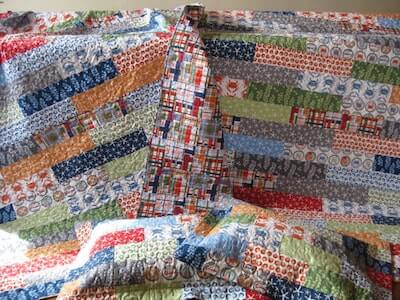 Get the Pattern by KB Landford Fabrics here

3. Easy Beginner Strip Quilt Pattern by Kohatu Patterns
This strip quilt pattern is a fantastic quick and easy quilt to make and great for beginners. It is quick and easy to put together. This pattern is a great way to show off a lot of different fabrics in one patchwork quilt and does not waste much fabric. It's perfect for jelly/desert rolls!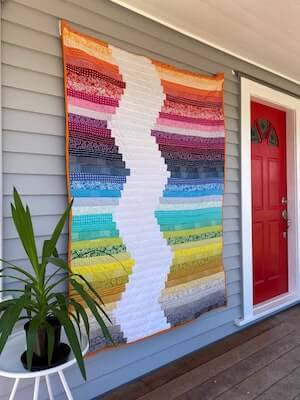 Get the Pattern by Kohatu Patterns here

4. Strip Quilt Pattern by Slightly Biased
This fun strip quilt is a great stash-buster! With helpful tips on matching points on the center strips, this quilt has endless possibilities in terms of color usage. This pattern is foundation pieced by machine, scrap friendly, and beginner friendly.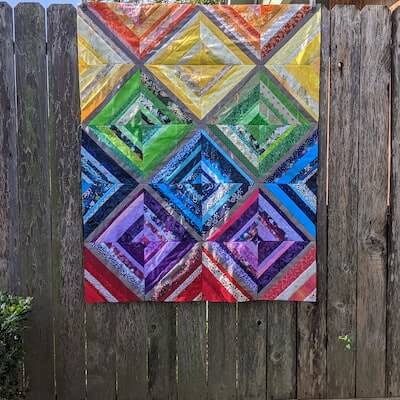 Get the Pattern by Slightly Biased here

5. Super Strings Quilt Pattern by Quilting Daily
Raid your stash of green, cream, red, blue and gold fabrics to make this stunning 92" x 92" quilt. Whether you use pre-cut strips, or cut strips of your own, this star design is sure to be a favorite!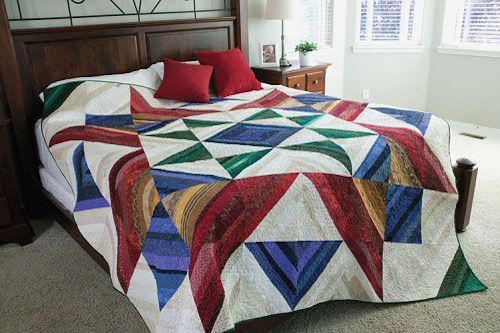 Get the Pattern here

6. Signs Of String Quilt Pattern by Linzee Kull McCray
Whether you use a four-color line of fabric or lots of scraps, Signs of String is a bold quilt with graphic appeal. Each block consists of four string-pieced units defined by "Center Spokes" of solid or tone-on-tone fabric and a contrasting center square.

Once you've honed your skills making Signs of String you'll be ready to use the technique to create designs of your own making.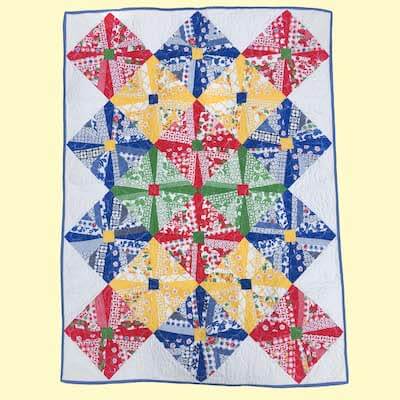 Get the Pattern here

7. Sidewalk Shuffle Quilt Pattern by A Quilting Jewel
Sidewalk Shuffle is a foundation paper pieced pattern inspired by a funky sidewalk. Strategically placed light and dark fabrics amongst the scrappy medium value fabrics give this quilt some dimension.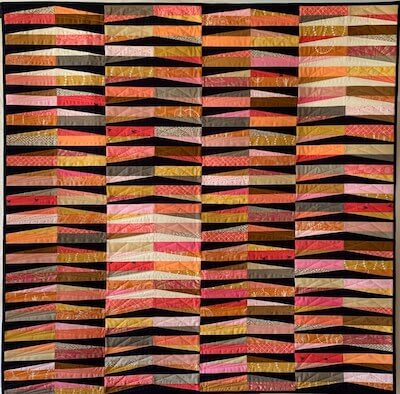 Get the Pattern by A Quilting Jewel here

8. Snap Line String Quilt Pattern by The Flemings Nine
Gather your scraps! Any scrap larger than 1-1/2" wide by 10" long will work for this pattern. You can use longer pieces if you wish. Strip piecing is used to help you sew your scraps into something useable and fun. This pattern makes a throw size quilt – 58″ x 72″.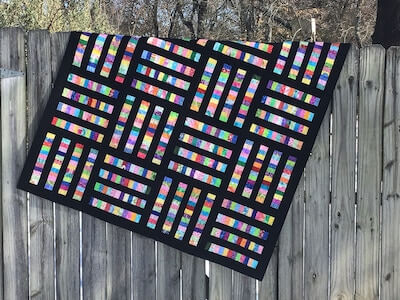 Get the Pattern by The Flemings Nine here

9. Petunia String Quilt Tutorial by Connie Kresin
Using 2½-inch fabric strips for a quilt is always so much fun and depending on the fabrics you use, it will always look different. You could make this quilt many times and they would all look different and beautiful!

Here is a tutorial on how to make Petunia Strings by the River quilt. Batik fabrics really look beautiful in this easy to make string quilt pattern.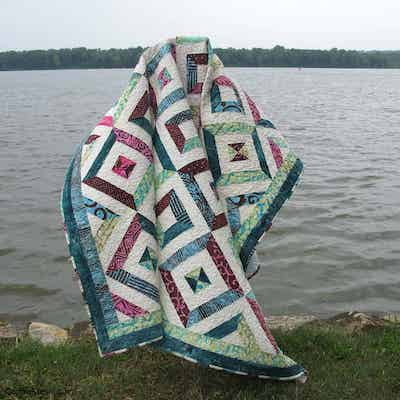 Get the Pattern here

10. String Pieced Lone Star Quilt Pattern by Quilter By Design
Grab that bin of scraps and strings and piece them onto newsprint diamonds. No need to measure – just stitch and press. Trim around the edges and add setting triangles for a no y-seam Lone Star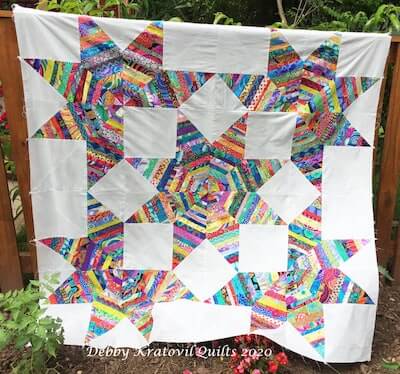 Get the Pattern by Quilter By Design here

11. Log Cabin Free String Quilt Pattern by Gathered
Get scrap busting with this string-pieced Log Cabin quilt pattern! This Colour Cabins Mini Quilt uses solid brights and pretty prints against textured neutral shades to create a statement quilt. You can plan your blocks before you start or just go for random fabric placement for an improv look.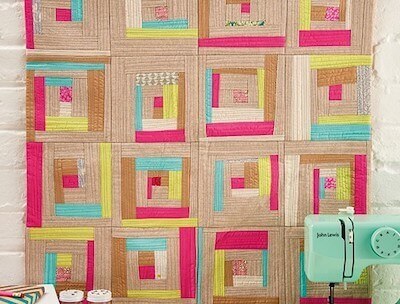 Get the Pattern here

12. Mini Free String Quilt Pattern by Amy Smart
Here's a fabulous tutorial showing you just how quickly this type of project can come together once you have sorted through your fabric strips. Sewing a series of repetitive straight lines becomes almost meditative.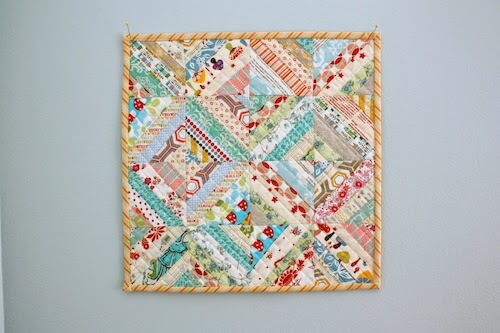 Get the Pattern here

13. Chevrons Quilt Pattern by Quilting Daily
String piecing adds dimension and interesting shading to this easy-to-stitch quilt. This is a great Fat Quarter Friendly Project.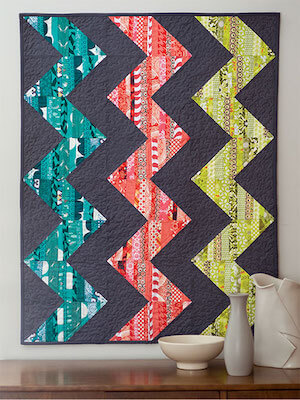 Get the Pattern here

14. White Rose String Quilt Pattern by Sewn Wyoming
Large, scrappy, string blocks are the foundation for this beautiful French Rose applique. Simple techniques and machine applique make this rose an easy addition to your string piecing.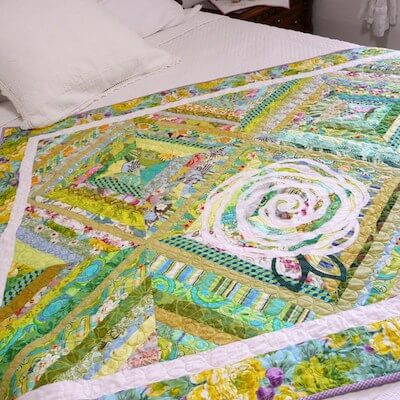 Get the Pattern by Sewn Wyoming here

15. Seven Sisters Quilt Pattern by Aunt Ems Place
This scrappy string quilt pattern uses a 60* wedge ruler to create seven sister stars. The background uses various low volume prints to add interest while still allowing the stars to shine.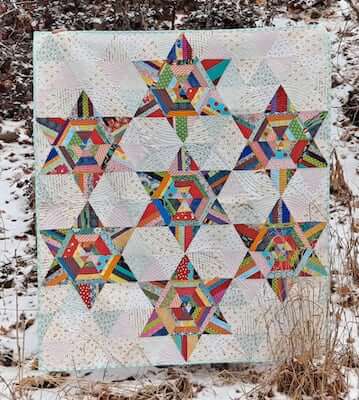 Get the Pattern by Aunt Ems Place here

16. Beads On A String Quilt Pattern by Orange Dot Quilts
Here's a beautiful modern quilt that is fun to make using your favorite scraps. You can keep it very simple by making each colorful block out of just one fabric or go all the way with foundation paper piecing using a variety of scraps, add dimension with trapunto, and add interest to the binding with piping. Other techniques for making the "bead" blocks are string piecing and improvisational piecing.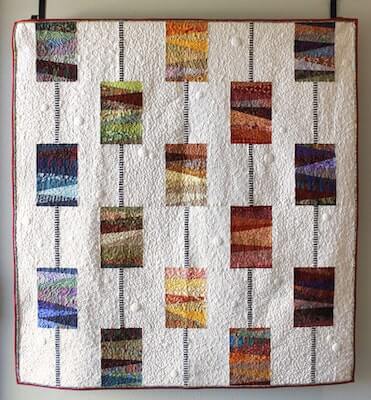 Get the Pattern by Orange Dot Quilts here

17. Flamingo Legs String Quilt Pattern by Patchwork Posse
String piecing is a lot of fun! You will find that it has a lot of options with placement. This baby quilt is a great one to give string piecing a try with. It's not too big– finishes at 46″ X 46″.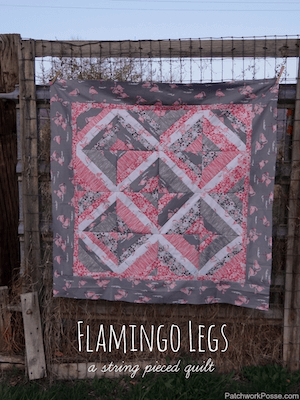 Get the Pattern here

18. String Me Along Quilt Pattern by Quilting Daily
String piecing is not only fun, it's a great way to use up every little scrap of fabric. String Me Along is pieced on paper foundations using lots of colorful scraps, with black and white for sass!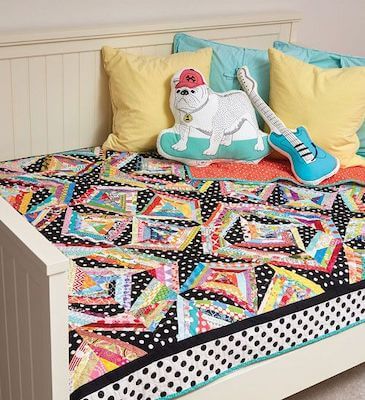 Get the Pattern here

19. String Diamonds Quilt Pattern by Mary Quilts
String quilts are a blast. in bold bright and jewel tones, this version has loads of characters and style to spare!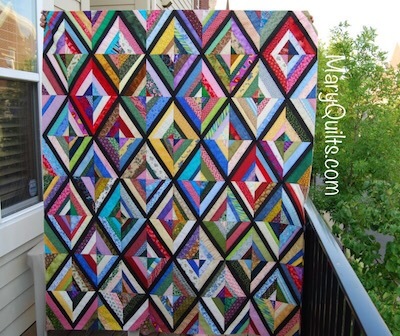 Get the Pattern here

20. Sunshine Quilt Pattern by Karen Griska Quilts
This cheerful quilt is a real stash-buster. Use all your favorite fabrics or trade with your friends for more variety. The bright red and yellow center medallion and saw tooth borders sparkle like sunshine among this riot of scraps.

Over 200 prints include florals, dots, stripes, retro prints, geometrics, novelties, etc. The more the merrier. This scrap quilt is loaded with personality!
Get the Pattern by Karen Griska Quilts here

21. Zigzag String Quilt Pattern by Mary And Patch
Learn how to make a stunning and easy quilt, using the String Quilt technique. This pattern shows several color combinations suitable to make a beautiful quilt using all kind of fabrics. A good opportunity to use all your left overs and make room in your drawers and boxes.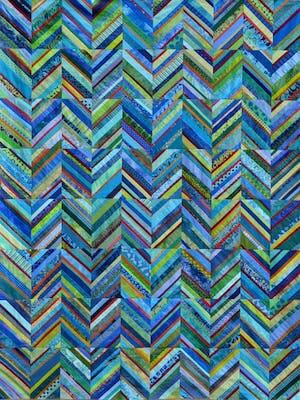 Get the Pattern by Mary And Patch here
START LEARNING THE INS AND OUTS OF STRING QUILTING AS YOU WORK YOUR WAY THROUGH THESE FUN AND BEAUTIFUL STRING QUILT PATTERNS!
Let us know how your quilts turned out by sharing your progress with us on our Facebook Page!
If you're a scrap fabric addict and have an overabundance of scraps like me, you won't want to miss these 27 Pinwheel Quilt Patterns, 50 Jelly Roll Quilt Patterns, 45 Star Quilt Patterns, 45 Log Cabin Quilt Patterns, and so much more! You may find something that inspires you!
With designs that are easily customizable, you cant go wrong with these string quilt patterns! Happy quilting!