To dress your dining room, breakfast nook, or even coffee table for a special occasion or everyday use, here are some table runner patterns for any aesthetic. A table runner is one of the simplest ways to add festiveness to your kitchen. This single piece of fabric can completely transform the look and feel of a dining room, allowing you to display everything from your favorite holiday dinner side dishes to platters of decorated cookies. They're an essential part of table decor, and they also make a great gift for anyone who appreciates seasonal fashion.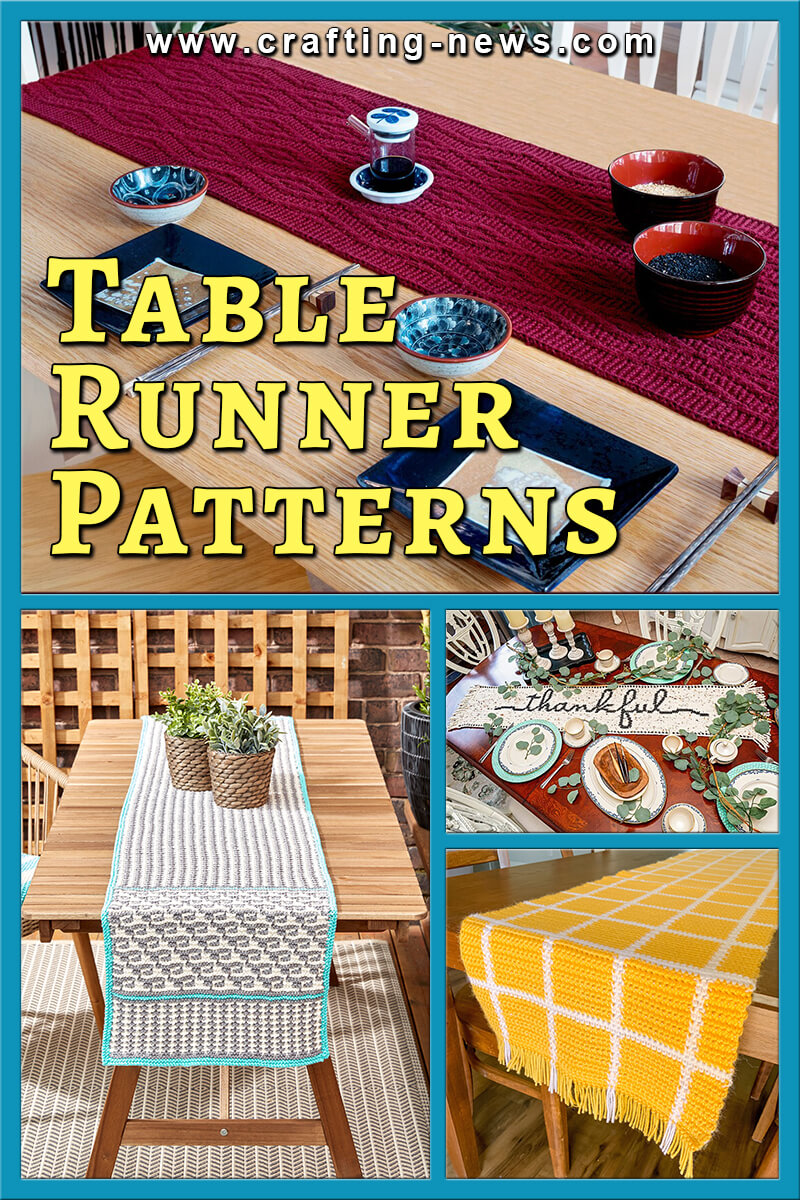 With this in mind, I've compiled a list of the best table runner patterns available online. Whether you prefer quilted, crocheted, or knitted, there's a table runner for you — though that doesn't mean you need to stick upon with one! Having a variety allows you to change the mood of your dining area at any time.
20 Table Runner Patterns
1. Love Letters Table Runner Pattern by Marshall Street Sewing
Sew up a Valentine's Day holiday table runner with this Love Letters Table Runner Pattern. You will be able to create a 42″ by 8 1/4″ table runner in an afternoon. This pattern uses a simple strip piecing method to create on point squares quickly and easily. It is called Love Letters because the points all around the runner are reminiscent of an old postage stamp — presumably used to mail a love letter!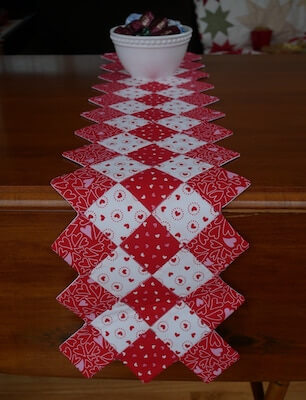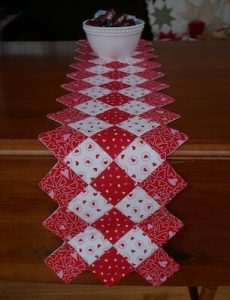 Get the Pattern by Marshall Street Sewing here
2. Quilted Table Runner Pattern by K Lee 2 Strings
Three delightful hens, each with a distinct personality, adorn this 11″ x 29″ table runner. The modern black and white theme with splashes of red and yellow is bright and cheerful, but the quilt would be lovely in any choice of colors. A simple border of 1″ squares completes the design.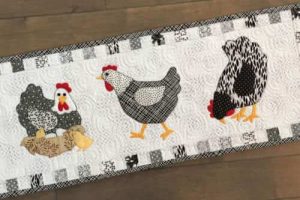 Get the Pattern by K Lee 2 Strings here
3. Table Runner Pattern by Tulip Square
This table runner is a great project for using up leftover fabrics in a variety of ways. Fussy cut prints all in the same subject, or use different prints all one color scheme. It would also look pretty with batiks in various colors, with black sashing, for a stained glass look. Or how about various floral prints with white sashing?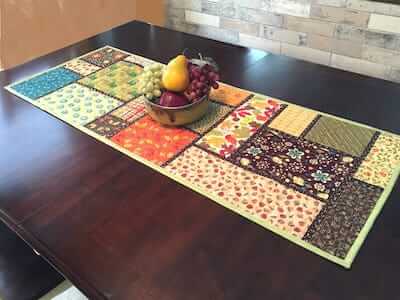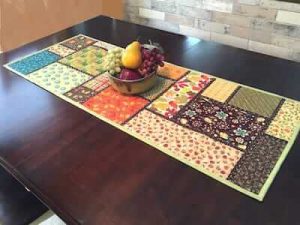 Get the Pattern by Tulip Square here
4. Reversible Table Runner Pattern by Apple Green Cottage
Learn how to make a table runner that looks beautiful — the easy way! A table runner is one of the most basic sewing projects and is a great choice for beginners.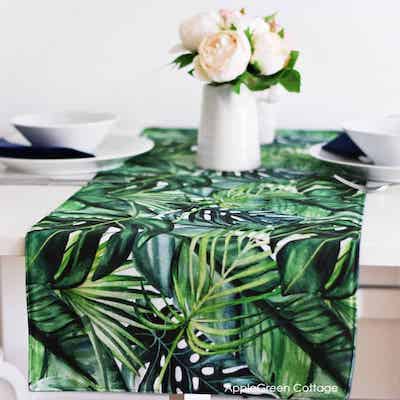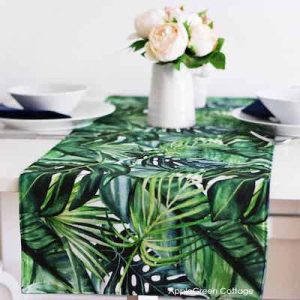 Get the Pattern here
5. Spring Ribbons And Bows Table Runner Pattern by Flamingo Toes
I've been working on freshening up my home for Spring – I am so ready for warmer temps and more sunshine! This pretty Ribbon Table Runner is so sweet, the pastel ribbons are perfect for lightening up the room for Spring!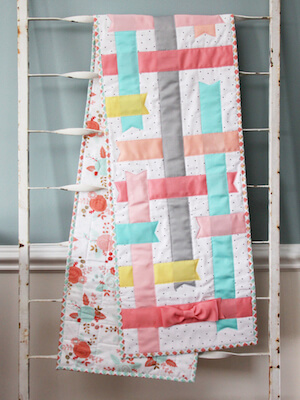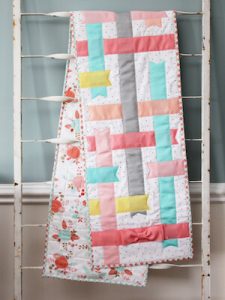 Get the Pattern here
6. Table Runner Quilt Pattern by Maple Cottage Designs
This lovely table runner quilt pattern is perfect for coordinating fabrics. The blocks are easy to make but give an intricate look. The table runner repeats the beautiful diamond shape with angled ends for extra emphasis.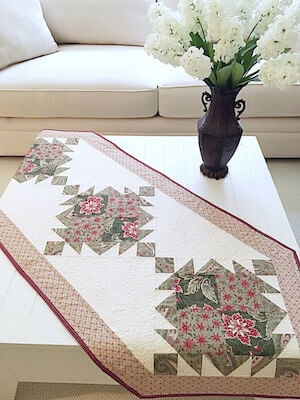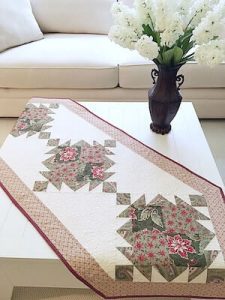 Get the Pattern by Maple Cottage Designs here
7. Tilly's Tea Party Table Runner Pattern by Molly And Mama
You are invited to a delicious tea party with Miss Tilly! Featuring three English paper pieced blocks with beautifully embroidered hexagons and hand quilted detailing, Tilly's Tea Party Table Runner is the perfect centrepiece to an afternoon of leisurely conversation and the clinking of china tea cups.
This project is a fabulous skill builder that will allow you to tackle bigger projects with confidence! It explores hand embroidery, English Paper Piecing with hexagons, equilateral triangles and jewels, hand quilting techniques and quilt binding.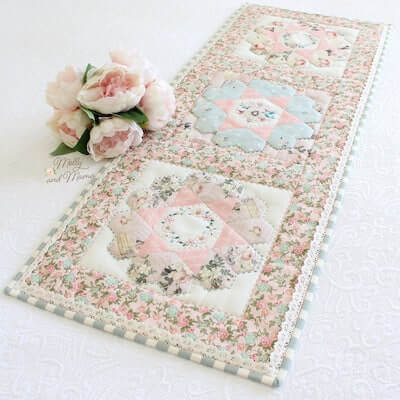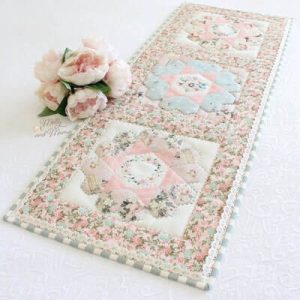 Get the Pattern by Molly And Mama here
8. Macrame Table Runner Pattern by Olmo Home Studio
Do you like cozy evenings and a warm atmosphere at home? And do you also love handicrafts? Then macramé is just the thing for you. It's easy to do, the result is gorgeous and spectacular, and it's much quicker to do than other types of textile crafts.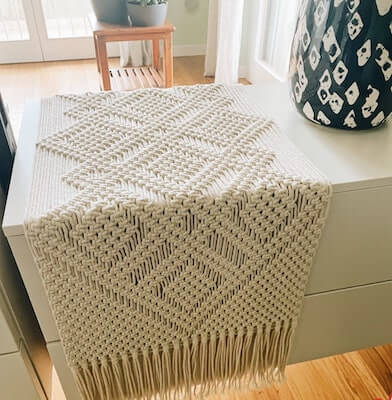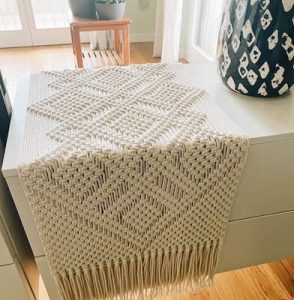 Get the Pattern by Olmo Home Studio here
9. Holiday Table Runner Knitting Pattern by Desert Rose Fiber Arts
Think of knitting, and you might immediately think of sweaters, hats, and scarves. While these are all great projects, why not consider knitting something for your home? Decorative and practical, a knitted table runner can spruce up any ordinary space or be at the center of a festive dinner table setting.
Here's a table runner to grace your 4th of July table. An easy lace pattern combined with a simple basket weave background sets off the center field of stars. Or change the color scheme & appliques to celebrate any holiday in style. Make a table runner and place mat set to match your decor — there's no limit to versatility!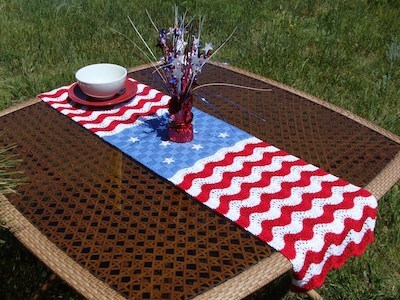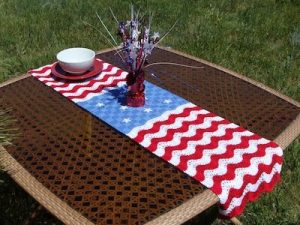 Get the Pattern by Desert Rose Fiber Arts here
10. Mosaic Knit Table Runner Pattern by Yarnspirations
Need a little something to show off the beauty of your dining room table? With this pattern, you'll create the ideal accent that works in your home. For the more ambitious DIYer, change-up the colors and craft a custom runner for every season.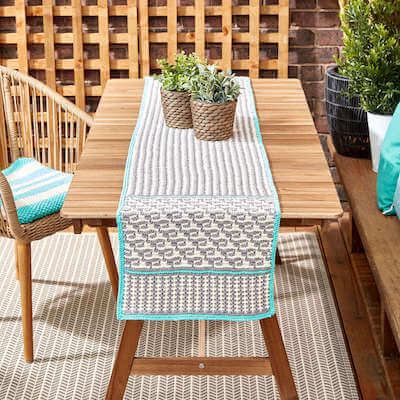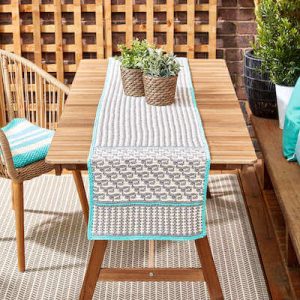 Get the Pattern here
11. Hamilton Table Runner Knitting Pattern by Wyndlestraw Designs
This Hamilton Table Runner features a reversible stitch with a textural diamond design. The pattern includes instructions for three different sizes to give a variety of options to suit your own table.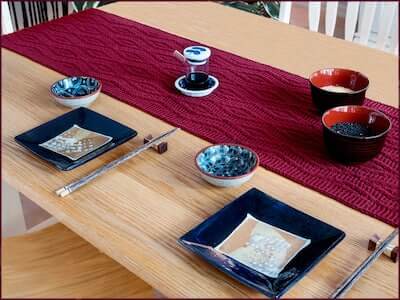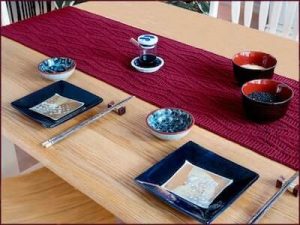 Get the Pattern by Wyndlestraw Designs here
12. Meadowood Table Runner Knit Pattern by Jen Hagan
This Meadowood Table Runner is a good pattern for beginner lace knitters. It features two easy lace patterns and may be made up as long or as short as you wish. It would also make a great dresser scarf or you could make it shorter as an antimacassar to embellish the back of your favorite chair.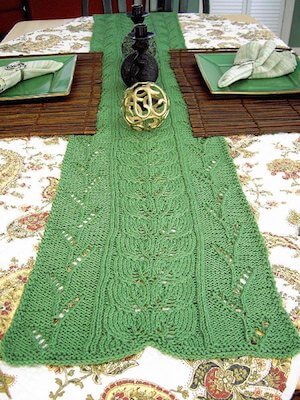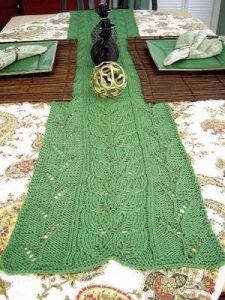 Get the Pattern by Jen Hagan here
13. Treemendous Table Runner Knitting Pattern by Lauren Aston Designs
This table runner is a simple and effective finishing decoration for your table. Perfect to add festive cheer! Make sure even your Christmas table stays cozy this year with a knitted table runner. A simple festive design, this colorwork runner looks effective used as a decoration for all your meals.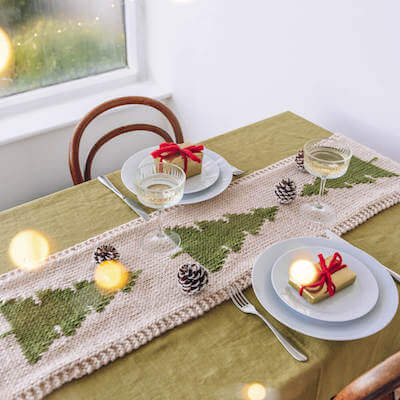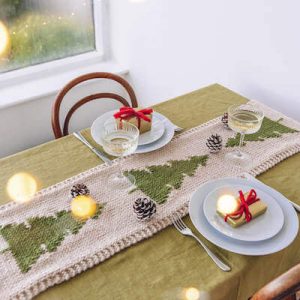 Get the Pattern here
14. Rustic Table Runner Knitting Pattern by Cut Out And Keep
This table runner is made entirely with simple garter stitch squares. It will allow you to build your confidence at holding your yarn and needles, casting on, knitting, and binding (casting) off, and is a great portable project.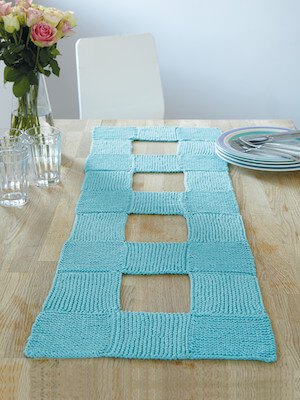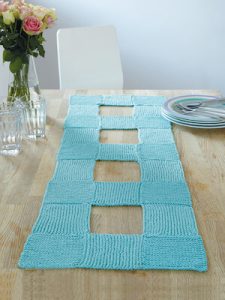 Get the Pattern here
15. Lattice Table Runner Crochet Pattern by Fiction And Fibers
If you know the basics of crochet, a table runner can be made quickly and easily. This Lattice Table Runner is designed with filet crochet. It's classic, simple, and offers a stunning amount of negative space. For those who have never heard of filet crochet before, it's basically a grid of (usually) double crochet stitches and chain spaces.
For this runner, you will use a very simple diamond motif pattern, which is broken into 3 segments and divided by equally simple borders.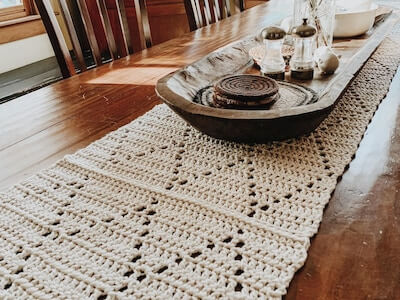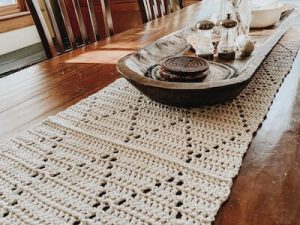 Get the Pattern by Fiction And Fibers here
16. Strawberry Wine Table Runner Crochet Pattern by Violet Loops
Let this customizable crochet piece stand as the new focal point of your family table. Gather around as you share meals, celebrate special moments and learn together. This table runner pattern is as timeless as it is versatile.
This pattern utilizes tapestry crochet to achieve the color work. But if you are beginner, don't worry! There are video tutorials to help with the color changes and a short cut to limit the number of ends you have to weave in!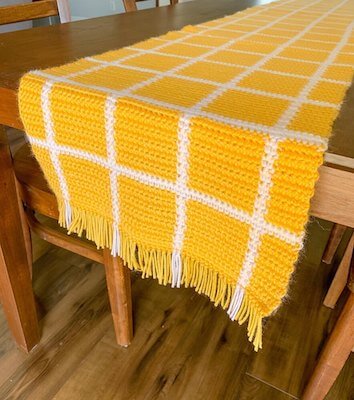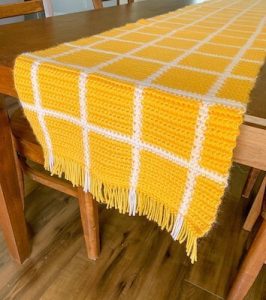 Get the Pattern by Violet Loops here
17. Thanksgiving Crochet Table Runner Pattern by Briana K Designs
This Thanksgiving Table Runner is great for Thanksgiving dinners, of course, but honestly it reflects the gratitude we want in our homes all year long. The colors are neutral enough that this crochet table runner truly works throughout the year. I truly believe that this is not only a special addition to your own home but also a great housewarming or holiday gift for others.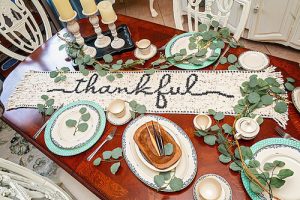 Get the Pattern here
18. Floral Table Runner Crochet Pattern by Raine Eimre
This Floral Table Runner is easy to make using lace star flower stitch. The simple pattern consisting of chains, single crochet and triple crochet stitches creates beautiful star-shaped flower motives. Chained fringe added to each end completes the lacy design, making it the perfect centerpiece for the long dining table.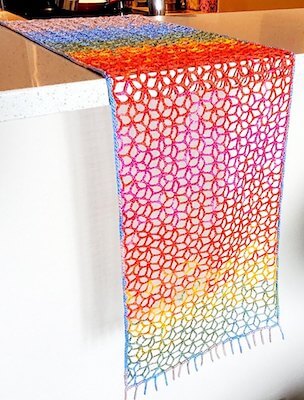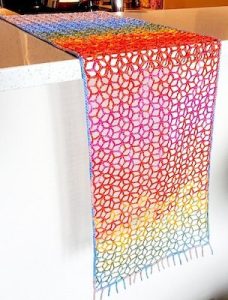 Get the Pattern by Raine Eimre here
19. Hairpin Lace Table Runner Crochet Pattern by Crystalized Designs
I love the look of this Hairpin Lace Table Runner! If you've never had the chance to create hairpin lace, don't worry! If you know how to single crochet, you'll know how to create this piece!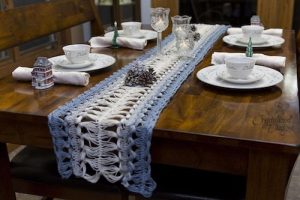 Get the Pattern by Crystalized Designs here
20. Starburst Table Runner Crochet Pattern by Yarnspirations
This elegant crochet table runner features a pretty star motif pattern that adds a sophisticated touch to your home. Select the shade that complements your décor. t's a satisfying project that looks lovely on special occasions, family gatherings or any day.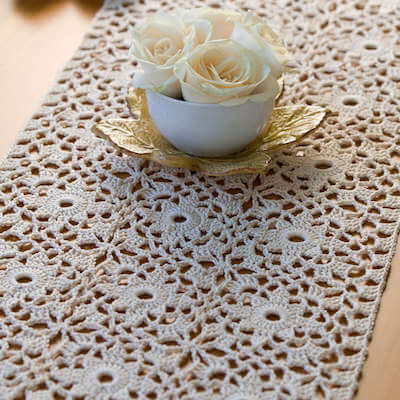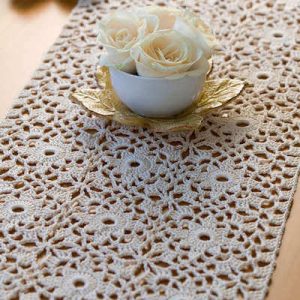 Get the Pattern here
Table Runner Patterns Frequently Asked Questions
What is a table runner?
When shopping for table linens, you may be wondering, "What is a table runner?" A table runner is a long, narrow cloth that is usually placed lengthwise down the center of the table as a decorative touch. A table runner, like a tablecloth, can quickly elevate a table, whether you're planning a celebration or a simple weeknight meal. Table runners add warmth to a dining space while drawing attention to the center of the table, which is usually lined with centerpieces or serving dishes.
How long should a table runner be?
A table runner should be at least 6″ longer than your table on each side. So if your table is 48″ long, add 12″ to that to equal 60″. The same rules apply to using table runners on round tables.
Are table runners out of style this 2023?
For people who find their qualities rather important, table runners are timeless and will never go out of style.
How to make a table runner?
Quilting — A quilt table runner may be simple or complex in design and could feature a wide range of quilted blocks or just squares of different fabrics sewn together.
Crochet — Start by considering the design of your table runner. Then, chain and make the foundation row. Work the rest of the rows until you achieve the desired length and then finish your table runner!
Knitting — One of the great things about knitting a table runner is that you don't actually need to follow a table runner knitting pattern. However, if you want to practice some more advanced knitting techniques or include complex designs, you could follow a table runner pattern or use one for some inspiration.
Macramé — Once you have a few simple macrame knots under your belt, you can create endless combinations to make lovely, one-of-a-kind pieces for your home. Most macrame table runners use only basic knots over and over to create a beautiful woven pattern that brings a boho vibe to your table top.
WHAT WILL BE THE BEST-DRESSED TABLES BE WEARING THIS YEAR? I AM BETTING ON THESE TABLE RUNNER PATTERNS COVERING SEVERAL DECOR STYLES, HOLIDAYS, AND EVERY SKILL.
Now, I better not see another bare dinner table, because you certainly have a lot of fantastic table runners to choose from now! Let me know which patterns you have decided to make by posting some pics of your finished runners on our Facebook Page.
For more decorative patterns for your home, check out this page for Home Decor crafts. We have tons of patterns you can choose from.
There's a little something fro everyone in this table runner patterns round-up. Happy making!