A piece of paper, a little patience, and some clever folds are all you need to make a token of your love. Whether you fold one or one hundred, I think you'll love folding origami hearts! Here are 35 tutorials on how to make an origami heart that is fun to make for Valentine's Day or any time of the year.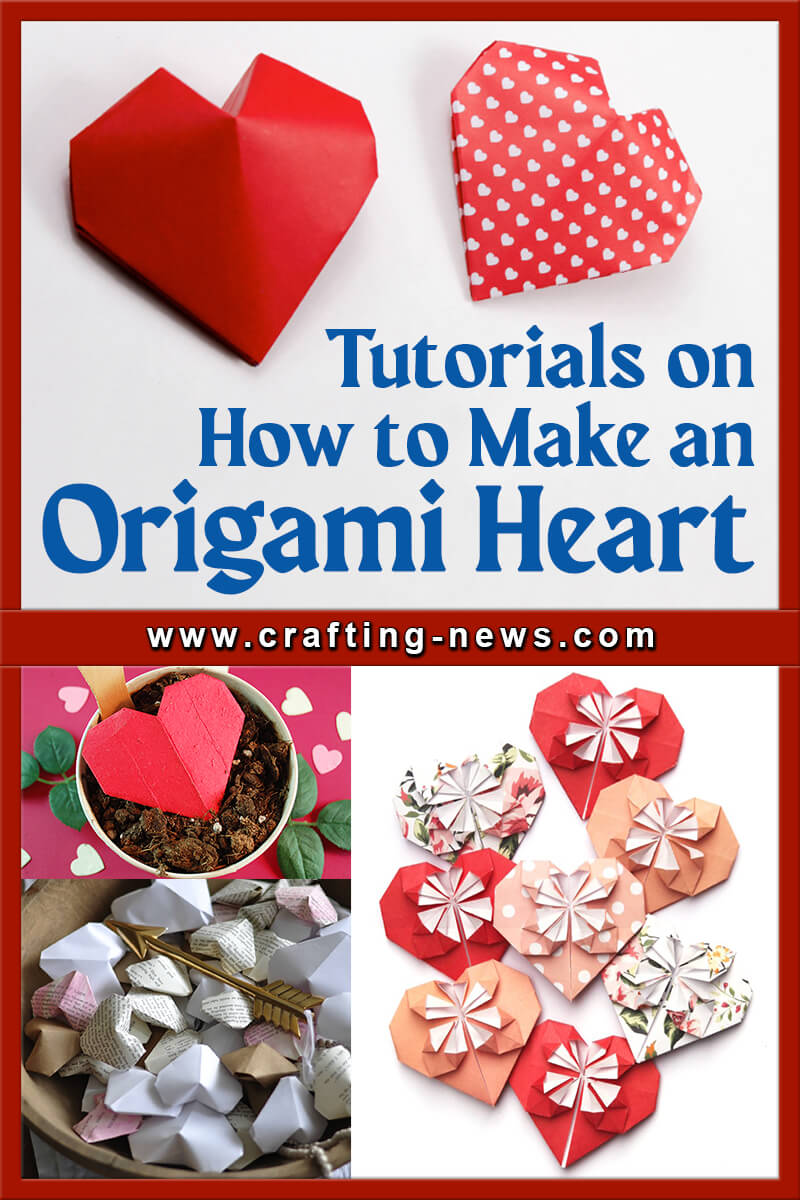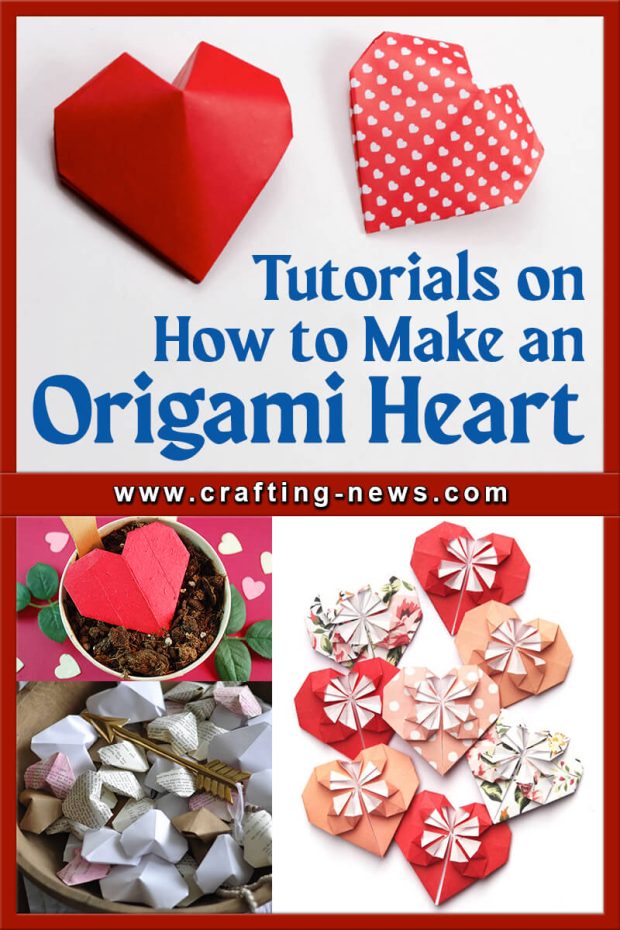 Folding an origami heart is very easy! When it comes to paper folding, this is one of the most simple origami shapes you can do. I am certainly no master at origami, but these hearts make me feel like a real whiz! From heart-shaped bookmarks to cute heart boxes, what's not to love?

1. How To Make An Origami Heart by The Spruce Crafts
Learn how to make a pretty origami heart from a rectangular sheet of paper, or even a dollar note. These easy to make paper hearts are great to use as Valentine's Day cards or for gift decorations.

When made with crisp white paper, these origami hearts make great wedding invitations. Alternatively, you can use these as place cards, as they can be stand upright.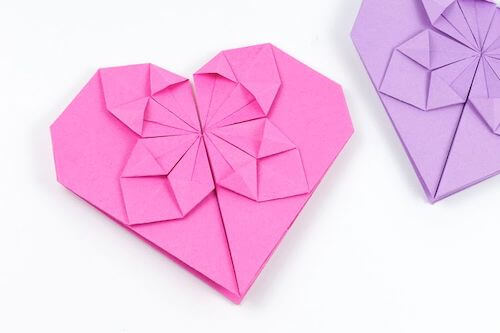 Follow the tutorial here

2. How To Make Heart Origami by Tsunaga Japan
Most people send messages through emails and chat nowadays, but why not send a letter from time to time? This time, we'll teach you how to make the perfect origami for handing over letters – heart-shaped origami!
Follow the tutorial here

3. Origami Blossom Hearts by Gathering Beauty
This simple tutorial shows you how to make a pretty paper heart out of a rectangular piece of paper. If you're looking for a last-minute Valentine's decoration to show someone you care then these origami blossom hearts might be just the thing.

I think these pretty little hearts are bound to put a smile on anyone's face. Perfect for a friend or loved one. And bonus, they're a lot easier to make than they look. All you need is a piece of paper and a little practice and you'll be folding hundreds of them in no time.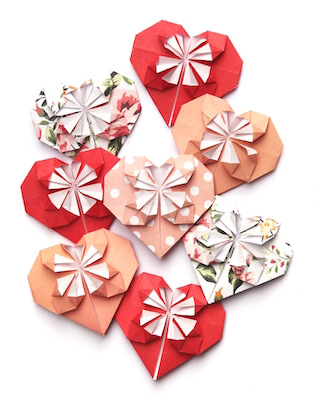 Follow the tutorial here

4. Origami Heart Box by Paper Kawaii
This pretty origami heart box has a concealed lid, it would make the perfect gift box at Valentines or birthdays for a loved one.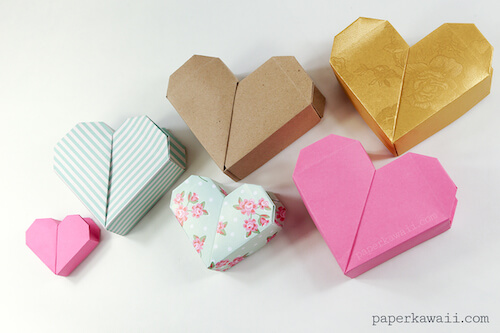 Follow the tutorial here

5. Origami Heart Cupcake Toppers by Vitamini Handmade
Nothing warms someone's heart faster than a cupcake made with passion! Although, the secret ingredient to any delicious pastry is love, it doesn't hurt to be unique while doing it! You can achieve that thoughtful uniqueness by serving them with your very own handmade heart-shaped origami toppers. After all, there is always room for dessert!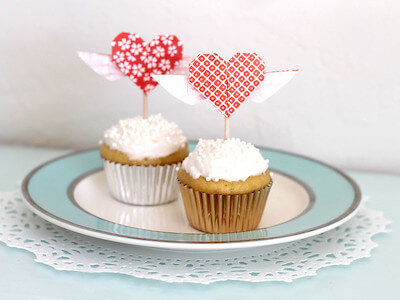 Follow the tutorial here

6. Origami Heart Bookmark by DIY Candy
Make an origami bookmark the easy way! This easy origami heart looks just like a conversation heart, and fits on the corner of a book page. Kids and adults will love this idea!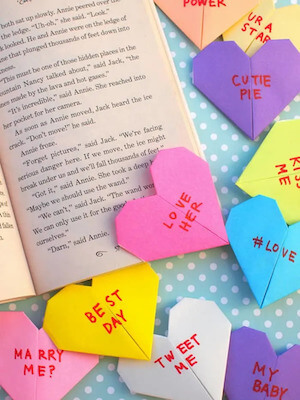 Follow the tutorial here

7. Origami Heart Sucker Covers by Skip To My Lou
Share a little love with these origami heart sucker covers. This is an easy origami heart to make, and it's super cute. I think you will really like this easy origami idea, and it is perfect for Valentine day treat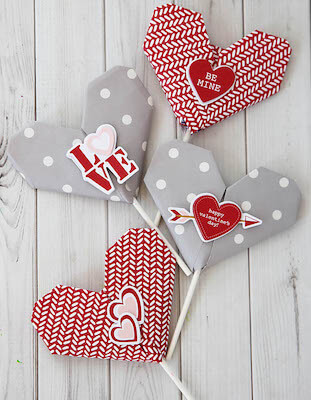 Follow the tutorial here

8. How To Make 3D Origami Hearts by Life Is A Party
What's better than a bowl full of hearts for Valentine's Day? Nothing. These easy origami hearts are the perfect lovely heart projects to give to your Valentine this year, use for decor, or incorporate into your party decor. The possibilities are endless. This sweet handmade gift would be really sweet with a love note anytime of year.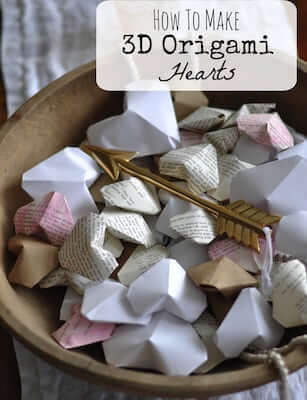 Follow the tutorial here

9. Origami Heart Garland by Alyssa And Carla
These hearts will take about 2 minutes each to make, so pop on your favorite sitcom and start folding. By the time your show is over, you'll have enough hearts for a short garland.

Enlist in some help from your significant other, kids or roommates and you'll be able to string together something more elaborate. (Seriously, they're so easy! You don't have to be crafty to make them.)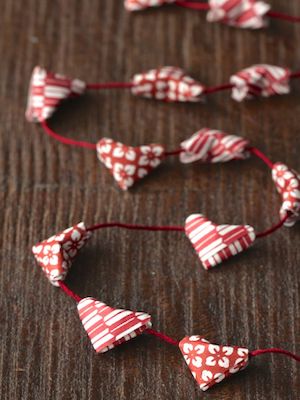 Follow the tutorial here

10. Origami Woven Paper Hearts Tutorial by Paper Kawaii
Make some easy origami woven paper hearts. These cute origami hearts are easy to make with strips of paper. No glue required. Perfect little gift for Valentine's Day or any time of year. I really like these little woven paper hearts, they look so addicting to make.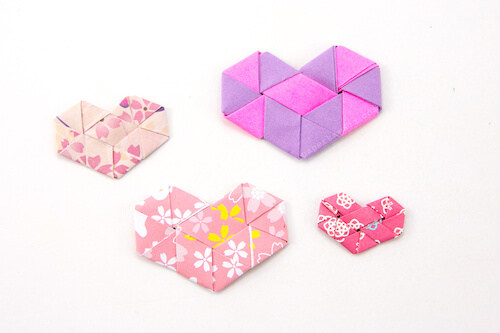 Follow the tutorial here

11. Origami Heart Ring by The Travelling Bookbinder
Give a gift of wearable book art by folding up an origami heart ring. For Valentine's, Galantine's or Palantine's — who needs a reason for paper love?! Fiddly but ever so impressive!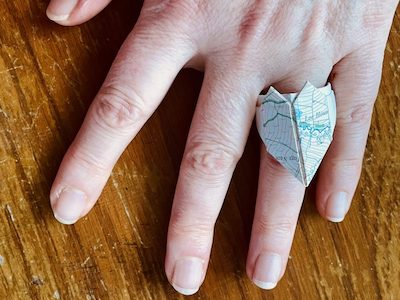 Follow the tutorial here

12. How To Make Origami Heart With Wings by Gathering Beauty
What better way to say 'I love you' than with a pretty origami heart with wings. This cute paper heart is easier to make than it looks. At first glance, you might think it's made using a separate piece of paper for the wings and heart but it's actually made using a single sheet of double-sided paper.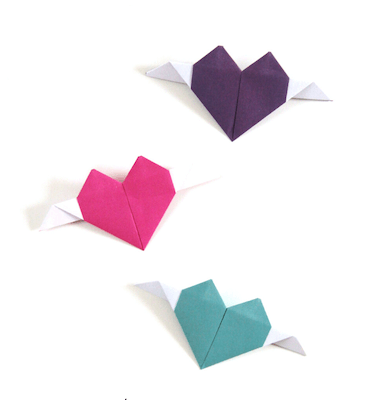 Follow the tutorial here

13. Easy Origami Heart by Easy Origami
This video tutorial wil demonstrate how to fold an Origami Heart (single). This is an easy and classic traditional model that is perfect for any beginner!
Follow the tutorial here

14. Origami Heart Box With Lid by Easy Origami And Crafts
Learn how to make an origami heart box with a lid. This model is relatively easy and doesn't need glue or scissors.
Follow the tutorial here

15. Easy Origami Heart Envelope by Origami Solver
Let's make a cute origami heart envelope for notes and small gifts to give to your mom of friends for Valentine's Day or other holidays!
Follow the tutorial here

16. Origami Puffy Heart by The Spruce Crafts
What makes these puffy origami hearts even better than standard heart origami is that they also open up like clams. If you use paper that is thin but strong and add a dab of glue on the flaps, you can use them as gift boxes for jewelry, candies, or other small trinkets.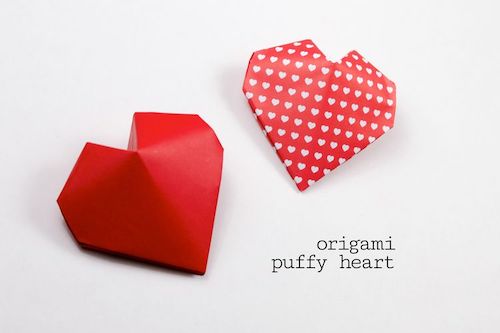 Follow the tutorial here

17. How To Make Origami Heart Button by Polly's Origami
Let's make a cute and easy origami heart button pop it. It's a cool origami anti-stress toy that will help you to calm down if you're stressed. It's very fun to play with and it looks very nice. You can make one, two or any other amount of buttons. And you can also select any shape you like.
Follow the tutorial here

18. Origami Heart Bracelet by Easy Origami BR
Make yourself your own heart bracelet made of origami. Each piece is made with a small square of paper, can be the size you prefer, but recommend using a maximum of 7×7 cm. The number of pieces varies.
Follow the tutorial here

19. Origami Heart Valentine by Jo Nakashima
This video shows how to origami a heart-shaped valentine, equipped with an arrow shot through the center of the heart. It's just the kind of valentine Cupid would use. You can mix up the paper colors to make each heart individual for whoever you're giving them to, if you've got more than one valentine, that is!
Follow the tutorial here

20. Dollar Origami Heart With Wings by Folding With Yvonne
Making a money origami heart with wings out of a Dollar bill is a great money gift idea for weddings. To fold this origami heart with wings, you'll need 1 Dollar bill and this video tutorial!
Follow the tutorial here

21. Origami Heart In A Pot by Sarjigami Origami
This Origami Heart In a Pot is probably one of the most unique Origami you will ever fold and the process is just smooth and really fun.
Follow the tutorial here

22. Thin Origami Heart by Paper Kawaii
Follow this simple step by step photo tutorial to learn how to make a thin origami heart! These slim paper hearts can be used as greetings cards or bookmarks! They make great gifts for friends and family.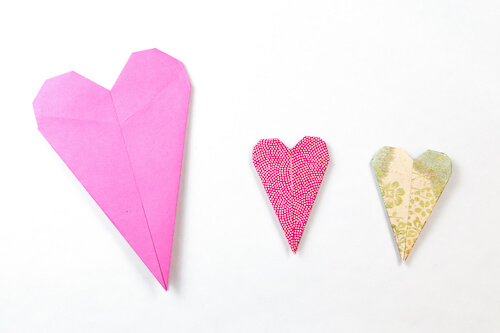 Follow the tutorial here

23. Origami Heart Bouquet And Garland by Growing Up Gabel
Winter blues starting to bring you down? Add a bright pop of color with an inflatable origami heart bouquet and garland! This 30 minute craft is a great way to chase away gray those days and prepare for the loveliest of all holidays: Valentine's Day.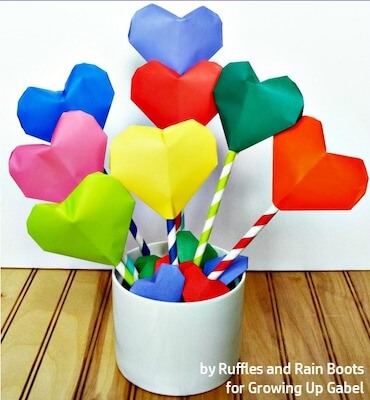 Follow the tutorial here

24. Origami Heart With Pocket by Craftsy Sloth
A unique heart shape pocket that can keep your secret message inside. Here's the step by step tutorial, make easy for even beginner. This can be a good idea for your greeting card design, scrapbook design, and how about an daily surprise words to your loved one?
Follow the tutorial here

25. How To Make An Origami Heart Envelope by Origami Japan
The origami heart envelope is very easy to make, and also pretty and useful at the same time. This is the perfect envelope to hold your note in to give to your sweetheart, and also makes a great replacement for valentine cards.

This tutorial shows you an easy way to fold a rectangular sheet of paper, such as an A4 sheet, to make an envelope. Of course you can also make an origami envelope with a square piece of paper, too.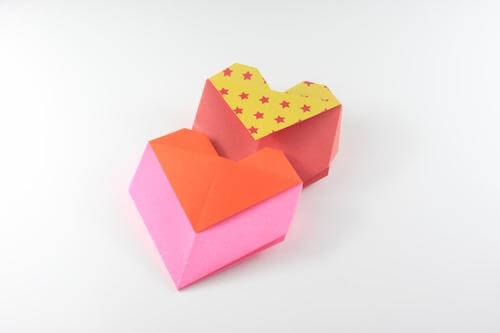 Follow the tutorial here

26. Heart Paper Airplane by Lia Griffith
Looking for cute kids Valentine ideas? This Valentines paper airplane is the perfect solution – and it's free to download! Easy to make, and raking high on the super-cute scale, this simple kids valentine project can be whipped up in an afternoon for a class full of little ones – or for the grown-ups too!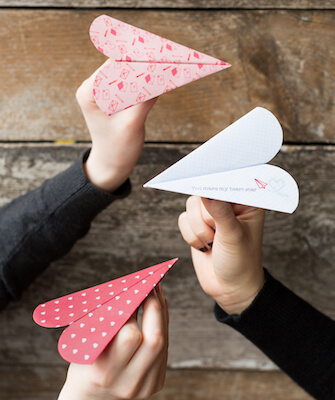 Follow the tutorial here

27. Origami 3D Beating Heart by Instructables
Here's a 3D paper heart which starts blinking (glowing) when someone holds it. To surprise someone, this gift is a perfect idea as it looks like a simple origami heart but it starts blinking just like a beating heart when someone touches it. This Origami beating heart can be easily made in very less time!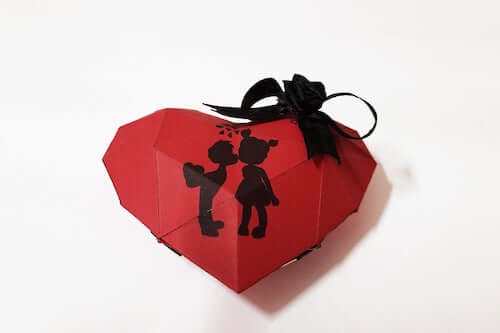 Follow the tutorial here

28. 3D Origami Heart Wall Hanging by Gathering Beauty
Valentine's day is nearly here and it's time to start filling your house with cute heart themed decorations and crafts. Make your own 3D origami heart wall hanging with this tutorial and fill your house with love.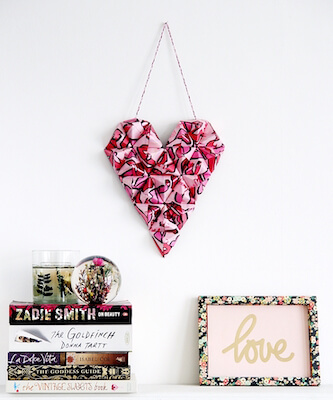 Follow the tutorial here

29. Origami Paper Window Hearts by Joyful Abode
Maybe you've seen beautiful paper sun-catchers in your neighbors' windows, or in your local Waldorf school and wondered how to make them. These paper window hearts are a great way to try out the origami methods and create something beautiful.

Hang them in your own windows for Valentine's Day, or all year long. And make enough to share with friends as a handmade Valentine card, or just to share your appreciation any time!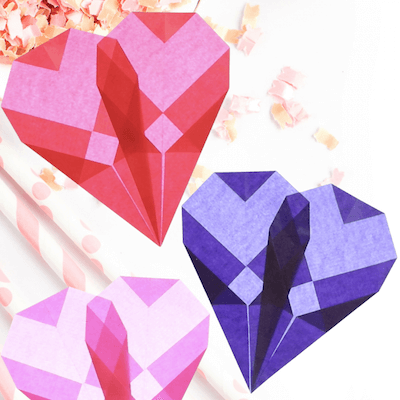 Follow the tutorial here

30. Origami Heart Stand by Jo Nakashima
This origami heart is very easy to fold! And you can also use it as a photo holder (place a lightweight photo behind the flap), or attach another origami model to the flap.
Follow the tutorial here

31. How To Make An Origami Heart Corner Bookmark by Christine's Crafts
This origami heart corner bookmark is so pretty and surprisingly easy to make. They look great in many different papers including origami paper, wrapping paper, old book pages and old music scores. You can write a personalised message on one or add decorations from your craft supplies.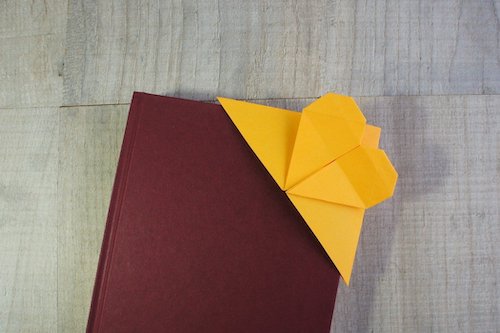 Follow the tutorial here

32. Origami Heart With Bow by Color Mania
I think this Origami Hearts with bows would be fun to top a sweet box of chocolates or something special for the ones you love. All you need is a square sheet 15 x 15 cm paper. This project is fairly easy, so even older kids should be able to make it.
Follow the tutorial here

33. Origami Seed Paper Hearts by Botanical Paperworks
These unique Origami Seed Paper Valentine's Day Hearts will give loved ones an additional gift that grows real wildflowers! A great gift for children, teens or even adults, the seed paper used to create these sweet gifts is available in a variety of colours so you can make them extra personalized by choosing the recipients favourite shade.

As an added bonus, your valentine will be able to plant eco-friendly heart to grow a bounty of colorful wildflowers as an additional gift.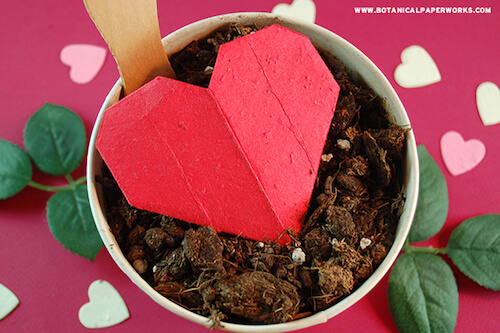 Follow the tutorial here

34. Fold A Bill Into An Origami Heart by HGTV
The gift of cash — always welcome, but if you're anything like me, can make a gift giver feel like they need to try a little harder. That's when learning to fold bills into origami hearts becomes a valuable life skill that'll make your gift stand out. It's easy and will take less than a minute once you get the hang of it.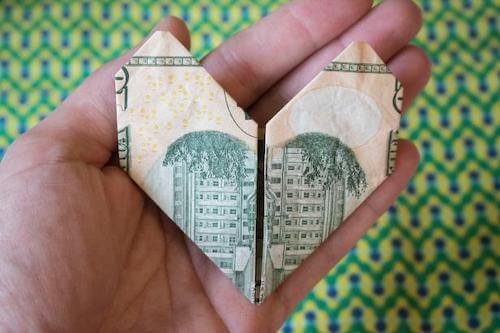 Follow the tutorial here

35. Origami Heart Pocket Necklaces by Hello Wonderful
Make these cute origami heart pockets and hide a secret message inside! These are fun for kids to make and write notes to their classmates, friends and loved ones.

Turn them into necklaces to wear cute accessories. They make sweet Valentine's Day favors for kids. You can also opt to add a sweet treat or candy inside!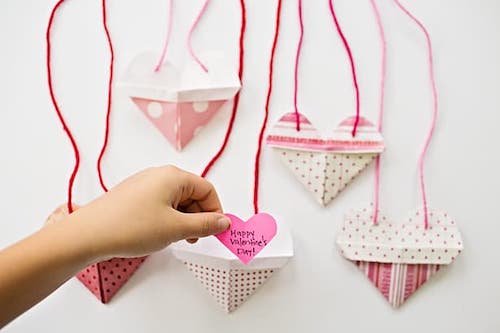 Follow the tutorial here
WHY NOT SHARE THE LOVE WITH ONE OF THESE TUTORIALS ON HOW TO MAKE AN ORIGAMI HEART?
So, get your galantines together, or your family, and turn these projects into a fun craft night! And don't forget to share these projects with us when you're done. We love seeing what you do with the ideas we share and how you decorate for holidays, so be sure to post some pictures on our Facebook Page!

As you start creating, you will find yourself wanting to create more. So, if you want other paper craft ideas than the ones above, we've got you covered! Here are some paper craft ideas you can start making:

For now, let's give these tutorials on how to make an origami heart a try. I'm totally smitten with all of them!