When you think of a cape, you may think of superheroes or Dracula. But capes are not just for cosplay and horror films. Capes are fashion accessories that have been worn for a long time. They are practical garments that are easy to wear and accessorise. If you love fashion as much as I do, continue reading below to learn more about different types of capes.

What is a Cape?
Capes are accessories that are similar to cloaks. Capes can be worn as a fashion statement or for warmth. They often fasten around the neck; however, some capes have several fasteners or none at all. Capes are designed to hang down the back and rest on the shoulders. The different types of capes vary in length. They can end anywhere from the elbows to the ankles.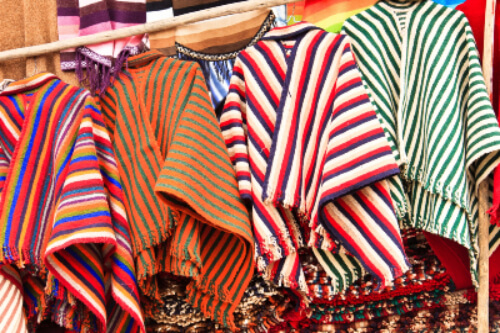 History of the Cape
Capes have been around for a long time. There is no known record of the first cape. In the olden days, they were a status symbol. Only those that had wealth or great importance wore capes.
Today, . You do not have to have wealth or power to wear a cape. There are many types of capes. So, no matter your style, you can find a cape that will work for you.
Why You Should Own a Cape
Capes are super fashionable and fun to wear. But those are not the only reasons you should own a cape. Below are just a few reasons why you need to have at least one cape in your closet.
A cape can help keep you warm.

They are comfortable to wear.

Capes can be dressed up or down.

They are not binding since they do not have sleeves.

A cape can protect your clothing from nature's elements.

They are eye-catching.

You can easily make your own.
What are the Differences Between Capes and Cloaks?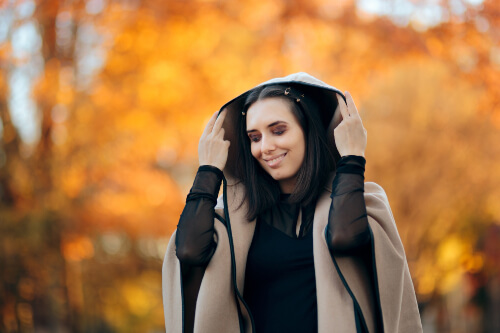 Capes and cloaks are very similar. The terms are often used interchangeably since they are so comparable. However, there are a few differences. Here are some facts that will help you differentiate between capes and cloaks.
Cloaks are usually longer than capes. They tend to fall between the calf and ankle.

Cloaks are designed to cover the whole body. Capes only cover part of the body.

Capes are often worn as a fashion accessory. While cloaks are worn to protect the wearer from the elements or to protect their identity.

Capes may or may not have fasteners. They can even have more than one. Cloaks have a single fastener at the neck.

Neither capes nor cloaks have sleeves. However, some cloaks have slits for the wearer to put their arms through.

All cloaks have hoods, while only some capes have hoods.
What are the Different Types of Capes?
There are several different types of capes. The different types can vary by shape, length, drape, etc.
1. Traditional Cape
The traditional cape is also referred to as the classic cape. It is a single piece that will have either a symmetrical or wavy hem. The cape fastens around the neck. The loose design allows for plenty of movement, and it works on all body types. Traditional capes vary in length. You can find capes that end at the ankles, knees, thighs, or hips.
2. Capelet
The capelet is also referred to as a cropped cape. It is very short and ends near the elbow. Capelets can have a closed design that is worn by slipping it over the head. They can also have fasteners that fasten the cape around the neck.
3. Hooded Cape
Hooded capes are capes with hoods. They are often made from water-resistant or waterproof material. You will find that most people wear hooded capes to protect themselves from nature's elements. The length of hooded capes can vary from the hips to the ankles.
4. Ruana
Ruanas are also referred to as cape shawls. They are comparable to ponchos. However, they have slits all the way down the front and no types of fasteners. They are designed to hang over your shoulder and down your back. Ruanas have an asymmetrical design. They are a great choice when looking for a cape that is fashionable while providing extra warmth.
6. Poncho Cape
A poncho cape is similar to a ruana. However, instead of having an open front, they have a hole for you to slip your head through. Embrace that chic level of comfort that modern fashionistas have with these Crochet Poncho Patterns.
7. Blanket Cape
The blanket cape is a wearable blanket. They are similar to ruanas and poncho capes. They can have neck holes or open fronts. You can also find them with or without hoods. Blanket capes are ideal for people that need that extra bit of warmth during the winter months. They are often worn lounging around the house. However, some stylish blanket capes can be worn outside the home.
How to Wear a Cape
You may be intimidated to wear a cape. But you do not need to be. Capes are easy to wear and accessorise. When wearing a cape, take into consideration:
You do not want a bright cape that makes you look like a superhero.

Since capes are flowy and already add extra bulk, pair them with fitted pants or leggings. Wearing large, baggy pants will make you look large and frumpy. You can also pair a cape with a pencil skirt or fitted dress.

Longer capes that hide your shape can be paired with a belt. The belt will help define your waistline.

Keep the bottom half of your body slim, since the cape adds bulk to your top half.

If you are wearing form-fitting, eye-catching pants, such as leather, pair them with high-heeled pointed-toed shoes.

Do not be scared to wear jeans and tennis shoes.

Create a slim, streamlined shape using thigh-high boots.

A cape can add a pop of colour to a neutral outfit.
We hope you discover what type of capes that fit your style.
Share your thoughts and feedback on our Facebook page. We'd love to know. You can also check out our Jumpsuit Sewing Patterns, Cape Dress Patterns, Flare Pants Patterns and a lot more.
Are capes an essential part of a wardrobe? No, they are not. Are they fun and fashionable to wear? Yes, they are! If you love fashion and are looking to add an eye-catching piece to your wardrobe, check out all the different types of capes.