3D quilling is a fun and rewarding hobby. Using a few basic tools, you can craft intricate and beautiful designs using simple strips of paper. Whether you are an expert quiller or new to the art form, 3D quilling lets you take your basic quilling skills to the next level.
If you are ready to get creative, check out the 3D paper quilling designs I have gathered below.

What Is 3D Quilling?
3D quilling is an old-time crafting technique that still remains extremely popular today. The technique is versatile and very affordable. 3D paper quilling involves using thin paper strips to create intricate and visually appealing designs. The paper strips are coiled and shaped, then assembled into three-dimensional patterns.
What Can You Make Using 3D Paper Quilling?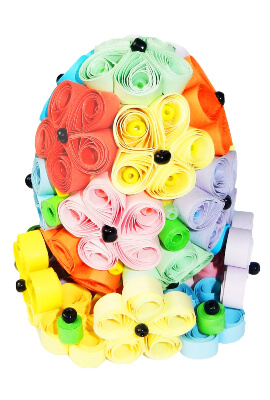 With 3D paper quilling, you can create a wide range of beautiful and intricate designs. Some common designs you will find are flowers, animals, birds, butterflies, insects, and miniature sculptures. You can also use the technique to make jewellery, greeting cards, frames, boxes, and more. The possibilities are endless, and only limited to your imagination.
9 3D Quilling Ideas
Are you ready to take your quilling skills to the next level? Give 3D paper quilling a try. Below are 9 3D paper quilling projects that are sure to inspire you.
1. 3D Angel 3D Quilling Tutorial from QuillingLT
Creating an angel using 3D paper quilling techniques is a wonderful way to express your feelings of love, hope, and faith. The completed angel would make a wonderful gift for a loved one. You could also use it as a Christmas tree ornament.
This paper quilling tutorial is perfect for intermediate level quillers. The PDF download includes step-by-step instructions, helpful tips, and 30 detailed photos of the process. Completed, the angel will measure about 1.77 inches (4.5 cm) tall and 2.35 inches (6 cm) wide.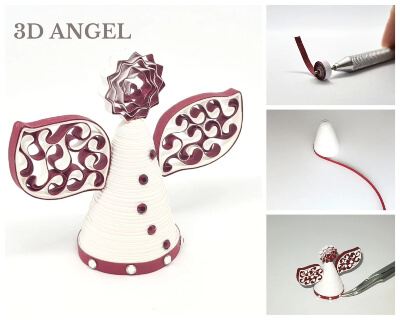 Find the Pattern from QuillingLT Here
2. Miniature Fungus 3D Paper Quilling Tutorial
With this video tutorial, you will learn how to create charming and whimsical mushrooms that will add a touch of whimsy to any space. The video does not include step-by-step instructions. Instead, it tells you the sizes of the piece needed and how to assemble them. You will need prior knowledge of creating basic shapes.
Find the Pattern from Creative Paper Here
3. Bright 3D Paper Quilling Flowers
Use this free video tutorial to learn how to make one single flower in a flowerpot. Once you make one flower, you can take your newfound skill and create a colourful bouquet.
The video tutorial does not have any verbal instructions. However, you will find written instructions on the screen. You can choose any colour paper you want. You will also need a straw to create the flower's stem.
Find the Pattern from Guidecentral English Here
4. Monarch Butterfly 3D Paper Quilling Pattern from QuillingSupplies
Bring the beauty of nature indoors with this gorgeous monarch butterfly 3D paper quilling pattern. With this pattern, you get the option to make either a 3D or flat butterfly. The flat butterfly will fit in a 4 inch x 6 inch (10.2 cm x 15.2 cm) frame if you gently adjust the wings.
To make the Monarch butterfly you will need black, orange, and white quilling paper, a quilling needle, glue, scissors, a cork work board, pins, parchment paper or waxed paper, and tweezers.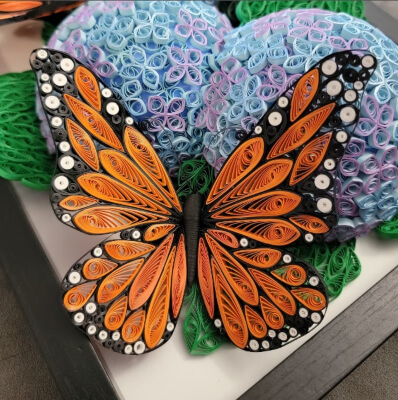 Find the Pattern from QuillingSupplies Here
5. Frog On A Lily Pad 3D Paper Quilling Pattern from CandiceLeGrange
Are you a beginner looking for an easy 3D paper quilling pattern? Look no further than this adorable Frog on A Lily Pad design. Not only is this piece fun to make, but it also makes a delightful decoration.
Finished, the piece will measure about 2 inches x 2.4 inches (6 cm x 5 cm) at the base and 2 inches (5 cm) tall. It is the perfect size to display on a desk, bookshelf, or end table.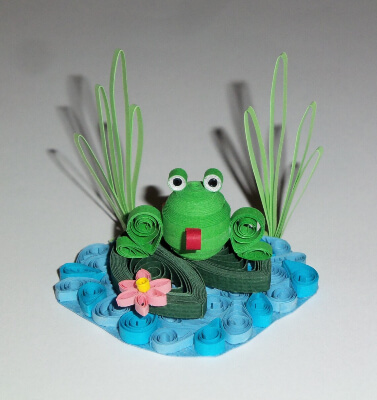 Find the Pattern from CandiceLeGrange Here
6. How to make a paper flower – paper flower tutorial from PaperliciousBG
Do you want to learn how to make flowers to add to your other crafting projects? Follow along with this 3D paper quilling tutorial to learn just how easy it is. The flowers are perfect for creating beautiful bouquets or adding a special touch to a handmade card.
The 9 page PDF includes detailed instructions, photos, and illustrations. With this easy-to-follow tutorial, you'll be able to create flowers for any occasion.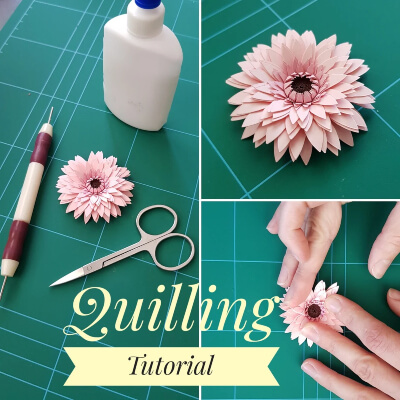 Find the Pattern from PaperliciousBG Here
7. Botanical Floral 3D Paper Quilling Pattern from OderoutofChaos
This pattern is perfect for taking your quilling skills to the next level. With this tutorial, you will have all the information you need to create a beautiful work of floral art that is sure to impress.
The download includes three high-quality PNG files, each measuring 8 inches x 8 inches (20.32 cm x 20.32 cm). The pattern is a vector file, so you can easily enlarge it if desired. There are no step-by-step instructions, so you will need previous quilling experience.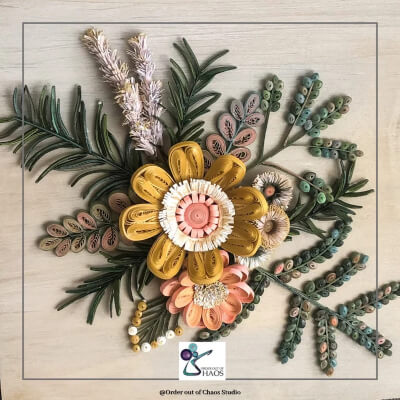 Find the Pattern from OderoutofChaos Here
8. Cute Quilled Christmas Tree Pattern by CandiceLeGrange
Get ready to decorate for the holidays with this adorable quilled Christmas tree. The tree is beautifully adorned with garland, baubles, and topped with an angel. Underneath, you will find presents, candy canes, and stockings.
With 20 pages of detailed instructions and photos, this 3D paper quilling pattern would be a lot of fun to work on. The finished centrepiece stands about 5.5 inches (14 cm) tall and 6 inches (15 cm) wide.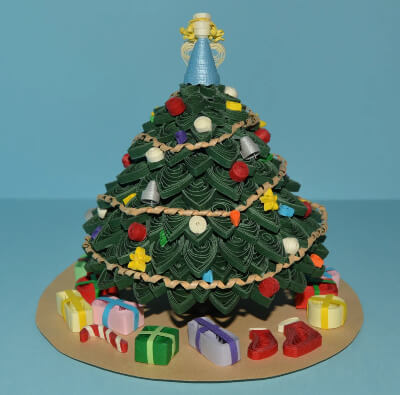 Find the Pattern by CandiceLeGrange Here
9. Quilling Flower Waterfall
Get ready to take your quilling skills to the next level with this advanced quilling project. You will want to show off this project to everyone that visits your home. Your friends and family will never believe that you made this masterpiece from paper.
In this free video tutorial, you'll receive step-by-step instructions for creating the floating cup with the cascading flowers.
Find the Pattern from Shivani Creations Here
Frequently Asked Questions About 3D Quilling
What is 3D Quilling?
3D paper quilling is a technique that creates three-dimensional shapes using thin strips of paper. In traditional quilling, paper shapes are glued together to create two-dimensional shapes. 3D paper quilling layers the rolled paper pieces to create three-dimensional forms. 3D paper quilling requires a bit more skill and patience than traditional quilling. However, the results are well worth the time and effort.
What Paper is Used for 3D Paper Quilling?
Text weight paper is often recommended for 3D paper quilling. The paper needs to be thin and flexible enough to be easily rolled and shaped. While still being strong enough to hold its shape once formed. Text weight paper is heavier than printer paper and lighter than cardstock.
What Tools Are Needed for 3D Quilling?
Most 3D paper quilling designs can be completed with basic quilling tools. You will need paper strips, a slotted tool, glue, tweezers, scissors, a ruler, and a template. More complex patterns may require specialised 3D paper quilling tools such as moulds, towers, and crimpers. Ultimately, the specific tools required will depend on the complexity of the design.
How long does it take to create a 3D paper quilling design?
The time it takes to create a quilling design will vary depending on the difficulty of the design and the skill level of the quiller. A simple quilling design can be completed in just a couple of hours. While, a complex, intricate design can take days to weeks to complete.
How do I display my 3D paper quilling designs?
There are several ways you can display your 3D paper quilling designs. You can frame them and hang them on a wall. Arrange them in a shadow box. Attach them to canvas and create a piece of art. Add decorative touches to greeting cards. Or use them as home decor pieces. When displaying your 3D paper quilling designs, make sure to keep them away from direct sunlight and humid environments. This will help prevent fading and damage to the paper.
With 3D quilling, you can create intricate and beautiful designs using strips of paper and a few basic tools.
Whether you have been quilling for years or are just learning, 3D quilling offers endless possibilities.
If you are new to quilling, check out these articles: A Beginner's Guide to Quilling, Paper Quilling Tools and 10 Quilling Templates, Best quilling glues and Slotted Quilling Tools. You can also head on to our Facebook Page for more fun crafting projects.
The fun technique gives you the ability to create unique and stunning designs that are sure to impress. So why not give 3D quilling a try and see where your imagination takes you?