Macrame Baby Swing Jhula Pattern
|
Keep your baby feeling relaxed and calm especially during hot weather and sunny days with this Macrame Baby Swing Tutorial – a very stylish yet functional furniture addition to your patio or baby room!
To create this pattern by KnotCalm that'll surely go with your roof deck or patio's motif, you can customize the colors and shades. This will make your very own jhula extra unique and special for your little ones!
Macrame Baby Swing Jhula Pattern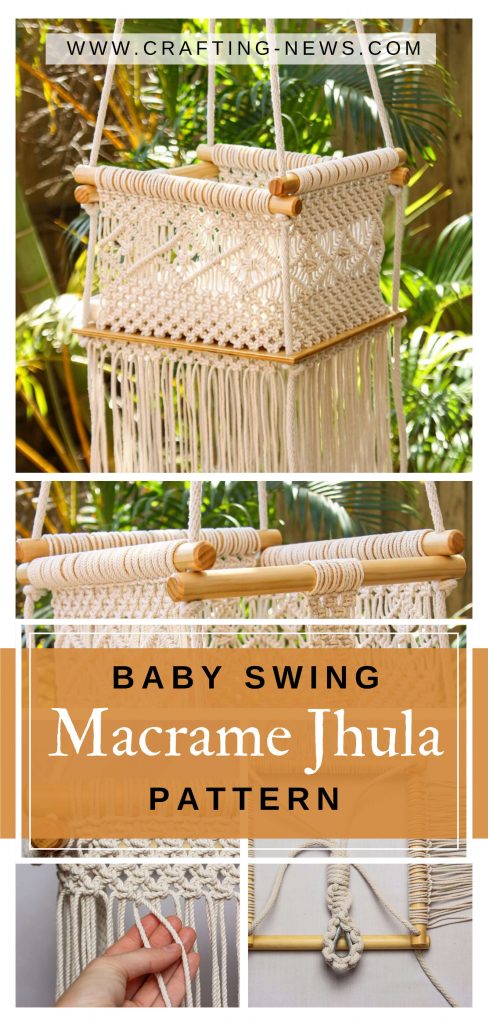 This pattern is best for moms who loves making hand-crafted items for themselves and their loved ones as well. Keep your little one's safe by making them their very own swing set. You can even make this as joint project with your husband!
WHERE TO PUT THE MACRAME BABY SWING
Garden – If you have a garden area; a front yard or a backyard, you can place this jhula. Maybe under a tree for a perfectly shaded spot for your little one to relax.You can also do your gardening work while not worrying about your baby leaving one place to another because he/she is perfectly tucked in the macramé jhula that you made.
Pool Side – A more relaxing and calming site for the little one. They can see the water from the pool flowing at the same time you can also swim and exercise worry-free. You can hang the jhula in a covered area for them to be protected from the sun.
Baby's Nursery – This jhula can also be placed indoors. If you don't have much space in your home, you can definitely put it in your little angel's nursery or your own bedroom. Just make sure to hang it in a concrete and strong part of the room to avoid problems.
Patio or Veranda – Having a patio or veranda will come in handy if you have the macrame jhula pattern. It'll blend in nicely in this part of your house. It is covered and definitely protect your baby from catching a sunburn.Also, it is nice to chill in a patio or veranda for a calming spring breeze.
MATERIALS IN MAKING THE MACRAME JHULA PATTERN
Cotton cord – a 3 millimeter twisted and a 10 millimeter braided
Dowel – a 4x cut to 35 centimeters length with drilled holes in each end
Plywood – a 35 x 35 centimeter square of plywood with drilled holes in each side
Rope thimble
Tape Measure
Scissors.
LEVEL OF KNOWLEDGE FOR THE PATTERN
This specific macramé jhula is labeled as an intermediate to advanced pattern. This means that you are required to have the knowledge in making:
Square Knot
Spiral Knot
Wrap Knot
Larks Head Knot
Double Half Hitch Knot

Finishing Up Macrame Baby Swing Jhula Pattern
This macrame swing for baby pattern is definitely worth the time and effort because it is both stylish and functional at the same time. It's also quite an accomplishment to let people know that you've made your child's swing set with your own hands.
For more Macrame patterns, check out our Macrame Hammock patterns.
The macramé jhula pattern will also go with the motifs in your homes, it depends mostly where you prefer to place it. Also, you can mix and match the colors of the materials to provide a more exquisite façade.
Start now and make your own Macrame Baby Swing Jhula Pattern. Your little ones will forever thank you for the gift of relaxation and style.
GET THE PATTERN HERE