Kids love swings, and babies are no exception. Babies find the gentle motion of swinging soothing and comforting. And parents like macrame baby swings because they can give their arms a break and get some hands-free time.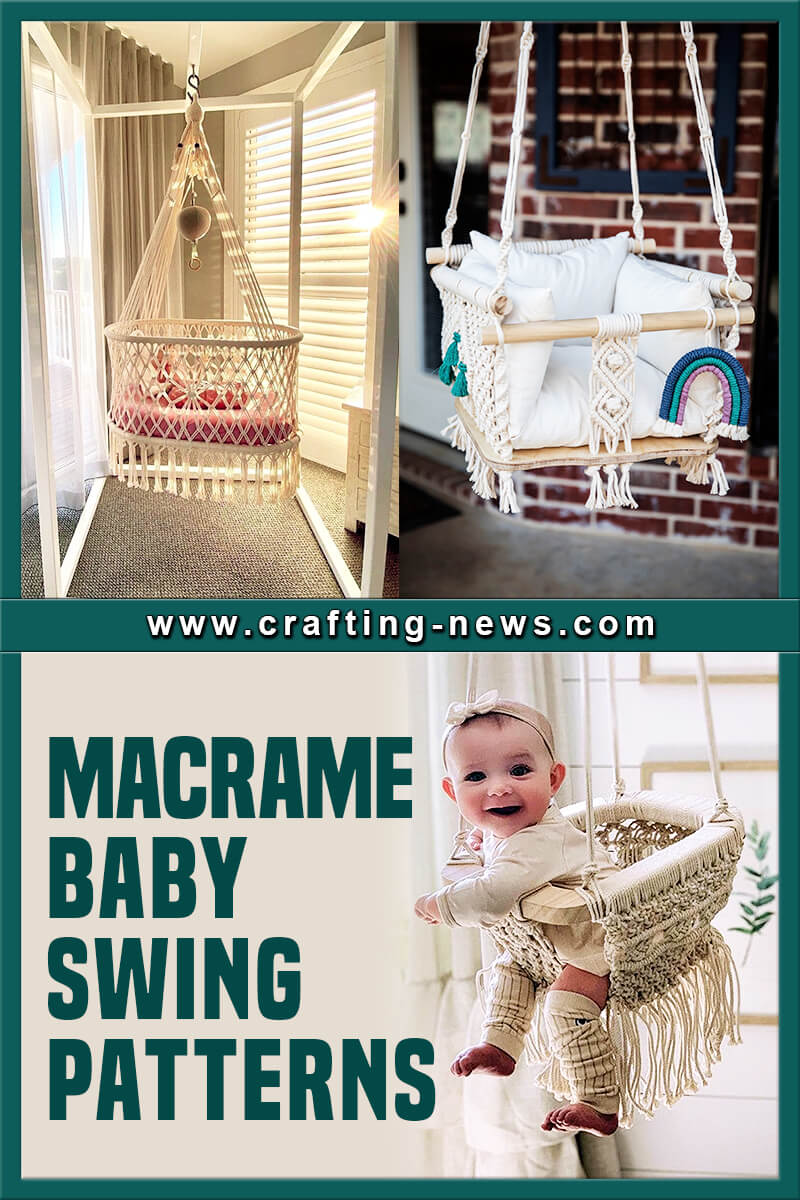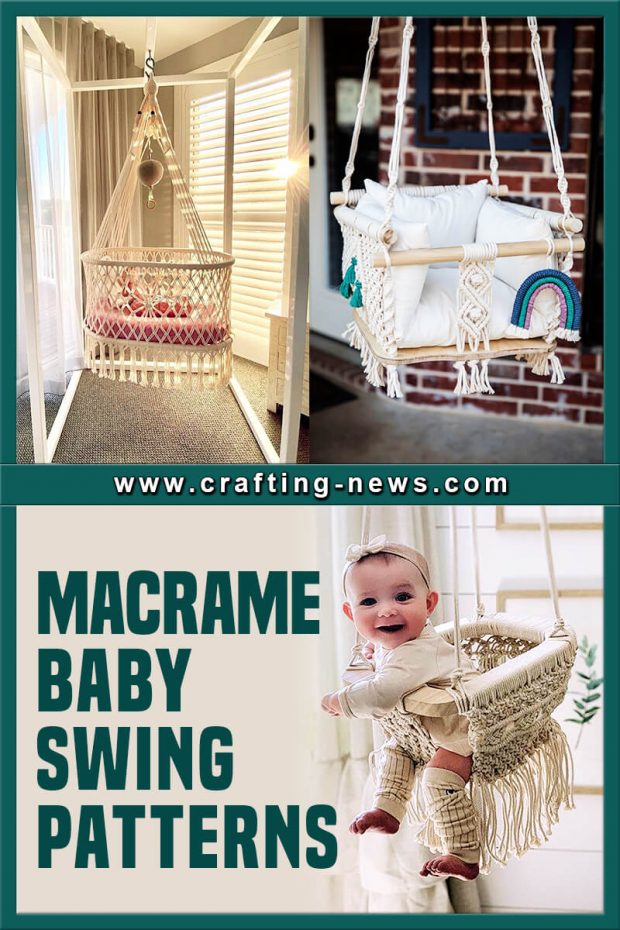 When using a swing, you must never leave the baby unintended. If you choose to buy or make a macrame baby swing, ensure it is safe.
You want to guarantee the baby cannot fall or slip out. You will also want to make sure the swing is hung securely in a stud.
WHERE TO PUT THE MACRAME BABY SWING
Garden – If you have a garden area; a front yard or a backyard, you can place this macrame swing. Maybe under a tree for a perfectly shaded spot for your little one to relax.

You can also do your gardening work while not worrying about your baby leaving one place to another because he/she is perfectly tucked in.
Pool Side – A more relaxing and calming site for the little one. They can see the water from the pool flowing at the same time you can also swim and exercise worry-free. You can hang it in a covered area for them to be protected from the sun.
Baby's Nursery – If you don't have much space in your home, you can definitely put it in your little angel's nursery or your own bedroom. Just make sure to hang it in a concrete and strong part of the room to avoid problems.
Patio or Veranda – Having a patio or veranda will come in handy if you have the

macrame swing for baby pattern

. It'll blend in nicely in this part of your house.

It is covered and definitely protect your baby from catching a sunburn. Also, it is nice to chill in a patio or veranda for a calming spring breeze.

If you would like to build a swing, check out the macrame baby swing DIY patterns and tutorials below. We have also added some links for , so you can purchase a premade swing.
4 Macrame Baby Swing DIY Patterns and Tutorial
1. Macrame Baby Swing Pattern by Macrame Patternzfodays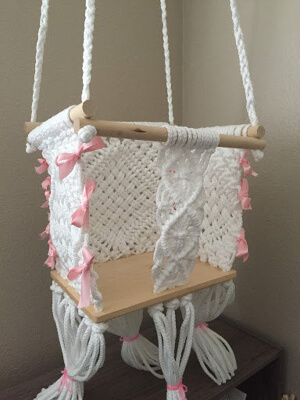 You can make your own macrame baby swing diy with this downloadable pattern. You can add different colour bows to match the decor of the nursery.
Use pink for a girl or blue for a boy. Or get really creative and use fun patterned ribbons like Mickey Mouse or Snoopy.
Find the Pattern by Macrame Patternzfodays HERE
2. Macrame Swing for Baby Pattern by Macrame Yes
This DIY macrame baby swing tutorial is one of the best video tutorials we have seen. They do not skip any steps. A lot of tutorials show you a few knots and then, magically, a whole section is completed. They show you every single knot.
3. Macrame Baby Swing Tutorial and Guide from Emily Faith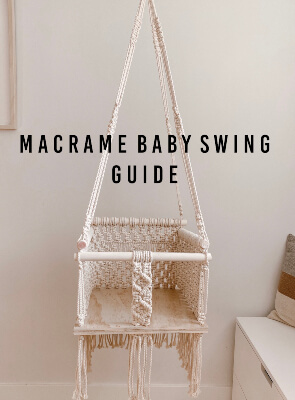 Here is another video tutorial. If you are interested in making this macrame swing for baby, you will need to purchase the guide from her website. It should be a fairly easy project if you are an advanced macramer.
Find this Macrame Baby Swing Tutorial and Guide from Emily Faith HERE
4. Macrame Baby Swing DIY Jhula Pattern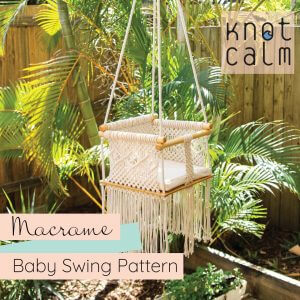 This macrame baby swing diy pattern is best for moms who loves making hand-crafted items for themselves and their loved ones as well. Keep your little one's safe by making them their very own swing set. You can even make this as joint project with your husband!
MATERIALS IN MAKING THE MACRAME JHULA PATTERN
Cotton cord – a 3 millimeter twisted and a 10 millimeter braided
Dowel – a 4x cut to 35 centimeters length with drilled holes in each end
Plywood – a 35 x 35 centimeter square of plywood with drilled holes in each side
Rope thimble
Tape Measure
Scissors.
This pattern will surely go with your roof deck or patio's motif, you can customize the colors and shades. This will make your very own jhula extra unique and special for your little ones!
Find the Pattern by KnotCalm HERE
10 Premade Macrame Baby Swings
If you are not interested in making your own macrame swing for baby, you can purchase a handmade macrame baby swing. Below are some of our favourite designs.
1. Hammock Macrame Baby Swing Chair from BabyCrocheme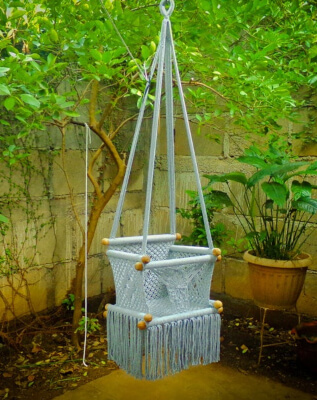 Made with recycled cotton from the USA and processed in El Salvador. It is assembled with laurel wooden bobbins treated with organic oil. It is perfect for outdoor and indoor use.
However, you do not want to leave it outside in the sun or rain. The swing measures 110 centimetres long.
Find this Macrame baby Swing from BabyCrocheme HERE
2. Handmade M
acrame Baby Swing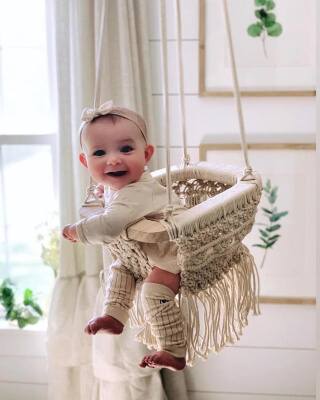 How cute is this macrame baby swing? Children will love swinging in this fun chair. It can be used indoors and well as outdoors.
Find the Macrame Baby Swing HERE
3. Handmade Macrame Baby Cradle Hammock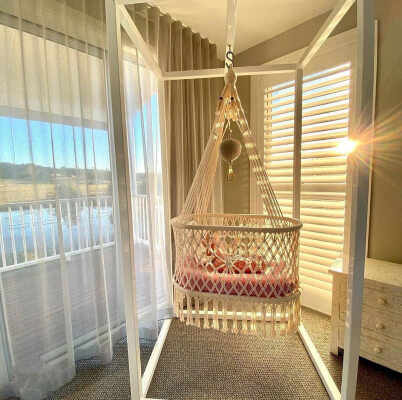 Here is a beautiful and stylish baby swing cradle. It would look amazing in any decor. It is designed with natural materials and made with 100% macrame cotton yarn.
It measures 125 centimetres high, 90 centimetres wide, 45 centimetres deep, and 180 centimetres long.
Find the Crochet Baby Swing HERE
4. Boho Macrame baby swing from HoneyHucksMacrame
This is a classic macrame design baby swing. It can be used indoors as well as outdoors. It is made from 100% cotton rope and cabinet grade Russian birchwood.
The wood has been sanded 3 times and sealed with wax to prevent splinters. There are 14 different colours to choose from.
Find the Crochet Baby Swing from HoneyHucksMacrame HERE
5. Macrame Swing for Baby from FlyButterfly9314651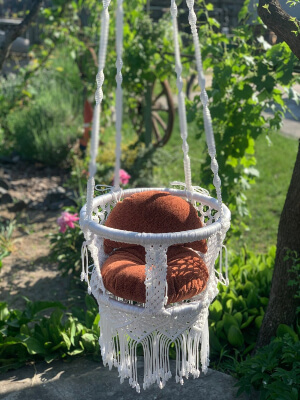 Swings do not have to be square. This unique round swing is a handmade product from the master Lydia Semyonova from Ukraine. The swing base is made from metal and wrapped with a seal.
The ropes are made from 100% cotton. There are 16 different colours to choose from and the pillows are included.
Find the Macrame Baby Swing from FlyButterfly9314651 HERE
6. Double macramé bb swing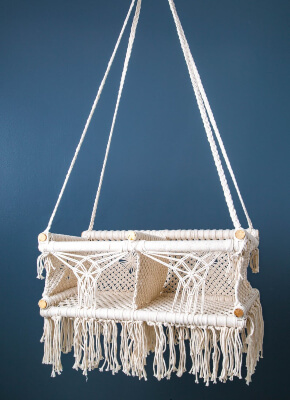 It can be hard finding baby swings for twins. With this gorgeous Boho/Scandinavian style swing, you can keep an eye on both kids at once. No more taking turns swinging the babies.
This swing is handmade in Indonesia and consists of natural rope and hanging wood.
Find the Macrame Baby Swing HERE
7. Baby Indoor Swing from CherryknottingLV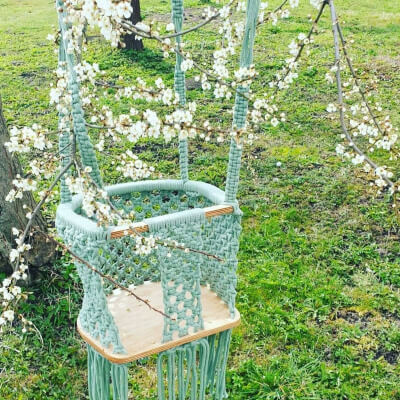 If you are looking for an elegant baby swing, this one is beautiful. The baby blue colour makes it perfect for a child's room with a soft colour palette.
The swing is hand made with soft and natural cotton thread. The wood veneer is treated with environmentally and child-friendly linseed oil.
Find the Crochet Baby Swing from CherryknottingLV HERE
8. Macrame Baby Hammock Chair from NicaSoulHammocks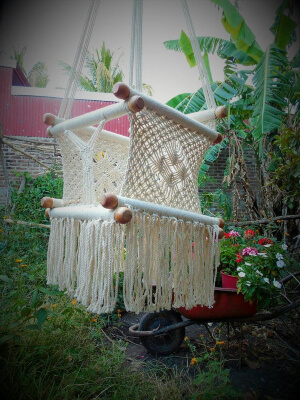 Here is a boho chic crochet baby swing for baby that is extremely affordable. It is made with natural cotton and solid wood. It is easy to install since there is only one metal ring at the point of support.
Find the Crochet Baby Swing from NicaSoulHammocks HERE
9. Macrame Baby Swing Chair from MCBohemianDesigns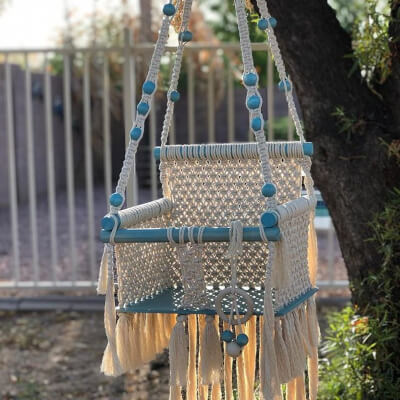 Here is a beautiful macrame baby swing chair that would be perfect for a little boy's baby shower gift. The blue touches make this a unique gift idea. The custom-made swing is made of natural cotton rope. Recommended for age 6-24 months
Find the Crochet Baby Swing from MCBohemianDesigns HERE
WATCH YOUR BABY'S FACE LIGHT UP IN A MACRAME BABY SWING. THE SWINGING MOTION IS RELAXING AND FUN.
With so many adorable macrame swing patterns available, it can be hard to choose a swing. But no matter which one you choose, know your baby will love any of the macrame baby swings we have listed.
For more Macrame patterns, check out our Macrame Hammock patterns, Macrame Door Curtain Patterns, and Macrame Wall Hanging Patterns. Also, discover the Best macrame cord you can use in your next macrame project.
Keep your baby feeling relaxed and calm especially during hot weather and sunny days with this Macrame Baby Swing – a very stylish yet functional furniture addition to your patio or baby room!
Learn the Basic Macrame Knots HERE