14 Macrame Hammock Patterns
|
We love these DIY macrame hammock patterns as a summer project. They are nice and relaxing to make and completely practical!
Sometimes, relaxing on the porch requires a comfortable and stylish hammock. With a few tools and some basic math skills, you'll have a beautiful chair that shows off your do-it-yourself skills.
These gorgeous hammocks are a great addition to your home, bedroom, kid's room, living room, and more. Adds charm to a yard, patio, deck, and garden — versatile enough to function as hammock chair, room display, or one of a kind piece of art.

1. Macrame Hammock Pattern by Felt Magnet
Macrame Hammock Materials
2 Strong Metal Rings (2 inches in diameter)
2 – 20 Inch Lengths of Wood, 1 Inch by 3/4 Inch
150 Yards Hammock String
10 Feet Thicker Edging String
85 Yards Thinner Fringe String
78 Colored Wooden Beads
Varnish
Hook
Large Blunt Needle
2 Long Knitting Needles or 2 Lengths of Dowel
Extra Strings, If Needed For Practice
Skill Level
To make this hammock you will, first of all, need a basic understanding of macrame knots. Knots used are the reverse double half hitch (or reverse lark's head knot), half hitches, marling knot, and collecting knot.
So if you are a beginner you can check out our guide on how to tie the knots.
Other than the macrame skills the pattern is rather simple, however, it is involved and may take a while to complete as it is so large. Definitely worth the time though, as the end result is simply stunning and will last you for many years to come.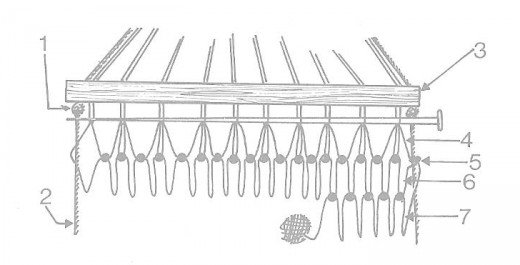 How To Get Started On Your Macrame Hammock
Watch the video below for an overview of how the macrame hammock is made. It is mesmerizing to watch how it is done and gives some great inspiration, especially if you are unsure about making the hammock.
So, now it is time to get stuck in and make the hammock, you can go ahead and open the link for in-depth step by step instructions on how to complete the hammock.
See the full instructions here

2. DIY Macrame Hanging Chair by Classy Clutter
Make your very own DIY hanging macrame chair! With only a few different materials and three different knots, you can have a stylish hanging chair.
This trendy hammock chair can be used as a light cradle and swing or relaxing meditation chair. This is a perfect addition to your home, patio, or garden.
Get the Tutorial here
3. Macrame Hammock Pattern by Hunker
Create that beautiful, serene, laidback atmosphere that you've always wanted with this Macrame Hammock Pattern. Great for use indoors or outdoors!
To create the seat, you'll be using just a simple square knot. This hammock is designed to be hung in a permanent spot using a sturdy hook on your porch or deck.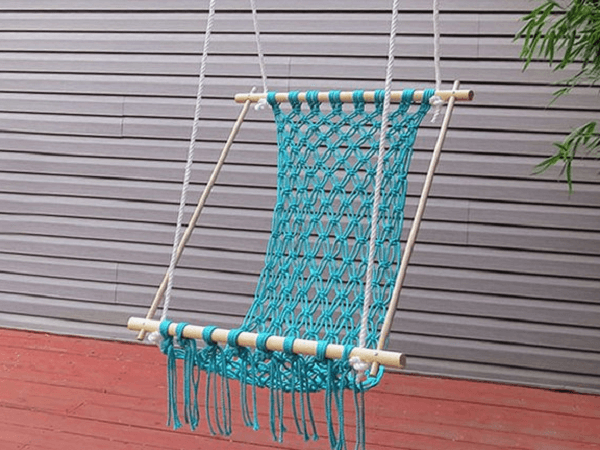 Get the Tutorial here
4. Macrame Hanging Chair Pattern by Cut Out And Keep
This Ovis Macrame Hanging Chair's frame and sling construction provide a fresh way of addressing support and comfort.
Hard machined materials (metal and wood) are paired with soft textural ones (cotton ropes) to create a rigid structural frame that is intersected by a flowing woven sling. The result is a balance that feels at once supportive and comfortable.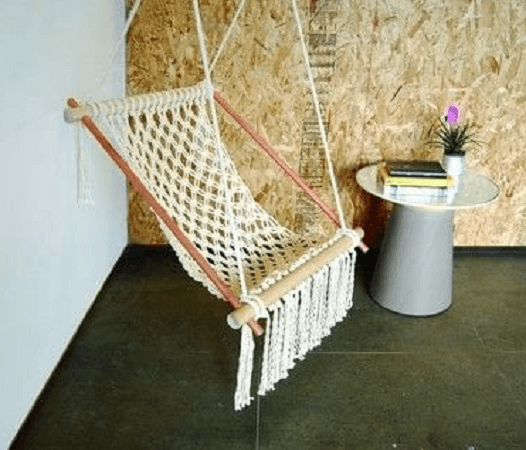 Get the Pattern here
5. Macrame Hammock Tutorial by Olga's Macrame
To make this one-of-the-kind Macrame hammock you will need approximately 1000 yards of cord – 50 cords 20 yards each (poly 4mm cord works great), two sturdy metal rings (about 3″ wide) and two wooden dowels (30″ long, 0,5-1″ diameter).
While you relax with the rocking motion of your hammock, a gentle breeze will brush against the intricate design of the macrame finished. Make it in green for a more nature-friendly vibe or choose any color of cords you like that will match your home and garden.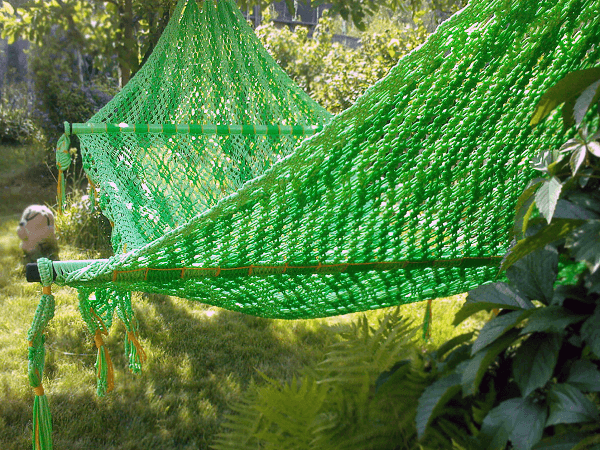 Get the Tutorial here
6. DIY Macrame Hammock Chair by Fish And Bull
This DIY macrame hammock chair looks just as great and is perfect for lounging. It would also be perfect for using on your deck or balcony for some cozy patio furniture.
Now you have the perfect upcycle for that old chair frame and this really is easy. The DIY has a full photo tutorial with great instructions.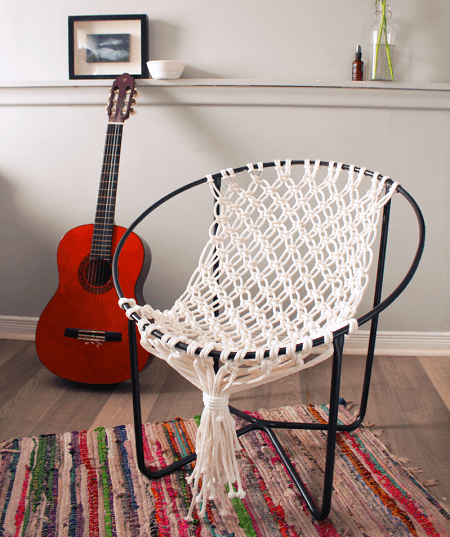 Get the Pattern here
7. Macrame Cat Hammock Pattern by My French Twist
The nice thing about this macrame cat hammock is that it's comprised of mostly Square Knots, so it's easy enough for macrame beginners.
This hammock will turn out so sweet it will make you want to adopt a kitten (if you don't have one). This hanging macrame cat hammock is superior comfortable like a swing and a boho decorative piece for your home. This is the best cat hammock for your little majesty!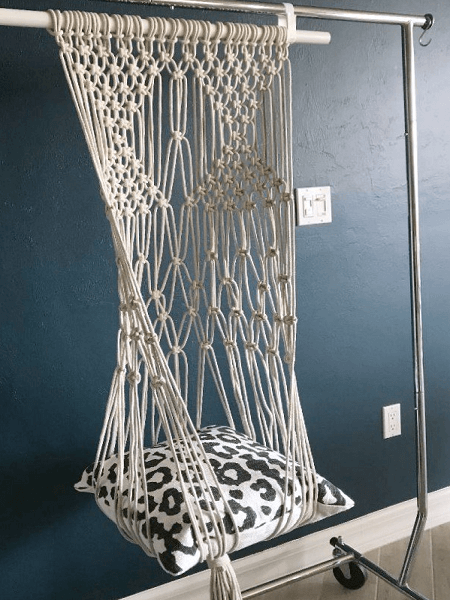 Get the Pattern here
8. Off White Macrame Hammock Chair From Limbo Imports
Create your dream home with this luxurious Boho inspired hammock chair & matching pillows. Perfect indoors and outdoors. The beautiful handmade macrame – crochet fringe adds a modern flair to the design.
This solid cotton canvas white hanging chair is an elegant blissful retreat that matches any decor style. Hang it from the ceiling, post, tree, or stand. Lay back and relax as you enjoy this roomy comfortable hammock swing chair. Looks great in bedrooms too!
The elegant appearance and pure cotton construction will quickly make this your favorite seat, hand-crafted, tightly-woven, and purely luxurious.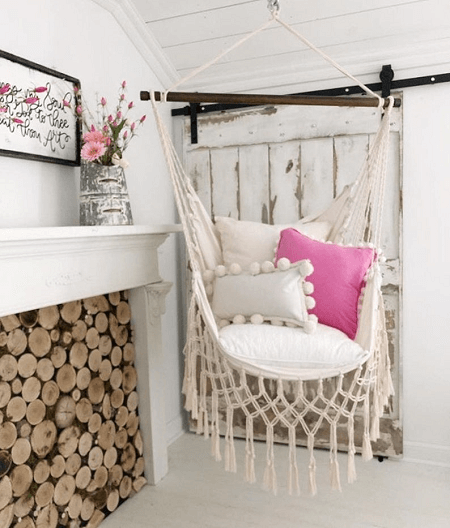 9. Handmade Macrame Hammock For Baby From SN Handicrafts
This baby chair swing is very soft and comfortable, easy to carry, needs little space, and is a beautiful decorative element. This will surely become your kid's favorite chair.
This macrame hammock for baby is handmade by artisans in India. It will keep your little one entertained and look beautiful in any room in your home or in your yard.
It is handmade from 100% organic cotton thread with an elegant solid wood frame, adorable fringe embellishment, and macrame belt to keep baby safe!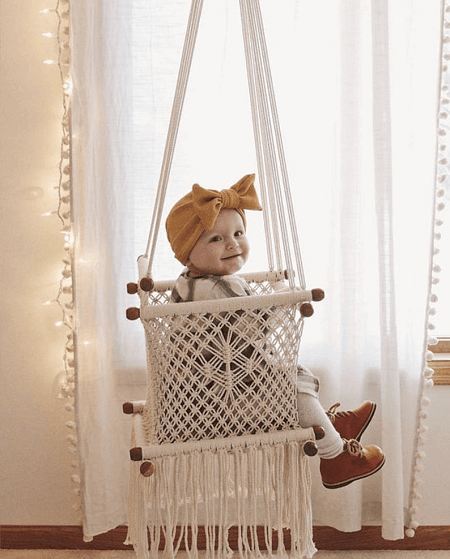 10. Macrame Hammock With Color Tassels From Nic Soul Hammocks
This macrame hammock with color tassels is made with natural cotton and solid wood. Easy installation and portable with one metal ring that works as a point of support.
Anytime anywhere can easily move, simply find a branch, beam, or hammock stand and set it up in seconds to sit and relax or take an afternoon siesta. Such a perfect hammock, why not have a try?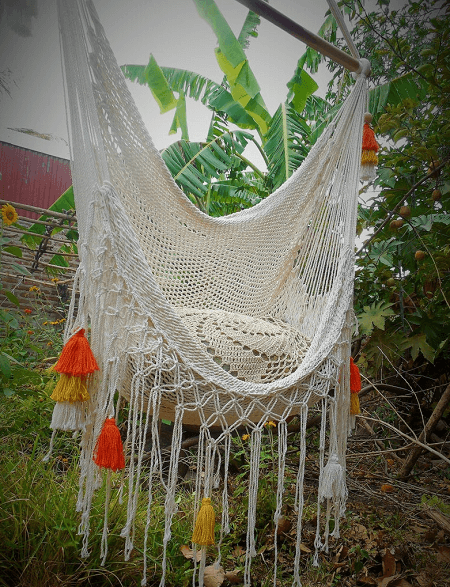 11. Macrame Large Hammock From Hammocks Nica
This macrame large hammock is large enough to stretch your legs out in it and supports weight well. The wood that holds the hammock makes it easy to install and the fringes add a whimsical, bohemian touch to your space.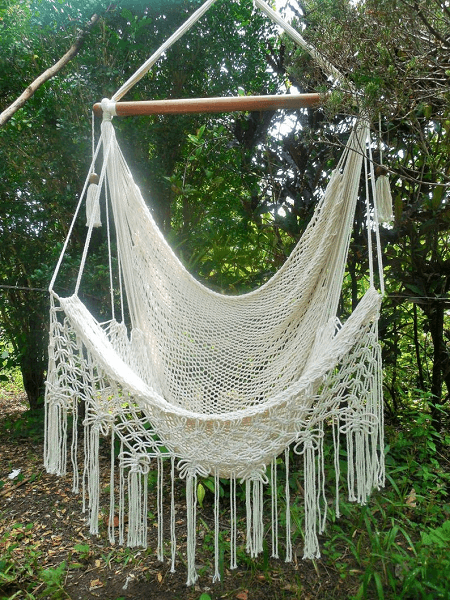 12. Hanging Macrame Cat Hammock From Motta Gifts Studio
This is not only a macrame cat hammock but also a boho macrame tapestry which can perfectly match with many home decor styles.
Calling all cat lovers! It's time to give your cat the perfect place to hang out with this gorgeous Hanging Macrame Cat Hammock!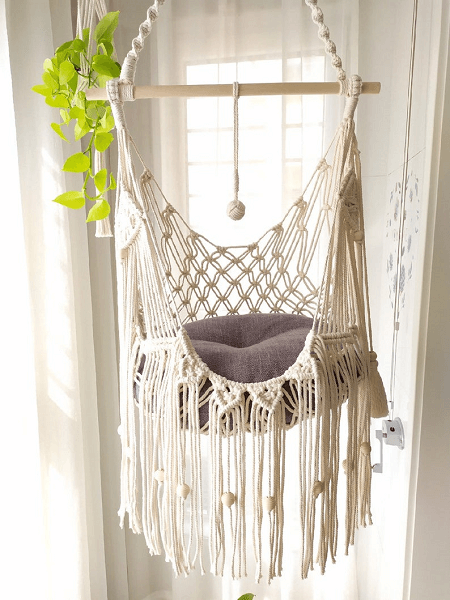 13. Black Macrame Cotton Swing Chair From Nica Original
This black macrame cotton swing is perfect for your home. Besides being very comfortable, it is the perfect complement that will give it the touch of elegance and distinction that your home wants.
It is suitable for both indoor and outdoor use. In interiors, it gives a sensation of depth and modernism that will serve you as a decorative element.
It can be cleaned: If it gets dirty, you can clean the swing without any problem, the dye will not go away or stain.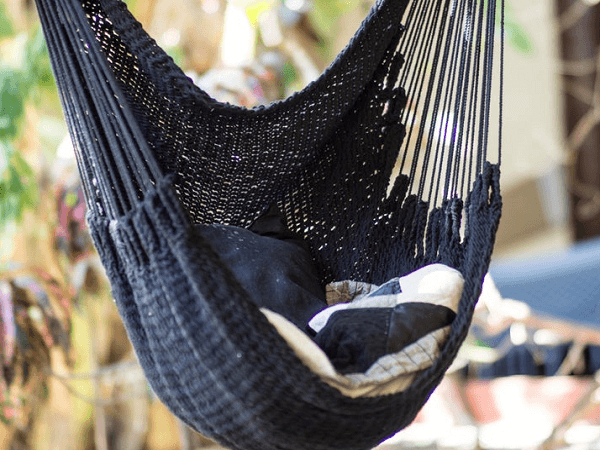 14. Colonial Navy Blue Macrame Hammock From Arti Hammocks
This colonial navy blue macrame hammock is designed for your ultimate comfort and ready to be hanged indoor in your cozy nook or outdoor on your deck, porch, or a tree. A simple invitation to enjoy the moment.
Relax in a high-quality hammock chair made of Caliber 21 cotton yarn (vs Caliber 18), which makes it super soft, resistant, and comfy.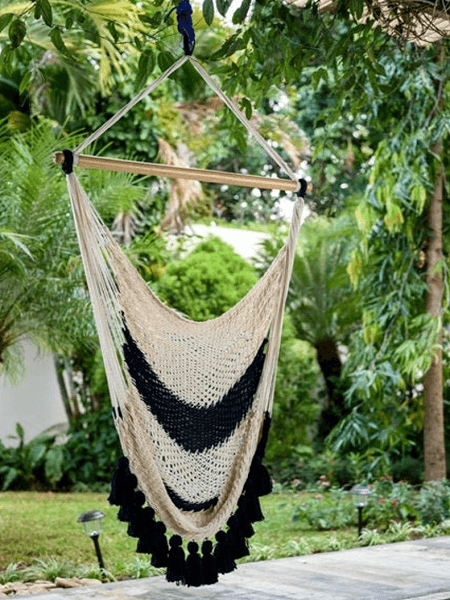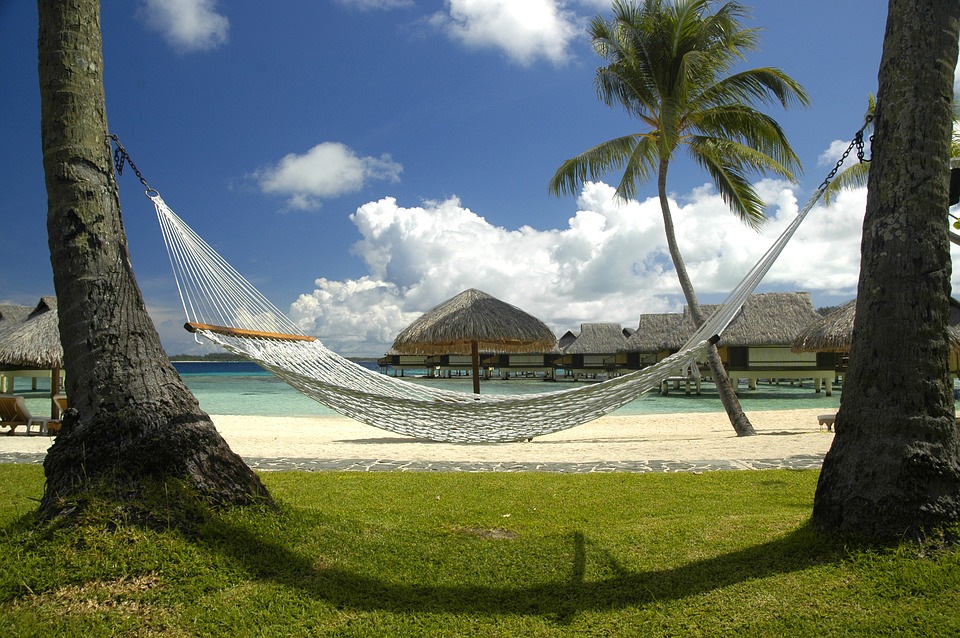 Wrapping up the Best Macrame Hammock Roundup
With summer here we are all for lazy days in the yard relaxing in a hammock. Would you whip up one yourself or would you rather buy and invest in the ultimate rest?
When you make one, please do share some pics to our Facebook Page. We'd love to see how those hammocks turn out! And if you're eyeing on more macrame projects, we got you covered. Check out our collection of Macrame Wall Hanging Patterns,  Macrame Purse Patterns, Macrame Belt Patterns, and a lot more!
These DIY macrame hammock patterns and pre-made hammock are so relaxing, you won't want to go back to your bed!