Bargello quilts — have you seen them? These cozy quilts look as though only experienced quilters could produce them. The lines of a bargello quilt appear to bend, twist, and flow with movement. They're pleasing to the eye and look terribly complicated when you see them on Pinterest or in bargello quilt books, but projects that use designs like these hide a little-known secret; they're deceptively easy to make.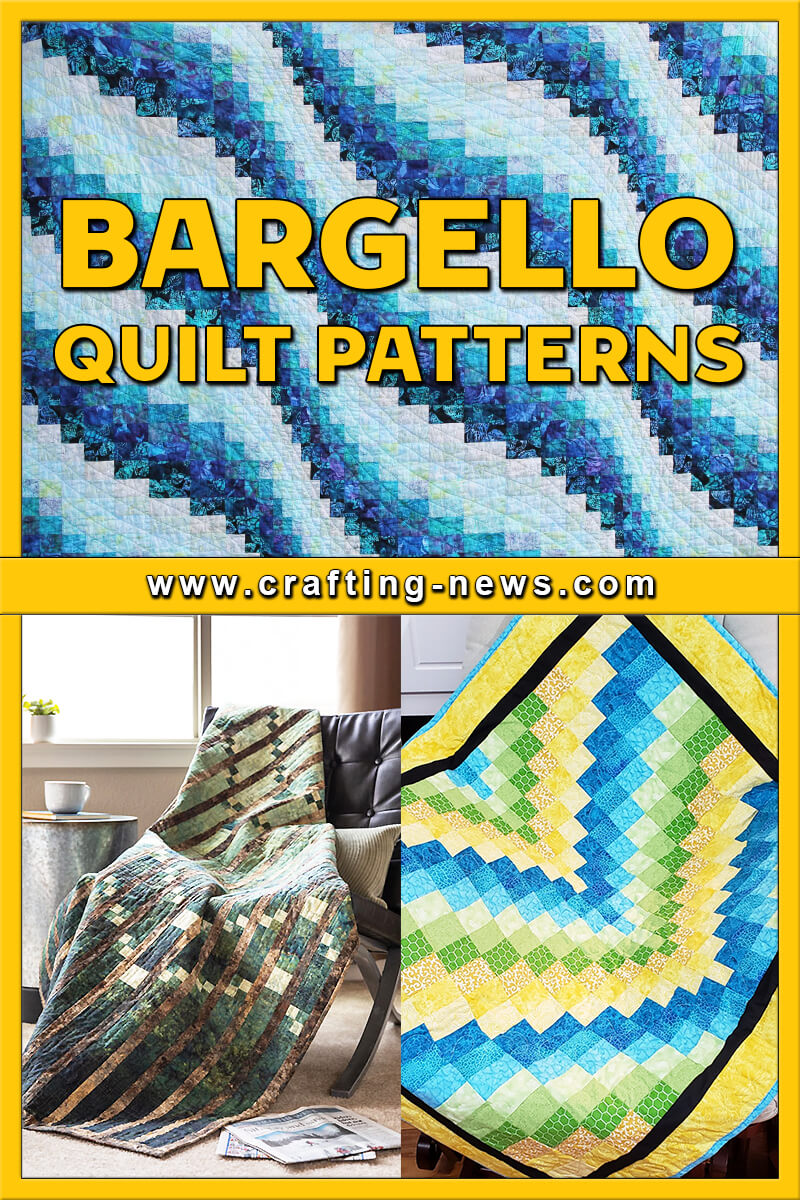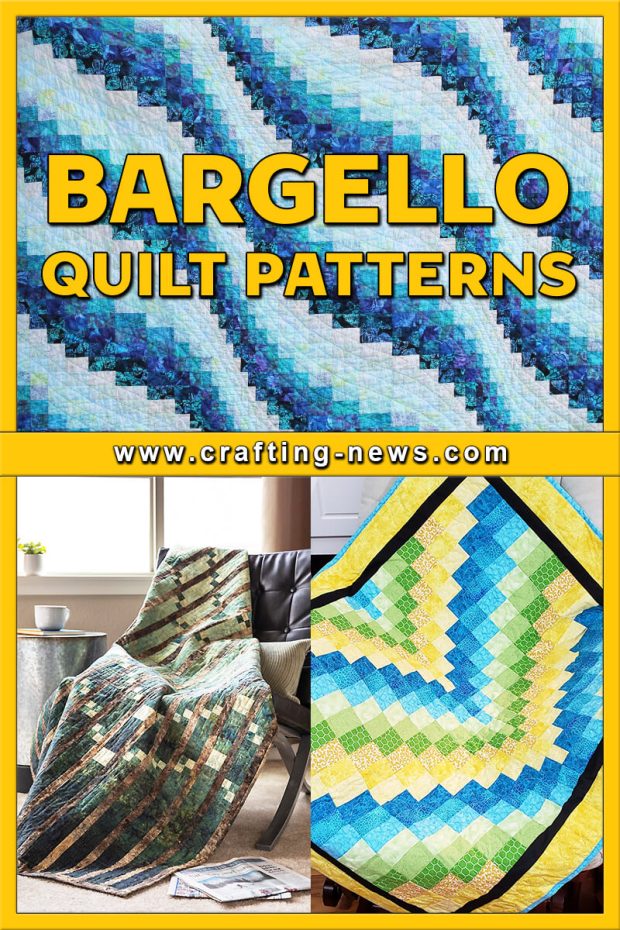 I have become fascinated by bargello quilts. There's something mysterious about them. Perhaps the mystery is in just pattern and color combinations. I have never tried to make a quilt like this, but I started to look for bargello quilt patterns to share with you. If you haven't tried making one before, give it a shot—it's worth it!

1. Ocean Waves Bargello Quilt Pattern by Sticky Sugar Stitches
Do you love the beach? On a calm day, I love to stand in the edge of the gently lapping waves, feel them wash over my ankles and the sensation of my feet slowly sinking in the sand. This quilt pattern is inspired by the ocean water softly breaking upon the beach. Perfect to throw over your legs and that of a loved one for snuggling!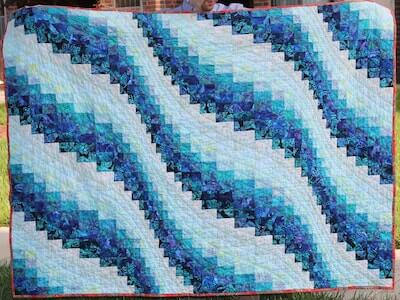 Get the Pattern by Sticky Sugar Stitches here

2. Disappearing Spiral Bargello Quilt Pattern by Koontzs Hand Quilting
The award-winning Disappearing Spiral Bargello quilt looks difficult, but is actually a simple pattern that will amaze anyone who sees it. There is no paper piecing — it is almost entirely straight-line piecing with a small amount of appliqué.

The finished piece features 18 different fabrics spiraling from the center and disappearing into the background. It is a perfect centerpiece for any bedroom.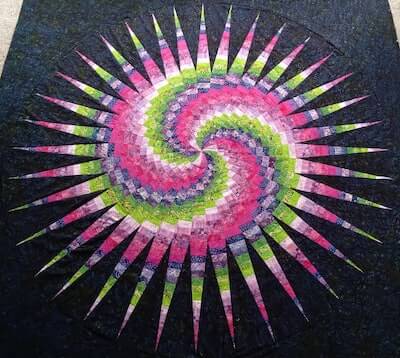 Get the Pattern by Koontzs Hand Quilting here

3. Wavy Bargello Quilt Pattern by Absolutely Obsessed
Here's the pattern to make a gorgeous bargello wall hanging (what a statement piece!) or a large bed quilt. The design shown uses a range of fabrics in three colors: black, red and white, with the red split into two groups. You could also pick a range of fabrics two or more colors (three colors work really well). The pattern offers some advice on how to choose and arrange your fabrics.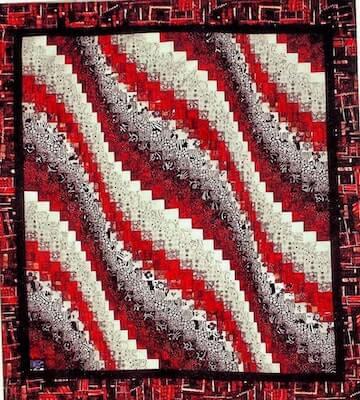 Get the Pattern by Absolutely Obsessed here

4. Lattice Towers Bargello Quilt Free Pattern by Quilting Daily
This bargello-style composition will bring a sense of fun and adventure to your sewing! The construction is by nature improvisational, creating large, rectangular blocks in eye-catching colors. The 68″ x 75″ design encourages exploration and personalization.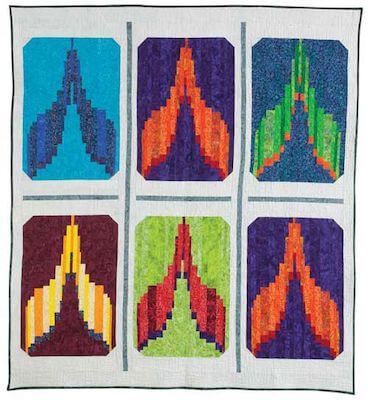 Get the Pattern by Quilting Daily here

5. Bargello Quilt Free Pattern by Gathered
This dynamic quilt in the Bargello style is easier to construct than might at first appear. Made with 12 identical large blocks, rotary cutting and clever pressing make for accurate piecing and a finish you can be proud of!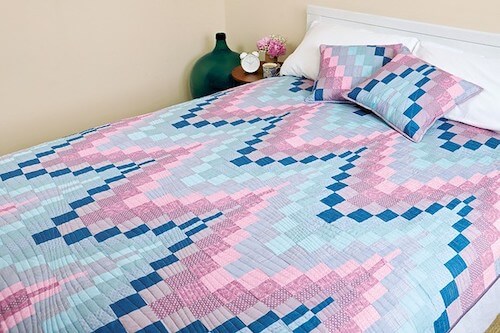 Get the Pattern here

6. Baby Bargello Quilt Pattern by Becky's Quilt Designs
If you want to simply dip your toe into the world of Bargello quilting, this Baby Bargello Quilt is a great project for you. The finished quilt measures 35 inches by 39 inches and uses a simple technique to create the wave.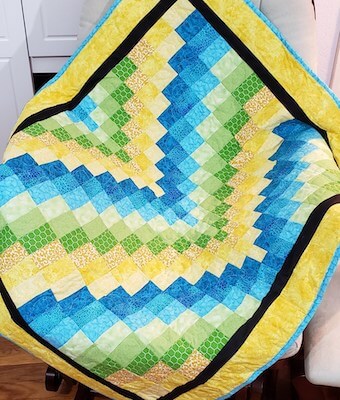 Get the Pattern by Becky's Quilt Designs here

7. Heartbeat Bargello Quilt Pattern by Purple Quilt Company
This Heartbeat Quilt would make a wonderful gift to someone you love. This bargello quilt is put together with 2 1/2 inch fabric strips or yardage. This pattern includes many different sizes: crib, lap, twin, and full/queen.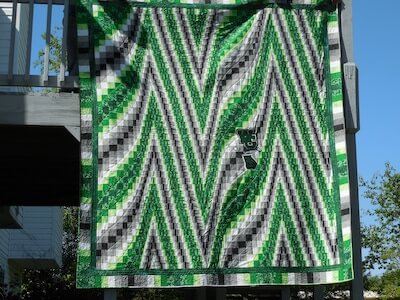 Get the Pattern by Purple Quilt Company here

8. Playing The Scales Quilt Pattern by Happy Quilting Melissa
Playing the Scales is a free quilt pattern that creates the illusion of moving musical scales. This Bargello pattern uses chain piecing to make quick work of sewing all the strips together. It uses straight seams that don't line up on purpose, so you don't even need to use any pins!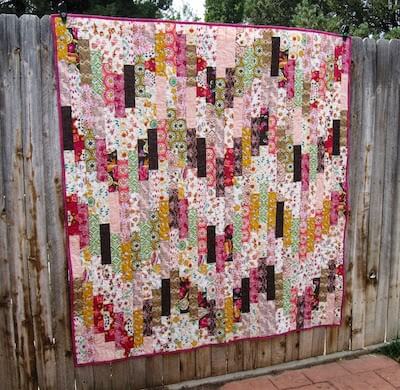 Get the Pattern here

9. Orchids Easy Bargello Quilt Pattern by Momma's Quilt Shop
This Orchids Bargello Quilt is an amazing quilt. It looks develishly complicated, but only you know that the whole thing is strip pieced, making it both easy and fast. It looks amazing when it is finished. This pattern is great for beginning quilters and professional quilters alike.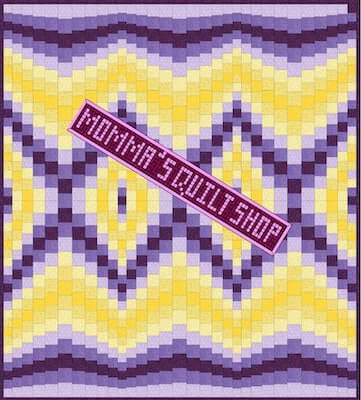 Get the Pattern by Momma's Quilt Shop here

10. Shimmering Triangles Quilt Pattern by Jenny Bowker
This Shimmering Triangles Quilt is very exciting to make! Your quilt will feel as if you are looking at it through raindrops on glass, or like pebbles in a rippling stream.

Yes, they have a lot of triangles – but this pattern will show you an easy way to make them. You will love the processes and the quilt will be surprisingly quick to make.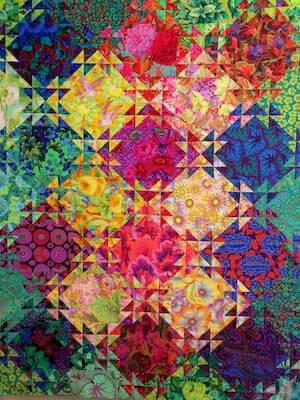 Get the Pattern by Jenny Bowker here

11. Celestial Bargello Quilt Pattern by Pure Joy Patterns
A jelly roll is used in the center of this quilt to make a beautiful and unique Bargello quilt. The added side borders continue the Bargello technique for truly one of a kind design.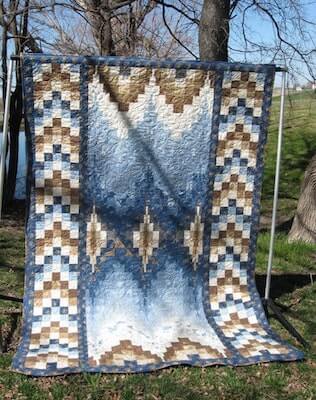 Get the Pattern by Pure Joy Patterns here

12. Rain Drops Bargello Quilt Pattern by Marinda Steward
This Rain Drops Bargello Quilt looks like rain drops on a window pane, which is quite a zen image. Made with strips of fabric, you will find it difficult to find a bargello quilt more simply beautiful than this one. The blue colors may be somber, but you could always make it in different colors to brighten up your home.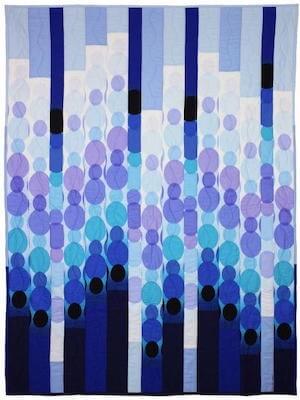 Get the Pattern here

13. Dividing Horizons Quilt Pattern by Quilting Daily
What a wonderful way to use those fabulous ombré fabrics! Once you make this quick bargello-style quilt, I bet you will want to make more. While the piecing is simple, the cutting may be a challenge. Clearly labeling patches will make this quilt a breeze to put together.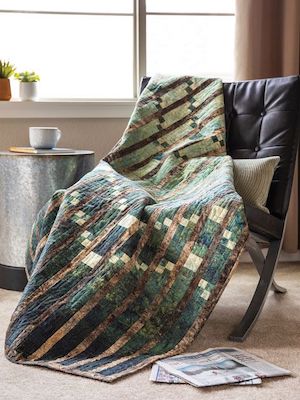 Get the Pattern here

14. Spectra Quilt Pattern by Poppy Field Quilts
A beginner-friendly modern quilt pattern that provides an approachable introduction to bargello-style piecing and color theory — this quilt pattern is a quick finish and a crowd pleaser!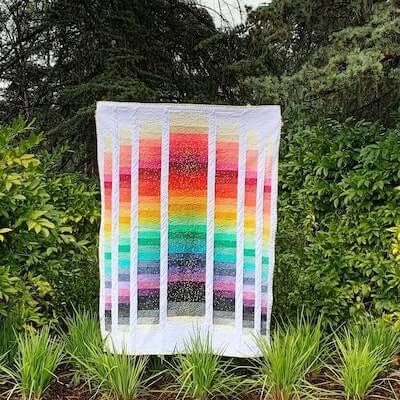 Get the Pattern by Poppy Field Quilts here

15. Jelly Roll Bargello Quilt Pattern by Stitch 2 Write 1
This Jelly Roll Bargello Quilt is the kind of quilt that transports you to a different time and place, making you reminisce the springtime glory and subtle warmth. If spring is your favorite time of the year, then this project is yours to take up. Design it with your favorite colors and fabrics and make an impression on the people around you.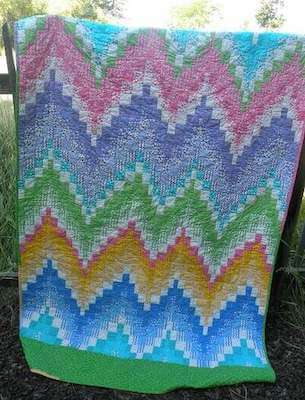 Get the Pattern here

16. Scrappy Bargello Quilt Pattern by Quiltville
I am always looking for quick, fun patterns that use up lots of odds and ends. This Scarppy Bargello Quilt is a good one for using up everything — even really ugly stuff! And since fabrics are placed randomly, it is almost magic how everything just looks good together, no matter how yuck you think that old print is, or that weird colored solid, etc.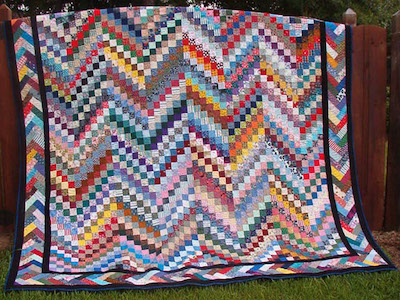 Get the Pattern here

17. Log Cabin Bargello Queen Quilt Pattern by Phoebe Moon Designs
Create a unique bargello quilt and surround it with log cabin blocks to make this striking quilt. Like all bargellos, this pattern requires a small amount of a lot of different fabrics arranged from dark to light.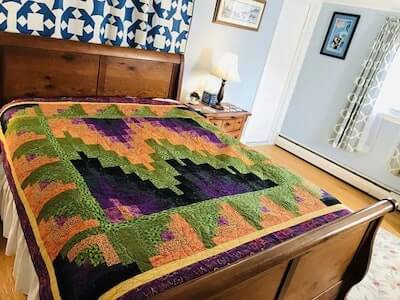 Get the Pattern by Phoebe Moon Designs here

18. Lily Bargello Quilt Pattern by Quilting Jays
Although lilies normally have five petals, this design reminds me strongly of lily petals even though there are only four. It could be made with a single color run of the 18 fabrics, or with multiple color groups as shown in the photo below.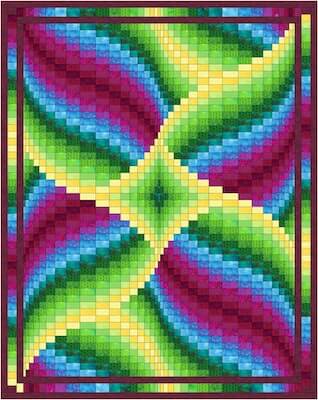 Get the Pattern by Quilting Jays here

19. Autumn Points Bargello Quilt Pattern by Sticky Sugar Stitches
Autumn is coming, with fall leaves, harvest colors in reds and browns, Halloween and Thanksgiving. This quilt is inspired by my favorite season of the year, but you can add this to your home decor all year around and it'll be just as beautiful. Throw it on your couch or bed and enjoy this beauty and the compliments it'll receive!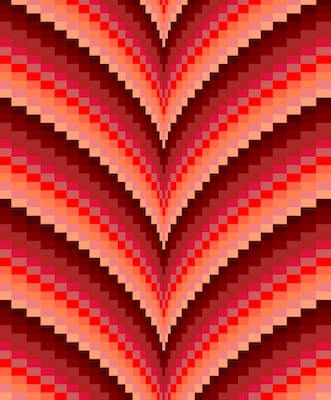 Get the Pattern by Sticky Sugar Stitches he

20. Delectable Bargello Quilt Pattern by Cindy Carter
This Delectable Bargello Quilt is not your ordinary design. This pattern employs half-square triangles instead of squares. Enjoy matching colors while doing this quick and simple pattern.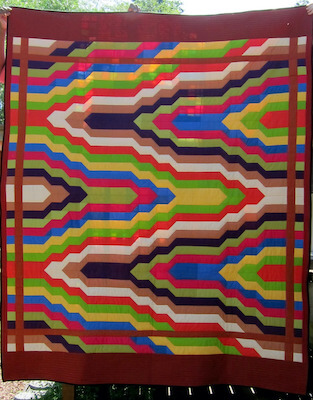 Get the Pattern here
BARGELLO QUILTS MAY LOOK COMPLICATED, BUT CREATING THEIR BEAUTIFUL AND UNIQUE DESIGNS ARE A TOTAL BREEZE!
If you try your hand at one of these bargello quilt patterns, we'd love to see the results. Share some pictures with us on our Facebook Page!
Don't be intimadated by bargello, because the results are worth it. You can start simple or dive into the traditional approach. Most importantly, make sure you enjoy the process. Quilting is about having fun! For more quilting goodness, check out these posts:
It's time to recreate the bargello quilts of your dreams! Happy quilting, friends!