Rag quilts are a fun twist on traditional quilts. Rag quilts, like regular quilts, are made of various-sized blocks of different fabrics. It is not difficult to create your rag quilt design, but a little inspiration never hurts! Here are some rag quilt patterns to get you started.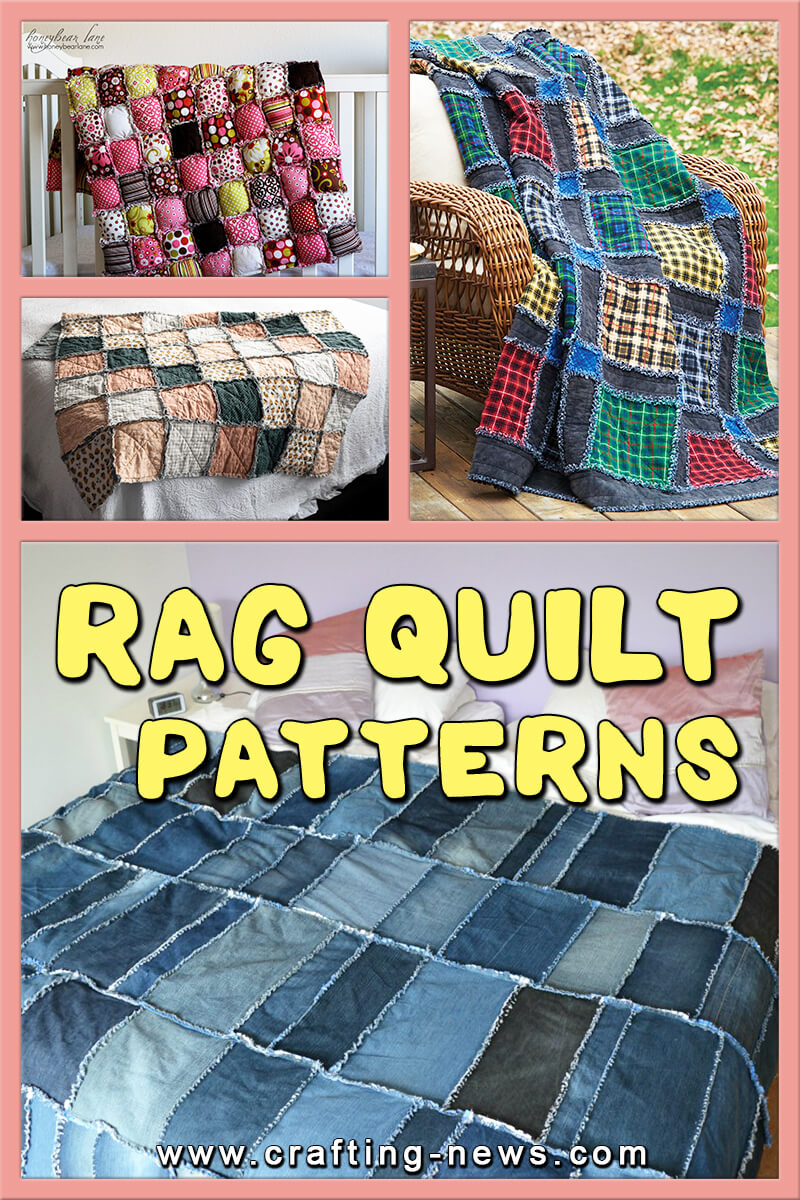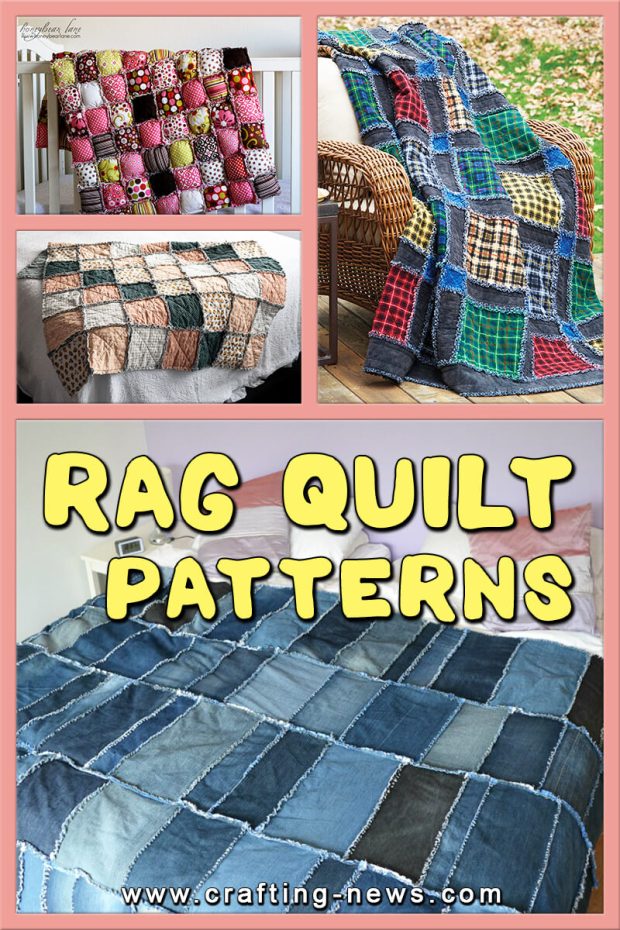 25 Rag Quilting Pattern Ideas
These beautiful quilts make great, handmade gifts and can be constructed pretty quickly. Today, we'll take a look at some of our favorite rag quilt patterns so you can get to stitching and clipping your very own! Choose fabrics that match your aesthetic in whatever color and pattern you desire!

1. Twisted Rag Quilt Pattern by Ala Mode Patterns
This Twisted Rag Quilt Pattern offers a very popular unique finish. A new twist on the snugly, beloved rag quilt! The more fabrics you use – the better! It really shows off all fabric groupings. The Twisted Rag Quilt has that special unique rope finished look for the edges. This is a great quilt pattern for Flannel or Brushed Cotton fabric. No batting required!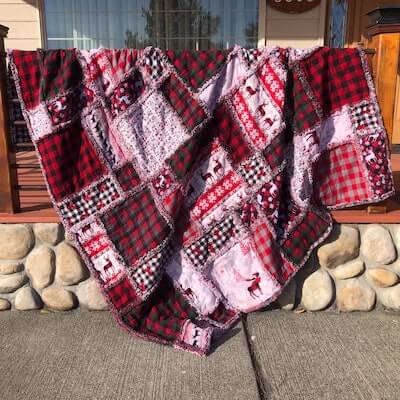 Get the Pattern by Ala Mode Patterns here

2. The Weekend Rag Quilt Pattern by Studio M Squared
The Weekend Rag Quilt is super-cute, comfy and great for gifting. And it's so quick and easy that you can make it in a weekend! Great for beginners, or anyone looking for a quick finish with a big impact.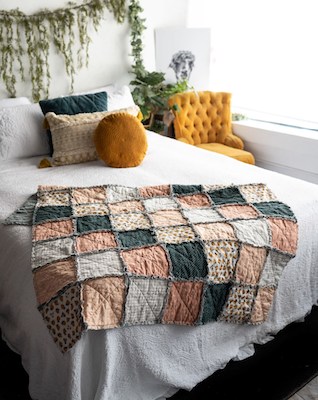 Get the Pattern by Studio M Squared here

3. Denim Rag Quilt Pattern by Vicky Myers Creations
Do you collect old jeans? Do you wonder what to make with them? Then this denim rag quilt is the perfect solution! A jean quilt is perfect for anyone wishing to tackle a large denim stash. It is a great project for those considering making a quilt for the first time.

You don't need to be a precise sewer or spends hours cutting out. Wonky seams add to the casual quality of this denim rag quilt.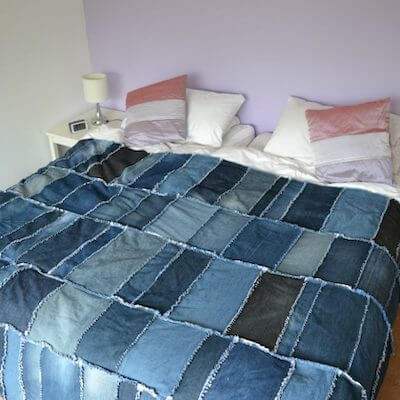 Get the Pattern here

4. Chevron Free Rag Quilt Pattern by A Vision To Remember
Learn how to make a rag quilt that is going to look stylish in any room with this Chevron Rag Quilt Pattern. The rustic combo of chic chevron and rough edges makes the perfect quick quilt to make. Turn this chevron masterpiece into a new bedspread, hang it on the wall, or even make it for a friend.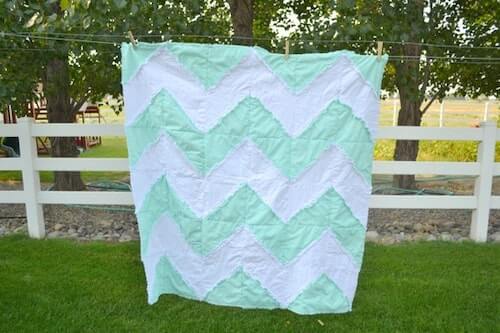 Get the Pattern here

5. Rose Rag Quilt Pattern by Shabby Fabrics
This Flannel Rose Rag Quilt is a darling design sure to add a bright and cozy touch to any room! Applique flowers surround the soft, fluffy ragging on this lovely flannel quilt.

This lap-size quilt finishes to approximately 55″ x 67″. The best part? It's fast and simple, so you'll be cuddled underneath your very own plush quilt in no time!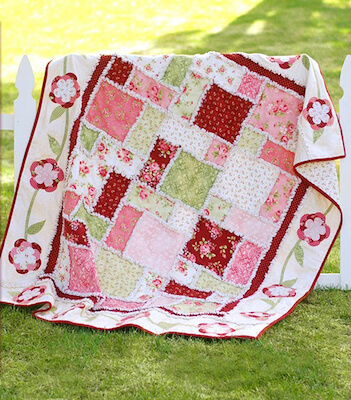 Get the Pattern here

6. Buffalo Check Rag Quilt Pattern by The Craft Patch
Learn how to sew a buffalo check rag quilt out of flannel fabric. It makes a darling baby blanket and is a perfect quilting project for beginners. This is a beginner friendly sewing project and can be customized in about a million different ways. Once you sew the squares together, you're pretty much done with the sewing part!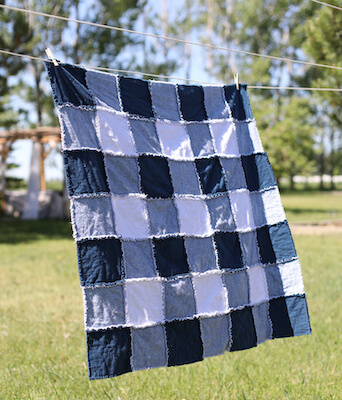 Get the Pattern here

7. Charming Rag Quilting Pattern by Moda Fabrics
This Charming Rag Quilt is made a little bit different from other rag quilts and it's so much quicker to make as it uses brushed cotton or flannel as batting as well as backing. Making it much easier to construct as it eliminates the need to sew precise squares of batting into each little quilt sandwich.

It makes for a lovely, heavy, and super cozy type of rag quilt with extra full and fluffy raggy seams due to the extra layers of fabric in each seam.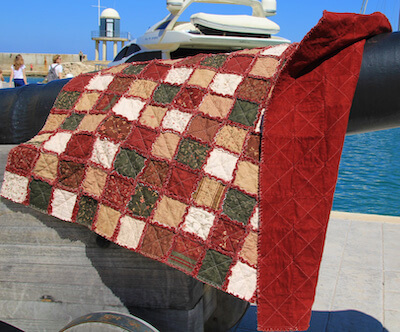 Get the Pattern here

8. Christmas Tree Rag Quilt Pattern by Birch Bay Threads
This Christmas Tree Rag Quilt Pattern us a great choice for the holiday season. You can use it as a throw or a backdrp for your Christmas dinner set-up. You could even decorate the tree if you want!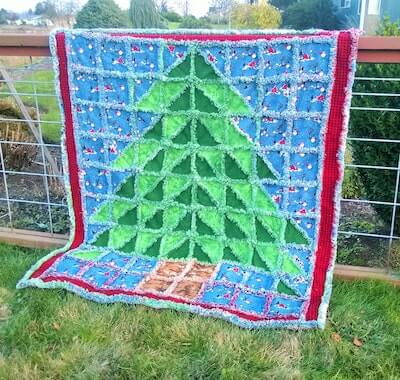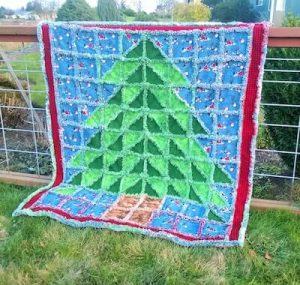 Get the Pattern by Birch Bay Threads here

9. Rustic Rag Quilt Pattern by Modernly Morgan
This Rustic Rag Quilt Pattern is a super easy and quick quilt (great for beginners) that looks well loved and cozy from the very first wash! This quilt will measure 34×44 inches – perfect to use as a tummy time quilt for a baby or a great throw quilt for a young child.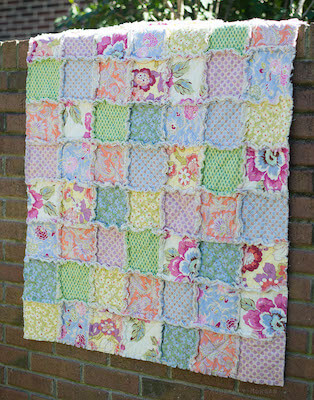 Get the Pattern here

10. American Flag Rag Quilt Pattern by Niche Creative Studio
This American Flag Rag Quilt is perfect as decoration for the 4th of July and summer. It's actually made similar to a standard flag and can be made on sewing machine! It measures approximately 46″ x 60″ – perfect for a small lap quilt or a wall hanging.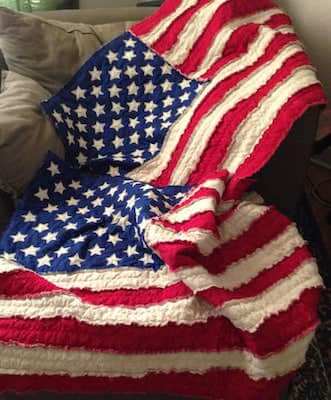 Get the Pattern by Niche Creative Studio here

11. Gala Gingham Rag Quilt Pattern by Jubilee Creatives
Gala Gingham Quilt is a simple design which mimics a gingham plaid if you use the right fabrics. This version is a throw size with an approximate finished size of 50″ x 60″ but fabric yardage and cutting instructions are also included for a queen size.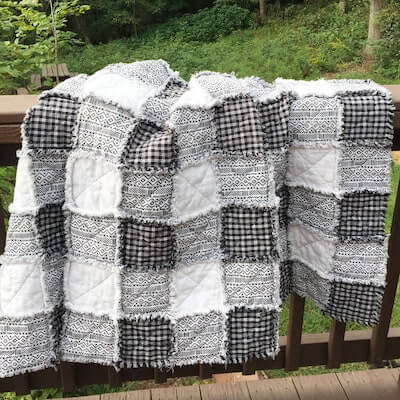 Get the Pattern by Jubilee Creatives here

12. Double Four Patch Easy Rag Quilt Pattern by The Spruce Crafts
This easy Double Four Patch Rag Quilt Pattern is sewn with five fabrics of varying contrast. Plain squares alternate with four-patch blocks to create the Double Four Patch layout.

Use flannel for all three layers of a rag quilt for an even softer finished project, but keep in mind that extra flannel adds a bit of extra weight. This pattern makes a quilt that will finish with the dimensions of about 38-1/2″ x 53-1/2."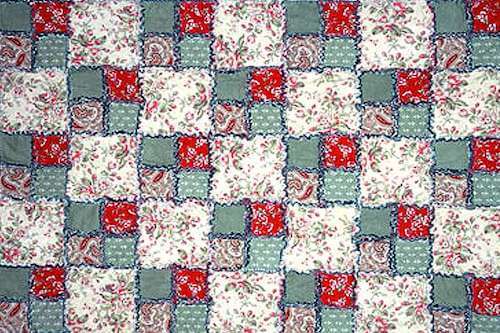 Get the Pattern here

13. Heart Applique Rag Quilt Pattern by A Vision To Remember
Here's a simple and beautiful rag quilt pattern featuring appliqued hearts. This rag quilt is made with several different sizes of squares and rectangles. It's not just your boring everyday square rag quilt.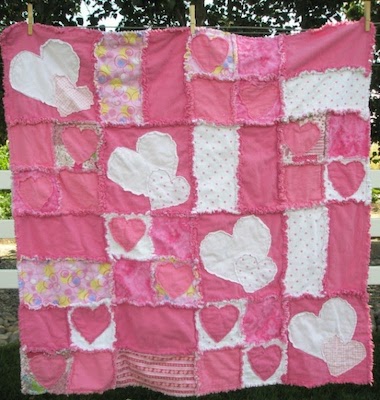 Get the Pattern here

14. Rag Puff Quilt Pattern by Honeybear Lane
Learn how to make a puff quilt with a sewing machine! Traditionally these quilts have been sewn by hand, taking hours, days, and weeks to create something that you can now make in a matter of days!

This quilt is the ultra-simple version of the puff quilt, with no border, backing, or binding to worry about. One side has a rag (fringed) finish and the other side is finished.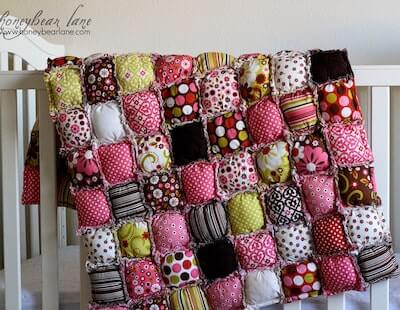 Get the Pattern by Honeybear Lane here

15. The Sawyer Anne Rag Quilt Pattern by For Years To Come
This Sawyer Anne Rag Quilt Pattern creates a yummy, double-sided rag quilt (patterned flannel on both sides), with appliqued cupcakes on the front. Decorative buttons add the "cherry on top" to make this a perfect blanket for your little one, or a fabulous gift to an expecting friend.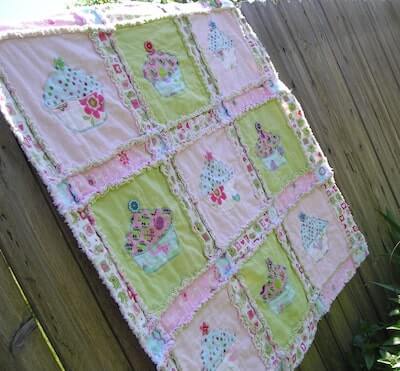 Get the Pattern by For Years To Come here

16. Puppy-Shaped Rag Quilt Pattern by Green Castle
Need a special and unique gift for a little one in your life? This Puppy Shaped Rag Quilt is adorable! He is soft and cuddly and is a perfect size for a toddler to snuggle.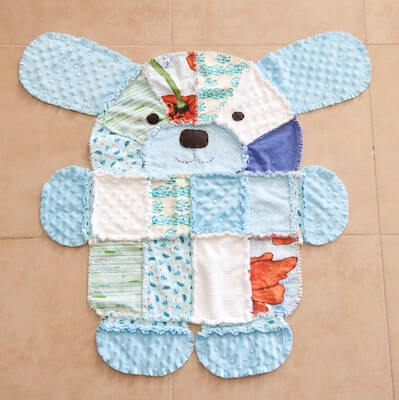 Get the Pattern by Green Castle here

17. Ruffled Rows Rag Quilt Pattern by Peapod Closet
This cute, whimsical quilt features ruffles which adds a sweet touch of texture. And, ruffles are not just for girls – make it in navy, white, and gray for a boy.

The quilt will measure approximately 40″ x 40″ but after you make this quilt you will easily be able to enlarge it to whatever size you wish. Super easy and quick quilt for all those baby showers!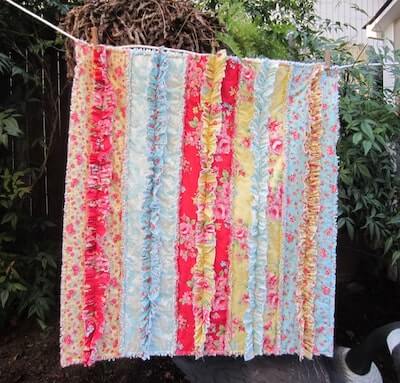 Get the Pattern by Peapod Closet here

18. Rag Quilt Tutorial by Fleece Fun
This rag quilt uses cuddle or minky fabric for extra warmth. The combination of flannel and cuddle is wonderful to touch. This tutorial is geared towards beginners, with several videos that break down the steps to make it easy to follow.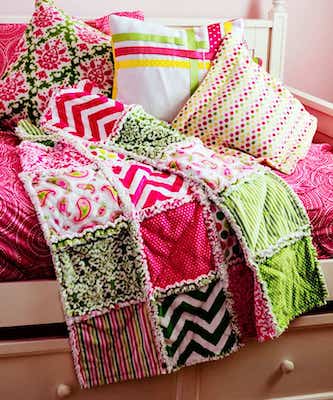 Get the Pattern here

19. Christmas Rag Quilt Pattern by Inspired Quilting By Lea Louise
This Christmas Rag Quilt is a 72" x 72" lap size. It easily drapes over a piece of furniture to add some festive color. Even better is how handy that makes it to grab and curl up in on a chilly night. This pattern may be modified to any size you want. Either enlarge the blocks or increase the number of blocks you use.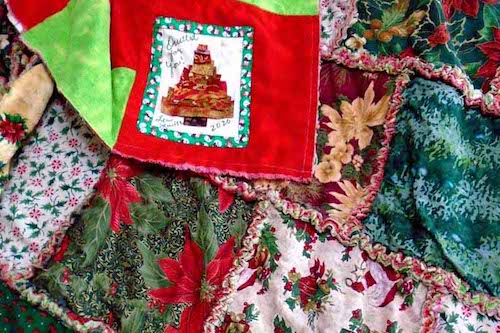 Get the Pattern here

20. Baby Rag Quilt Pattern by AccuQuilt
This Baby Rag Quilt features appliquéd shapes and lettering on large fringed rag squares, with fringed rectangles and smaller squares in the sashing. The front combines flannel and homespun fabric that frays nicely. The back is soft flannel.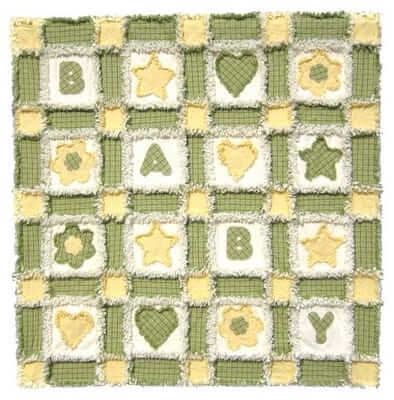 Get the Pattern here

21. Ruffle Flower Rag Quilt Pattern by Rag Quilt Patterns
Flowers are always nice to see, so why wouldn't you want them on a quilt? This Ruffle Flower Rag Quilt brings a flower field right to your home! It's rectangular, with curved corners, a wide frame made of vertical lines in four alternating colors, and three beautiful ruffled flowers at the middle of the quilt.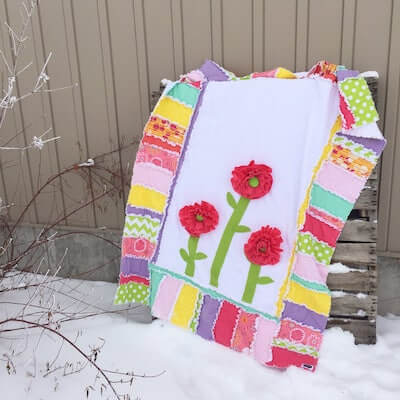 Get the Pattern by Rag Quilt Patterns here

22. Dad's Plaids Rag Quilt Pattern by Quilting Daily
The cozy flannels of fall bring to mind Dad's favorite plaid shirt. Haven't made a rag quilt in a while? It's a fun diversion from other quilting projects.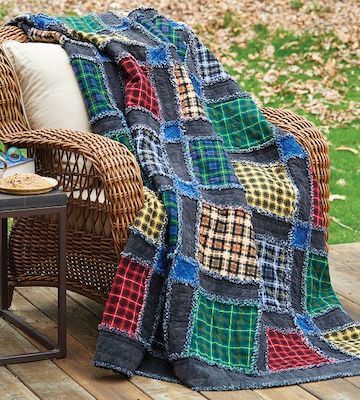 Get the Pattern here

23. One Hour Easy Rag Quilt Pattern by The Jolly Jabber Quilting
You're going to love this One Hour Rag Quilt that's a definition of fast and easy. Make up a couple with bright colors like the version below or some chunky novelty prints. If you're introducing someone to sewing, it's also a great beginner project with a big payoff!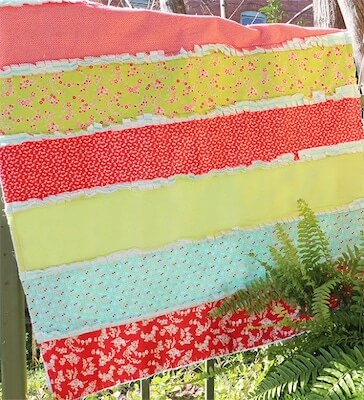 Get the Pattern here

24. Just Fish Rag Quilt Pattern by It's Sew Sally
This adorable Fish Themed Rag Quilt aptly named "Just Fish" it is just as adorable on the front or backside. This warm and cozy flannel rag quilt throw is just right for your home, a beach cottage or a cabin on the lake! A perfect size throw for adults or kids, the couch or in the car, and a great pattern for boys!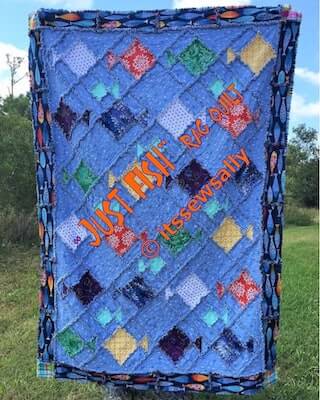 Get the Pattern by It's Sew Sally here

25. Scrappy Rag Quilt Pattern by A Vision To Remember
Make yourself a colorful quilt with this Scrappy Rag Quilt Pattern. This rectangular quilt is made of a bunch of colorful diagonal stripes.

The stripes are set so that some of them go from left to right, while others go from right to the left, forming large diamond shapes together. Frayed edges separate the diagonal stripes into wide horizontal lines, giving the log cabin design a unique twist.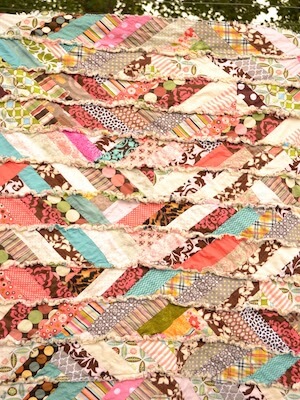 Get the Pattern here
RAG QUILTS ARE A FANTASTIC WAY TO ADD A FUN TEXTURAL TOUCH TO THE CLASSIC QUILT. WHICH OF THESE RAG QUILT PATTERNS WILL YOU MAKE TO SNUGGLE UP?
Be sure to share your finished quilts on our Facebook Page as we love seeing what our readers are making and the fabrics they choose!

For more quilting goodness, check out our roundups for 25 Charm Pack Quilt Patterns, 45 Star Quilt Patterns, 45 Log Cabin Quilt Patterns, 25 Bow Tie Quilt Patterns, 21 String Quilt Patterns, 21 Paper Pieced Quilt Patterns and 16 T Shirt Quilt Patterns.

Have fun sewing a cozy creation that brings you fun textures to your quilting with these rag quilt patterns!