With these t shirt quilt patterns, see how to refashioned a stack of your tees into one-of-a-kind quilt that's not only cozy, but packed with fond memories, too.
We all have them – piles of T shirts stashed in closets or drawers, saved with the hope that someday you'll transform them into something special. Well here's that something, and it's something you've been wanting to make: a T shirt quilt!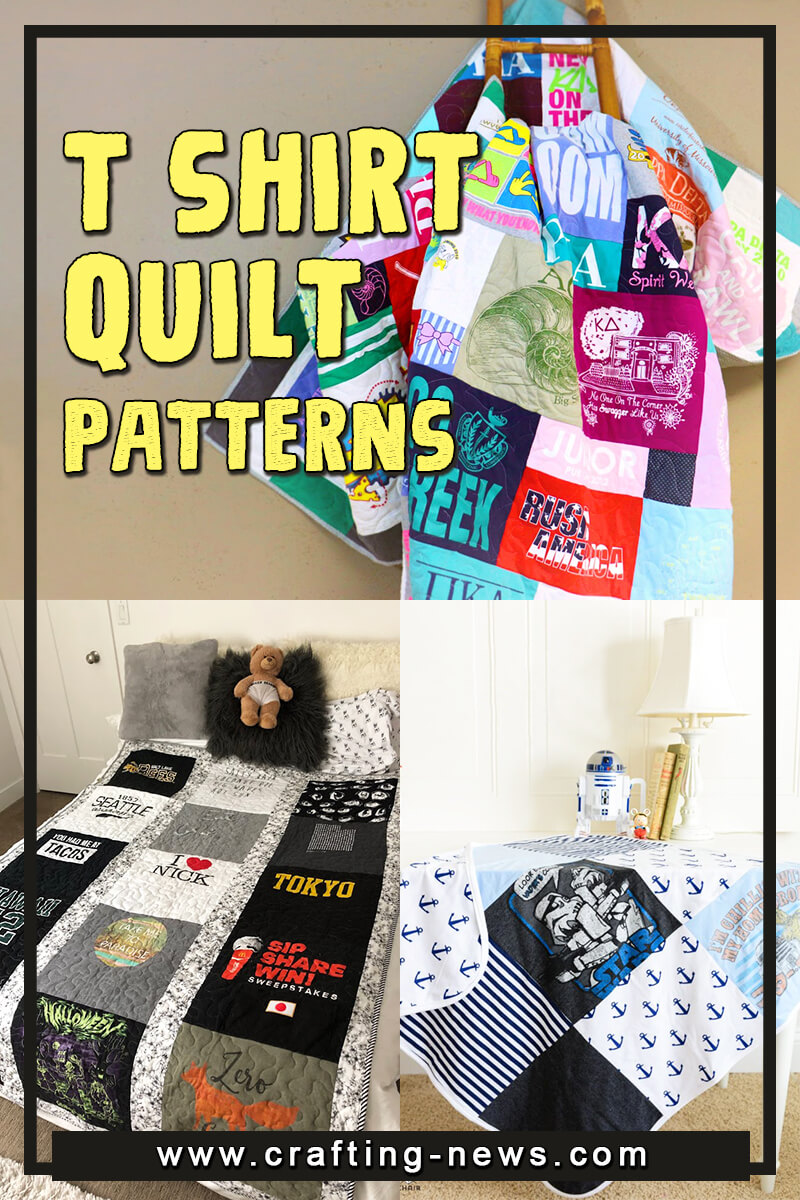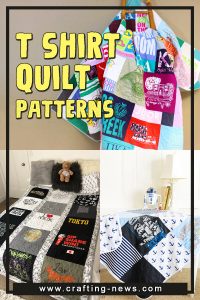 T shirt quilts are nothing new. They're popular because we all tend to have so many T shirts that we just can't part with: T-shirts celebrating college days, festivals and concerts, sports, etc.
It's a simple DIY project that is so satisfying to complete because it serves as an homage to the glory days!
1. Easy T shirt Quilt Pattern by Maple Cottage Designs
Enjoy making this easy T-Shirt Quilt Pattern for someone special. Favorite t-shirts are beautifully framed and then set off with crisp white sashing and a beautiful border. Perfect for a high school or college graduate, or even for a homecoming gift.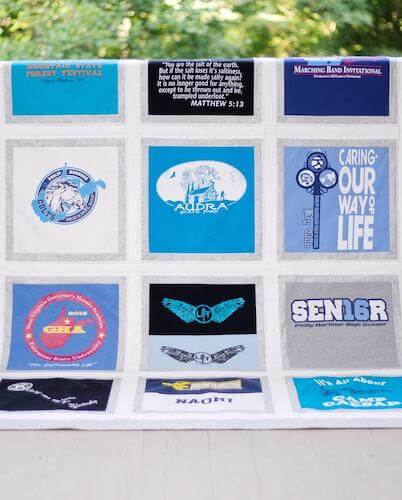 Get the Pattern by Maple Cottage
2. T-shirt Puzzle Quilt Pattern by Nellies Needle Quilts
Do you have t-shirts, sweatshirts, sweatpants etc with special logos on them that you just can't throw away? Make them into a fun t shirt memory quilt for yourself or someone else.
This t shirt memory quilt pattern is unique in that it does not use sashing strips between the blocks, nor is it laid out in rows. Instead it fits together like a puzzle. You can make your quilt as large or small as you have logos to sew on. And you can use the extra fabric for borders.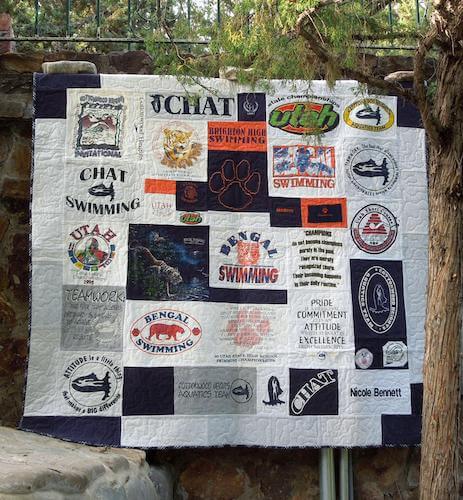 Get the Pattern by Nellies Needle Quilts here
3. T shirt Memory Quilt Pattern by All People Quilt
Whether from concerts, sports teams, or other events, create a keepsake by turning favorite T-shirts into a memory-filled quilt.
Get the Pattern here
4. T Shirt Memory Quilt Pattern by Quilts Plus Love
Make your own t shirt quilt! Your t shirt quilt should highlight the shirts by making every memorable shirt stand out! This pattern will give you the tools and insight to make your own DIY quilt using your favorite shirts sitting in the back of your closet.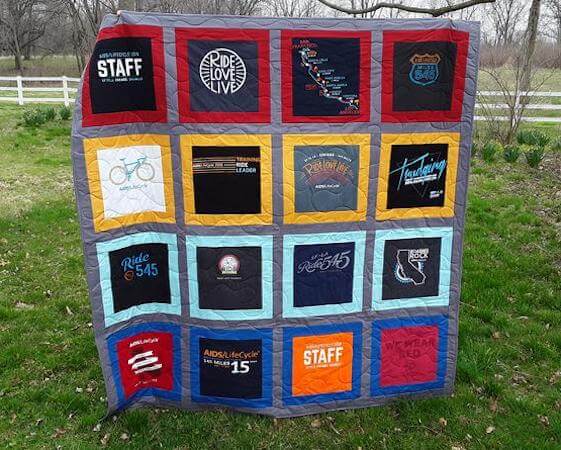 Get the Pattern by Quilts Plus Love here
5. DIY T shirt Quilt Pattern by Stars For Streetlights
Learn how to transform that useless pile of tees that you will never wear again into brand new t shirt quilts with this easy-to-follow quilting tutorial. Learning how to make a t shirt quilt is surprisingly simple and the results are absurdly cozy.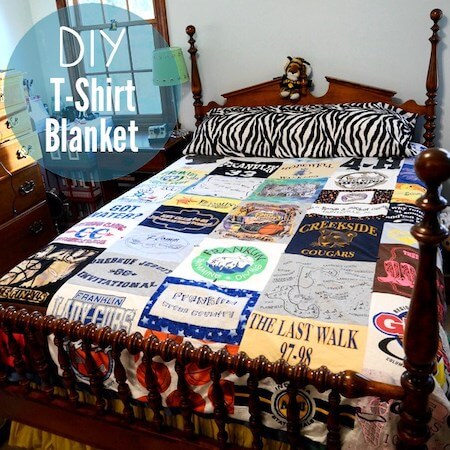 Get the Pattern here
6. How To Make A Tee shirt Quilts by Tatertots And Jello
Take treasured t-shirts and supplement them with thrifted shirts with meaningful places, logos or sayings for a quilt that will be treasured always. It is a fun craft to make with a teen or tween or give as a gift!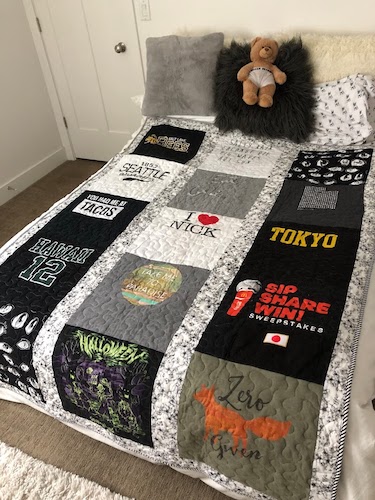 Get the Pattern here
7. Quilt T Shirt Blanket Pattern by Quilt Woman Designs
It's time to make that T-Shirt Quilt you've been talking about. You and your loved one have been saving t-shirts for years. With the help of this pattern/tutorial, you can make a treasured heirloom that can be enjoyed for years and years to come.
The size can be anywhere from a twin to a queen; it just depends on how many shirts you have.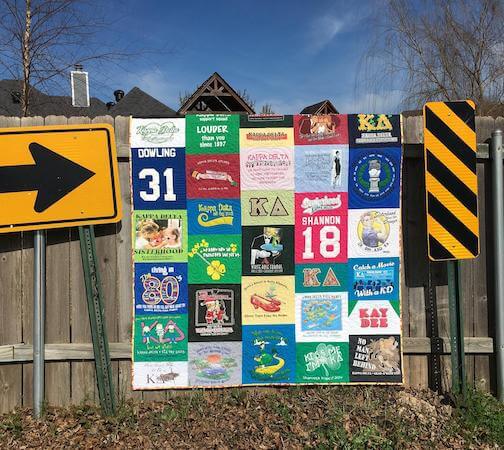 Get the Pattern by Quilt Woman Designs here
If you love blanket patterns so much then check out How to Make a Weighted Blanket.
8. Collage Style T shirt Quilt by Instructables
There are all types of t-shirt quilts; ones that use a square ruler and cut every shirt to the same size, ones that have the same width size column with varying block heights, or a free for all.
This tutorial will walk you through the creation of a collage-style t-shirt quilt top. This style is often more appeasing to the eye because you can't focus in on a specific pattern.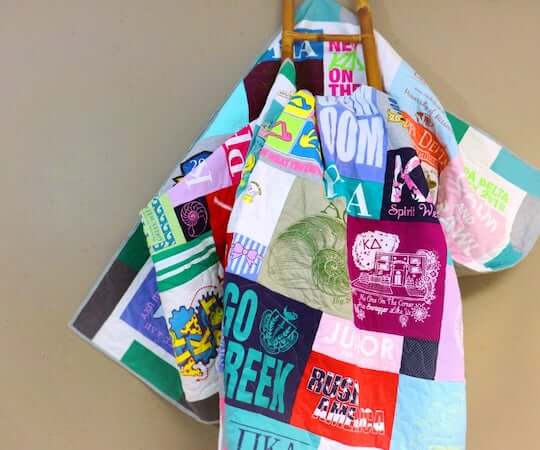 Get the Pattern here
9. Beachy T Shirt Blanket by All People Quilt
Life's a beach with this sand castle-inspired T-shirt throw. A muted background of tone-on-tone tans and ocean blues lets the summer-theme shirts shine in the sun.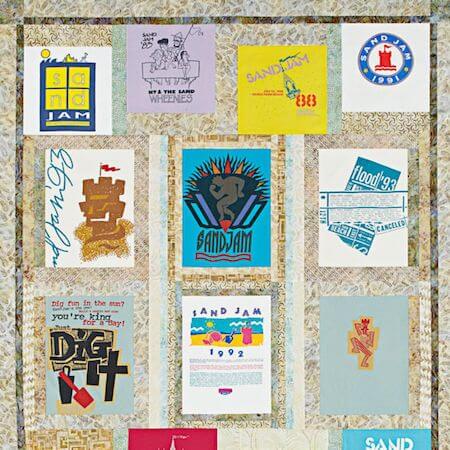 Get the Pattern here
10. How To Make A T-Shirt Quilt by The Spruce Crafts
t-shirt quilts are fairly easy to make and should only take around a few hours of your time. In fact, the most time-consuming part will likely be arranging the T-shirt panels in a design you like.
There are no special patterns for T-shirt quilts; they can be as basic or as intricate as you wish. After learning to make one for yourself, these T-shirt quilts also can be great personalized gifts.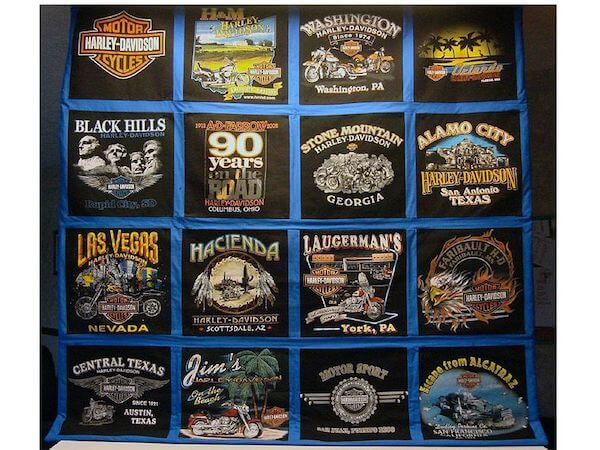 Get the Pattern here
11. Double Sided T Shirt Blanket Quilt Pattern by Crafting A Green World
What do you give the recent high school graduate who has a lot old high school T-shirts? You give them a T-shirt quilt, that's what. It's warm, it's comfy, it won't drape across their beds and also across half the floor, and it contains all of their dearest T-shirts' worth of memories from high school.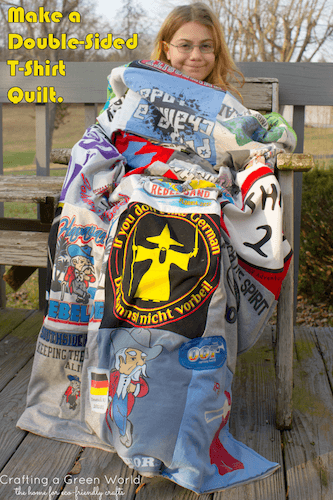 Get the Pattern here
12. T-Shirt Quilt Baby Blanket Pattern by Polkadot Chair
This T-Shirt Quilt Baby Blanket is a fun and simple homemade baby gift idea, and a great way to recycle some awesome t-shirts with sentimental value that you're not quite ready to get rid of!
This t shirt blanket project can be made from a wide variety of t-shirts, from favorite sports team shirts to race t-shirts to t-shirts that are travel souvenirs. Since the shirts are soft they are perfect to up-cycle into knit receiving blankets.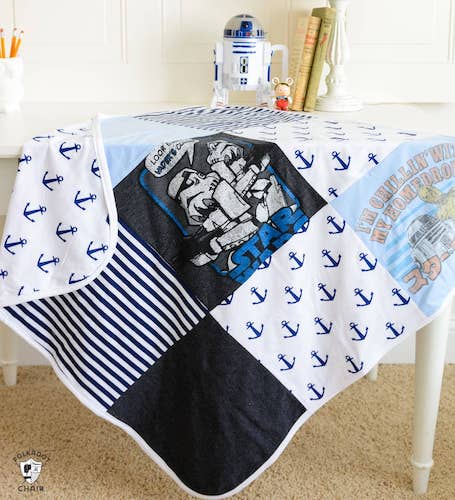 Get the Pattern here
13. Chevron T Shirt Quilt Pattern by Ya Ya Quilts And More
This unique design combines traditional piecing and t-shirts for a not-so-traditional t-shirt quilt. It is for a quilt using 21 t-shirts, or a combination of smaller graphics totaling 21 12×12 blocks.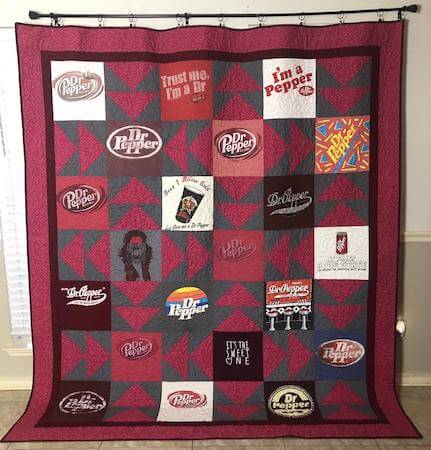 Get the Pattern by Ya Ya Quilts And More here
14. Radical T-Shirt Quilt Pattern by Maryland Quilter
This Radical T-Shirt Quilt is designed to be a flexible pattern that allows you to customize your quilt to fit the size, shape and quantity of t-shirts in your collection.
The background of the quilt is sewn first and the t-shirts are placed on top in any order and angle that you want. You can cut the shirts into any shapes you like, no rules—just radical!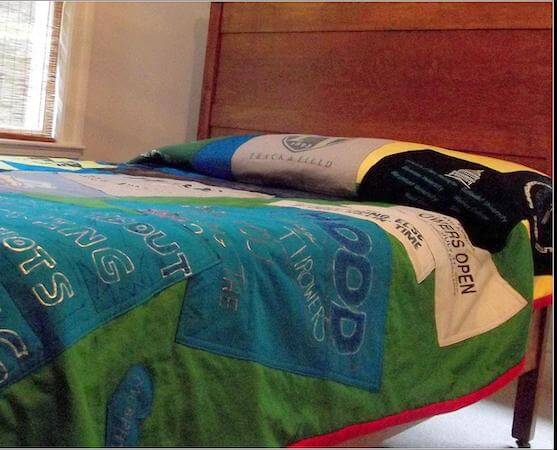 Get the Pattern by Maryland Quilter here
15. Vintage Shirt Patchwork Quilt by Design Sponge
Put your hubby's old worn out shirts to good use with this beginner-friendly tutorial for how to make a duvet cover. The perfect idea for making a memory quilt, this tutorial finishes at a great size for a large bed quilt, and it's super easy to customize for any bed size.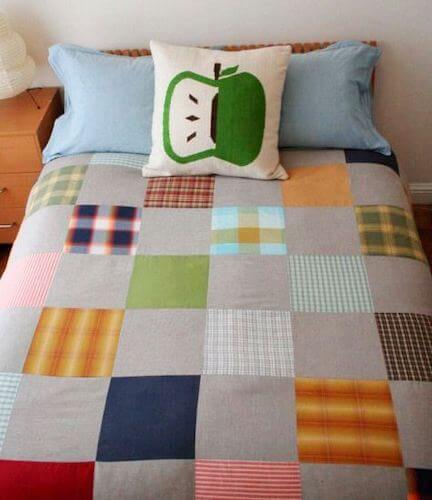 Get the Pattern here
16. T Shirt Quilt Pattern by Needle Pointers
Do you have piles of t-shirts around the house with sentimental value that you don't wear? But you don't want to throw them away. What should you do? This t-shirt quilt tutorial for beginners will help you learn the DIY basics of how to make a t-shirt quilt.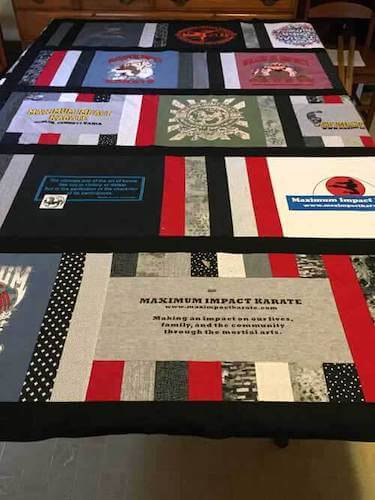 Get the Pattern here
WITH THESE T SHIRT QUILT PATTERNS, JUST A LITTLE BIT OF PREP WORK (AND A WHOLE LOT OF TEES), YOU CAN GIVE SOME OF YOUR TREASURED TEES A SECOND LIFE!
We would love to see what you make, so if you make one of these, please do come and share it on our Facebook Page. Need new quilting inspiration? Check out other quilting patterns here. We got you!
Make some of these fantastic t shirt quilt patterns today to preserve memories or create a truly one-of-a-kind gift. Happy quilting!