Pottery painting is a calming way to express your creativity while adding a personal touch to everyday items. I think there is something magical about turning a plain ceramic piece into a striking piece of artwork. Whether you are an experienced painter or someone that just dabbles in the craft, these pottery painting ideas will inspire you.
Reasons for Painting Pottery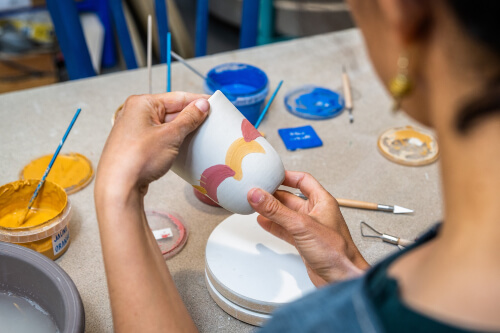 People enjoy painting pottery for various reasons. Here are some common reasons why people paint pottery:
Painting pottery is a relaxing activity. It gives you a chance to unwind and reduce stress. Pottery painting can improve mental well-being and boost self-esteem.
Pottery painting is an outlet for expressing your creativity. You can create unique pieces of art to keep, sell, or gift.
Finding the perfect gift can be hard. Instead of settling on a mediocre present, you can make thoughtful and meaningful gifts using pottery painting ideas.
Decorate your home with unique painted pottery pieces. You can paint vases, bowls, plates, mugs, and more. These hand-painted items will add character and charm to your living space.
Pottery painting can be a fun group activity. It provides an opportunity to socialise with friends, family, and coworkers.
Improve Fine Motor Skills
Pottery painting is a wonderful way to help develop fine motor skills and hand-eye coordination.
Pottery painting ideas can be influenced by culture. By painting pottery, you can connect with family traditions and teach others about the past.
Pottery painting can be enjoyed by people of all ages. Regardless of whether you are a child, teenager, adult, or senior, pottery painting offers a relaxing and creative experience.
Supplies Needed for Pattern Painting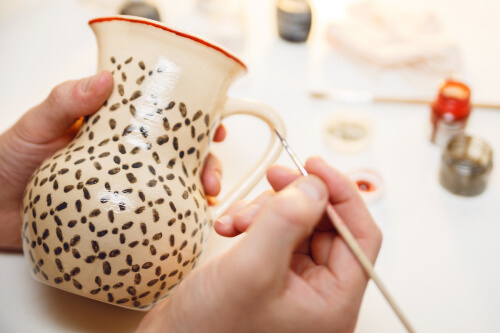 Below are the most common supplies needed for pottery painting. Different pottery painting ideas will require different supplies.
Choose a piece of pottery to paint, such as a mug, plate, bowl, vase, or figurine.
Acrylic paints or specially formulated ceramic glazes are commonly used for pottery painting. Acrylic paints are suitable for decorative pieces but may not be food-safe or dishwasher-safe. If you plan to use the pottery for food or drink, opt for ceramic glazes that are labelled as food-safe and lead-free.
You will need a variety of paintbrushes in different sizes and shapes.
Have a couple of water dishes handy for rinsing paint brushes and thinning paints.
Palettes are handy tools that are used to mix and blend colours.
Wear an apron or smock to protect your clothing from paint splatters. You can make your own apron with these DIY Apron designs.
You can use sponges to create textures and blend colours.
Stencils can be used to create specific patterns.
Rubber stamps are a great way to add repetitive patterns, decorative elements, and writing to pottery.
Painter's tape can be applied to pottery to create clean and precise lines. It can also be used to mask off areas you do not want to paint.
If you are using acrylic paints, consider using a clear sealant or glaze to protect the paint and add a glossy finish.
45 Pottery Painting Ideas
Below are 45 pottery painting ideas to inspire your creativity. These ideas include a wide range of themes, from nature-inspired designs to abstract geometrical shapes.
1. Geometric Patterns in Bold Colours from Home Made by Carmona
Get bold and creative with the use of vibrant, geometric patterns. Combine sharp lines, triangles, and squares to make eye-catching designs. When using geometric shapes, you can let your imagination run wild.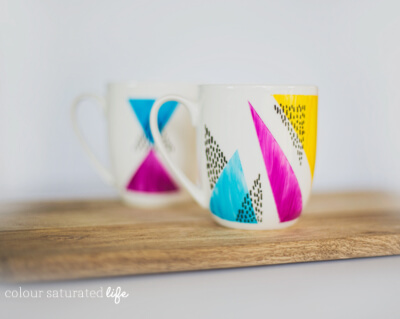 Painting Ideas from Home Made by Carmona
2. Leaf Motifs Pot Painting Idea
Be inspired by nature and incorporate leaf motifs into your pottery painting ideas. You can paint leaves in various shapes, sizes, and colours. Leaves can be used for tropical themes and autumn themes.
3. Underwater Scenes
Underwater scene pottery painting ideas allow you to explore the mesmerising world of aquatic life. Incorporate vibrant coral reefs and graceful sea creatures. These pottery pieces make beautiful home decor items or gifts for your beach loving friends.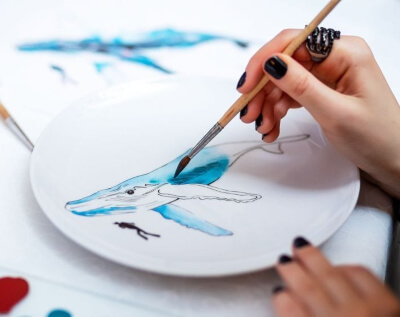 DIY Pottery Painting from Fluid Painting
4. Abstract Splatter Paint Pottery Design
Splattering bold and vibrant colours on your pottery creates unique abstract patterns. This technique is fun for people of every age. It allows you to let loose and make pieces of one-of-a-kind masterpieces.
5. Stripes DIY Painted Ceramic from Darling Darleen
Stripes are wonderful pottery painting ideas to add elegance to your creations. You can make stunning pieces that are stylish and make a statement. Stripes can be painted using a classic black and white combination or bright, fun colours.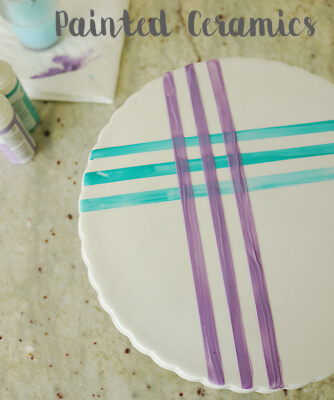 DIY Painted Ceramic from Darling Darleen
6. Tribal Art Designs
Tribal art designs are popular pottery painting ideas. They are used to capture the essence of rich cultures and ancient symbols. Use bold patterns and vibrant colours to create unique pieces that celebrate different cultures.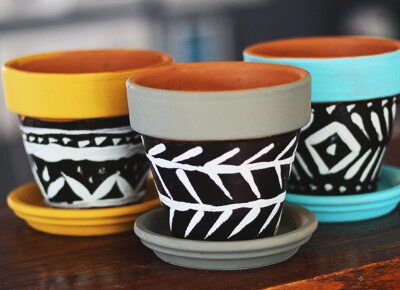 DIY Tribal Painted Flower Pots from Laurie Cosgrove
7. Mandala Patterns
Painting mandala patterns is a meditative process. The patterns create intricate designs that radiate balance and harmony. Painting intricate mandala patterns allows you to relax while creating gorgeous designs.
8. Flower Motifs
From detailed petals to vibrant blooms, floral design pottery painting ideas are a wonderful way to bring a touch of nature's beauty into your home. Flower motifs are always a popular choice for home decorations.
9. Animal Silhouettes
Animal silhouettes can make meaningful and thoughtful gifts for animal lovers. By painting the silhouettes, you can artistically express your love of animals. Whether it is a beloved pet or your giftee's favourite animal, these creations can bring joy to both the painter and the recipient.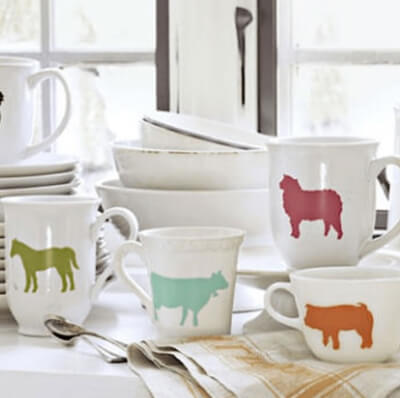 DIY Animal Stencil Mugs from Jennifer Rizzo
10. Rustic Farmhouse-Inspired Designs
Farmhouse pottery painting ideas are always a popular choice. They evoke a sense of warmth, simplicity, and nostalgia. The rustic farmhouse-inspired designs are ideal for decorating farmhouses and cabins.
11. Art Deco-Inspired Patterns
Art deco inspired patterns are popular pottery painting ideas. This is due to their timeless elegance and glamorous appeal. The geometric shapes and bold lines will bring a sense of sophistication to any pottery piece. The art deco style is able to blend with both modern and traditional decor.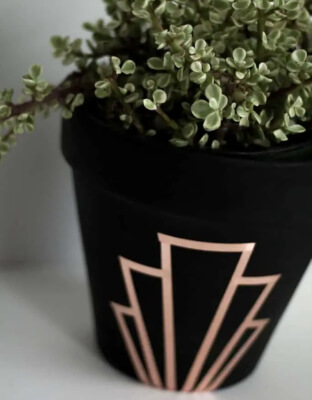 DIY Art Deco-inspired Planter from Practical and Pretty
12. Retro Polka Dots
Retro polka dots evoke a sense of nostalgia and playfulness. The timeless polka dot pattern will bring a whimsical vibe to any pottery piece. The charm of polka dots appeals to a wide range of people, from vintage enthusiasts to children.
13. Gradients
Gradient pottery painting ideas are used to create a visually stunning and captivating effect. The smooth transition of colours from one shade to another creates a sense of depth and dimension. The versatility of gradient designs allows for endless possibilities. You can paint a subtle ombre effect or a vibrant colour blend.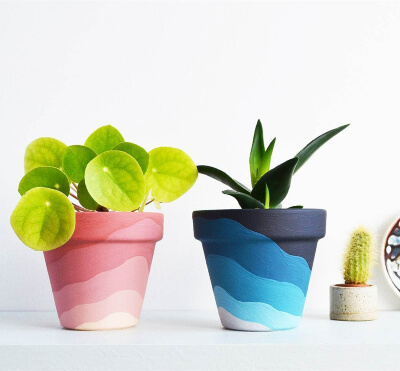 Gradient Planter Pots from Frankie
14. Birds on Branches
Capture the beauty of nature on your pottery with birds on branches. The versatility of this theme allows you to showcase your creativity. You can incorporate various bird species and branch designs. This theme can be painted over and over and each piece can still be unique.
15. Landscapes
Paint serene and picturesque landscapes to capture the beauty of the outdoors. With a wide range of landscape pottery painting ideas to choose from, you can design countless designs. It can be a stunning sunset, a lush forest, a desert, or a serene beach.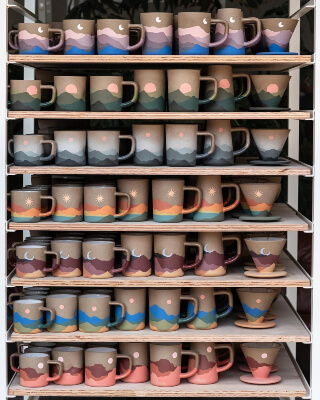 Pottery Painting Ideas from So Super Awesome
16. Cherry Blossom Branches
Cherry blossom branches pottery painting ideas are always a popular choice. Cherry blossoms symbolise beauty, renewal, life, and death. The delicate and graceful cherry blossoms create a soothing and calming atmosphere. They are perfect for adding a touch of tranquility to any space.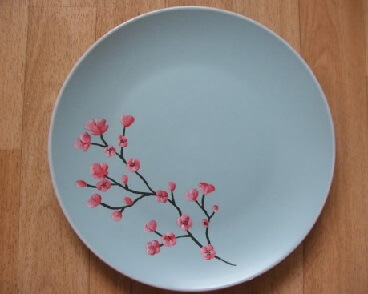 Cherry Blossom Plate Painting Idea from The Beginning Artist
17. Butterfly Motifs
Butterfly motif pottery painting ideas are a delightful way to add a touch of beauty to your pottery pieces. The butterflies can be painted with vibrant colours or simple black and white. Use a stencil or freehand the designs. Whether you choose to paint a single butterfly or create a whole garden of these fluttering insects, butterfly motifs will create a sense of joy.
DIY Painted Pot Idea from Lauras Crafty Life
18. Rainbows
Rainbow pottery painting ideas will add a burst of colour to your pieces. Rainbows are always a popular choice. They symbolise happiness, positivity, love, and friendship. The kaleidoscope of colours creates eye-catching designs that instantly uplift spirits.
19. Fruits
Painted fruit motifs will add a splash of vibrant colours to your designs. From luscious berries to juicy citrus, fruit-inspired pottery painting ideas are a classic choice. Whether you are a seasoned artist or just learning, fruit motifs are always fun to work on.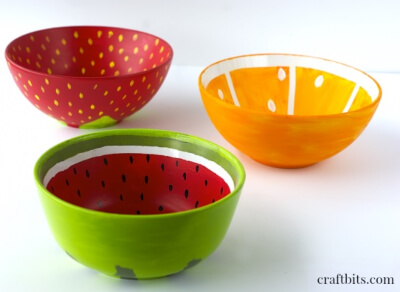 DIY Painted Fruit Bowls from CraftBits
20. Psychedelic Patterns
Psychedelic pattern pottery painting ideas are inspired by the vibrant and trippy art of the 60s and 70s. These designs allow you to break away from the norm and create unique pieces. They are perfect for free spirits looking to add colour and movement to their decor.
21. Galaxy
Create celestial-inspired designs with swirling nebulae, twinkling stars, and dreamy cosmic colours. Galaxy pottery painting ideas offer a sense of wonder and mystery. Your finished pieces will create a sense of wonder and mystery.
22. Animal Prints
Have fun and unleash your wild side with animal print pottery painting ideas. From zebra stripes to leopard spots, animal prints will add a touch of untamed nature to your pottery. Animal prints are bold, stylish, and eye-catching.
23. Bubbles Technique
The bubble painting technique is a fun way to create an interesting, whimsical effect. By blowing bubbles into the paint and letting them pop on the pottery surface, you can achieve beautiful abstract patterns.
24. Tropical Leaves
Painting tropical leaves on pottery allows you to create a tropical vibe. The exotic foliage will remind you of a tropical paradise. The leaves are a stylish way to combine art with nature's beauty.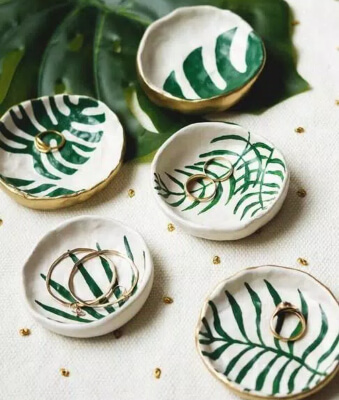 Tropical Leaves DIY Clay Art from APKPure
25. Graffiti-Style Lettering and Art
Painting graffiti-style lettering and art on pottery is a bold and edgy way to express your creativity. Using vibrant colours and urban-inspired designs will definitely make a statement. Graffiti-style art has a rebellious and free-spirited appeal. It is attractive to those who appreciate non-traditional art forms.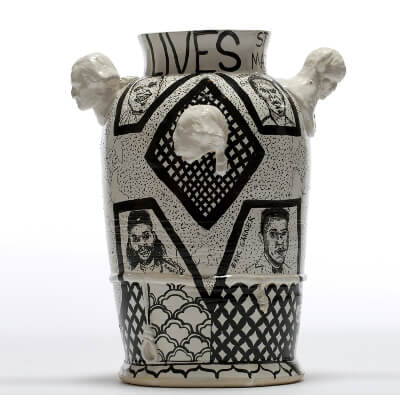 Graffiti Inspired Pots from CFile.Capsule
26. Lines
Painting lines on pottery adds a touch of modern elegance to your creations. The clean lines and bold patterns can be painted in various colours and widths. Lines are very versatile, allowing you to create a wide range of designs.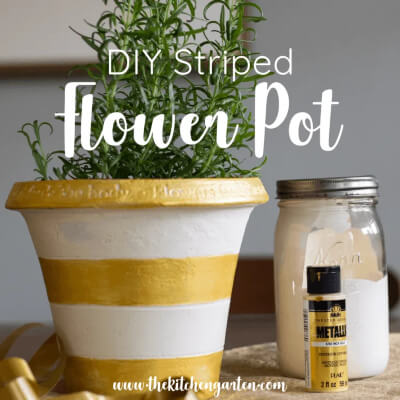 DIY Flower Pot from The Kitchen Garten
27. Ancient Indian Art
Incorporate traditional motifs, intricate patterns, and vibrant colours that are reminiscent of ancient Indian art. These types of pottery painting ideas offer a unique and captivating way to express your creativity and pay homage to Indian culture.
28. Trick-or-Treat Designs
Get into the Halloween spirit with some trick-or-treat pottery painting ideas. You can create fun and festive items from candy dishes to jack-o-lanterns. Painting pottery for Halloween is a popular activity that can be enjoyed by your whole family.
29. Alcohol Inks
Using alcohol inks to paint pottery is a unique way to create vibrant, unpredictable designs. The inks flow, creating beautiful abstract patterns in rich colours. It is a fun technique that both beginners and experienced artists alike love.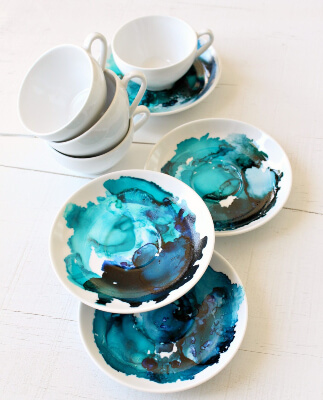 Alcohol Ink Ceramics from Dans le Lakehouse
30. Tape Painting
Using tape for painting pottery allows you to create clean and sharp lines, geometric shapes, and intricate patterns. It is an easy and effective way to achieve professional-looking results with little effort.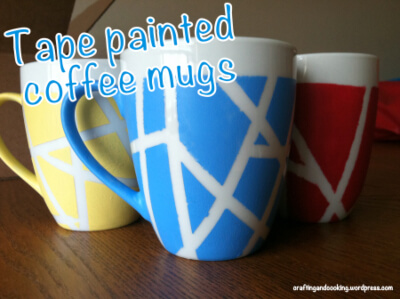 Tape Painted Coffee Mugs from Crafting and Cooking
31. Tiny Dots
Using tiny dots for painting pottery is a delightful and relaxing technique. You can use dots to create mandalas, playful patterns, and whimsical designs. Dot painting adds a unique and charming touch to your pottery.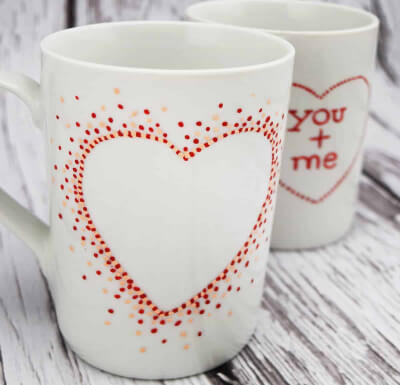 Easy Painted Mug from Craving Some Creativity
32. Winter Scenes
Painting winter scenes is a wonderful way to create decor items for the holiday season. From snowy landscapes to cosy cabins, the possibilities are endless. The designs will remind people of the magic of the season while evoking a sense of nostalgia.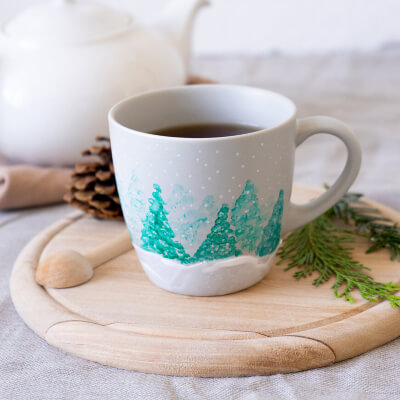 Winter Landscape Mug from Everything Art and Craft
33. Wildflowers
The intricate and vibrant petals of wildflowers allow for endless pottery painting ideas. You choose to paint a single wildflower or a field of colourful blooms. Flowers are a great choice for painters that appreciate the wonders of nature.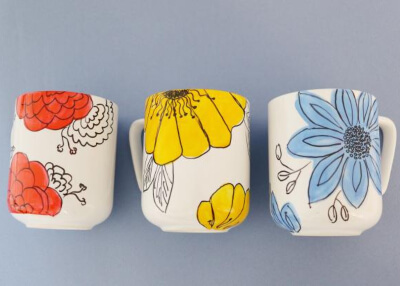 Coffee Mugs With Hand-Drawn Flowers from HGTV
34. Comic Characters
Unleash your inner child with comic characters pottery painting ideas. You can design your own characters or use iconic heroes and villains. When painting comic characters, you can let your creativity soar and have a lot of fun.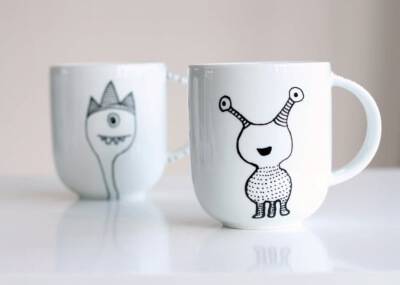 How to Decorative a Coffee Mug Tutorial from Crafts & DIY
35. Colourful Peacock Feathers
Embrace vibrant colours with peacock feather pottery painting ideas. Peacock feathers designs are stunning and eye-catching. You can use standard blues, greens, and golds, or get creative and create your own colour combination. When painting the feathers, you can make them lifelike or abstract.
36. Sugar Skull Designs
Inspired by vibrant Mexican folk art, sugar skull pottery painting ideas are fun, meaningful, and colourful. From small decorative pieces to large vases, sugar skulls will add a touch of enchantment to your pottery.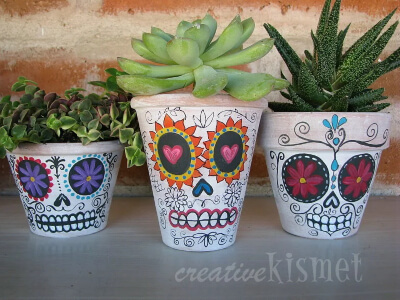 Day of the Dead Planters from Instructables
37. Insect Motifs
Add a touch of whimsy to your pottery using insect motif pottery painting ideas. From cute little lady bugs and delicate butterflies to buzzing bees and caterpillars, the possibilities are endless. With a wide variety of colours and designs to choose from, insect motifs are the perfect choice for nature enthusiasts.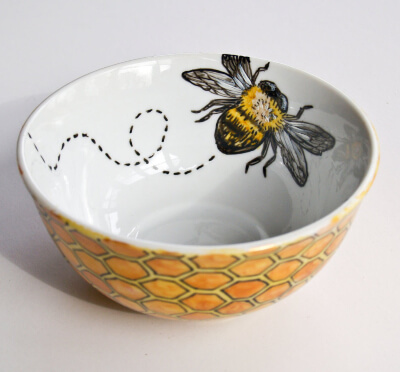 Insect Motif Pot Painting from So Super Awesome
38. Stars and Stripes
Embrace your patriotic spirit with red, white, and blue stars and stripes painted pottery. Whether you are looking to create home decor pieces, or simply want to express your love for your country, the pottery painting ideas are endless.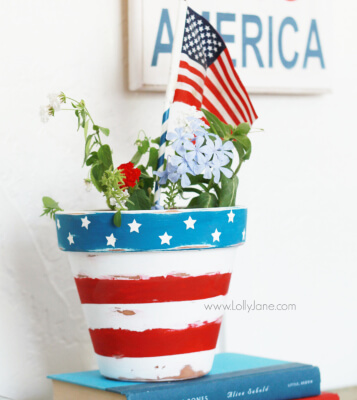 Stars and Stripes Flower Pot from LollyJane
39. Lunar Phases
The ever-changing shapes of the moon make for great pottery painting ideas. The lunar phases can be used together to create mesmerising pottery pieces, or by themselves to create individual pieces. You can paint them on a background of stars, or a solid background.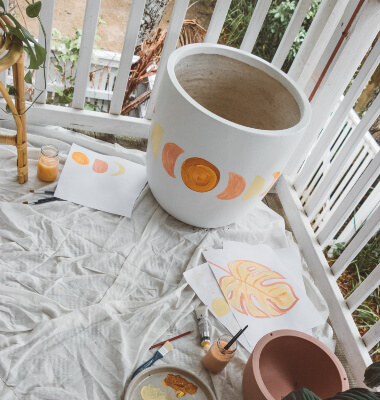 DIY Moon Painted Pots from Collective Gen
40. Sunflowers
Brighten up your pottery using sunflower pottery painting ideas. Their golden-yellow petals and earthy tones are ideal for adding a cosy touch to your autumn decor. You can paint one large sunflower or create a whole field of flowers.
41. Beach Scenes
Painting beach scenes to transport yourself to sandy shores and peaceful waters. You can paint sunsets, palm trees, seashells, beach chairs, flamingos, and more. Use soft blues, sandy browns, and vibrant tropical colours. Pottery painted with beach scenes make great gift ideas for your beach loving friends.
42.

Dark Forest

Bring mystical forest scenes to life on pottery with rich, deep colours. Paint lush trees, moon, snowflakes, and more. You can even hide mysterious creatures to create unique, captivating pottery pieces. Paint Santa, his sleigh, and reindeer to make handmade Christmas gifts.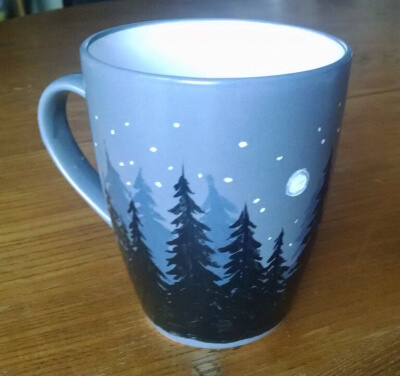 DIY Pottery Painting Idea from Ryanne Levin Art
43. Chequered Style
Add elegance and sophistication to your creations with simple checkered designs. From mugs to vases, the classic pattern produces stunning results. Chequered potters painting ideas are perfect for artists of all skill levels.
44. Brushstrokes
You can create unique pieces using simple brush strokes. From bold and bright colour schemes to subtle designs, this technique allows you to create eye-catching designs. This method is ideal for adding pops of colour to a room.
45. Tiny Hearts
Painting an adorable heart motif on your pottery is a wonderful way to spread love. The tiny heart design is surprisingly easy to create. It is a technique both seasoned artists and beginners can use to make gorgeous pieces. With just a little bit of creativity, you can transform boring pottery pieces into beautiful works of art.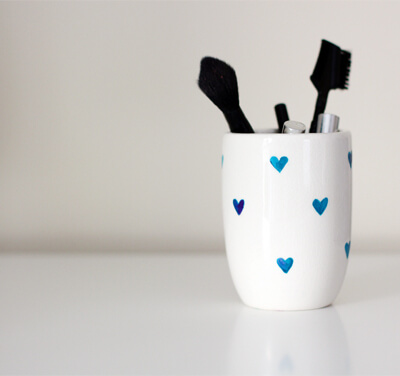 Painted Hearts Ceramic Cup from Inside My Hideaway
Frequently Asked Questions about Pottery Painting
What type of paint should I use for pottery painting?
When painting pottery, it is recommended to use ceramic or pottery glazes, underglazes, or acrylic paints. These paints are specifically designed for ceramics and fired clay surfaces. If your project will be used for serving food and/or beverages, be sure to choose paints that are labelled safe for food.
Can I paint both glazed and unglazed pottery?
Yes, you can paint both glazed and unglazed pottery. You will want to make sure that you choose the correct type of paint for your project.
Do I need to fire the pottery after painting?
Firing requirements for pottery depend on the type of pottery you are painting. For clay and ceramic pottery, firing is often essential to make it durable. Pre-fired, glazed pottery may not require firing again, but heat-setting may be required for certain paints.
Can I use regular acrylic paint on pottery?
Using regular acrylic paint on pottery is not recommended for glazed ceramics. Instead, use specialised acrylic paint designed for glazed ceramic. Regular acrylic paint can be used on greenware and bisque-fired clay. However, if the piece is used for food, use non-toxic acrylic paint.
Can I use an oven to fire my pottery pieces?
Yes, you can use an oven for firing pottery, but it is not recommended. While it may technically work, ovens are not designed for pottery firing. Ovens do not get as hot as kilns, and they can produce uneven heat, causing potential issues. For the best results, you should use a kiln.
And that's our round-up of pottery painting ideas
Be sure to post your beautiful creations to our Facebook page. We'd love to see them.
In case you want more painting projects, here's a bunch projects to expand your creativity.
Pottery painting is a creative way to express yourself and transform pieces into works of art. From vibrant floral motifs to hypnotic psychedelic patterns, pottery painting ideas are limitless.