We all know how expensive store-bought aprons are, but did you know how easy they are to make? Whether you need an apron for the kitchen, outdoor grilling, working in the garden, or to wear while doing your handy or crafty projects, these Apron Sewing Patterns got you covered!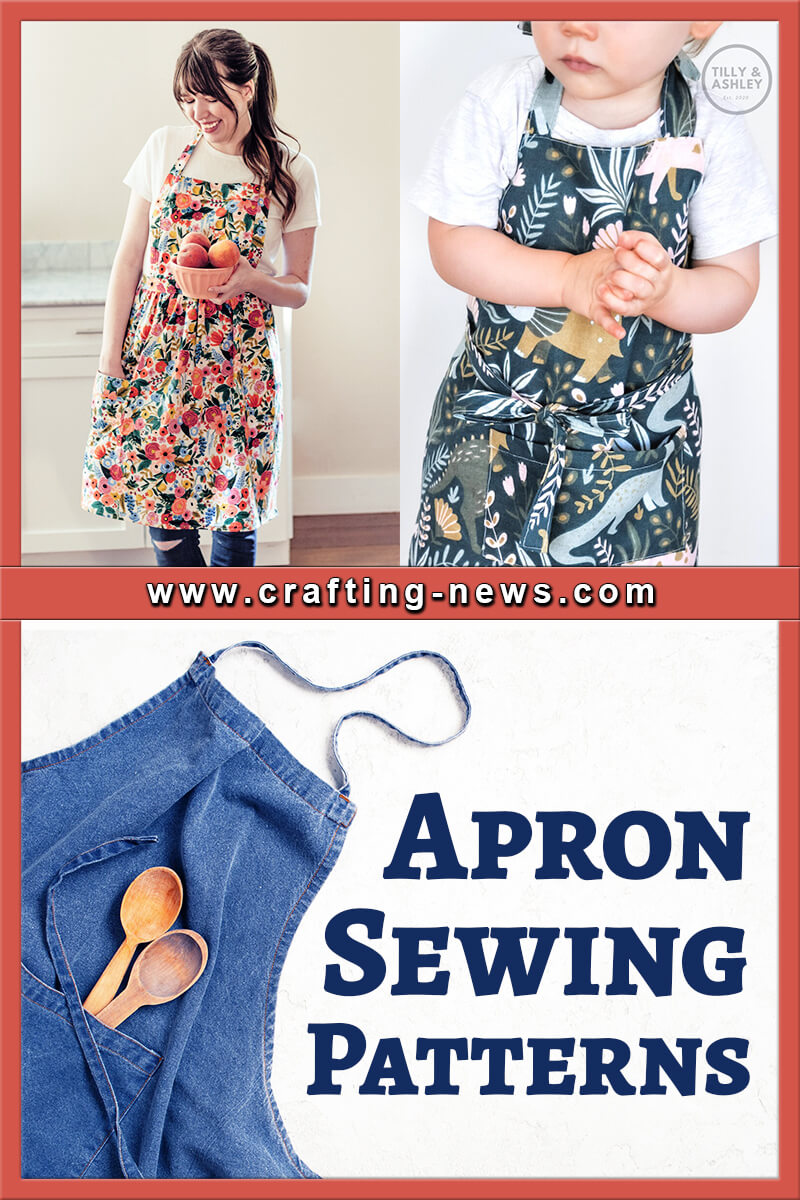 This collection will show you how to sew a variety of aprons in every style imaginable, indoor to outdoor use, and for both adults and children. Now get to work turning some clever apron patterns into a totally cool finished product. You will even choose to use repurposed fabrics for bonus points!
1. Easy Apron Sewing Pattern by Bouquet Clothing
This apron pattern is designed with the beginner sewist in mind, but is perfect for all levels wanting to create a cute and classic apron.
With this pattern you can choose to sew a full or half vintage inspired apron, and the options for your own embellishments or details are endless.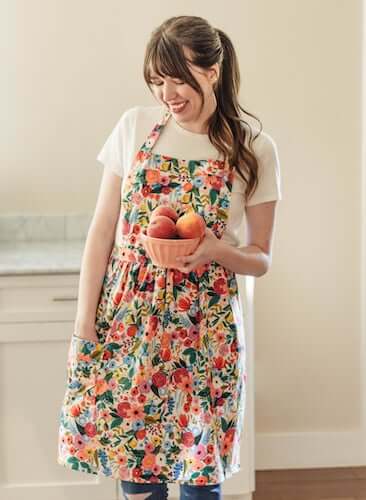 Get the Pattern by Bouquet Clothing here
2. Apron Sewing Pattern by Tilly And Ashley Design
Make your own reversible aprons with easy sewing pattern and instructional guide. These aprons make perfect gifts for children who love cooking and crafting! Also comes in adult sizing so you can match with your mini me.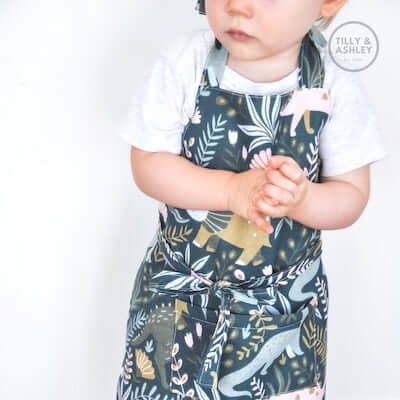 Get the Pattern by Tilly And Ashley Design here
3. DIY Tea Towel Apron by Skip To My Lou
All you need is a tea towel, a couple of buttons, and a package of twill tape to make this sophisticated half-apron that would work for any gender or age.
This is a fun sewing project that would also make a great gift for the holidays or a housewarming.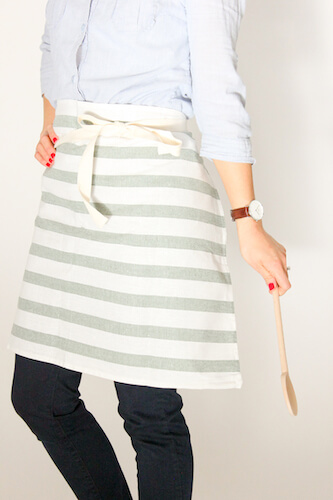 Get the Pattern here
4. Full Retro Apron Sewing Pattern by Sew With BA
Retro aprons are super popular these days – and if you have been wondering how to make your own DIY apron design, this is the perfect sewing pattern for you!
Sew your own women's retro apron for a cute and fun addition to your kitchen décor that is truly timeless. Make your favorite version – a full apron with either a single skirt or with double skirts in a cute cotton print for ease of care.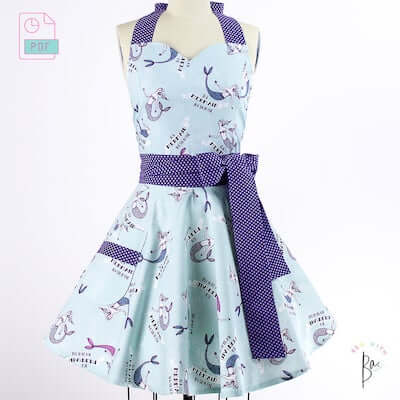 Get the Pattern by Sew With BA here
5. Half Apron Sewing Pattern by A Beautiful Mess
This free half apron pattern has a comfortable waist with a ruffled front that adds some feminity to the final apron. Two large pockets give you plenty of room for any kitchen utensils, recipes, potholders, or oven mitts that you need to keep close at hand.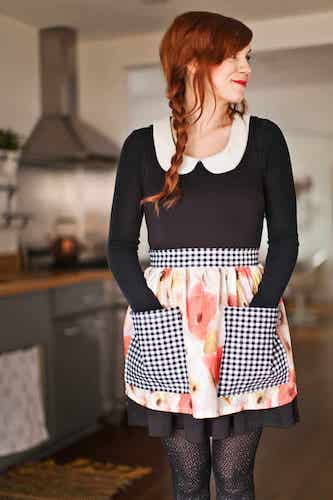 Get the Pattern here
6. DIY Apron Design Tutorial by Back Road Bloom
Learn how to make an apron with this simple, DIY apron tutorial for women; its an awesome beginner sewing project that anyone can do! The fun thing about sewing your own apron, is that you get to customize it to exactly what you want.
You can choose the colors, patterns, fabric, and style! This DIY apron cost me less than $5 to make, and just a couple hours of time.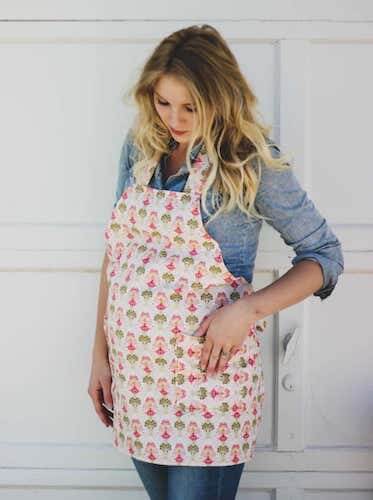 Get the Pattern here
7. Split-Leg Potters Apron Sewing Pattern by Bloem Linen
The pattern is for a split-leg potters apron, in a one-size-fits-all and suitable for men and women. Although it is a one-size-fits-all apron, it is explain how to make the apron wider, longer, or the opposite shorter, in the sewing instructions in case you just prefer different sizing.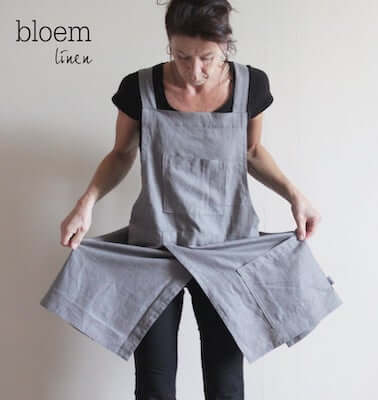 Get the Pattern by Bloem Linen here
8. The Man Apron Sewing Pattern by Tie Dye Diva
This simple, basic apron pattern is called "The Man Apron" for its a tailored, sturdy design and suitability for being sewn from denim or twill.
It's a wonderful unisex apron that you can personalize for yourself and everyone on your list by adding a fun fabric to line the apron bib – business on the outside, party on the inside!
Choose a favorite fabric print, sport, team, activity, embroidered initials or special message!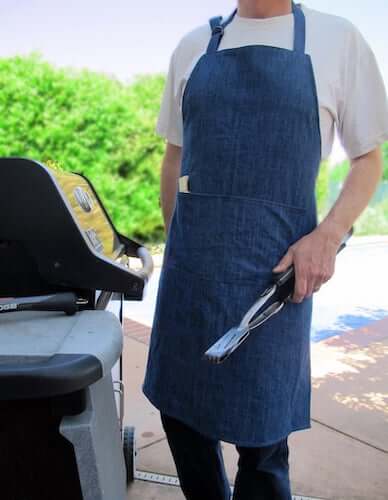 Get the Pattern by Tie Dye Diva here
9. DIY Cabana Stripe Apron by Sugar & Cloth DIY Decor
This free apron pattern takes a Turkish beach toweland transforms it into a fun apron that can be worn any time of year.
This project only requires a little bit of sewing to create a waistband and ties. The fun fringe at the bottom is part of the original towel and makes for a fun accent.
Get the Pattern here
10. Mom & Me Kitchen Apron Sewing Pattern by Sew Simple Home
Get cooking in the kitchen with this Mom and Me Apron Pattern and tutorial. Little ones love to help in the kitchen or pretend on their own during playtime. This sewing pattern is the perfect way to help their imagination and to get them working with Mom (or Dad) in the kitchen.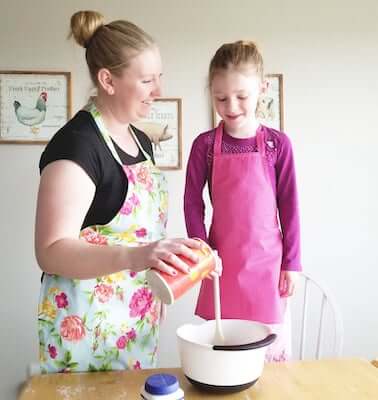 Get the Pattern by Sew Simple Home here
11. Garden Apron Sewing Pattern by Sweater Doll
For gathering eggs, orchard fruit, garden vegetables or carrying clothespins, garden tools and seed packets, or diaper bag essentials, this is the best pocket apron you could make.
The wide waistband prevents sagging when full of fragile eggs or fruit from the orchard and the deep pocket will keep everything safe from falling out. The pocket has a drawstring that can be tied to a loop at the waistband for keeping eggs and other goods safe.
Get the Pattern by Sweater Doll here
12. Mile-A-Minute Apron Sewing Pattern by Sew Can She
Sew an easy and fun apron using jelly roll strips! This free Mile-a-Minute Apron Pattern is fast to sew and makes a great gift (if you can bear to part with it).
Since one apron only requires 16 strips of fabric that are 2 1/2'' wide by 42'' long, there are enough strips in a jelly roll bundle to make 2 aprons!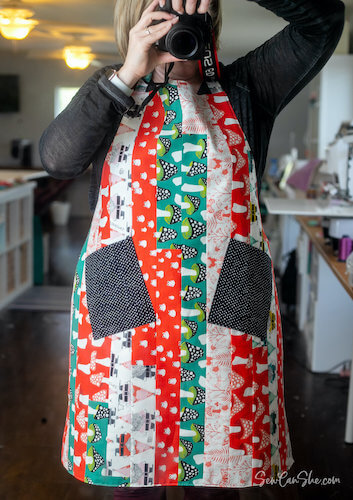 Get the Pattern here
13. Girls Apron Sewing Pattern by My Childhood Treasures
This kids apron sewing pattern is fast and easy to make for the beginner sewer and is a great gift idea. You can make a lined apron with frills on the bottom or the simple reversible apron with no frills.
This apron pattern comes with the cute folded pocket option and the neck is elasticated making it comfortable for children and easy to put on themselves.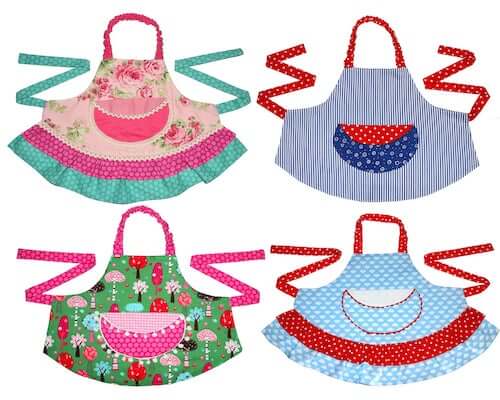 Get the Pattern by My Childhood Treasures here
14. Farmhouse Style Pocket Apron Sewing Pattern by A Box Of Twine
Do you enjoy wearing a cute half apron while you're cooking, gardening, or crafting? Half aprons are quick to tie on and get to work.
A pocket apron is even better to hold necessary supplies. But no matter the task at hand, a durable apron must do double duty: function well and look good! The apron in this pattern will do both.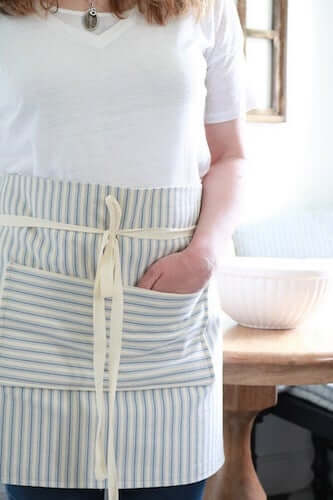 Get the Pattern by A Box Of Twine here
15. Pick-A-Pocket Apron Sewing Pattern by Yarnspirations
Mixing and matching fabrics is always fun. This easy bellows pocket apron gives you the chance to do just that. It's perfect for use with coordinating prints, or solids and prints.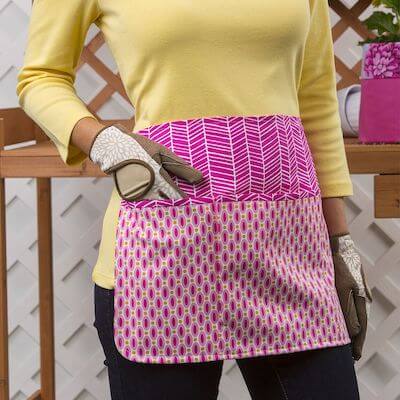 Get the Pattern here
16. Sammie Apron Sewing Pattern by I Think Sew Design
This Sammie Apron is a simple yet fashionable wear designed for all men and women! It is recommended to be made with heavy weight fabric, such as denim and canvas.
Make this piece with leather and earth toned materials to achieve a great neutral look. With multiple pockets you can easily store your phone and pens with ease!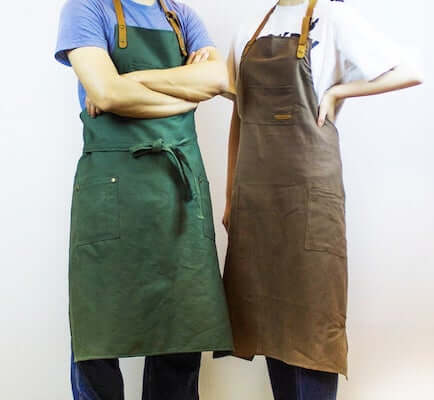 Get the Pattern by I Think Sew Design here
17. Ruffle Apron Sewing Pattern by The Freckled Pear
Whether it's for your own little kitchen helper, your grand-daughter, or for a unique gift idea, this apron, handmade with love, is a great way for that special girl to look simply adorable while baking up a batch of cookies.
The apron skirt is made up of three fun, flouncy ruffles anchored to a backing. The bodice is fully lined. The neck and waist ties are double-sided and topstitched to lay flat after laundering. The ties can be adjusted as she grows and are plenty long for tying in a nice bow.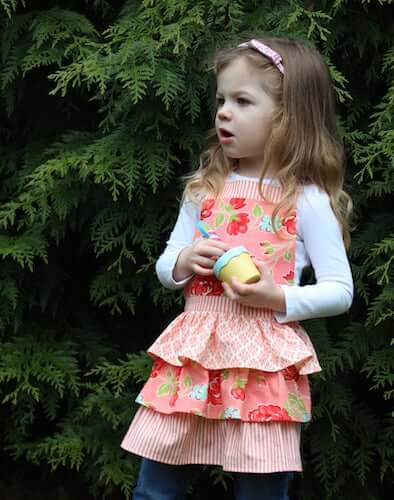 Get the Pattern by The Freckled Pear here
18. DIY Waxed Canvas Tool Apron by The Merry Thought
This is a free pattern for a waxed canvas apron that can be used to hold your tools for woodworking, gardening, crafting, or cooking. The waxed canvas makes it sturdy and waterproof, making it an apron that you'll have and use for years.
Included are instructions on how to make your own waxed canvaswhich is actually a fairly easy process that you'll want to use over and over again on your fabric.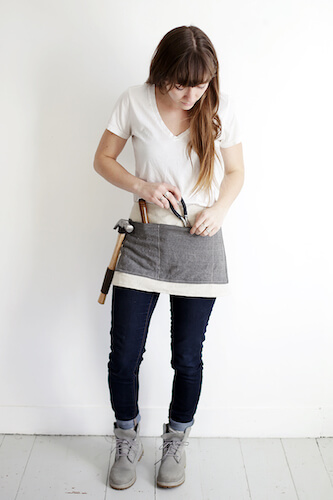 Get the Pattern here
19. Gathering Apron Sewing Pattern by Sew Liberated Patterns
A functional and amazingly flattering garden and kitchen accessory, this Gathering Apron lets you collect eggs and produce in its huge front pocket.
Enhanced by modern pintuck details, adjustable bust shaping, and a darling criss-cross back closure, this is a great gift for the locovore chef or backyard gardener on your list – but once you try it on, you might not want to give it away!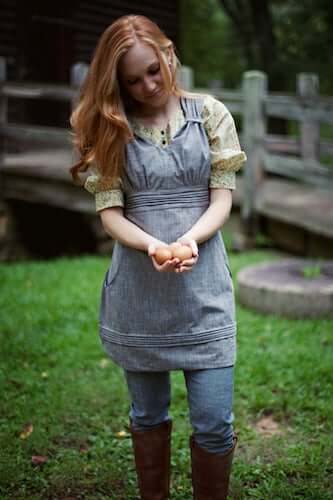 Get the Pattern by Sew Liberated Patterns here
20. Chimera Craft Show Apron Sewing Pattern by Shop XOXO Lauren
This Chimera Craft Apron is a beautiful apron meant to be worn as a craft fair helper. Inside, it features 5 "cash pockets", to make it easy to access individual bills. The exterior has 3 large slip pockets for notepads, bills, papers, and what not.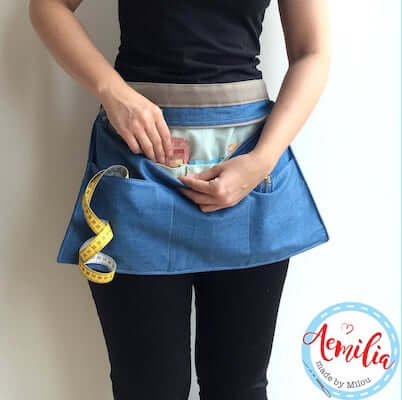 Get the Pattern by Shop XOXO Lauren here
21. Easy DIY 30 Minute Apron by Flamingo Toes
This adorable and Easy DIY 30 Minute Apron is so cute and makes up so super fast! With just a little fabric and a few seams you can have a darling apron in just a half hour – so you can make one up by dinner or you could give one as a house warming gift!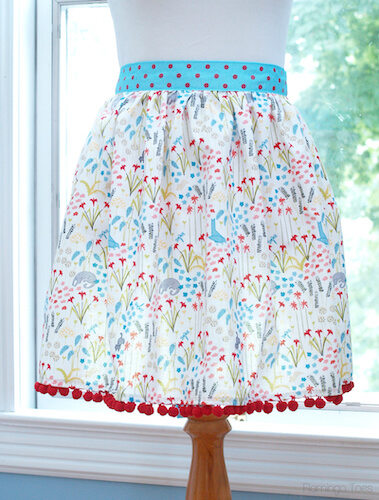 Get the Pattern here
22. Apron Christmas Sewing Pattern by Precious Patterns
This adorable knot apron is so cute and easy to make! Instructions are included to make the apron in three children's sizes – 3/4, 5/6 and 7/8. It can be made in the gingerbread girl, snowman and plain styles.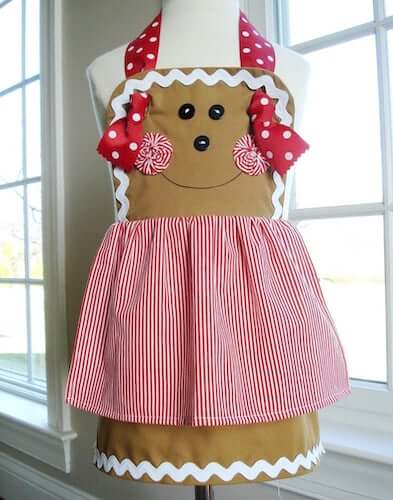 Get the Pattern by Precious Patterns here
23. Plus Size Cross Back Apron Sewing Pattern by Van Zandt Studios
This apron is very forgiving in sizing while using little fabric. It has hidden side pockets and the front has a very large pocket with 3 buttons to hold it shut. This pocket is really great for that end of the day to pick up or garden picking.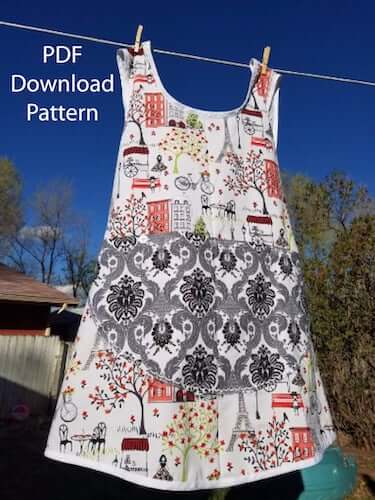 Get the Pattern by Van Zandt Studios here
24. Farmhouse Linen Pinafore Apron Pattern by Sisters, What!
This farmhouse, pinafore apron is made out of linen with leather as straps. It is easy to make, perfect for a beginner sewist. You can customize with your favorite linen and add contrast pockets.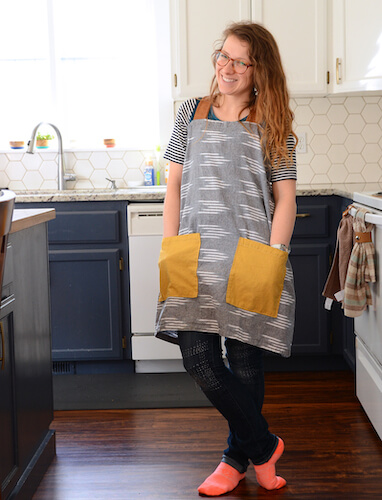 Get the Pattern here
25. Vintage Style Retro Apron Sewing Pattern by Smarmy Clothes
This cute vintage inspired apron is just the thing to make you a master of the kitchen! It has a full and flouncy circle skirt with a ruffled hem (perfect for twirling!), a sweetheart neckline, and adjustable halter straps and waist ties.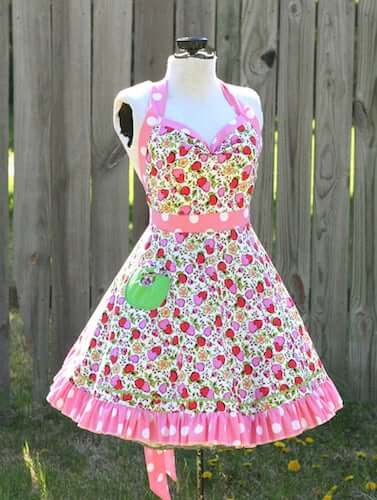 Get the Pattern by Smarmy Clothes here
26. Pretty Ditty Apron Sewing Pattern by Pretty Ditty
This Pretty Ditty Apron offers a variety of choices from 3 child size options (small, medium, large) to 3 adult size options (small, medium, large). The pattern also includes instructions to make the apron reversible or non-reversible.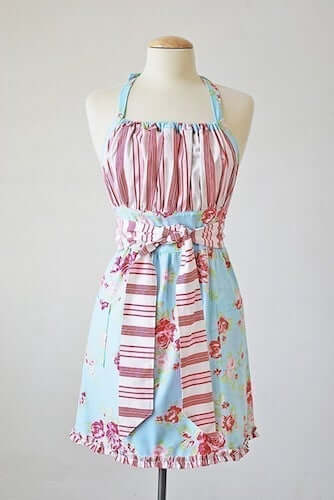 Get the Pattern by Pretty Ditty here
27. Free Apron Sewing Pattern by The Spruce Crafts
For an apron that's simple to sew and equally simple to slip on for quick cooking, give this free sewing tutorial a try! The style is similar to a smock, so instead of tying the back, the sides hold this apron in place.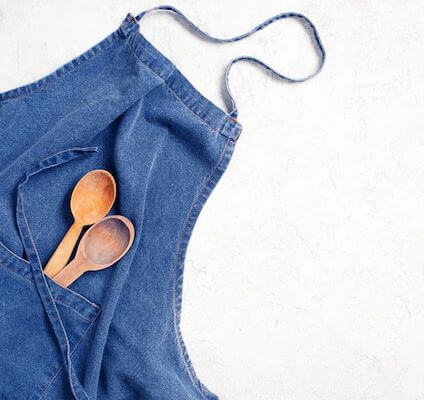 Get the Pattern here
28. Denim Apron Sewing Pattern by Creative Green Living
Turn an old pair of denim jeans or pants into a cute apron with just 1/2 yard of woven cotton fabric and this downloadable pattern.
This heavy duty apron is perfect for gardening, BBQ, crafty and other extra dirty tasks. It makes a lovely hostess gift, Christmas present or Mother's Day gift.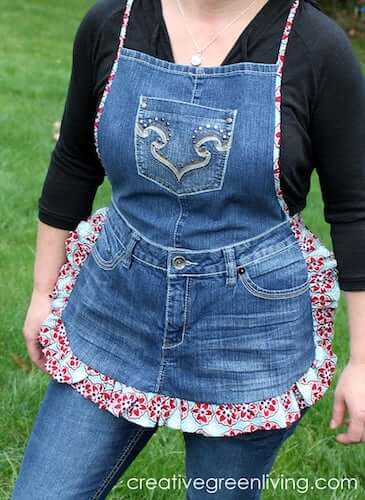 Get the Pattern by Creative Green Living here
29. Free Retro Apron Sewing Pattern by Crafty Kitty
This retro apron pattern features a sweetheart neckline, half circle skirt and finishes above the knee with contrasting bias binding and ties. One size fits most! Apron is 27" wide and 28" from top of bodice to bottom of skirt.
Get the Pattern here
30. Vintage Apron Sewing Pattern by The Seaman Mom
If you're looking for an apron sewing pattern with a little retro flair that is sweet looking, fun and easy to make, this Vintage Apron Pattern is it! This darling ruffled apron pattern is a great project for beginners!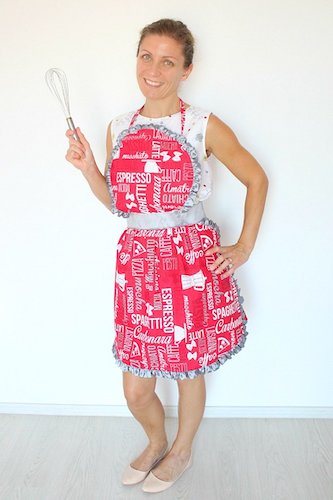 Get the Pattern here
31. Adjustable Apron Sewing Pattern by Purl Soho
There's no need for multiple aprons when you can make one that serves every chef in your house. Sew an Adjustable Kitchen Apron that you and your husband can share!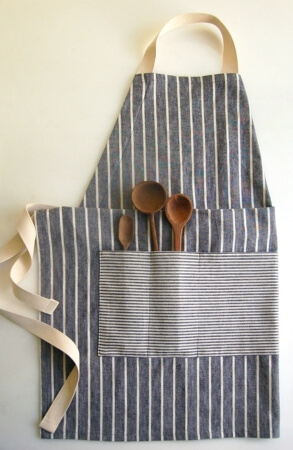 Get the Pattern here
32. Men's Apron Sewing Pattern by The Spruce Crafts
This free pattern is for a men's apron, but it really could be used as an apron for any adult. You could even change the size to make it fit a child. This does make a great homemade gift for Father's Day, giving dad a ay to stay clean in the kitchen and at the grill.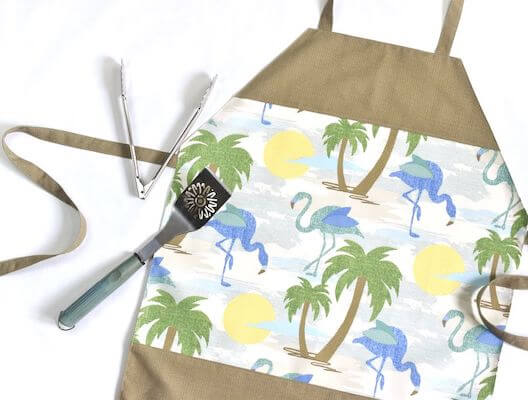 Get the Pattern here

33. Utility Apron Sewing Pattern by Waffle Patterns
This Utility Apron is the perfect work apron for when you need an extra set of hands. Whether you use this hardworking apron in the workshop, garage, garden, craft room, or sewing studio, you'll find the perfect spot for the tools of your trade.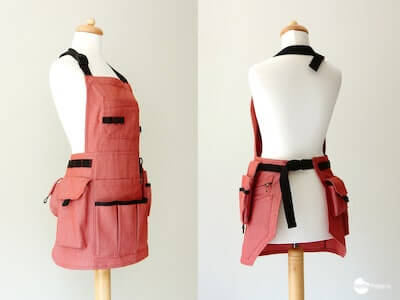 Get the Pattern by Waffle Patterns here

34. Pinafore Apron Sewing Pattern by Studio Handworks
This lovely Pinafore Apron is so elegant that it feels almost like a new dress, but functional cover-up it is! It is designed to be loose and easy, so that when you bend over to baste the bird or reach up to grab the pie pan, you know you'll feel comfortable. If nothing else, I know I'll be dressed for e very successful mess with this Pinafore dress!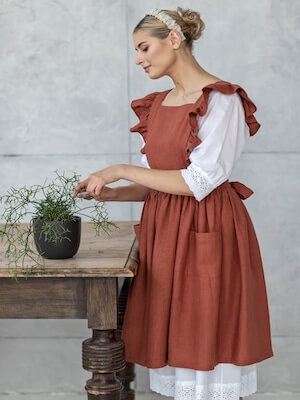 Get the Pattern by Studio Handworks here

35. Free Modern Patchwork Apron Pattern by Suzy Quilts
This Modern Patchwork Apron is a quick project for beginners! It's a unisex apron that fits all sizes and you only need basic sewing supplies.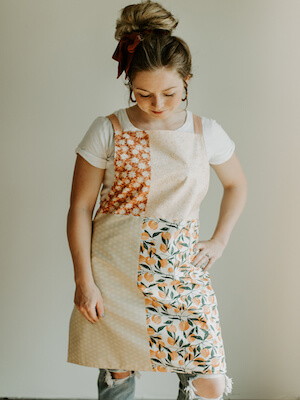 Get the Pattern here

36. Belle Princess Dress Up Apron Sewing Pattern by It's Always Autumn
Pair this handmade apron with a flouncy skirt to make your little girl feel like he Belle of the ball!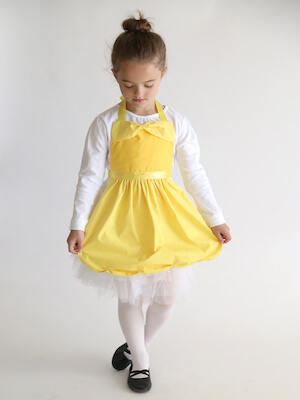 Get the Pattern here

37. Japanese Apron Sewing Pattern by Modern Vintage Designs
Improves your dressmaking skills with this Japanese Apron Sewing Pattern. This beautiful cover-up is the perfect garment to serve you in your daily household chores, gardening, or creative endeavors and features two large front pockets so your essentials are close at hand. Comfortable and easy to wear, it is sure to be a wardrobe essential for years to come!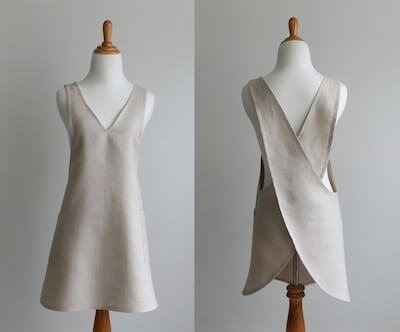 Get the Pattern by Modern Vintage Designs here
TAKE ON ONE OF THESE APRON SEWING PATTERNS SO YOU CAN MAKE AN APRON TO GIVE AS A GIFT OR TO USE YOURSELF!
Bet you've seen at least a dozen apron pattern ideas perfect for you and your personality! Inspire others by sharing your finished projects on our Facebook Page.
Are you ready for your next sewing project? Check out our Adult Bib Patterns and other sewing patterns ready for you!
For now, whip up one (or all!) of these fun apron patterns to sew in time for holiday baking or gift giving!