Adult bibs are often necessary for elderly adults and those who have disabilities. These bibs are designed to protect the clothing from spilled food. Old bibs were not fashionable and could be humiliating to wear. Today, there are many adult bib patterns that will create fashionable and useful adult bibs.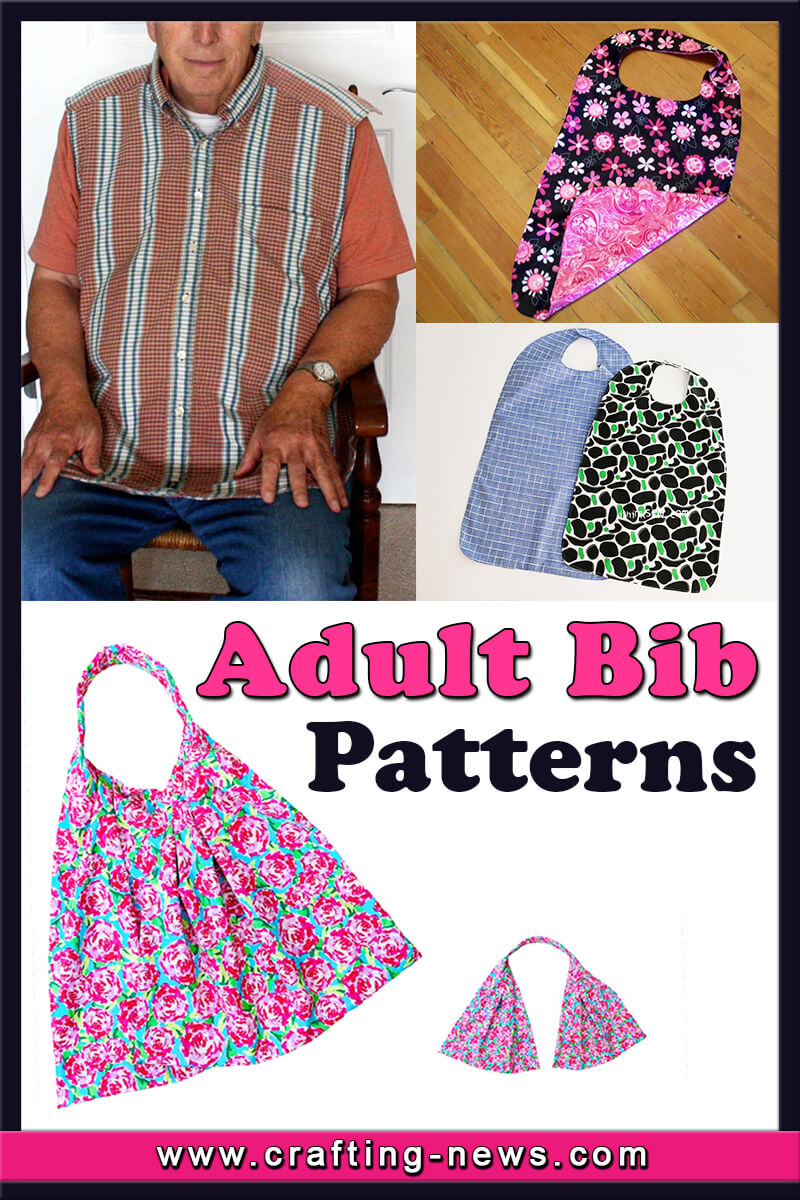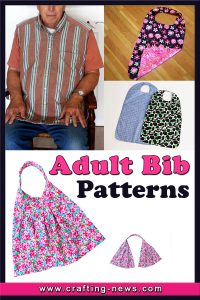 Below is our list of 15 adult bib patterns. All the patterns we listed are stylish. Nobody should have to feel embarrassed because they need to wear an adult bib.
1. Adult Bib Sewing Pattern by MAOoriginals
Sew a reversible bib with this easy-to-follow pattern. One side features a single cloth design and the other has a little more pizzazz.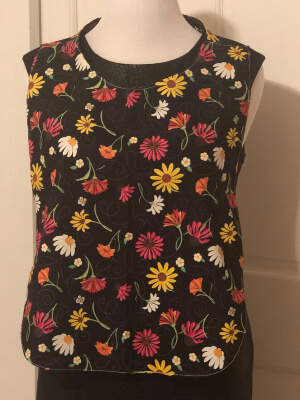 Find the Pattern by MAOoriginals HERE
2. Easy Adult Bib Pattern For Handicap, Special Needs, Stroke, Alzheimers, Dementia, Etc. by 2TeensandaToddler
This is a very easy-to-follow pattern. It is perfect for handicap, special needs, stroke, Alzheimer's, dementia, etc. The complete bib measures approximately 14 inches wide x 20 inches long.
Even beginners who are just learning how to sew can complete this pattern. There are no complicated sewing terms or stitches. Included are easy step-by-step instructions that will guide you through the project.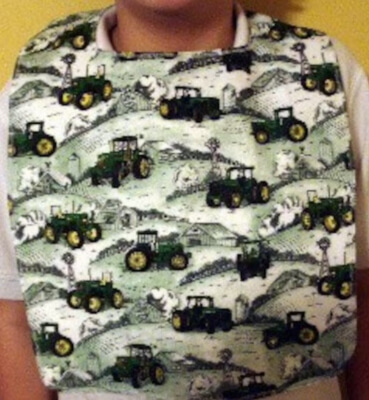 Find this Pattern by 2TeensandaToddler
3. Adult Bib Sewing Pattern by adesignbyangie
The Dinner Scarf Adult Bib resembles a scarf. Nobody will have to be embarrassed when they wear this elegant bib.
Included with this download are detailed instructions, photos and the pattern. The finished dinnertime scarf measures 24 Inches from the drop at the neck on each side and 19 inches across the chest.
You can easily change the width and length to meet your needs.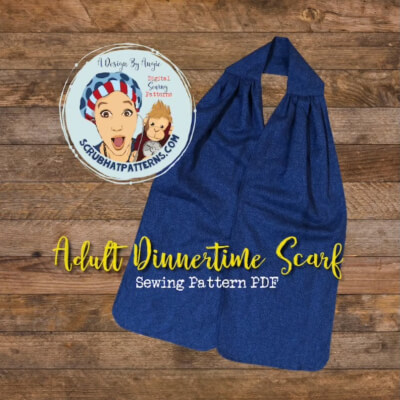 Find the Pattern by adesignbyangie HERE
4.
Free Adult Bib Pattern from ithinksew Patterns & More
Here is a free adult bib pattern. You can also use it for children to keep food off their pants. Or you can attach snaps on the bottom corners and fold the bottom edge up to catch dropped food.
It also makes a great smock when doing crafting projects.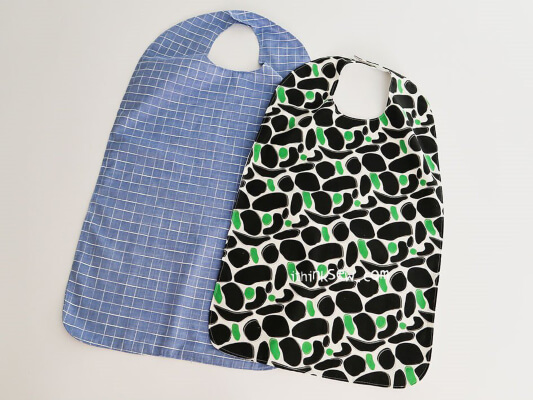 Find the Pattern from ithinksew Patterns & More HERE
5. Adult Bib Sewing Pattern by Bogiepatterns
If you have an embroidery sewing machine, you can have a lot of fun making this free adult bib pattern. The instructions show you how to make a comfortable bib and how to add your embroidery designs.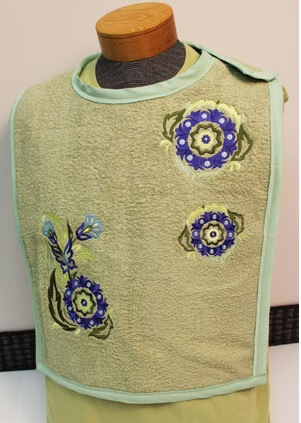 Find the Pattern by Bogiepatterns HERE
6. Dignity Adult Bib Pattern by FabricGreetings
This is a great idea for an adult bib. This pattern upcycles men's shirts. When the wearer has this bib on, it looks as though they are wearing a button-down shirt.
To complete this pattern, you need to have a basic knowledge of sewing and a sewing machine. The sewing machine needs to do both straight and zig zag stitching.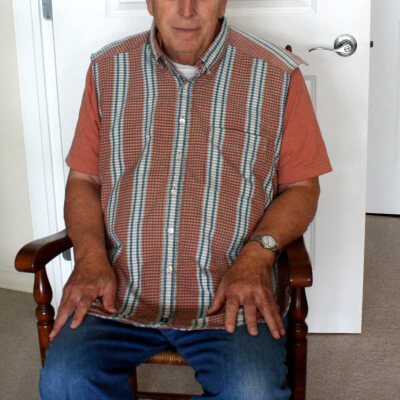 Find the Pattern by FabricGreetings HERE
7. Adult Bib Pattern from Laurie's Sewing Studio
Many adult bibs use ties. With this pattern, there are no ties to mess with. This makes it easier for those with arthritis to use.
This free adult bib pattern prints out on 8 1/2 inch ×11 inch sheets of paper. Once printed, assemble the sheets and cut out the pattern.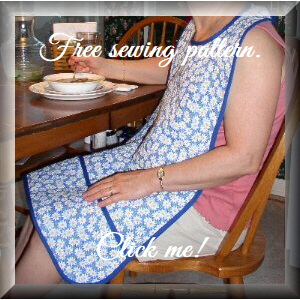 Find the Pattern from Laurie's Sewing Studio HERE
8. SEW an Adult or Child bib with optional crumb catcher pocket by DiNanny
This bib pattern can be used for an adult or a child. It has an optional "crumb catcher" pocket on the bottom on the front.
The pattern uses 1 yard of cotton, soft flannel or terrycloth. The child size bib pattern uses 1/2 yard.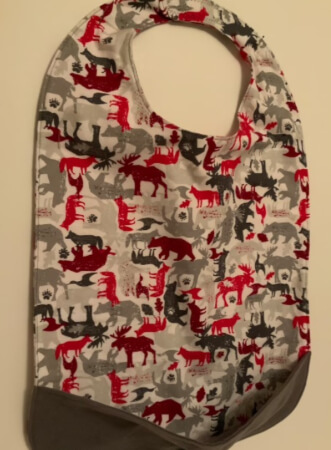 Find the Pattern by DiNanny HERE
9. Easy Adult Bib Pattern by AlohaLittleOnes
The adult dignity scarf bib was designed to cover the entire front torso. It provides protection while allowing adults with special needs and the elderly to eat with dignity. When they wear this bib, they will not have to feel uncomfortable.
This pattern has an easy-to-follow tutorial and step-by-step instructions. There are also plenty of colour photos to make the project even easier. It is a great pattern for beginner sewers.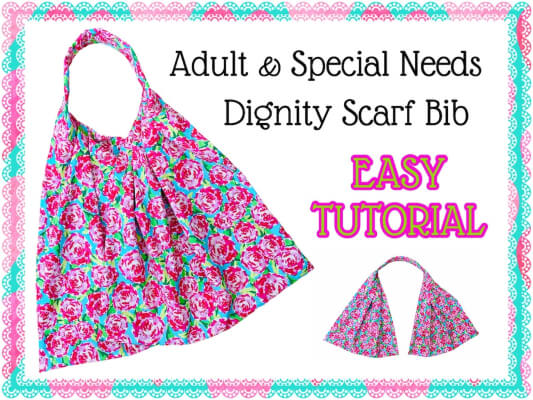 Find the Pattern by AlohaLittleOnes HERE
10. Adult bib/apron Printable Digital Pattern by faithwerks
These bibs have an added layer of material call PUL. This helps to make the bibs waterproof, so the liquid will not soak through.
With this downloadable pattern, you will receive the pattern and a video tutorial teaching you how to put this bib together. Each bib requires half a yard of fabric for the top of the bib, half a yard of terry cloth, and half a yard of PUL.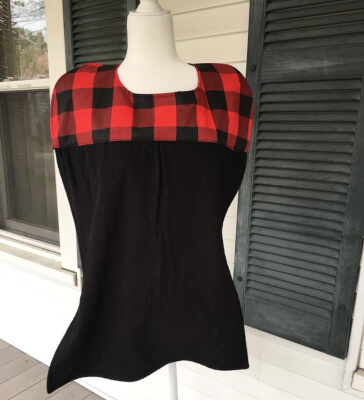 Find the Patten by faithwerks HERE
11. Adult Bibs in all Sizes by Fish Sticks
Here is a free pattern you can use for an infant, toddler or big kid. The pattern can easily be made larger for an adult. The bib closes around the neck with the use of snaps. This makes it easy to get on and off quickly.
To make this bib you will need the main fabric, flannel, waterproof backing, and 2 sets of size 16 metal snaps (1 set for infant bib).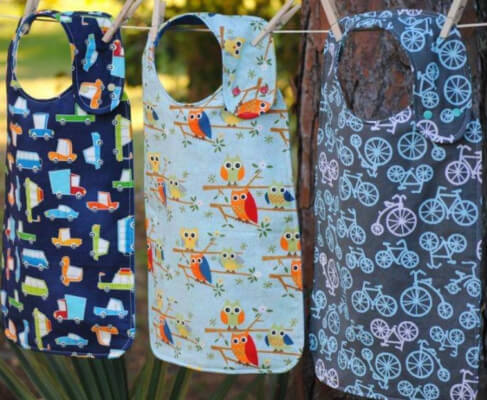 Find the Pattern by Fish Sticks HERE
12. Blair Adult Bib One Size Fits Most Sewing Pattern by designingtwining
This adult bib sewing pattern is easy to complete and is suitable for confident beginners. There are only three steps to complete. Each bib can be made in as little as 30 minutes.
If you are looking for a bib to make for charity, this is a very nice pattern that works up quickly.
The finished adult bib is reversible. You can add the optional layer to make it leakproof. The bib will fit neck sizes 14 inches to 22 inches.
There are cutting lines on the pattern and instructions to adjust for bigger or smaller sizes. The finished bib is 18 inches across, and 23 ¼ inches from the neck to the hem.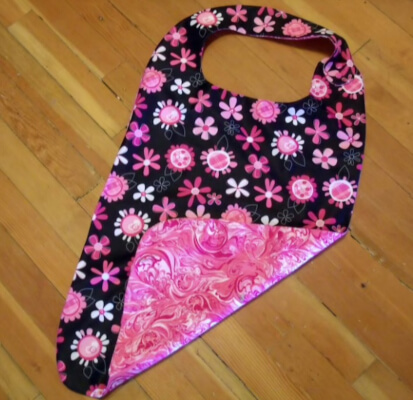 Find the Pattern by designingtwining HERE
13. Adult Bib Apron by Jane Skoch
With this free adult bib pattern, you can make a basic bib with long draping. It can be used as a bib or an apron. The pattern is very easy to complete. It is a good pattern for beginners.
For more apron patterns, check them HERE.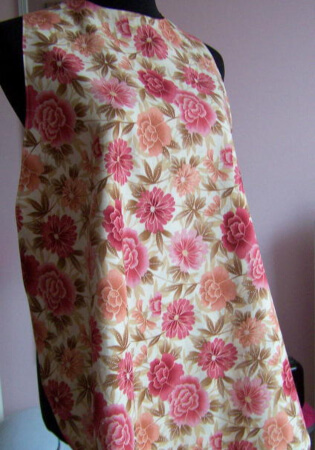 Find the Pattern by Jane Skoch HERE
14. Adult Bibs from Sewing.org
These long adult bibs are great for nursing home facilities or caregivers who help to feed persons with disabilities.
Each pattern uses two layers of fabric bound with bias tape. The neck is fastened using hook and loop tape. The bibs are reversible, so you can use two different colours or designs.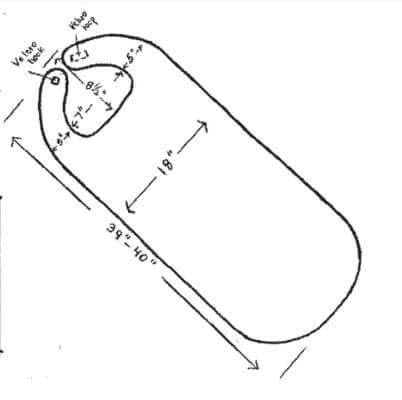 Find the Pattern from Sewing.org HERE
15. Sydney Bib Alternative and Nursing Cover Pattern by designingtwining
The Sydney Bib cover is a versatile pattern. You can use this pattern to make a bib or make it with fleece to make a scarf. The pattern has a lengthen/shorten line, so you can adjust the size of the scarf to fit children or adults.
This scarf pattern can be made in as little as 30 minutes. It is an easy pattern that can be complete by a beginner.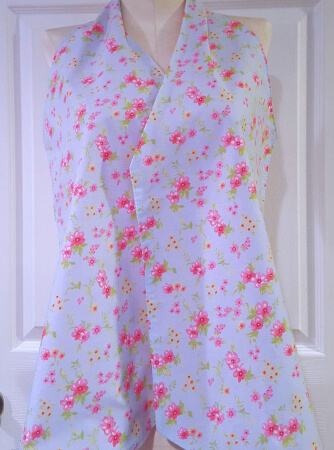 Find the Pattern by designingtwining HERE
NOBODY SHOULD BE EMBARRASSED WHEN THEY ARE EATING. THESE ADULT BIB PATTERNS WILL HELP PEOPLE KEEP THEIR DIGNITY.
Adult bib patterns are simple projects that most beginners can effortlessly master. If you have a loved one that is elderly or has disabilities, use the above adult bib patterns to make several fashionable bibs.