If you are like most people, you have your phone with you all the time. You cannot live without your phone. Over the years you have probably had countless phone covers.
Instead of buying a plain, boring phone cover, jazz yours up. You may never have thought about it, but you can decorate it. Painted phone cases are becoming more and more popular.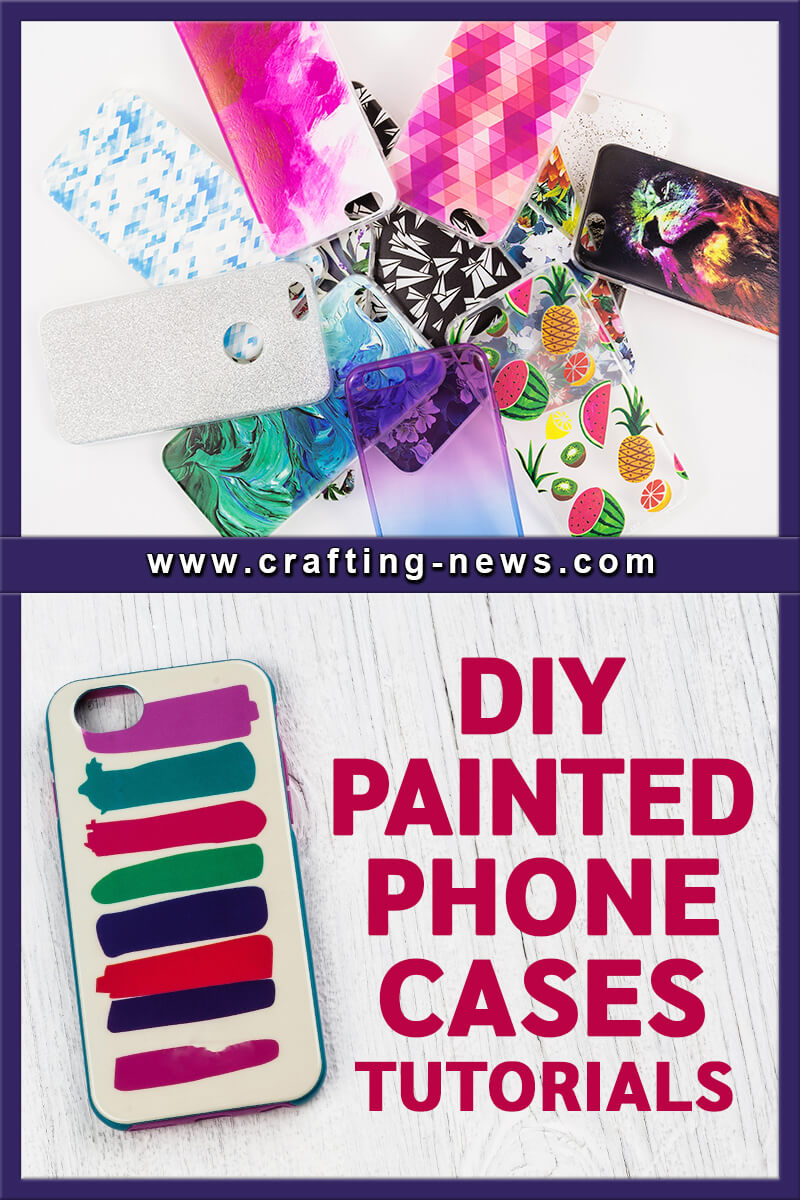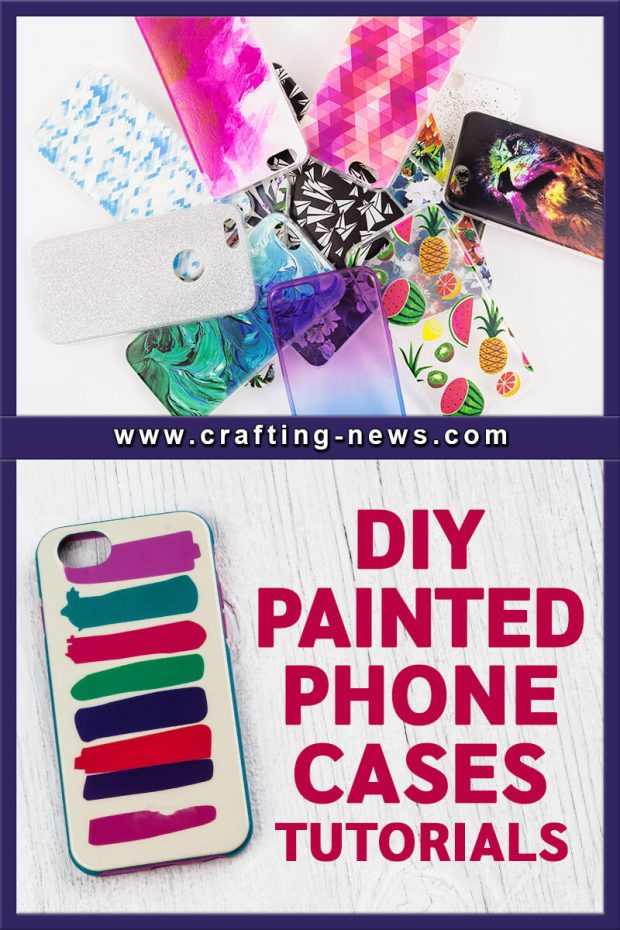 How to Make Painted Phone Cases
There are many techniques for painting phone cases. Here are the most basic steps.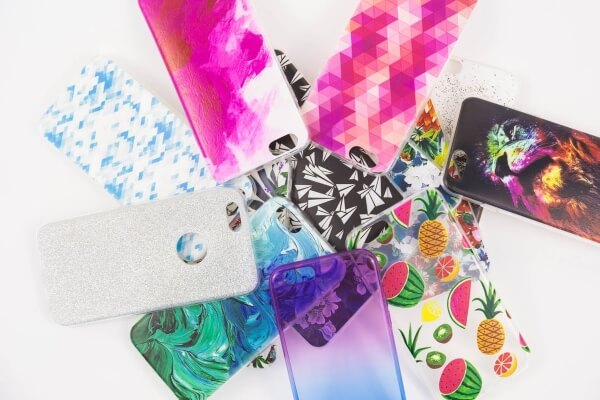 Materials Needed for Painting Shoes
A Phone Case
Cotton Balls
Rubbing Alcohol
Primer
Paintbrushes
Clear Topcoat Enamel
Paper
Pencil
Basic Steps for Making Painted Phone Cases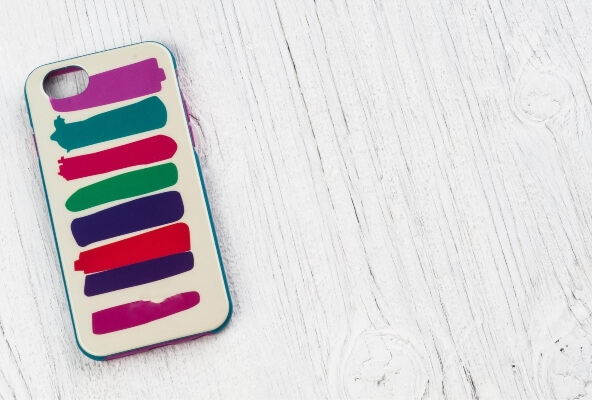 Come up with a design. If you are planning on painting a character or words, you may want to draw them out on paper first.
Wet a cotton ball with rubbing alcohol and wipe down the phone case. This will remove any dirt and oils making it easier for the paint to adhere. Allow the case to dry.
Apply a thin layer of white primer to the case. Allow the primer to dry completely.
Paint your design on the phone case. If you need to apply more than one coat, allow the paint to dry completely between coats.
Once you have finished painting the phone case, leave it dry for several hours. Once you are certain it is completely dry, apply a clear topcoat enamel to protect the design.
Painted Phone Case Ideas
1. Acrylic Pour Phone Cover Painting
Acrylic pouring is all the rage right now. So, why not use the technique for painted phone cases. You can create some beautiful abstract designs. And no 2 phone cases will ever be exactly the same.
2. The Splatter Technique
The splatter technique is used in all types of crafts. It is a fun technique that can be completed with a toothbrush or regular paintbrush.
3. Use Spray Paint Mobile Cover Painting
You can create custom painted phone cases for everyone in your family with this quick and easy technique. You can use bright fun colours or muted colours.
4. Use Glitter
Make your phone case sparkle with glitter. This technique is super easy. Simply paint on a layer of Mod Podge and coat it in a thick layer of glitter.
5. DIY Galaxy Mobile Case Painting
Use this easy technique for creating beautiful painted phone cases to make a galaxy. You will need a sponge, a paintbrush, a toothbrush, a toothpick, and paint.
6. Anime Characters DIY Painted Phone Case
This video tutorial will show you just how easy it is to create Anime painted phone cases. You can draw your own character or simply trace your fabric character directly on your case.
7. Hydro Dip It
You have probably seen the hydro dipping used on car parts, shoes, mugs, etc. But did you know you can use it to create painted phone cases too?
8. Use a stencil
If you have a die-cutting machine, you can create a unique stencil to paint your phone case. Or you can buy a stencil at a craft store. A stencil makes it easy to create shapes, animals, words, and more.
9. Use Up Your Stash of Nail Polish
This is a fun phone painting technique that allows you to use up that old nail polish. You can even add glitter!
10. Create Doodles
Do you like to doodle? Use your talent to create painted phone cases.
11. Show Your Love for Mickey Mouse
Do you love all things Disney? This is a very simple way to create a Mickey Mouse motif without having any artistic skill.
12. Color Changing Phone Case
Create a fun colour changing effect with this technique for painted phone cases. Along with your phone case you will need sticker paper, colour changing paint, colour changing pigment, a pencil, a paintbrush, and scissors.
13. Diamond Painting
Diamond painting does not involve the use of actual paint. Instead, it uses diamond drills. If you have a lot of leftover drills from other projects, this is a unique way for using them up.
14. Monograms
Beautify and personalize your phone case with a monogram. Creating a monogram is easy. If you do not trust yourself to draw it freehand. Print one off and use a transfer paper to trace it on your phone case.
15. Glow in the Dark
Here is another super simple way to create unique painted phone cases. And who does not love glow in the dark?
16. Superhero Inspired
Make a superhero inspired phone case that glows in the dark. This painted phone case is a lot easier than it looks. Instead of painting the character, you use the negative and paint behind it.
17. Use Sharpies
Sharpies come in a wide variety of colours which makes them fun to draw with. If you enjoy drawing and want to show off your artwork on your phone, sharpies are a great way to do so.
18. Cute Watermelon
Here is a free video tutorial that will walk you through making adorable watermelon painted phone cases. You can have a lot of fun customizing this little cutie.
19. Posca Pens
Posca Pens are vibrant acrylic markers. Use these markers to create painted phone cases that pop.
20. Ombre Glitter
Have you dabbled in resin art? Check out this tutorial to see how to use resin to paint an ombre phone case. The resin gives it a glossy, smooth finish.
21. Rainbows
We all love seeing a rainbow. If you love the rainbow, use this simple technique to brighten up your phone case.
22. Crackle
Watch this video tutorial to learn how to create this striking crackling pattern. You will need two colours of spray paint, clear enamel spray, a tall container of water, a sponge, a heat gun, TSP cleaner, and a pair of rubber gloves.
23. Marble Design
Marble designs are always classy. See just how easy it is to create beautiful, patterned phone cases with this tutorial.
24. Make a Mandala
Mandala rock painting is relaxing and enjoyable. You can use this same technique to create painted phone cases.
Also see: Mandala Rock Painting Kits and Macrame Mandala Patterns
25. Tie-dye
Use this super easy method of creating painted phone cases to make a tie-dye phone case. You can make one of these phone cases in just a couple of minutes. And you can use any colours you want.
Also see: Easy Tie Dye Techniques, Tie Dye Sweatshirt Patterns and Tie Dye Patterns
26. Create a Chevron Pattern
Do you have a pair of zig zag crafting scissors? Use them to create a chevron pattern on your phone case. All you need are a phone case, the scissors, masking tape, paint, and sponges.
27. Alcohol Inks
Alcohol inks are fast-drying, highly pigmented, alcohol-based inks. They are perfect for decorating your phone case.
28. Make Waves
Here is another technique for creating beautifully painted phone cases with resin. If you have worked with resin before, you will not have any problem making these gorgeous cases.
29. Abstract
Use this method to paint an abstract pattern on your phone case. You will need acrylic paints, a round foam brush, a paintbrush, plastic wrap, glass pens, a lighter, gloss Mod Podge, and resin.
30. Easy Grid
Paint a rid pattern on your phone case using this simple technique. All you need is a phone case and nail polish with a fine tip.
31. Floral Designs
Make an old phone case look new by adding a floral design. Flowers will give the case a pretty, feminine touch.
32. Geometric Shapes
Anyone can make geometric shapes. If you are looking for an easy way to create colourful painted phone cases, check out this video tutorial.
Start making one of these fun painted phone cases!
We'd love to see any of your work, share a pic over on our Facebook Page.
Not only is it fun to paint a phone case, but you can also show off your creation everywhere you go. We hope our list of ideas for painted phone cases has inspired you to get creative and start painting.