Mandalas are often used for practicing meditation and mindfulness, and macrame mandalas serve the same purpose. No longer used only as a religious symbol, they can still be meditative to make and admire. And in macrame, they can be useful too – as trivets, wall, and table decor.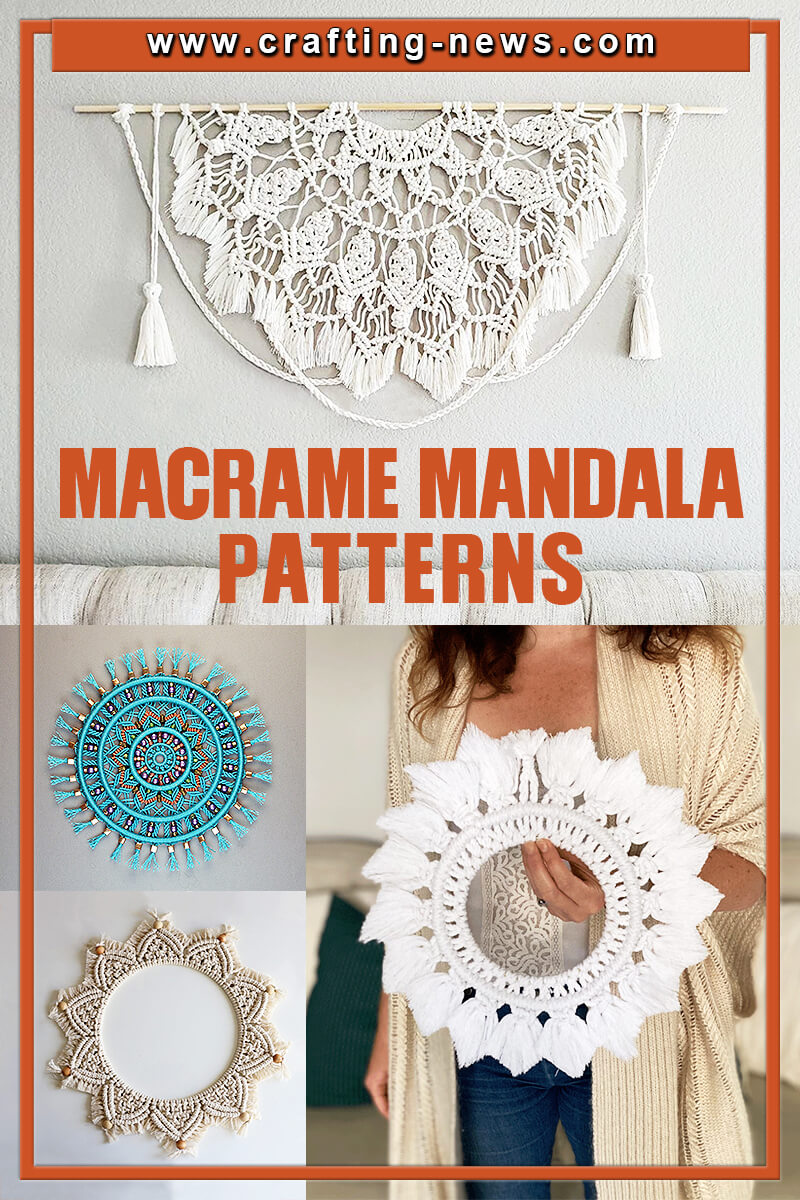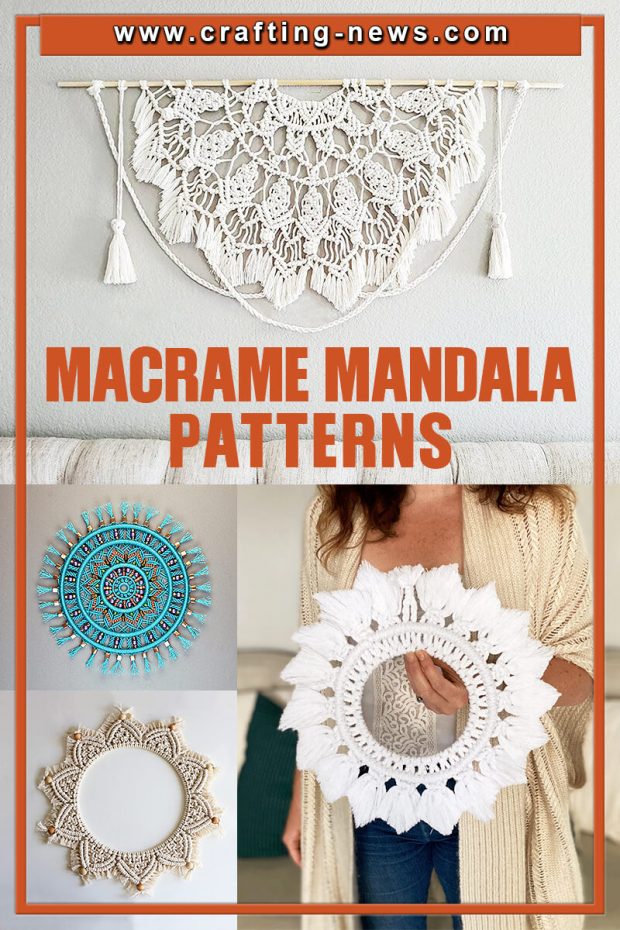 Mandalas are circular designs symbolizing the notion that life is never ending. These macrame mandala patterns are ideal projects for those who want to try something different and enjoy a bit of a challenge. Give them a try!

1. DIY Mandala Macrame Wall Hanging Wreath by Melanie Ham
This gorgeous mandala macrame wall hanging wreath is a simple project with such a stunning result. Its fun that you can either hang it up on the wall or lay it flat on a table for a beautiful centerpiece.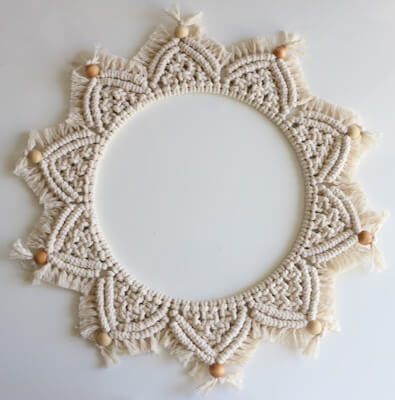 Follow the tutorial here

2. Macrame Mandala Pattern by Lace Like Designs
You can hand-craft a one-of-a-kind macrame mirror to bring your space back to its boho roots. Use this pattern to guide you through your macrame craft project. Then, hang them up on their own or mix and match them together to create a whole new vibe.
See our 21 Macrame Mirror Patterns here.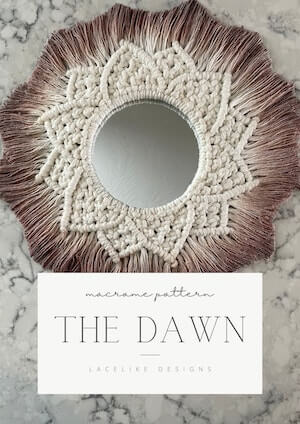 Get the Pattern by Lace Like Designs here
3. Stella Mandala Macrame Pattern by Micro Macrame Maven
The micro-macramé "Stella Mandala" is a symbol of beauty and harmony that will enhance any wall space or window. This tutorial includes complete instructions with step by step photos, materials list, and knot diagrams. The finished mandala measures approximately 5½" (14 cm) across.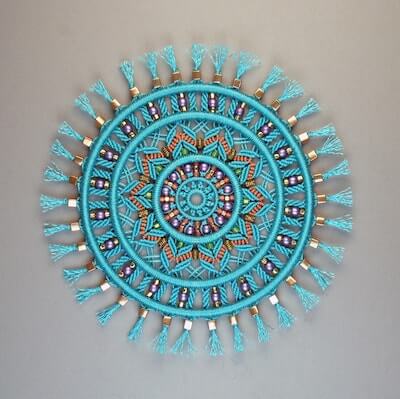 Get the Pattern by Micro Macrame Maven here
4. Simple Mandala Macrame Wall Hanging by Matching North
Learn how to make a beautiful and simple macrame mandala wall hanging in this step by step tutorial and video! You can use it as a wall hanging or even as a centerpiece on your table.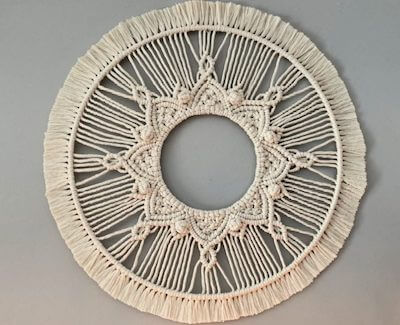 Get the Pattern here
5. DIY Macrame Mandala Tutorial by Olga's Macrame
This DIY Macrame Mandala Tutorial has a lot of steps, but don't let it discourage you – the project might be lengthy and seems complicated, but it is actually pretty easy and uses only several common Macrame knots.

The outcome will be a beautiful lace-like doily for your home, or you can use this pattern to make a round wall hanger – dreamcatcher style!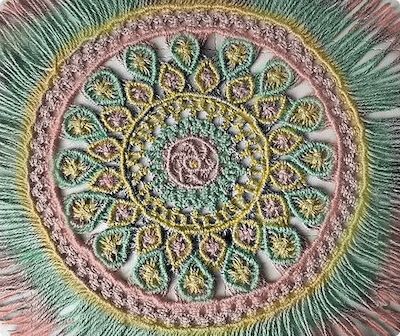 Follow the tutorial here
6. Half Mandala Macrame Wall Hanging Pattern by Cord Plus Quartz
This is a detailed step by step guide on how to make this one of a kind beautiful macrame half mandala wall hanging.

This pattern will tell you exactly the supplies you need, the lengths of each cord, all of the guesswork is taken out while you use your talented hands to make it.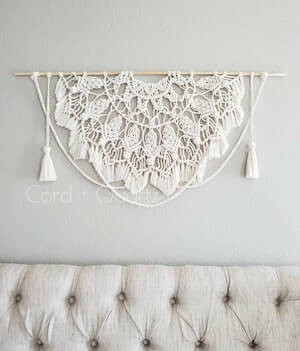 Get the Pattern by Cord Plus Quartz here
7. Macrame Snowflake Mandala by Bergin And Bath
Don't be intimidated by the picture, this macrame snowflake mandala actually looks way more complicated than it is. After you learn the basic macrame knots, it will be a breeze to make!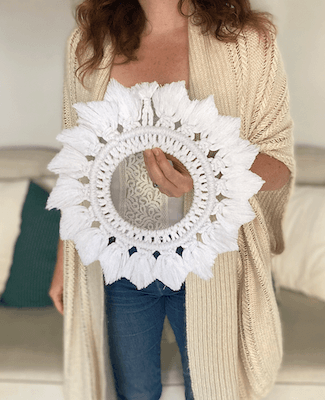 Get the Pattern here
8. Lotus Flower Macrame Mandala Pattern by Hemp Craft
This macrame flower is easier than it looks, especially with my easy to follow video. If you can make a square knot, you can make this lotus flower mandala.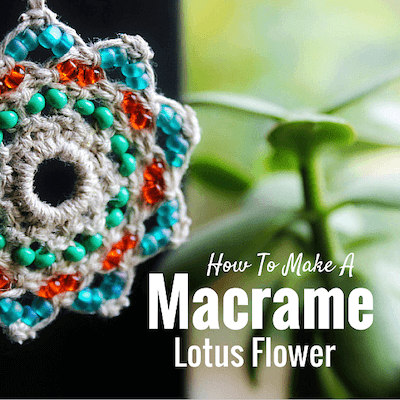 Follow the tutorial here
9. Macrame Semi Circle Mandala Pattern by Honalee Studio
This tutorial includes step-by-step instructions with over 125 pictures to show you how to make this colorful wall hanging that measures 12 inches across by about 12 inches tall.

To complete the pattern as pictured you'll need 100 feet of 5mm, 100% cotton, single twist cord plus 5-10 feet of each color (4 colors total) 5mm, 100% cotton, single twist cord. This is a great design if you happen to have small amounts of colored cord left over from previous projects.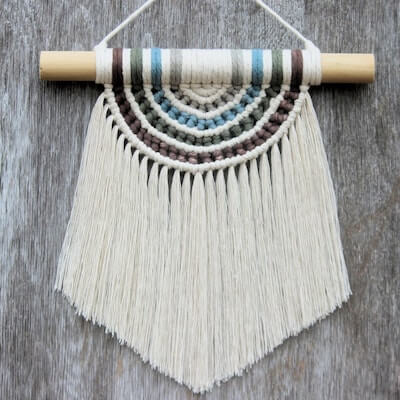 Get the Pattern by Honalee Studio here
10. Macrame Mandala Wreath Pattern by How Design
You can make this bohemian Macrame mandala/wreath yourself! And it will be a perfect wall hanging decor in your home.
This diy mandala macrame pattern is normally for intermediate makers but every knot is explained in detail, even if you are a beginner maker, you can easily do this pattern and learn 5 types of main knots.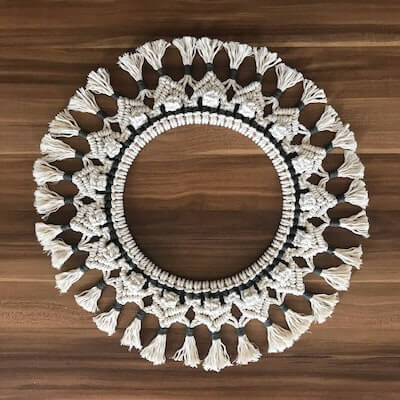 Get the Pattern by How Design here
EACH MACRAME MANDALA IS UNIQUE AND SPECIAL AND THE COLOR CHOICES ARE ENTIRELY CUSTOMIZABLE!
Now you've got a whole bunch of these macrame mandala patterns to make, it's time to show them off. Post them over on our Facebook Page to get them the exposure they deserve.
Oh and for even more macrame goodness, check out our macrame patterns section which is constantly updated with all the latest macrame projects and trends.
Macrame mandalas are beautiful and can be used all over the home as decorative pieces. Make yours today!