Kids have always drawn on their shoes, but the painting trend did not start until recently. Painting your shoes is a great way to show your individuality and creativity with these shoe painting ideas. You can use an existing pair of shoes you already own. Or purchase a cheap pair of white sneakers.

There is a vast array of shoe painting ideas on the internet. Simply pull up Pinterest, and you can scroll through shoes for hours.
You can copy some of their designs or come up with your own unique designs. There is everything from galaxy sneakers that are out of this world to floral designs that are cute and feminine.
Materials Needed for Painting Shoes
How to Paint Shoes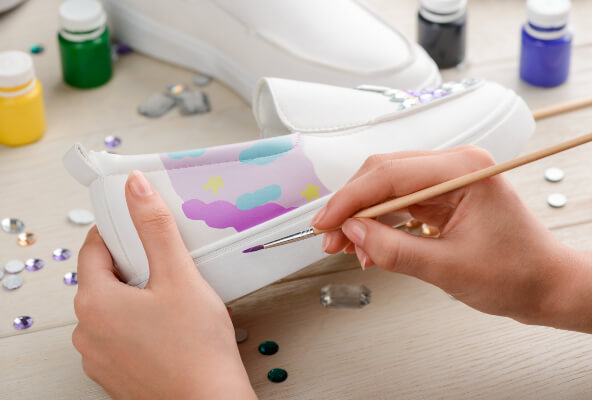 Come up with your design. If you are painting a character, creating shapes, or words, we would recommend that you plan your design on paper first.
Remove the shoelaces from both shoes. You can reuse the shoestrings when you are done or replace them with a pair that will complement the paint job.
Wet your cloth or cotton ball with the acetone. Use the cloth/cotton ball to clean the surface of the shoe.
Use the masking tape to protect any areas you will not be painting. This includes the soles.
If you are drawing a design on the shoes, sketch it out.
Paint the shoes. It may take more than one layer of paint. If it does, let the paint dry completely between each coat.
Allow the shoes to dry thoroughly. You can use a hairdryer or heat gun to speed up the process.
If needed, outline the images with a permanent marker for shoes. This can make the designs pop.
Protect the paint's durability by applying a light coat of finisher over the outside of the shoe. It is important that you let the spray dry completely between each coat. This step is optional but highly recommended.
Gently remove the masking tape. If it is stuck under the paint, use a hobby knife to cut the tape free without damaging the design.
21 DIY Shoe Painting Ideas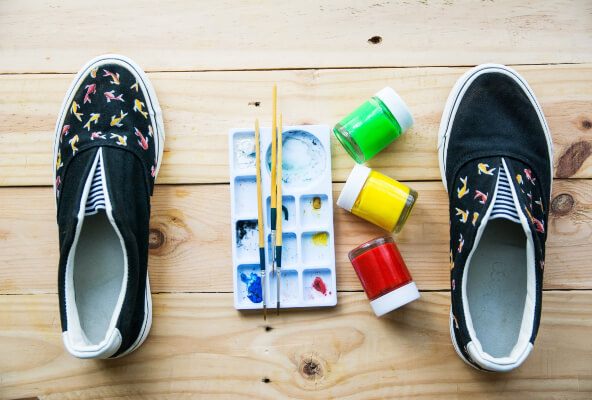 1. Simply change the colour
If your shoes are scuffed up and no longer look good, or you do not like the existing colour. Simply paint them a different colour.
2. DIY Glitter Shoes
Girls love glitter paint. This paint can be used on all types of shoes. It is a great way to spice up wedding shoes.
3. Shoe Metallic Look
Add some shine to your shoes and give them a metallic look with some glossy metallic paints.
4. Tie-dye
Tie-dye never goes out of style. Have fun and create some whimsical tie-dye shoes. You can use tie-dye paints or markers.
5. Comic Book Inspired Shoe Design
Do you love comic books and comic inspired movies? Paint them on your shoes. You can get really creative with your designs. You can paint one character on one shoe and their nemesis on the other. Or cover your shoes in a bunch of characters.
6. Ombre Design
The ombre effect is always pleasing to the eye. Start with a light colour on the toes and work your way to a dark colour on the heel. Or vise versa.
7. Airbrush Shoe Painting
Use an airbrush to create spray paint sketches or paintings.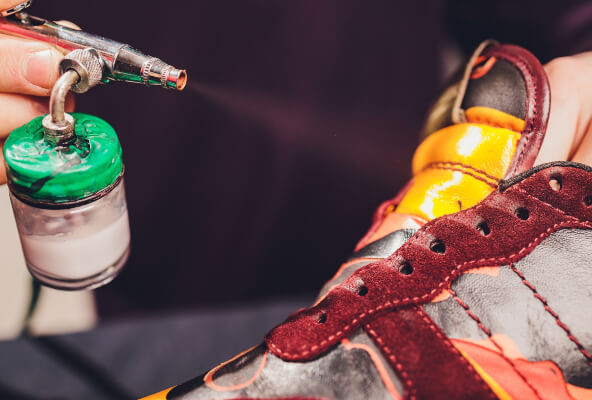 8. Use a stencil
If you have a die-cutting machine, you can create your own stencils to paint your shoes. The possibilities are endless. Make shapes, words, animals, cartoon charters, and more. Check out the Best Die Cutting Machines here.
9. Shoe Disney Inspired
Everyone loves Disney, especially children. If you or your kids are fascinated with Disney characters, paint them on your shoes.
10. Flames Shoe Design
People add flames to their cars, motorcycles, and clothing. So, why not add them to your shoes too?
11. Dripping Paint Effect
Create an effect of dripping paint. You can have it running completely down the sides. Or have it dripping off specific areas such as the logo.
12. Checkered Shoe Design
People love their checkered Vans. Take inspiration from the iconic shoe and make your own.
13. Add Flowers
Flowers are a great way to add a girly touch to a pair of shoes.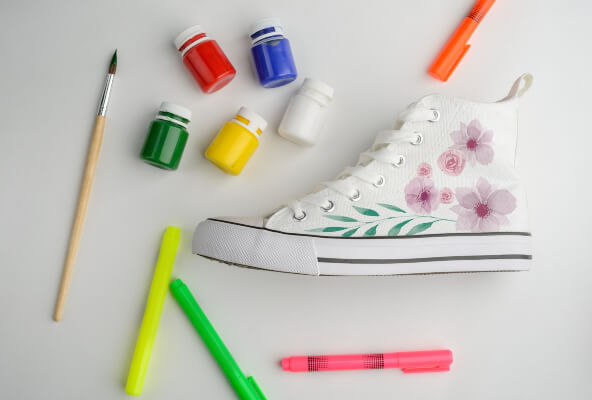 14. Abstract Shoe designs
Abstract designs were all the rage in the 1980s, and they have made a comeback. Create the design with monochromatic colours or celebrate the 80s with bright neon colours.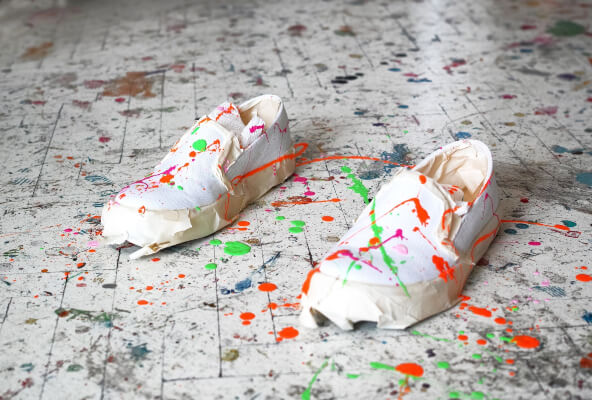 15. Video Game Inspired Shoe Design
There are so many things you can do with video games. Paint the characters or the game boards. One classic pattern we adore is Pac-Man chasing the ghosts.
16. Music Groups
Are you a die-hard fan of a music group? If so, show your support by painting their logo or faces on your shoes.
17. Animals Prints
Animal prints are another pattern that never goes out of style. Paint leopard spots, zebra stripes, cowhide, or peacock feathers.
18. Psychedelic Designs
Along with tie-dye print, psychedelic prints were all the rage in the 1960s and 1970s. The prints are fun and colourful.
19. Map Shoe Design
Do you enjoy travelling or love studying history? You may want to consider painting a map on your shoes. You can use a current local map or vintage map from another country.
20. Skulls
A lot of people wear skull clothing. From gothic teenagers to bikers and fashionistas. If you are looking for a way to add some subtle skulls to your wardrobe, paint them on your shoes. You can also decorate your shoes in sugar skulls.
21. Galaxy Designs
DIY galaxy shoes are extremely enjoyable to make. And no two will ever look the same.
DIY Galaxy Print Shoes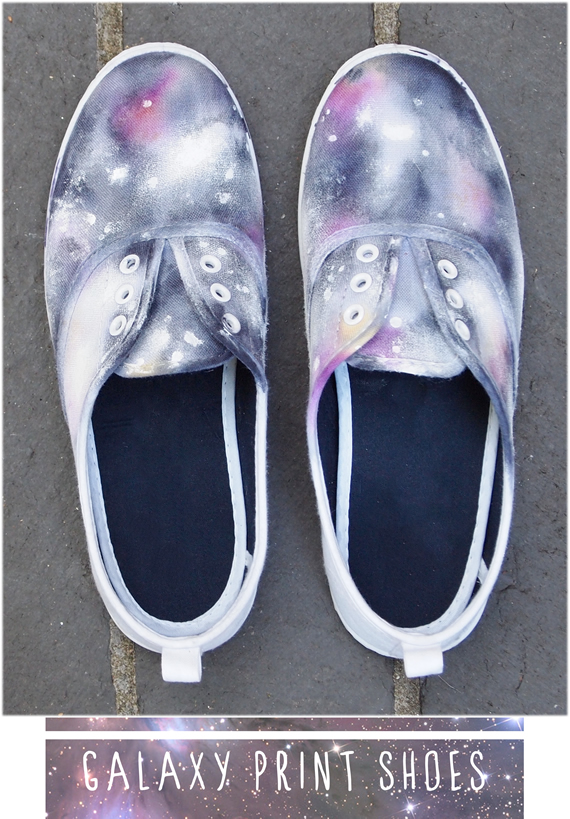 These galaxy print canvas shoes are so eye-catching and yet so simple to make. We all like to be unique and you certainly can be.
No one else in the entire galaxy will have shoes exactly the same as yours. You'll only need basic supplies, but once you see how the technique works, why stick with dark galaxy colors?
Go bright with a rainbow of colors. And make them for the kids too in their favorite colors. If you can't get enough of galaxy projects, check out our Anti Gravity Galaxy Bottle tutorial.
Supplies needed:
White canvas shoes
Permanent pens
Rubbing alcohol
White fabric paint
Choose which of these shoe painting ideas you want to make first.
And share your works on our Facebook Page. Check out some of our art related projects: Mandala Rock Painting, Painting Stones Ideas, and Faux Stained Glass Effect Painting.
We hope we have inspired you to get out your shoes and start painting. Not only is it fun for you, but you can also let your kids paint their shoes too. Just look through all the shoe painting ideas and create your own masterpiece.