I am always, always drawn to charm packs. I love the idea of owning one little piece of all the coordinating prints in a fabric line. But what to do with them? Now let's make the most of our growing collection with these charm pack quilt patterns designed with the charm pack lover in mind.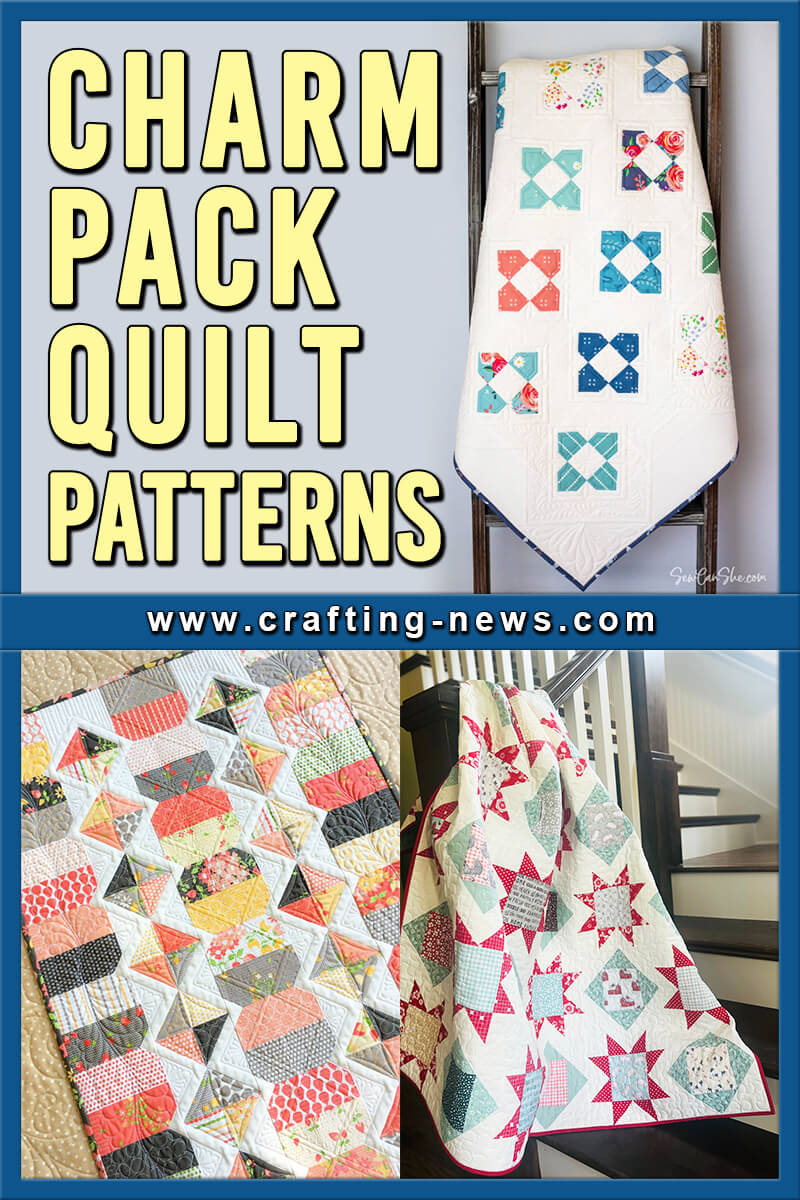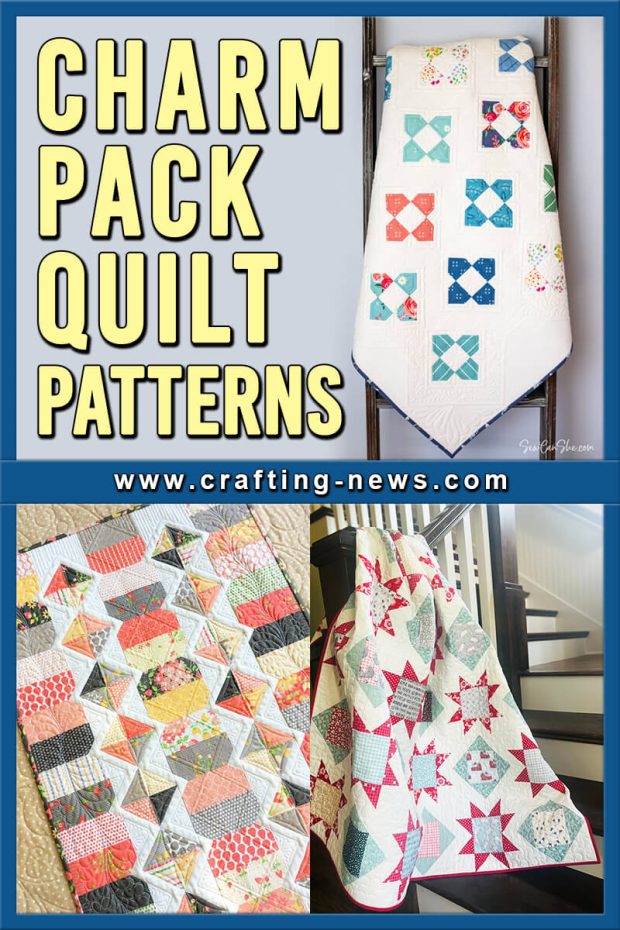 Charm packs are my favorite! I like that for around $8, I can get more than 50 different fabrics to drool over and I can spend time at home deciding which prints I want more yardage of. But, once I was done drooling, the charm packs sat in my fabric basket for a long time now!

And, in the hopes that other charm pack hoarders will find some inspiration for your growing pile of charm packs, I'm going to share these charm pack quilt patterns with you so you'll never need another reason to keep buying those irresistibly yummy squares of fabric!

1. Charm Pack Quilt Pattern by Maple Cottage Designs
Enjoy making this beautiful and easy quilt pattern featuring pinwheels that look like snowflakes, circling a diamond medallion center.

Simply pick your favorite charm pack, accent fabric & border fabrics. Beautiful anytime of year! Change up the colors for a Patriotic quilt, Christmas quilt, scrappy quilt, etc.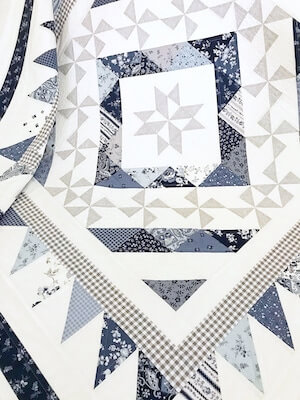 Get the Pattern by Maple Cottage Designs here

2. Charms And Stars Quilt Pattern by Easy Piecy Quilts LLC
I love charm packs! This quilt is designed around using one charm in the center of each block. One charm pack with some background and coordinating fabric will make a 54″ x 63″ throw sized quilt.

Charms and Stars is made from classic blocks that form a beautiful secondary pattern leading the eye across the quilt. Pick a charm pack you love and some coordinating fabric – the rest is easy!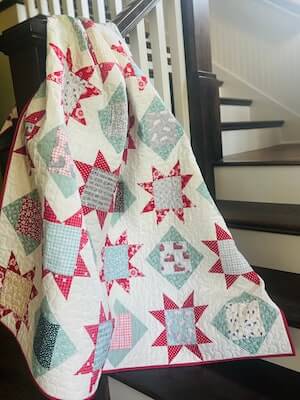 Get the Pattern by Easy Piecy Quilts LLC here

3. Charming Barn Quilt Pattern by Fresh Dew Drops
A Charming Barn Quilt is a charm pack, mini charm pack or layer cake quilt pattern that makes up a 36″ x 36″ quilt, a 15″ x 15″ mini quilt, or a 81″ x 81″ large quilt – perfect for baby quilt, wallhanging, table topper or bed.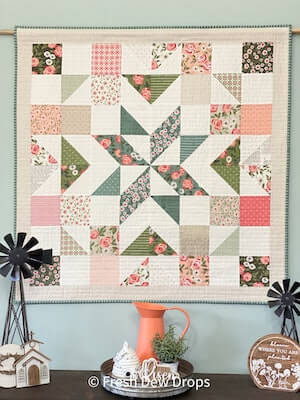 Get the Pattern by Fresh Dew Drops here

4. Charming Sawtooth Quilt Pattern by Hailey Stitches
I'm super excited to share this Charming Sawtooth Quilt Pattern with you! This is a free baby quilt pattern that uses one full charm pack. You'll love how quickly this quilt comes together and it's perfect for a last-minute gift!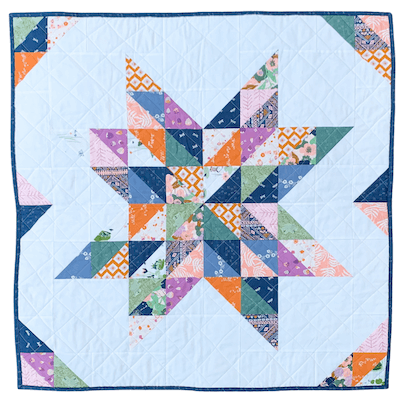 Get the Pattern here

5. Charm Poppy Free Quilt Pattern by Sew Can She
Sew a an adorable throw size quilt (or large baby quilt) using a charm bundle of your favorite cotton quilting fabrics! You'll only need one charm pack of 5" squares, so it's easy on the budget and perfect for a beginner quilter. This Charm Poppy finished quilt size is approximately 54'' x 50''.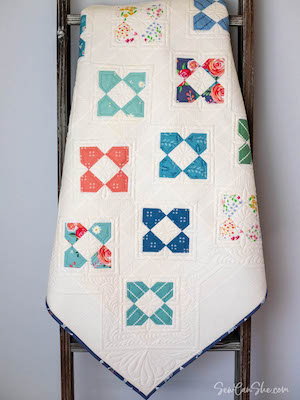 Get the Pattern here

6. 4-Patch Charm Quilt Pattern by Jedi Craft Girl
I love buying precuts and I am always looking for ways to use 5″ fabric squares! This pattern uses just that – no trimming down the squares – just sew them into 4-Patch units and then sash with this fun sashing pattern!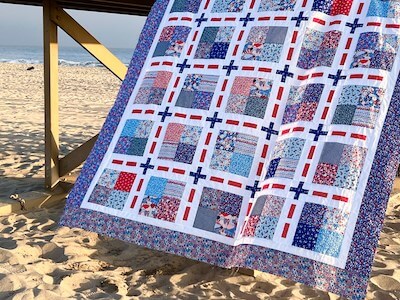 Get the Pattern by Jedi Craft Girl here

7. Easy Charm Pack Quilt Pattern by Quilt Finger
Make a cute baby quilt quickly with this easy-as-pie pattern. With instructions on piecing, quilting and finishing your quilt, this is the perfect project for a beginner or first-time quilter.

You'll need a charm pack with 42 5-inch squares, a yard of backing fabric, one 6-inch by 30-inch piece of contrasting fabric, an 18-inch square of fabric to make your binding, one package of craft-sized quilt batting (34 x 45) and about six hours to make it!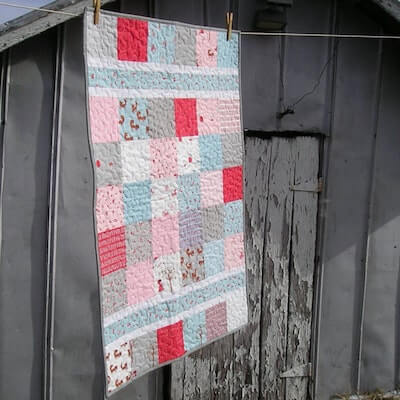 Get the Pattern by Quilt Finger here

8. Sandstone Lap Size Charm Pack Quilt Pattern by Quilting Daily
Start with precut charm squares (5″ fabric squares) and this lovely quilt goes together in no time! Sandstone sets the squares on point and surrounds them with simple sashing for a quilt you can piece in a weekend.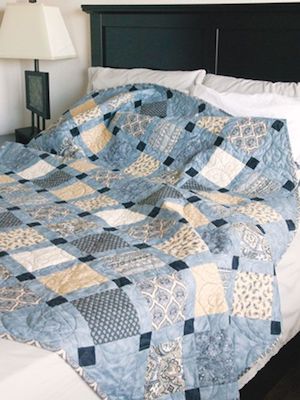 Get the Pattern here

9. Charming Lucy Free Quilt Pattern by A Bright Corner
Add a sprinkle of charm to your next quilting project with this small quilt that's perfect for a DIY baby quilt or table topper! This Charming Lucy Quilt is a gorgeous quilt for spring and is designed to use charm squares in bright colors and floral prints.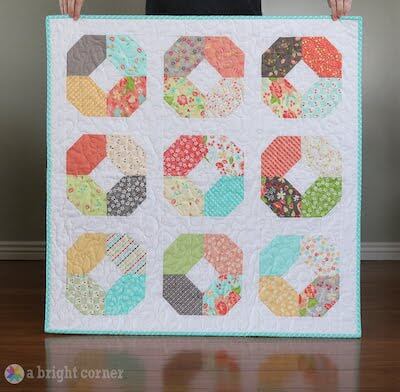 Get the Pattern here

10. Lucky Charm Quilt Pattern by A Spoonful Of Sugar
This Lucky Charm Quilt is an easy-to-piece quilt for yourself or someone special. This pretty quilt can be used as a bed topper, baby, or lap quilt, and is made from three charm packs and is suitable for a confident beginner quilter.

It would be a wonderful choice for a donation quilt and for those occasions when you need to make a quilt in just a couple of days.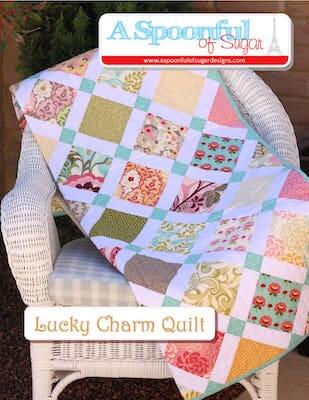 Get the Pattern by A Spoonful Of Sugar here

11. Simply Sashed Quilt Pattern by Kristin Blandford Designs
Simply Sashed is a great quilt pattern to use with all those great charm packs! With some simple sashing you will have a fun whimsy look! It makes a quilt top that measures 41" x 52". It requires 72 five inch charm squares, 2/3 yards sashing, 1/2 yard binding, 1 2/3 yards backing, and batting.

It looks great with many styles like modern boy or girl prints. It requires very little cutting and can be pieced in an afternoon. Great for a beginner!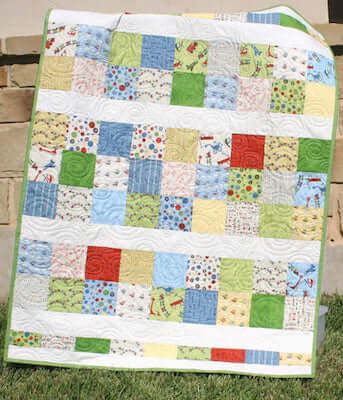 Get the Pattern here

12. Magic Charm Quilt Pattern by Hello Melly Designs
One charm pack gets you this fun quilt design! And with the help of a border, it is a nice throw size too, at 59.5″ x 67.5″.

I don't know about you, but the 5″ fabric stackers are always my impulse buy on fabric shopping trips. So, I have several single square stacks just waiting to be used. Here's a pattern just for that!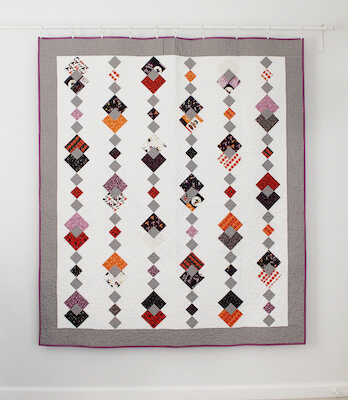 Get the Pattern here

13. Tea Rose Quilt Pattern by Flamingo Toes
This Tea Rose Quilt is another perfect pattern for all those 5″ stackers (charm packs) that we just can't resist buying! It is a fun and fast quilt to sew up and it's a great pattern for showing off your favorite fabric collections.

The pattern is made up of these big showy blocks, accented with little half square triangle details in the center. The border also has a fun half-square triangle detail as well – it adds such a fun touch to it!
Get the Pattern here

14. Salt Air Charm Pack Quilt Pattern by Ahhh Quilting
This simple charm quilt was inspired by an old fence on the beach! It is the perfect pattern for any quilter – just use charm squares from your favorite fabric line for a quick and easy throw size quilt!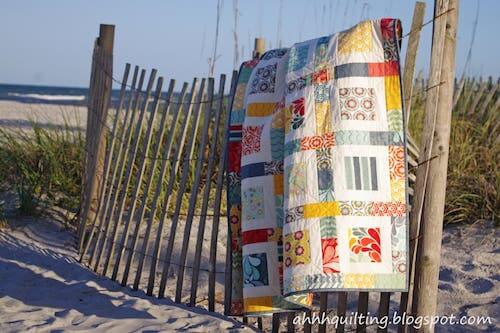 Get the Pattern by Ahhh Quilting here

15. Charm Pack Baby Quilt Pattern by KB Landford Fabrics
With all the beautiful modern fabric out these days you hate to cut it up into tiny little pieces just to put it all back together again! This pattern is great to show off your favorite prints in a fresh modern approach!

I just love this pattern! It's simple, fast, and makes for a super cute baby quilt! There are instructions for using either 6 inch charms or 5 inch charms.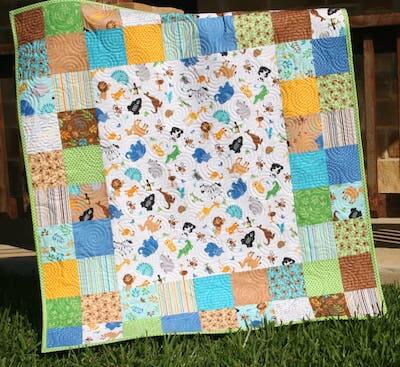 Get the Pattern by KB Landford Fabrics here

16. Modern Charm Quilt Pattern by Sew Fresh Quilts
This charm pack friendly design uses a modern layout and sophisticated style to show of those luscious designer prints. Framing them in black and using a neutral background, either dark or light grey has a stunning effect.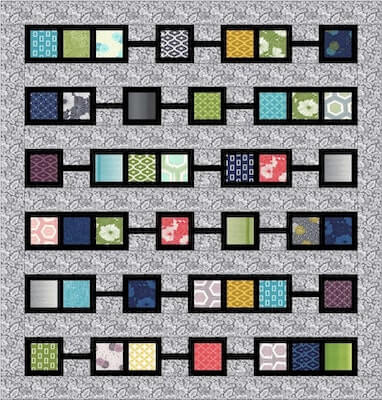 Get the Pattern by Sew Fresh Quilts here

17. Diamond Trail Charm Pack Runner Pattern by Carried Away Quilting
Diamond Trail is a 22" x 32 1/2" charm pack runner that is a snap to make! The pattern top calls for just one charm pack and 3/8 yard of white or neutral, two ingredients you probably already have on hand!

Strategically placed white corner triangles give the illusion of set-in diamonds, creating a pleasing look for a simple quilt!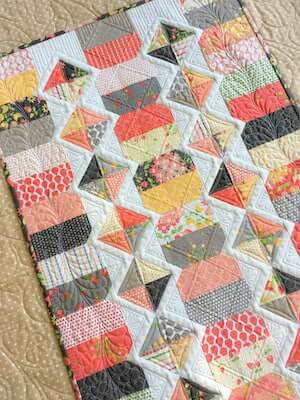 Get the Pattern by Carried Away Quilting here

18. English Breakfast Mini Quilt Pattern by Annie's Catalog
Get ready for the tea party with English Breakfast Mini Quilt. This wall sized quilt is made with a single Charm Pack and 3/4 yard background fabric.

You can add an additional row or make less for smaller kitchen spaces. The charming tea cups are similar in size to actual tea cups. Mini quilt sized at 29 x 27 1/2″.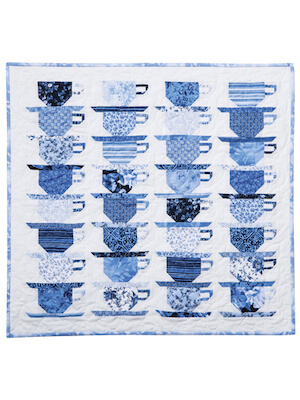 Get the Pattern here

19. Summer Breeze Mini Charm Pack Quilt Pattern by Carried Away Quilting
This Summer Breeze Mini Quilt is made with colorful pinwheels spin like whirligigs in a warm breeze. Grab your favorite mini charm pack and some coordinating fabrics to create this cheerful scene, all wrapped up by a dancing ribbon.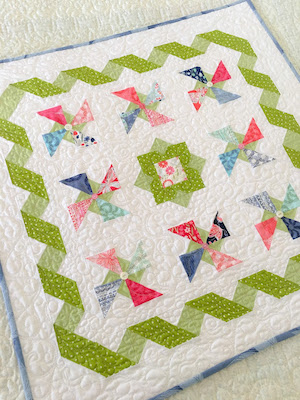 Get the Pattern here

20. Five Squared Quilt Pattern by Monday Morning Designs
If you're looking to make a quick and easy scrappy quilt, Five Squared is the perfect stash-buster. Don't have many scraps? No problem, use 5 charm packs instead. This quilt is so fun to put together, and it's a great choice for the absolute beginner quilter!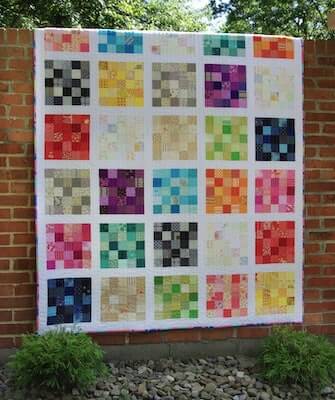 Get the Pattern by Monday Morning Designs here

21. Zig Zag F
ree Charm Pack Quilt Pattern

by Scattered Thoughts Of A Crafty Mom

Put together this quick and easy Zig Zag Quilt Pattern that is perfect to use with charm packs (or any 5 inch square). The finished quilt size is 58 inches by 68 inches. The perfect size for picnicking or snuggling up on the couch.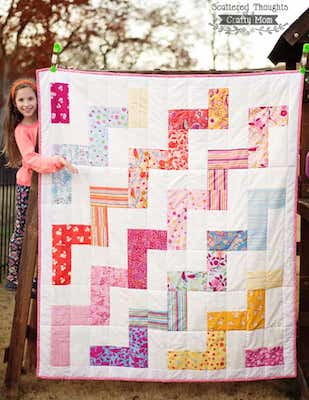 Get the Pattern here

22. Free Cathedral Window Quilt Pattern by Gathered
I love Catherine wheel quilt blocks – they're a fab way of incorporating my favorite patterned fabric. This gorgeous Cathedral Window Quilt Pattern uses this fab technique to make a brilliant super-size quilt, so get your favorite two packs of 6in charm squares and let's get making!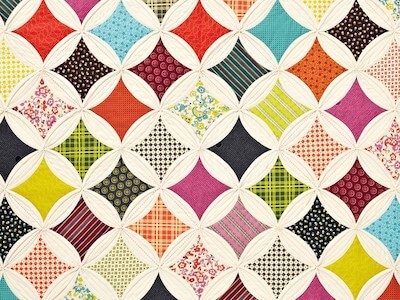 Get the Pattern here

23. Building Blocks Charm Pack Quilt Pattern by Sterling Quilt Company
Easy and quick, your favorite charms turn in to cute stacks of building blocks in this beginner friendly quilt pattern. Instructions for baby size and lap size are included in pattern.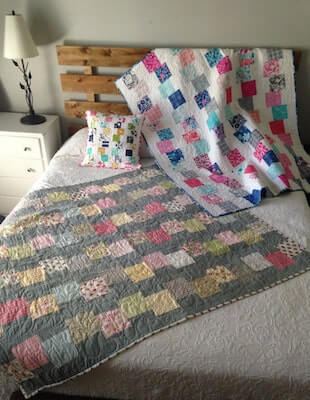 Get the Pattern by Sterling Quilt Company here

24. Heart Spin Quilt Pattern by Hopes Quilt Designs
Heart Spin is a charm square friendly quilt pattern inspired by the Card Trick quilt block. It neatly uses a pack of 42 pre-cut 5″ charms or you can cut your own 5″ squares.

Finishing at around 35.5″ square, your quilt would make a lovely wall hanging or a sweet little play mat for children. It could also be used as a table topper.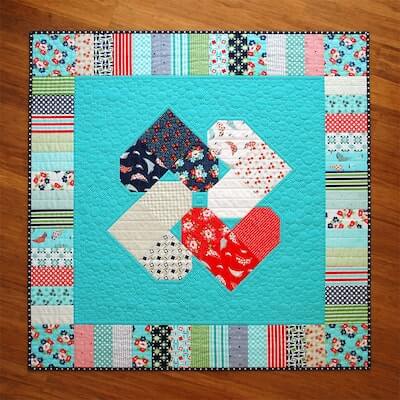 Get the Pattern by Hopes Quilt Designs here

25. Flower Tile Charm Pack Quilt Pattern by Carried Away Quilting
Flower Tile is inspired by the delicate symmetry found on beautiful painted floor tiles in historic homes. Thin sashing mimics crisp grout lines, while a repeated pattern of softly colored prints creates a lovely cohesive effect. It's the perfect pattern to show off your favorite charm pack.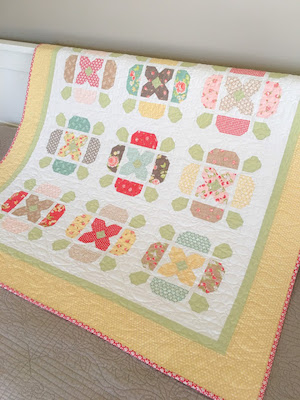 Get the Pattern here
WHETHER YOU'RE AN ACCUMULATOR OF PRECUT CHARM SQUARES OR A SAVER OF 5″ SQUARES FROM YOUR SCRAPS, THESE CHARM PACK QUILT PATTERNS WILL GET YOU SEWING SOMETHING FUN!
I bet you are inspired by now to look for that one charm pack in your fabric stash that is perfect for these quilts! I can't wait to see the quilts you make with these patterns. Be sure to share your finished ones with us on our Facebook Page so I can see your beautiful works!

Dive into our collection of more quilting patterns to play with – we've got everything from scrapbusters to beginner-friendly projects and skills-boosters!

For now, let's make the most out of charm pack bundles with these charm pack quilt patterns that use up nearly all of the charms in our favorite packs.