Try making some of these butterfly quilt patterns to brighten the days until it is warm enough for the real ones to be fluttering about outside! You can choose bright, bold colors and mix and match the fabrics you use. Or, go with subtle and soft pastel shades if that's more your style.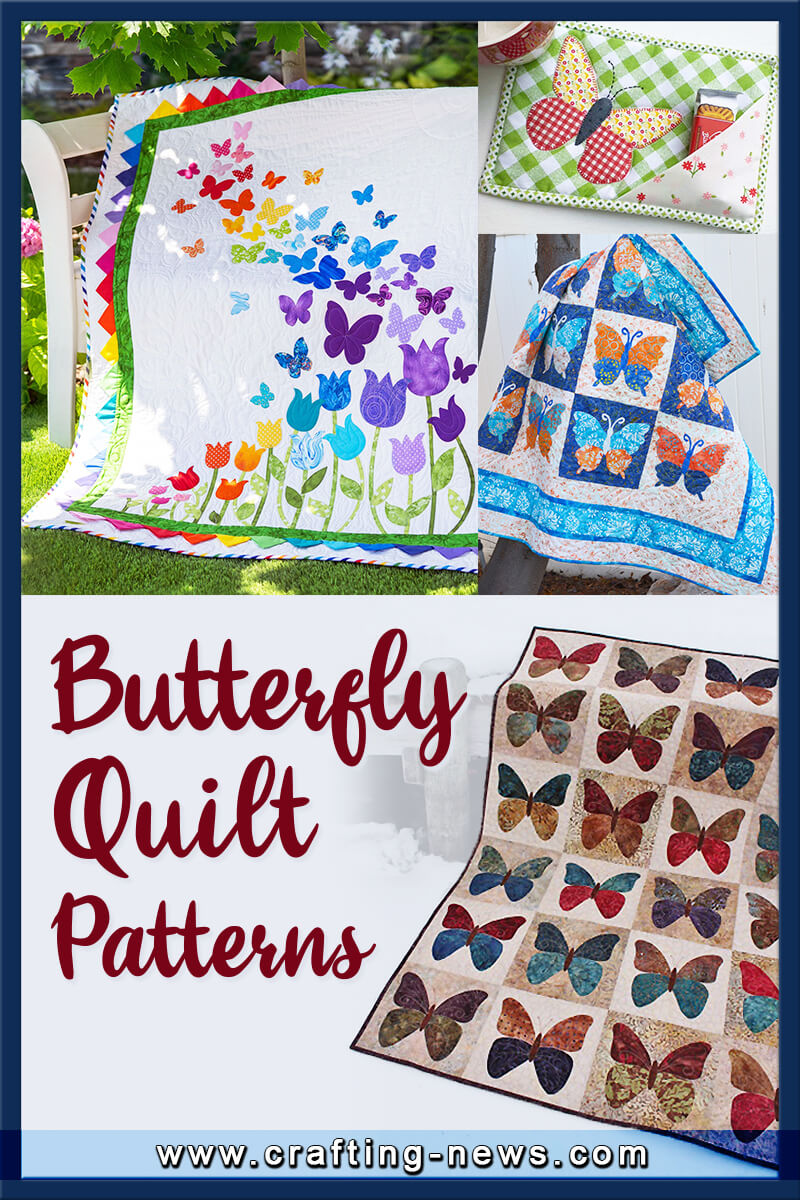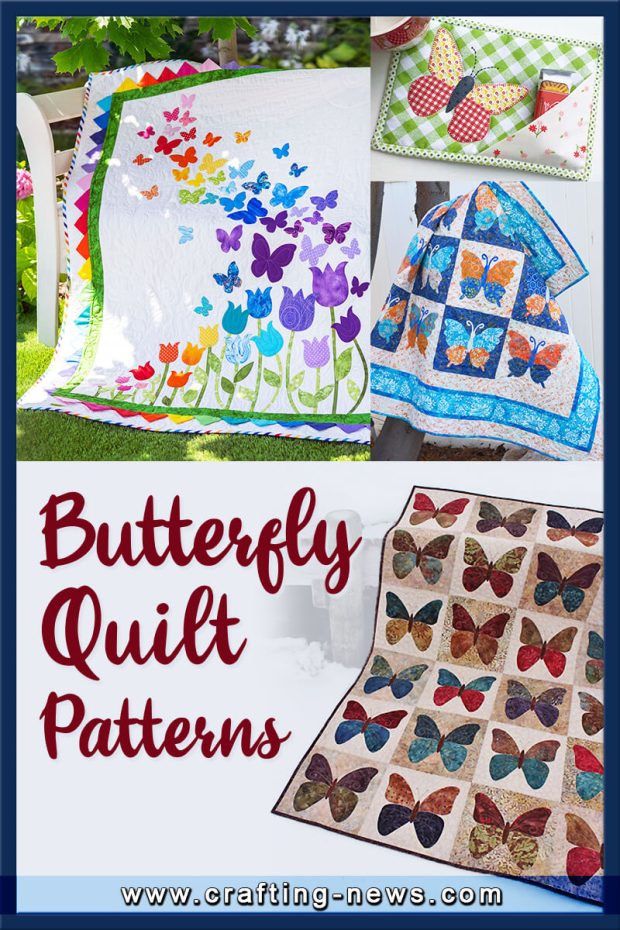 Every one of these designs will be perfect for brightening up your home and shedding winter style. If you're a quilter, there's truly no better way to start your spring refresh than with these fresh and festive butterfly quilting designs.

1. Flutterfly Quilt Pattern by Slice Of Pi Quilts
Let your favorite fabrics take flight in this beautiful butterfly quilt! Spread your wings and sew the Flutterfly quilt to show your love of butterflies! This advanced beginner pattern makes a large 68″ x 64″throw quilt and is fat quarter and fabric cutter friendly.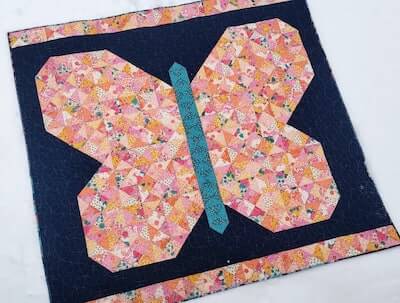 Get the Pattern by Slice Of Pi Quilts here

2. Butterfly Mini Quilt Pattern by Ellis And Higgs
This marvelous mini quilt may be small but it's beautiful and if you're looking for an eye-catching quilt with a feminine feel. If you want to make it bigger to form a full-sized cot quilt, simply make up more of the quilt blocks to create a flock of fabric butterflies.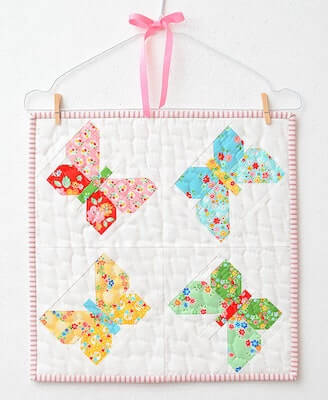 Get the Pattern by Ellis And Higgs here

3. Mary Elizabeth Butterfly Quilt Pattern by Brown Bird Designs
Measuring at 65″ x 77″, this free butterfly quilt pattern will add just the right splash of playful spring cheer to your home. Thanks to the combination of basic line quilting and easy 12.5 inch blocks, this quilt is simple enough for beginners and beautiful enough to tempt just about any quilter!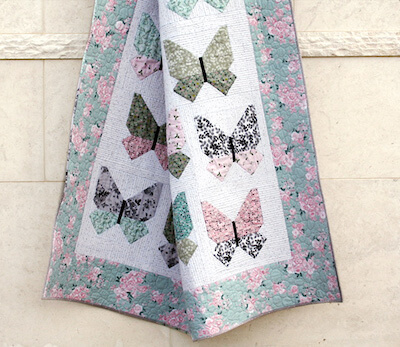 Get the Pattern here

4. Baby Butterflies Quilt Pattern by Log Cabin Quiltery
This adorable baby quilt pattern can easily be made from leftover jelly roll strips or other scrappy strips you have in your fabric stash. Easy to follow directions will lead you through the process of making butterfly squares that finish at 5″ x 5″.

You will be the hit of the baby shower when you show up with this adorable quilt. However, the blocks are also wonderful for toddler play mat, picnic quilt or even a little girl's twin sized bed quilt.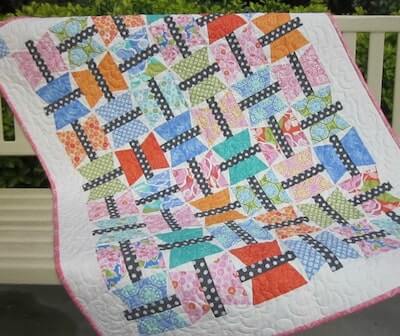 Get the Pattern by Log Cabin Quiltery here

5. Hypnotising Butterflies Quilt Pattern by She From The Valley Des
The butterflies stand out thanks to batting that add thickness and deepness. The fact that you can hand embroider the butterflies makes them more true as it is a real "bringing to life" process. It will bring you to a nice dreamy feeling while making them, and a big satisfaction once achieved!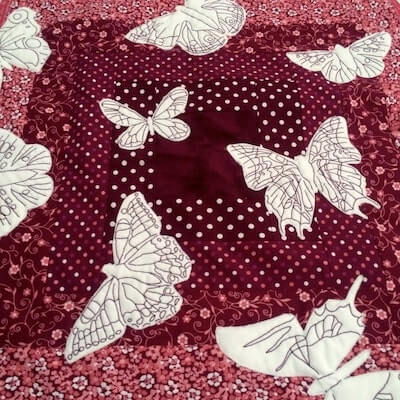 Get the Pattern by She From The Valley Des here

6. Flutter Butterfly Fling Throw Quilt Pattern by Me And My Sister Designs
This Flutter Butterfly Fling Throw Quilt is excellent to bring on picnics or set-it up in your garden area. This colorful pattern measures 50 1/2 inches x 50 1/2 inches on its finished project.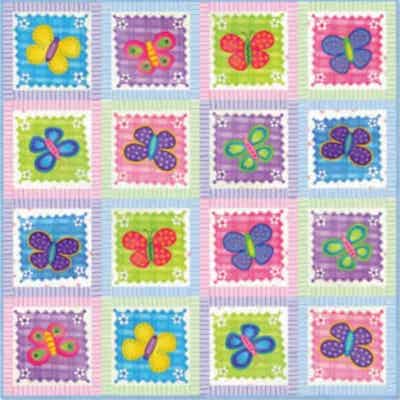 Get the Pattern here

7. Free Butterfly Quilt Pattern by Pieced Brain
Among the many baby quilt patterns out there, this Butterfly Quilt would be fun if made with novelty fabrics. You can also use it as a wall hanging or a table topper. This quilt measures 47″ x 47″ and the block finished at 8″ so it can be made quickly.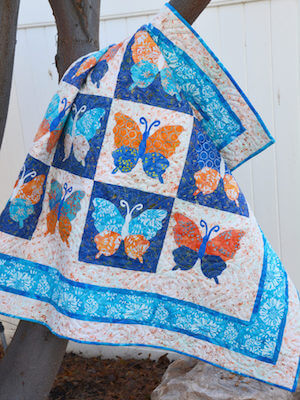 Get the Pattern here

8. Butterfly Pocket Mug Rug Pattern by Patchsmith
This quick-and-easy mug rug is the perfect mini quilt to accompany a gift card or small present. It is a much prettier alternative to a card envelope. When the small present is removed the pocket lies flat, leaving the recipient with the perfect resting place for their tea or coffee cup.

The butterfly is created using a very simple method of strip applique making this mug rug quick and easy to put together. You can create a never-ending assortment of butterflies with whatever scraps you have to hand – the only limit is your imagination and fabric scraps!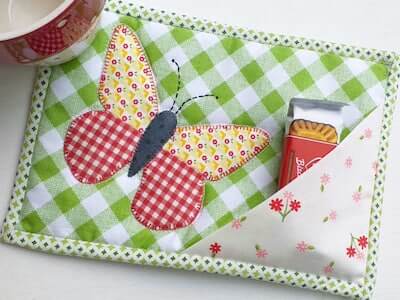 Get the Pattern by Patchsmith here

9. Butterfly Kisses Quilt Pattern by My Quilt Infatuation
If you're looking for a layer cake pattern that is out of the ordinary, look no further! With dainty little butterflies, as well as big kisses with lots of pop, this pattern really goes beyond basic shapes to create a quilt with beautiful primary and secondary designs.

Best of all, the lap size only uses a single layer cake, and the queen size just requires two!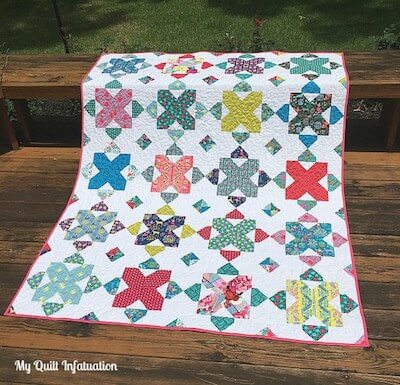 Get the Pattern by My Quilt Infatuation here

10. Blooming Butterflies Quilt Pattern by Shabby Fabrics
Brighten your little girl's room with this Blooming Butterflies Quilt! This 40-1/2″ x 51-1/2″ quilt features a beautiful array of butterflies floating on a gentle breeze over a bed of blooming tulips, finished with bright prairie points for the inner border.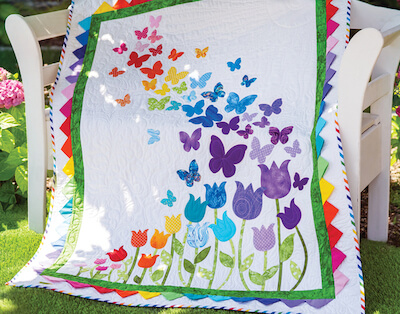 Get the Pattern here

11. Butterfly Quilt Wall Hanging by Needlepointers
This beautiful Butterfly Quilt Wall Hanging is made with free paper piecing patterns. Each butterfly block is 5.5″ square so it would be perfect to mix with charm squares to make a quilt or table topper.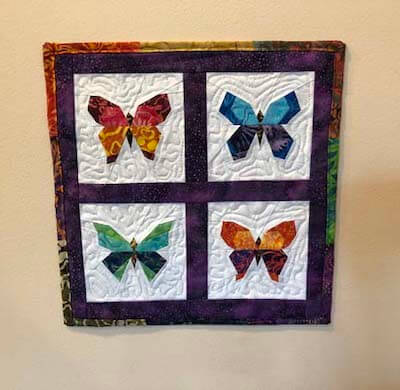 Get the Pattern here

12. Retro Butterfly Quilt Pattern by Quilting Up A Creek
Butterfly quilts represent a simpler time and are often done in 30s fabrics. However, you can bring these happy quilts up-to date, by using more contemporary fabrics.

If you love the 30s fabrics, you can stick with the tried and true, as shown, or give an updated version a try with polka dots. Either version is sure to elicit happy feelings from anyone who sees or receives your quilt.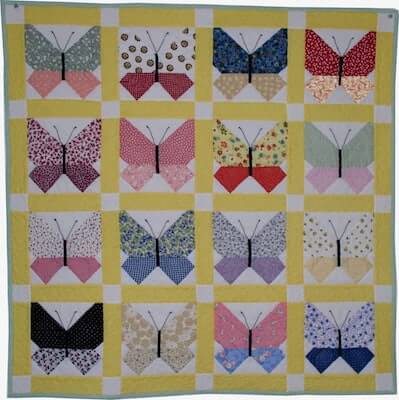 Get the Pattern by Quilting Up A Creek here

13. Butterfly Quilt Block Pattern by Sandra Healy Designs
This pretty block is so quick and easy to make! It is very versatile, you could make a full-size butter fly quilt for a new baby or add a simple border to one block for a unique bedroom pillow.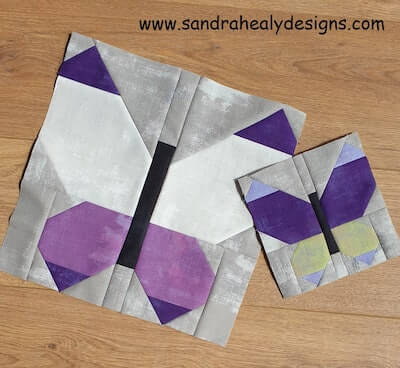 Get the Pattern by Sandra Healy Designs here

14. Metamorphosis Quilt Pattern by Lo And Behold Stitchery
Metamorphosis is a block-based butterfly pattern that uses traditionally pieced half circles. This pattern is great for displaying large cuts of your favorite prints, or to display bold pops of color.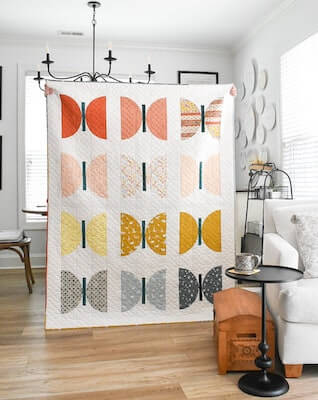 Get the Pattern by Lo And Behold Stitchery here

15. Patchwork Butterfly Tote Bag Pattern by Gathered
Rescue your fabric scraps from the corner of your craft drawer and turn them into a beautiful patchwork butterfly with this cheerful DIY tote bag.

While you can make this butterfly into a pretty yet practical bag, you could also easily turn this pattern into a quilt block and whip up a batch to make a flutterby quilt top too.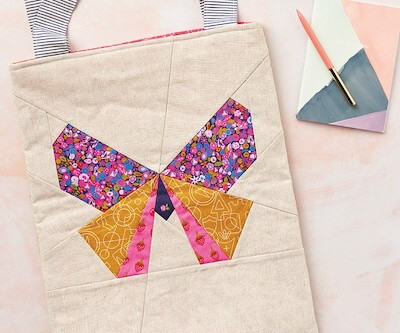 Get the Pattern here

16. Free Butterfly Quilt Pattern by Quilting Cubby
The beauty of a butterfly is in the wings, and you can choose fabric that will capture that essence. If you love butterflies, with a few fat quarters of your favorite prints, this is so simple to make.

Multi pieced wings in a 17″ block, these butterflies are irresistible. You can make each butterfly from a different fabric, and put together the most exciting combinations. It perfect for your favorite fabric collection or mix and match prints!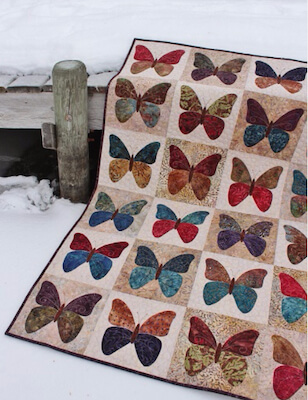 Get the Pattern here

17. Butterfly Bunch Quilt Pattern by Whole Circle Studio
Who can resist a beautiful butterfly? This quilt makes the perfect gift for a baby, child or nature enthusiast! Butterfly Bunch is a fun graphic wallhanging/mini quilt measuring 32″ x 32″ that uses foundation paper piecing techniques. Make additional blocks to make a larger quilt (layout ideas are provided to make a lap, twin or queen quilt).

Each butterfly block measures 14″ x 14″ making it a flexible design to customize your own quilting project. Use what you have from your fabric stash, fat eighths or fat quarters for the butterflies. Just add yardage for the background!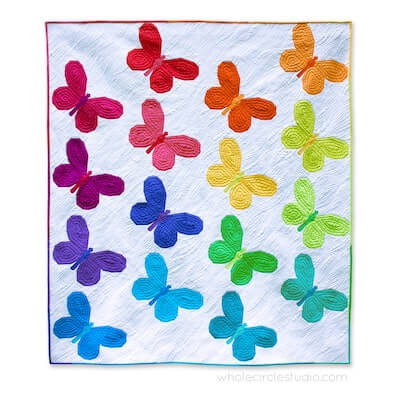 Get the Pattern by Whole Circle Studio here

18. Free Butterfly Quilt Pattern by Cloud 9 Fabrics
As Spring gets nearer, we just can't wait to finally say goodbye to the cold and say hello to a picturesque landscape and warm weather. One of the signs of Springtime is colorful butterflies dancing through the garden feeding on flowers.

The lively colors of this quilt project will kick-start the mood to start decorating. A perfect way to welcome the Spring season.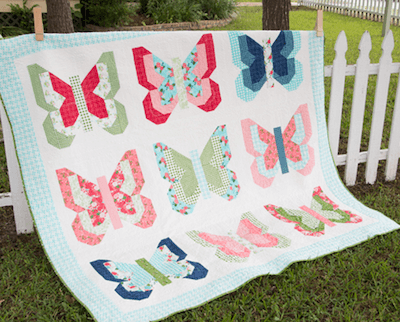 Get the Pattern here

19. Alice Brooks Butterfly Quilt Pattern by Leila Gardunia
Hearts will flutter at the sheer beauty of this Alice Brooks Butterfly Block no matter what kind of pattern you include it in. Replicate the majestic wingspan of a butterfly using templates in a complementary color scheme.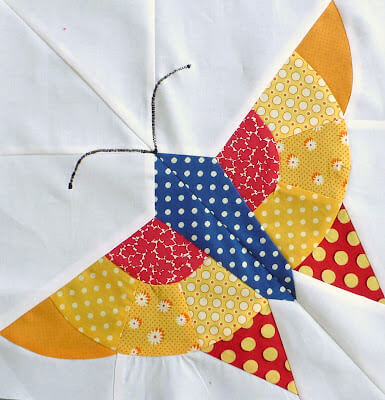 Get the Pattern here

20. Oh My, Shabby Butterflies Quilt Pattern by Moda Fabrics
Beginner quilters looking to start working with applique quilt patterns can count on this to be one of the best free bed quilt patterns to use. You'll piece together a standard quilt top that's subtlety will help all of the little applique quilt butterflies you make pop even more.

New spring quilt patterns this adorable save you from having to buy a new bed quilt for spring, and you can add your own personal touches with even more applique patterns you may think of.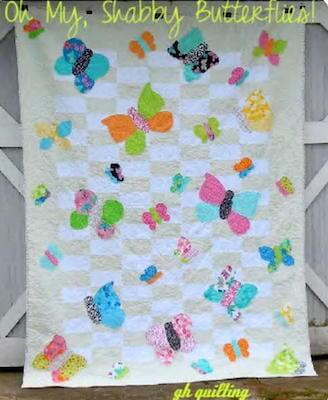 Get the Pattern here

21. Scrappy Butterfly Quilt Pattern by Connie Kresin
Create a cheerful and bright baby quilt that mixes basic patchwork with fun appliques with this Scrappy Butterfly Baby Quilt. A great project for using fabric cutters, this baby quilt pattern is a perfect scrap busting project that your little ones will love, and comes with an applique template for creating your butterflies.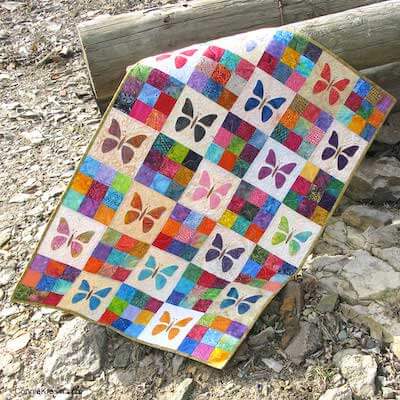 Get the Pattern here
THESE BUTTERFLY QUILT PATTERNS ARE FUN SEWING PROJECTS TO WORK ON AS YOU AWAIT THE ARRIVAL OF SPRING.
Whatever pattern you go for, make these quilts and butterflies very colorful, just like the real ones are! Just don't forget to share your makes with us on Facebook. We love seeing your creations!

For more quilting goodness, check out these awesome patterns below:
These butterfly quilt patterns are perfect any time of the year, not just for the spring! Have fun making them!