The sky is the limit with these charming hot air balloon crafts: Use them at children's parties, baby showers, nurseries, or any place your decor needs a lift!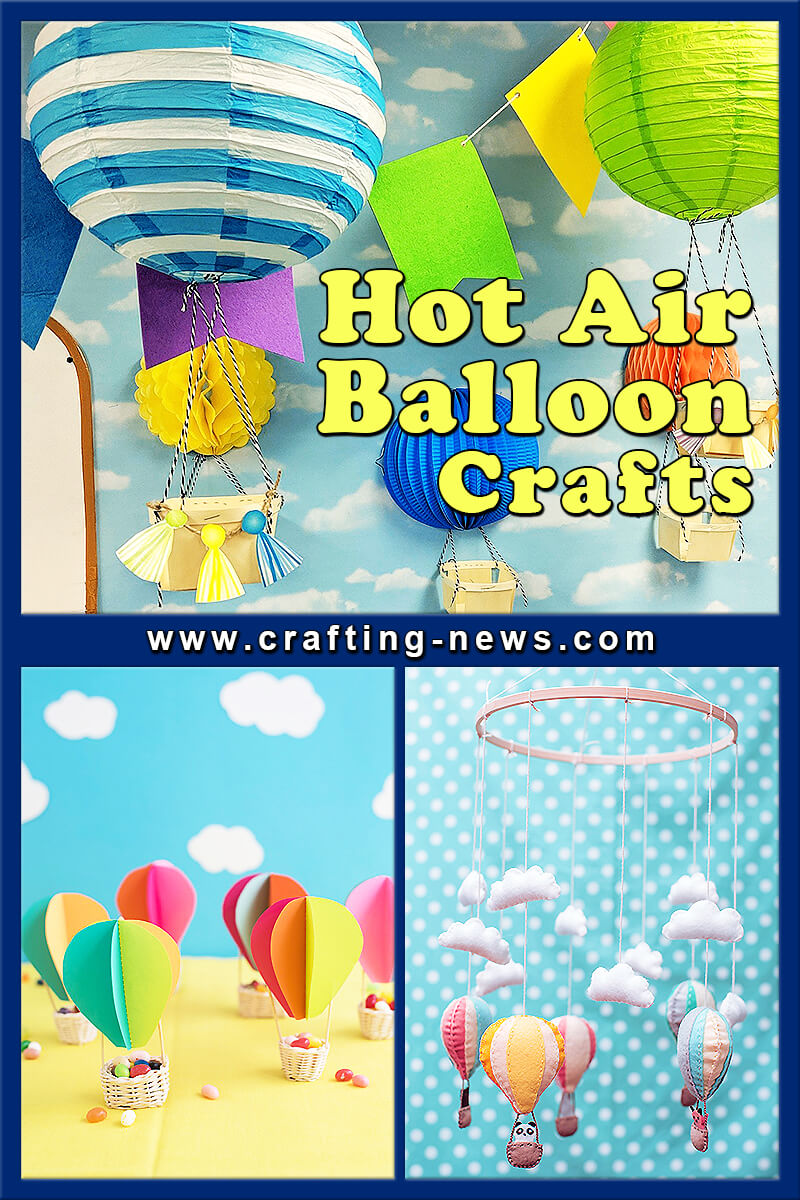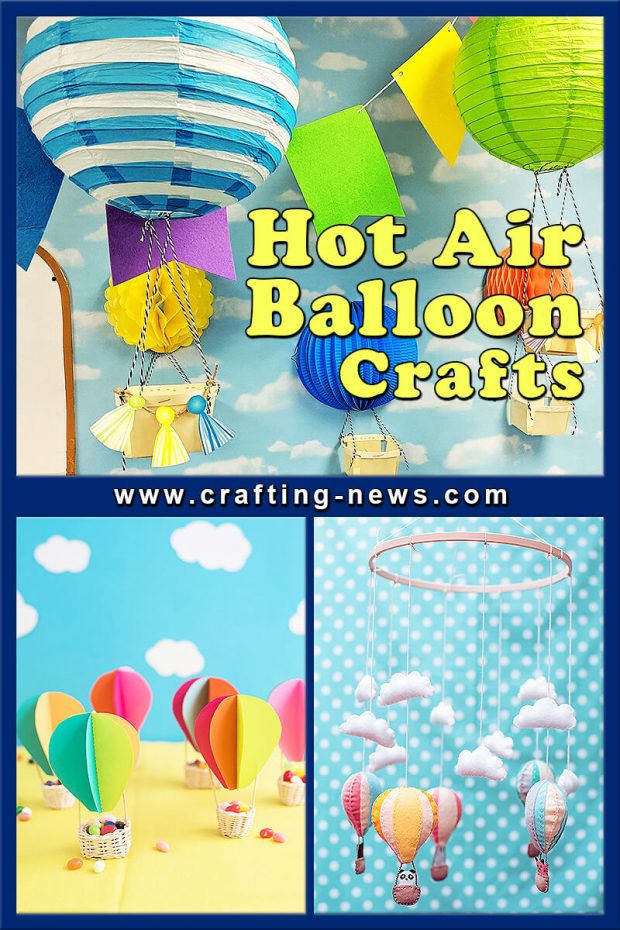 While hot air balloons are ordinarily associated with adventurous modes of travel, why not bring that whirlwind experience into your own home by crafting some miniature balloon replicas?
Browse through below and come fly away with us!
1. DIY Hot Air Balloon Favors by Oh Happy Day
These favors are not full of hot air – just a fleet of bright and colorful hot air balloons carrying cute little baskets of jelly beans, or any other tiny treat you want.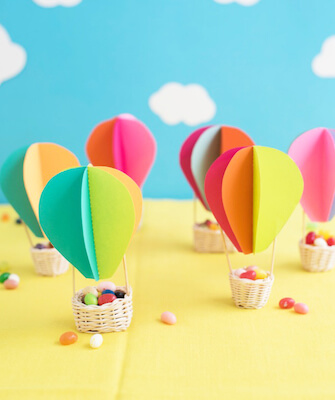 Get the tutorial here
2. Doily Hot Air Balloon Craft by I Heart Arts N Crafts
Nothing screams Valentine's Day like doilies and the craft uses for them are endless! A pretty hot air balloon craft for kids that uses 2 doilies. In this case, they are red but you can use these in any color you wish! It can be used for a Valentine card or just a pretty picture for your wall.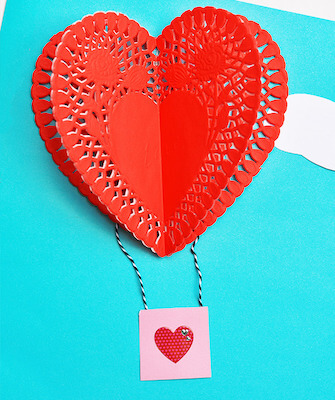 Get the tutorial here
3. Tissue Paper Mache Hot Air Balloon Craft by Kids Activities
Kids will love this tissue paper Mache hot air balloon craft. Made with items you probably already have around the house, this tissue paper hot air balloon craft is a wonderful project for kids.
Make a few hot air balloons and hang them from your bedroom or playroom roof; they make pretty decorations.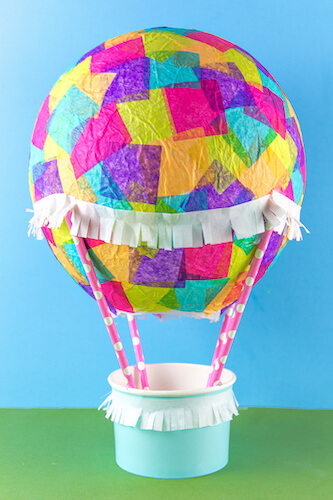 Get the tutorial here
4. DIY Hot Air Balloon Centerpiece by Love Inc. Mag
A hot air balloon centerpiece is a fun way to add color and quirkiness to your wedding. What you will love about this project is that it's so versatile—you can add variations of flowers, baskets and balloons to create the perfect centerpiece for your special day!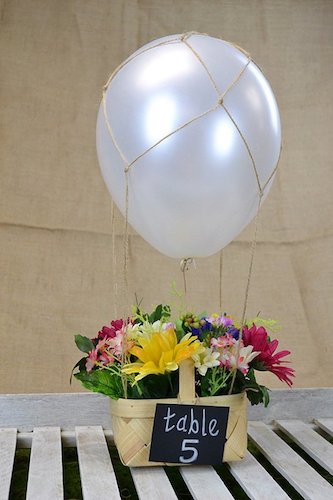 Get the tutorial here
5. DIY Vintage Hot Air Balloon by Crafts Unleashed
Need a vintage hot air balloon to decorate for a baby shower or a little girl's room? You're going to love this tutorial! You can completely customize this Hot Air Balloon to fit any theme or style.
You can even make it functional by adding a small light to the inside and turn your hot air balloon into a lantern.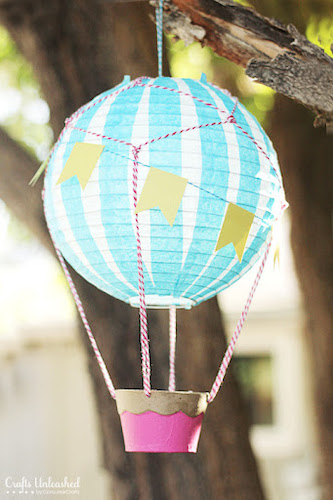 Get the tutorial here
6. DIY Mobile Hot Air Balloon Template by How Joyful
Check out this step by step tutorial and a free template to make a beautiful how air balloon mobile with 3 different designs of balloons.
This Hot Air Balloon Template is very simple and the best part is that you can make it in any color you want and you can add all kinds of different designs to the basic pattern to make it that much special!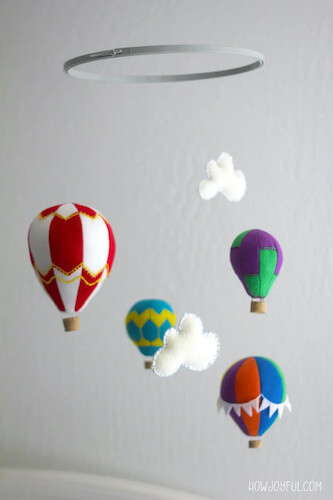 Get the tutorial here
7. Paper Quilled Hot Air Balloon Craft by Artsy Craftsy Mom
Inspired by Dr. Seuss' 'Oh, the Places you'll Go!' book, this quilled paper balloon craft is worth a place on your wall! Since the craft uses just one kind of quilling coil, it's a great project for beginners.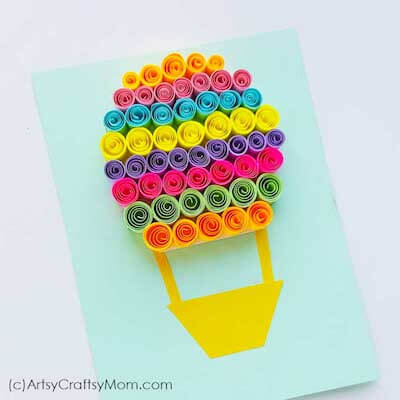 Get the tutorial here
8. DIY 3D Hot Air Balloon Paper Craft by Create Play Travel
Feeling crafty? A creative project can be the perfect solution for decorating a bedroom, nursery or play room. A whimsical paper hot air balloon is fun to create and decorate.
You can design your own paper hot air balloon using this free hot air balloon template!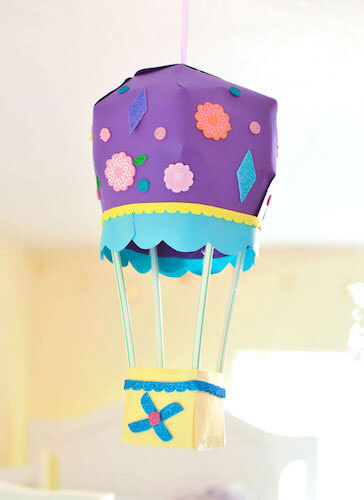 Get the tutorial here
9. Textured Hot Air Balloon Sensory Craft by Artsy Momma
This textured hot air balloon sensory craft combines sight, smell, touch and sound. It also uses fine motor skills from painting on the glue and sprinkling the colored rice to placing on tiny stickers and pieces of the different materials used.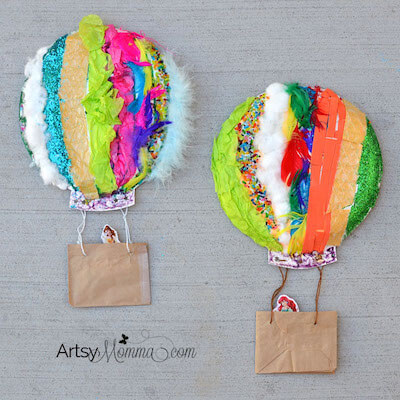 Get the tutorial here
10. Paper Hot Air Balloon Craft Preschool by I Heart Crafty Things
Are you ready make the cutest paper craft ever? You are going to want to hurry and add this paper hot air balloon craft to the top of your to-do list because it is absolutely gorgeous!
This printable template makes creating your hot air balloons especially easy for preschoolers and kids of all ages to make.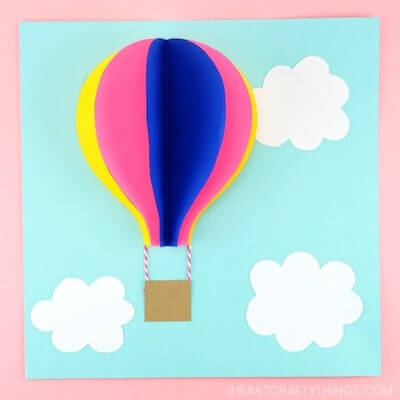 Get the tutorial here
11. DIY Hot Air Balloon Bulletin Board by Fun 365
The sky's the limit when it comes to classroom decor. Soar to new heights this year with a colorful bulletin board that everyone will love. This DIY bulletin board will add whimsy and brighten up any classroom.
Teachers can transform those boring walls and bring a little creativity and inspiration to their students with a fun hot air balloon theme for their classroom.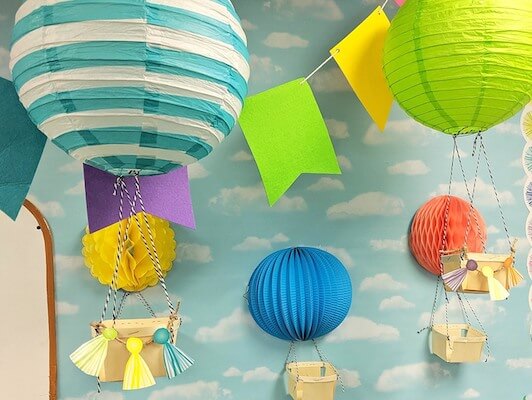 Get the tutorial here
12. 3D Hot Air Balloon Paper Decorations by Martha Stewart
These rainbow-colored balloons are made to look like they're floating in mid-air! You will use one template to cut, fold, and hang a batch of these easy-to-make paper decorations.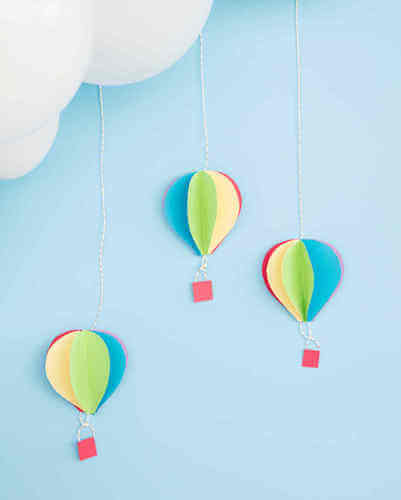 Get the tutorial here
13. DIY Hot Air Balloon Costume by San Diego Family
Why be a pilot for Halloween when you can pilot your own hot air balloon? This awesome DIY costume is sure to turn some heads at the neighborhood Halloween party. But be careful. You just might get carried away!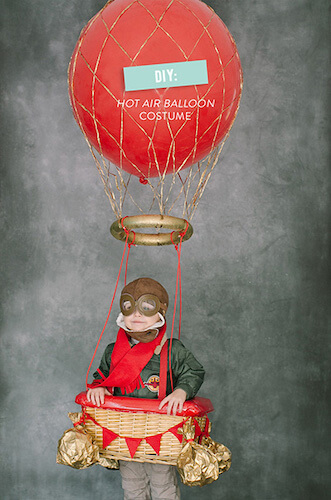 Get the tutorial here
14. Hot Air Balloon Baby Mobile by Lia Griffith
DIY baby mobile is the perfect handmade addition to a baby's room and is one of those pieces you just know will be treasured forever. Because this could easily become a keepsake, you will have to use a good quality wool felt.
Sitting in the basket of each hot air balloon is a teeny tiny animal character making this the cutest baby mobile around for miles!
Find more creative baby mobile ideas here.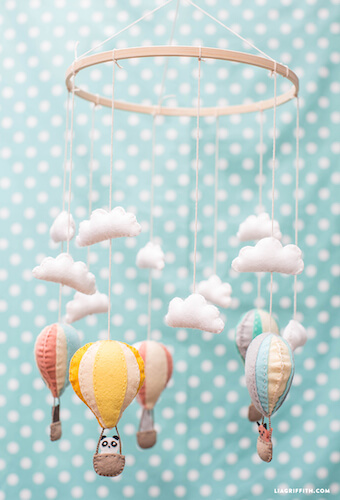 Get the tutorial here
15. Papier Mache Hot Air Balloon by Little Hearts, Big Love
Children love getting their hands messy with paper mache and paint and this easy peasy hot air balloon will allow them to do just that! It's a very easy make, just allow a couple of days to layer up and dry the paper mache.
You can pop a little character in the basket and hang it up on the ceiling to admire the view!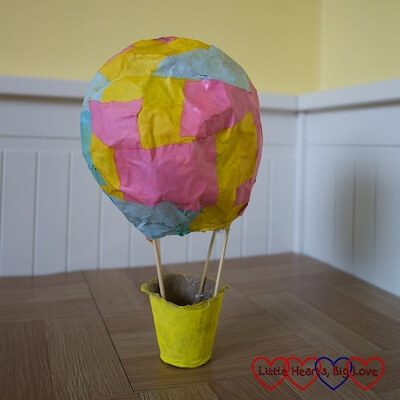 Get the tutorial here
16. Washi Tape Hot Air Balloon Craft by I Heart Crafty Things
Washi tape can be used in so many different ways, it's just mind blowing! One example is this Washi Tape Hot Air Balloon Craft where you can arrange patterned tape vertically and horizontally to create colorful balloons.
This fun washi tape hot air balloon craft is perfect for a summer afternoon craft and it works great for kids of all ages.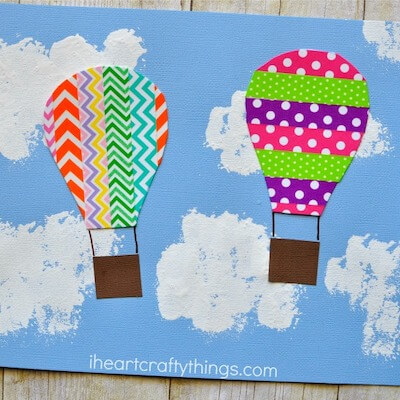 Get the tutorial here
17. Hot Air Balloon Paper Craft by Easy Peasy And Fun
You can use this printable template for this crafty project or just have the kids draw their own balloons to unleash their creativity.
This idea will work out nicely as classroom crafty project (preschoolers, kindergarten and higher grades), you just need to adjust some steps to fit the age group of kids.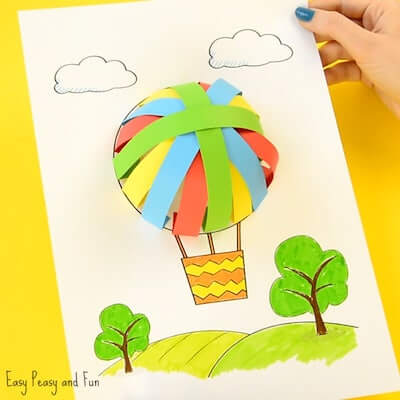 Get the tutorial here
18. Woven CD Hot Air Balloon by Artsy Craftsy Kids
This craft utilizes a few of our favorite materials including CDs and egg cartons as the basket. The idea is to wrap yarn around the CD to make the hot air balloon, attach some string and then add an egg carton!
This is a great little craft for developing fine motor skills and once your children get the hang of the process, they'll be weaving away with ease. Can you imagine how they would like as part of a school display?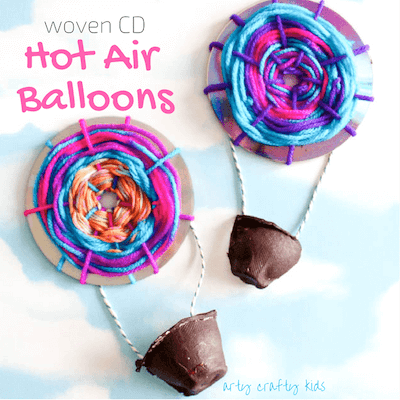 Get the tutorial here
19. DIY Hot Air Balloon Tutorial
DIY hot air balloon are a cute and fun decoration for your next party. They can be used either outdoors hanging off branches in the garden, or indoors hanging from the ceiling or lights with string.
They are perfect for a high tea themed party, a kitchen tea, or even just as a general decoration for a party with no particular theme. Treat the kids and hide little tokens in the baskets for a fun game for the little ones.
Tip: try coating the balloon in a light layer of petroleum jelly to prevent the doilies from sticking when you pop the balloon.

Skill level
Intermediate
Rit Dye
Plastic cling wrap
Cardstock paper in coordinating colors
See the full instructions here
YOU MIGHT DECIDE TO DO SEVERAL OF THESE HOT AIR BALLOON CRAFTS DEPENDING ON WHAT MATERIALS YOU HAVE ON HAND!
Or you might even mix and match some of these ideas to come up with a brand one of your own! If you end up making something from this list, don't hesitate to share photo with us on our Facebook Page.
Can't get enough of balloon projects? Here is check our our list of Balloon Flowers, Balloon Arch, and Balloon Animals you and your kid will surely enjoy making.
Please check out our massive list of Kids Crafts if you need more ideas to keep the kids entertained.
Thank you for stopping bye. We hope you found a fun hot air balloon craft ti make from this round-up today!