This free and easy tutorial will show you each step to make DIY troll hair headbands.
The best part?
You will be able to make these troll headbands for fun on a rainy afternoon, or as an enjoyable birthday party activity.
Keep reading to find out how to make these troll hair headbands.

DIY Troll Hair Headbands
As soon as I saw these DIY troll hair headbands, I knew I had to make them. They are bright, fun and colorful. Adorned with various felt flowers, they are just perfect for my 3 year old niece.
I think you could make other felt accessories to make them work for little boys as well. Maybe little green frogs or ball caps. Fast forward a little and these were the perfect fun and quirky activity to make with my 3 year old niece.
It didn't take long and we had a good time. She chose pink tulle for her troll hair with purple ribbon and a purple flower. She instantly wanted to make more.
I handled the hot glue gun for her, but she was able to help with the tulle and the ribbon.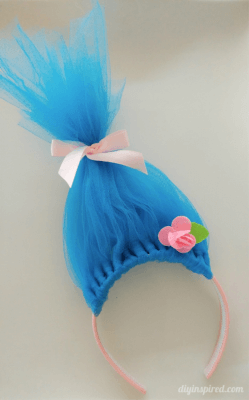 She was able to place the flower on her troll hair as well. It definitely required an adult to assist, but she was able to interact enough to feel like she made it. She wore hers all day after we made one.
These bright and colorful DIY Troll Hair Headbands are absolutely simple to put together and will only take 20 to 30 minutes of your time.
The DIY trolls hair headband has to be the perfect dress up item for your little one's dress-up parties. These trolls hair headbands just like the troll hair hats are an instant hit.
If you want some inspiration the 'Trolls' movie will do you some good.
Troll Hair Headband Materials
Simple plastic headbands (at least one-half inch wide)
Scissors (safety scissors if children are going to be using them)
Rubber bands
Ribbons
Your color choice of tulle
Felt – bright colors for the flowers and green for the leaves
Hot glue gun and corresponding glue sticks
**If you are going to use this as a birthday party activity, you should pre-cut the tulle into strips and make the felt flowers, or other adornments, ahead of time.
Keep Reading for instructions!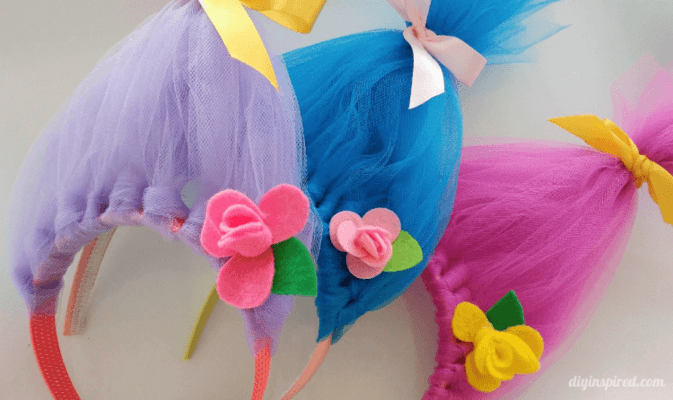 Photo: Dinah Wulf
The DIY Troll Hair Instructions
For each headband, you will need 10-12 strips of tulle about 22 inches long.
With each strip you will fold it in half and make a loop around the headband. Pull the loose ends through the loop, leaving a knot and securing the tulle around the headband.
You will place each strip of tulle alongside each other.
Then, once all of the strips are on the headband, gather the loose ends together and secure with a rubber band.
Next, tie a strand of ribbon into a bow around the rubber band. For boys, you can leave the ribbon off.
Finally, attach the flower, or other embellishment, to the headband with the hot glue gun.
Troll Hair Headband Tips
The headband must be at least one-half inch wide.
Make sure the knots aren't too tight.
The hair should only be 10 to 11 inches high at the most.
Finally, you can spray the "hair" with starch if needed.
How To Make Felt Flowers
These little flowers only take about 15-30 minutes to make and you can use them for several projects, in addition to the troll hair headbands. Use them to make barrettes, add them to purses, attach them to pillows.
For these you will need: hot glue gun, glue sticks, fabric scissors and felt.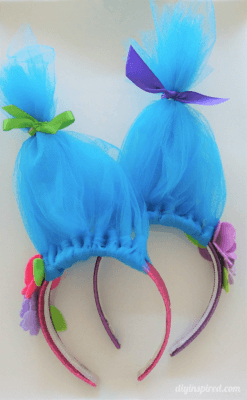 Instructions:
First, cut an approximately 3/4 x 9 inch piece of felt.
Then, cut that strip in half. Cut five scallops into one piece.
With the other piece, cut it into four equal pieces. Cut petal shapes out of those pieces.
Next, take the scalloped piece and roll it to form a flower. It should look somewhat tulip like. Hot glue the end to secure it.
You will then hot glue the petal shaped pieces to the bottom of the flower, overlapping them equidistantly and secure with hot glue.
Finally, cut a leaf out of a piece of green felt and attach it with hot glue to the bottom.
Birthday Party Activity Added
After making these with my niece, I am going to recommend adding this activity to her upcoming birthday party. I have a feeling many fun photo opportunities will come up with the girls wearing these DIY troll hair headbands!
In about an hour and a half, you can have enough of these to go around for everybody in your home. They are cheap and easy to make compared to most crochet projects. So why not give it a try and see how it all works out?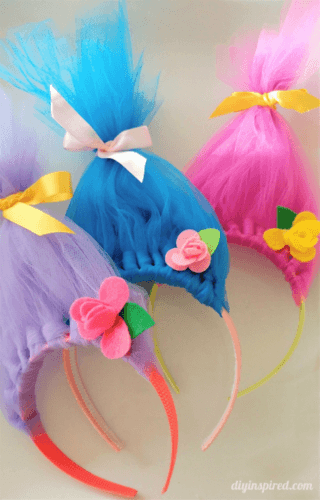 What do you think about the troll hair headbands? We would love to hear your thoughts, questions, and comments on this stunning pieces.
We sincerely hope you are going to enjoy crafting a handful of these DIY troll hair headbands for yourself and the entire family. For more fun crafts you can do with your family, check out How to Make the Simple Kaleidoscope and DIY reversible crown you can make while bonding with your kids.