Looking for a fun activity for the kids? Build your own DIY kaleidoscope with some simple household items and watch colors come to life!
Colorful objects taking advantage of the light being refracted by mirrors, Kaleidoscopes provide a little science and a lot of fun! One of the best parts of this craft, other than the optical instrument's colorful show, is decorating the outside.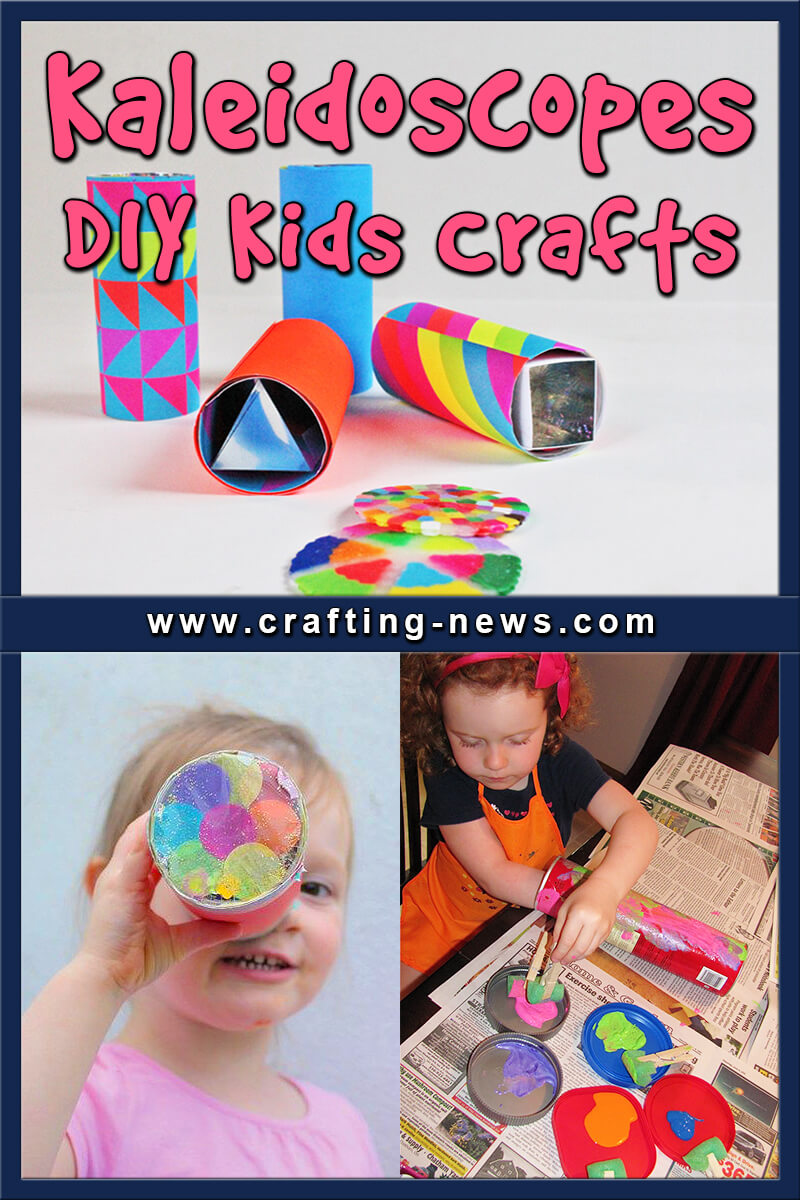 With a few simple supplies, you'll inspire creativity in your little one that can go anywhere – and provide hours of fun!
1. Make Your Own Homemade Kaleidoscope by Handmade Charlotte
This is a super fun way to give recycled paper towel or wrapping paper rolls a whole new life! You will have so much fun not only mixing and matching the insides of the kaleidoscopes, but decorating the outsides too.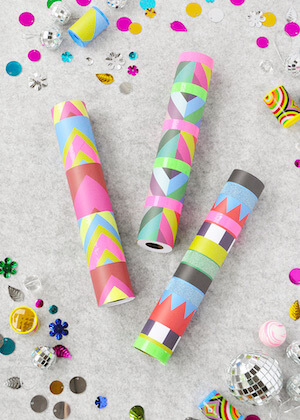 Follow the tutorial here
2. Fun DIY Kaleidoscope Kids Craft by Darcy Brian
This kaleidoscope kids craft activity is fun for the family to work on together. This tutorial will show you how to make your own kaleidoscope with aluminum foil, beads, and a paper towel tube.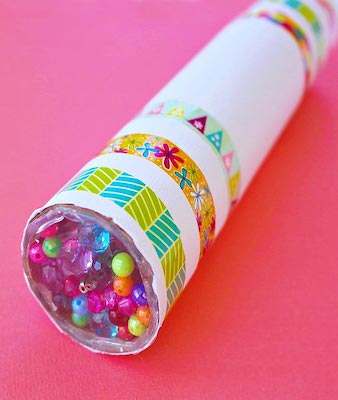 Follow the tutorial here
3. DIY Kaleidoscope by Buggy And Buddy
Learn how to make a kaleidoscope in this fun STEM/science activity and craft for kids. It's such a fun way to explore light, reflections, and symmetry!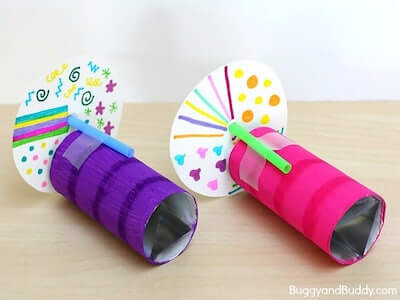 Follow the tutorial here
4. Kid's DIY Kaleidoscope by Little Bis For Little Hands
Learn how to create a kaleidoscope for summer STEAM. This STEAM activity for young kids encourages the sense of sight! This kid's kaleidoscope uses every component of STEAM to create a cool, homemade science toy.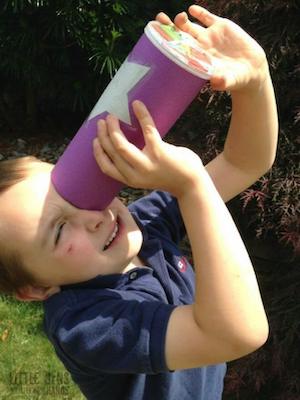 Follow the tutorial here
5. Easy DIY Kaleidoscope by Babble Dabble Do
Keeping your DIY kaleidoscope open-ended allows more chances for discovery than your standard self-contained kaleidoscope. You will love experimenting with the different shapes for the interior of the kaleidoscope.
And because the kaleidoscope is open ended meant it took about 5 minutes to throw together, perfect for a quick but entrancing project for kids!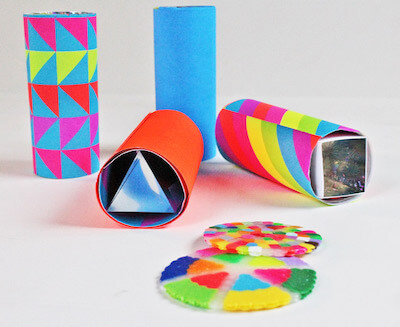 Follow the tutorial here
6. How To Make Kaleidoscope by Left Brain Craft Brain
This DIY kaleidoscope is one of the most fun engineering projects you can do! And makes a super cool spinning contraption the whole family will want to play with. This tutorial is perfect for makerspaces, camps, after-school clubs, and enrichment. Or even just a fun afternoon at home.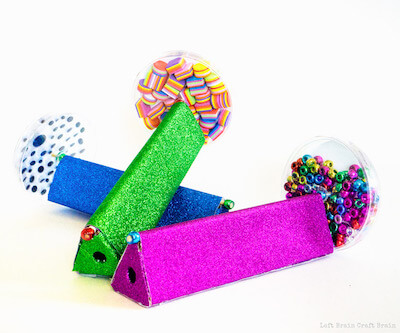 Follow the tutorial here
7. DIY Cardboard Kaleidoscope by Handmade Charlotte
Recycle a cardboard envelope into a super cool kaleidoscope in only 5 minutes! It's a blast to make, and kids will have fun exploring their surroundings with it afterward.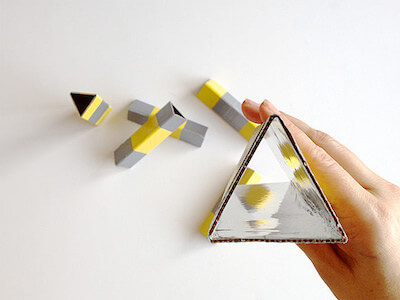 Follow the tutorial here
8. DIY Kaleidoscope Kit by Kid Made Modern
Explore the science behind light and reflection with Kids Made Modern DIY kaleidoscope kit. Little ones will explore the science behind light and reflection as they design a Kaleidoscope that will reveal vibrant colors and wondrous patterns.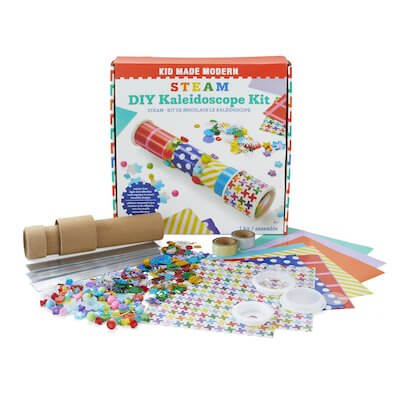 Get the DIY kaleidoscope Kit here
9. Upcycled DIY Kaleidoscope by Little Things
If you're looking for an affordable and creative activity to do with your kids, then you'll love this DIY kaleidoscope made with upcycled toilet paper rolls.

This cool craft fosters creativity and is as educational as it is entertaining! With so many fun colors and far-out illusions, both you and your kids will enjoy building (and playing) with it!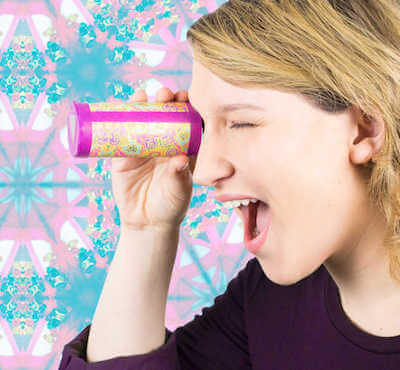 Follow the tutorial here
10. DIY Kaleidoscope Kit by Fun Box
Calling all experimenters! Get your science hats on and construct your own Kaleidoscope with this all-inclusive kit. Explore the wonders after each rotation of your kaleidoscope to see the patterns, shapes and color changes. You can even add your own glow in the dark stickers or sequins!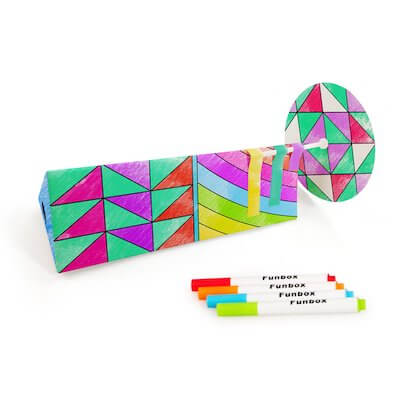 Get the Kit here
11. Prism DIY Kaleidoscope Kit by Blippo
Enjoy making your own kaleidoscope with this DIY kaleidoscope kit! This kawaii educational set comes has a cylinder that's decorated with unicorns, candies, and rainbows.

Other materials included in this kit are a design sheet, a perforated cap, a bead compartment, and three mirrors. Simply add beads inside and see the different views while you twist the tube!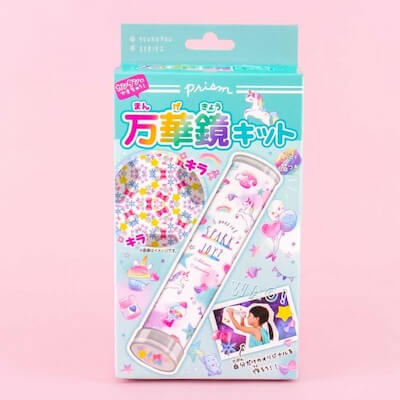 Get the Kit here
12. DIY Kaleidoscope Craft by In The Playroom
Have fun making this Kaleidoscope craft with the kids. This simple kaleidoscope works best when it is held up to the light. Move the tube around to see the pretty colours, glitter and sequins dance around.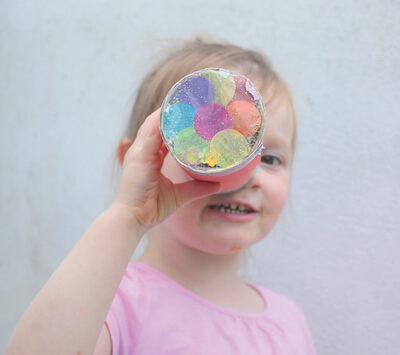 Follow the tutorial here
13. DIY Colorful Kaleidoscope by Frankie
It may look rather innocent at first glance, but this little cylinder is hiding a magical secret. Forget about chasing rainbows, now you can carry them with you wherever you go. This tutorial will show you how!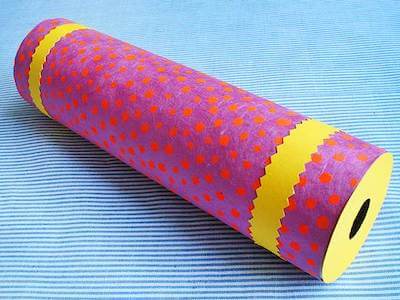 Follow the tutorial here
14. Space Immersion DIY Kaleidoscope Building Kit by DJECO Store
Build your own amazing, working kaleidoscope and create your own personal outer space themed light show. Experiment with a variety of galactic themed accessories to create the ultimate visual experience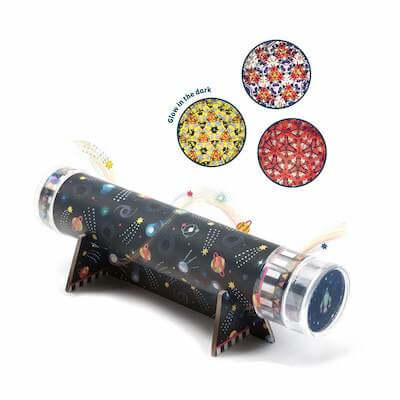 Get the Kit here
15. How To Make A Simple Kaleidoscope by The Chocolate Muffin Tree
If you are like me, then you adore your kids and would do anything to spend time with them. Unfortunately, we have to also to work because we love them so much, so the time that you get to spend with them has to be memorable both to them and to you.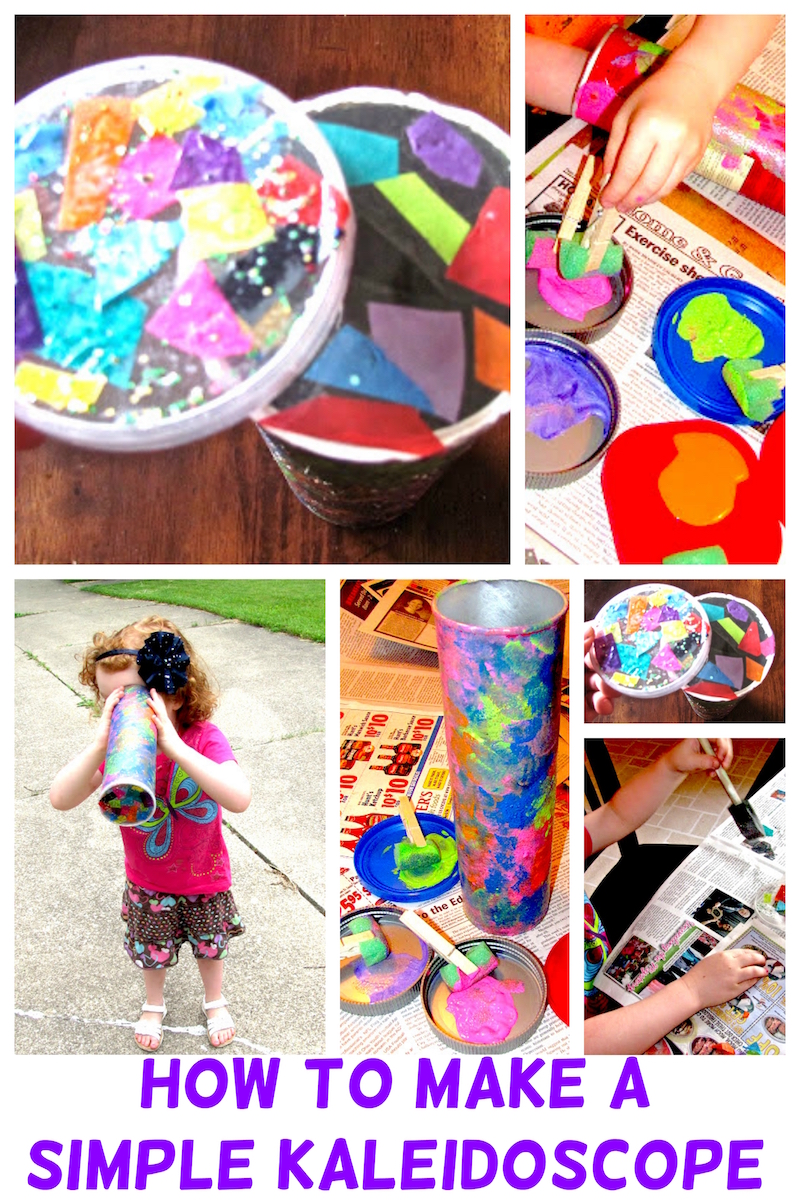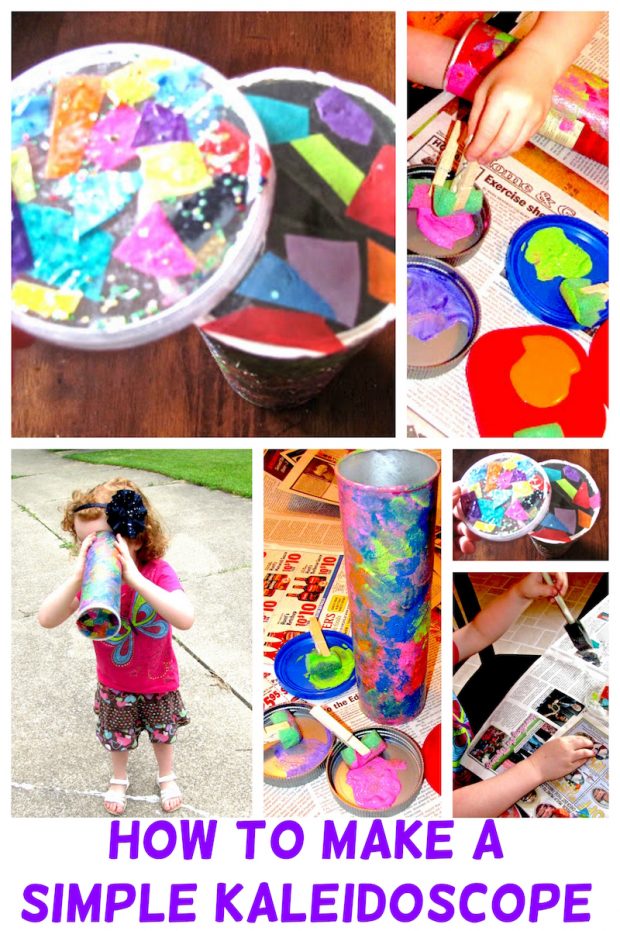 On that sentiment here is another fun way to spend time with your child, something they will adore. You can learn how to make a simple kaleidoscope with them. It's fun, and it is bound to put a smile on their face and yours every time you see them playing with it.
You shouldn't even need to buy materials to make the simple kaleidoscope just everyday things that you will find around the house. And I think your kid doesn't care how much you spend on them just the time you give to them.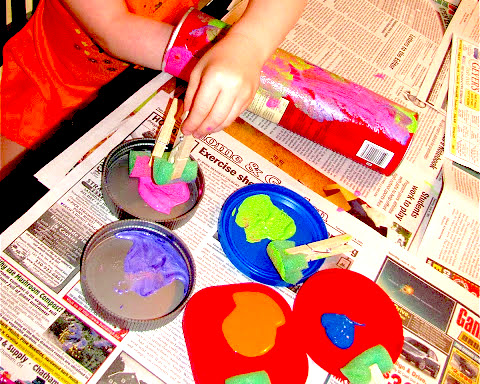 So What Materials Do You Need To Make Your Simple Kaleidoscope?
A Pringles can with the lid intact. (or any cylindrical can with a clear lid)
Acrylic paint in any color and sponges to apply it
Scrap paper and stickers
Glitter
Colorful tissue
Some contact paper
White glue
Craft glue
A hammer, a nail and a pair of scissors.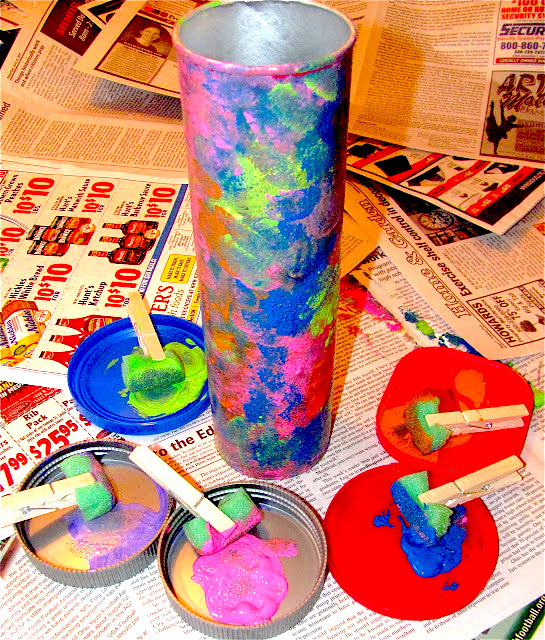 How To Make A Simple Kaleidoscope Procedure
The procedure of how to make a simple kaleidoscope can be found on via the link below. I found the procedure quite entertaining and easy to follow because the creator gives a story of how she and her daughter made their kaleidoscope.
The directions are easy to follow, and the pictures included show precisely what you need to do. The pictures are of her daughter creating her kaleidoscope so you can visit the site with your kid to show them they can make one too.
You can make you kaleidoscope in any design that you want. The how to make a simple kaleidoscope is not a rigid process that you have to follow, so it leaves space open for you and your little champ to let loose your creativity.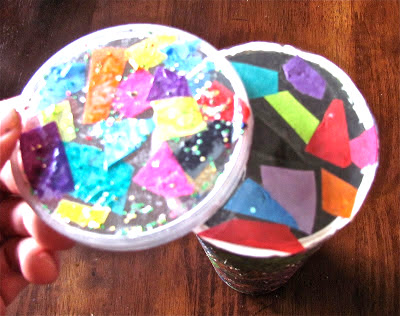 Great For Showing Off At School
And you can even use it as his or her school science project or for arts and craft homework so it sort of kills a couple of birds with one stone. Make your kaleidoscope as unique as you want it to be. Write your names on it, stick feathers on it or anything crazy you can think of. It's all up to you what you decide to make of your kaleidoscope.
So to conclude, the how to make a simple kaleidoscope procedure is not just about making the kaleidoscope. It's about time you get to spend with your child. It is about the memories they will have when they are older, and you are grey.
It's about showing them that you love them and every time they look through their kaleidoscope they are sure to remember. So give them your love today and make a kaleidoscope with your child.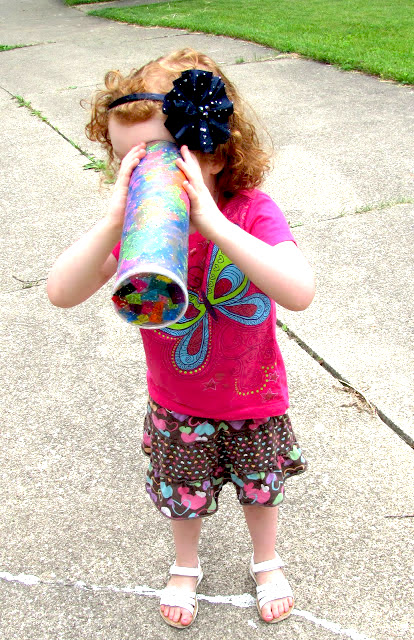 MAKE YOUR KIDS' IMAGINATIONS RUN WILD IN A WORLD OF COLOR AND SHAPES WITH THESE DIY KALEIDOSCOPES!
Which of these crafts was your favorite? Share your makes with us on our Facebook Page.
And please check out our Kids Crafts like these 15 Paper Plate Jellyfish Crafts, 40 Ways On How To Make Slime, 25 DIY Fairy Jar Ideas, 21 Hot Air Balloon Crafts, 21 Castle Craft Ideas for Kids, and 21 Paper Weaving For Kids Patterns if you need more ideas to keep the kids entertained.
We hope you enjoy making this DIY Kaleidoscope Kids Craft with your family!