Your children will become royalty with these castle craft ideas. They can enjoy these entirely customizable castle that is theirs to create a masterpiece. What kid doesn't dream of being a king or a queen, a prince or princess or even a gallant knight?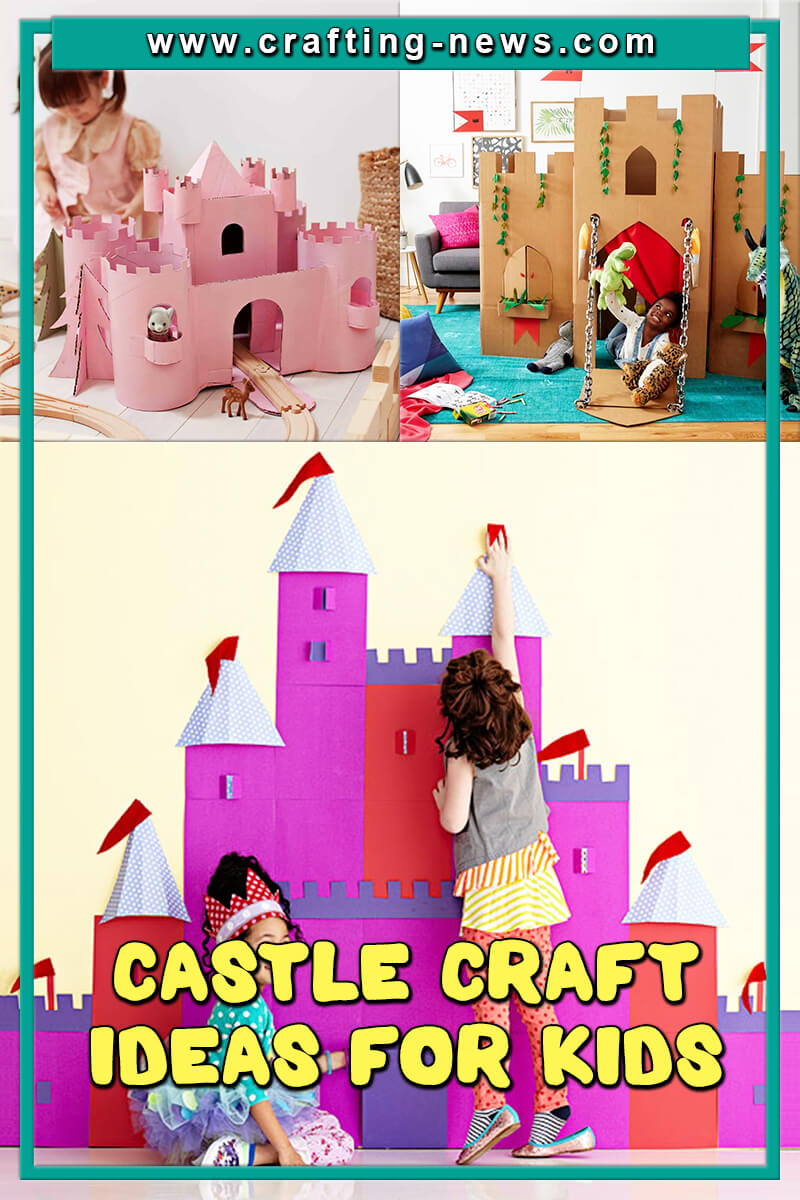 21 Castle Craft Ideas
Make a DIY Castle Craft from a cardboard box, plastic bottles, simple craft supplies, and other household items. Reuse, recycle, and encourage your child's imagination!
1. Recycled Cardboard Castle Craft by Kix Cereal
Here's a winning craft idea: have fun making a cardboard castle craft, creating a play set for future pretend adventures. Raid your recycling bin for cardboard tubes and a box, and craft your own cute recycled cardboard castle.
Use your castle for all sorts of open-ended imaginative play, which will provide hours of fun and make old action figures seem new again.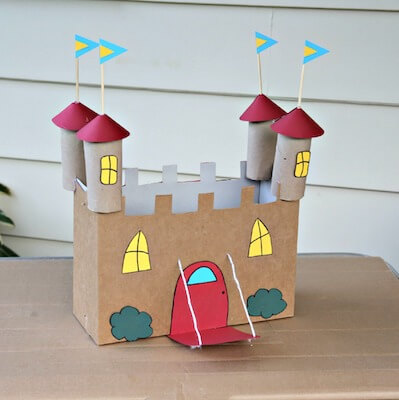 Get the tutorial here
2. Toilet Paper Roll Ice Castle by Red Ted Art
This is simply a stunning Toilet Paper Roll Castle Craft for kids to make this Winter and Valentine's Day. Wouldn't this also make the perfect Frozen movie craft? If you love Elsa and Anna, maybe have a go at this magical ice castle just for them!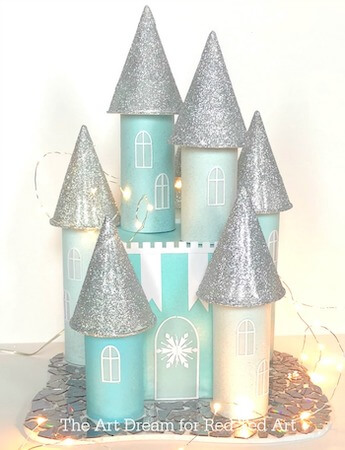 Get the tutorial here
3. Cardboard Castle Craft For Kids by The Craft Train
Make a cardboard castle from a recycled cardboard box! This is a fun and easy kids craft idea which becomes a DIY toy to inspire imaginative play.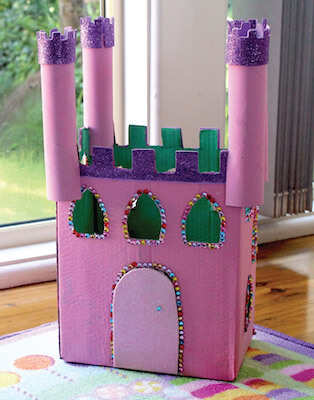 Get the tutorial here
4. Sand Paper Sand Castle Craft by I Heart Crafty Things
This awesome sand castle craft is a great summer activity for kids to make before or after visiting the beach. It's also a fun and simple way to bring the beach indoors.
Along with the fun of creating your own sand castle craft, this activity is also a great way to refresh or work on learning shapes. The texture of the tissue paper and sand paper also creates a lovely sensory experience for children of all ages.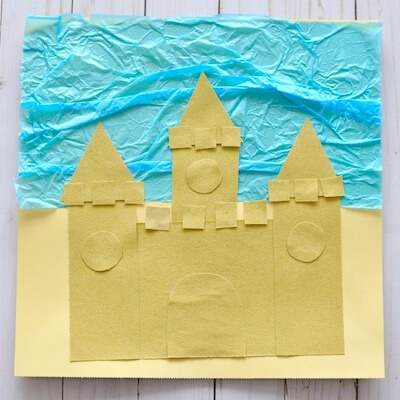 Get the tutorial here
5. 3D Paper Castle Craft by Fanfaron
Make a medieval castle out of paper! Impress your teachers with a fabulous school project, or explore the times of knights and fortresses just for fun.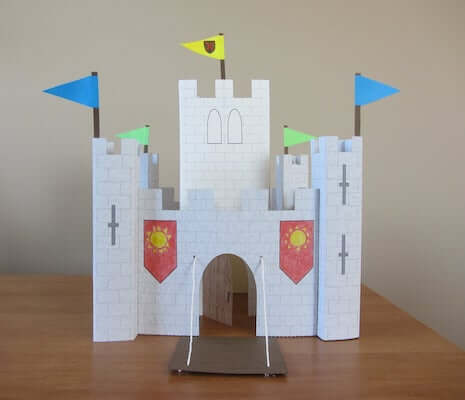 Get the Pattern by Fanfaron here
6. Paper Castle Craft by Historical Paper Kits
This is a creative project where you can build a castle out of paper or leftover material found at home. Build them on your own, with you friends or kids.
Learn about medieval history, reuse materials and let the kids dress up as knights, kings and princesses and have fun.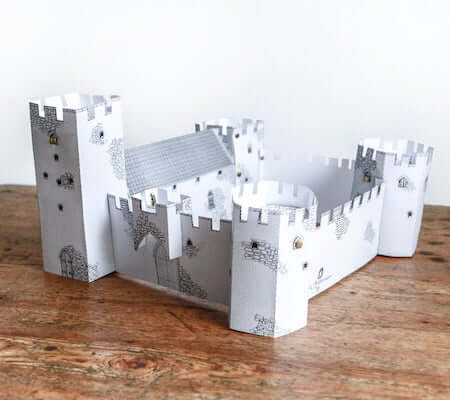 Get the Pattern by Historial Paper Kits here
7. Toy Castle Craft by A Beautiful Mess
Do something different than just recycling— upcycle some of your cardboard waste into a fun and magical toy castle! It's a bit addicting once you realize how easy these cardboard structures are to make, and how loved they are by children. Who needs to spend a lot of money on fancy dollhouses?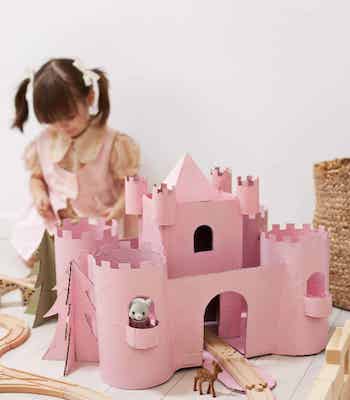 Get the tutorial here
8. Printable Castle Activity by Make Time Together
This fairy-tale, family tree castle is a great activity to encourage children to talk about their families and the people (and pets) that are close to them.
It has 2 layers, so the windows on the outside open up to reveal scenes inside too. It doubles as a coloring page before you assemble it, so this project will keep kids busy for a while.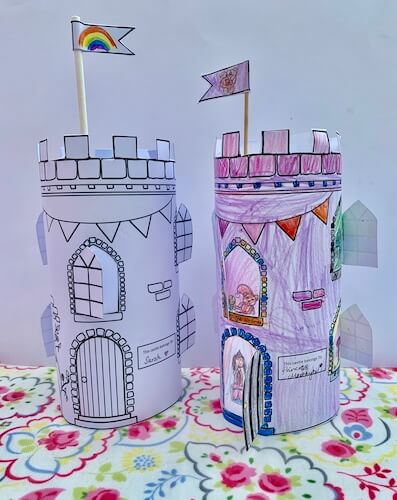 Get the tutorial here
9. Castle Craft For Kids by Right Now Crafts
Pull out those shoeboxes full of knights, dragons, and pink and purple action figures of all kinds and give them a whole new stage to play on. It can be a fairy-tale setting for gentler play or a serious fortification against trolls and orcs, a mythical kingdom or an actual place.
All you need is an empty cereal box, tape, and scissors. Have the basic castle finished in short order and spend as much or as little time decorating it as you like. If you make more than one you can put them together to form a larger castle or even a walled city.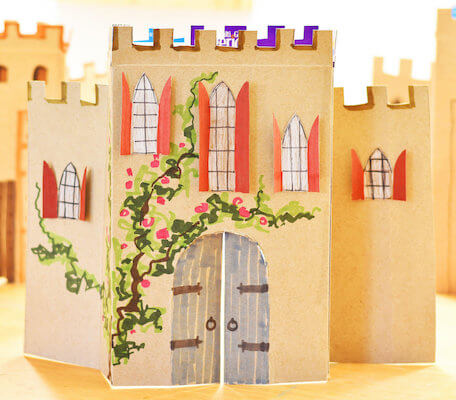 Get the tutorial here
10. Paper Castle Craft by Instructables
Paper castles are a great craft to do with kids or if you're just in the mood to cut and glue. You can do this project with just construction paper, scissors, tape and glue.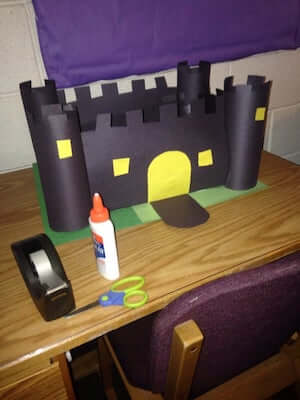 Get the tutorial here
11. Paper Castle Craft Decoration by Prima
Looking for a unique way to decorate a children's bedroom? How about hanging a series of paper castles from a bedroom mantelpiece, window ledge or bunkbed? Position them in easy reach so the kids can put their favorite figures inside.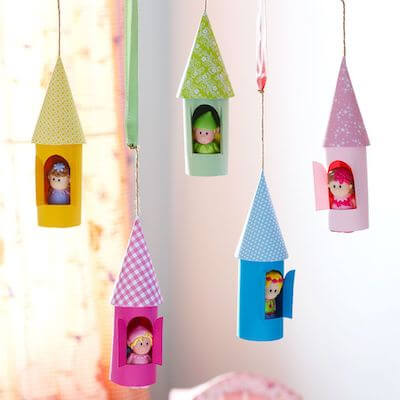 Get the Pattern here
12. How To Make A Cardboard Castle by Artful Parent
Here's how to make a cardboard castle for kids' pretend play quicker and easier than you thought possible. You'll want a cardboard box, cardboard tubes, a glue gun, and some paint sticks.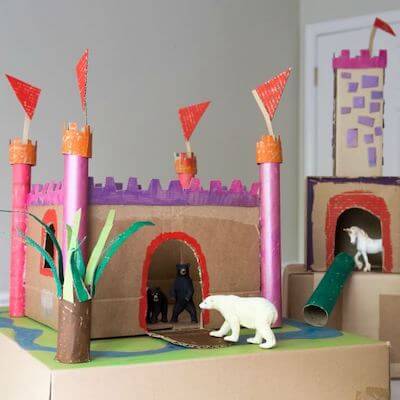 Get the tutorial here
13. Interlocking Cardboard Castle by Mer Mag
The simplicity of this 2-piece castle makes it easy to assemble and take apart for easy storage. Instead of paint, this one is decorated with duct tape for a less messy and more durable finish. Use knights and princesses from a playset or make your own from cardboard too.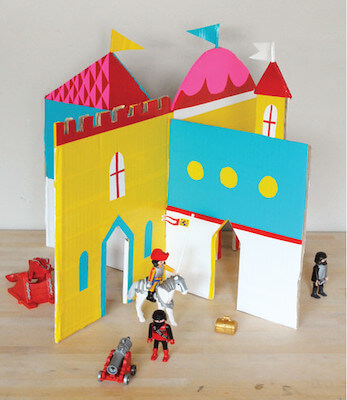 Get the tutorial here
14. DIY Cardboard Box Castle Craft For Kids by Backyard Summer Camp
When it comes to creating fun crafts for your kid, think outside the box. The cardboard box, that is. This huge castle will keep your child entertained for hours and are super simple to put together.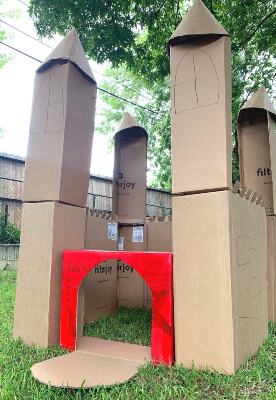 Get the tutorial here
15. DIY Castle Building Blocks by Frugal 4 Fun Boys
Create your own castle building blocks set! This is such a fun and open-ended homemade toy that kids will spend hours with.
It's also extremely easy (even if you are not crafty!) and cheap to make. It would be fun to build a set of blocks with your kids' help, or you can assemble it as a gift.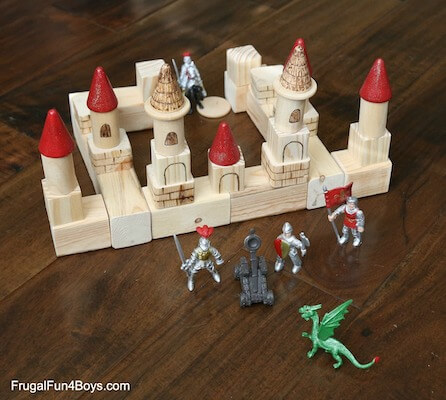 Get the tutorial here
16. DIY Cardboard Castle by Scratch With Maria
This DIY Cardboard Castle is the answer to your "I'm bored" dilemma! How much fun would your kids have playing in this beauty? The best part? You can get them involved in the building process.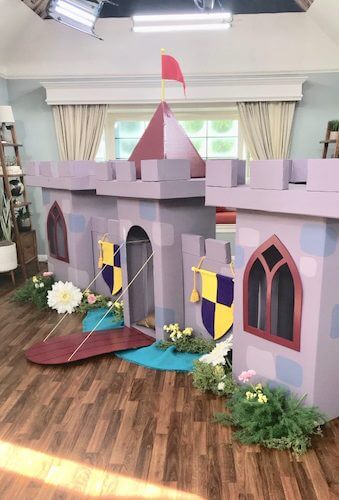 Get the tutorial here
17. DIY Paper Princess Castle by Parents
Set the stage for royal fun with a homemade paper castle. Removable felt flags can be pinned to the turrets for a fun party game.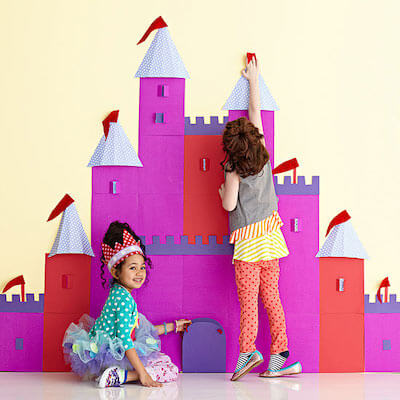 Get the tutorial here
18. How To Make A Play Castle Tutorial by Fleece Fun
This fun play castle fits over a card table to make a sturdy and cute place for your toddler to play. The faux draw bridge will give your little knight complete privacy to hold his "round table meeting". The best part is that it folds up into a bag for easy storage when not in use.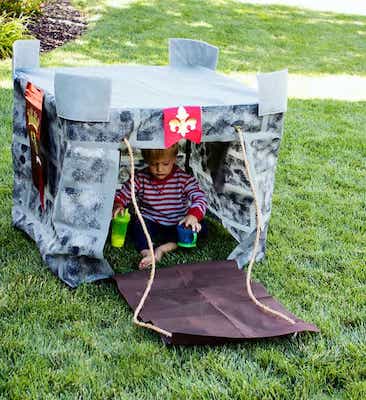 Get the tutorial here
19. Cardboard Cat Castle by Charleston Crafted
Want to build a DIY cardboard castle for your cat? Here is the tutorial that you need to do so! If you want to make a DIY cat house cardboard box, simply adjust your design so you cut it less like a castle and more like a house shape.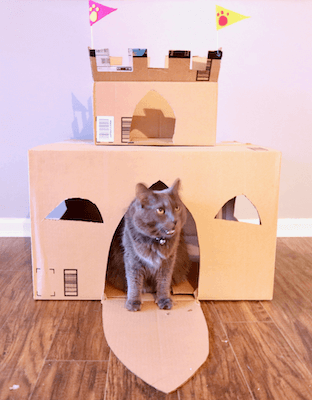 Get the tutorial here
20. Magical Fairy Castle Out Of Plastic Bottles by DIY & Crafts
Turn some old plastic bottles into a cute little decorative item that looks like a miniature manor house. While it's not a dollhouse in that it doesn't have interior access, it's just as cute and it's made with surprisingly simple materials.
To create this fairly castle, you will use plastic bottles in varying sizes, craft foam, sand, and a lot of glue. And while it looks like something you might find at gardening supply store or a craft fair, it's actually quite effortless to make!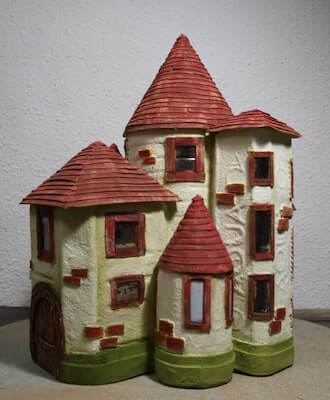 Get the tutorial here
21. Kids Castle Crafts – Turn A Box Into A Castle
This Kids Castle Crafts is another amazing project to do with your kids. This castle will entertain your kids for hours. It is a simple project which you can spend quality time with your kids building and playing together.
Allow their imagination to run wild whether playing inside the house or out in the garden the possibilities are endless. This can be made with materials lying around the house. It can be colored any way which you and your kids can imagine.
Materials Needed:
Boxes – variety of sizes
Paper
Toilet Rolls
3M Masking Tape
Apple Barrel Acrylic Paint Set
Note: For a castle size, you will need about 100ml of grey paint. Remove a small amount of the grey paint and add a little black to make a darker grey for the highlights
Paddle Pop Sticks
Note: There is quite a bit of area to cover so it's easier to paint with larger brushes/sponge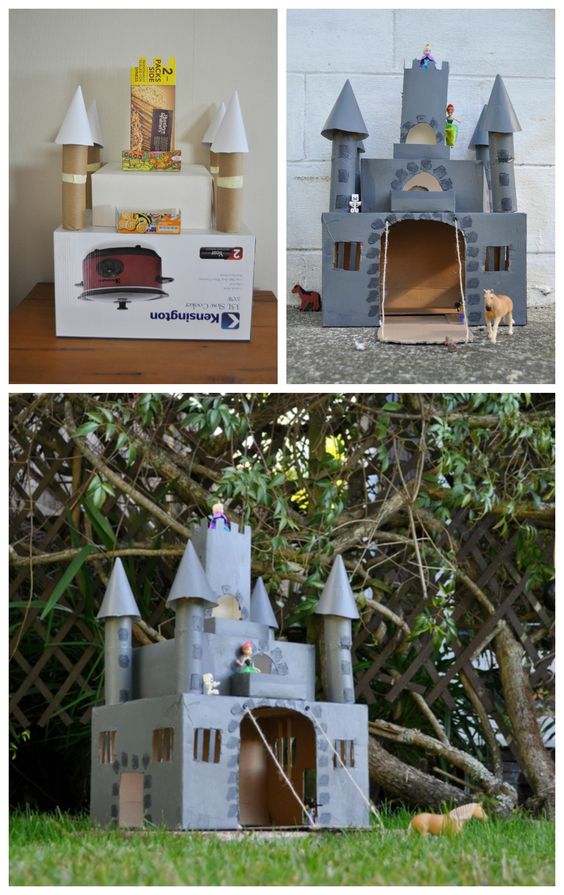 WITH FREE REIN TO PAINT AND DECORATE THEIR OWN, EACH OF THESE CASTLE CRAFT IDEAS IS A GREAT ACTIVITY FOR ENGAGING YOUR KIDS IMAGINATION!
Be sure to share with us on Facebook any crafts that you do–we'd love to see your creativity at play! Looking for more creative crafts to make with the kids? Check out our DIY Fairy Jars, DIY Yarn Ball Ideas, DIY Dragon Egg Crafts, Paper Weaving for Kids, Felt Food Play toys, Water table for Kids and more fun Kids Crafts here.
We have lots of fun crafts for you and your kids to try. Have a perfect family time!
Get fancy and crafty with these great selection of castle craft ideas that will get your little ones (and pets, because why not?) feeling like true royals!