Kids Craft Weaving – Colorful Rainbow Weaving Fish
|
1. Easy Paper Weaving Rocket Craft by Homeschool Preschool
Kids can build those skills as they make this rocket craft for preschoolers! Rocket ship crafts aren't just for boys. This rocket ship craft is perfect for boys and girls alike! Engage and inspire your kids with just a few simple supplies.
Whether you're looking for a craft to add to your space-themed unit or you're looking for something fun to do with your kids this afternoon, this rocket craft for preschoolersis perfect!
Get the Pattern here
2. Easter Egg Paper Weaving by Easy Peasy And Fun
We love crafts that give something extra, and this simple and quick Easter craft idea will give a nice workout both on fine motor skills and scissor skills.
The more colored paper the kids will be using with this project the more fun and creative it will be. Naturally it comes out quite nice even if you use 1 color.
Get the Pattern here
3. Paper Weaving Ladybug Craft by ABC's Of Literacy
Are you looking for an engaging and entertaining craft to make this Spring? Not only is this Paper Weaving Ladybug Craft for kids fun but your children will also be working on developmental skills as they create too. 
Get the Pattern here
4. Paper Weaving Placemat by Aunt Annie'c Crafts
Turn a sheet of construction paper into a placemat with paper weaving. These simple to make colorful placemats will brighten your table. Turn any meal into a special occasion, whether it's a family dinner, a birthday or a party, by weaving up a set of placemats. Figure out the number of placemats you want to make and a color theme.
Get the Pattern here
5. Paper Weaving Basket by Must Have Mom
This paper weaving basket is a really fun Easter crafts for kids project that is perfect for older kids to do. You could make these paper baskets for any occasion, not just Easter. Use them for May Day, Mother's Day or as a teacher gift idea.
Get the Pattern here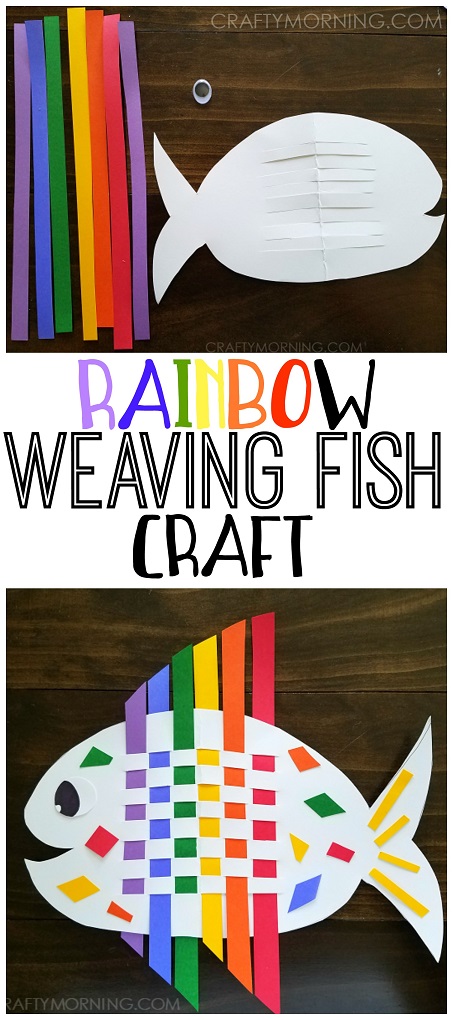 Kids Craft Weaving – Colorful Rainbow Weaving Fish
Kids Craft Weaving this colorful rainbow weaving fish will keep the kids occupied on a wet and windy day. You only need supplies you might already have around the house, help the kids with a simple fish template and let them decorate with colored papers to create rainbow scales. Do you have any other ideas for animals, critters or creatures where this technique could be fun.  How about monsters or mythical creatures – dinosaurs and dragons perhaps.
Supplies Needed:
Rainbow colored paper
Googly eye (or make one out of paper)
White or black card stock paper
Scissors/glue
" src="data:image/gif;base64,R0lGODlhAQABAIAAAAAAAP///yH5BAEAAAAALAAAAAABAAEAAAIBRAA7″ alt="