Paper weaving for kids is a low-mess activity you will like to pull out on busy days or when friends are over. Do you remember making woven paper when you were a kid? It's a classic craft project – simple, inexpensive, and fun.
After a quick lesson, most kids are weaving like pros. Every kid should learn how to weave at some point in their life.

21 P
aper Weaving Patterns
Paper weaving is a popular school craft, particularly for young children. Weaving helps children develop dexterity and coordination and can also reinforce lessons on colors and patterns.
So, here's 21 paper weaving for kids to try for a good quiet-time activity.
1. Easy Paper Weaving Rocket Craft by Homeschool Preschool
Kids can build those skills as they make this rocket craft for pre-schoolers! Rocket ship crafts aren't just for boys. This rocket ship craft is perfect for boys and girls alike!
Engage and inspire your kids with just a few simple supplies.
Whether you're looking for a craft to add to your space-themed unit or you're looking for something fun to do with your kids this afternoon, this rocket craft for pre-schoolers is perfect!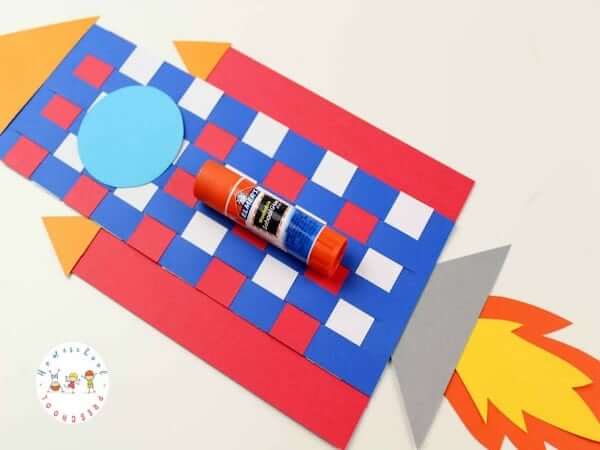 Get the Pattern here
2. Easter Egg Paper Weaving Art by Easy Peasy And Fun
We love crafts that give something extra, and this simple and quick Easter craft idea will give a nice workout both on fine motor skills and scissor skills.
The more colored paper the kids will be using with this project the more fun and creative it will be. Naturally it comes out quite nice even if you use 1 color.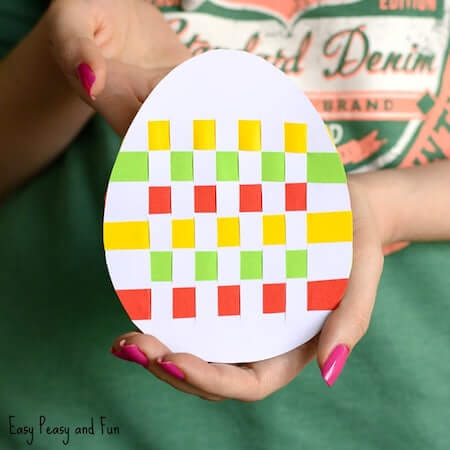 Get the Pattern here
You might also like this Crochet Easter Egg Patterns.
3. Ladybug Craft Paper Weaving for Kids by ABC's Of Literacy
Are you looking for an engaging and entertaining craft to make this Spring? Not only is this Ladybug Craft Paper Weaving for kids fun but your children will also be working on developmental skills as they create too.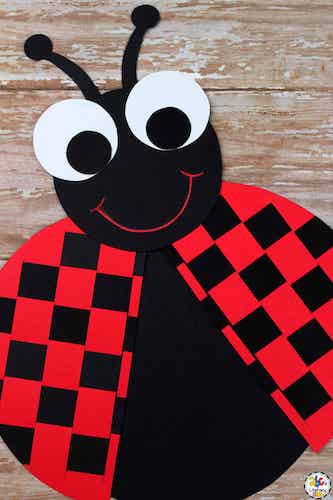 Get the Pattern here
4. Paper Weaving Placemat by Aunt Annie'c Crafts
Turn a sheet of construction paper into a placemat with paper weaving art. These simple to make colorful placemats will brighten your table.
Turn any meal into a special occasion, whether it's a family dinner, a birthday or a party, by weaving up a set of placemats. Figure out the number of placemats you want to make and a color theme.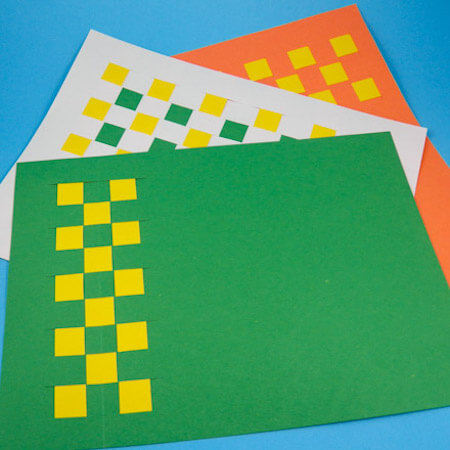 Get the Pattern here
5. Paper Weaving Basket by Must Have Mom
This basket paper weaving pattern is a really fun Easter crafts for kids project that is perfect for older kids to do.
You could make these paper baskets for any occasion, not just Easter. Use them for May Day, Mother's Day or as a teacher gift idea.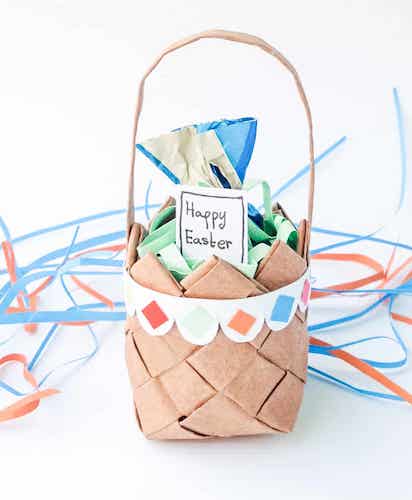 Get the Pattern here
6. Paper Weaving Crab Craft by Kids Craft Room
Do your kids enjoy visiting the beach? Whether your kids are lucky enough to meet a crab in the flesh or whether they just enjoy reading about them in books this Paper Weaving Crab Craft is a must for Summer!
Get the Pattern here
7. DIY Paper Weaving Pattern by The House That Lars Built
This Paper Weaving Craft is so simple, yet easy to customize in any way that your creativity takes you! Slips of paper are woven together to make pretty, colorful patterns that can be framed or collaged into bigger pieces.
If you want to make your paper craft extra exciting and more earth friendly, it's highly recommend creating weaving slips from magazines or photos, and weaving them against solid colors to create a staggered image.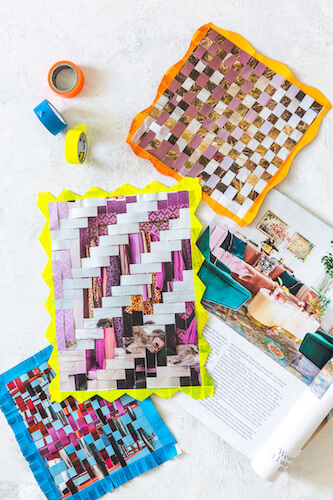 Get the Pattern here
8. Flower Basket Paper Weaving Art by Red Ted Art
A fantastic Mother's Day Craft project to make at home or in the classroom – have a go at these easy printable Flower Basket Paper Weaving Cards. The kids get to colour, cut and weave!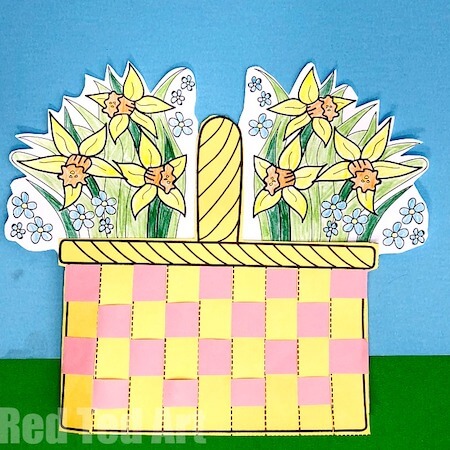 Get the Pattern here
9. Paper Apple Weaving Craft by Arty Crafty Kids
This Paper Apple Weaving Craft is cute, simple to make and perfect for working the fine motors skills of little hands!
The process and motion of weaving in and out of the designated lines is great for hand-eye coordination and the overall effect adds a fun and interesting layer to the apple craft.
Can you imagine how a collection of these apples in both red and green would look on a bulletin board?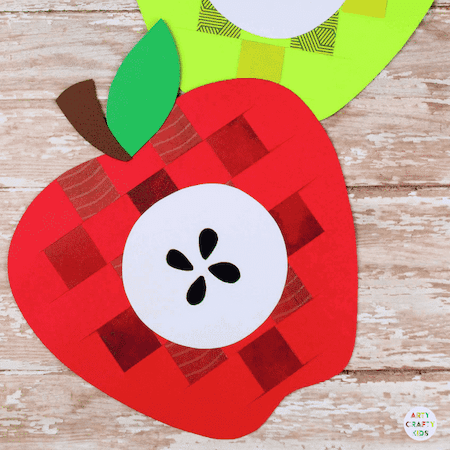 Get the Pattern here
10. Woven Paper Heart by Gathering Beauty
Looking for a simple paper decoration for Valentine's Day? Learn how to make your own adorable woven paper heart baskets with this free template.
These paper hearts are so fun and easy to make. Fill them with candy or a sweet card and give to friends and loved ones.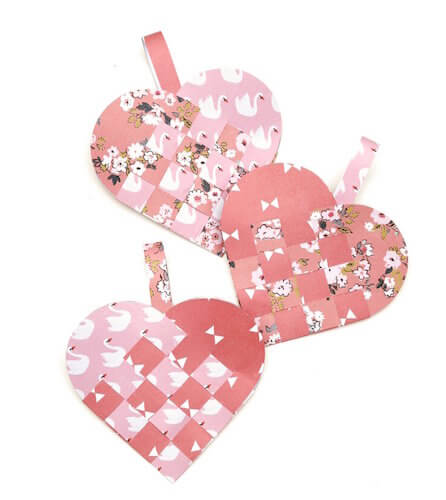 Get the Pattern here
11. Paper Weaving Fall Pattern by Artsy Craftsy Mom
Quite a pretty mosaic, won't you agree! These paper weaving fall printables are multipurpose – they're a good Thanksgiving activity for kids and helps little kids strengthen their fingers and build hand-eye coordination.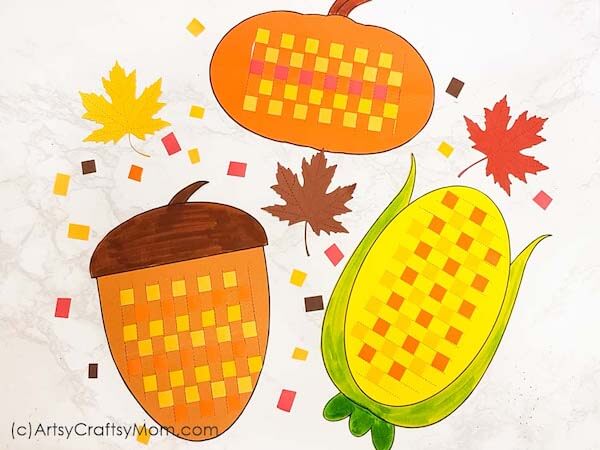 Get the Pattern here
12. Woven Paper Bag by Laughing Kids Learn
When your children are bored and you're looking for a fun craft activity, teach them how to make a woven paper bag. It's quite easy!
Making these bags is certainly great for developing those fine motor skills and your child will be keen to make all sorts of different bags in a variety of colors.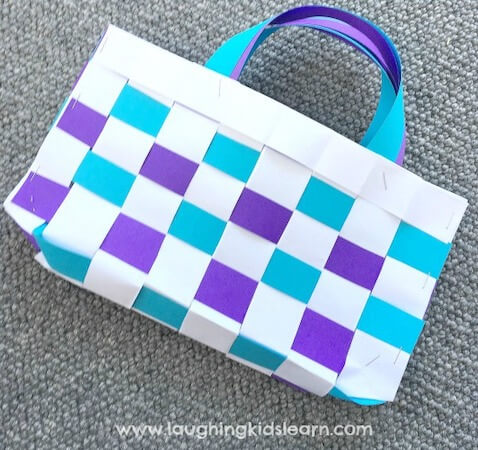 Get the Pattern here
13. Paper Weaving School Bus Craft by I Heart Crafty Things
The school bus theme of our paper weaving craft makes it perfect for a back to school craft. You can use it at home for kids to get a refresher on their scissor cutting skills or make it in a classroom full of students.
The paper weaving element is also great for working fine motor muscles in the fingers and hands.
Get the Pattern here
14. Woven Paper Cats In Sweaters by Pink Stripey Socks
If you think cats are adorable, this craft is perfect for you! These cute paper kitties are wearing uber sweet woven vests. Why? Why not! So if you're looking for an easy and sweet paper craft, this one is the cat's meow!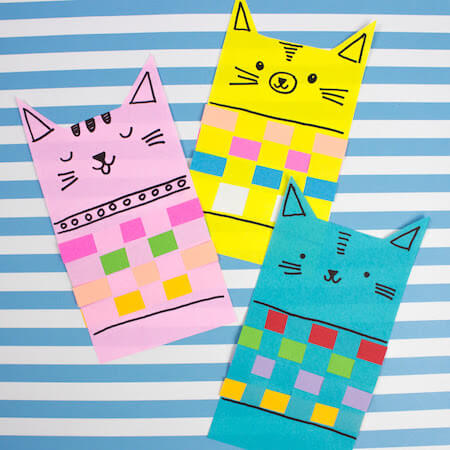 Get the Pattern here
15. Paper Weaving Fish Craft by Kids Craft Room
This Paper Weaving Fish Craft is the perfect addition to your creative activities this Summer. Display your woven fish on the wall, glue them onto greeting cards or stick them back to back and hang them as a mobile.
This ocean paper weaving art is perfect for Summer fun across the ages!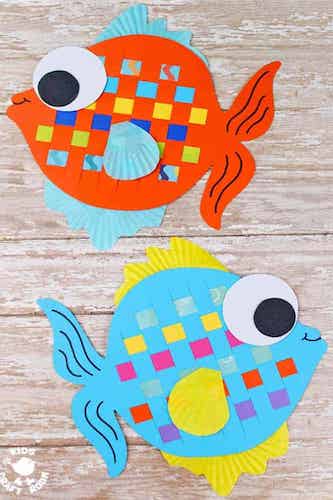 Get the Pattern here
16. Woven Christmas Tree by Buggy And Buddy
If you're looking for unique Christmas crafts for kids, you'll love our woven paper Christmas tree craft! This simple Christmas tree craft is a great way to introduce weaving paper to children.
The contrasting colors really stand out, and kids can even embellish the trees when they're finished!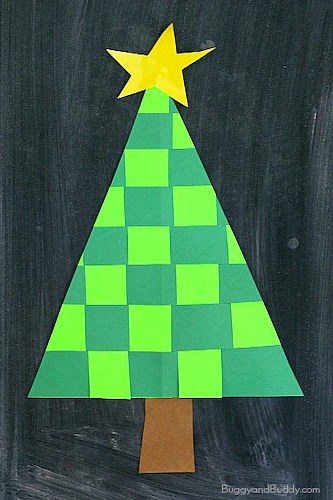 Get the Pattern here
17. Paper Weaving Bookmark by Red Ted Art
Paper weaving is a fun craft for kids with fabuluos results and these little bookmarks look absolutely adorable at the end of it.
This DIY project is simple enough for young readers to make with some help from a grown-up to do the cutting. And more advanced readers can make these bookmarks all on their own.
Your kids may even want to make more bookmarks with these bookmark kits to give as gifts or party favors.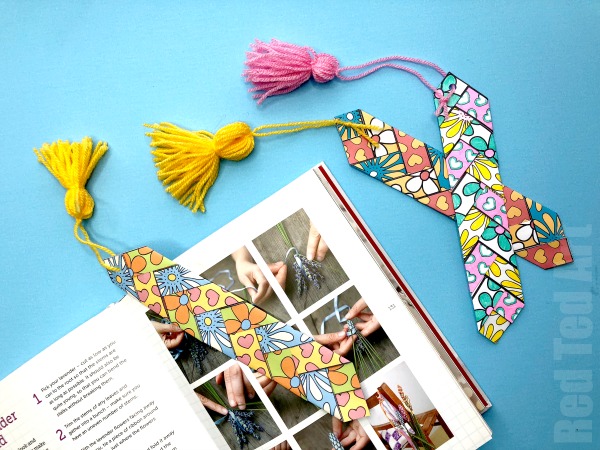 Get the Pattern here
18. Easter Bunny Paper Weaving by Mollymoo
Looking for a fun and unique Easter activity? Why not make this Easter Bunny Paper Weaving Pattern with your children? They're so easy, kids of all ages can help out!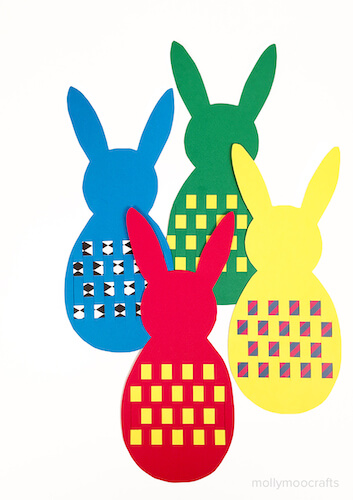 Get the Pattern here
19. Paper Weave Bumble Bee by Frugal Mom Eh
This Paper Weave Bumble Bee is a wonderful classroom project! By weaving together yellow and black, this bee craft helps children keep the colors separate and spot the emerging pattern as they weave.
The kids can personalize the bees by drawing the mouths or writing their names on the wings.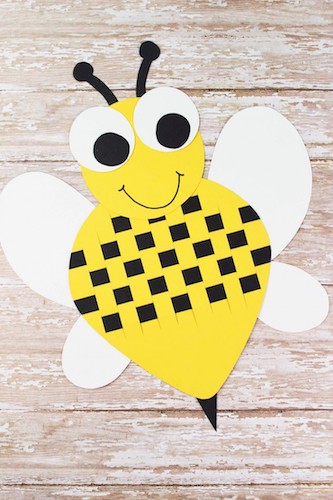 Get the Pattern here
20. Paper Weaving Pattern by First Palette
Learn the basics of weaving by making this easy paper weave picture. Use this craft project to apply color concepts like primary colors, monochromatic colors or complementary colors.
You can also make them in color combinations that celebrate various cultures around the world with weaving traditions.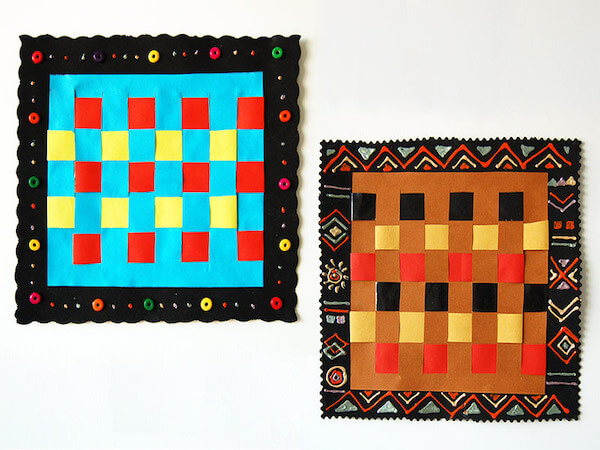 Get the Pattern here
21. Kids Craft Weaving – Colorful Rainbow Weaving Fish
Kids Craft Weaving this colorful rainbow weaving fish will keep the kids occupied on a wet and windy day. You only need supplies you might already have around the house, help the kids with a simple fish template and let them decorate with colored papers to create rainbow scales.
Do you have any other ideas for animals, critters or creatures where this technique could be fun. How about monsters or mythical creatures – dinosaurs and dragons perhaps.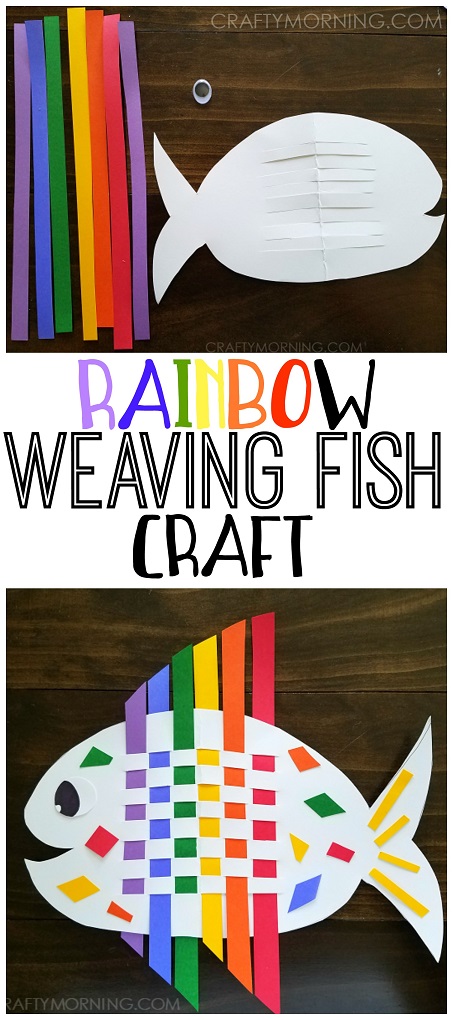 Supplies Needed:
Rainbow colored paper
Googly eye (or make one out of paper)
White or black card stock paper
Scissors/glue
Find the full tutorial here
RAIN OR SHINE, THESE PAPER WEAVING PATTERNS WILL KEEP YOUR KIDDOS BUSY FOR HOURS!
Added bonus, they double as decorations, so after they make it they can find the perfect spot to display it in their room (who doesn't love admiring their handiwork). For more paper craft projects, look into getting Reliable Paper Shape Cutter.
When you're done, share your makes on our Facebook Page. We'd love to see those creations!
You can also go here to see a roundup of all sorts of fun crafts you can make with your kids. There are many ways to have fun with them using nothing more than a few craft items and lots of imagination!
Try any of these fun crafts with your kids and have perfect family time! We hope you enjoy these paper weaving patterns!