Turn a simple jar into a whimsical work of art with these 24 Fairy Jar Ideas. This post will show you several ways on how to make your very own fairy jar using ordinary material such as mason jars, and with a little bit of imagination, they make just about anything look magical!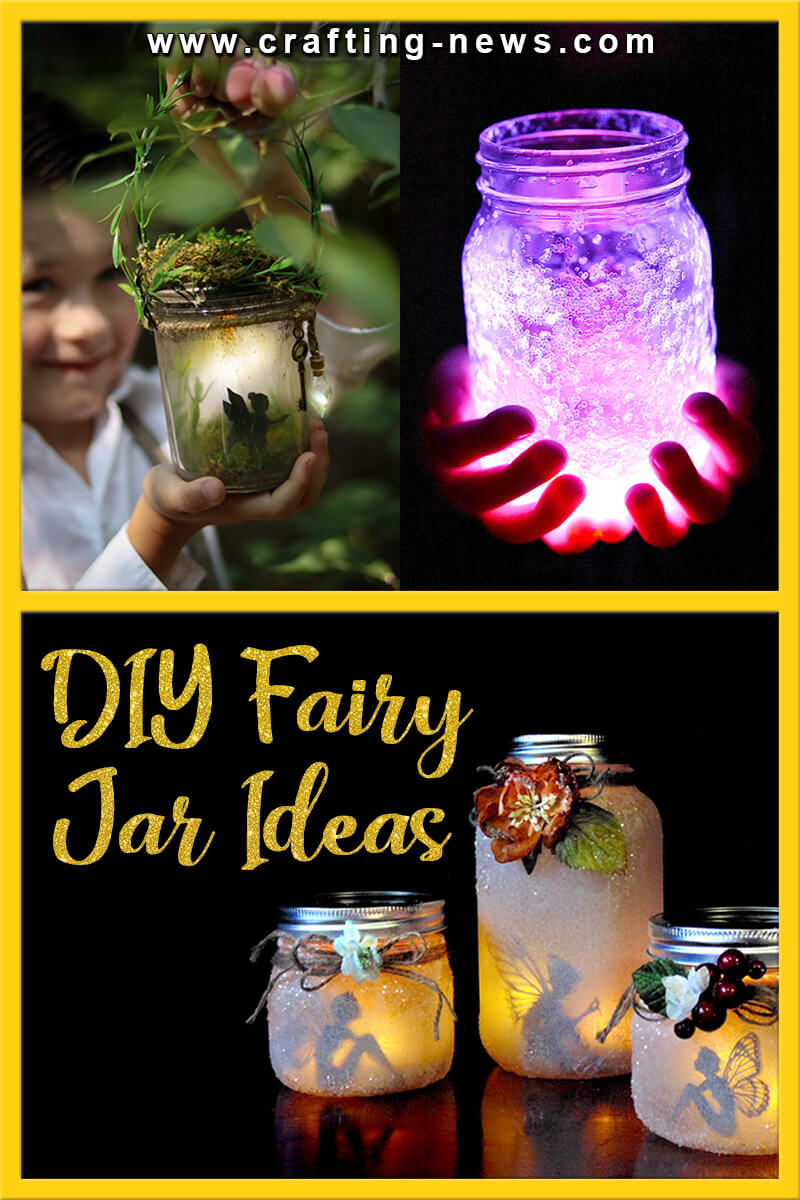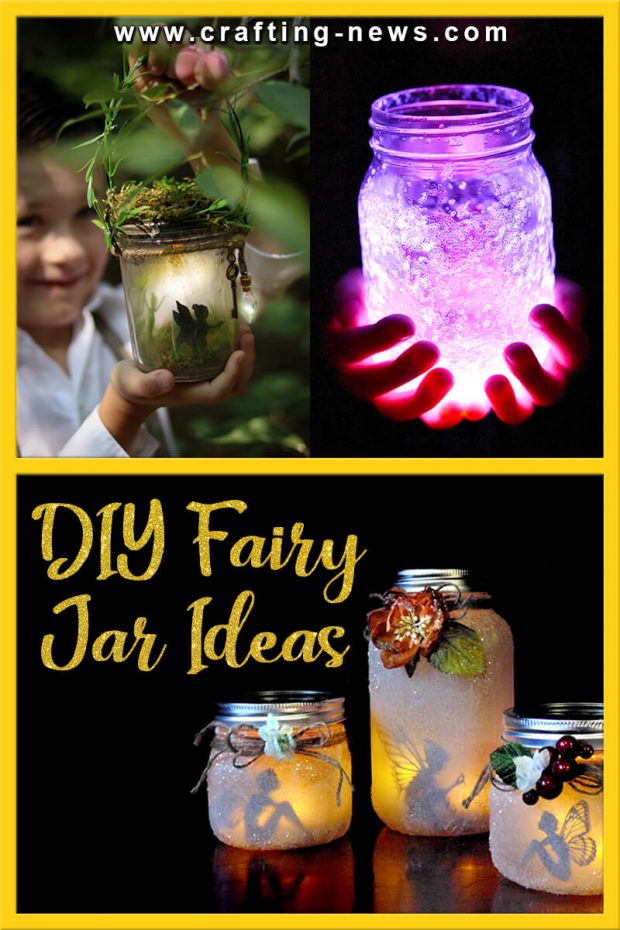 Whether you believe in fairies or not, these wonderful fairy jar ideas will add a magical touch to any outdoor or indoor space.
24 Fairy Jar Ideas
From creative fairy jar garden ideas to mind-blowing lanterns and fairy lights, you won't be able to stop gushing over these easy projects!
1. Glow In The Dark Fairy Jar by 123 Homeschool 4 Me
If you have a fairy fan at your house you will love this super cool DIY fairy jar craft project! With just a couple simple materials you can make a mason jar night light that will actually glow in the dark.
Whether you make your fairy light jars as a fun summer activity for kids or as a Tinkerbell craft – this is sure to be a hit in your house!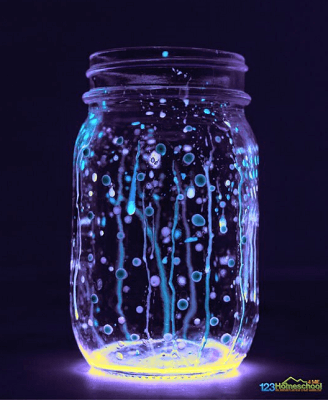 Get the tutorial here
2. DIY Fairy Lantern Night Light by Lily Ardor
If you like a more nature-based and magical forest feel, this fairy jar is topped with bright green ferns and moss and also has a burlap string tied around it. Attached to the string is a small bulb-shaped jar with a cork and a bronze key that implies that the jar is for safekeeping.

Inside the jar, you can see a fairy surrounded by even more moss and plants with a light attached to the bottom of the cap for a further glowing effect.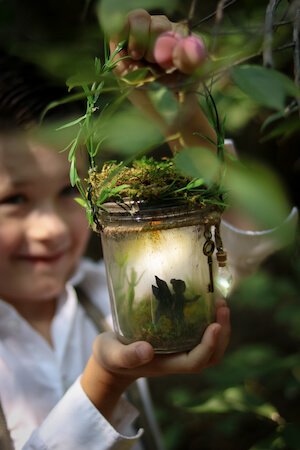 Get the tutorial here
3. DIY Tinkerbell Fairy Jar Lantern by Shine Crafts
Create Tinkerbell jar lantern in easy steps that is magical in your girl's bedroom or use it as an addition to your fairy garden.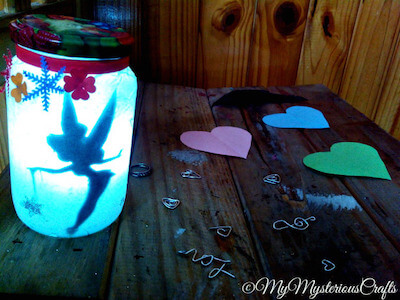 Get the tutorial here
4. DIY Mason Jar Fairy House by Angie Holden
Make your own adorable mason jar fairy house using free printables and coloring pages. You can customize your fairy house with your own favorite colors and design ideas just by using printable art.
Color it however you'd like and add your own personal touch!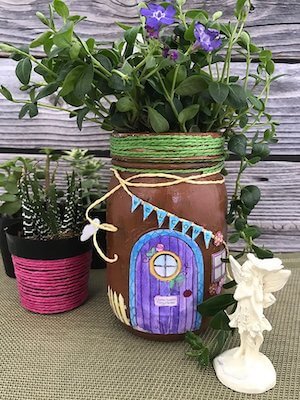 Get the tutorial here
5. Super Easy Fairy Jar Lantern by Tried & True Creative
Thanks to a few convenient craft supplies, you can file this Fairy Jar Lantern under projects that look complicated but are actually quite easy to make.

This would be a great project to thank that special woman on Mother's Day for making your childhood so magical. It may have only taken you about 15 minutes to make but this Fairy Jar Lantern symbolizes a lifetime of love and dedication!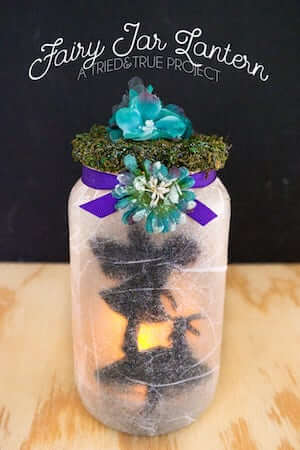 Get the tutorial here
6. DIY Galaxy Jar by Bitz & Giggles
This DIY Galaxy Jar is a gorgeous craft for kids, teens or even adults who love color and glitter! Simply layer cotton balls, acrylic paint, water and glitter shapes to create your own galaxy in a jar!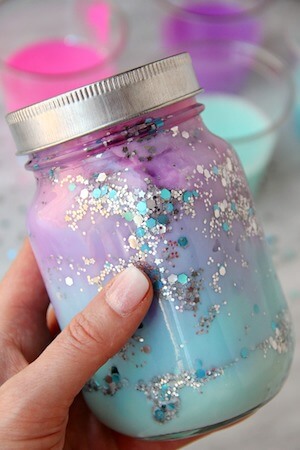 Get the tutorial here
7. DIY Fairy Lantern by Pixie Hill
This mason jar fairy lantern looks so stunning and magical especially with these dimly orange/yellow lights. These indistinct lights are perfectly dreamy as a little nightlight for kids room and magical accent for girlish ambiance for dinner.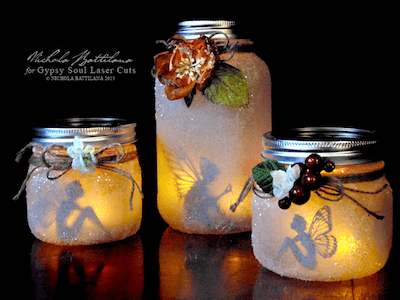 Get the tutorial here
8. Fairy Lanterns From Mason Jars by Adventure In A Box
Turn mason jars into a set of fairy lanterns with frolicking silhouettes of enchanted creatures!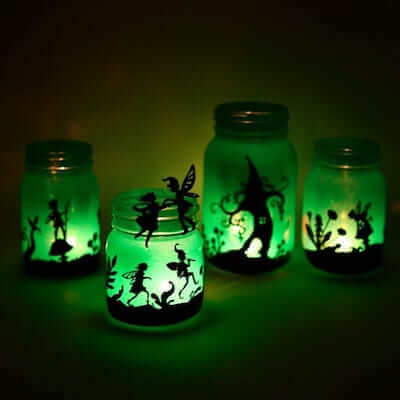 Get the tutorial here
9. Mason Jar Fairy Lights by Angie Holden
Do you find yourself wondering what to do with any of those mason jars you have lying around the house? Take one (or several!) and transform it into a DIY lantern! A few simple supplies and mere minutes are all you need to turn a plain mason jar into a gorgeous fairy lantern.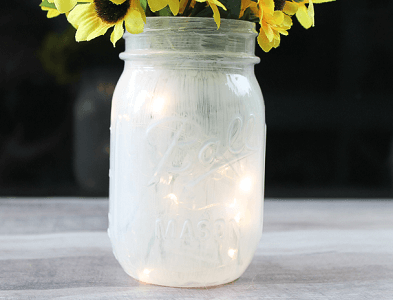 Get the tutorial here
10. DIY Mason Jar Fairy Lights by DIY Joy
DIY mason jar fairy lights are surprisingly easy to make for the entertainment value they offer. Unlike many DIYs that have long lists of supplies you may or may not find readily available, this one just uses glow in the dark paint, glitter and pretty much any clean jar you can find.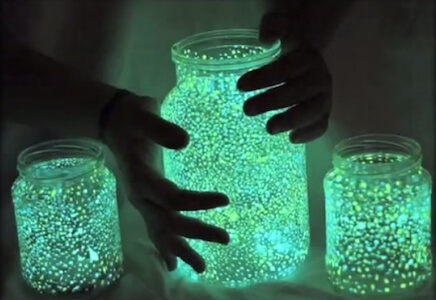 Get the tutorial here
11. DIY Illuminated Fairy Jar by Catch My Party
If you're planning for a fairy party and looking for a fun party activity or party favor for your guests, check out this illuminated fairy jar DIY. These jars are easy to make and look so stunning when they're done. You'll be asking yourself if you really trapped a fairy inside!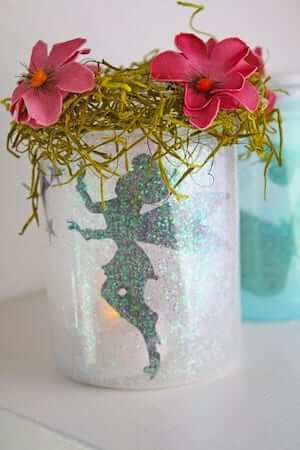 Get the tutorial here
12. DIY Fairy House Idea by The Decorated Cookie
Fairy house craft idea: Use air-dry clay and mason jars to make a light-up fairy garden mason jar. Fairies will flock to these little jar houses. There are windows, so you can put a battery-operated tea light.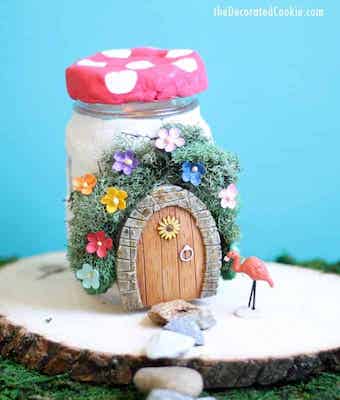 Get the tutorial here
13. DIY Fairy Light Jars For Kids by Alpha Mom
Whether you are hosting a woodland-themed party or just having some summertime fun, these light-up Fairy Jars are so easy to make!
You'll be amazed at all the creative combinations your guests can come up with! Just give them supplies and some glue and let the fun happen.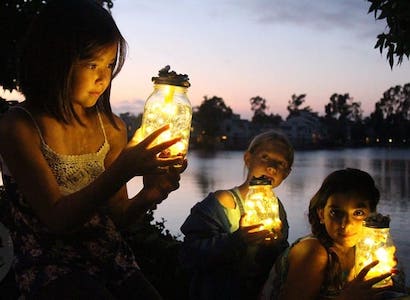 Get the tutorial here
14. Mason Jar Fairy Lights by Martha Stewart
Mason jar fairy lights make for the perfect centerpiece no matter the time of year. Enchanting and mesmerizing, they'll cast a spell on your kids' imaginations.
Whether you're in search of outdoor lighting ideas or simply want to brighten up your space, this DIY is simple and fun to create.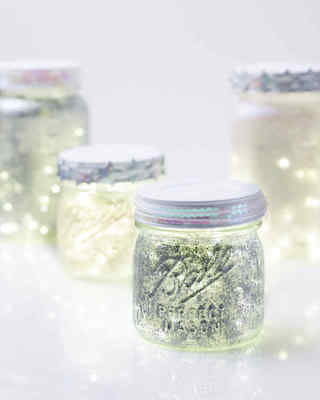 Get the tutorial here
15. DIY Holiday Fairy Light Jars y Andrea's Notebook
These fairy light jars work well as a sweet decoration, lights in the window, decor for the dining table, even as night lights!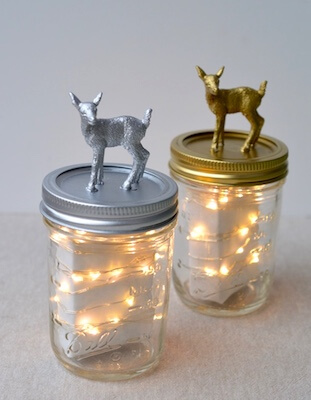 Get the tutorial here
16. Summer Fairy Lanterns by eHow
These unique lanterns are not only charming but also very easy to make. The inside of the glass jar accommodates a small fairy arrangement which can be seen even when the lantern is not lit.
When the tea candle is lit, the fairy silhouette enlivens to inspire the kids and the grown-ups.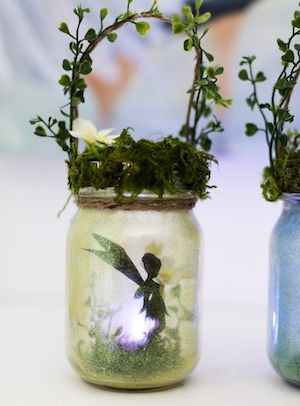 Get the tutorial here
17. DIY Fairy Light Lantern by Christene Holder
Learn how to make a DIY fairy light lantern for any outdoor space in your home. It's a quick and easy craft project for summer.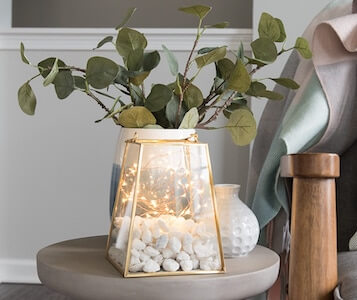 Get the tutorial here
18. Fairy Garden Mason Jar Terrarium by Crafts By Amanda
Do you love fairy gardens? What about mason jars? Why not combine both of those into this fairy garden mason jar terrarium? It is the best of both worlds all in one simple craft idea, plus it's just so adorable!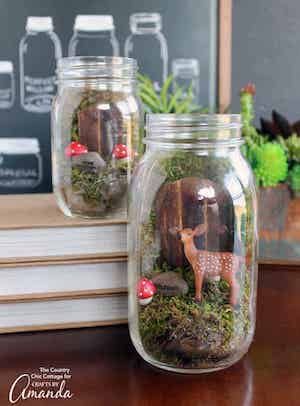 Get the tutorial here
19. Hanging Mason Jar Fairy Lights by Michelle J Designs
Hanging mason jar fairy lights are perfect for your deck or patio and they are so easy to make with just a few materials. These DIY mason jar outdoor lights are the perfect solution to add more solar lighting and they are so easy to make.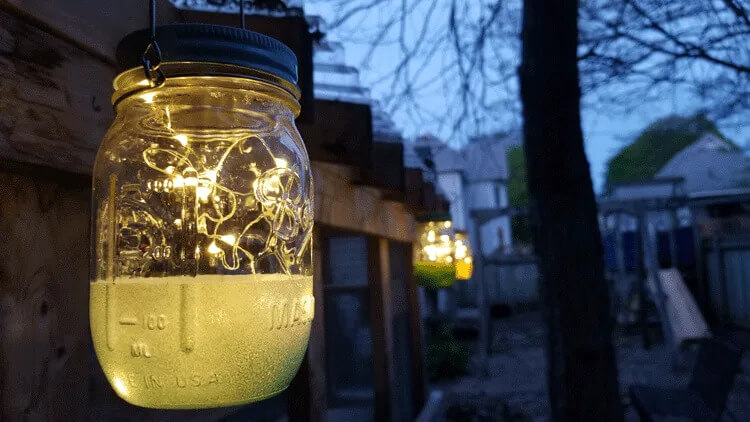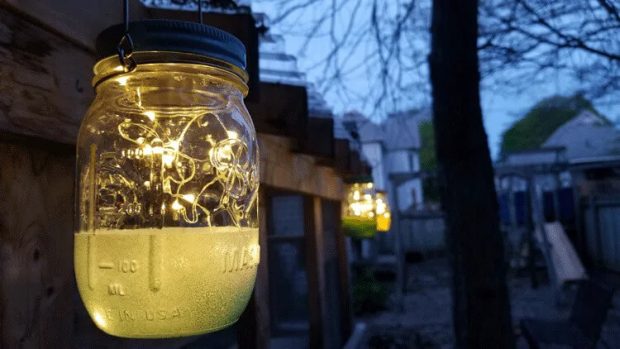 Get the tutorial here
20. Mason Jar Lid Fairy Lights by Stock Piling Moms
This is great for the holidays, but also ideal for year round! You can add the cute little fairy garden accents and add to a corner of your decor as a true fairy light, or you can add holiday decorations and add it to your mantle for Christmas. Have fun with this one making it personalized for your family and home!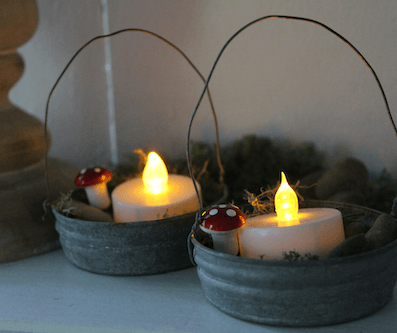 Get the tutorial here
21. Mason Jar Fairy Lights by Brooklyn Berry Designs
We love how pretty fairy lights look and the ambiance they add to any home in these cold winter days. They are the perfect thing to add to your home after taking down the Christmas decorations, and this tutorial will show you exactly how you can make these simple mason jar fairy lights.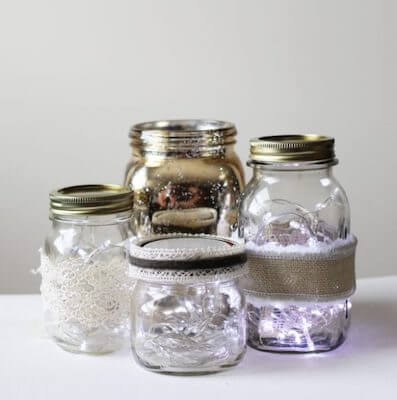 Get the tutorial here
22. Mystical Fairy Lantern Jar by Imagine Blog
Here's a way to sprinkle a little fairy dust in your home with this upcycled DIY Fairy Lantern craft! Add desired embellishments to the lid and top of the jar. Use this tutorial to create decorations for a summer party, birthday or any fun outdoor event!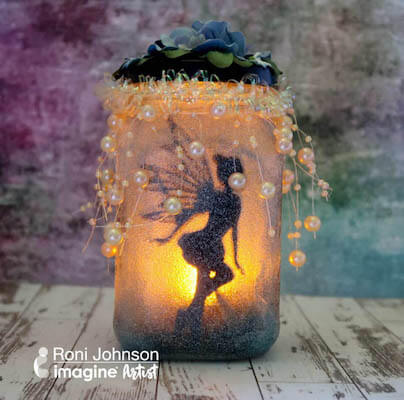 Get the tutorial here
23. DIY Fairy Jar by One Little Project
These fairy jars are so easy to make and they look so cool! All you need is a glow stick, glitter and a mason jar and you can capture your own twinkling fairies in a jar. This is such a great glow stick idea and a super easy kids activity!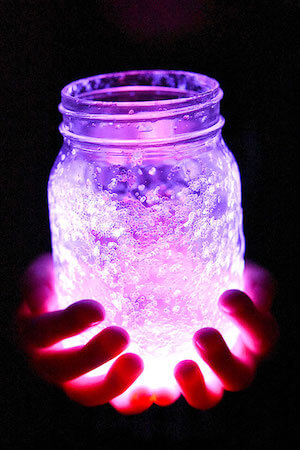 Get the tutorial here
24. Glowing Fairy Jars by Bitz N Giggles
Fairy jars – I remember as a child daydreaming about fairies and other little creatures that could be hiding in the forest. I so badly wanted to be able to play with them and have little fairy friends.
I'm sure that I wasn't the only little girl daydreaming about fairies. Making these glowing fairy jars is a spectacular way to celebrate the magically creative mind of your children.
They will love playing with these fairy jars. Just imagine all of the stories and adventures that will be growing inside their little heads. And these fairy jars would be great as a gift or to put inside a party bag.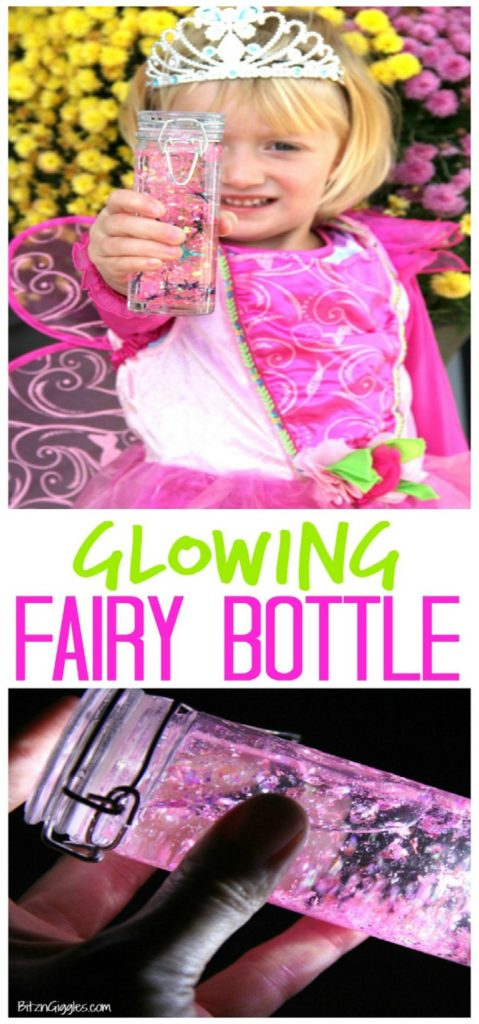 Materials To Make The Glowing Fairy Jars
To get started on your glowing fairy jar, you will need the following materials. You can stock up on these here and have them delivered directly to your front door. Ah, the convenience!
Plastic or glass bottle with sealing lid
Submersible LED light (light will last up to 60 hours)
Glycerin
Mounting putty
Glitter
Foil confetti pieces
Water
How To Make The Glowing Fairy Jar
Start by turning on your submersible LED light. The lights generally last around 60 hours. Place a good amount of mounting putty to the bottom of the LED light and stick it the inside of your jar, right at the bottom.
Next, fill the jar 3/4 full with water.
Add around a tablespoon of glycerin to the water. This amount will vary depending on how large your jar is. If you don't have Glycerin handy, you can use clear dish soap or light corn syrup instead. The idea is to allow the glitter and confetti to float around before sinking to the bottom of the jar.
Now add the glitter and confetti. Try to use small, light glitter and confetti, as it will float around for longer below sinking that heavier glitter and confetti.
Fill the rest of the jar up with water, leaving a little space at the top for shaking.
You can seal the lid with clear, waterproof glue if you are not planning on using the jar again. Now you have a beautiful and magical glowing fairy jar. Shake it up and watch the glitter float around. Perfect for kids to play with (and the adults too).

You can see the full instructions here
THESE FAIRY JARS ARE FUN AND ENCHANTING GIFTS FOR A CHILD AS A NIGHT LIGHT OR FOR AN ADULT AS A QUIRKY PIECE OF ROOM DECOR.
We hope to see your creations on our Facebook Page. Please share them with us!

Love anything magical and mystical? Here are more fun crafts for you to enjoy with your kids and will help keep those imaginations going strong: DIY Yarn Ball Ideas, DIY Dragon Eggs, Crochet Unicorn Patterns, and Crochet Dragon Amigurumi Patterns.
Whether you're young, young at heart, or just in dire need of a little fairytale goodness, there's nothing more magical than these fairy jars! Happy crafting and keep the magic alive!