If you are looking to create some fun pieces of clothing, check out our list of dungaree sewing patterns. Dungarees are making a huge comeback. They are extremely comfortable to wear and can be made to fit any body size.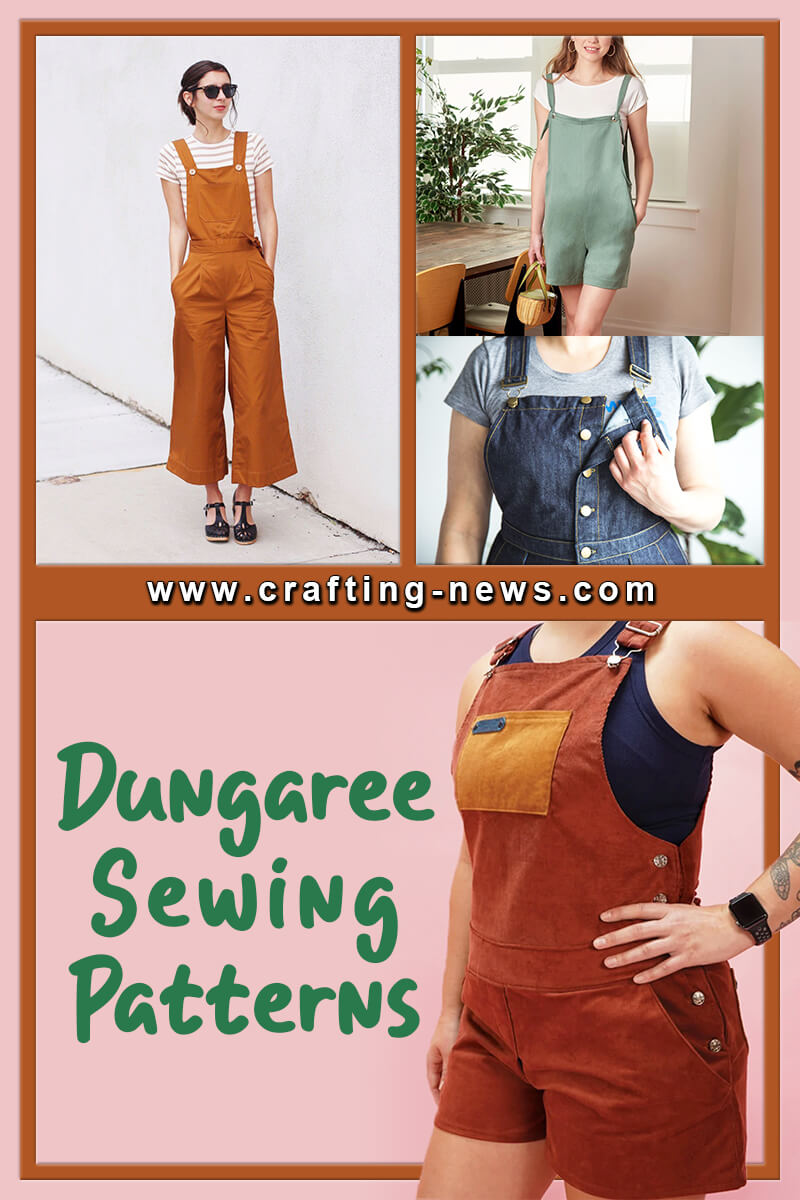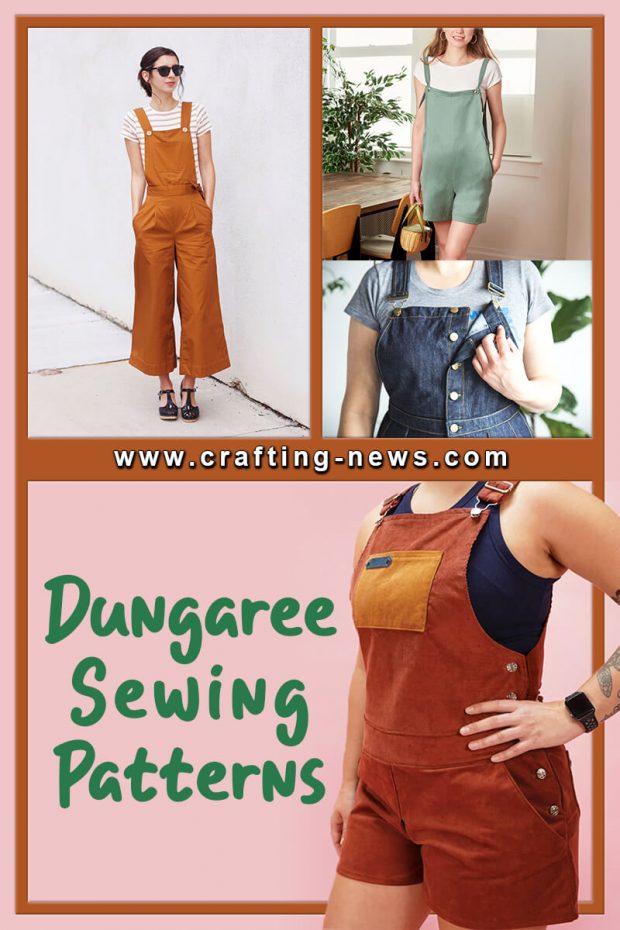 Below are 14 fun to wear dungaree sewing patterns. These overalls are ideal for staying comfortable and busy. You can wear them out to the market, do yard work, or cuddle up in them at home.
1. Jumpsuit Dungaree Sewing Pattern by AuraPatterns
This is a trendy and comfy jumpsuit. The basic dungaree sewing pattern is easy to construct and is ideal for beginners as well as experienced sewists.
The dungaree pattern recommends using a lightweight cotton or linen for a comfortable and relaxed fit. It comes with illustrated instructions, an A4/US Letter pattern, and an A0 pattern. The pattern comes in sizes XS, S, M, L, XL, XXL, XXXL.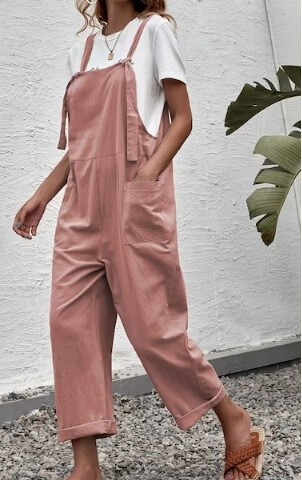 Find the Pattern by AuraPatterns HERE
2. Heyday Dungarees Sewing Pattern by WavesandWild
Do you have a funky sense of style? Then the Heyday Dungaree sewing pattern is for you. This is a relaxed fit pattern that is comfortable to wear. The dungarees have tie straps and 5 pockets.
It is an intermediate level pattern designed for medium weight, soft, woven fabrics. A serger is recommended. However, all options can be made with a regular sewing machine. This pattern includes ten sizes, from XXS to 5XL.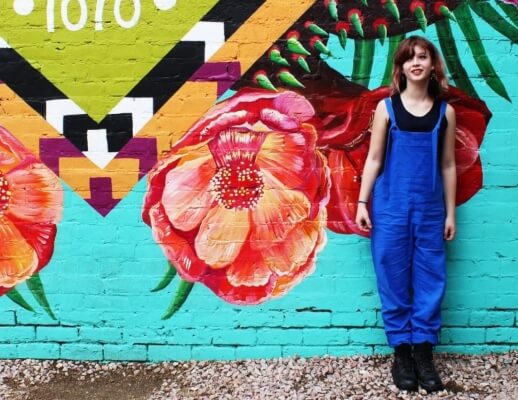 Find the Pattern by WavesandWild HERE
3. Free Dungaree Sewing Pattern by Mood Sewciety
Download the free sewing template to make these super cute high-waisted shorts dungarees. There is a zipper at the side of the shorts to make them easier to get on and off.
This dungarees sewing pattern calls for 1.5 yards of dark indigo patched selvedge denim, ¾ yard of Ralph Lauren Egret stretch denim, Overall no-sew buckles, and 2 metal zippers.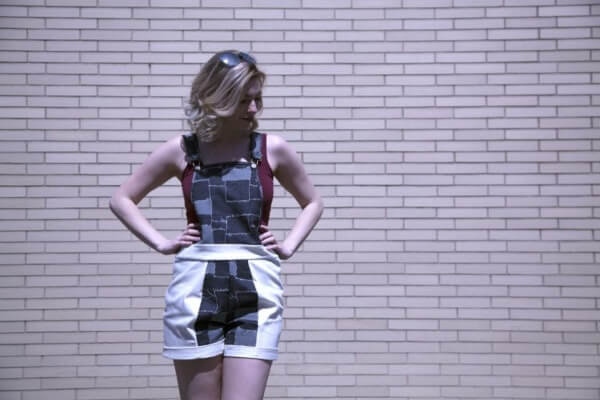 Find the Pattern by Mood Sewciety HERE
4. Constance Dungaree Sewing Pattern by FibreMood
The comfortably cut Constance overalls are trendy and comfy. They have adjustable shoulder straps, button closures, side pockets, and a large breast pocket.
Included in the download are an A4/US letter pattern (44 pages), and an A0 pattern (2 pages). The designer recommends using a sufficiently heavy fabric that has a supple drape.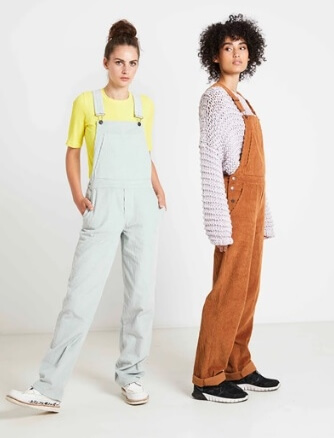 Find the Pattern by FibreMood HERE
5. Heyday Dungarees (Overalls) Child Sewing Pattern by WeavesandWild
If you like the funky style of the adult size Heyday Dungarees, you can now make a pair for your kids too. The straps of the overalls do not need to be undone to put the garment on or take it off. This is a great option for children.
It is an intermediate level dungaree sewing pattern designed for medium weight, soft, woven fabrics. A serger is recommended. However, all options can be made with a regular sewing machine. This pattern includes sizes from 0-3 months up to age 12.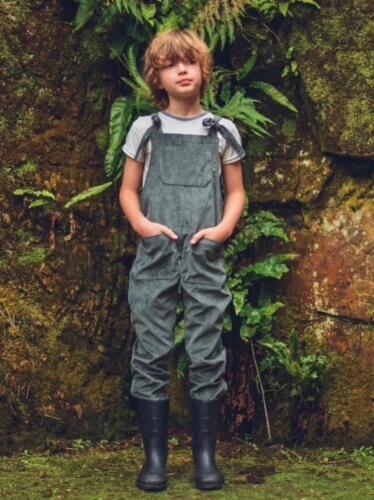 Find the Pattern by WeavesandWild HERE
6. Tie Shoulder Easy Dungarees Sewing Pattern by CaitiesCraftingShop
If you do not want to print the pattern at home and piece it together, check out this dungaree sewing pattern from McCall's. We all know that McCall patterns are easy to understand and use.
The dungaree pattern is uncut and factory folded. You can use twill, linen, cotton blends, or chino. The pattern is available in two size options.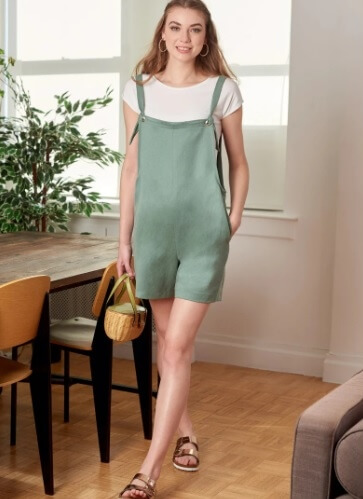 Find the Pattern by CaitiesCraftingShop HERE
7. Button Front Free Dungaree Sewing Pattern by Closet Core Patterns
The button front Jenny Overalls were inspired by vintage workwear. The overalls have wide-legs and an ultra-high rise. They look sleek, yet they are functional and comfortable.
You can get this sewing pattern free by subscribing to the Closet Core Patterns newsletter. Along with this pattern, you will be able to access even more free sewing patterns.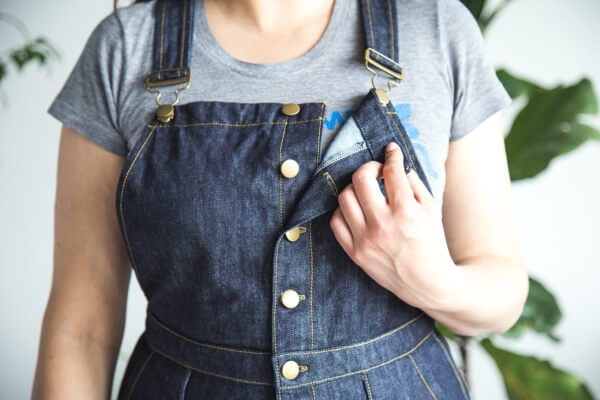 Find the Pattern by Closet Core Patterns HERE
8. The Scilla Jumpsuit Digital Sewing Pattern by Sewillow
Look stylish and be comfortable wearing the Scilla Jumpsuit. These dungarees have a modern design that is perfect for casual days.
The pattern includes instructions and a printable pattern. The jumpsuit ties at the shoulders making it easily adjustable in length. The ankles also tie to stop the jumpsuit legs from riding up.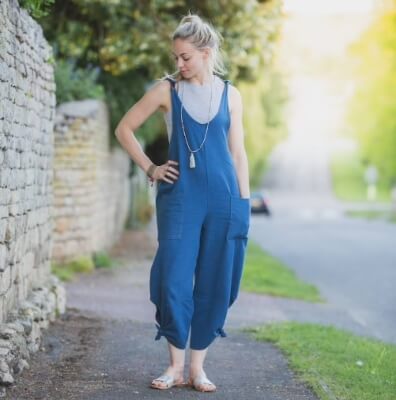 Find the Pattern by Sewillow HERE
9. Dungaree Pattern by 5Berries
Make dungarees for both boys and girls with this dungaree sewing pattern. The pattern includes options for long pants and shorts. The chest pocket, back patch pockets, and side pockets are all optional. The sewing project includes professionally graded 2 layered PDF patterns and a how-to-make tutorial.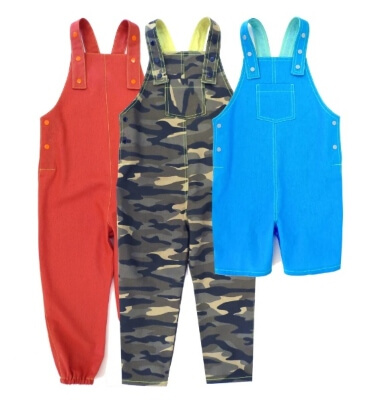 Find the Pattern by 5Berries HERE
10. Women's Overall Shorts Pattern by ProperFit
How cute are these overall shots? Keep clean and stay cool even in the hottest weather with these dungarees.
The dungaree sewing pattern has detailed step-by-step video instructions. They make it easy for any level sewist to jump in and get started. The pattern pieces are designed to print on standard household printers.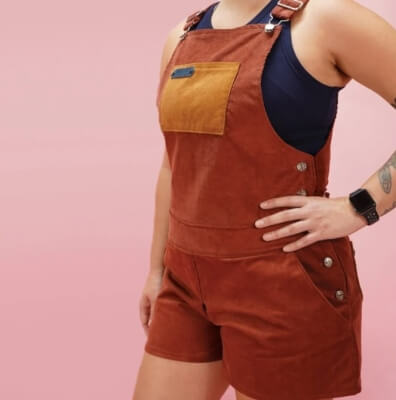 Find the Pattern by ProperFit HERE
11. Bib Overall Pattern by by Megan Nielson
Are you looking for a versatile sewing project? With this free dungaree sewing pattern, you can make either dungarees or a pinafore dress. Included are step-by-step instructions that make sewing this pattern very simple.
This free dungaree sewing pattern is perfect for intermediate beginners. We would not recommend it for beginners.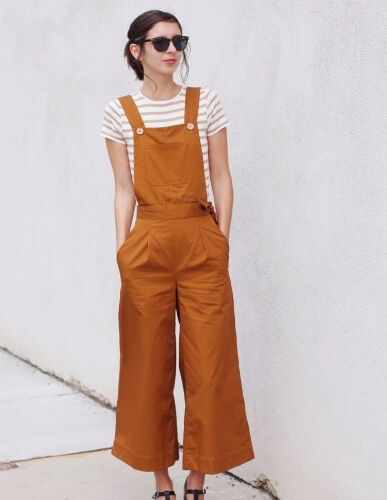 Find the Pattern by Megan Nielson HERE
12. Baby/Child Overall Dungaree Pattern by SweetLittleSoandSews
The Sonny collection includes 2 different design options for versatile, fun, and easy to wear dungarees. These options give you the ability to customise these overalls for your little ones.
All designs consist of an over the shoulder strap fastening and dropped crotch. This makes the garment easy to get on and off. Sizes 3-6 months up to 6 years are included.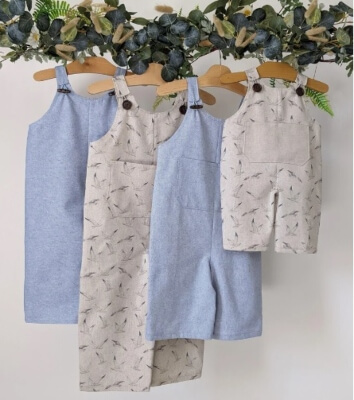 Find the Pattern by SweetLittleSoandSews HERE
13. Otis Overalls Sewing Pattern from SewLiberatedPatterns
Here is a playful twist on overalls. The Otis dungarees bring a bit of whimsy to the everyday. They feature a statement lantern cuff, a simple front, and a gathered back. They are a great choice for artists and people that enjoy the outdoors.
The silhouette of the dungarees is formed with shaped seams on the lower leg and an ankle-length hem. They have a relaxed fit with a dropped crotch and roomy pockets. The drawstring back waist closure makes these overalls even more comfortable. The pattern includes sizes 0-34.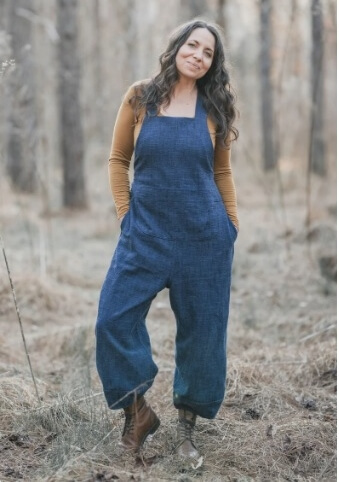 Find the Pattern from SewLiberatedPatterns HERE
14. Rainhaven Overalls by twigandtale
Do you have a man in your life that loves outdoor adventures, muddy gardens, or messy jobs? Then the Rainhaven Overalls are the ideal choice. They will keep him clean, dry, and comfortable.
The simple, functional design can be pulled on over clothes. Sew them using waterproof fabric for rainy days, or a heavy duty fabric for durability. The dungaree sewing pattern can be completed by an adventurous beginner.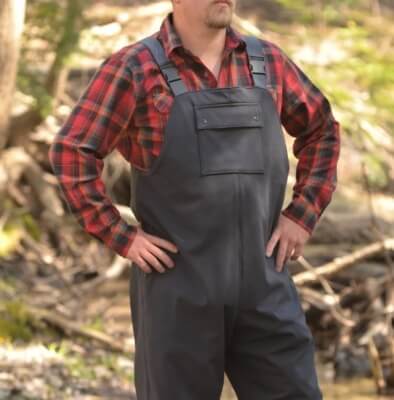 Find the Pattern by twigandtale HERE
If you are looking for your next sewing project, why not work on a dungaree sewing pattern? Dungarees promote comfort and movement while keeping you clean.
Here's a list of clothing projects you can also try: Macrame Clothes Patterns, Crochet Camisole Patterns, Boho Crochet Top Patterns, Crochet Shorts Patterns and Hoodie Sewing Patterns.
Overalls are not only for mechanics and construction workers, but they are also a fashion statement. Whether you are looking for a way to protect your clothes while you are working or looking for something super comfortable to wear, check out our list of dungaree sewing patterns.