Macrame is addicting and relaxing. You can make flowers, baskets, hammocks, backdrops, wall hangings, macrame clothes, and so much more.
If you are looking for something creative to make during the summer, try a these macrame clothes. These clothes and tops are stylish and perfect for keeping cool during the heat of the day.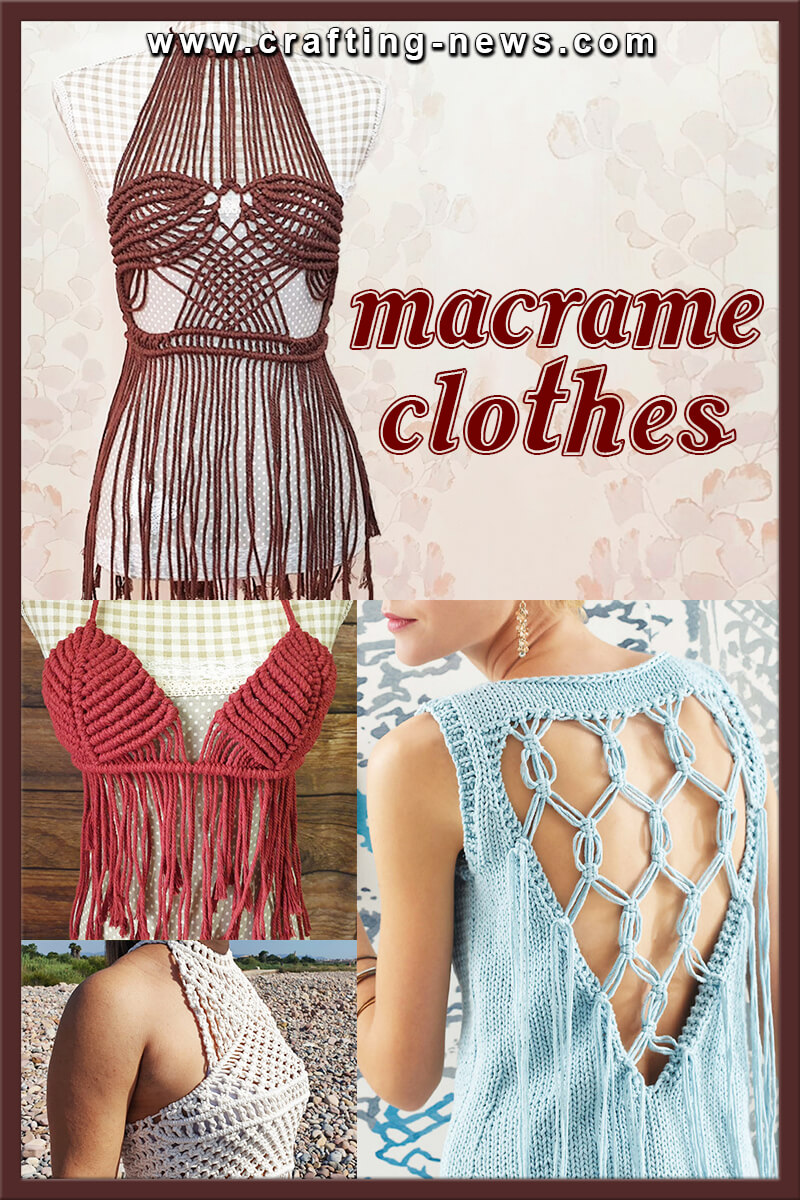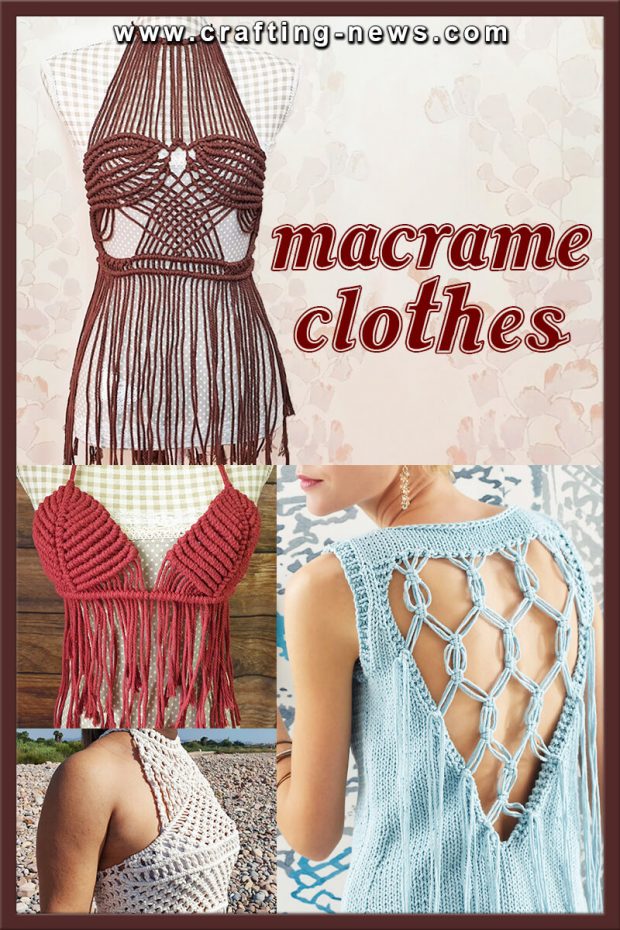 If you are looking for some creative macrame top patterns, look no further. We have gathered the best clothes from around the net just for you. Now you can get busy crafting instead of wasting hours of your time searching for the best macrame top pattern.
1. Macrame Boho Summer Top Pattern by VintagePatternFaves
Here is a boho macrame top that is made using knitting and macrame techniques. The large open back will help keep you cool and comfortable.
If you enjoy both knitting and macrame give your hand a try at this striking summer tee. If you have never tried macrame, do not worry, this pattern has clear pictures showing how to make the knot. The tee itself is made using a simple stockinette stitch.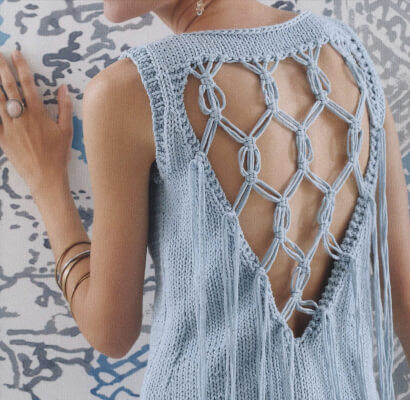 Find the Tutorial by VintagePatternFaves HERE
2. Beach Macrame Top Tutorial by Ellainthe Moon
Make this beach top cover up with the help of this free DIY macrame video tutorial. The top is extremely cute and has a lot of flow and movement.
The video tutorial is easy to understand. To make the top, you will need an adjustable mannequin dress form. The pattern also requires 5 mm cotton rope, scissors, and T pins.
It will take around 2 hours to knot. The knots used are the rose knot, (diagonal) half hitch, lark's head knot, and square knots (left and right).
Find the Tutorial by Ellainthe Moon HERE
3. Boho Hippie White DIY Macrame Top Pattern by WoodenGiftForQueen
Here is a beginner-friendly DIY macrame top pattern. The summer top is light and airy. It would be a great accessory to wear at pool parties and music festivals. This handmade top will make your look fun.
The pattern is written in English, using standard American terms. It is 52-pages long and has step-by-step instructions with more than 50 photos. To make the macrame top you will need 70 meters of 3 mm cotton cord in the colour of your choice.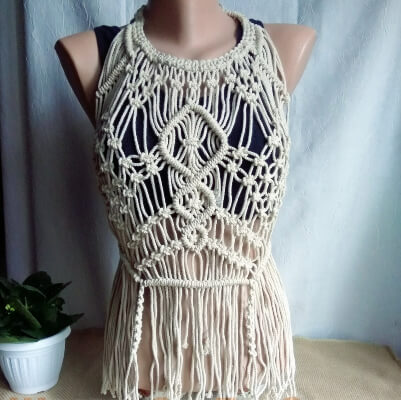 Find the Tutorial by WoodenGiftForQueen HERE
4. Macrame Swimsuit Top by Byyuliflores
You can wear this macrame top as a bathing suit. Since the knots are so dense and tight, you will not need to wear anything under it.
This tutorial explains how to make this design in a size small. She also gives tips for making it larger. The pattern only uses two knots, the lark's knot and the festoon knot. The tutorial is a video in Spanish. Subtitles can be activated in any language.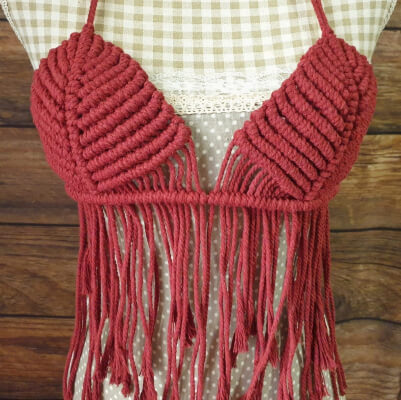 Find the Tutorial by Byyuliflores HERE
5. DIY Macrame Halter Top with Tassels Tutorial by Bijou MadaMe Macrame
This macrame top can be worn for all different types of occasions. You can wear it at the beach, the park, shopping, etc. It is super cute, and the bottom has delightful little tassels that with sway as you move.
For this macrame halter top tutorial, you will need 3 mm cotton cord, embroidery floss, and a comb. The macrame top pattern is for an XS/S and a bra cup size A. You can easily make it bigger by adding more cords.
Find the Tutorial by Bijou MadaMe Macrame HERE
6. Beatrice Beaded Macrame Top Pattern by CristinaCay
Are you looking for a way to dress up a blouse? This macrame top has a hippie vibe that will be enjoyable to wear.
The tutorial will show you step-by-step how to make and finish the knitted west on a mannequin. This downloadable PDF pattern consists of 38 pages and is illustrated with more than 180 photos. Also included in the tutorial are instructions for making basic knots.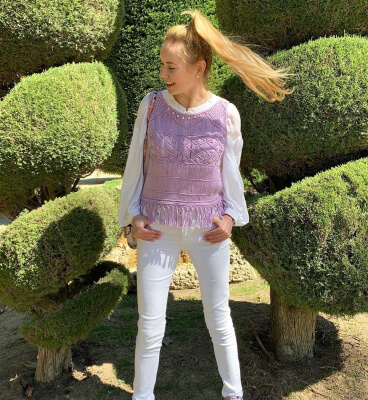 Find the Tutorial by CristinaCay HERE
7. Style Boho Macrame Clothes by Byyuliflores
Do you want to make a fun and flirty beach cover up? Check out this enchanting little piece. You can make this top in a solid colour or combine colours and styles.
The boho style top is easy to make with the help of the step-by-step video tutorial. However, you will need to understand Spanish. This macrame top can be made using 3 mm rope or rag.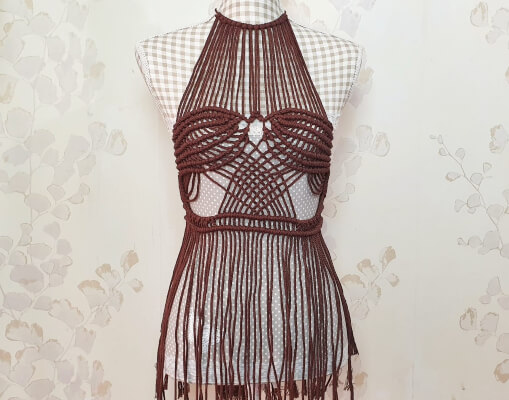 Find the Tutorial by Byyuliflores HERE
8. Easy Handmade Macrame Top Tutorial by She's Apples
Macrame tops are not only for the beach and parties. This gorgeous top is perfect for adding a bit of elegance to a top or a dress. To complete this free DIY macrame pattern you will need 3 mm twisted cotton cord, a ruler, scissors, tape, sewing pins, and a mannequin (optional).
Find the Tutorial by She's Apples HERE
9. Boho Beach Wear Macrame Dress Pattern by CottonCordDecor
This is a detailed guide to making a boho macrame beach dress. It is a one size fits all pattern. This pattern is completed with detailed steps and instructional pictures. Only 2 macrame knots are used. So, it is an ideal pattern for beginners and intermediate level macrame artists.
Included with the pattern is a free beginner's knot guide. You will need 435 feet (130 meters) of 5 mm cotton cord, sharp scissors, and a measuring tape.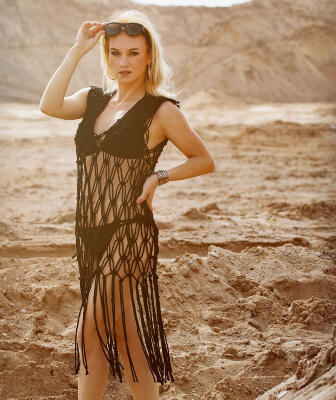 Find the Tutorial by CottonCordDecor HERE
10. Macrame Grecian Top Tutorial by Ellainthe Moon
Here is a beautiful Grecian inspired macrame top. It would be great for a Greek themed party. Everyone else will be wearing togas, while you will be sporting this amazing top.
Find the Tutorial by Ellainthe Moon HERE
11. DIY Macrame Bikini Top by TN Art & Crafts
All your friends will adore this fringe embellished macrame bikini top. And it will be a joy to wear. You can definitely wear it to a beach party or on a girl's night out.
This free DIY macrame tutorial video is easy to follow. And before each step, the artist always gives measurements to make it even easier. So, it is an ideal pattern for beginners as well as advanced macrame artists,
Find the Tutorial by TN Art & Crafts HERE
12. DIY Macrame Clothes Crop Top
Take a basic spaghetti strap top and kick it up a notch with some simple macrame techniques. The macrame piece is made separately, then sewn onto the top.
The video tutorial is a little quick, however, it should be easier enough for beginners to follow. If you can make basic macrame knots and a friendship bracelet, you can finish this pattern in just a couple of hours.
Find the Tutorial by Sumidea LA HERE
Do you enjoy the art of macrame and want to incorporate it into even more projects? Macrame clothes are fun and they work up quickly.
Macrame is not only for home decorating. It can be used for making a wide variety of projects. This includes macarme clothes! If you are looking to make beachwear cover ups or flirty tops, check out our list of macrame top patterns and video tutorials.