If you are looking for an activity to do with your kids, try salt crafting. Salt crafting is a fun technique that children will love. And the best part is, you probably have all the materials sitting around your home.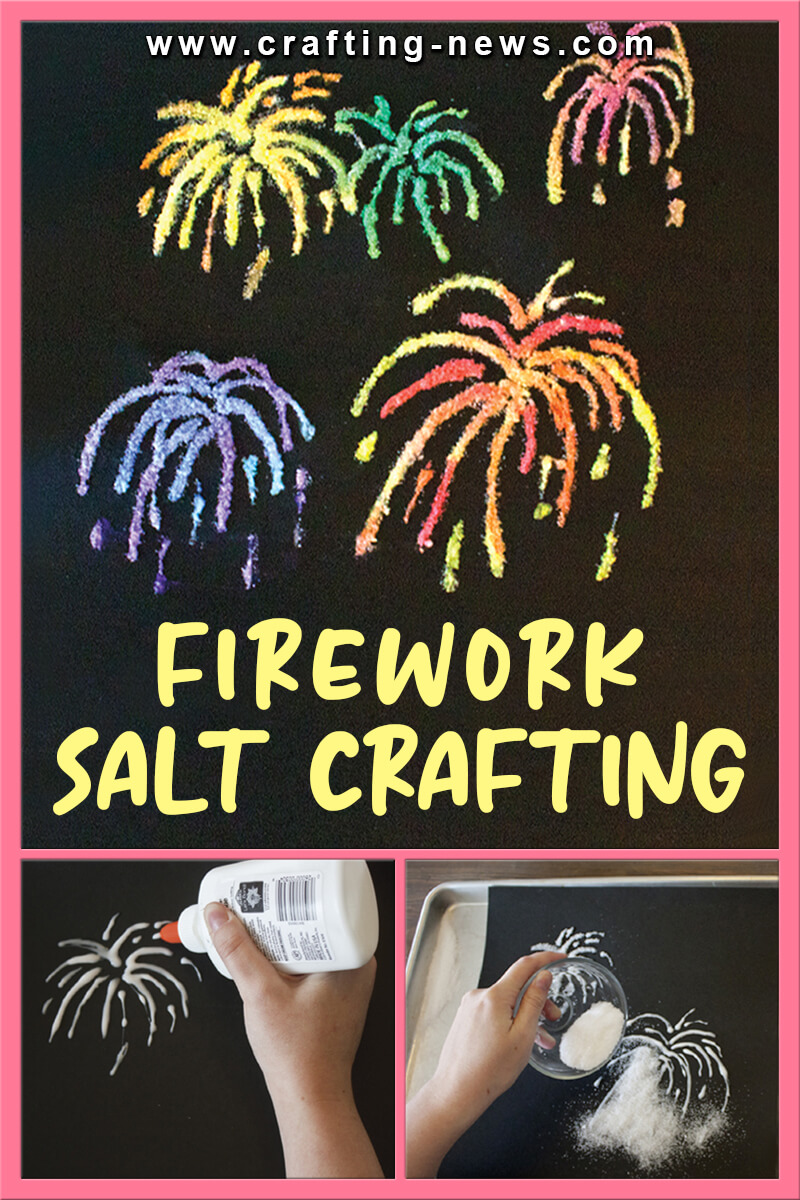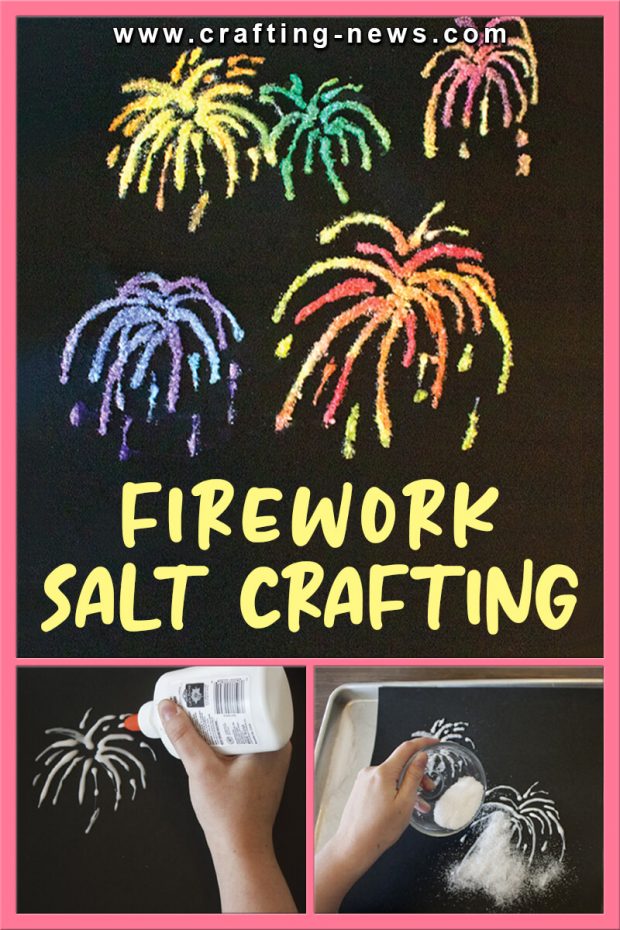 What is Salt Crafting?
Salt crafting is just what it sounds like. It is crafting with salt. The salt painting craft is very easy and can be enjoyed by young children, as well as older children.
Salt crafting involves either drawing or templates, gluing, and painting. It is an ideal form of crafting for extremely creative children.
Supplies Needed for Firework Salt Crafting
Before you begin, gather all your supplies. You will need:
Pencil (if drawing)
Printer (if printing a template)
White glue (bottled)
Salt
Paintbrush
Liquid watercolours
Type of Paper
You will want to use a heavy cardstock or poster board. Some people prefer using white, while others prefer black. However, the final choice is yours. The colour you chose should work well with your design.
The Design
You can let your kids get creative and have them design their own figures, or you can print off a template. Snowflakes and firework salt painting are popular designs.
Just note, that the lines need to be thin and spaced fairly far apart, unless you are filling in a large area. Salt will clump. If the lines are too close together, you will not be able to see the details.
Choosing the Right Glue
We find that white school glue works the best for salt crafting. The bottles are easy for children to squeeze. They also have small nozzle tips, which makes tracing easier.
Which Salt to Use
You can use any type of salt. However, the coarser the salt, the harder it is to work with. It does not want to stick to the glue and will fall off. Preferably, you will want a salt that is fine. Regular table salt works well for salt crafting.
Picking the Paints
Watercolours are the best choice for salt crafting. However, you may not have this type of paint on hand. If you do not have any watercolours, you can use food colouring mixed with water. Acrylic paints can also be watered down, but they do not work as well as watercolours.
How to Salt Painting Craft Tutorial
Salt crafting is very easy. But it can get a little messy. Make sure that you cover the area you are working on or use a cookie sheet.
First, sketch your pattern or print off a template on cardstock paper.
Start by tracing your pattern with the glue. You will want a nice thin line.
Once the pattern is traced, cover all the glue with salt. Use a lot of salt to ensure that all areas of the glue are covered.
Gently, tap your project to remove all excess salt. You can keep the salt and use it for another crafting project.
Take the paintbrush and dip it into the watercolor paint. Lightly touch the bristles against the salt covered glue. The paint will absorb into the salt. The colours you use will mix, creating a watercolour effect.
After you have the project painted, let it dry flat for 1-2 days. It is important that the glue is completely dry before you display the project.
Once the glue is completely dry, you can now show off your artwork.
Tips for Firework Salt Painting:
You can use food coloring and an eye dropper instead of the watercolor and paintbrush. It just depends what you prefer to use and what is easier for your kids.
To make the craft simpler for the little kids, you can use red, white and blue glitter instead of salt. Just sprinkle the glitter directly onto the glue, leave it to dry and you are done!
You can spray the dry fireworks with hairspray so that it lasts even longer without flaking off. If you spray, make sure to do it outside or in a well ventilated area.

See the full instructions here.
Start salt crafting with your kids, be creative and have fun!
Salt crafting is a lot of fun and the end results can be gorgeous. You know how we love seeing your works! So head over to our Facebook Page.
For more painting crafts, check out Mandala Rock Painting, 21 Shoe Painting Ideas, Easter Egg Painting Kits, Painting Mug Ideas and Face Paint Kits
So, if you are looking for an easy craft that your kids will enjoy, try salt crating. Whether your kids are scribbling, drawing abstract shapes, or making scenes, they will all love salt crafting.