The best craft ideas are often the ones that are really easy to make – like these super-cute Halloween ghost lollipops! Lollipop Ghosts are an age old craft that is timeless.
These classic ghost treats are a fun way to decorate candy and add an another element of excitement to Halloween.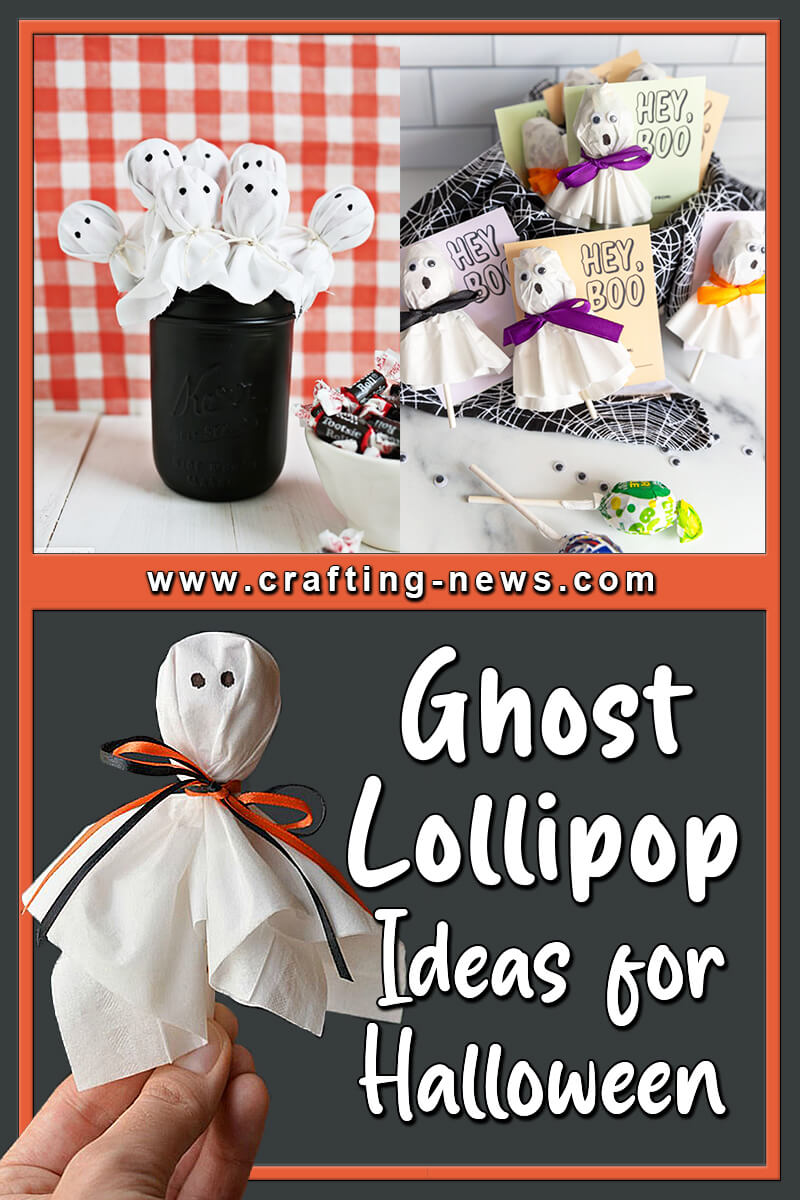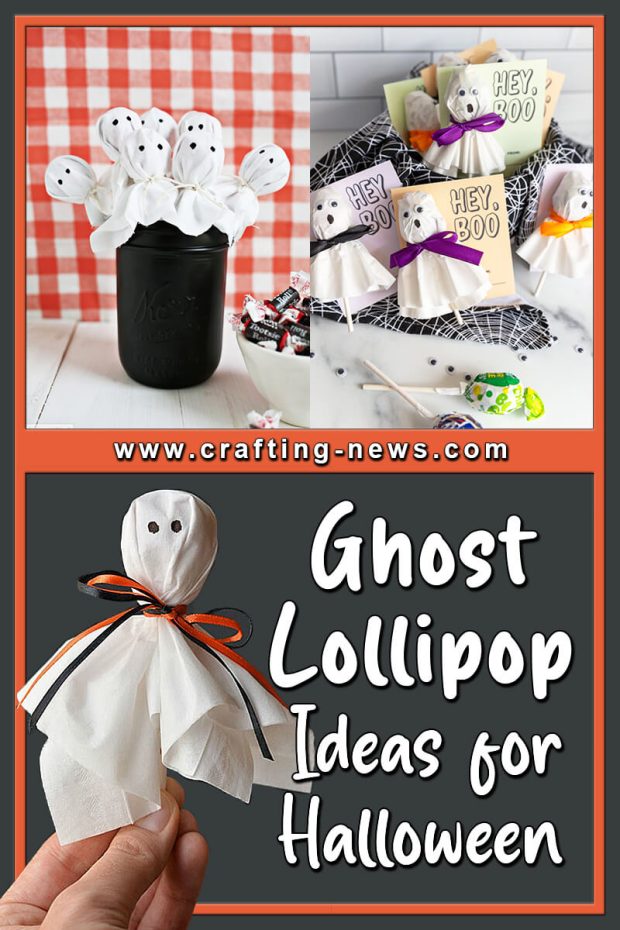 These cute little spooks hide a sweet inside – but no scary surprises in the form of artificial colors, flavors, sweeteners, or preservatives. Best part is, they couldn't be simpler or more affordable to make!

15 Halloween Ghost Lollipop Ideas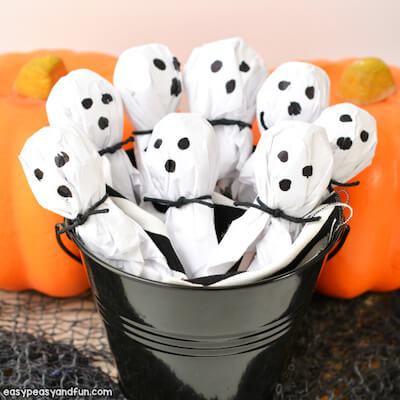 Halloween doesn't have to be all thrills and chills. Help your child make a yummy and inexpensive treat for her friends and family members. Watch out though! Some of these ghosts have a silly secret under their ghostly cloaks!

1. Coffee Filter Ghost Lollipops by Happiness Is Homemade
These Coffee Filter Ghost Lollipops are a cute and easy twist on classic kleenex tissue ghosts. A nostalgic and fun Halloween treat that's sure to be a big hit with kids of all ages!

These coffee filter ghost pops are so easy that the kids can make them all by themselves, and they make a great classroom Halloween treat!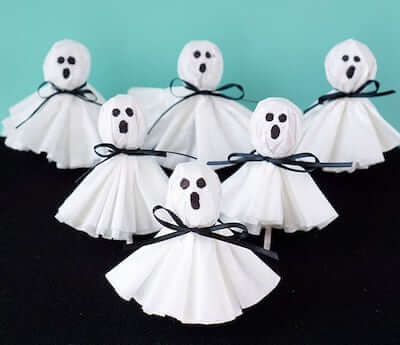 Follow the tutorial here

2. DIY Lollipop Ghosts by Easy Peasy And Fun
These little lollipop ghosts will make a great centrepiece on your Halloween dinner table or a sweet party favor at you Halloween party (perfect for classroom Halloween party).

While ghosts are certainly the easiest to make, you can also play around a little and make other characters too – Jack'o-lanterns, vampires, zombies and more.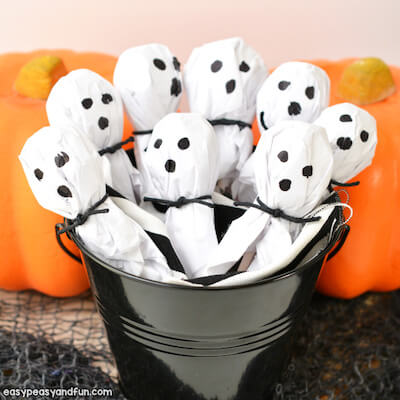 Follow the tutorial here

3. Ghost Lollipop Bouquet by A Beautiful Mess
Looking for an easy Halloween gift that adults and kids alike will love? Look no further than this adorable mason jar full of ghost lollipops! This is a simple and quick idea for all the Halloween lovers in your life, and, another excuse to go out and buy candy this month.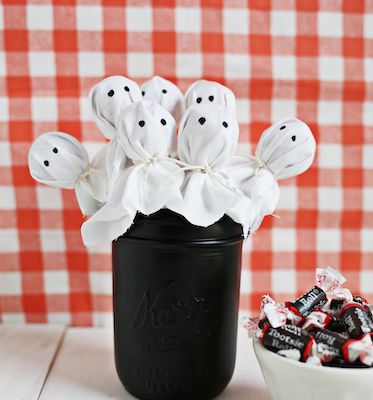 Follow the tutorial here

4. Lollipop Ghost Crochet Pattern by One Dog Woof
Give your little trick-or-treaters a fun extra this Halloween with a little Quick Crochet Lollipop Halloween Ghosts instead of just another lollipop. All it takes is a little white yarn, a colorful ribbon and a small lollipop to make this cutie for Halloween.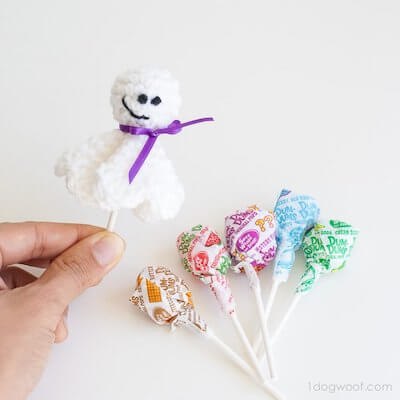 Follow the tutorial here

5. DIY Lollipop Ghost Cupcake Topper by Minted
These adorable tissue-paper ghosts are a ghoulish way to top a cupcake, and your own little goblins will be delighted once they realize there's a treat inside! Best of all, these lollipop ghosts are a cinch to make.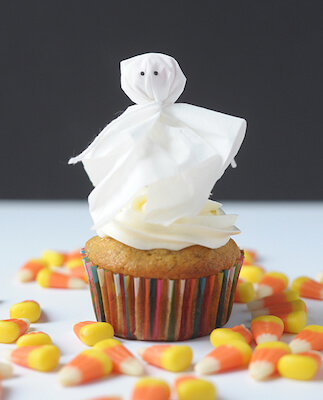 Follow the tutorial here

6. Chocolate Lollipop Ghosts by The Cake Blog
This completely edible take on the classic Halloween treat is way easier to make than it first appears thanks to our trusty friend, heavy duty aluminum foil.
Serve them on their own as part of a spooktacular sweets buffet or follow my lead and use them to top a simple buttercream cake. Smaller ghosts would make the perfect toppers for frightfully fun cupcakes.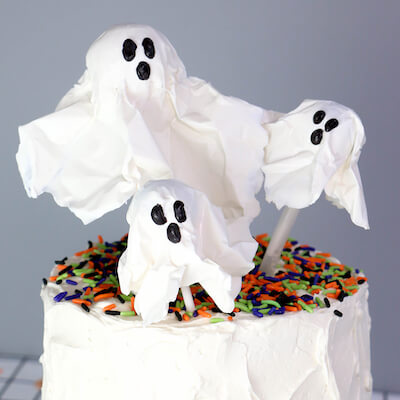 Follow the tutorial here

7. Ghost Lollipop And Hey, Boo Free Printable by The Super Mom Life
If you've never had the pleasure of making a ghost lollipop, this tutorial will walk you through it. Basically, you covered a lollipop with a few coffee filters, tie a bow and create a face with either googly eyes or a marker.

They also created a free printable sheet of cards to which you can print, cut, and attach your ghost lollipop. Then have your child sign their name at the bottom before they hand them out.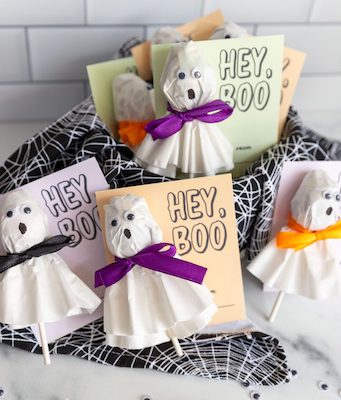 Follow the tutorial here

8. DIY Lollipop Ghost by DIY With Madi
Using just white tulle to cover your lollipops, these little boo's will surely make your boring lollipops look on fleek for Halloween!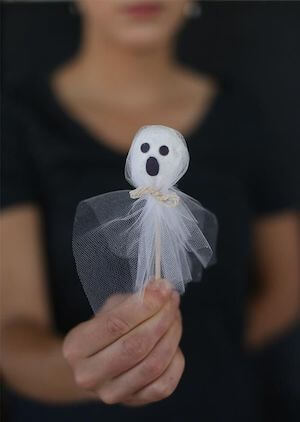 Follow the tutorial here

9. DIY Halloween Ghost Lollipops by Edding
In this tutorial, all you need is a handful of lollipops in various sizes, some paper tissues, twine and a black fibre pen for drawing the eyes. Before Halloween, you can arrange the little ghosts decoratively in a bowl. On the actual night, you can offer them to kids as sweets in their own unique packaging.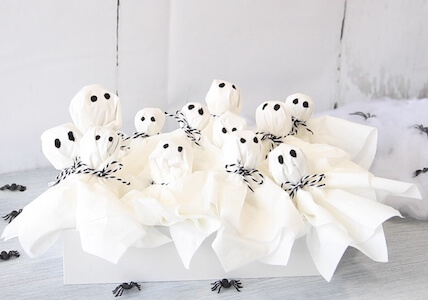 Follow the tutorial here

10. Halloween Lollipop Ghost Kid Craft by DIY & Crafts
lf you love making treats fun for the kids at Halloween, this Halloween lollipop ghost craft is the perfect way to serve up a treat! Such a simple project to make, your youngest children can help.
Inexpensive, easy to create, and something everyone will love – these ghost treats are a hit with trick or treaters!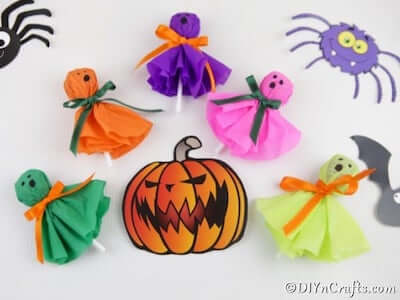 Follow the tutorial here

11. Halloween Lollipop Ghost Wreath by Fort Worth Moms
It's beginning to feel like fall out there! Soon, our children will be running up to doors yelling trick-or-treat and collecting candy that the parents will cipher through after bedtime! Here is a fun craft that you can do with your children's help. Another plus is it's under $10 for the whole wreath!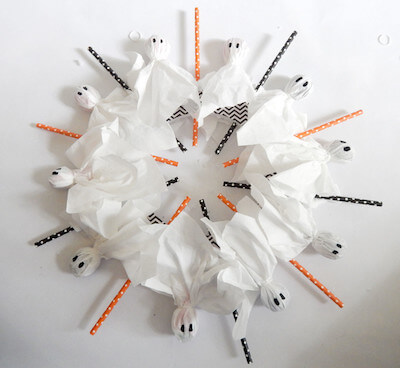 Follow the tutorial here

12. Halloween Lollipop Ghost Cover by I Try DIY
This easy DIY Halloween Ghost Lollipop Covers quickly turn plain lollies into spook-tacular fun! Pretty much, all you need is white felt, black & white thread, scissors, a needle and a pencil. Make sure your felt is big enough to house the lollipops you have.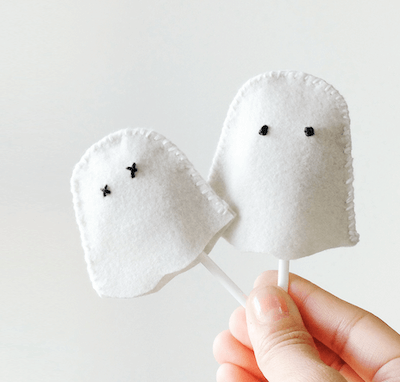 Follow the tutorial here

13. Lollipop Ghosts by Willowday
If you're in need of a last minute Halloween Giveaway, these are so sweet and easy! Oldies but goodies. Add a feather for an elegant lady or leave plain for a classic, ghost, lollipop.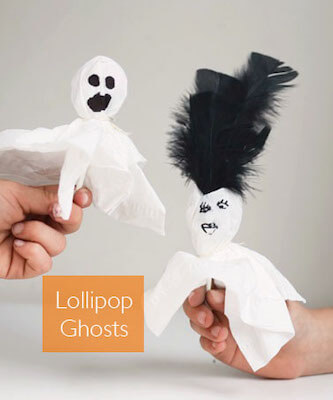 Follow the tutorial here

14. Ballerina Ghost Lollipops by COVET By Tricia
If you're a bit extra about the treats you bring for your kid's activities, you can come up with these little ballerina ghosts for your daughter's dance class. How cute are these little ballerina ghosts? Once you have the design down, you will be able to knock out about 1 per minute.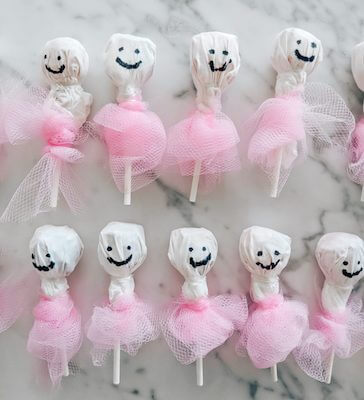 Follow the tutorial here

15. Ghost Lollipops Easy Halloween Trick Or Treat Idea
Ghost Lollipops are quick and easy to make. Soon the Trick Or Treaters will be at your door so it's time to start organizing their treats. Something as simple as a lollipop surely won't satisfy them.

But what if that lollipop was turned into a Halloween ghost? Now we're talking! So let's whip a few these lollipops into shape and they will be all the rage with this seasons trick or treaters.
This Halloween craft is super easy and the kids will even want to get involved.
For The Halloween Ghost Lollipops, You Will Need: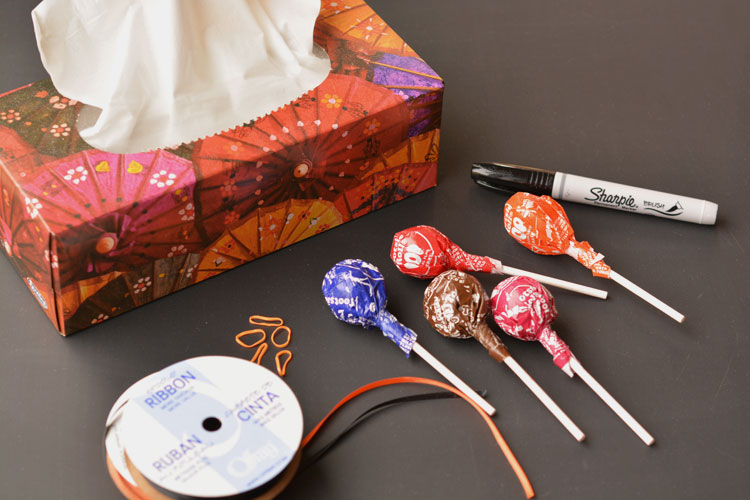 Kleenex Tissues
Round lollipops
Black Sharpie
Tiny elastics (from the hair section at the dollar store)
Thin orange and black ribbon
How to Make Ghost Lollipops
As I mentioned above, making these ghost lollipops is a very easy and quick task. Just follow these 6 simple steps and you will be ready to go for Halloween.
1. Place a Kleenex tissue on your bench
2. Cut a smaller piece of tissue and place it in the middle of the full sized tissue (this will help to hide the color of the lollipop)
3. Place the lollipop head on top of the 2nd tissue.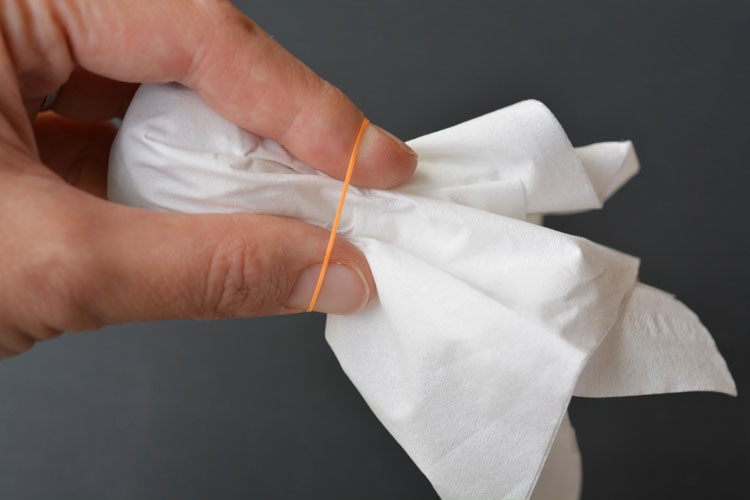 And that's a wrap! You could make up a whole bunch of these treats in about 10 minutes and the kids will absolutely love them.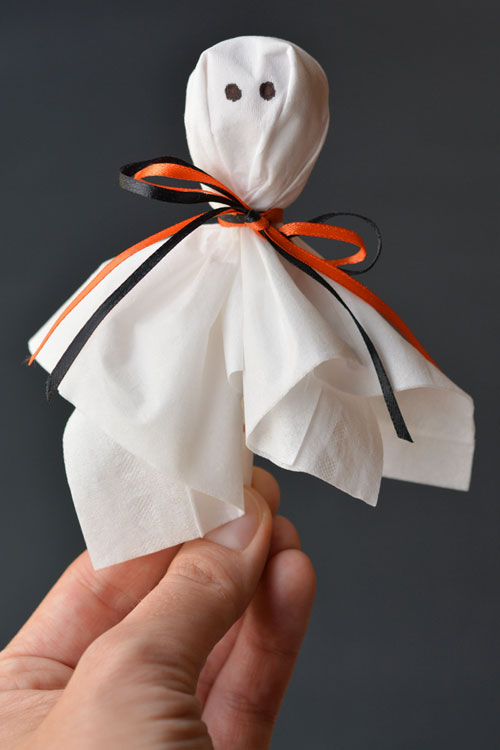 Check out the full tutorial for the ghost lollipops over at One Little Project
THESE GHOST LOLLIPOPS ARE SUPER EASY TO MAKE! AND IT HELPS THAT YOU DON'T NEED ANY FANCY MATERIALS.
Go scare/delight someone with your new posse of lollipop ghosts. And if you happen to share on social media, please be sure to tag us on our Facebook Page – we wanna see all your funny phantoms!

Before you go, check out some of our other popular Halloween ideas like these 15 Halloween Plastic Canvas Patterns, 8 Best Paint for Pumpkins of 2021, DIY Halloween Dolls – Felt Pattern, Halloween Pumpkin Yarn Ball and save them to your to-do list.
I hope you enjoy making these easy Halloween ghost lollipops.