In time for Halloween, here are Halloween felt crafts to inspire and motivate you to try crafting with felt. You could have your kids join in on the fun, too!
If you are looking for easy Halloween DIY's? Felt is a fantastic material to work with because it doesn't unravel out like other fiber crafts. Cut the shapes and you are good to go.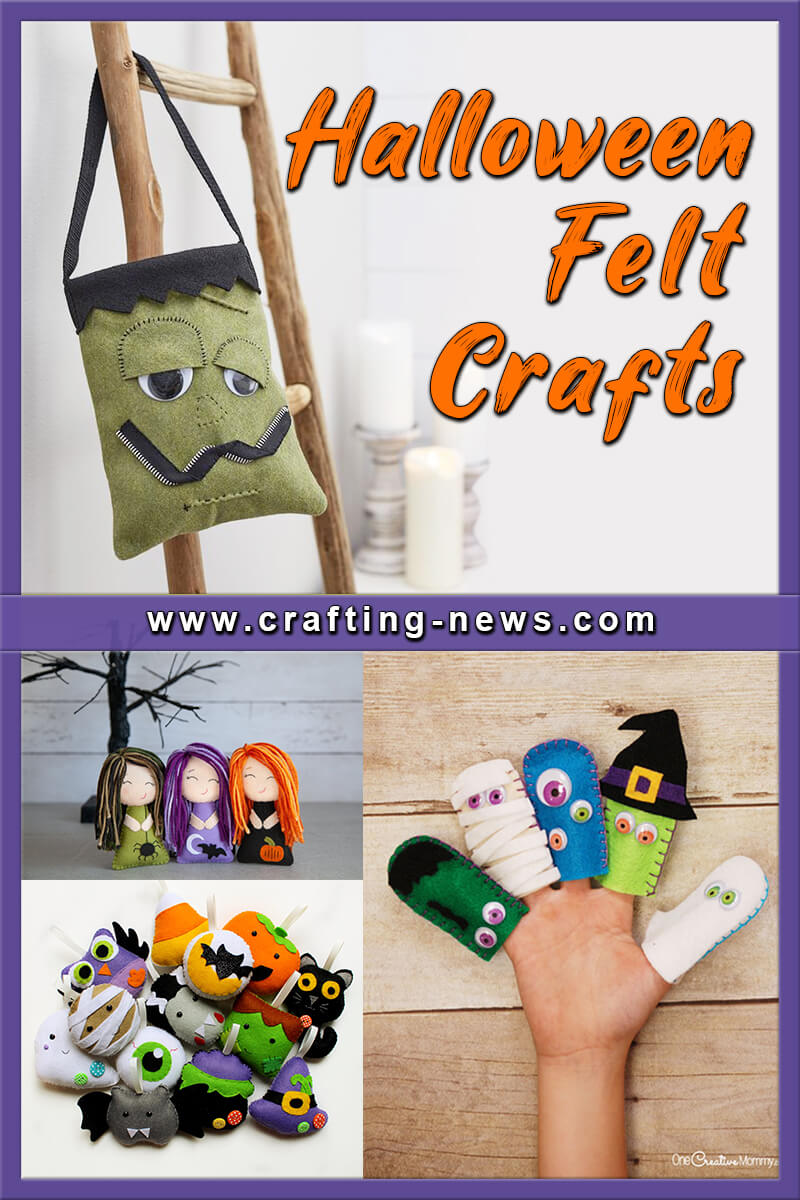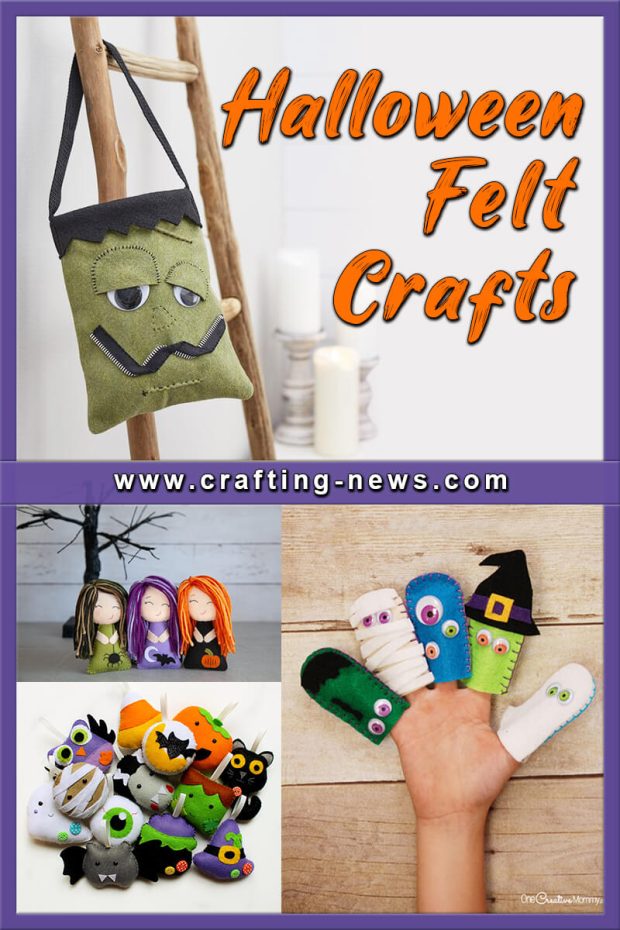 12 DIY Halloween Felt Crafts
Since felt crafts are usually easier and faster than a lot of other Halloween crafts, you'll have plenty of time to make all of these fabulous felt projects. There's really no reason you should not be using felt in your usual crafting routine, and these fantastic crafts below will certainly help convince you!

1. Halloween Felt Countdown Craft by Lia Griffith
Crafted out of felt and vinyl, you can make your own version of this Halloween countdown using this pattern and tutorial. This is one of those projects you'll want to display all October and be a little sad to take down after the holiday. But since it's made out of felt, you can safely fold it up, store it, and enjoy it for a long time.

As you are crafting your Halloween countdown, you'll notice that many of the windows have pockets. These are perfect for little candies or other fun treats. And this way you don't have to fill every day with something — it can just be a cute and fun countdown to the holiday with the occasional little treat!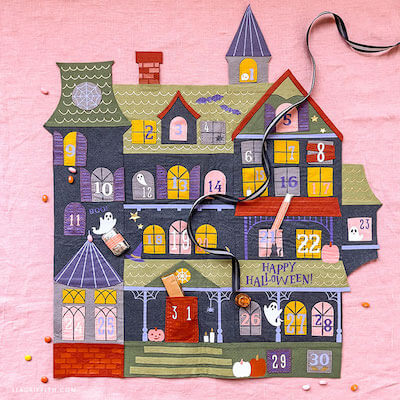 Follow the tutorial here

2. Felt Jack O' Lantern Pumpkin Pattern by Tiny Little Dots 2
Every child loves Halloween! What better way to get in the mood than to decorate their very own wall felt Jack O Lantern? This pattern helps you make the cutest pumpkin for your wall. Finished pumpkin dimensions will be 26″ x 29″. Then adding faces, how much fun is that?

You can add buttons, embroidery thread accents, glitter or stay simple with cut out felt and markers! Your kids can mix and match pieces to make some real crazy and clever Jack O Lanterns!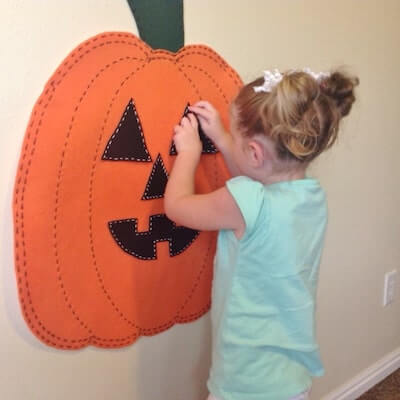 Get the Pattern by Tiny Little Dots 2 here

3. Felt Halloween Ornaments by Polly Chrome Crafts
Make a full set of 13 spooky decorations (Frankenstein, eyeball, candy corn, cauldron, witches hat, vampire, moon, mummy, bat, owl, ghost, pumpkin, cat) to be used individually or strung along ribbon as a garland.
The decorations are 7-10 cm tall and the completed garland 2 m wide, depending on how far apart you space the decorations.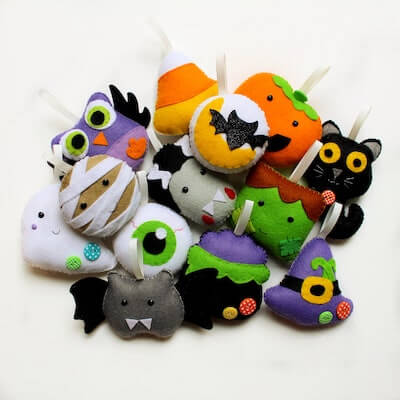 Get the Pattern by Polly Chrome Crafts here

4. Finger Puppets Halloween Felt Craft by One Creative Mommy
Create these fun felt Halloween finger puppets with your kids this season. What monsters can you dream up? They're super easy! These tiny trinkets are just the thing to keep your children occupied at home and away.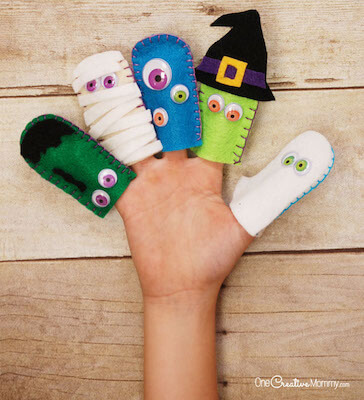 Follow the tutorial here

5. Juice Box Monsters by Crafts By Amanda
Repurpose juice boxes into these fuzzy felt monsters that you can make with your child. Get creative with the designs to make monsters perfect for your home this Halloween.
These colorful felt creatures would be great homemade Halloween decorations to use for a kids' party or just to place around your houe for a silly, spooky feel!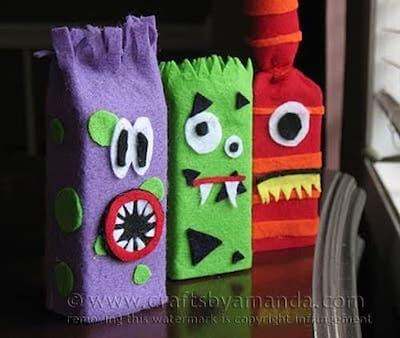 Follow the tutorial here

6. Bats Halloween Felt Pattern by HGTV
Going a little batty? Create a colony of cool, colorful creatures of the night to hang out with. Add some color and whimsy to your Halloween decor with these colorful cuties made with felt, a branch foraged from your backyard and other simple craft accessories.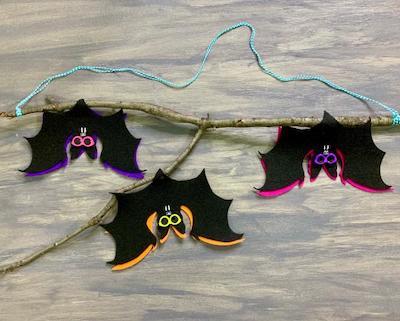 Follow the tutorial here

7. DIY Halloween Dolls Pattern by The Felt Habit
Make these sweet little Halloween dolls to use as toys, decoration, ornaments, or part of a garland. The finished dolls will measure approximately 6″ x 3″.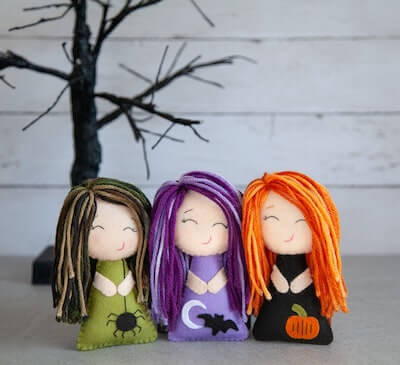 Get the Pattern by The Felt Habit here

8. Boo Banner Halloween Felt Craft by Lia Griffith
One easy way to celebrate a new season or holiday is with a festive banner. This felt Halloween banner will get you in the Halloween spirit — and it's super easy to make!

You can choose whatever colors you prefer! Make it orange and black instead — or orange and white. Or choose something completely different than the standard Halloween colors.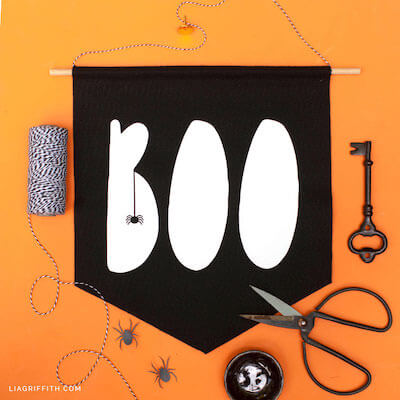 Follow the tutorial here

9. Halloween Felt Ornaments Pattern by Ginger Sweet Crafts
Enjoy making a cat, ghost, bat, candy corn and pumpkin ornament. The Halloween Ornaments range in size from 3.25 to 3.75 inches in height. Whether you string them up as a garland or keep them separate, this is a cute and not-so-scary decoration that will liven up your home.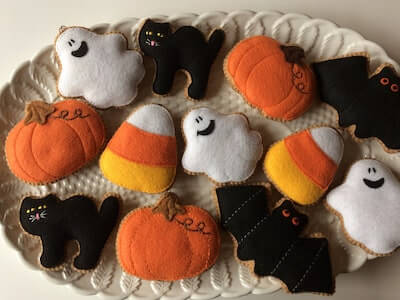 Get the Pattern by Ginger Sweet Crafts here

10. Monster Tote Halloween Felt Craft by Yarnspirations
Whether you use it as trick-or-treat bag or as part of a costume, this little felt bag is ideal for holding a bounty of candy or other favors in style. Embellished with heavy thread and a metal zipper, it's a monstrously fun project!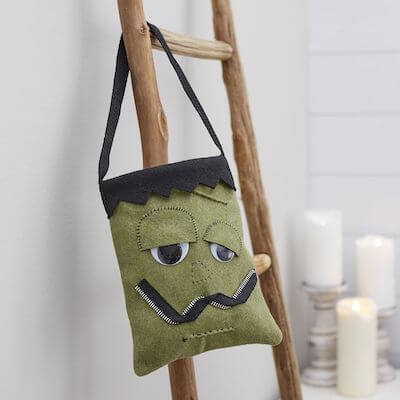 Follow the tutorial here

11. Felt Pumpkin Halloween Treat Pouch by Craft Foxes
Fill these gleeful little gourds with treats to give out to trick-or-treaters or the guests at your Halloween party. These are a great Halloween craft and so fun to gift to little ones along with some tiny treats.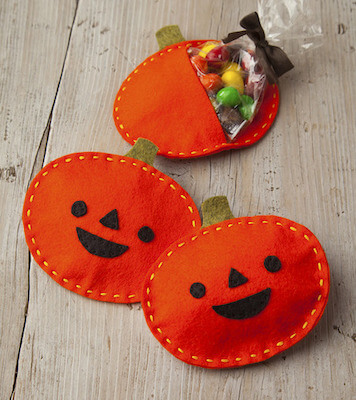 Follow the tutorial here

12. DIY Halloween Dolls
I just love Halloween. I mean the costumes, the parties, and the props. Whats not to love? Everything seems so colorful like magic is in the air, witches sprinkling it from above. My kids just adore Halloween too, but I think they just like the fact that they get to eat all the candy they want.
But something that also gets them pumped about Halloween is helping me make the decorations for our house. Cutting out Jacko lanterns to put on the porch or hanging fake webs and dummy skeletons; they absolutely love it. On my part, I find it an outlet for my creative energies and each year I'm always looking for new decorations that I can make and put up.
So, I was super delighted when I stumbled on some DIY Halloween dolls. I had to give them a try even though Halloween is still a few weeks away, and I love the results!
The Nightmare Before Christmas Halloween Dolls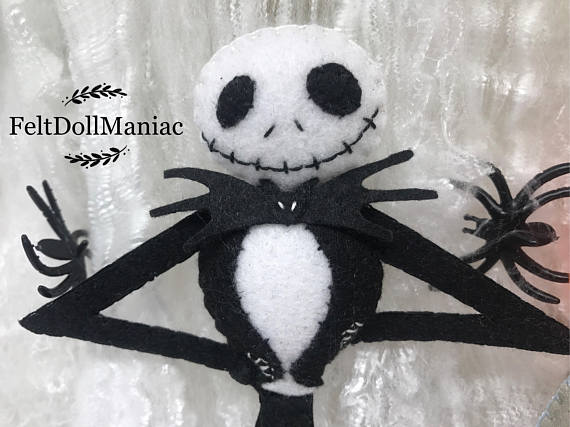 If you have seen the Halloween movie "The Nightmare Before Christmas" then you are familiar with Jack and Sally. These two are the inspiration for the DIY Halloween dolls.
Their spooky faces are just perfect, and their characters fit the season like a well-cast spell. If you haven't watched the movie don't worry it doesn't matter because it has no bearing on if you will be able to make the dolls.
The tutorials and pdf's explain the whole process explicitly, so you don't need any knowledge of Halloween trivia. Though it is always a fun game to play during Halloween; just a little suggestion there.
Anyway, back to Jack and Sally. The instructions for making them are given in quite simple English so they are easy to follow and the texts are rich in diagrams and pictures to illustrate the whole process. From my experience, I found the process very easy to follow, so it doesn't matter whether you are a beginner or a regular wizard at felt doll making.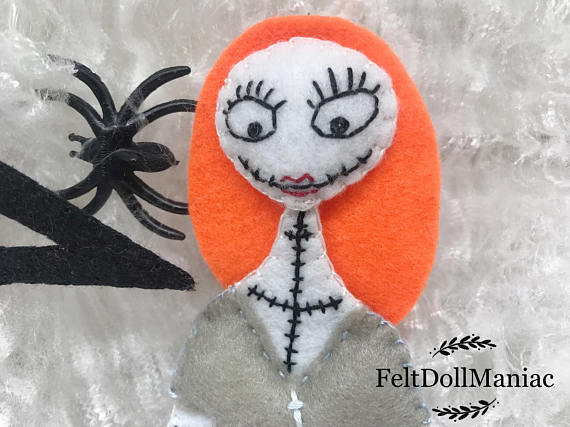 Creating & Using The DIY Halloween Dolls
For these DIY Halloween dolls I will hold back on telling the materials that are required but the full list is also included in the pdf's and tutorials but here is a hint, they are made of felt. Made you smile didn't I?
You can also play around with the DIY Halloween dolls just to make them more of your creations. Try increasing the proportions of the dimensions for even bigger Halloween dolls. The bigger they are, the creepier they look. You can mix up the colors and come up with different shades of Jack and Sally just to spice it up.
And they have a million and one uses, especially during Halloween. You can make them as toys for your kids or to give out as presents to your neighbors and friends.
Lay out some Jacks and Sallies around the house this coming Halloween and add to the spooky factor. Since they are made of felt and are light, you can even stick them on a wall with some pins or light glue. But don't go full witching hour with a whole wall full of Jacks and Sallies because that would be creepy. But I guess that is the essence of Halloween so go all out with the DIY Halloween dolls.
What Are You Waiting For? Start Your DIY Halloween Dolls Today
So whether you were looking to have fun, make gifts for Halloween or for those special pieces to add to your Halloween decorations, the DIY Halloween dolls are just the right spooky you need. They are fun and easy to make and at just the right amount of creepy they are perfect for Halloween.
So cast a spell and order your own DIY Halloween dolls kit from etsy.com today. I guarantee they will bewitch you with their charm.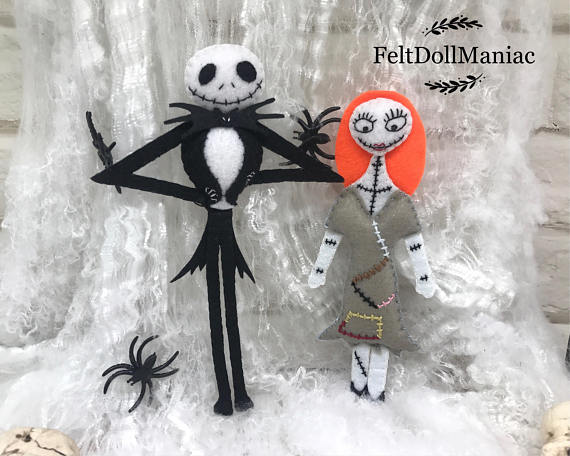 Get the DIY Halloween Dolls Pattern Here
GRAB ONE OF THESE HALLOWEEN FELT CRAFTS TO GET STARTED CRAFTING WITH FELT!
See what else you can make for Halloween, like these Halloween Macrames, Outdoor Halloween Decorations, Halloween Paper Crafts and more. Or, if you love working with felt, browse all of our felt crafts for more ideas.

Have you started decorating yet? We can't wait to see your version of these cuties, so make sure to share them on our Facebook Page. We'd love to see your DIY Halloween decorations this year!
Happy Halloween crafting with your favorite Halloween felt crafts!