There are a lot of reasons to get crafty during the spookiest season of the year. Beside the costumes, candy, and trick-or-treating, Halloween is a great season to flex those creative muscles! Get stuck in with these Halloween paper crafts that are sure to inspire even little monsters!
When it comes to crafting with kids, there's one magical material that always comes through: paper. Whether it's construction paper or yesterday's newspaper, your art supply drawer isn't complete without this particular DIY ingredient.
50 Halloween Paper Craft Ideas
So, if you are looking for some Halloween paper crafts to get the whole family in the Halloween spirit, these crafts below are budget-friendly ways to add some spooky pizazz to any costume, house, or front entrance.

1. Halloween Hanging Bats by Daisies & Pie
If you're throwing a Halloween party or just decorating the house to celebrate in style, then you'll love this pretty little Halloween hanging bats. They're super simple to make and look fab hung in little groups around the room.

Create paper bats using a few materials that are readily available at home: a scissor, black thread, and black paper. Let these bats give visitors a funny fright by hanging them by the front door.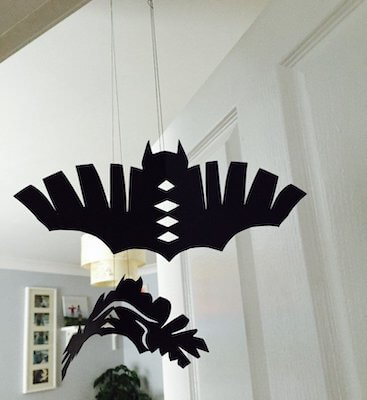 Follow the tutorial here

2. Halloween Toilet Paper Roll Crafts by The Best Ideas For Kids
Save those paper rolls since you can create so many different fun Halloween crafts with them! Just upcycle some toilet paper rolls and add paint, colorful paper, googly eyes, and other details to give your Halloween characters major personality as pumpkins, mummies, Frankenstein, or vampires. Don't let the ideas stop here – you can also make a ghost, bat, cat and witch!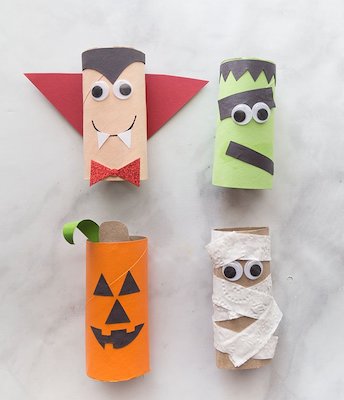 Follow the tutorial here

3. Halloween Haunted House Paper Craft by The Purple Pumpkin Blog
This Haunted House Paper Craft is a fun Halloween activity for kids. It is made with just a few simple craft supplies, which you may already have in your craft stash! So grab the colored paper, scissors, and glue and get making a haunted house scene for Halloween!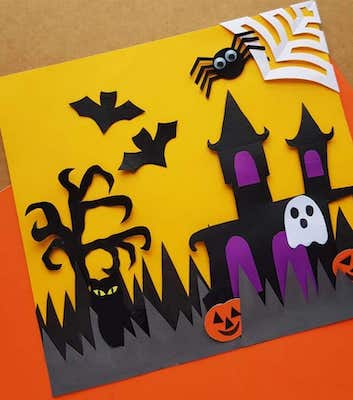 Follow the tutorial here

4. Witch Paper Craft For Halloween by I Heart Crafty Things
Simple shapes form the building blocks for this Witch Paper Craft, making it easy for little kids to handle. Fringed hair and a broom add texture, and a hand-drawn face adds personaltity.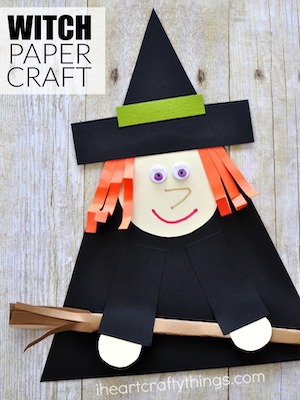 Follow the tutorial here

5. Finger Puppets Free Halloween Paper Craft by Lia Griffith
Calling all gobblins, ghouls and ghosts! This DIY Halloween paper finger puppets are as spooktacular as they are simple to craft. Such a fun seasonal toy for your little monsters!

Simply download the patterns, print onto a white cardstock and cut out the puppets. There are five different characters for you to choose from — Dracula, a witch, a kitty, a ghost and a jack-o-lantern. These little puppets make for great party favors or trick-or-treats!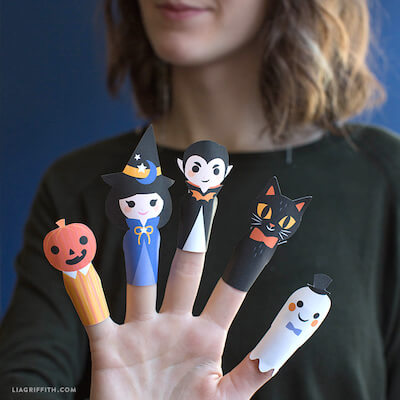 Followw the tutorial here

6. Halloween Paper Chains Craft by Easy Peasy And Fun
Take the Halloween classroom decorating to a new level by making Halloween paper chains – you can either make them with the handy printable included in this tutorial or use paper and imagination only.
This set of cute paper chains featuring the classical Halloween characters is a perfect addition to your Halloween craft projects!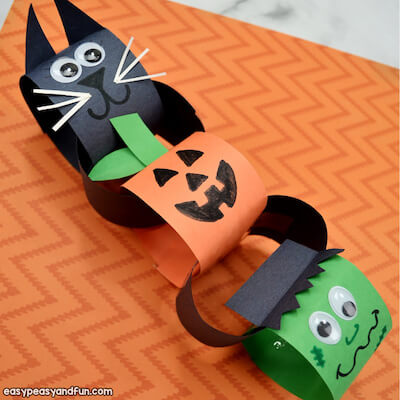 Follow the tutorial here

7. Paper Accordion DIY Halloween Paper Decoration by Hello Wonderful
This cute and spooky Halloween Paper Accordion Craft is an easy art project you can whip up with the kids with materials you probably already have on hand. Thanks to this tutorial (that comes with a free printable), kids will be able to have tons of Halloween fun on top of working on their hand-eye coordination at the same time!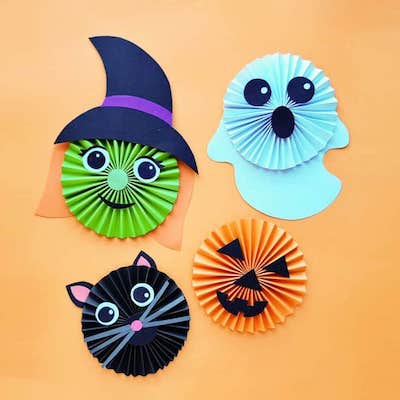 Follow the tutorial here

8. Jack Skellington Door DIY Halloween Paper Craft by Homemade Heather
This free Jack Skellington door printable is perfect for creating a fun decoration for Halloween. It's simple to make with this tutorial! If you love dressing up your home and being a little bit silly on Halloween night, this silhouette of jack is sure to set the perfect mood for some scary fun!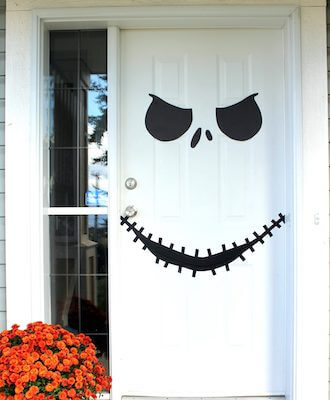 Follow the tutorial here

9. Spiderweb Lanterns Halloween Paper Decoration by Crafting My Home
These classy Halloween spiderweb lantern are the easiest way to decorate this year! Decorating with these Halloween lanterns is super easy. Add a flameless candle to your table and plop the lantern on top.

You can use these lanterns for table centerpieces, on the mantel, on a shelf, in a bookcase, or as a little vignette anywhere you need a little more Halloween goodness.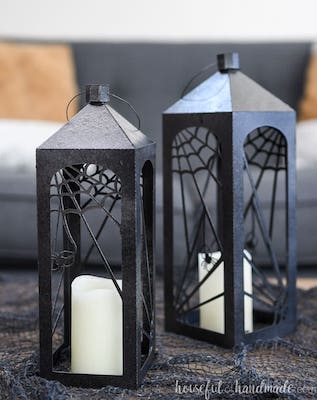 Follow the tutorial here

10. DIY Ghost Piñatas by Make And Tell
You'll need a little more than just paper for these ghoulish piñatas. You'll need some paper lanterns, and of course, sweets to fill them with! When looking for fun ways to keep kids entertained at parties, a piñata is usually a no-fail recipe for success.
The kids will have great fun hunting ghosts and tearing them apart. But, they're looking so sweet and innocent that you might not be able to part with them! They could legitimately pass as decorations for all-year-round use!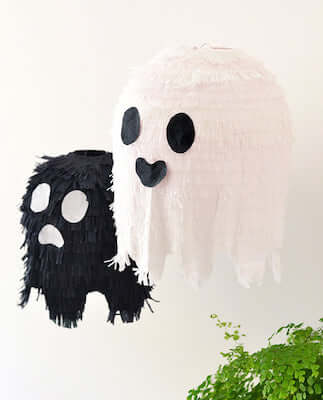 Follow the tutorial here

11. Paper Quilling Halloween Monsters by Jay's Sweet N Sour Life
If you and the kids have never tried quilling, you're in for a treat! It's an easy quick craft that gives a really fun outcome, perfect not only for creating monster designs but for any creepy creature you can imagine!
The kids will have a blast rolling up their paper to then transform it into little Halloween monsters they could play with after.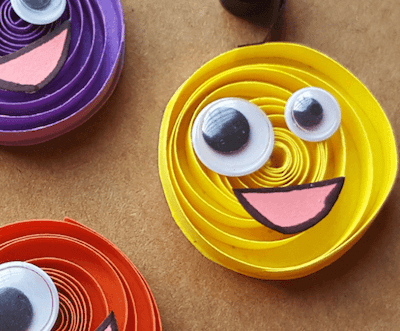 Follow the tutorial here

12. Haunted House Paper Plate Halloween Craft by Made With Happy
A fun and easy paper plate Halloween kid's craft that is sure to bring all the spooky fun. There is a haunted house, cat, witch, ghost, and more! If you already need to buy paper plates for your Halloween party, set aside a few for a haunting craft the kids can complete while you prepare for the gathering.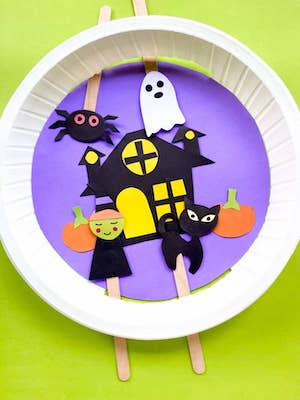 Follow the tutorial here

13. Haunted House Lantern Free Halloween Paper Craft by Hey, Let's Make Stuff
Whip up a few of these paper cut-outs and line them up along your entryway table for whole haunted neighborhood. Flameless tea lights inside each paper mansion give off a spooky glow.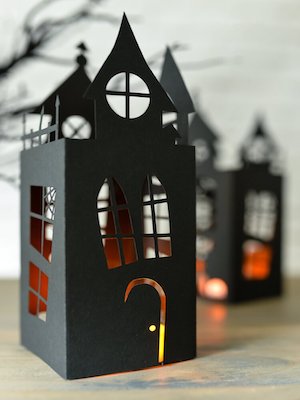 Follow the tutorial here

14. Halloween Paper Bag Puppets by Make And Takes
Paper bag puppets are classic, so why not make some for Halloween? You can vary the faces from scary to happy, depending on the age group or sensitivity of your child. You will only use simple supplies so that you can make these today with your kids!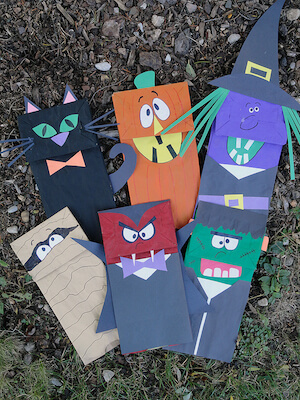 Follow the tutorial here

15. DIY Halloween Paper Craft Garland Cutouts by One Little Project
These Halloween paper garland cutouts are so fun to make and they're surprisingly simple! If you have some coloured construction paper, a pair of scissors and some tape, you're ready to rock!

Fold the paper, cut out your favourite shapes, then watch the magic as you open them back up again to see your garland of connected shapes.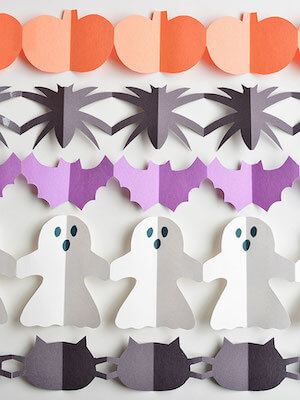 Follow the tutorial here

16. Halloween Paper Pumpkin Basket Craft by The Craft Train
Make a paper pumpkin basket with this printable template, perfect for Halloween or Fall crafting fun with the kids!

The finished pumpkin basket could be filled with small sweets and given as a gift, or used as a festive Halloween decoration idea. It's a bit too small and flimsy for actual Trick or Treating though!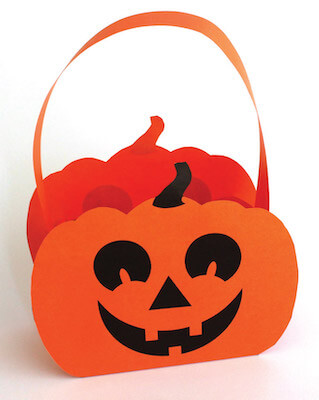 Follow the tutorial here

17. Halloween Paper Bracelets by Easy Peasy And Fun
These printable Halloween bracelets for kids will be a huge crafting hit in your home or in the classroom! They are easy to make and, and this is really a cool one, they can be worn many times as you can easily take them off and put them back on – no glue involved!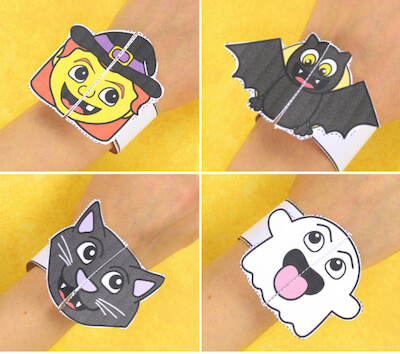 Follow the tutorial here

18. Halloween Mix & Match Paper Crafts For Kids by Messy Little Monster
Add some pizzazz to your Halloween crafts with this spooky Halloween Paper Craft for kids! If you're looking for a last-minute craft idea to make with the kids, you can put this Halloween mix and match craft together in no time using this Halloween craft template.

What fun th kids will have using their own photos to complete classic spooky characters like a witch, Frankenstein, or a vampire. These are fun keepsakes to add to this year's scrapbook.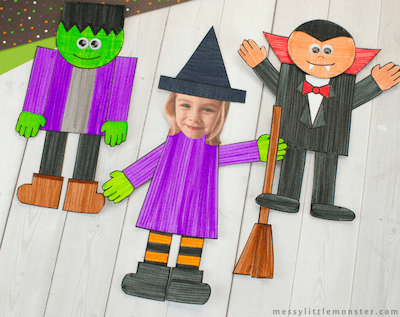 19. Easy 3D Ghost Free Halloween Paper Craft by Our Kid Things
Are you ready for a friendly Halloween ghost craft that you can make in literally minutes? Then this Easy 3D Ghost Craft is exactly what you're looking for!

The ghosts in this craft use folded pieces of white paper to form a neat 3D effect, with the ghosts popping off the page. This would make for a great card, or hang up a bunch with different colored backgrounds for a fun Halloween garland.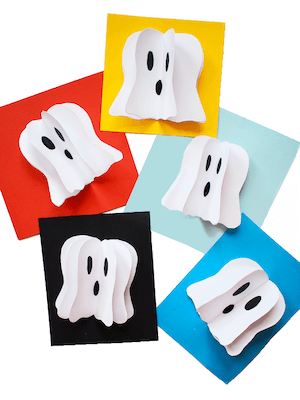 Follow the tutorial here

20. Handmade Halloween Cards by The Best Ideas For Kids
We send cards for so many holidays – why not Halloween, too? These handmade Halloween cards are adorable and will truly make someone's day when they receive one.

They each open up so you can write your own special Halloween message inside. "Have a spook-tacular Halloween!" or even just write "Happy Halloween!" inside. All you need to make these are some paint, paper, googly eyes and you're all set!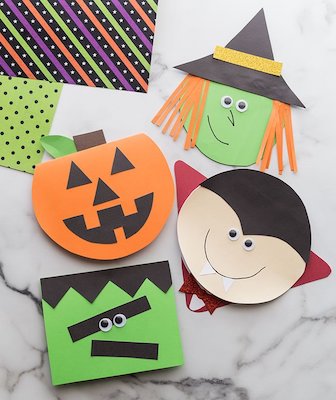 Follow the tutorial here

21. DIY Paper Coffin For Halloween by Lia Griffith
Made in both a matte black paper and a metallic paper version, this DIY Halloween paper craft idea is super simple to make with this downloadable pattern. Use a low temperature glue gun or regular paper glue to assemble the paper coffin and you are almost ready!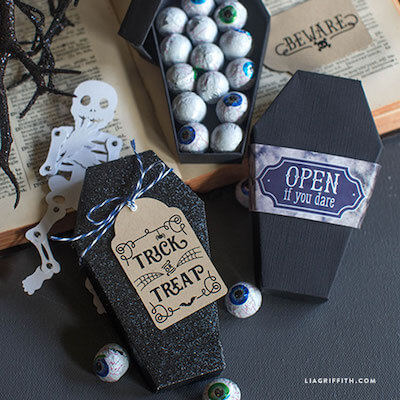 Follow the tutorial here

22. Origami Bat Cupcake Toppers DIY Halloween Paper Craft by Gathering Beauty
Throwing a party this Halloween? Learn how to make these simple origami bat cupcake toppers for the creepiest cakes around. If you're crunched for time they're a super quick and easy last-minute party decoration.

These batty toppers take only minutes to make and are the perfect spooky addition to any Halloween party or gathering.
Also see: How to make Origami Boat ,Origami Crane, Origami Box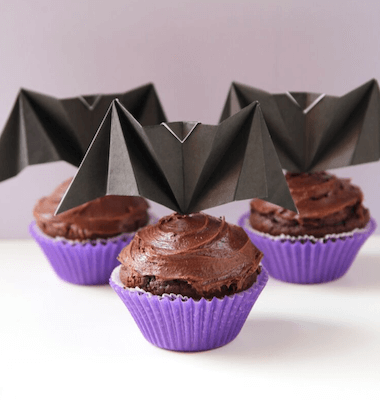 Follow the tutorial here

23. Halloween Party Poppers by Onion Rings & Things
Halloween Party Poppers are sure to take your trick or treat game to a whole new fun. Filled with candies and other goodies, they're the ultimate Halloween party favors!

These poppers are not only for trick or treating. They make awesome Halloween party favors, too. Filled with candies, small toys, and other goodies, they're a guaranteed hit with kids and adults alike.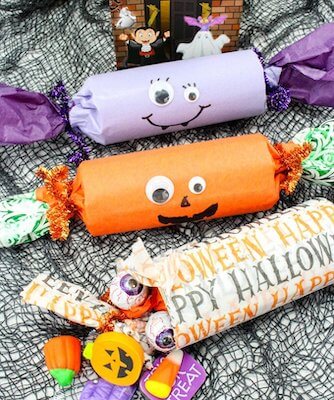 Follow the tutorial here

24. Halloween Paper Straw Garland by Tell Love And Party
How fabulous is this paper straw bunting? It makes for a really effective Halloween decoration, and all you need is straws, string, and a bit of glue! This one is really fun to make and also makes use of any old straws you might have around the house.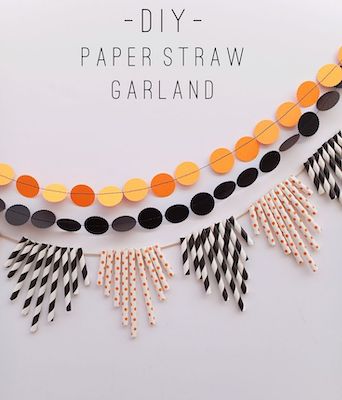 Follow the tutorial here

25. Easy Tissue Paper Pumpkin Favours by One Little Project
Wrap up your favourite Halloween treats, and then open up the pumpkins like presents to get to the candy inside. Wouldn't these make adorable favours at a Halloween party? If you're not having any Halloween parties this year, they would also be a lovely Halloween treat for your little ones to take into school for their friends.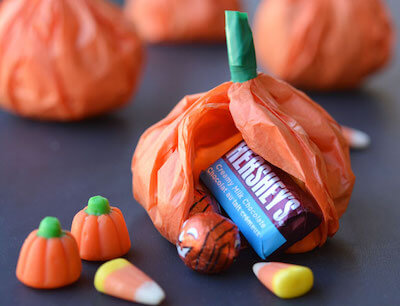 26. Halloween Paper Lanterns Kid Craft by The Crafting Chicks
Kids will be amazed when they see these Halloween paper craft lanterns, shape with just a few scissor cuts. Add battery-operated votives for a pretty glow.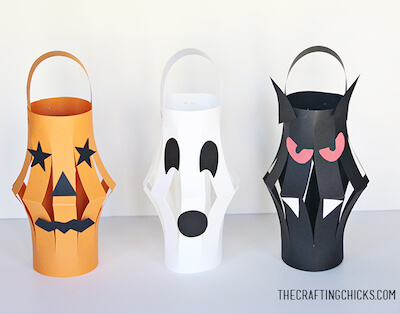 Follow the tutorial here

27. Rainbow Paper Tube Bats by Hello Wonderful
These adorable rainbow paper tube bats are simple to make and double as colorful Halloween paper decorations for your home, or as Halloween favors – simply add some wrapped treats or candy inside to hand out to your kids.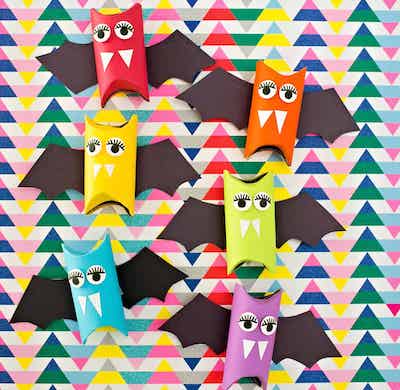 Follow the tutorial here

28. Bobble Head Vampire Craft by Messy Little Monster
Get the kids ready for this scarily fun Halloween craft! If you've got little vampire fans, they're going to absolutely love this adorably spooky Bobble Head Vampire Craft!

Make a pair of these to display this Halloween. Use the fre template to cut and assemble all the pieces. You'll find that the strip of accordion-folded paper under the head helps it move and wobble all around, giving this craft a fun interactive element.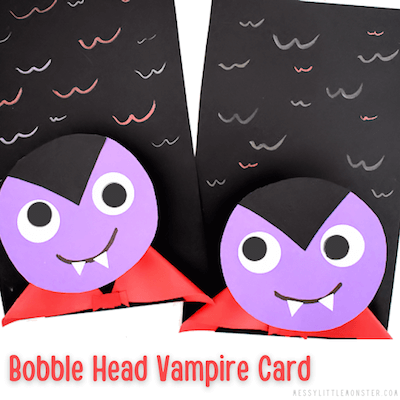 Follow the tutorial here

29. Handprint Ghoul Banner Halloween Paper Decoration by Crafts By Amanda
This is a fun family project to make before the party! Let your kids create handprint ghouls to dress up a Halloween party banner for the front door.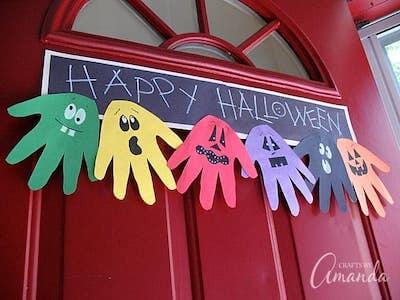 Follow the tutorial here

30. Halloween Cootie Catchers by The Crafting Chicks
You probably remember making cootie catchers as a kid, and now they're easier than ever. These Halloween cootie catchers are ready to print, cut, and fold. They're filled with hilarious Halloween jokes that kids will get a kick out of.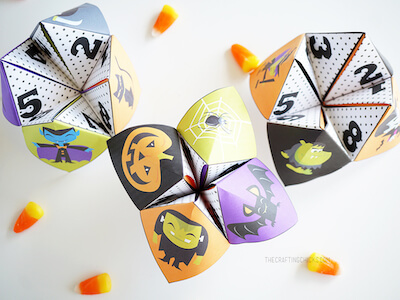 Follow the tutorial here

31. Halloween Broom Candy Bags by Woman's Day
Recycled paper bags already have a distressed look which is perfect for mimicking the disheveled head of a witch's broom. Stuff them with candy for a sweet surprise!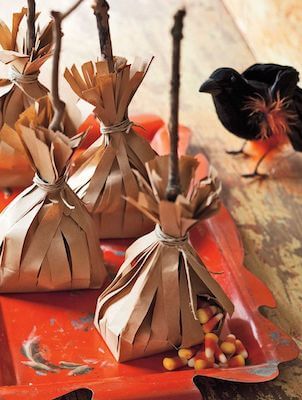 Follow the tutorial here

32. Halloween Paper Loop Skeleton Craft by Our Kid Things
You'll be surprised at all the neat things you can make with paper loops, including this spooky paper loop skeleton. All you need is white printer paper, a black construction paper background, and black and white pens or markers to draw on a few details.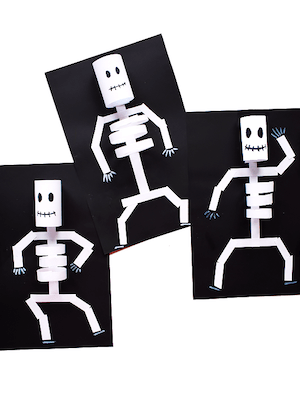 Follow the tutorial here

33. Headband Monster DIY Halloween Paper Craft For Kids by Fantastic Fun & Learning
Dressing in costume isn't reserved for October 31. Encourage your kids to try out different characters all month long with these paper monster headbands. Can you imagine a whole classroom of these cute little monsters? So fun!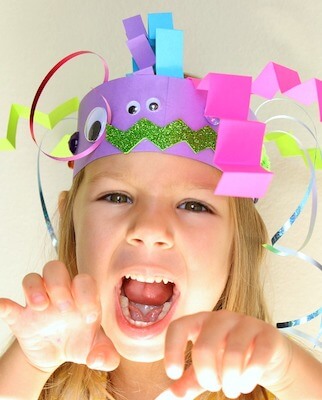 Follow the tutorial here

34. Black Cat Paper Craft by Non Toy Gifts
If you have already started your Halloween crafting with kids, here is a cute idea that I'm sure you will like: a black cat paper craft. It is as simple as a paper craft can be especially as this one also comes with a template.

Of course you can draw your own cat and go from there. But if you are busy and have no time for drawing, the template will make the craft feel super easy.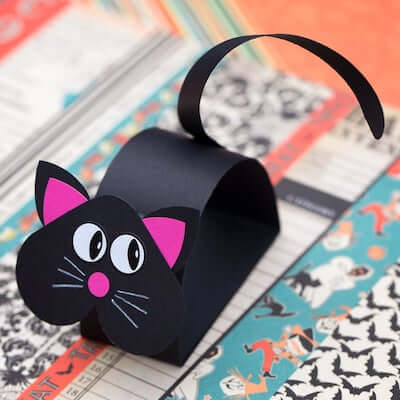 Follow the tutorial here

35. Vampire Corner Bookmark by Easy Peasy And Fun
If you want a DIY corner bookmark that is ready to take a bite into your book, this Vampire corner bookmark is certainly one to make. These Halloween corner bookmarks will be a wonderful activity on your Halloween party and they also make a great party favor.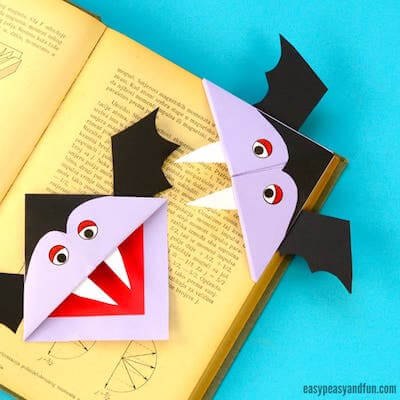 Follow the tutorial here

36. Halloween Paper Plate Wreath Craft by I Heart Arts N Crafts
Who doesn't love an easy paper plate craft? The personalized hand print spider gives this wreath the perfect touch! This would be cute to do every year with your kids and they can see how big their spider gets.

When you're done personalizing it, tie a string or a cute ribbon around it and show off your new Halloween wreath or this would make the perfect gift for the grandparents!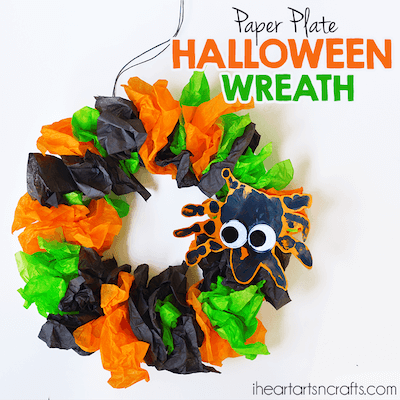 Follow the tutorial here

37. Paper Bag Monster Puppets by I Heart Crafty Things
Fill your house with monsters — the good kind, obviously — this Halloween by making these colorful creatures out of paper bags and cut-outs.

If you are looking for a fun Halloween craft the whole family can enjoy, grab the craft supplies, some snacks and enjoy making these silly paper bag monster puppets.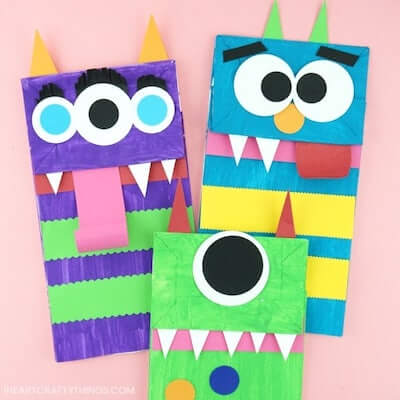 Follow the tutorial here

38. Witch Haunted House Halloween Coloring Pag by Finding Zest
Looking for Halloween coloring pages? This free printable features two coloring sheets that kids can color then cut out to create their own 3D haunted house! This simple design is ideal for younger kids and is a fun Halloween paper craft activity. Take your haunted house to the next level by adding a LED tealight candle to make it a luminary!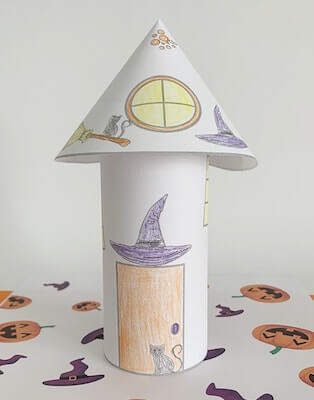 Follow the tutorial here

39. Halloween Paper Placemats And Napkin Rings by Lia Griffith
Host a spooktacular supper with our DIY Halloween placemats and napkin rings. With just a few simple supplies and steps, turn any old table into a frightening feast for the senses!

These paper spiderweb placemats and spider napkin rings are perfect for your Halloween party. Or you could just use them to transform one of your regular dinner nights into something a little more fun!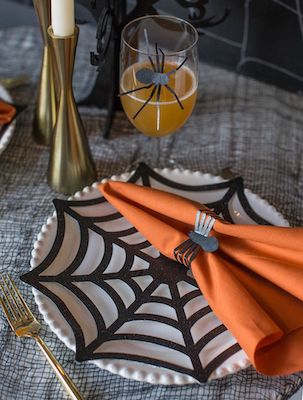 Follow the tutorial here

40. Halloween Handprints by The Best Ideas For Kids
Kids will love creating their own monsters — in handprint form. From vampires and ghosts to pumpkins and Frankensteins, you get the idea.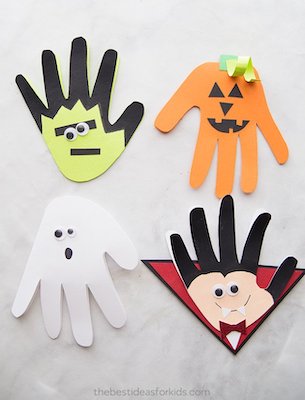 Follow the tutorial here

41. Mummy Halloween Craft For Kids by Whispered Inspirations
The great part of this craft is that you only need a few things. In fact, you may already have them in your crafting bin. Whether it's any festive day before Halloween, a kids Halloween party, or on a rainy day, they'll love this!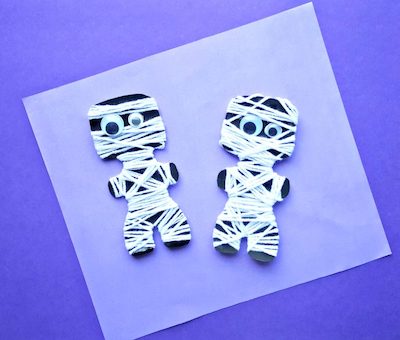 Follow the tutorial here

42. DIY Witch Hats by See Vanessa Craft
It doesn't matter if you are traveling by broomstick this Halloween or not, it's almost always festive to DIY a witch hat to put on your mantel or wear as part of your witch costume.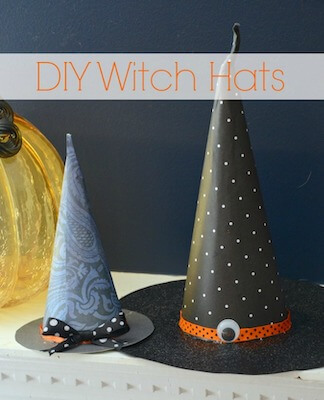 Follow the tutorial here

43. Newspaper Wreath Craft Project by Woman's Day
A shiny black wreath fashioned out of spray-painted newspaper is a clever—and easy–– way to welcome trick-or-treaters. To extend its life, hang indoors.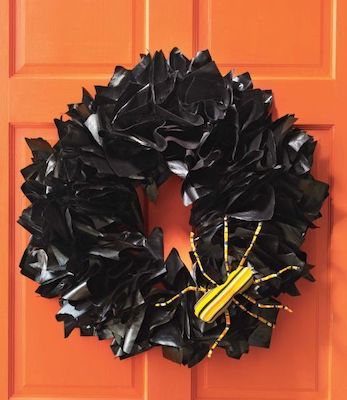 Follow the tutorial here

44. Halloween Countdown Calendar by Jennifer Maker
If you love to countdown to Halloween, this fun paper craft is for you! All you need is some black paper, some Halloween-themed cardstock, and a way to keep it all together like glue. Cricut or with a craft knife, too!

Each little drawer can hide little toys or treats for younger kids. Stuff them with glow sticks, candy corn, or simple kids craft kits. Fun for everyone!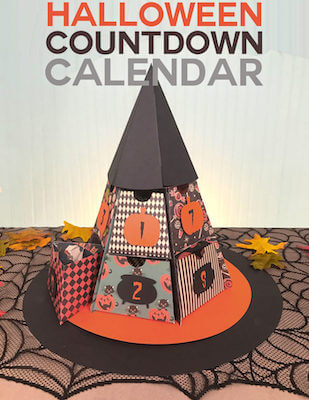 Follow the tutorial here

45. Mr. Paper Bones by Lia Griffith
Meet Mr Paper Bones! With Halloween just around the corner, this DIY paper skeleton is the perfect project to decorate your home in time for any haunting guests. This paper skeleton is 19″ tall from head to foot and is made from two sheets of white card stock.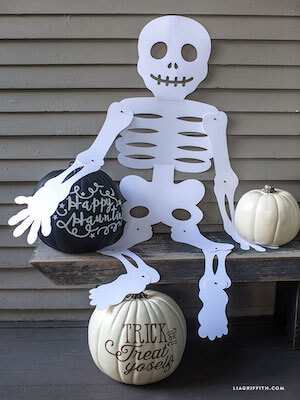 Follow the tutorial here

46. Easy Halloween Jack-O-Lantern Craft Project by Kids Activities Blog
This simple Halloween jack o lantern paper craft for kids of all ages is fun because it combines construction paper and what looks like tie dyed coffee filters! A few easy steps and kids will have jack-o-lantern art that they are proud to display.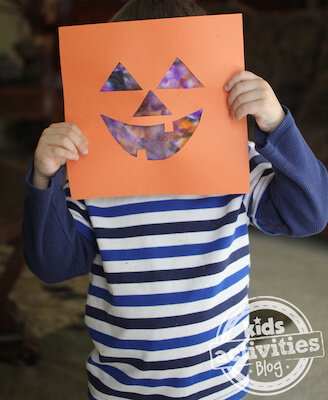 Follow the tutorial here

47. Black Cat Craft For Halloween by Fireflies & Mud Pies
Just in time for Halloween, kids can learn how to make a fun paper bobble head black cat craft. This easy DIY Halloween paper craft idea includes a free pattern, making it perfect for home or school. This black cat is almost too cute to be spooky!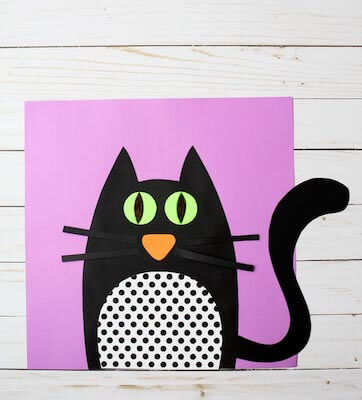 Follow the tutorial here

48. Halloween DIY Skeleton And Spider Silhouettes by Salty Canary
These Halloween Skeleton and Spider Silhouettes look like real, old-timey antique paper cut-out silhouettes and they're super easy to make with a Cricut or paper cutting machine. The tutorial includes free SVG file downloads so you can make them yourself!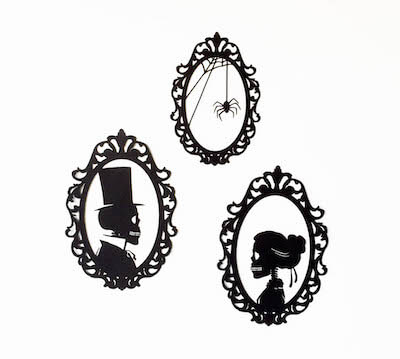 Follow the tutorial here

49. Halloween Scene Paper Craft by Surviving A Teacher's Salary
This Toilet Paper Tube Scenery can be altered and used for any holiday or theme! You can use it to create a book report, story telling, dioramas and more! It's fun to put together and easy enough that your youngest children can participate.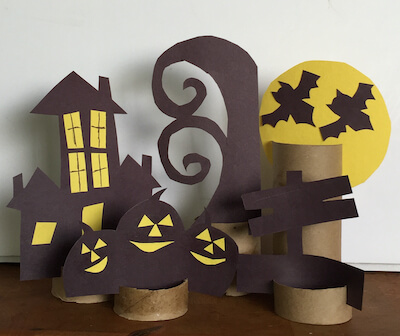 Follow the tutorial here

50. Paper Strips Spider Craft by Easy Peasy And Fun
Spiders might be scary but that can't be said for this paper strips spider craft! This wiggly little spider craft is prefect for a Halloween crafting session – it will make a fun classroom or home decoration as you can string these on a yarn thread and hang them around the room.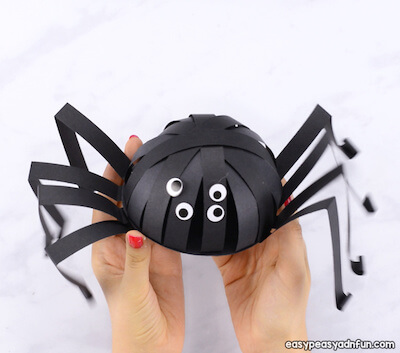 Follow the tutorial here
THESE HALLOWEEN PAPER CRAFTS WILL GET YOU FIRED UP TO MAKE ALL SORTS OF SPOOKTACULAR CRAFTS FOR THE OCCASION!
We have a few more spooky treats up our sleeves, so don't go too far. Explore even more frighteningly fun DIY inspiration for Halloween such as Halloween Plastic Canvas, Halloween Cliparts, Ghost Lollipop Ideas, DIY Outdoor Halloween Decorations and a lot here.

And as you prepare for a ghostly October 31st, don't forget to share your Halloween projects with us across Facebook. See you there!

So, find some inspiration with these Halloween paper crafts that require a dash of fun and a pinch of creativity for a fun-filled family bonding activity!